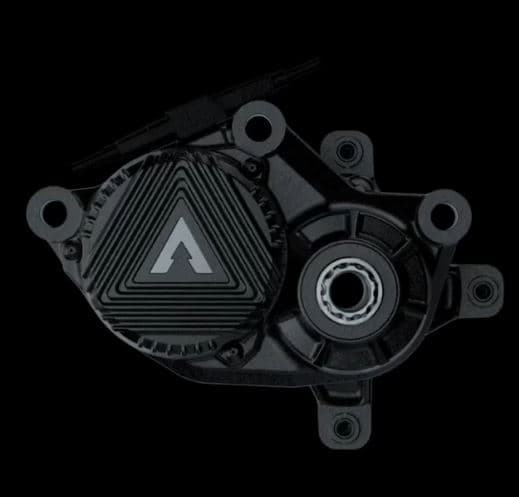 History of Bafang E-Bike Motors
Of the various makers of e-bike motors, Bafang is both one of the largest and one of the oldest. Based on Suzhou, China, Bafang was launched in 2003 and has grown to employ more than 1000 people. In addition to their headquarters in Suzhou, they have another factory in Tianjin, as well as sales and service centers in the U.S., Germany, Netherlands, Japan and Taiwan. In an effort to deepen their reach in Europe, they built a factory in Poland.
Bafang motors can be found on several e-bikes we've reviewed, but they also make motors for motorcycles, cars, and lawnmowers too. With over 40 engineers, they have an impressive research and development team, and their testing lab has four employees whose full-time job is to test ride e-bikes.
What Motors Does Bafang Make Today?
Bafang Motors makes motors and conversion kits for almost every kind of power and size you need on your e-bike. Their motors are divided in two broad categories—mid-drive motors and hub motors.
Bafang Mid-Drive Motors
Mid-drive motors typically offer better performance than hub motors because they use a torque sensor to activate the motor, which is more responsive than a cadence sensor. Also, mid-drive motors apply power before the e-bike's drivetrain, which means that its power is multiplied by the gears, the same as the rider's effort, making them more efficient than hub motors.
M820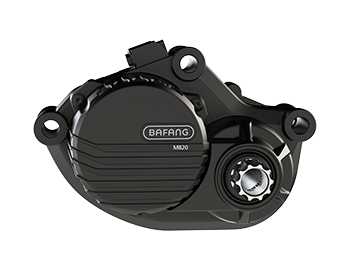 This lightweight motor has the power and torque necessary for eMTBs. It can accommodate a broad range of cadence speeds—all the way up to 120 rpm—and produces 250W nominally (on average) and up to 75Nm of torque. And it is suited to the needs of an eMTB rider thanks to its torque sensor. It weighs just a bit more than 5 lbs. (2.3kg), making it appropriate to lighter-weight e-bikes.
M620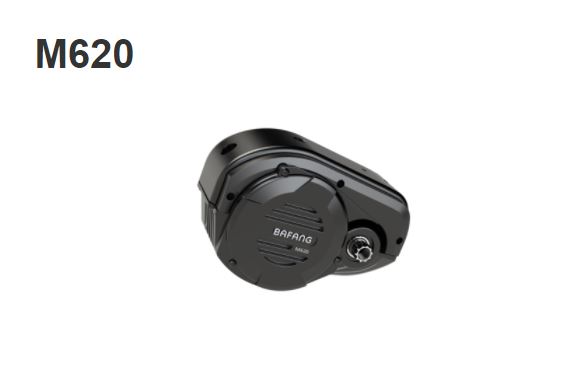 The M620 is Bafang's powerhouse! It's a beefy motor with a max torque of 160 Nm and a 750 or even 1000W rated power output. The M680 will be perfect for getting the heaviest of bikes moving like eTandems, eCargo bikes, and high-end eMTBs. Even if the incline is super steep, the M680 will manage to accelerate the load without issue. The rider will even have complete control at times, thanks to the system's dual sensor design which has a very sensitive response. These sensors are used worldwide among logistics companies.
M615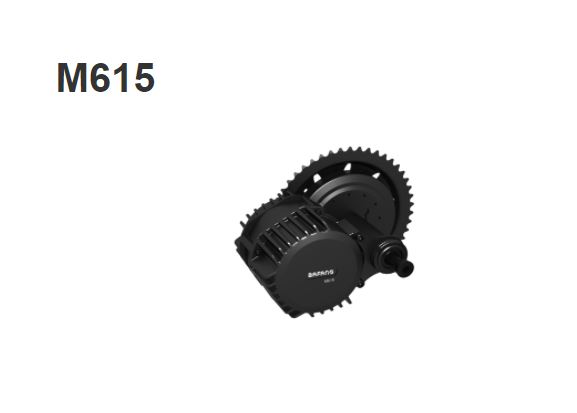 As a mid-drive designed system, the M615 is a powerful and efficient motor with a power rating of 750 or 1000W. A max torque of 160 Nm is sturdy enough to upgrade bikes such as the eCargo or eSpeed. It will fit bike frames with a bottom bracket width of 68-120 mm.
M600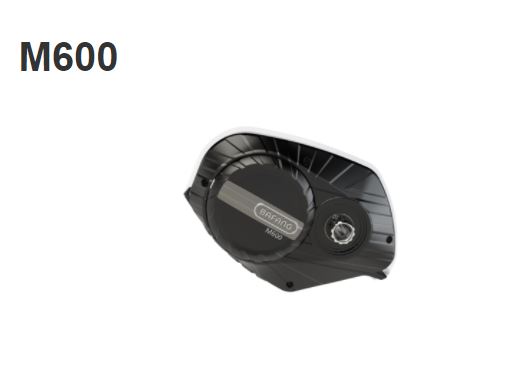 If you want responsive, you'll find it with the 500W power-rated M600. You'll find that this motor weighing only 3.9kg, with a max torque of 120 Nm, always brings its A-game and has been a top choice for newer sMTBs. You want the motor to respond immediately to your pedal power, and the M600 does just that. Assisted by its triple sensor system of two speed and one torque sensor, the M600 will kick in as necessary every time you need the support.
M510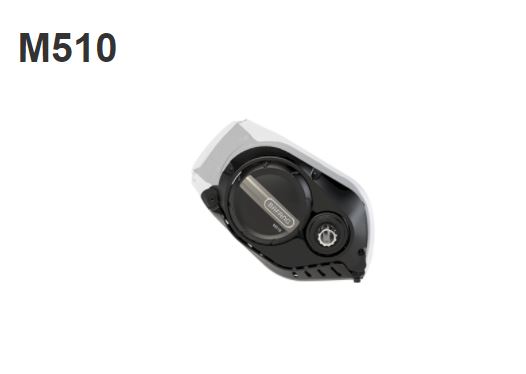 Bafang designed the M510 as an upgrade to the eMTB performance motor. The max torque of 95 Nm hasn't changed on this version, but they cut down the weight by 18%. So a lighter motor but with an increase in max power output by 20%. They also extended the max cadence support up to 120 RPM.
M420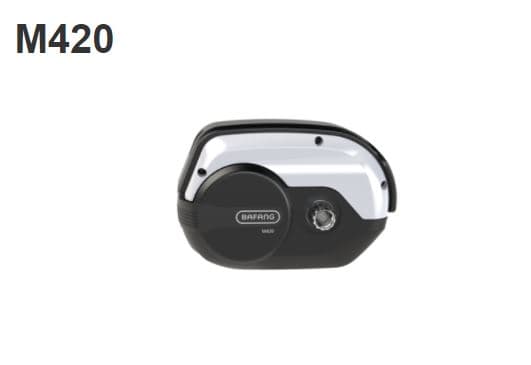 The M420's drive system with a rated power of 250W is another consistent performer in the "around town" category. This motor brings plenty of assistance up to the legal speed limit of 25kph. A robust 80Nm of torque helps climb hills, and the sensitive controls make the riding experience seamless.
M410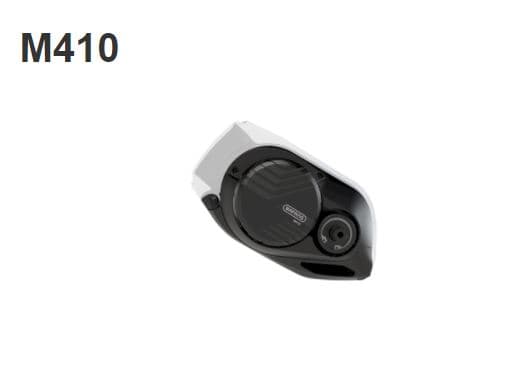 The mid-sized M410 is a strong performer like the others in the M400 class. The 250W of dependable power, along with the 80Nm torque, offers any eMTB enough support to get through the daily grind.
M315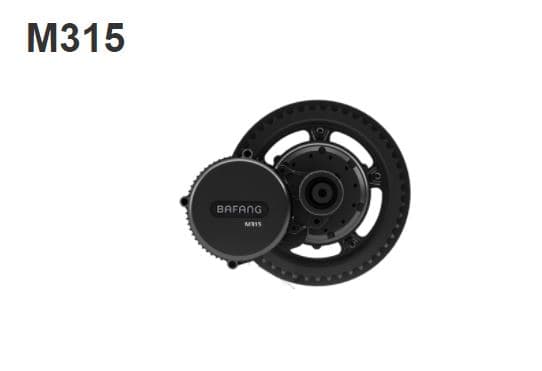 If you're looking for a mid-drive system for an e-tricycle, eCity, or eTour bike, you can't beat the 500W power-rated M315. This light but forceful motor is durable and has a max torque of 100 Nm. This motor will fit frames with a 68 mm bottom bracket.
M215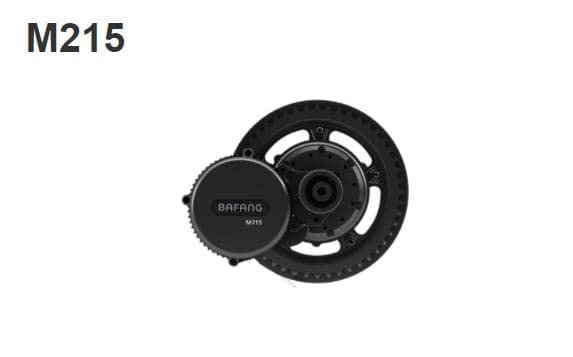 If you need a solid economical motor that won't take much to keep it running, the M215 is what you're looking for. It's easy to install and comes with 250W of rated power and a generous 80Nm of max torque. You won't be disappointed by its consistent performance. This motor will fit frames with a 68 mm bottom bracket.
M200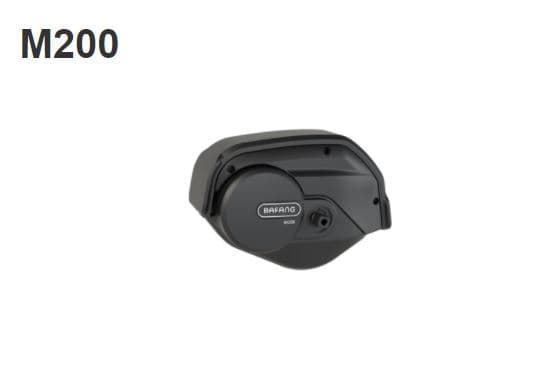 If you've got an entry-level eBike and are in need of a very reliable and capable mid-motor, the M200 is a great choice that won't hurt your wallet. This smooth and silent motor is compact, weighing just 3.2kg, but still offering 250W of rated power output; the M200 will get you there and back without a problem. The 65Nm of max torque is plenty for around town and small hills.
Bafang Hub Motors
Hub motors are by the most common kind of motor used in e-bikes, and Bafang is one of the bigger manufacturers of hub motors. They help lower the cost of an e-bike by being simpler to build into an e-bike because they only need to be laced to a rim, rather than have a frame built to a specific motor mount. Cadence sensors are less expensive to produce and to assemble in an e-bike as well.
HR Series Motors
H720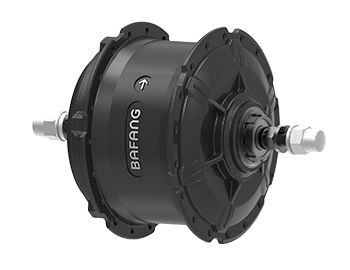 This hub motor is very powerful and well suited to Fat e-bikes and all-terrain e-bikes thanks to its 1000W rating and 95Nm of torque.
H710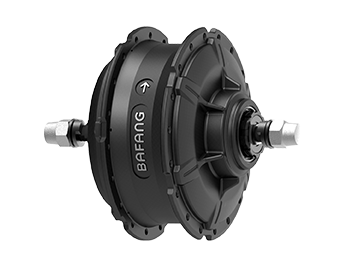 This hub motor features a gearbox that will shift depending on the speed range of the rider. This is a 500W motor that produces 55Nm of power. It's great for city e-bikes and commuters.
H700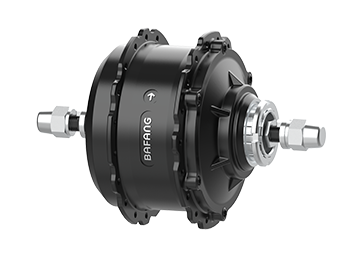 This hub motor is designed for city bikes aimed at transportation, rather than high performance applications. Its internal gearbox shifts between two different gears depending on the rider's speed. The motor is rated at 250W and produces 40Nm of torque.
H640
This is a very powerful hub motor that produces 750W and 80Nm of torque, which makes it well-suited to demanding riding situations, like cargo e-bikes and all-terrain e-bikes. It can work with bikes in a broad range of pricepoints thanks to the fact that it can work with gear clusters (cassettes) of anywhere from 7 speeds up to 11 speeds.
H620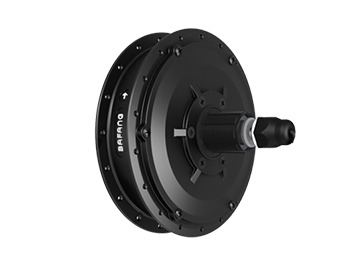 This 500W hub motor can be used with all-terrain e-bikes thanks to 65Nm of torque and the ability to take cassettes of 7 to 11 speeds.
H610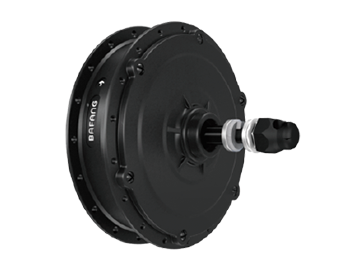 With just 250W of power on tap, this may seem like a modest hub motor but it produces a very stout 65Nm of torque, making it useful in all-terrain and cargo e-bike applications.
H600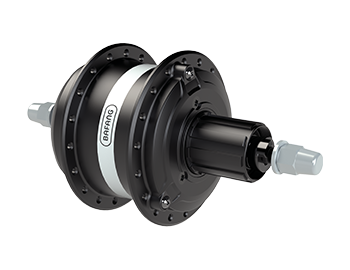 While it's hard to tell from the picture above, but this 250W hub motor is compact and relatively light, weighing just 4.4 lbs. It produces 30Nm of torque, putting it in a class of motors suited to road e-bikes and city e-bikes.
H550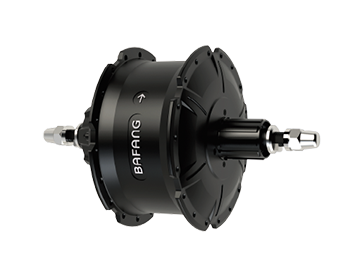 This beast of a motor is just the ticket for cargo e-bike applications and all-terrain e-bikes. It produces 1000W and backs that up with 95Nm of torque.
H500W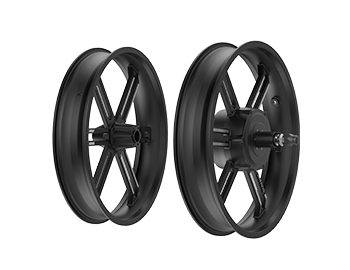 These cast aluminum wheels are spec'd on all-terrain, cargo and fat e-bikes, any of which may need wheels able to sustain a heavy load. Though the wheels appear to be slightly different sizes, they are both 20 in. in diameter and designed for 4-in.-wide tires. The rear hub is identical in performance to the H500, producing 1000W and 95Nm of torque
H405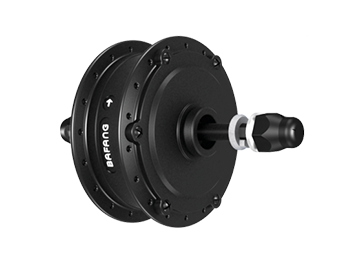 We see this hub on city and commuter e-bikes as well as all-terrain e-bikes. It is rated to 500W and can produce a maximum torque of 55Nm.
H310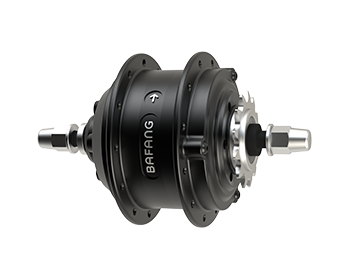 Companies that want to produce a lightweight e-bike for city use and commuting often source this single-speed hub that produces 250W and 18Nm. That's not a lot of power, but the trade is that this hub weighs just a bit more than 4 lbs.
H305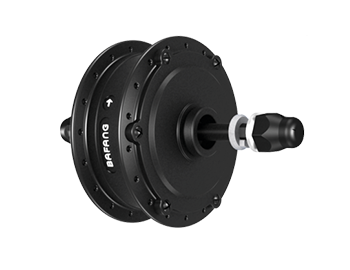 This hub is a common choice on budget-minded e-bikes. It accepts a freewheel set of gears—old technology that is inexpensive but still works well and allows a manufacturer to keep expense down. This is a 250W hub that produces 35Nm of torque. It's great for city e-bikes and commuters.
HF Series Motors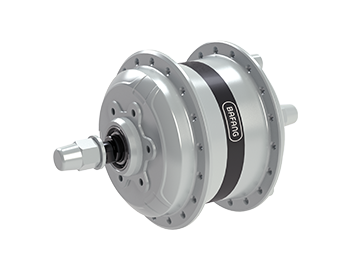 This is another hub motor that may seem to by shy in the power department, but carries other selling points. This is a front-drive hub, ideal for use in e-trikes. It produces 250W and 30Nm of torque—enough for a commuter—but weighs less than 4 lbs.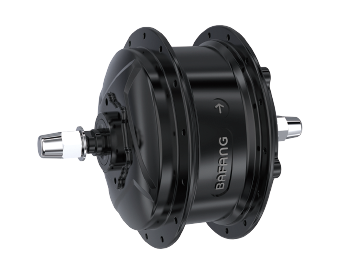 This is an unusual hub among Bafang's line because it is a front-drive unit. That is, this is a hub with no gears and is narrow enough to fit in a fork. We see hubs like this in e-trikes. It produces 250W and 30Nm of torque, modest numbers that are great for a machine meant to cruise at gentler speeds.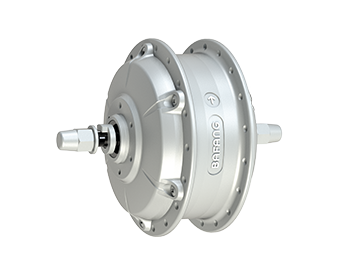 This is another front drive hub that produces 250W. Manufacturers will choose this when they are looking for an option with a little more oomph because it produces 40Nm of torque, a more than 10 percent gain over the other models.
Which E-Bike Brands Use Bafang Motors?
Bafang motors are used worldwide in hundreds of manufactured and converted bikes. Here is a current list of manufacturers using Bafang motors:
Accolmile
Alba
Alpec
Amsload
Armony
Author
Aventon
BBF Bike
Biktrix
Boah Bikes
Bottecchia
Breezer
Brinckers
Bzen Bikes
Capri
Carla Cargo
Charge
CTM
DeRosa
Keola
Leader Fox
Luna Cycle
Maxbike
Montana
Okai
Pedego Electric Bikes
Pfautec
Poison
Prophete
Qwic
Revenge
Revibikes
Rungu

Dema
Dolly Bikes
Ecobike
Embassy
Eunorau
Evelo Electric Bicycles
Fischer
FLX Bikes
Forestal
Forme
FreeBike
Frey
Giama
Grey Technology
Huyser Fietsen
IGO
Jojobike
Jools
Juiced Bikes
Seven Peaks
Sondors
Soul Beach Cruisers
Stella
Synch
Tosa
Tozz
Urvis
Van Dijck
Vanmoof Asia
Varstrom
Viking
Volt
Zasada Bikes
Final Verdict: Are Bafang Motors Good to Use?
We see Bafang motors most often on entry to mid-level e-bikes. Their hub motors are cost-effective and reliable and bring brand-name recognition to a range of products that are often chosen more for their cost than their quality.
While we haven't seen Bafang's mid-drive motors on many e-bikes in the U.S. market, that's beginning to change and as we see more e-bikes built with those mid-drive motors, Bafang's reputation will only grow. It takes a certain kind of expertise to build a product that is both reliable and inexpensive.
With nearly 20 years making motors for e-bikes, they are one of the most experienced manufacturers in the category, and with so many different motors, they may offer more choices to a manufacturer than any other supplier.