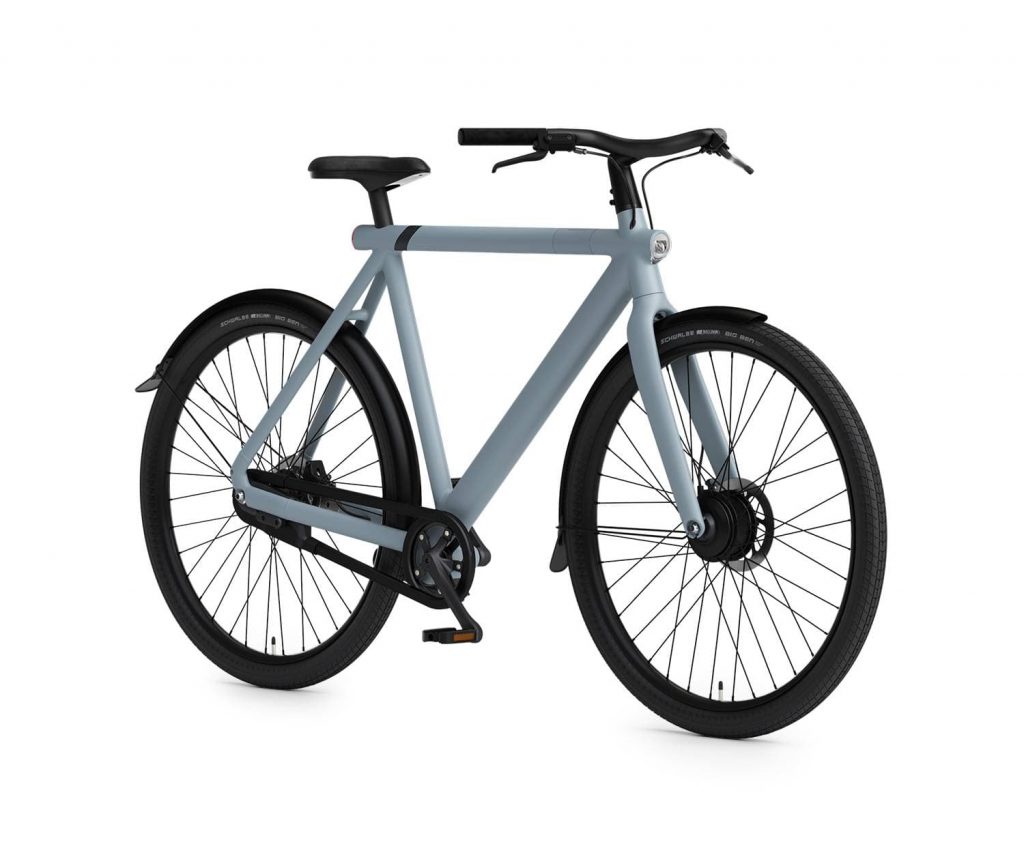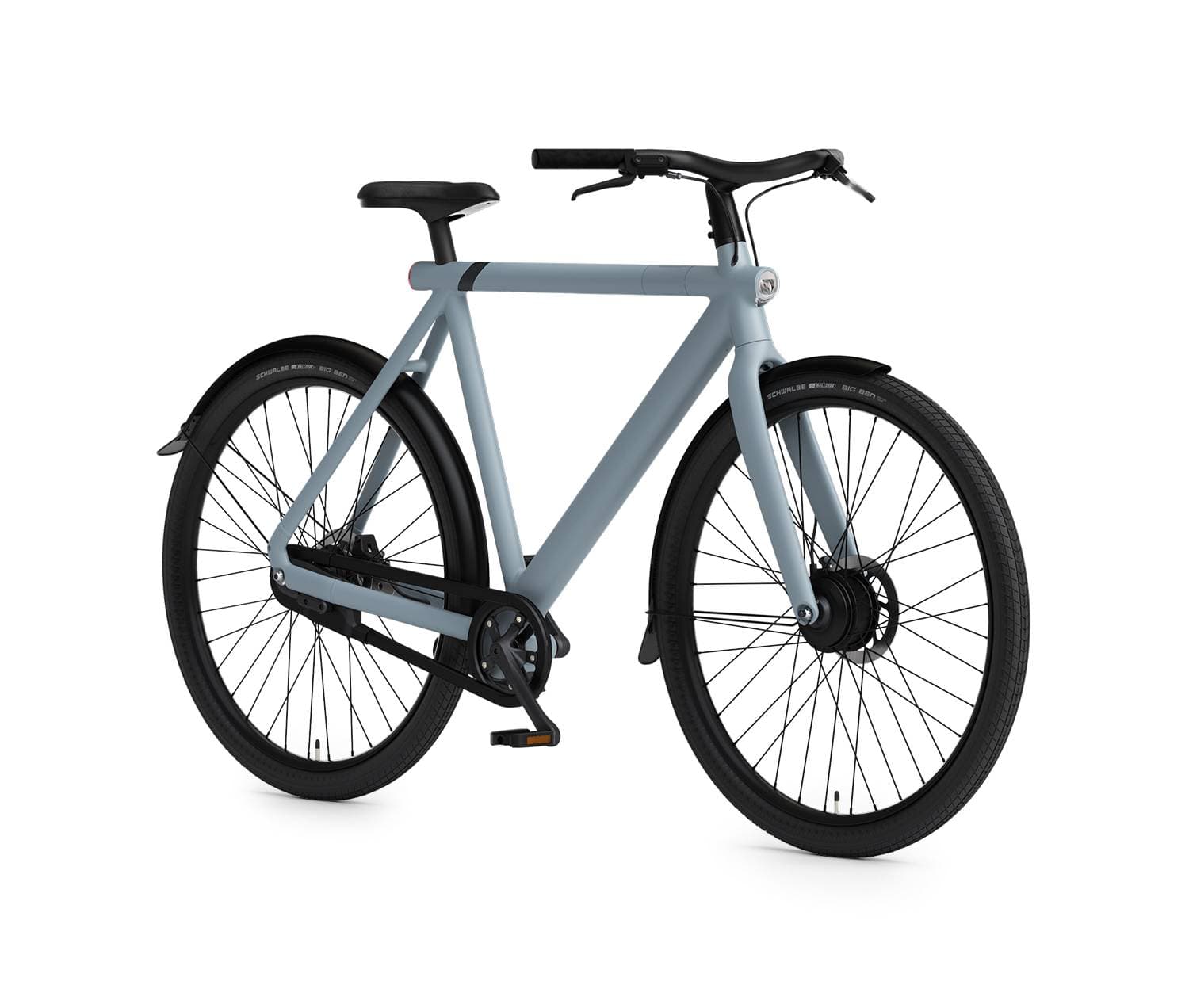 The 2020 VanMoof S3 eBike is an entry-level eBike built for stylish city commuting, with a sleek and minimalist design that hides most of the wiring that you come to expect in electric bikes. The class 2 eBike features both pedal assist and a throttle button that will quickly help you reach 20 MPH, thanks to the 350W 59Nm front hub motor. If you need an eBike that will help you explore every nook and cranny of a city on a single charge, you will have more than enough range thanks to the 504Wh Integrated LG Cell and 95 mile estimated use range. This is an eBike built for the tech savvy, as the VanMoof S3 is controlled via your cell phone. The VanMoof app allows you to not only dictate the automatic gear shifting but power mode and even internal bluetooth speakers, among other great features. Weighing just under 42 lbs, this is one of the lightest eBikes on the market, making it a great option for shorter and younger riders as well. The lack of a suspension system and overall build does not make this a suitable eBike for off-roading and even light trail riding. However, if you are sticking to urban streets and need something that is perfect for stop-and-go traffic, we recommend checking out the 2020 VanMoof S3 electric bike!
Bike Category: Class 2: Pedal and throttle assist to 20 mph
Who It's For: Riders looking for a tech optimized, sleek eBike that is very stable and steady on urban roads and city streets.
Bike Specs
FRAME Coated aluminum frame
UI/REMOTE VanMoof App
BATTERY 504Wh LG cells
CHARGER 36V 4A
MOTOR Front-wheel hub 350W with 59Nm of torque
CHAIN Fully enclosed self-tensioning chain, belt drive upgrade option
SHIFT LEVERS N/A – Automatic shifting
CASSETTE Four speed enclosed drivetrain
CHAINRINGS Enclosed Sturmey-Archer
DERAILLEUR Auto-gearing enclosed electronic derailleur
RIMS Anodized aluminium rims, stainless steel spokes
TIRES 28'' x 2'' Schwalbe Big Bens Tires
SADDLE 26cm x 20cm one piece design
STEM One piece design
HANDLEBARS One piece adjustable handlebar and stem
GRIPS VanMoof Handlebar, Glue
BRAKES Anti-theft front and rear hydraulic disc brakes
PEDALS Aluminum reflector pedals
KICKSTAND Adjustable Center Mount Kickstand
BELL Bluetooth speakers
HEADLIGHT Integrated 40 Lux LED Headlight
TAIL LIGHT Integrated Red Rear Light
FENDERS Extruded Molded Plastic
Pros
Front wheel hub eBike that is a solid option for those switching over from traditional bikes. Lightweight frame that is easy to lift and handle makes it a suitable option for younger or shorter riders.
Class 2 eBike that features both pedal assist and throttle assist motor systems. When used in eco mode, has an outstanding range of up to 95 miles.
Stylish design that effectively hides the wiring associated with eBikes while also offering superior electrical system protection. Available in a light and dark colored option.
Fast recharging with the 36V 4 Amp charger. Able to recharge from 0% to 50% in 80 minutes, and from 0% to 100% in less than four hours. Integrated 504Wh LG cell battery has great frame protection as well.
Fully enclosed, auto-shifting four gear electronic drivetrain. Tight build ensures that you'll almost never have to perform chain or gear maintenance. Also features the ability to upgrade to a belt instead of a chain for improved performance and eBike longevity.
Four gear options are automatic, based upon your pedaling cadence and angle of terrain. Automatic electronic drivetrain performs well in the city, though it does have trouble on trails and very steep hills.
Accessory compatibility for both front and rear cargo mounts, with a number of integrated accessories further adding to the value of the great $2,000 dollar eBike. Integrated lighting, fenders, aluminum pedals, and more.
Dynamic performance and motor control with the VanMoof smart phone application. Control your gear shifting settings, power assist levels, and more with the application, or use it to track your bike and lock it down if it ever gets stolen. Also features a LCD matrix on the handlebars that will track your speed, battery usage, and power assist level even when the app isn't open.
Powerful integrated headlight will light your way at night or help you be more visible during the day, while rear red tail light will make you easier to spot as well. Pedals also feature reflectors for drivers coming at your side, further improving rider safety and decreasing the chances of an unfortunate accident or crash.
Cons
No suspension support. Lightweight frame performs very poorly off-road, and does not handle well even on dirt trails or steep hills. This is a dedicated commuter eBike only.
One frame size and limited seat and handlebar adjustability. Most adults report feeling comfortable on the VanMoof S3, but very tall or short riders may want to look elsewhere. Suggested for riders taller than 5'4'' and shorter than 6'6''.
Some accessory and design quirks. The battery cannot be removed without disassembling the eBike itself, the handle grips are glued on and have to cut off in order to be replaced, and other small quirks. The design makes the VanMoof easier to build and more affordable, but it has an entry-level eBike feel.
Automatic drive-train and gear shifting is both a positive and negative. The eBike is easy to handle and control, and the electronic gear shifting is great 95% of the time in the city. However, those who want total control and handling will want to look to other eBikes with direct, manual shifting.
S3 eBike is designed with more advanced tech users in mind. The application is great, and lets you configure multiple motor and gear shifting settings to a greater degree than most eBike controllers. However, some riders may just want an easier eBike controller that they can shift with just a simple click of a button. The application might be too much for older, or less technologically experienced bikers.
Features
Coated aluminum frame
The VanMoof S3 electric bike is not the most sturdy eBike on the market, the coated aluminum frame is lightweight and easier to handle than many other eBikes at 42 lbs. The frame is very steady and solid enough for city riding, but will struggle and feel shaky on rougher or unpaved roads.
504 Wh LG Cells Battery
Integrated battery that has an impressive range of up to 95 miles when used in economy power mode on smooth city streets. Integrated battery does make it hard to service or charge indoors, but does offer superior battery protection.
36V 4A Charger
Fantastic, fast acting charger that can charge the eBike battery up to 50% in 80 minutes, and a full charge in 4 hours. Very easy to plug in and use as well.
350 W, 59Nm Enclosed Motor
The front wheel hub motor is a bit smaller than many other motors, but works well with the pedal assist and throttle motor system. Featuring four power assist modes, you can quickly get up to speed and keep up with stop-and-go traffic as you pedal around the city.
Matrix Display and VanMoof App
The LED matrix display will give you an overview of your speed and power assist level, but you will be controlling your eBike with your VanMoof app. Connected via bluetooth, control your power assist, your gear shifting, or blast music through the VanMoof's speakers all via the VanMoof eBike controller application.
Fully enclosed, electronically controlled automatic drivetrain
You won't have to worry about shifting thanks to the fully enclosed, automatic drivetrain. While it doesn't offer the same level of control as a manual drivetrain, the enclosed drivetrain is less prone to breaking or accidents and has a great success rate when used in the city. You can also upgrade the enclosed chain for a belt that will further improve performance and the longevity of the VanMoof S3 eBike.
28'' x 2'' Schwalbe Big Bens Tires
The 28'' by 2'' tires are built with city riding in mind. These tires will quickly build up speed and maintain it well, while also providing great handling while you're driving on concrete and other smooth surfaces. They will work fine on cobblestone and the occasional rough patch, but try to avoid off-roading with this tire setup.
VanMoof Handlebar Grip Set and Saddle
The VanMoof handlebar and saddle are very comfortable to use, and the saddle does offer some adjustability to personalize the riding experience. The handlebar grips are glued on, making them long lasting but also very hard to remove and replace.
Anti-theft front and rear hydraulic disc brakes
The hydraulic disc brakes work well enough for slowing you down, and are interconnected with the motor to cut off power automatically when you need to stop. The braking system also comes with great anti-theft lockdown features, which allow you to lock the bike down with a press of a button on the frame or by use of your smartphone VanMoof application.
Aluminum Reflector Pedals
The aluminum reflector pedals are easy to install or replace, but due to their solid build they are unlikely to be damaged except in extreme crashes. The side reflectors further improve the eBikes visibility as well, reducing the chances of a crash.
In-Depth Review
Frame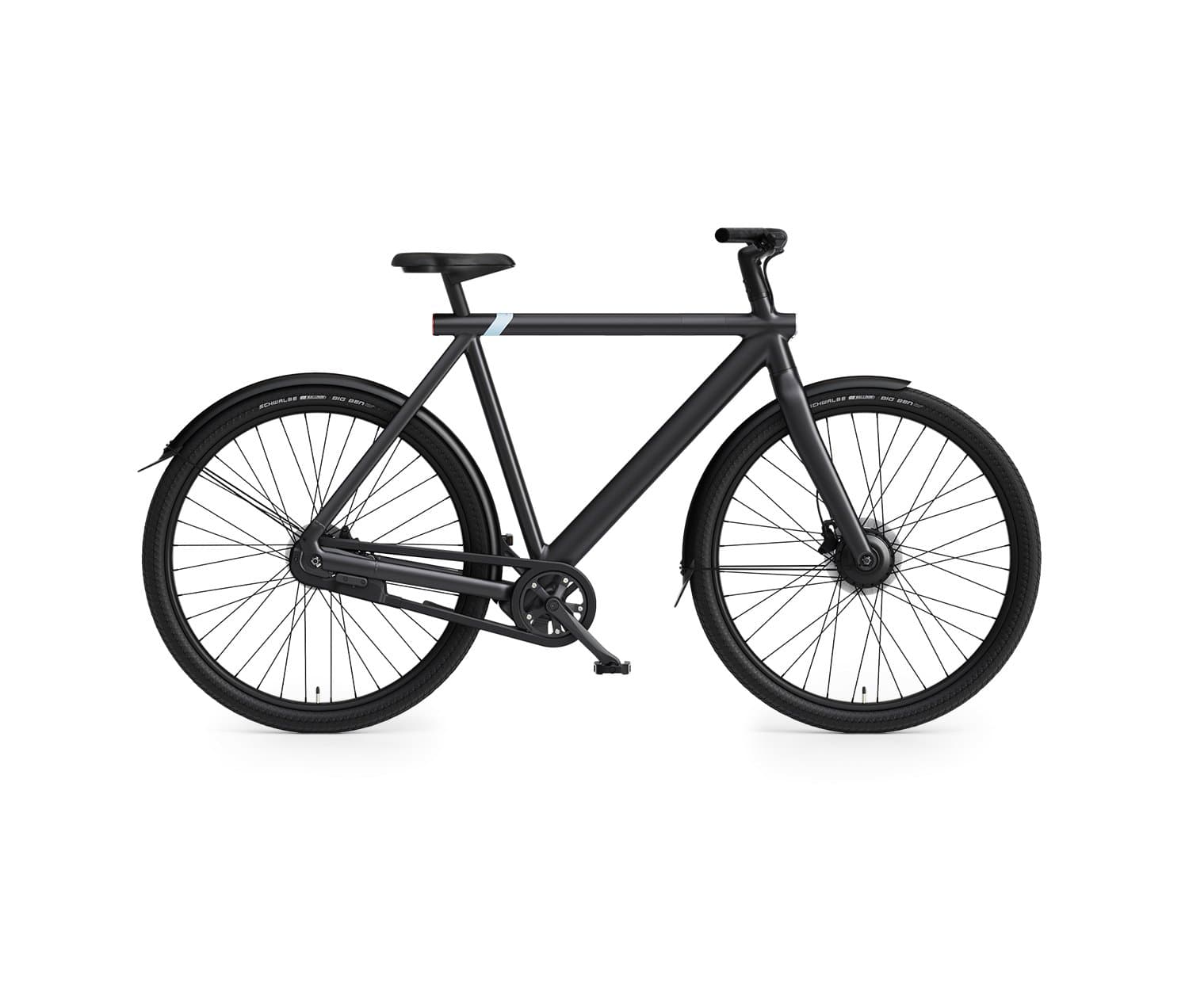 The VanMoof S3 electric bike is built with a coated aluminum frame. On the one hand, this is not a very durable or sturdy eBike, but it is more than strong enough to support adult riders who intend to use it in the city. Furthermore, by going with an aluminum coated frame and thinner overall components, the total weight of the VanMoof S3 is far less than many other eBikes on the market at just 42 lbs. If you are a younger rider, or one that has found it hard to handle or carry traditional eBike frames, you will appreciate the lighter VanMoof S3 build.
However, we also want to note that the VanMoof S3 electric bike is currently only available in one frame size. There is an adjustable saddle, along with adjustable handlebars, and we find that the current design will support most traditional adult rider heights. VanMoof states that the eBike is built for riders that are between 5'8'' tall to 6'8'' tall, but from customer reviews we find that most riders between 5'4'' and 6'6'' should feel comfortable on the VanMoof S3. If you are shorter than 5'4'', or are looking for a smaller eBike in general, we would recommend checking out the 2020 VanMoof X3 for an eBike that is more accommodating to shorter riders.
Motor & Battery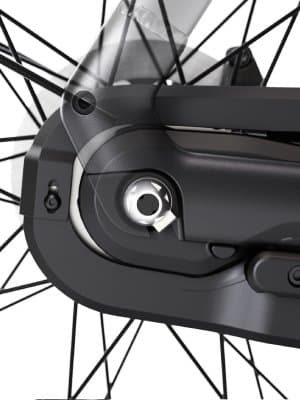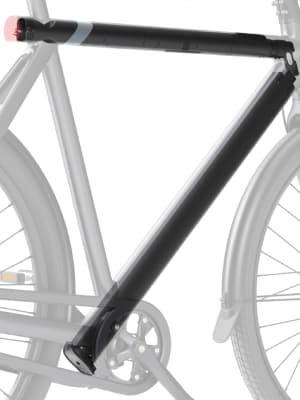 The 2020 VanMoof S3 is a class 2 eBike with both pedal and throttle motor assist up to 20 MPH.
The S3 motor is a 350W/59Nm front hub motor, and is partnered with a 504Wh capacity integrated LG cell battery. On a full charge, you can travel an estimated 40 miles in the turbo full power mode, or an impressive 95 miles in the economy power saving mode. Power is provided via both a pedal assist system, the boost kicking in only when you pedal, or by a button on the right handle that acts as a throttle. Motor power assist will empower the eBike up to 20 MPH, at which point the motor will automatically cut off, though you can pedal manually to go even faster on the eBike. While the 20 MPH limit may seem small, it ensures that you can ride and purchase the VanMoof S3 without needing additional training or licensing to operate.
From 0% to 50%, the 504Wh battery takes about 80 minutes to charge with the 36V 4A charger. For a full charge, you will only need about 4 hours, making this one of the faster charging eBike setups on the market. The eBike itself, controlled via the VanMoof app that we discuss in detail in the next section, has four operating modes. Lower assist power modes will provide a small power assist but ensure that the battery will last longer, while higher power assist modes help you build speed more quickly but will drain the battery quicker as well. Note that if your battery is empty, or you opt not to use the motor, you will still be able to manually operate and ride the VAnMoof S3 like a traditional bicycle as well.
The S3's battery is integrated directly into the electric bike frame itself. While the battery can be removed, it does require disassembly of the larger eBike itself, making it something you'll rarely do. This has both advantages and disadvantages; a non-removable battery is lighter, and far less likely to be damaged when you are riding and eventually crash the VanMoof S3. However, the downside is that if you have a battery problem, it is difficult to replace and service, besides the fact that you can't recharge the eBike battery indoors without bringing the bike itself inside. We personally prefer removable batteries for these reasons, but as an entry-level eBike most riders won't have any problem with the VanMoof S3 as it is set up currently.
Display/Assist Modes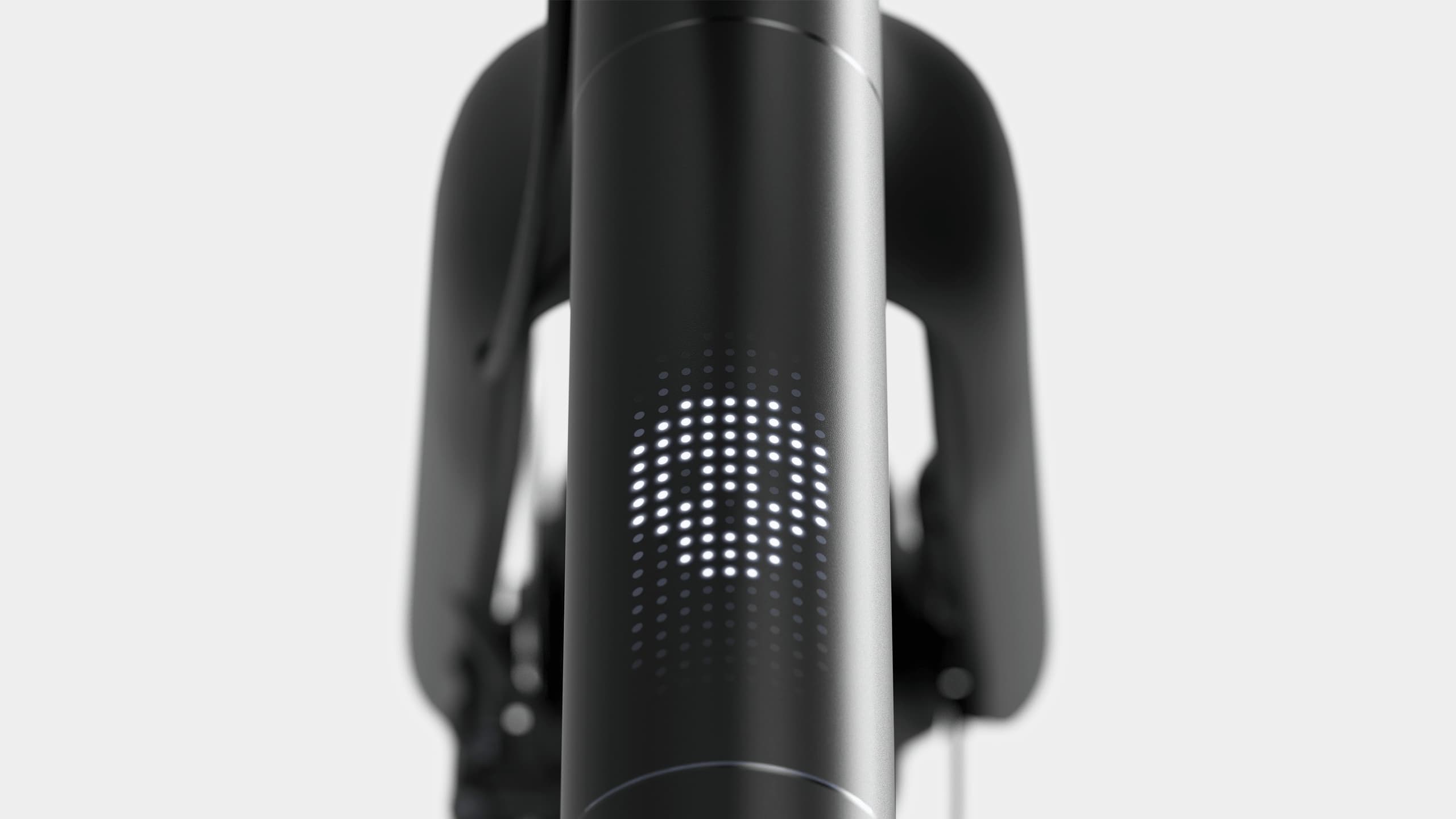 Unlike many other eBikes, which just have a cumbersome dedicated motor control unit, VanMoof has opted to instead use a dedicated app you can download to your smartphone. With the VanMoof app, you have access to the following:
VanMoof App Features:
Battery Level
Current Speed
Assist Level (Four levels)
Gear shifting (Variable programing)
Trip Distance
Estimate Range
Lights
Speakers alarm/music control
Lock down functions
Anti-theft security
GPS Tracker
Help/Support Database
Outside of the application, there is also a LED matrix display on the top of the handlebar. This display will also report your current battery level, power assist level, and speed. However, the display does clash with the paint, and the LED is weak enough that it can be tricky trying to read it on a sunny day.
Overall, the application is impressive, and it does offer much greater control over the motor and eBike functionality compared to many other eBike controllers. Furthermore, you don't have a giant screen or block that is sitting on your handlebars, freeing up your hands and also removing a distraction from your face. However, this does mean that if you want to change your power assist level or evaluate your performance while biking, you either need to have a smartphone mount or find a place to stop and pull over to check your phone. Less tech savvy bikers, or those who don't have a compatible smartphone, will want to look for an eBike other than the VanMoof S3.
Handling
On Streets- The tall but thin 28'' by 2'' tires have fantastic handling on well paved city streets. If you are looking for tires that provide solid traction but help your eBike pick up speed like a whistle without losing handling and control, the VanMoof S3 has a great setup. However, it does not perform nearly as well once road conditions worsen or you go off road, and even has a bit of trouble once you hit cobblestone due to the lack of a suspension system. Great handling in urban environments, but leave the streets and you won't have much fun on the VanMoof S3.
Turn Radius- Due to how thin the tires are, you can perform pretty sharp turns with the VanMoof S3. If you need to dip into an alley or find yourself making U-turns quite often as you navigate the city, the VanMoof has a tight turn radius that makes performing such acts quite easy.
Low Speed Handling- There is no walk mode on the VanMoof S3, so unlike other eBikes you're not going to be able to get motor assistance unless you're riding it. However, as the VanMoof S3 is lighter at 42 lbs, it's also easier overall to ride at lower speeds or just walking along the ground. We don't anticipate most riders having any trouble handling the VanMoof S3 at lower speeds.
Gears/DriveTrain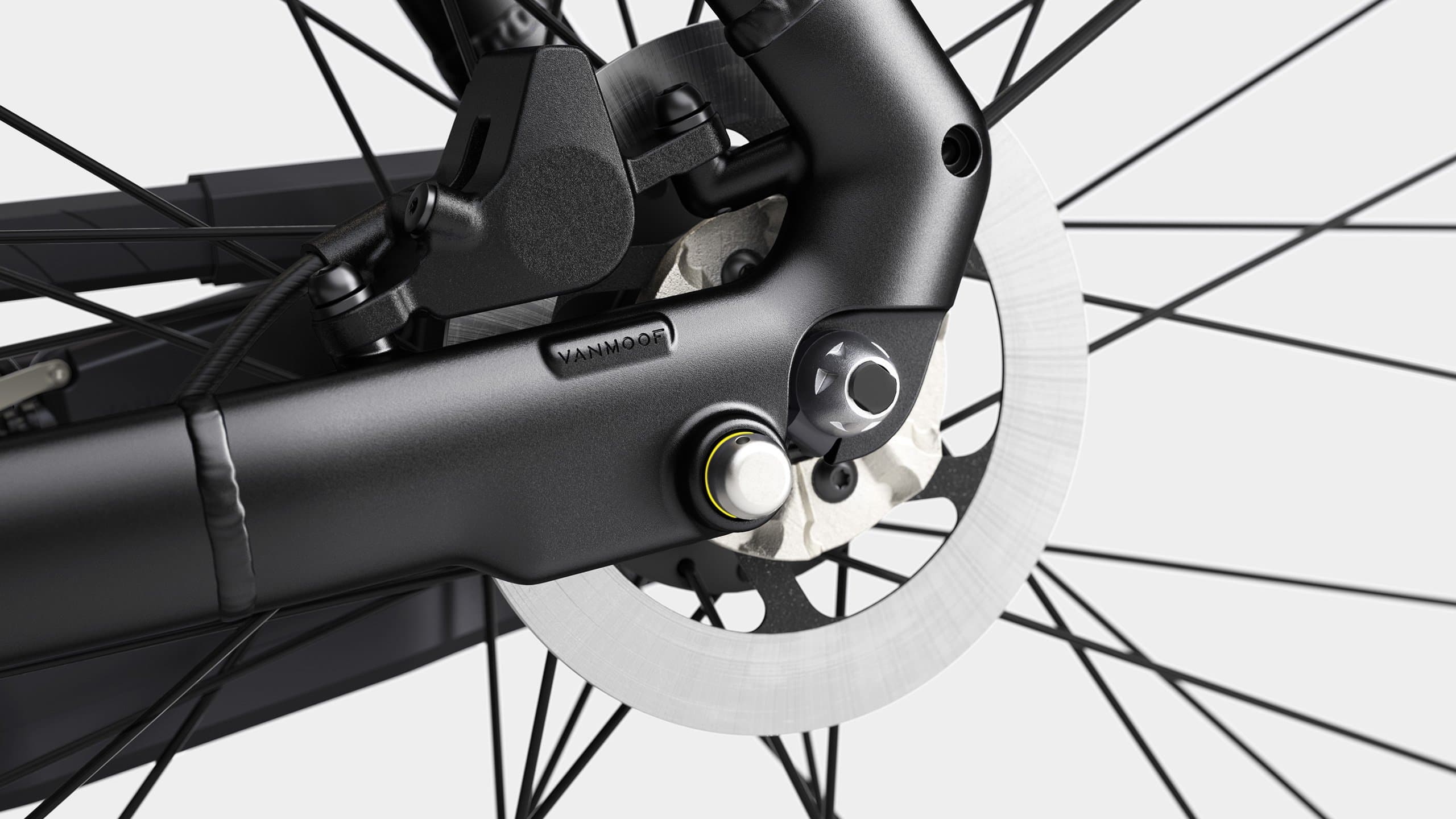 The drivetrain is totally enclosed, and much of the components that make up the chainrings, derailleurs, cassette, and other major drive train sections are either gone or electronically based. As an end result, the VanMoof S3 has its own distinct advantages and disadvantages with the current design. Whether you'll ultimately like the largely electronic, internally based drivetrain is ultimately going to depend on the performance and riding experience you expect from an eBike.
The VanMoof S3 has a simple four gear system, and through electronic derailleurs will automatically shift based upon your pedaling cadence and sensors that detect your overall terrain. While this does not provide the same level of gear control as manual derailleurs, the system works extremely well in the city, helping you maintain a steady cadence and smooth riding experience. This is also a very simple eBike to ride, making it a great option for younger riders or those who don't care about monitoring their performance all the time as they just want to commute to and from work. For those who are tech savvy and want more direct control, you can also alter the gear shifting settings with the VanMoof application, though the majority of riders won't need to do that to make the most of the automatic gear shifting with the VanMoof S3.
Now, the drivetrain and gear shifting system works great when it comes to city riding, but it tends to fail more often than not once you start to take things off road, or even when you hit a very steep hill. There can also be some gear shifting hitches if you start to pedal very quickly from a complete stop, as it can trick the automatic shifting system into shifting into a higher gear earlier than you need it to. Lastly, if there are gear shifting problems or if your drivetrain gets damaged, it is a lot harder to service compared to a more traditional drivetrain system due to its largely electronic based build design.
Ultimately, if you take good care of the VanMoof S3 and accept there will be bugs here and there, the automatic shifting electronic drivetrain is a great feature that will make every ride a breeze. There is also an option to replace the chain with a belt, which has a number of its own unique benefits. With a belt, you won't have the same gear hitching issues or ever have to deal with a chain falling off and needing to be reset. Belts also last longer than chains, and offer greater versatility and response to gear shifts for more precise performance than belts do. It is a pricey upgrade at nearly $500 dollars, but for the best performance and improved S3 eBike lifespan, it is an upgrade worth considering.
Brakes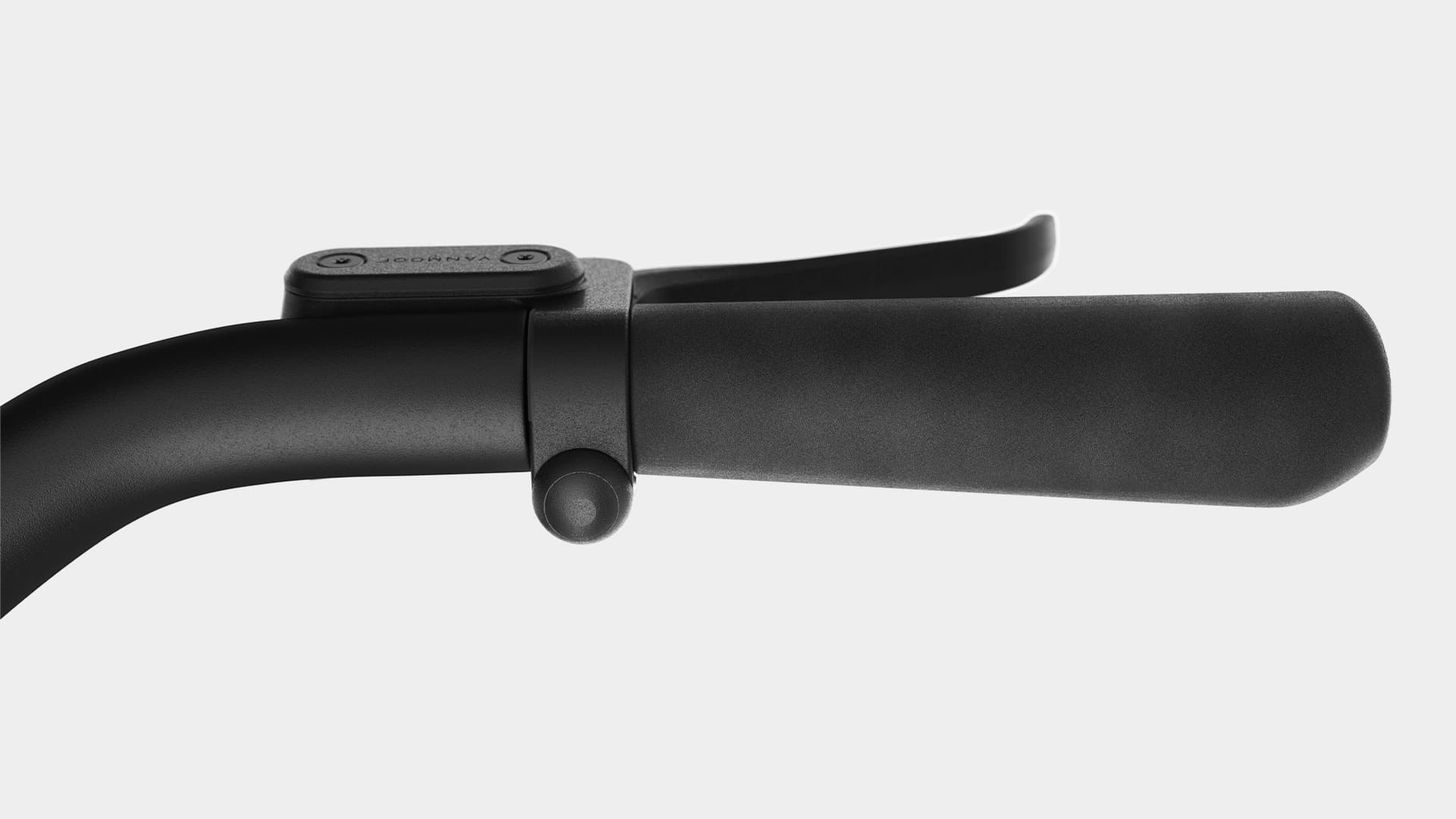 The front and rear hydraulic disc brakes are very effective, helping the VanMoof S3 come to a quick stop even when you're riding at high speeds. The brakes are interconnected with the motor, cutting off power as soon as you pull on the brake levers, ensuring that they aren't competing with each other. Having interconnected brakes not only helps you come to a stop quicker, but it also ensures that the motor and braking system will last longer before requiring maintenance or needing to be replaced. As for the brake levers, they are large and wide enough to support up to three fingers comfortably, and provide a solid pull feel as you grip them to come to a stop. The brake wires are the only wires that are exposed on the eBike, but given their importance it's probably better that you can see them at all times rather than trying to hide them like the other electrical components.
Suspension
There is no suspension system on the VanMoof S3 eBike. Due to the solid, largely integrated electrical hardware built into the S3, it is difficult to even add a suspension seat post to it as well. The S3 is heavy and firm enough that riding it through town and across well-paved streets will be a largely smooth experience, but you will have some difficulty if you try to ride the eBike anywhere else. If you must have some sort of suspension support, VanMoof does off an Air Suspension saddle that is compatible with the VanMoof S3. While this Air saddle does not offer a massive difference in support, it is noticeable enough that you'll find riding the S3 a bit smoother as you hit rough patches or the occasional cobblestone road.
Pedals
The wide aluminum pedals are a step above the plastic pedals used on many eBikes, even premium models that are currently popular on the market. With aluminum, you have solid weight support to ensure that short and taller riders alike will feel comfortable riding on them, and are durable enough that they'll remain intact even when your bike occasionally falls over. Outside of being easy to install, it is also great that VanMoof made sure to put reflectors on the pedals as well. It's a small thing, but it is another safety feature that will improve your visibility and rider profile, helping you stay safe and avoid crashes as you navigate around city streets.
Grips and Saddle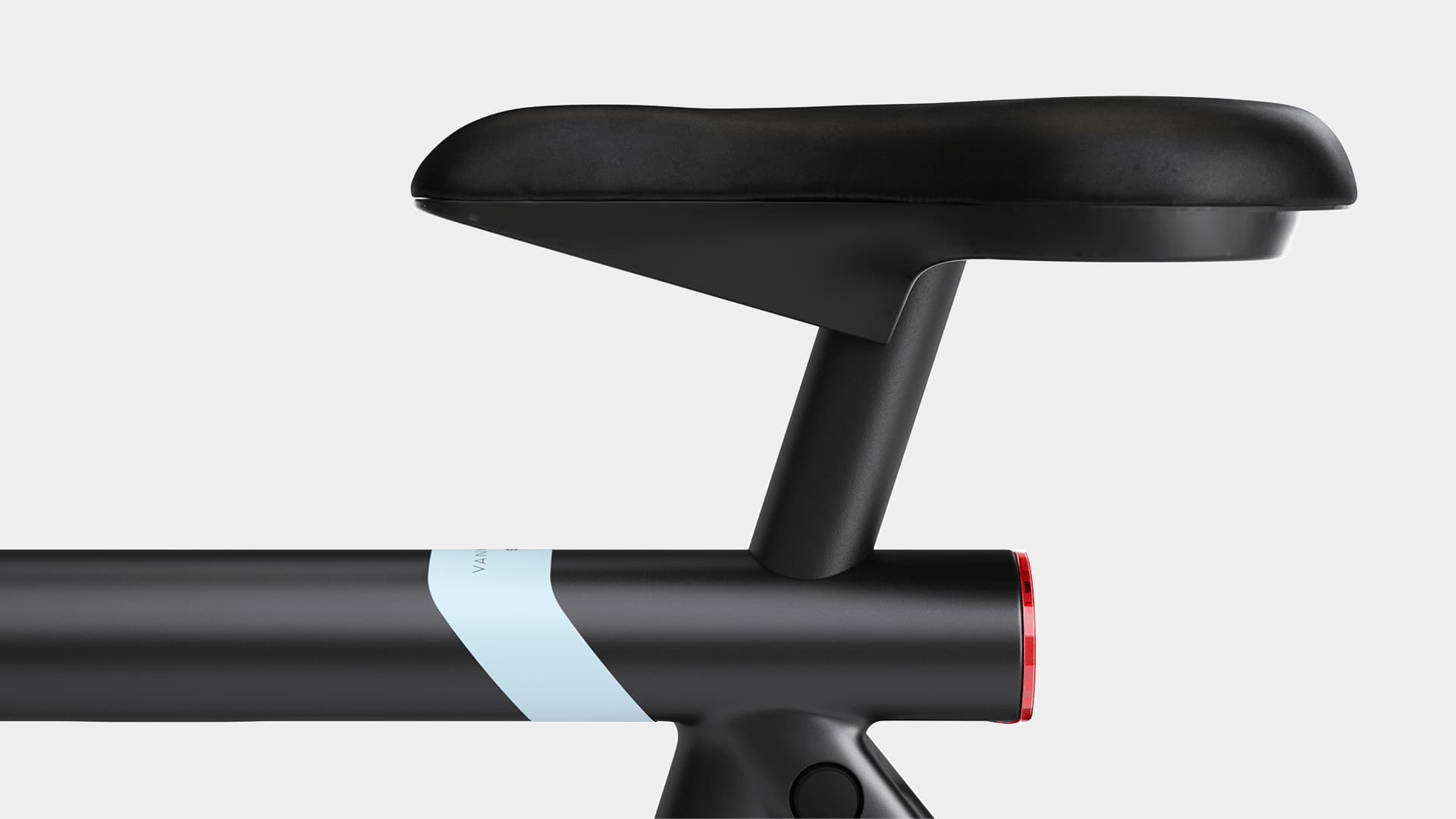 The saddle on the VanMoof S3 is 26cm x 20cm, and so should be large even to support even larger riders and help them have a comfortable ride through the city. While the saddle is a one piece design, there is some adjustability when it comes to its height and position, helping different riders find a configuration that is best suited for their riding style and posture. The saddle can also be upgraded and replaced with a VanMoof Air saddle, which does provide some minor suspension support if you want a eBike that is a bit smoother to ride when you hit rough patches.
The handlebar and stem are one piece, but also allows you to adjust the position, angle, and height of the handlebar to further accommodate different rider heights. Our one major knock against the handlebar system comes to the grips, which are glued onto the handlebars. While the grips are comfortable to hold, besides being weatherproof and meant for long term use, they are difficult to replace whenever they do get damaged, requiring the owner to cut them off with scissors or a knife. Most riders will rarely have to replace the grips on the handles over the course of the S3's lifespan, but be aware of why you simply can't pull or unscrew the grips like other eBike handles.
Wheels and Tires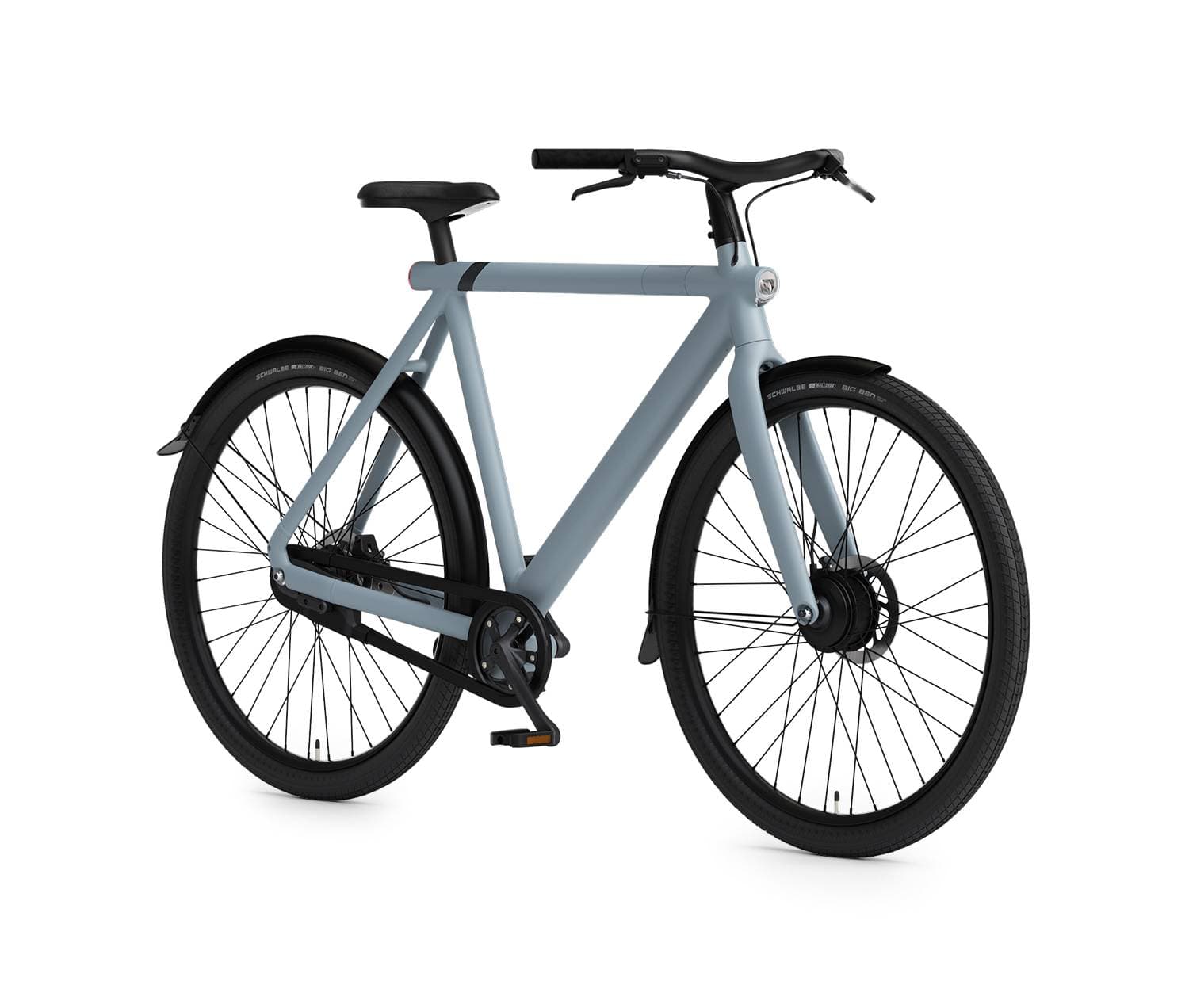 The 28'' by 2'' Schwalbe Big Bens tires, with aluminum rims and stainless steel spokes are built with speed and traction in mind, allowing you to pedal fast and make tight turns in the city. However, there are several gear and electrical components built into the tires on the VanMoof S3, meaning that you can't easily replace or repair these tires if they ever get seriously damaged. We anticipate that the majority of riders who use the VanMoof S3 will be happy with the performance of the Schwalbe Big Bens, but if you are the sort that wants easy to change out tires you are better off looking at a different eBike model.
Accessories/Upgrades
The VanMoof S3 is already a great value at $2,000 dollars given its performance, but it's an even better deal thanks to a number of features and accessories that come with it. VanMoof doesn't offer a ton of additional upgrades for their S3 model, but there are a few worth considering if you want to make your S3 eBike even better.
Some of our favorite accessories from VanMoof worth checking out include the following:
S3 Front Carrier
S3 Rear Carrier
VanMoof Pannier Bags
ABUS Wheel/Folding/Chain Locks
VanMoof Mudguard Flaps
Drivetrain Belt Upgrade
Recommendation
If you are in the market for a sleek, stable, and speedy eBike that is great for commuting to work without breaking the bank, we suggest the 2020 VanMoof S3 electric bike. The motor system has an impressive range, able to help you travel up to 95 miles on a single charge with the pedal or throttle button assist systems. The wiring is all internal, as is the enclosed drivetrain, which helps the S3 eBike look great while also providing greater protection for the key, critical eBike systems. The eBike weighs just 42 lbs, making it significantly lighter than many other eBikes on the market, and with its ease of use and automatic gear shifting is a great option for younger riders trying to get into eBikes. Due to the lack of suspension and other key features, we would not suggest taking this eBike out riding if you need something to tackle dirt trails and other roads. However, if you want a solid eBike for navigating city streets or paved town roads, we would recommend checking out the VanMoof S3 electric bike!