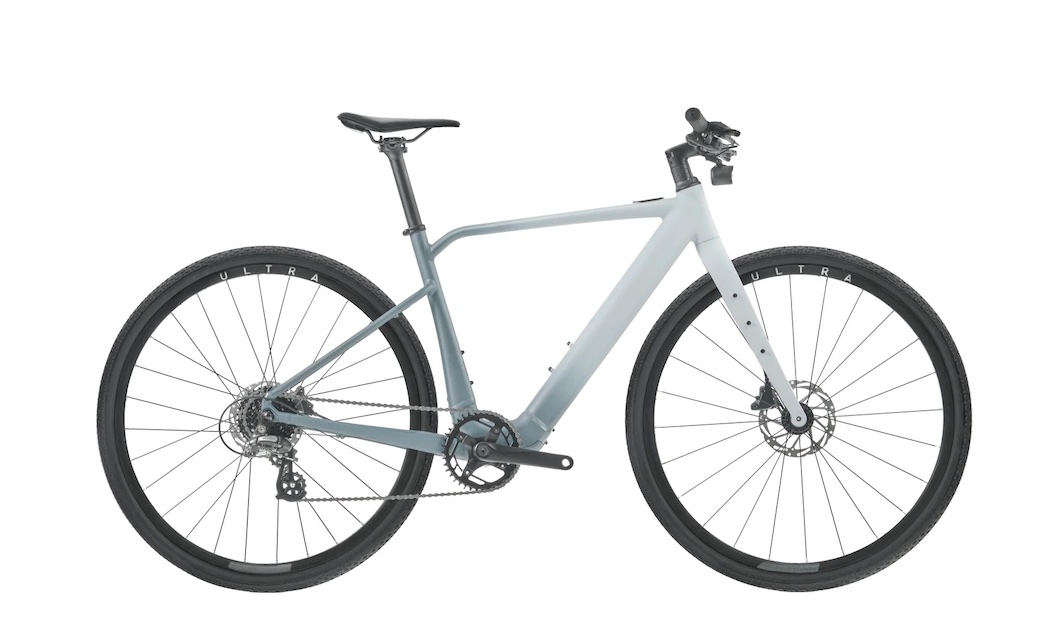 Intro
Judging from the number of e-bikes that come equipped with 750W motors and weigh north of 70 lbs., someone new to e-bikes could be forgiven for thinking there's only one way to make an e-bike that offers some get-up-and-go. The Velotric T1 is one of a growing number of bikes that pushes back against that idea. There is an alternative. In our Velotric T1 review we will look at how a smaller motor and battery can still deliver excellent performance.
The Velotric T1 is built around a 350W brushless, geared hub motor and a 353Wh battery. These are small numbers compared to what we often see; a 750W motor with a 720Wh battery is increasingly the norm. So, while a 350W motor generates less than half the power of a 750W motor, that doesn't mean it will necessarily deliver less than half the performance, and a big factor in the e-bike's performance is the e-bike's overall weight, which in the case of the Velotric T1 is a very slim 36 lbs.
A lighter e-bike offers a few different advantages, even for those who aren't looking to set uphill records. First, everyone has to deal with storing their e-bike after they finish their ride. For anyone who needs to take their e-bike up stairs or hang it from a hook to keep it out of the way, an e-bike that weighs only 36 lbs. is kinda like chocolate—it doesn't need much of a sales pitch. Also, for smaller riders, a lighter bike is easier to handle and feels more sporty.
With its fully internal battery and smaller-than-usual rear hub, the Velotric T1 doesn't even look like an e-bike. The T1 comes in two sizes, as well as two colors and is well-suited to riders who want a thrilling ride. This is a Class 1 e-bike that can be unlocked to go as fast as 25 mph.
Let's take a deeper look at what makes the Velotric T1 such a compelling e-bike.
E-Bike Category: City
Who the Velotric T1 Electric Bike Is for:
Riders who want to enjoy a lightweight, spirited ride on the road, and aren't afraid to put some muscle into their pedaling.
Velotric T1 Electric Bike Review Ratings:
***All ratings are relative to e-bikes of a similar style and price point***
| | |
| --- | --- |
| Speed/Acceleration | |
| Hill Climbing | |
| Battery Range | |
| Braking | |
| Construction Quality | |
| Handling | |
| Included Accessories | |
| Warranty | |
| Value | |
Velotric T1 E-Bike Specs
Battery: 353Wh lithium-ion
Expected Range: Up to 70 mi., estimated
Charger: 2A
Motor: 350W brushless, geared hub motor, 45Nm torque
Pedal Assist: 5 PAS levels
Throttle: N/A
Display: LED
Headlight: 45 Lux
Taillight: N/A
Frame: 6061 Aluminum
Fork: 6061 Aluminum
Fenders: N/A
Kickstand: Included
Handlebars: Alloy, 680mm wide
Grips: Rubber, lock-on
Drivetrain: 8-speed Shimano
Brakes: Tektro hydraulic disc brakes, 160mm rotors
Pedals: Alloy, with reflectors
Saddle: Selle Royal SRX
Tires: Puncture-resistant, 700C x 38mm
In-Depth Velotric T1 Review
Velotric T1 Review: Comfort, Handling, and Ride Qualities
The Velotric T1 comes in two different sizes, medium and large. Both frames feature a fairly traditional frame design. The difference in reach between the medium and large is only 9mm, but it's enough to make a difference for some riders. Bear in mind that the sizing ranges e-bike companies give are optimistic and riders at the edges of the ranges may not have an easy time getting comfortable.
Compared to most commuter, cruiser and fat-tire e-bikes, the Velotric T1 features a low handlebar position. This will cause the rider to bend forward more, placing more weight on the front wheel and both improving the rider's aerodynamics and the e-bike's handling. This is an e-bike that will give riders a racy feel and the narrow, low-profile tread tires will make for a very quick-rolling ride. For the person who wants to dive into corners and enjoy a sense of speed, the Velotric T1 offers an exciting ride.
At just 36 lbs., the T1 is much lighter than most e-bikes, thanks in part to a smaller motor and a completely hidden battery. Its acceleration will be quicker than with most e-bikes and it will feel more maneuverable.
Velotric T1 Review: Motor, Battery, and Drivetrain Performance
As we've seen with some other e-bikes, a company can choose a smaller hub motor and battery and even though the motor might have less power and the battery less capacity, the simultaneous reduction in weight will make up for much of the reduced power.
The Velotric T1 is equipped with a 350W brushless, geared hub motor that produces 45Nm of torque. On an 80-lb. e-bike, that would make for a woefully underpowered ride, but on a 36-lb. e-bike, such a motor can perform very well.
The 353Wh battery is estimated to offer riders a range of up to 70 mi., and that's before adding Velotric's range extender. If 70 mi. seems overly optimistic for an e-bike with a 353Wh battery, that's understandable, but there's yet another factor (aside from the e-bike's weight and the motor's wattage) to consider: The Velotric T1 is equipped with a torque sensor, which tends to help conserve the battery capacity by doling out no more power than the rider summons by how hard they pedal.
The 8-speed Shimano drivetrain was a pleasant surprise for an e-bike in this price range. Aside from giving riders yet another gear, the drivetrain offers a wider gearing range than we usually see and these components will prove to be more durable than those found in a 7-speed drivetrain.
Velotric T1 Review: Braking, Safety & Warranty
Of the many things an e-bike maker can do to improve the ride of an e-bike is to make it easy to control. That means a couple of things. First would be keeping it light enough that it's easy to pick up—yes, that's handy before and after the ride, but more importantly, it makes the ride itself easier: easier to start, easier to turn, easier to stop. The next biggest item is giving an e-bike a set of brakes with enough power that someone can skid to a stop—not that we want to do that in actual practice.
The Velotric T1 is equipped with Tektro hydraulic disc brakes, paired with 160mm rotors. We are quick to praise e-bikes with hydraulic discs and 180mm rotors, so why wouldn't we criticize the use of smaller rotors? First, with a narrower tire (still quite big by racing standards), the tire footprint is smaller, which reduces traction. There's a limit to how much power you want in a pair of brakes. Plus, as this e-bike weighs only 36 lbs., saving 40 or so pounds off other e-bikes means it doesn't need brakes with quite so much halt.
Where rider safety and security is concerned, Velotric has included some features that will be attractive to anyone commuting or running errands—anyone who has to lock their bike at a destination. The T1 includes an anti-theft alarm as well as GPS tracking for the e-bike. An ambient light sensor will turn on the headlight in waning light as well, and coming sometime soon is crash detection.
Velotric's warranty is a step up from what we usually see. With the T1, Velotric grants a five-year warranty on the frame and fork. The motor, battery and other electronics get two years and all of the parts and other components on the e-bike receive a one-year term. It's a better warranty than most.
Velotric T1 Review: Recommendation/Final Verdict
Direct-to-consumer e-bikes have tended toward models that are heavier and feature big hub motors and big batteries. This results in e-bike models that typically weigh more than 70 lbs. All that weight can make an e-bike feel a little sluggish to turn in. One way to frame the difference is to think of a 70-lb.e-bike like a Toyota sedan. It has a smooth ride and performs reliably, but it's not exactly thrilling. The Velotric T1 is more like a BMW sedan. The ride isn't as cushy, but the handling is sharper and the driver feels more engaged.
Because the two sizes the the T1 comes in are similar, riders at the edges of their recommended size range may not fit on either size. How similar are the two sizes? The riders who comfortable on one size will be fairly comfortable on the other because the difference in reach is less than a centimeter.
The decision to include a torque sensor is a testament to Velotric's sense of the appeal of this e-bike. It's aimed at riders who want a workout, want to feel the e-bike accelerate as they pedal harder. Sure, it makes the battery more efficient, but a torque sensor makes the riding experience much more engaged; the e-bike feels like an extension of the writer.
Some shoppers might be disappointed that Velotric left out some of the accessories we typically see. They didn't include a rear light, fenders or a rear rack. So how does that hurt the value of this e-bike? It doesn't. The presence of the torque sensor, 8-speed drivetrain and hydraulic disc brakes make this bike an excellent value. Fenders and a rack can be added later; a torque sensor can't, and upgrading a drivetrain by one gear would require a whole new drivetrain.
The emergence of these flat-bar road e-bikes is an encouraging turn for those of us who have enjoyed high-performance bikes. The feel of a lighter e-bike is an experience that can't be conveyed in words; it requires a test ride, but the experience is exceptional enough that anyone contemplating a new e-bike would do well to find one of these lighter-weight e-bikes and taking a spin. The Velotric T1 is an exciting option.
Thank you for reading through our review of the Velotric T1. Still have further questions? Wondering how it compares to a similar e-bike we've reviewed? Let us know in the comments below!