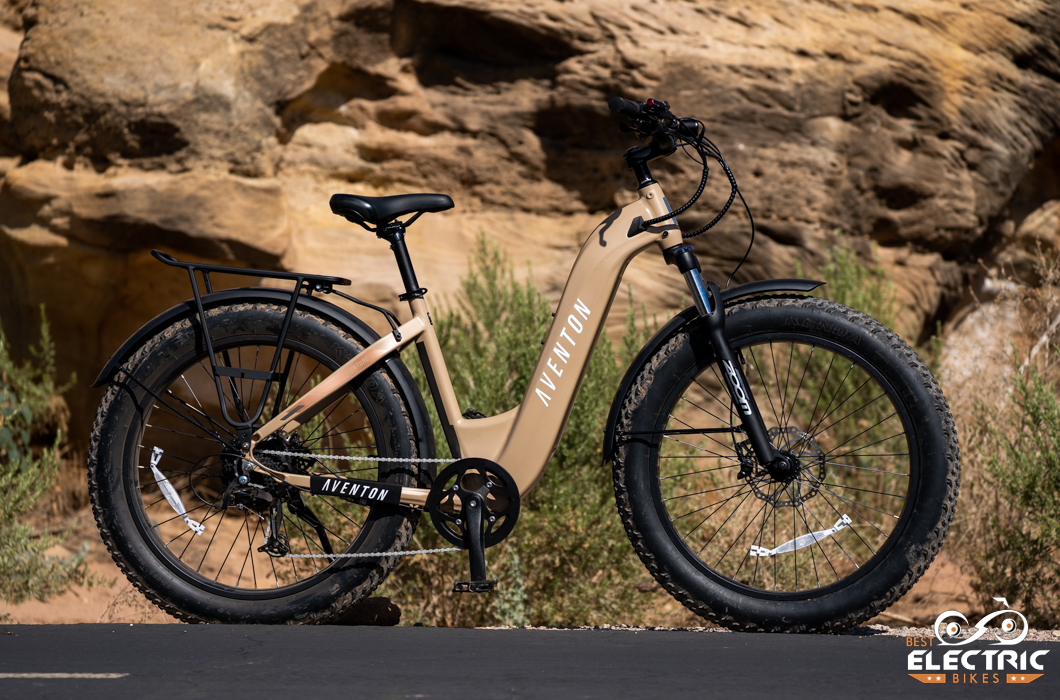 Aventon Aventure Review – Intro
Before diving into our Aventon Aventure review let's address one of the questions we hear most often. Friends, family and readers often ask us what to look for in an e-bike. As it turns out, almost no one likes having a question answered with a question, the question being, "What do you want to do with it?"
It's much like buying a knife. Are you cutting bread or steak? It matters. And while we always ask that question, there are answers that make an end-run on it. Some e-bikes are built to cover a few different bases competently so that a buyer can go for a ride with the family, take in some local trails or commute to work.
Then comes the question of how much to spend. One possible answer to both questions is the reason for our Aventon Aventure review. The Aventure is a terrifically versatile fat tire e-bike as well as a price-conscious choice for a first-time e-bike buyer.
Let's say it's time for a new car and you'd like to get something environmentally friendly, but a Tesla Roadster would mean eating ramen until retirement. Instead, you look at a Prius, but a friend mentions that you can spend half of what a Prius goes for and get a Gonkulator from a little company in Antarctica for just $12,000. Saving $12k seems like a genius plan until you consider what you might be giving up. Can someone really make a hybrid for what a high-end e-bike goes for? Will the wheels fall off if it goes 55 mph?
That's the dilemma we encounter here at Best Electric Bikes when we consider an e-bike priced for less than $1000. We love a great value and we know not everyone needs an electric bike built for the rigors of racing. There comes a point where an e-bike is so inexpensive, though, that the company begins—in our opinion—to cut corners. Cheap electronics, mild steel, batteries that can't be replaced, tires that cut as easily as a sheet of paper, there are details new consumers will miss.
What we've concluded from our Aventon Aventure review is that while there are more specialized e-bikes, there are not many that are more versatile.
Also, there are less expensive e-bikes and more expensive e-bikes. To be fair, $1999 can seem like a lot of money for a bicycle, especially if you haven't bought one since before you got your driver's license. The Aventon Aventure we reviewed is a bike made with sufficient quality to last, and when something does wear out, replacement parts (supply chain issues aside) can be found, and it uses parts that most bike shops are familiar with.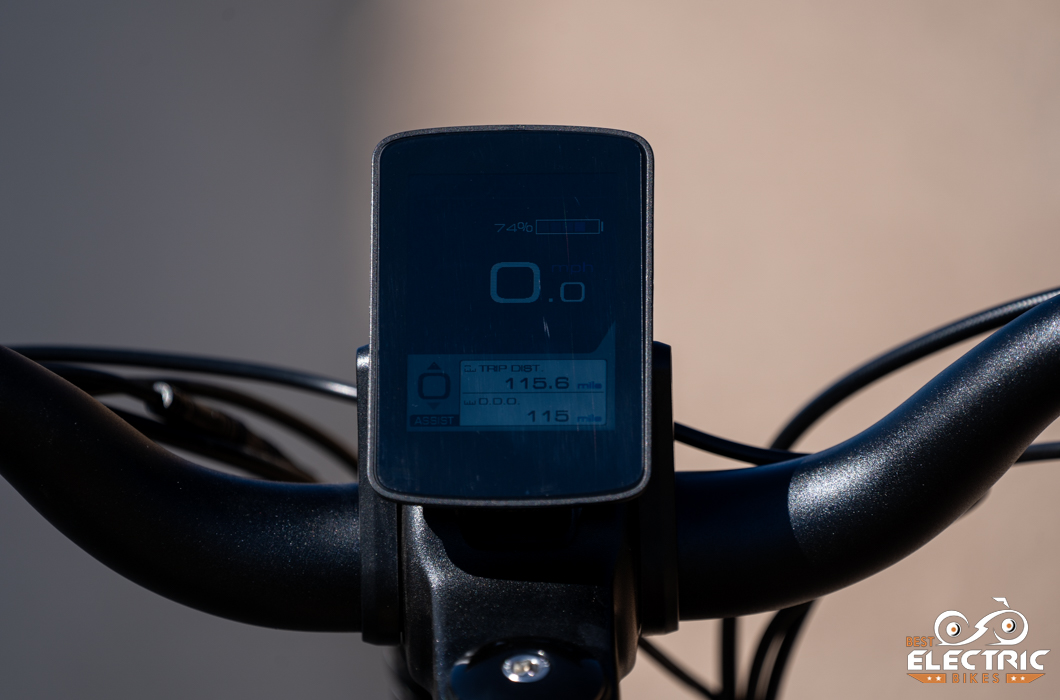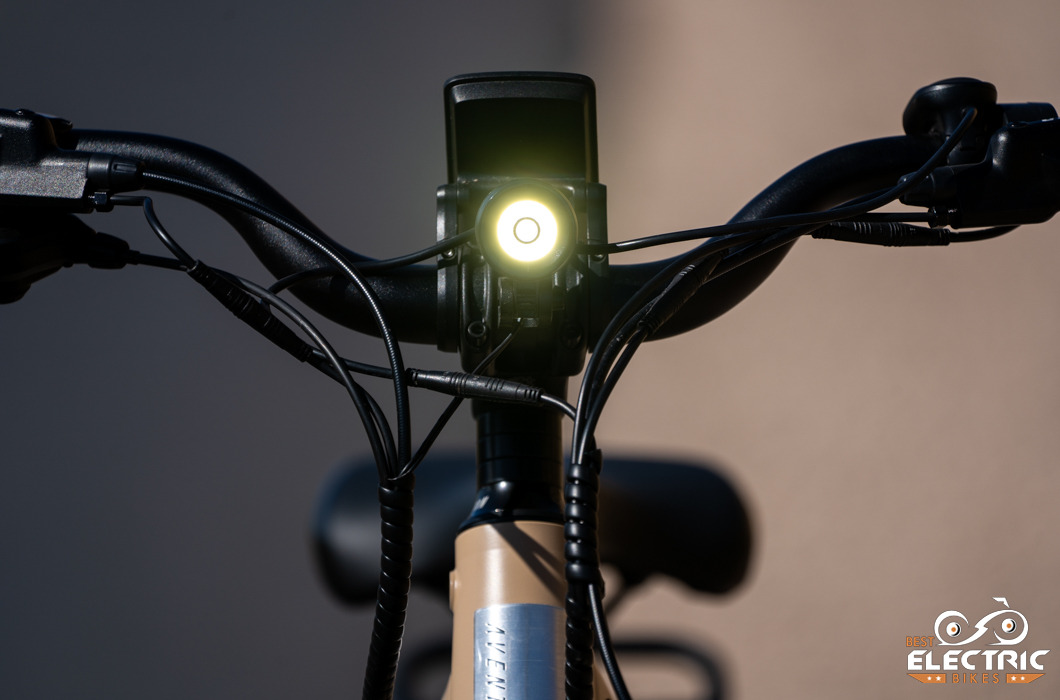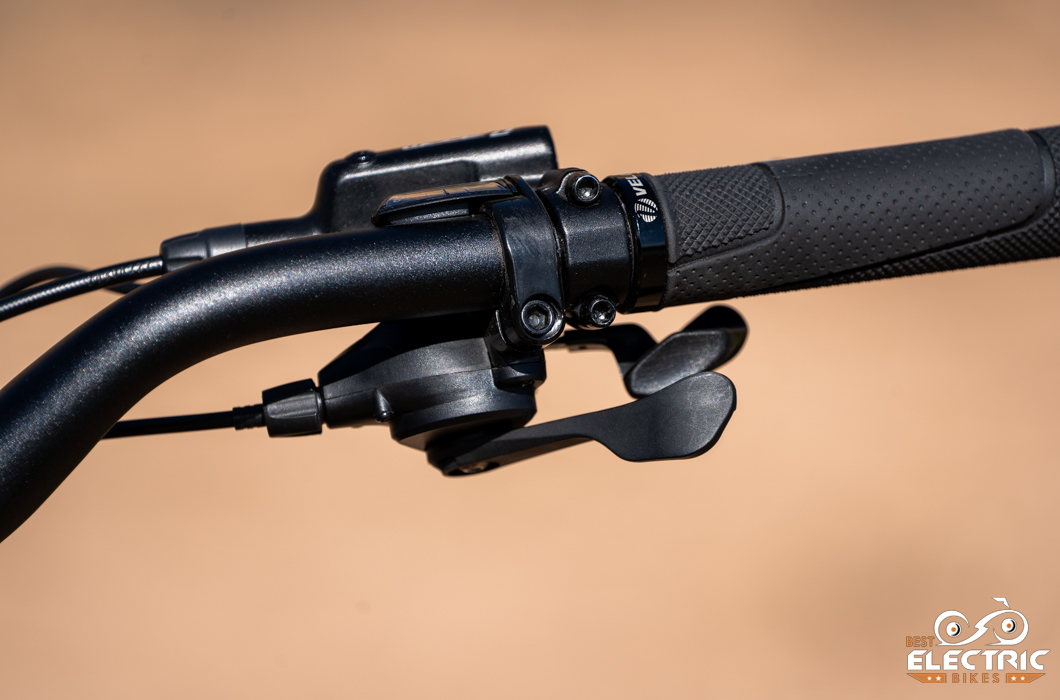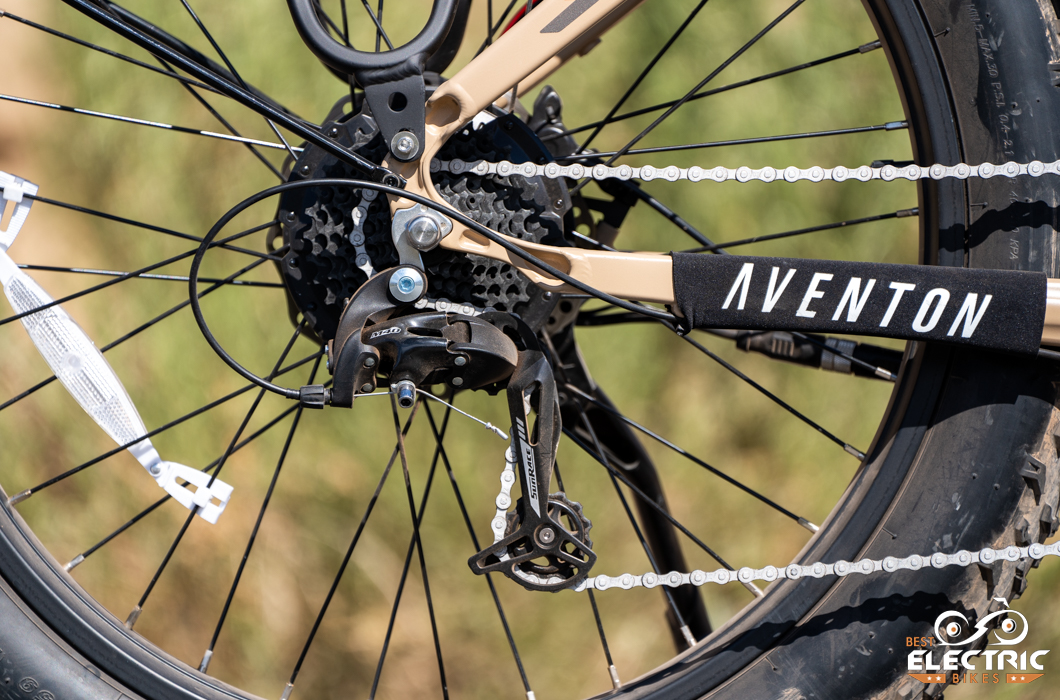 E-Bike Category: Fat Tire Electric Bike
Who We Think the Aventon Aventure Electric Bike Is for:
This is a dynamite electric bike for people new to e-bikes, on a budget, or who know they want a little off-road riding but are unsure of just how much they will do.
Aventon Aventure E-Bike Specs
Battery: Removable Internal Lithium-ion 48V, 15Ah (720Wh)
Expected Range: 19-53 mi.
Charger: Included is a 48V 3 Amp Fast Charger, 4-5 Hour Charging
Motor: 1130W (Peak) 750W (Sustained), 48V Brushless Rear Hub Motor
Pedal Assist: 5 Levels
Throttle: Throttle on demand – Throttle from a complete stop
Display: BC280 LCD Smart Easy Read Display with Backlight, Colorful screen with app
Headlight: N/A
Taillight: Aventon
Frame: 6061 Single-Butted Aluminum Alloy with Internal Battery
Fork: Suspension Fork with 80mm travel, with lockout
Fenders: Aventon
Kickstand: Aventon
Handlebars: Aventon
Grips: Aventon
Drivetrain: 12-32, 8-speed cassette
Brakes: Hydraulic Disc Brakes, 180mm Rotors
Pedals: 9/16′ Alloy Platform
Saddle: Aventon by Velo
Tires: 26 x 4″ Ebike Rated Tires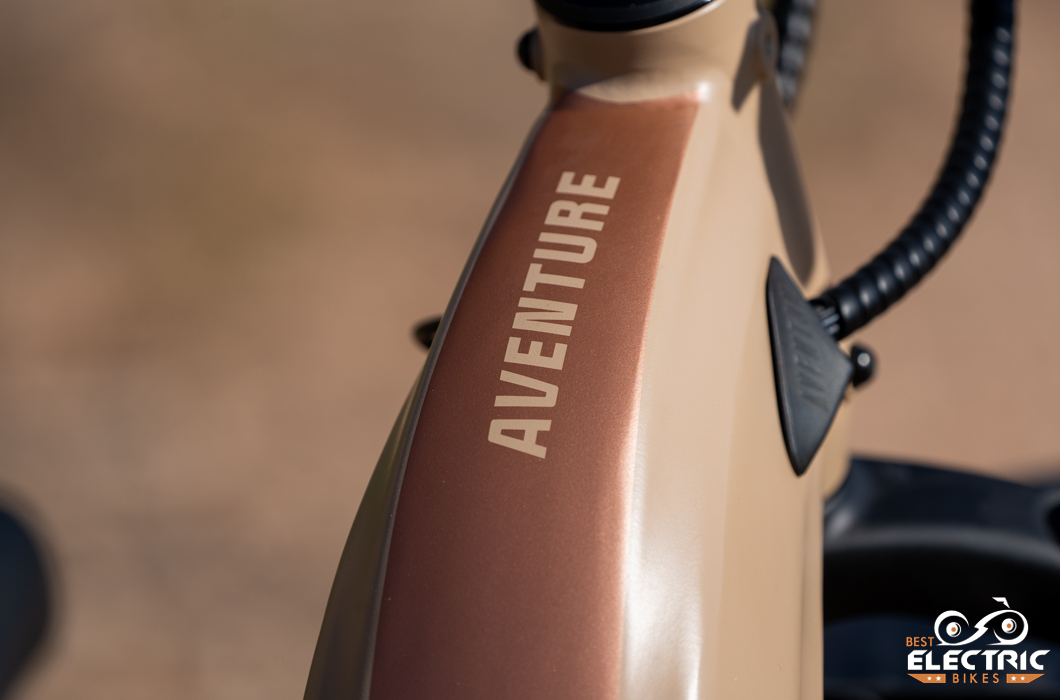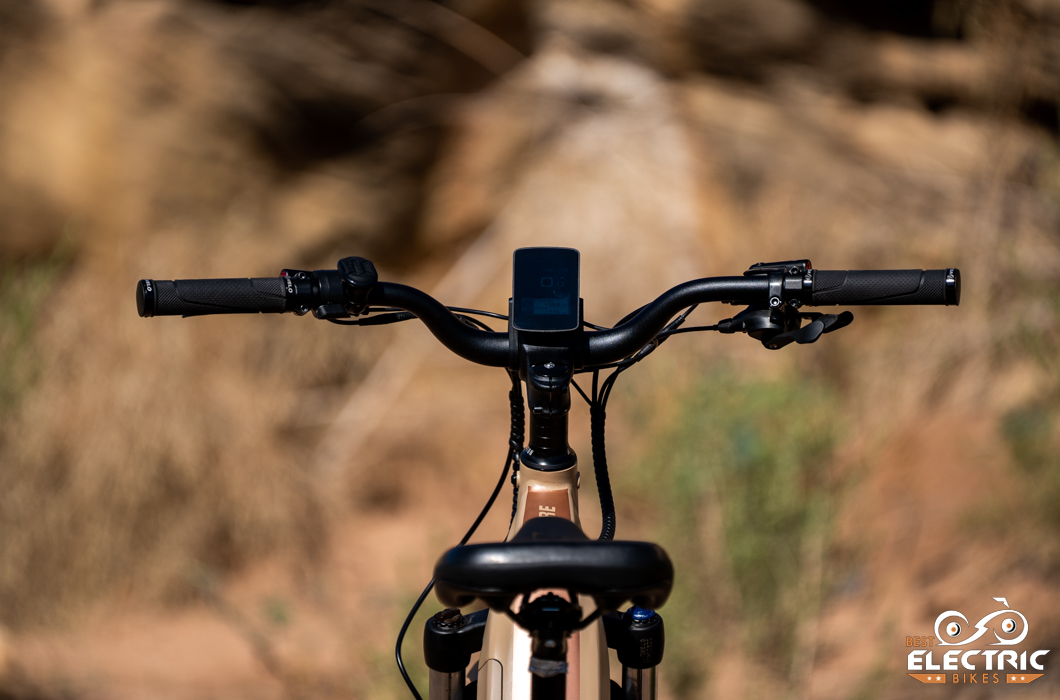 Aventon Aventure Ratings:
***All ratings are relative to e-bikes of a similar style and price point***
| | |
| --- | --- |
| Speed/Acceleration | |
| Hill Climbing | |
| Battery Range | |
| Braking | |
| Construction Quality | |
| Handling | |
| Features/Accessories | |
| Warranty & Customer Service | |
| Value | |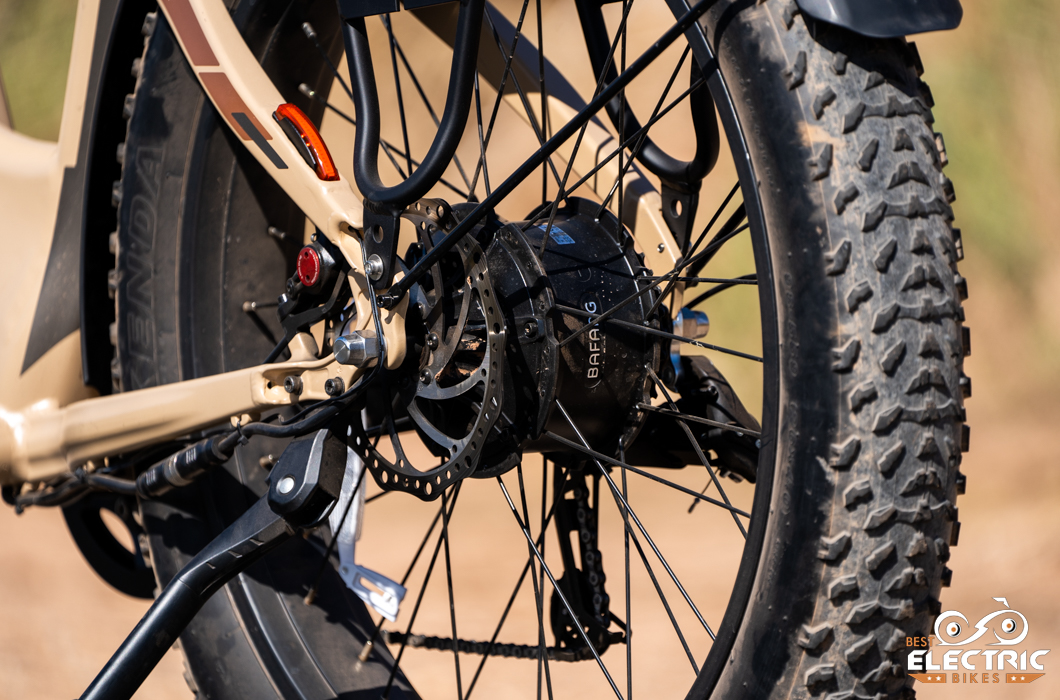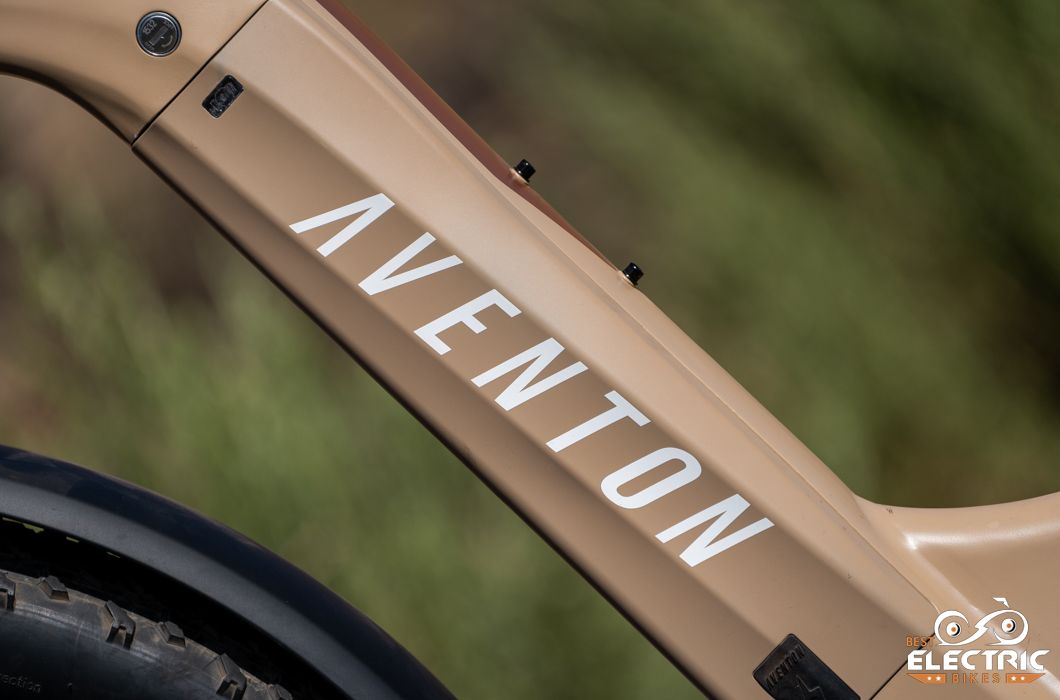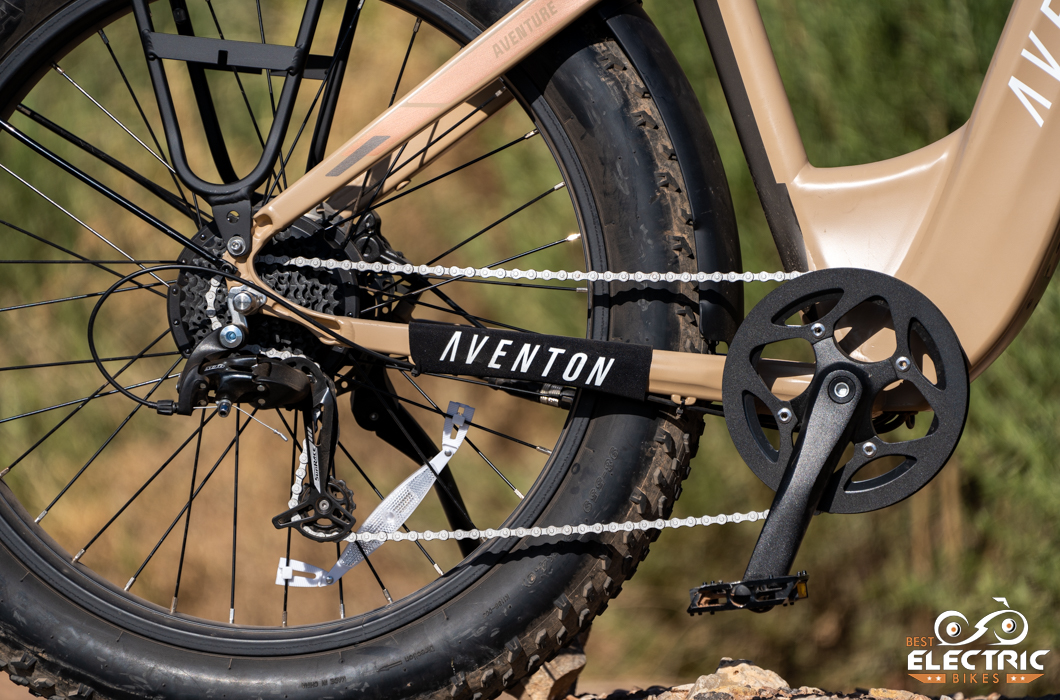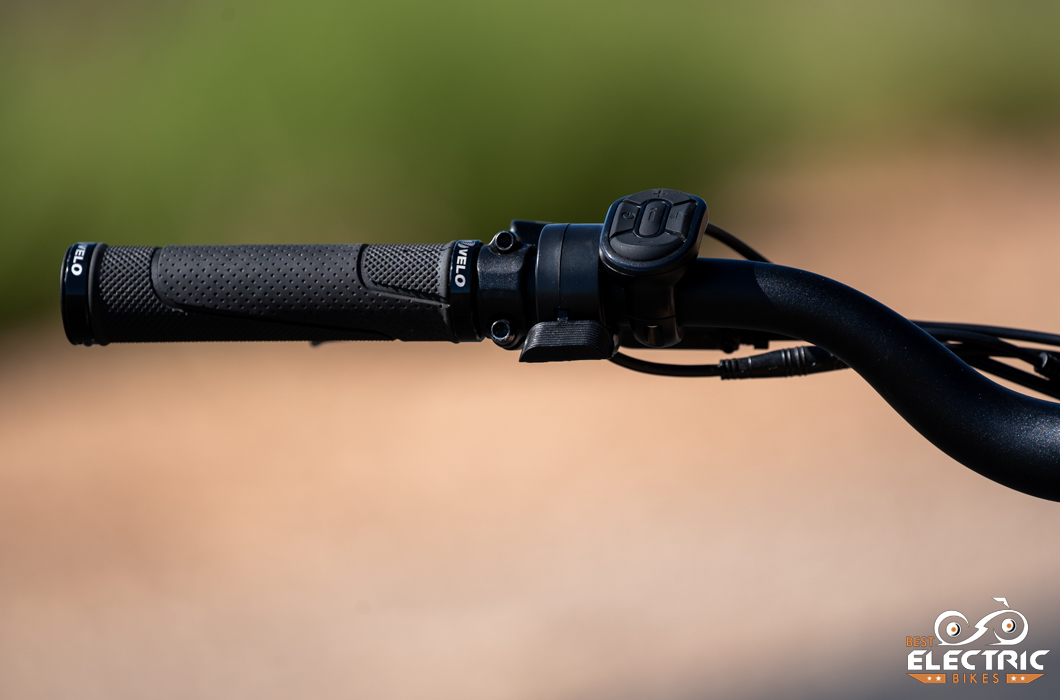 In-Depth Aventon Aventure Review
Aventon Aventure Review: Comfort, Handling, and Ride Qualities
For the Aventure, Aventon began with an aluminum frame, which does a great job of balancing durability, weight and cost. They added a spring suspension fork which will take the edge off rough roads and make most any bumps manageable. Because it's a spring fork, it's heavier, less adjustable, and offers less travel than a high-performance suspension fork, but it also costs a quarter—or less—than the high-end forks we see on raceable bikes. At 80mm, the fork's travel is more in line with a commuter bike than something intended for intense off-road use.
What we love about the Aventon Aventure is that it comes in five sizes—three in a traditional frame design and two in a step-thru frame. That's especially advantageous for riders who are either especially tall or small. On the small end, Aventon says riders 4-feet-11 can ride their small step-thru and on the large end riders as tall as 6-feet-4 can ride their large model with a traditional frame.
Thanks to a frame design aimed at rider comfort, the rider's position is relatively upright, which keeps pedaling from feeling cramped and makes it easy to see your surroundings, which is especially helpful in traffic.
Despite being a fat tire electric bike, Aventon's Aventure is reasonably nimble, thanks to a wheelbase similar to other e-bikes in this category. The touchpoints of the saddle and grips are comfortable as well as durable. The pedals are alloy, which ensures durability as well.
Aventon Aventure Review: Motor, Battery, and Drivetrain Performance
When it comes to making a more affordable e-bike, hub motors are where it's at. Mid-drive motors (built into the frame at the crankset) offer a host of advantages, but they are inherently more expensive. Hub motors can offer plenty of power and if they are brushless they operate more smoothly, offer finer control than motors with brushes and can achieve higher speeds as well, without adding issues with heat dissipation.
The Aventure uses a 750W brushless motor that peaks at 1130W, which means it can handle powerful bursts for riders needing to exit an intersection or ascend a hill. The Aventure ships as a Class 2 e-bike—with a throttle. If your local laws don't permit Class 2 electric bikes on your roads, paths or trails, then the throttle can be removed so that it conforms to Class 1 codes. For those considering strictly road use, the bike can be adjusted so that it becomes a Class 3 e-bike, able to achieve 28 mph. The throttle will only take the bike up to 20 mph; if you want to go 28, be prepared to work a bit for it.
The Aventure features five PAS levels, giving riders a fine control of their pacing and acceleration.
The display is a backlit, color design that is easy to read and pairs with an app so that riders can further tune the bike's performance to their style of riding. The combination makes this e-bike more user-friendly than some we've seen.
Aventon says the Aventure will achieve 25 miles in PAS 5 and 53 miles in PAS 1. Testing by our friends over at Electricbikereport.com essentially confirms that with their test rider logging 24.3 miles in PAS 5 and 53.7 miles in PAS 1.
The Lithium-ion battery is good for 15Ah, and while we've seen batteries with more storage, this is solid given the Aventure's cost.
The drivetrain is 1×8, that is, just one chainring at the pedals and eight cogs on the rear wheel. This is fewer gears than the performance models, but enough gears to get you around town and out on some trails.
Because an e-bike can put out power and torque that most humans can't touch, the rear wheel needs to be beefy for durability. We are glad to see that Aventon went with larger gauge spokes (12, rather than 14) than what we see on most fat tire e-bikes. They also chose to use more spokes—36—in the wheels than we see in bikes without a motor – a wise choice as it'll withstand the forces motors can apply to wheels. The 26 x 4-in. tires will give a cushy ride with plenty of traction, even in the wet. They'll even offer some terrain versatility if you want to explore a sandy wash or fire road.
When it comes to parts like the saddle, the handlebar, grips and the rest, we like to see parts from manufacturers we are familiar with—not name-brand, but quality, and the Aventure does that. Seeing parts we have experience with tells us something else: The folks at Aventon know their way around the industry and that kind of experience is instrumental in the quest to balance quality with cost.
Aventon Aventure Review: Braking, Safety, Customer Service & Warranty
The brakes are notable because they are hydraulic disc brakes—more powerful than the mechanical brakes found on many budget-minded bikes and use 180mm rotors, the same size found on plenty of high-end e-bikes. Due to the bike's weight, which is more than double that of most mountain bikes, powerful brakes are necessary to make sure that the stopping distance isn't overly long.
Where customer service is concerned, in recent online reviews Aventon's reputation is on the upswing after an industry-wide rough spell. The pandemic upended worldwide supply chains and with so many people wanting to get outside to exercise, nearly every bike maker sold out of bikes and then ran out of parts for warranty issues. The bike market is only beginning to recover on this front, and signs are pointing towards customer's getting needs met more consistently.
Aventon's warranty compares well to the big manufacturers in cycling with lifetime on aluminum frames and one year on all parts.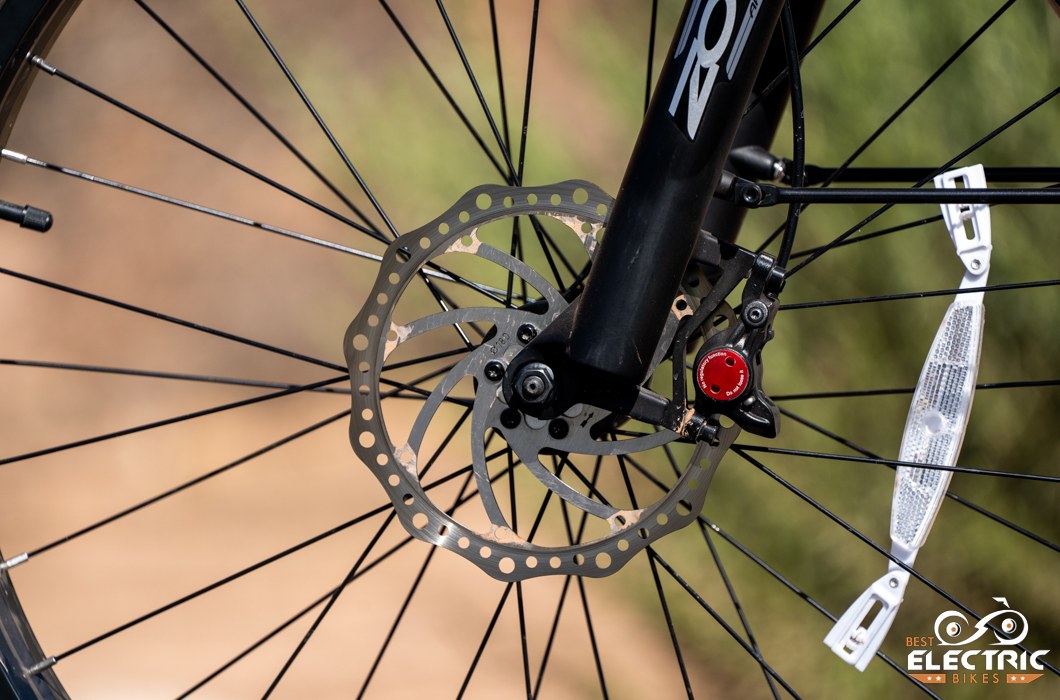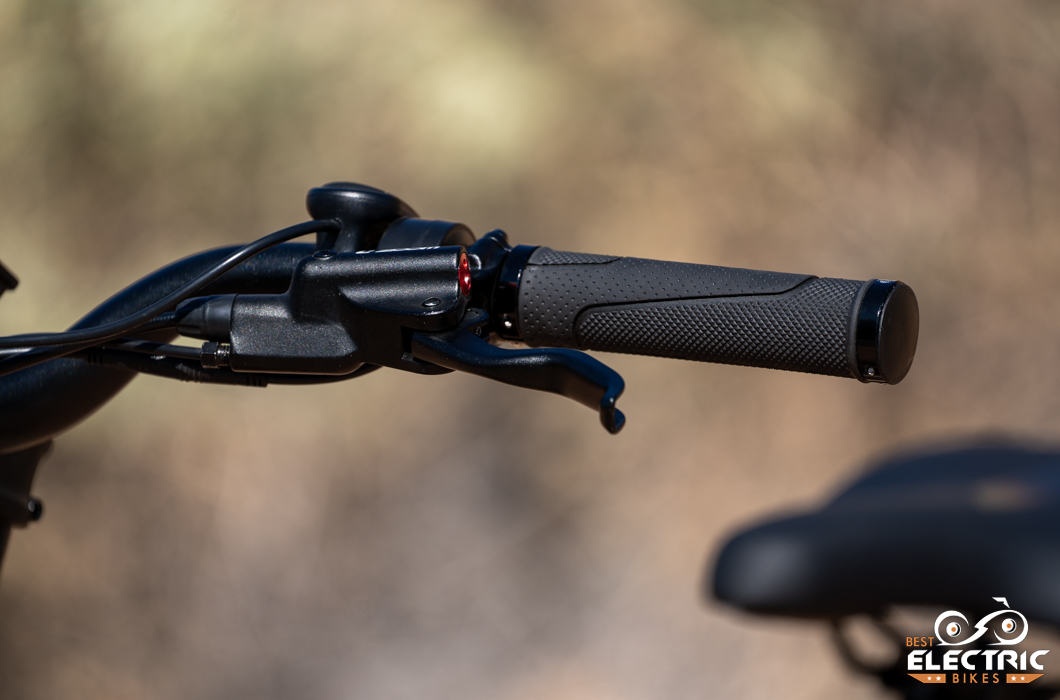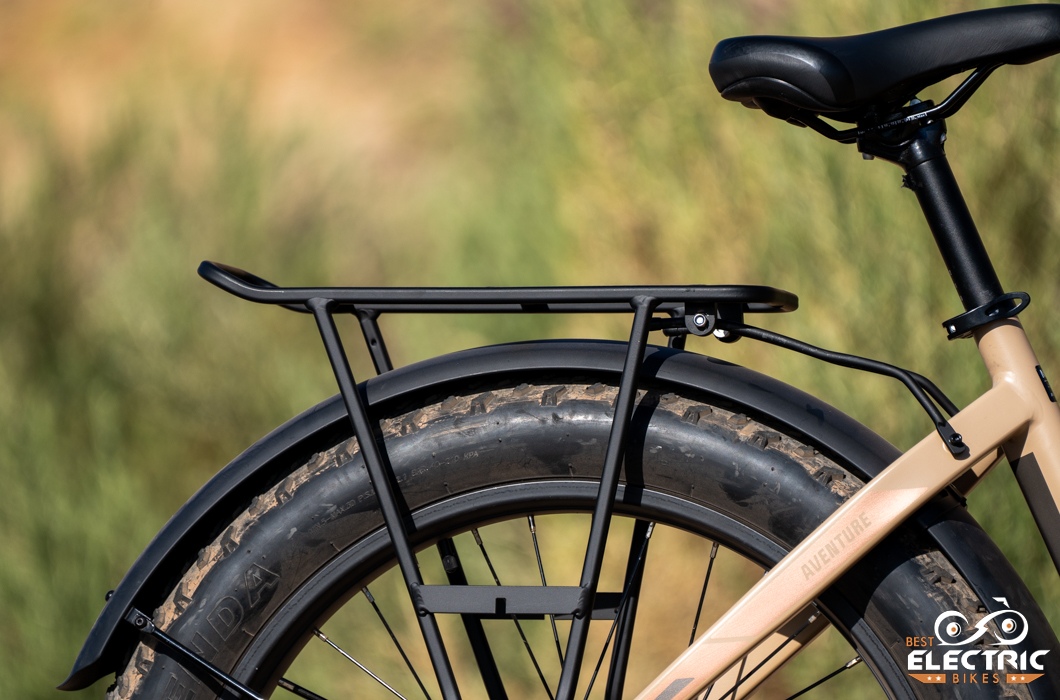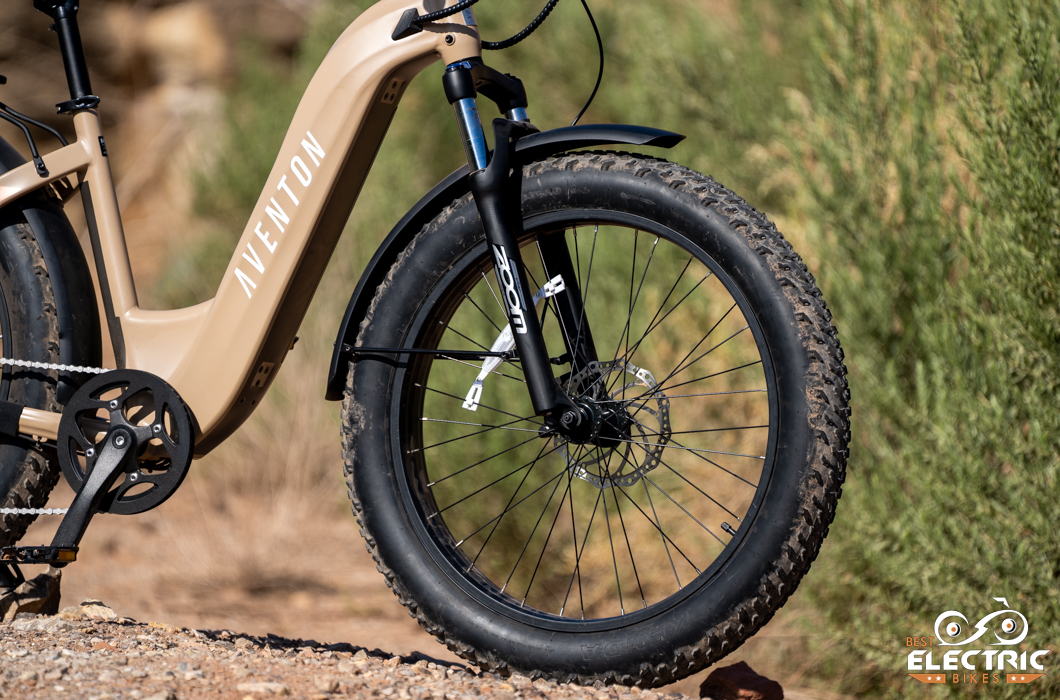 Aventon Aventure Review: Recommendation/Final Verdict
So what's the takeaway from this Aventon Aventure review?
What we love about the Aventure is that it's an affordable Swiss-Army-knife of an electric bike. Want to commute? Add a rack and headlight; it already has fenders and a taillight. Want to go off-road? Just make sure you don't have too much air in the tires. Gonna go for a spin with your kids? You're ready to go. What the Aventure does is present a versatile e-bike at a price that won't result in dietary restrictions.
Aventon's Aventure is a massive amount of fun and quickly becoming one of the most popular electric bikes seen on the roads these days. It's worth a hard look if you're considering a new electric bike and are open to the fat tire bike experience.
You can purchase the Aventure from Aventon's website and have it shipped to your home from the button below.
Thank you for reading through our review of the Aventon Aventure! Still have further questions? Wondering how it compares to a similar bike? Leave us a question in the comments below and the team at BestElectricBikes.com will answer!