Welcome to Best Electric Bikes
At Best Electric Bikes we review and rate all types of eBikes. Find info on the best electric city commuters, mountain bikes, motorbikes, trekking bikes or even an ever-stylish beach cruiser. Some bikes even fold in half to fit in your car! There is an eBike for every person and riding experience.
Electric bikes are a fun, environmentally friendly form of transportation and recreation.
Ebikes make it easy to ride to work, hit the local cafe, go offroading, and carry your cargo or even a friend. As the market has exploded, so have your options, so we provide in depth reviews and information to help you stay up to date on all things eBikes!
How We Review Electric Bikes

Research
We research eBike manufacturers and components in addition to the bikes themselves so you know the history, design, construction, and specs of each eBike.

Testing
Testing is conducted by our reviewers and mechanics. We are real people testing real bikes. Our reviews are based on how a bike functions in various situations.

Comparison
Sometimes there are several options that may satisfy a particular need, so we compare similar eBikes side-to-side to show how each bike ranks against comparative models.

Pros & Cons
Our list of Pros and Cons gives you a quick overview of what you do (and don't) get on each eBike. This way you can choose what really matters to you.

Recommendations
Our official recommendations are based on the research, testing, durability and design of each bike so you get a fair list of which eBikes really excel.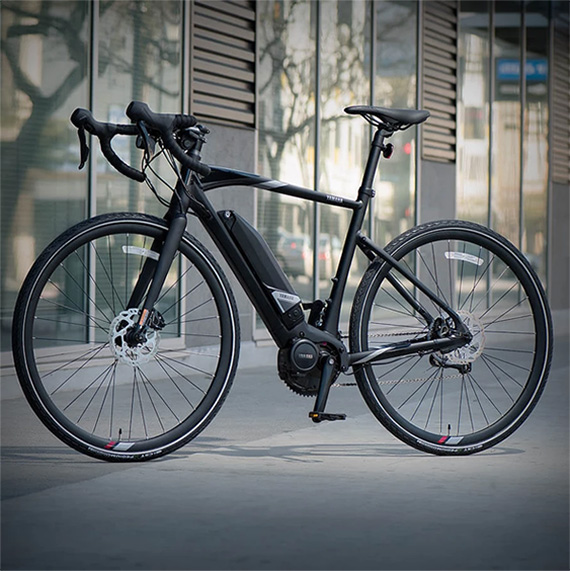 Choosing your Electric Bike
There are lots of factors to consider when looking at an eBike. The most important is: What do you want to do with it? Since there are now eBikes for almost every scenario, we can help you find one that will suit your needs. Consider the following questions when looking at eBikes:
Where do you plan to ride it?
Do you want to haul cargo or passengers?
How many miles do you plan to ride each day?
What terrain will you be traversing?
Do you plan to ride through traffic?
What frame size and design is most comfortable for you?
What is your budget?
Beach cruisers are awesome for riding a few miles around town, loaded with cargo and maybe even a surf rack! But this bike won't work if you plan to ride hilly or rough terrain. Similarly, full suspension mountain bikes give you lots of travel for heavy rock climbing, but you will lose power and functionality if you're just commuting through city streets. In order to help you choose, we analyze and categorize our bikes so you can find the right one for your needs.
Why eBikes
EBikes have skyrocketed in popularity the last few years for several reasons:
Ebikes reduce your carbon footprint – Ebikes reduce traffic congestion and environmental impact by taking cars off the road. Riders can feel good about using clean energy while riding an eBike! A standard wall-outlet will charge most eBike batteries so you can power your bike with a single charge and a bit of fresh air.
Ebikes are a great way to add a bit of exercise into your commute – Concerns about health and wellness have inspired many riders to use an eBike as a great way to get a little (or a lot) of exercise in their daily routine.
Ebikes extend how far and fast you can go – Ebikes make it so you can ride to work without ending up drenched in sweat by the time you get there. Supplemental power coincides with rider cadence to add speed as needed. Whether on the streets or in the trails, you can ride farther, faster and easier on an eBike.
Ebikes supplement your pedal cadence to reduce strain on knees and joints. – Many riders enjoy eBikes because they support healthy exercise and range of motion but reduce the tension on tender joints.
Electric Bikes vs Normal Bikes
eBikes are designed like normal bikes but with supplemental power. There are two types of power systems:
Pedal assist is automated to add speed based on your cadence and selected power mode (level 1 is typically the least amount of power and level 5 is the most).
A throttle system adds additional power via a thumb or twist throttle on the handlebar. Riders have more control over throttle power, but it also drains the battery faster.
Most eBikes have pedal assist and many offer additional throttle. What kind of riding you do, how much you plan to pedal, and how fast you want to ride are all considerations when looking at power systems.
Electric Bike Classifications
Because eBikes share the road with cars and other motorized vehicles, they are classified based on their power system and maximum speed. In most cities, Class 1 and Class 2 eBikes are street legal and do not require registration. Class 3 eBikes are legal in some cities, but not all. Any bike that goes beyond 28mph is considered a motorized vehicle which requires registration and a license to ride.
Class 1: Pedal Assist only (Pedelec) – eBikes that only use pedal assist and have a max speed of 20mph are legal in most European and US cities.
Class 2: Pedal Assist and Throttle on Demand to 20mph – eBikes with a throttle are automatically categorized as Class 2. If these bikes stay under 20mph, they are still street legal in many cities, although you should verify local laws.
Class 3: Pedal Assist and/or Throttle on Demand to 28mph. (Speed Pedelec) – 28mph is the maximum legal speed for an eBike. Most class 3 bikes have both throttle and pedal assist, although a few may use pedal assist alone. Class 3 bikes have more restrictions. Always check local laws before purchasing or using your eBike.
eBikes and the Future
The global electric bike market is projected to each $21 Billion by 2024(a). Because eBikes have so many benefits, many cities now offer incentives to encourage commuters to use eBikes instead of cars. Urban professionals use eBikes to reduce their carbon footprint and avoid traffic when riding to work. Busy moms can secure safety seats on the back of eBikes to transport little ones around town. Riders with joint issues or limited mobility can use an eBike to get outside for fresh air and recreation. Even rugged mountain bikers use eBikes to go faster and longer through shifty, single-track trails. eBikes are fun and functional — and as you can see — there is one out there for everyone!