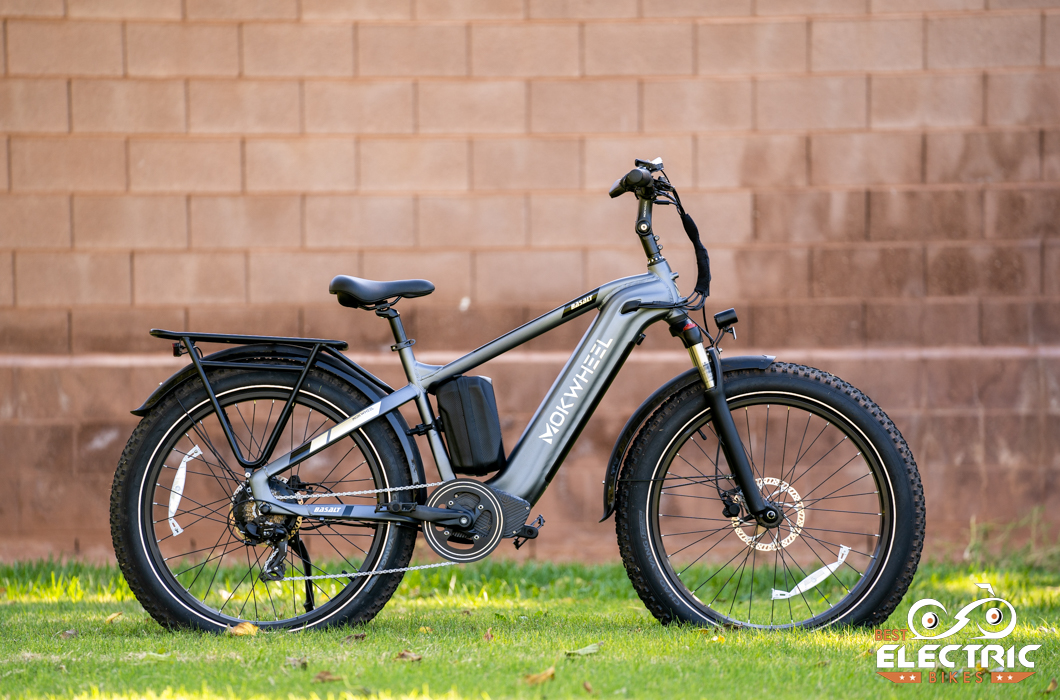 Intro
All-terrain e-bikes carry the promise of exploring places that can't be reached by car and are too far to consider on a hike. They have fat tires for a cushy ride, big knobs for traction, plenty of gears for getting up and down hills, hydraulic disc brakes for confident control and very often a suspension fork for both control and comfort.
In our Mokwheel Basalt review, we will look at how this e-bike fulfills all those needs and then goes a step further thanks to a very powerful battery that can be combined with an inverter to power other electronics, like when camping. It comes in near the $2000 price point and delivers plenty of value.
The Mokwheel Basalt features many of the components we find on other all-terrain e-bikes. It includes 26 x 4-in. knobby tires for a cushy ride and great traction; hydraulic disc brakes paired with 180mm rotors for easy control and quick stops; a suspension fork (this one has 110mm of travel) for improved control on bumpy surfaces, not to mention improved rider comfort; a 750W brushless, geared hub motor that produces a very stout 90Nm of torque for terrific acceleration and climbing; and possibly best of all is the 48V, 925Wh battery that Mokwheel says can offer riders up to 80 mi. of range.
Equipped with the optional inverter, that battery can be used to power everything from a coffee maker or blender to a laptop computer, smartphone or even a camp stove. Add the optional solar panels and the trio of battery, inverter and panels could power a campsite for days.
Let's take a look at what makes the Mokwheel Basalt a fresh take on what an all-terrain e-bike can be.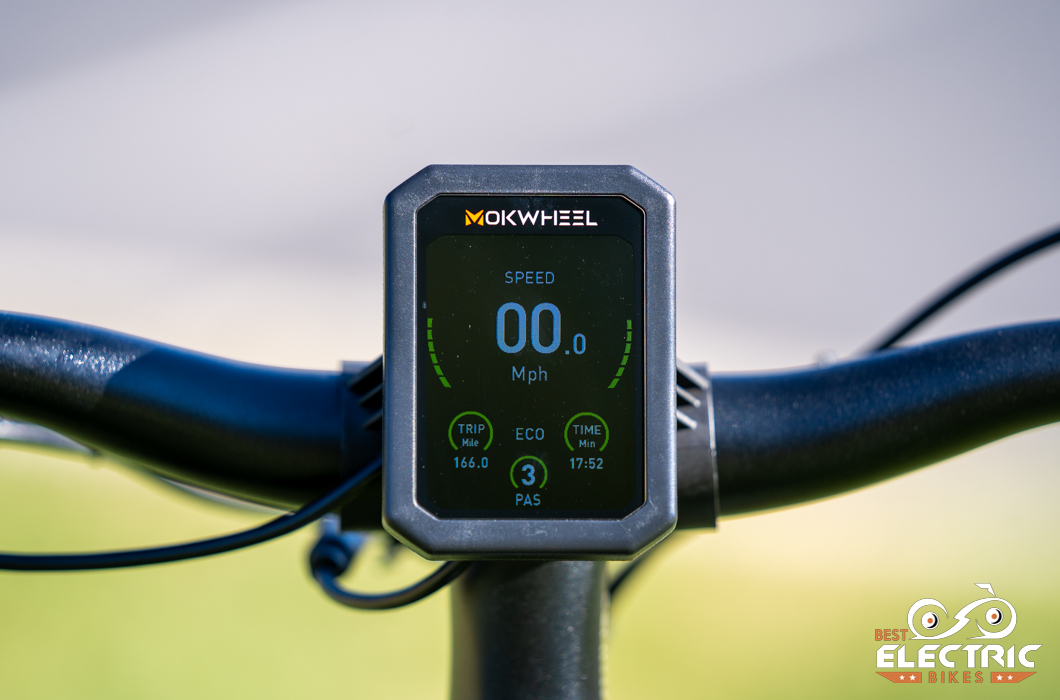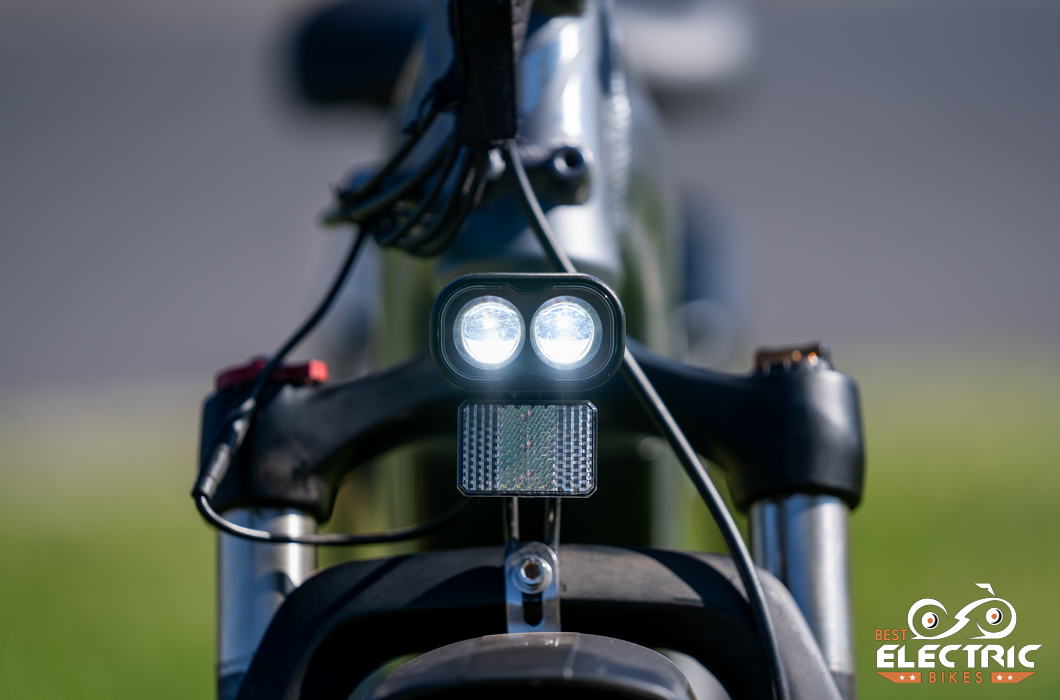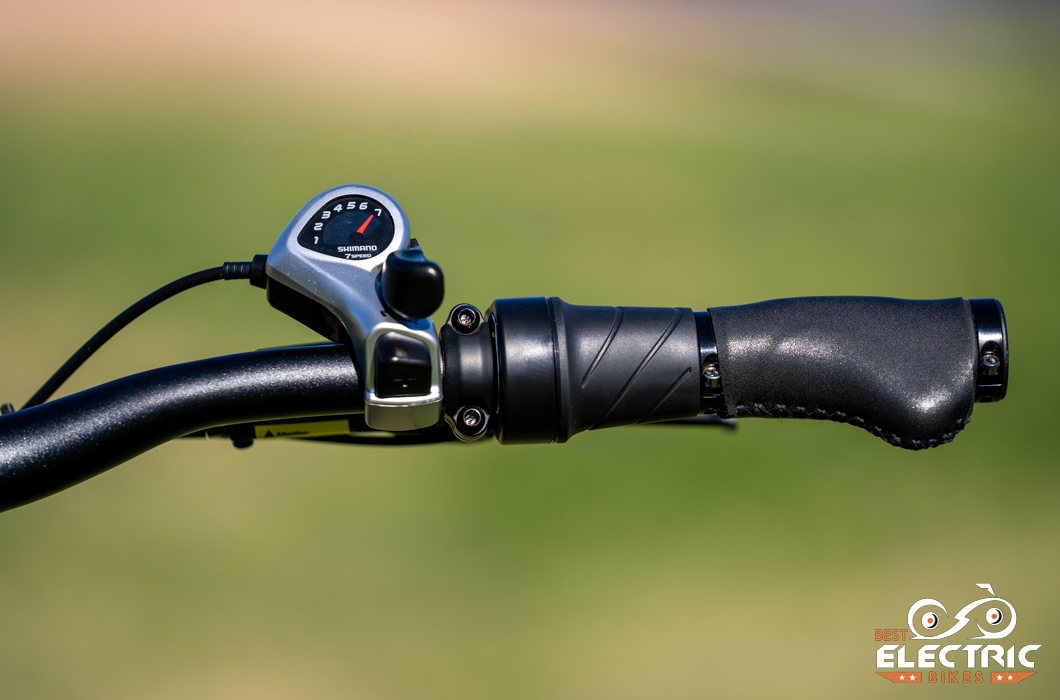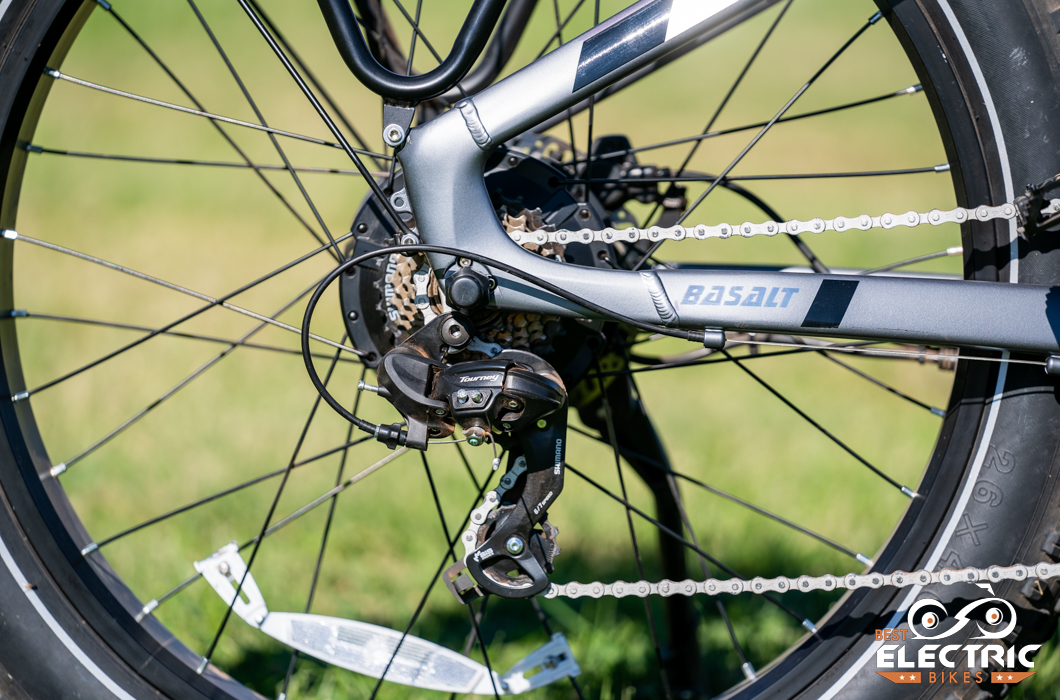 E-Bike Category: All-terrain
Who the Mokwheel Basalt Electric Bike Is for:
riders who want maximum range and the ability to explore wild spaces
Mokwheel Basalt Review Ratings:
***All ratings are relative to e-bikes of a similar style and price point***
| | |
| --- | --- |
| Speed/Acceleration | |
| Hill Climbing | |
| Battery Range | |
| Braking | |
| Construction Quality | |
| Handling | |
| Included Accessories | |
| Warranty & Customer Service | |
| Value | |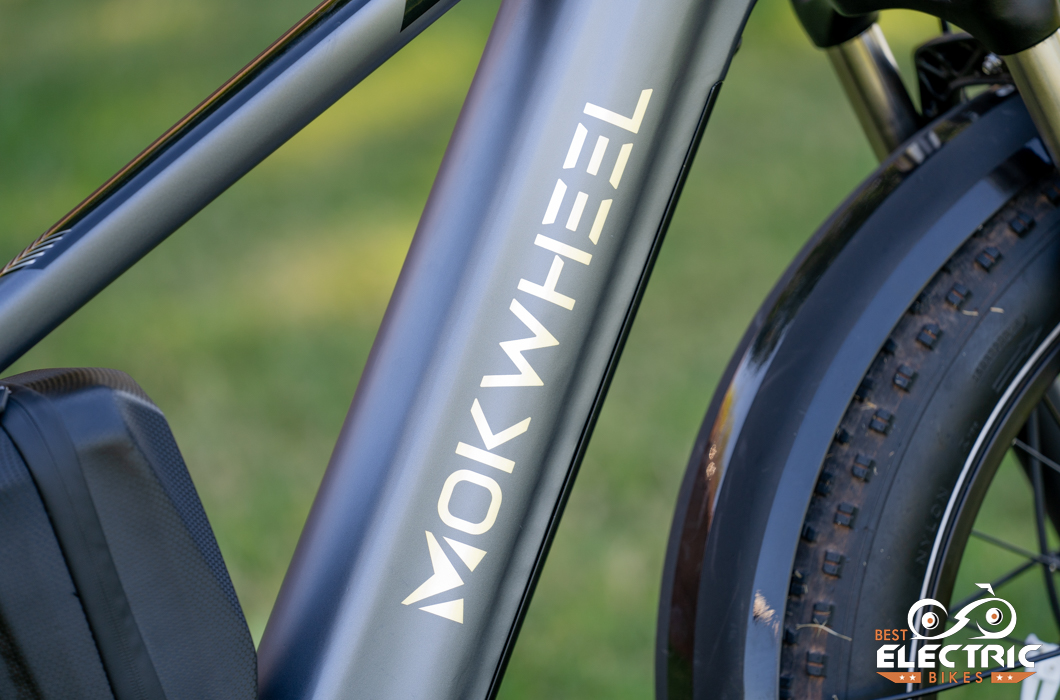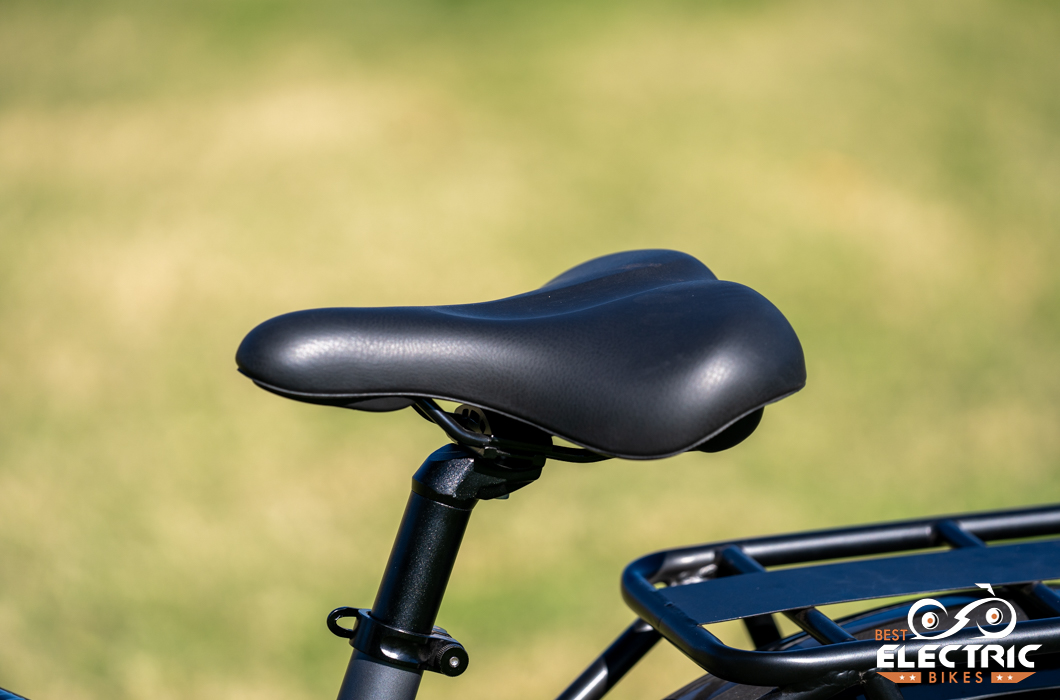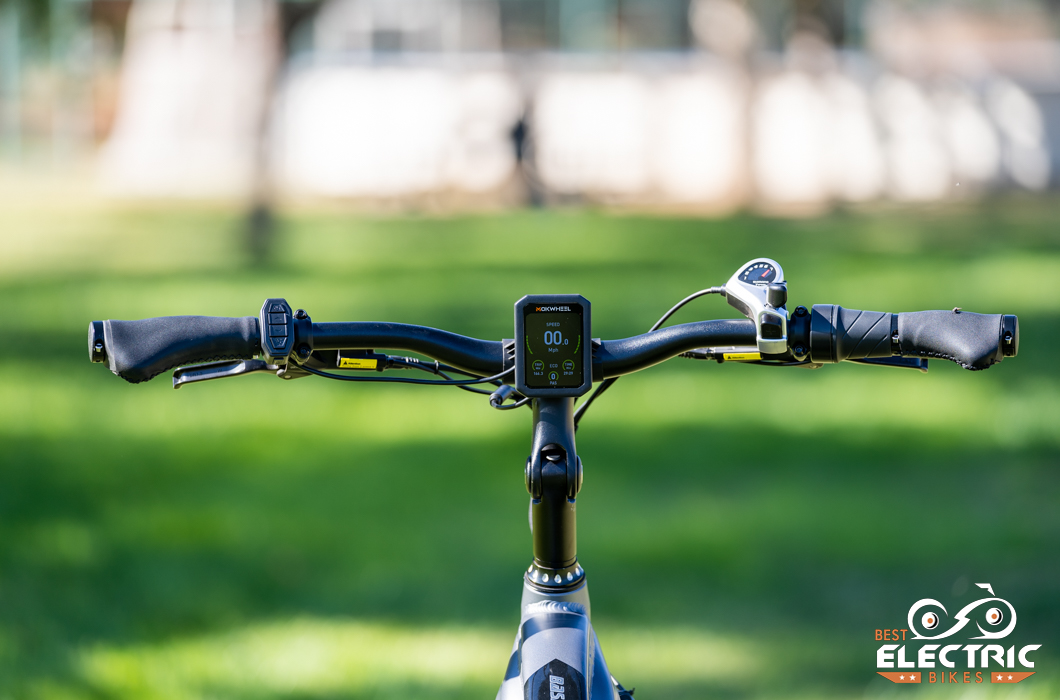 Mokwheel Basalt E-Bike Specs
Battery: 925Wh Samsung
Expected Range: up to 80 mi. per charge
Charger: 48V, 3A
Motor: 750W brushless, geared hub motor
Pedal Assist: 5 PAS levels
Throttle: Half-twist
Display: Color LCD
Headlight: Included
Taillight: Included
Frame: 6061 Aluminum Frame
Fork: 110mm-travel suspension fork
Fenders: Plastic, included
Kickstand: Included
Handlebars: Alloy, 720mm wide
Grips: Ergonomic
Drivetrain: 7-speed Shimano Tourney
Brakes: Tektro hydraulic disc with 180mm rotors
Pedals: Alloy with reflectors
Saddle: Customized comfort leather
Tires: Chaoyang 26 x 4-in., knobby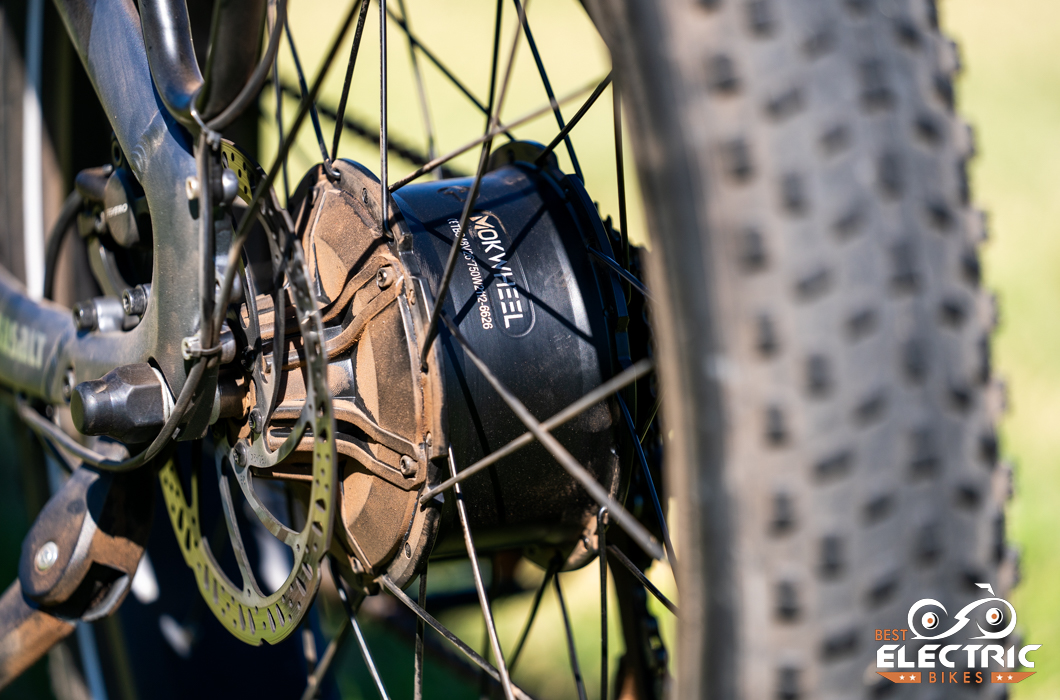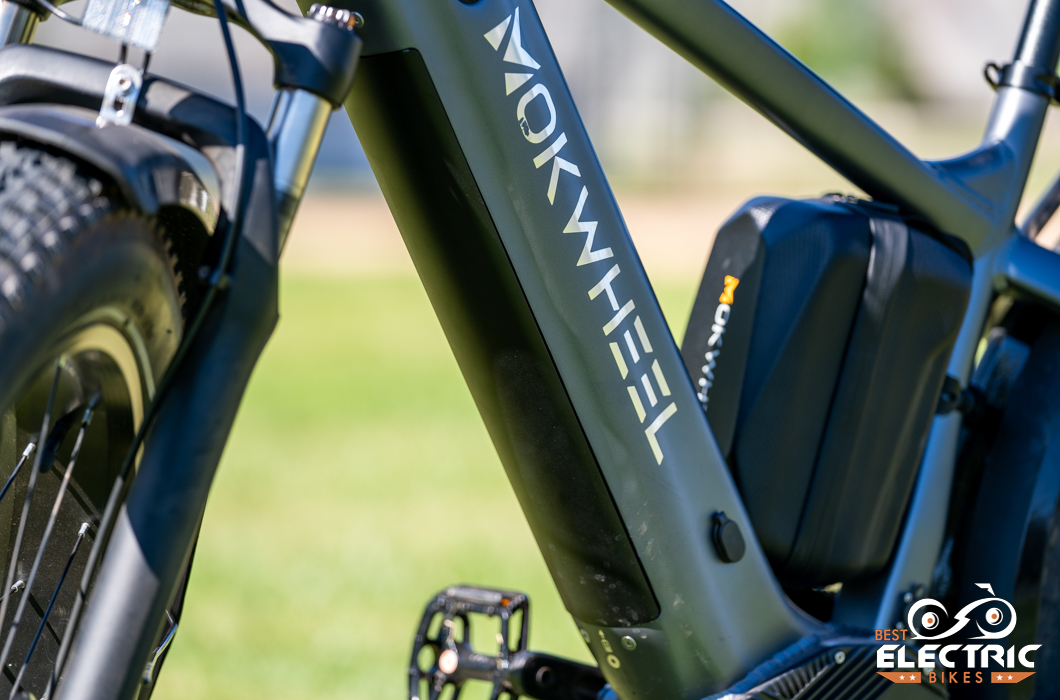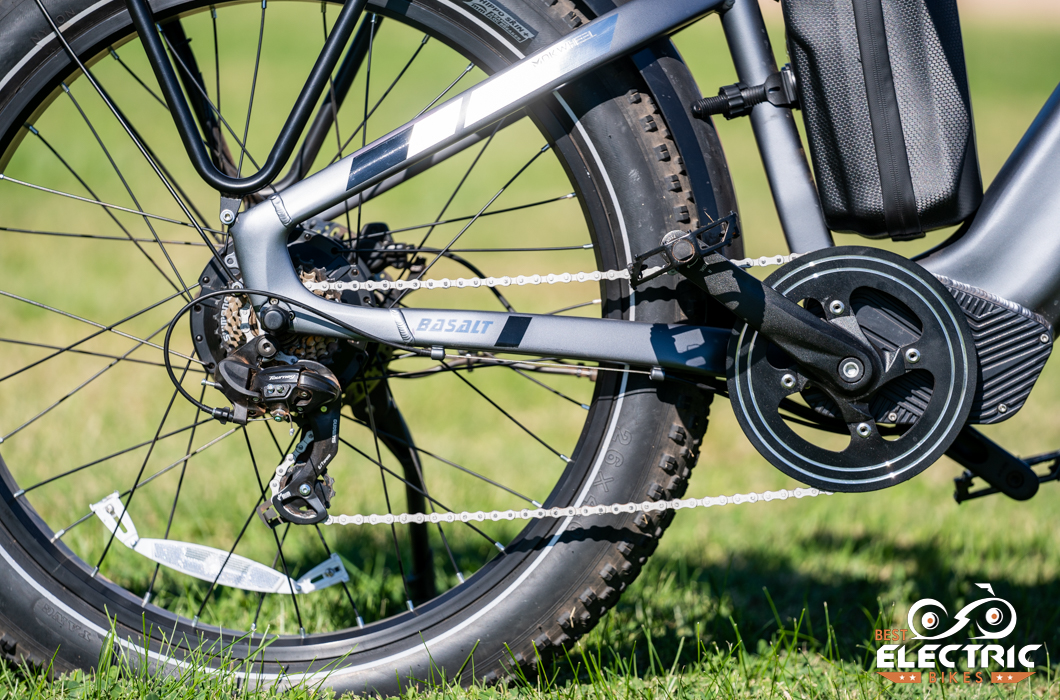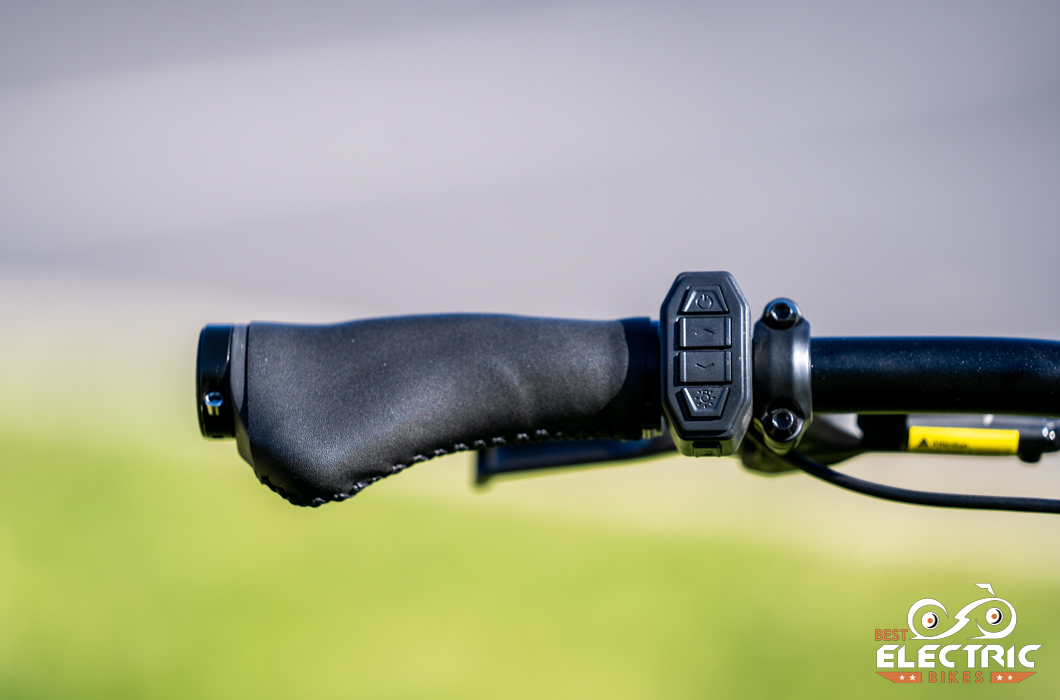 In-Depth Mokwheel Basalt Review
Mokwheel Basalt Review: Comfort, Handling, and Ride Qualities
The Mokwheel Basalt is an all-terrain e-bike suited to riders who want to explore more than just the roads near home. It's ideal for taking off down dirt roads thanks to a 110mm-travel suspension fork, 4-in.-wide tires and a big, cushy saddle. The grips also offer the hands better support thanks to small extensions to support the heel of the hand. The riser bar gives the rider a nice, upright position to be able to see their surroundings (and traffic if they are on the road).
The Mokwheel Basalt is a one-size e-bike, though Mokwheel does offer a step-thru version, the Mokwheel Basalt ST. While the standover height drops from 28 in. to just 18 in. with the step-thru frame, both frames feature the same seat tube length and top tube length. They are, for all practical purposes, the same size.
Thanks to its long top tube, the Mokwheel Basalt is going to offer a more comfortable position for taller riders. Riders 5 feet 8 inches in height, or less, may find that the 25-in. reach to the handlebar to be more of a stretch than is comfortable, just as the 18-in.-long seat tube may not offer more diminutive riders a saddle position low enough to be comfortable for their leg length. On the plus side, the fact that the frame is available in a step-thru design means that it is easier to mount and dismount, especially for smaller riders.
With its long (49-in.) wheelbase, the Mokwheel Basalt cruises confidently over roads paved and unpaved alike.
While this is intended to be an all-terrain e-bike, going places that most folks wouldn't attempt on a commuter e-bike, that's not to say this can't do what a commuter does. The Mokwheel Basalt comes equipped with lights, fenders and a rear rack, making it ready to go for more domestic uses.
Mokwheel Basalt Review: Motor, Battery, and Drivetrain Performance
One of the strongest selling points for the Mokwheel Basalt is its 925Wh battery. Such a large battery offers a rider the opportunity to venture farther afield, see more, not to mention both have more fun and get more exercise. A battery like the 925Wh Samsung spec'd in the Mokwheel Basalt carries additional abilities. With USB A and C outlets as well as a standard 120V A/C outlet, there isn't much that the Mokwheel Basalt Samsung battery can't run. For the person who wants to do some camping and exploring nearby parks on their e-bike, the Mokwheel Basalt isn't just fun, it's a resource.
All-terrain e-bikes aimed at riding dirt roads and paths have a need for more power than we find with commuters and cruisers. Unpaved roads are notorious for having steep pitches that would have been bulldozed by a road crew had they been paved. Those steep hills and the way soft surfaces make the motor work harder means that the 750W brushless, geared hub motor is well-suited to the needs of an all-terrain e-bike.
Of course, raw power isn't the only consideration when evaluating how capable an e-bike's motor is for the demands of off-road riding. How much torque it produces will determine just how quickly the e-bike will accelerate and how well it performs when going uphill. The Mokwheel Basalt hub motor produces 90Nm of torque, which will meet the needs of most riders who would pick this e-bike.
The 7-speed Shimano Tourney drivetrain performs well on cruisers and commuters, but for an all-terrain e-bike, we would like to see a wider range of gears. The 14-28 cluster lacks some of the high end that makes reaching 20 mph possible; similarly, while the motor is up to the task of steep hills, we would still like to see lower gears for any steep grades.
Mokwheel Basalt Review: Braking, Safety & Warranty
It's no secret that we prefer to see hydraulic disc brakes on e-bikes for their stopping power. That goes double for all-terrain e-bikes. Hydraulic disc brakes allow for better modulation than other types of brakes and also offer greater total stopping power. On those occasions when we get questions about why someone might want a more powerful brake, we point to the job of the brakes being more than just stopping. They are as critical to controlling the e-bike as the motor is to getting a rider up to speed.
We use an e-bike's brakes to control our speed when passing pedestrians, to scrub a bit of speed before making a turn or to avoid passing another rider at a much greater speed than they are going. And when going down a sizable hill, good brakes allow a rider to control exactly how fast they go. This dovetails with our concerns regarding an e-bike's safety. Once an e-bike tips the scales at more than 70 lbs.—the Mokwheel Basalt weighs 77 lbs.—we definitely want to see hydraulic disc brakes to make sure that the e-bike's stopping distance isn't too long.
The other details we like to see include items like puncture-resistant tires and if there is a throttle, we like to see them include a motor cutoff at 20 mph, both of which the Mokwheel Basalt have.
Mokwheel offers a 15-day return policy, which is a bit on the short side, but they do offer the opportunity to return a problem e-bike. Not publicized on their site is a 20 percent restocking fee and a 5 percent inspection fee. The warranty covers the e-bike for two years, which is twice as long as most of the warranties we see from direct-to-consumer companies.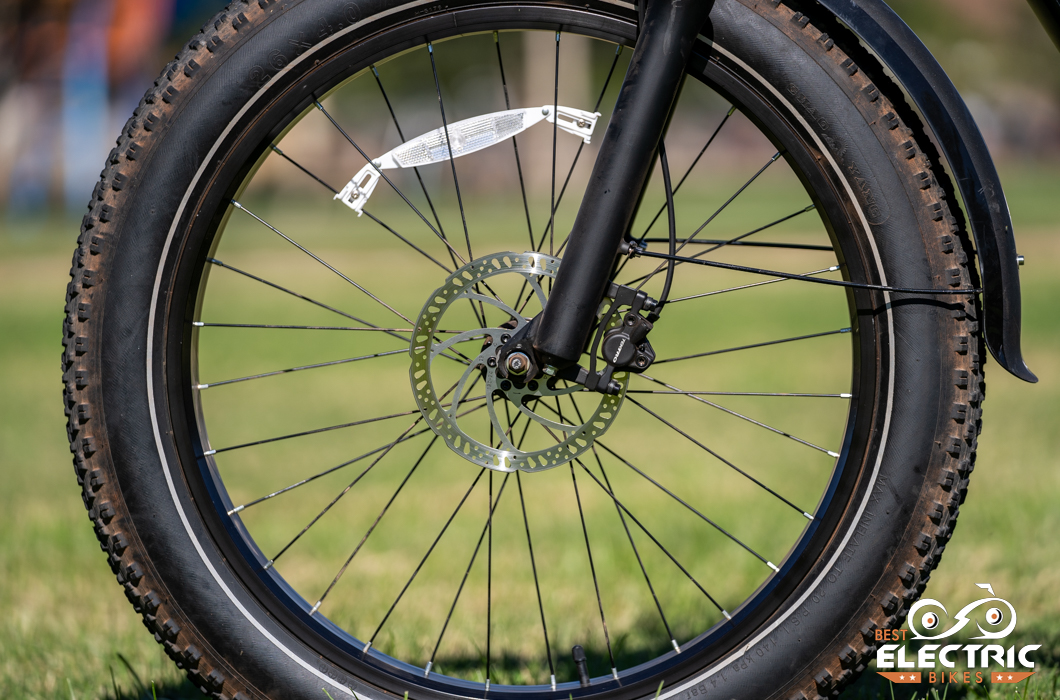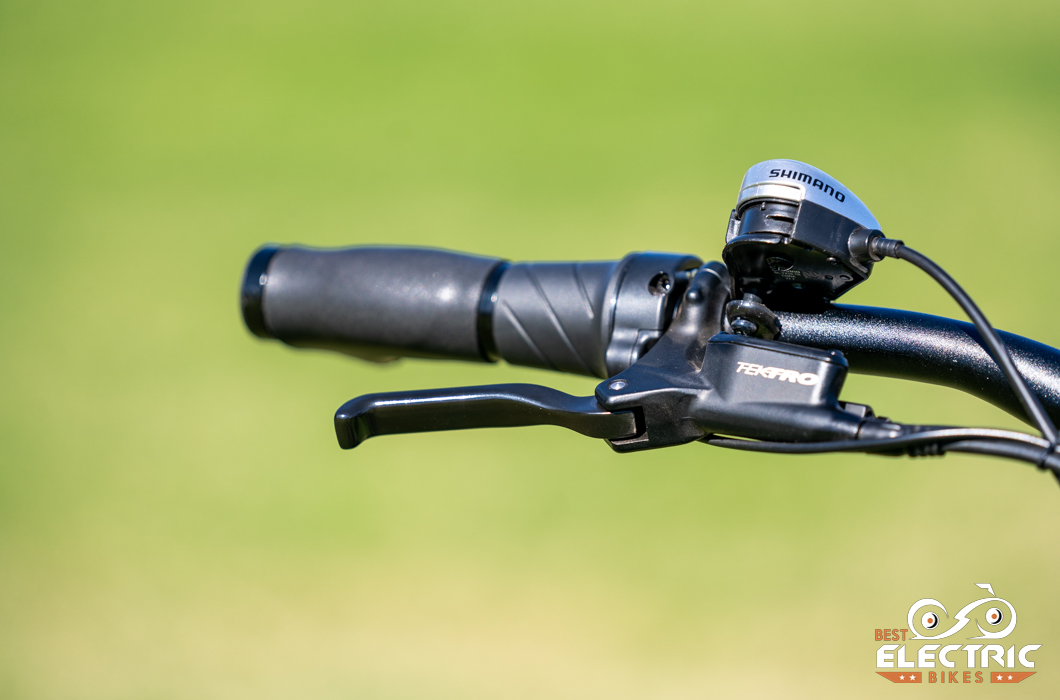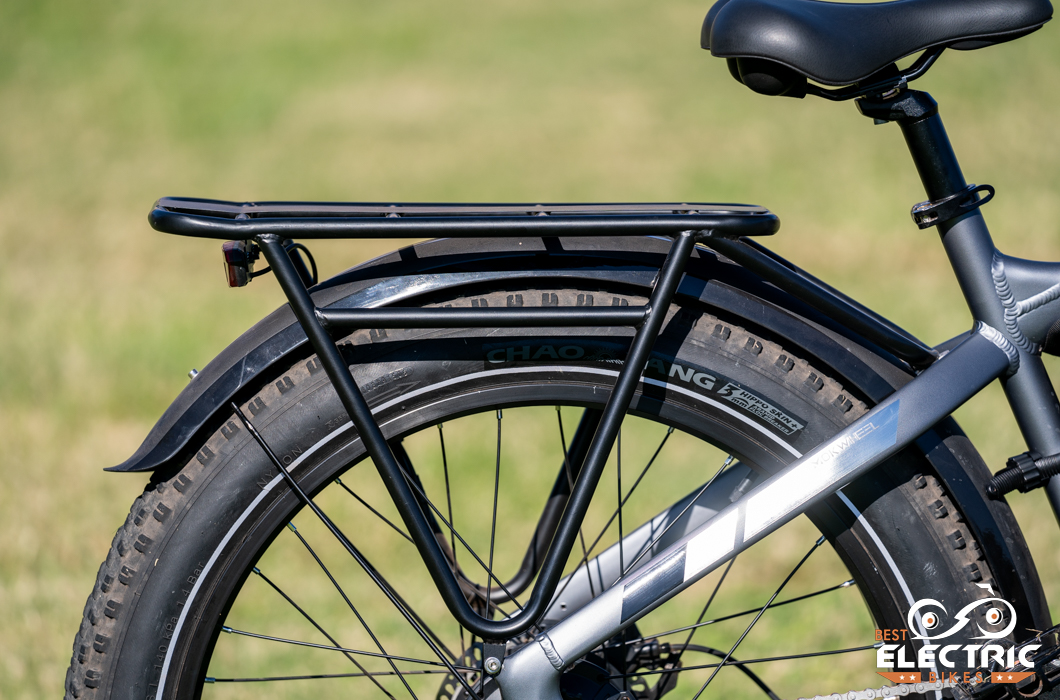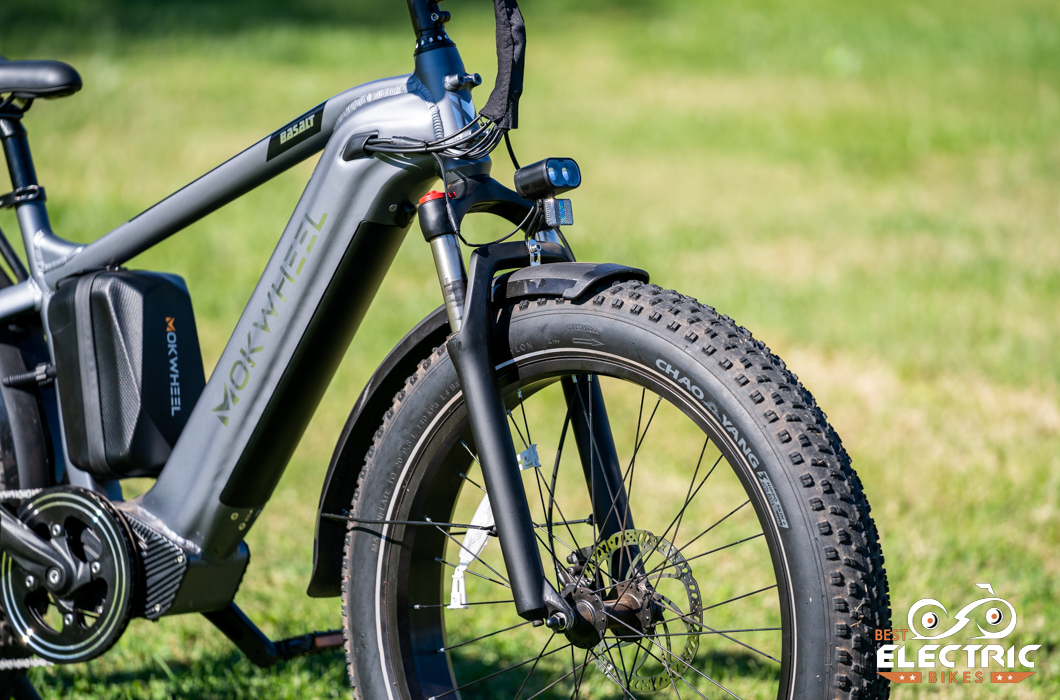 Mokwheel Basalt Review: Recommendation/Final Verdict
We appreciate when a manufacturer thinks beyond the design of their e-bike and considers just how it will be used. Mokwheel considered what other activities a rider might want to undertake with an all-terrain e-bike. What they arrived at was camping. More and more, people are bringing amenities from home when they head into the wilds.
Armed with the Basalt's 925Wh battery, Mokwheel added the option of purchasing an inverter that enables riders to power anything with a 120V A/C plug, USB A or C cables and even DC power supplies. The rider who wants their ride and their power (kind of a cake plus eating), Mokwheel also offers foldable solar panels that enable someone to recharge a drained battery. In this regard, the Mokwheel Basalt ceases to be just a fun toy to bring along when camping, but an asset that makes camping easier and more enjoyable.
Any time a manufacturer aims at the $2000 price point, they are forced to make compromises. If the e-bike is spec'd with a powerful motor (like the Basalt's 750W, 90Nm unit) and they give it a big battery (like the Basalt's 48V, 925Wh source), other components will necessarily be more modest. One of our only criticisms of the Mokwheel Basalt is that its 7-speed drivetrain features a fairly narrow range of gearing; the high gear is too small to reach its Class 3 top speed of 28 mph without pedaling like crazy and its low gear isn't nearly as low as what we see on eMTBs that are meant to take in ultra-steep terrain. While the powerful motor can do much, riding up a steep hill is always easier with the right gear.
It's a big world and there's a lot to see. We love the Mokwheel Basalt because it makes going out to explore easier, more assured. It's an e-bike that steps out of its role as recreation and exercise and into one where it becomes a resource that can make the owner's life bigger, even as it makes it more secure. Imagine an e-bike that will allow someone to explore for hours, return to camp and recharge their smartphone and then power the camp stove to make dinner. It's a vacation just waiting to happen.
Thank you for reading through our review of the Mokwheel Basalt. Still have further questions? Wondering how it compares to a similar e-bike we've reviewed here at Best Electric Bikes? Let us know in the comments below!