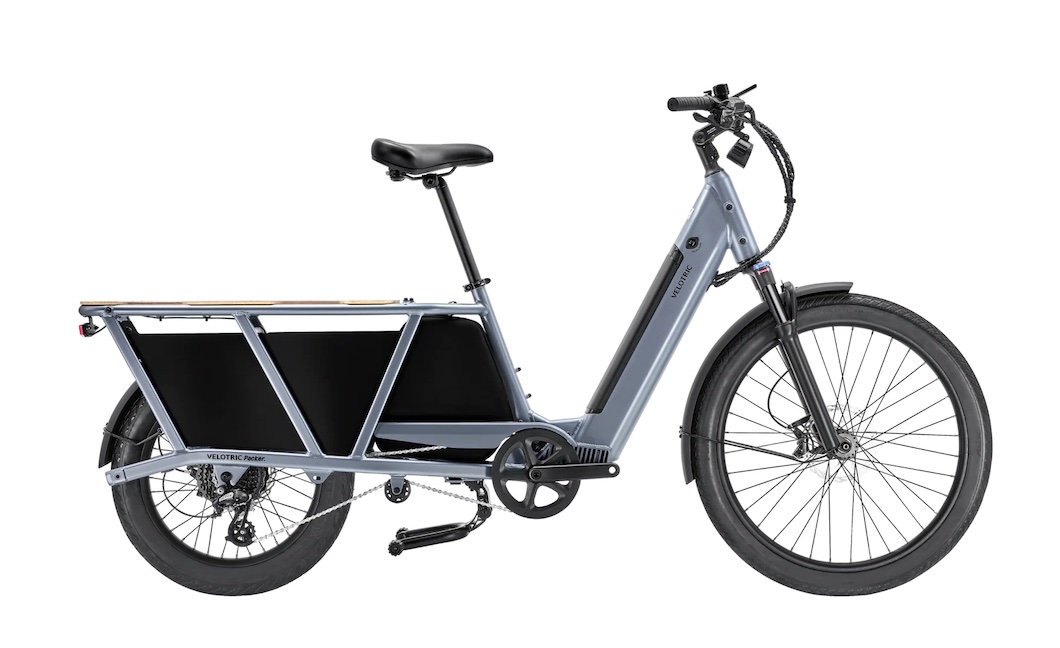 Intro
For people who want to park their car and get around by e-bike, saving themselves money and the planet CO2, a commuter e-bike is a wonderful choice. But for people with kids, a commuter suffers from a core weakness—most can't transport a child, let alone two. For the parent who would like to ride to work as well as drop a kid or kids at school, and maybe enough drop by the grocery store on the way home, a solution does exist in the form of a cargo e-bike. The Velotric Packer 1 is a long-tail e-bike perfect for the person who needs an e-bike with greater versatility than riding to work.
In our Velotric Packer 1 review, we will look at this cargo e-bike's overall design, its selection of components, its motor and battery as well as who is served by a long-tail cargo e-bike.
Long-tail cargo e-bikes are prized for their broad versatility. They can be outfitted in multiple ways, such as with seats for up to two kids in back, with a big basket in back and/or with a basket in the front to increase carrying capacity even further.
The heart of the Velotric Packer 1 is a 750W brushless, geared hub motor that produces a solid 75Nm of torque. Powering it is a 691Wh lithium-ion battery that Velotric estimates can give riders up to 52 mi. of range per charge (more on that later). An 8-speed Shimano drivetrain gives it the range necessary for long hills and 4-piston hydraulic disc brakes to bring the Packer 1 to a stop even with three people aboard.
Velotric makes a broad variety of accessories for the Packer 1 so that riders can equip it to suit their needs.
Unlike some cargo e-bikes, the Velotric Packer 1 uses two different wheel sizes, with a 26-in. wheel in the front (to aid stability and decrease rolling resistance) and a 20-in. wheel in the rear (to lower the cargo deck, thereby increasing stability by lowering the e-bike's center of gravity, making this a better-handling e-bike than its size might suggest. Whether someone wants to people or peat, the Velotric Packer 1 is a versatile e-bike for the person who wants to leave their car parked as much as possible. Let's take a deeper look.
E-Bike Category: Cargo
Who the Velotric Packer 1 Electric Bike Is for:
It's ideal for families looking to keep the car parked more and to transport kids by e-bike
Velotric Packer 1 Electric Bike Review Ratings:
***All ratings are relative to e-bikes of a similar style and price point***
| | |
| --- | --- |
| Speed/Acceleration | |
| Hill Climbing | |
| Battery Range | |
| Braking | |
| Construction Quality | |
| Handling | |
| Included Accessories | |
| Warranty | |
| Value | |
Velotric Packer 1 E-Bike Specs
Battery: 691Wh
Expected Range: 52 mi.
Charger: 3A
Motor: 750W brushless, geared hub motor, 75Nm torque
Pedal Assist: 5 PAS levels
Throttle: Included
Display: Backlit LCD
Headlight: 130 Lux
Taillight: Integrated with brake light
Frame: 6061 hydroformed aircraft aluminum
Fork: 80mm travel air-spring suspension fork
Fenders: Included
Kickstand: Dual-leg, motorcycle-style
Handlebars: 680mm alloy
Grips: Lock-on ergonomic
Drivetrain: 8-speed Shimano, 13-34 cassette
Brakes: 4-piston hydraulic disc brakes with 180mm rotors
Pedals: Plastic with reflectors
Saddle: Urban comfort ergonomic
Tires: CST 26 x 2.4-in. and 20 x 3-in.
In-Depth Velotric Packer 1 Review
Velotric Packer 1 Review: Comfort, Handling, and Ride Qualities
The Velotric Packer 1 is full-size cargo e-bike with a long-tail design. While Velotric's Go 1 has the capacity to carry one passenger, the Packer 1 can carry two passengers. Just who can ride the Packer 1 requires a bit more explanation, though. The Packer 1 has a 440-lb. capacity, with 176 lbs. of that afforded to the rear cargo deck. That means that a rider weighing up to 264 lbs can carry up to 176 lbs. in passengers. Whether that's two small passengers or one adult passenger is up to the rider.
Long-tail cargo e-bikes are the easiest of the big cargo bikes to handle. They are a good deal more nimble than the big bucket e-bikes that place the rider behind the passenger(s). Because they have a longer wheelbase than other e-bikes they have a larger turn radius, but can still carve a reasonably tight turn. That longer wheelbase does come with a benefit—at low speeds, these e-bikes are very stable.
One of the tricks with long-tail cargo e-bikes is to get the kids loaded and in place with the dual-leg motorcycle-style kickstand holding the e-bike upright and once the kids are situated, then stepping over the frame and pushing the e-bike forward. Doing this enables the rider to make sure the kids are properly seated and gives them a secure sense of the e-bike as the mount. This is one reason why the step-thru frame design is so helpful—it eliminates the possibility that the rider could hit a passenger with their leg.
Velotric Packer 1 Review: Motor, Battery, and Drivetrain Performance
Thanks to a 750W brushless, geared hub motor that produces 75Nm of torque, the Velotric Packer 1 has the power necessary to assist a rider with a couple of kids aboard. We've seen more powerful hub motors on cargo e-bikes, but bigger isn't necessarily better when it comes to motors in cargo e-bikes. The higher the torque values, the greater the acceleration and if an e-bike takes off like a top-fuel dragster, well, not all kids will enjoy that and the last thing anyone wants is a child frightened of getting on the back of an e-bike.
This motor has the power necessary to get a rider with passengers up to speed promptly as well as climb hills without bogging down. Thanks to a top speed of 25 mph, this qualifies as a Class 3 e-bike. The fact that its top assist speed is 25 mph was a good choice because, again, a child frightened by going too fast isn't the way to go. Be aware, though, that reaching 25 mph may be difficult once a couple of kids have been loaded onto the rear of the e-bike.
Velotric estimates that riders may reach a range of up to 52 mi. per charge with the 691Wh battery the Packer 1 comes equipped with. It's important to bear in mind that this is an optimistic number a reflection of best-case-scenario riding, which means flat ground, smooth pavement, no headwind and no passengers (or groceries). Just as hills or a dirt road will cut range, even a pair of preschoolers will see a drop in range because as mass climbs, range drops. The good news here is that most families making short trips should be able to ride for three or four days before needing a charge.
The 8-speed Shimano Altus drivetrain gives riders range enough to climb hills and get back down the other side. The advantage of an 8-speed cassette (13-34 in this case) is that the steps between the gears are smaller, so that with each shift the jump feels more manageable. And compared to the thumb shifter we find on many e-bikes with 7-speed drivetrains, we much prefer the under-the-bar trigger shifter found here.
Velotric Packer 1 Review: Braking, Safety & Warranty
Cargo e-bikes, because they are meant to carry heavier loads, need to be equipped with powerful brakes, which is what Velotric did with the Packer 1. This e-bike is spec'd with 4-piston hydraulic disc brakes, which are paired with 180mm rotors. This is a very powerful setup that will give a parent toting kids great confidence when approaching an intersection, or garage door.
For most potential buyers the big safety concerns they hold are likely to concern child passengers. Velotric offers a number of accessories to make carrying kids as safe as it is easy. In addition to padded seats, they offer a handlebar as well as a railing that encloses the kids. Running boards give the kids a place to rest their feet. Child seats only work for a few years and once kids outgrow them, an e-bike like the Packer 1 gives parents a way to transport kids up to their teen years (after which point they tend to grow too cool as opposed to too large to ride them).
Velotric advertises a two-year warranty but buyers should take a look at the warranty page as some components receive only a single year of coverage, not two. Still, it's a better warranty than most.
Velotric Packer 1 Review: Recommendation/Final Verdict
The argument for a cargo e-bike like the Velotric Packer 1 is both simple and obvious, and possibly as simple as it is obvious. With a commuter e-bike, a rider can ride to work and home again. Armed with a backpack or a rack trunk a rider can stop to pick up a few essentials, but for the most part, any errand is going to require heading home first to get the car, and that need to go back out after arriving home isn't exactly convenient or efficient.
With the Velotric Packer 1, a rider can equip it with a couple of bench seats, a railing to enclose the kids and keep them from doing anything silly, as well as a large front basket to carry payloads less squirmy than kids. Consider how efficient that can make life; the ride home can include stopping by school, preschool and the grocery store. Need the big bag of dog food? That's easy enough as well. Worth noting is that it comes with the basics including full fenders, front and rear lights and the aforementioned motorcycle-style dual-leg kickstand, which makes both loading and unloading a cinch.
The choice to build this e-bike around two different wheel sizes will strike some riders as strange, but it's truly a selling point and makes the e-bike's handling better than those that spec either 20 or 22-in. wheels front and rear. Handling is what really decides how confident a rider will feel on an e-bike.
Using an e-bike to substitute for a car can seem like a logistical challenge, and it can be with some e-bikes. For families, an e-bike that allows for the kids to ride along, an e-bike becomes a much more practical means to get around. And take it from this parent, it's easier to get the kids out the door if they know they'll be riding on the back of an e-bike.
Thank you for reading through our review of the Velotric Packer 1. Still have further questions? Wondering how it compares to a similar e-bike we've reviewed? Let us know in the comments below!