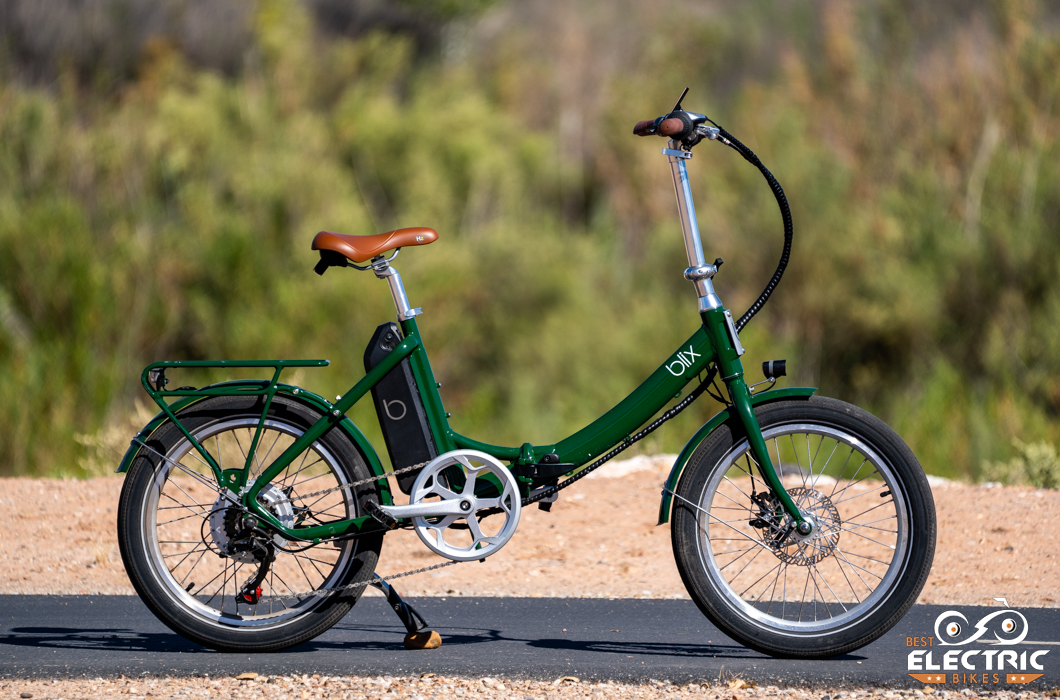 Blix Vika+ Flex Review: Intro
Folding e-bikes are on the rise and few manage to bear the label of "light". This Blix Vika+ Flex review is of a bike that actually fits that mold.
A folding bike is an unusual sort of bike because it makes the ease of the bike's storage one of its main features. Normally, we buy a bike and then figure out where to put it. The buyer of the folding bike has done a bit more thinking on the front end. They decided they want a bike and then stopped to realize that storing said bike could be a problem. Even before they are folded up, most folding bikes are smaller than typical bikes, which makes them easier to manage even before they are folded up.
Like the best folding e-bikes out there, the Blix Vika+ Flex takes just seconds to fold or unfold in three easy steps. Its 500W brushless hub motor powers the 20-in. wheels, which give the bike great acceleration and nimble handling. And it's an adept commuter, as it comes with front and rear lights, front and rear fenders and a rear rack, making it ready to head to work.
Those are but a few of the reasons we like the Blix Vika+ Flex. Let's dig into the both the nitty and the gritty in our review of the Blix Vika+ Flex.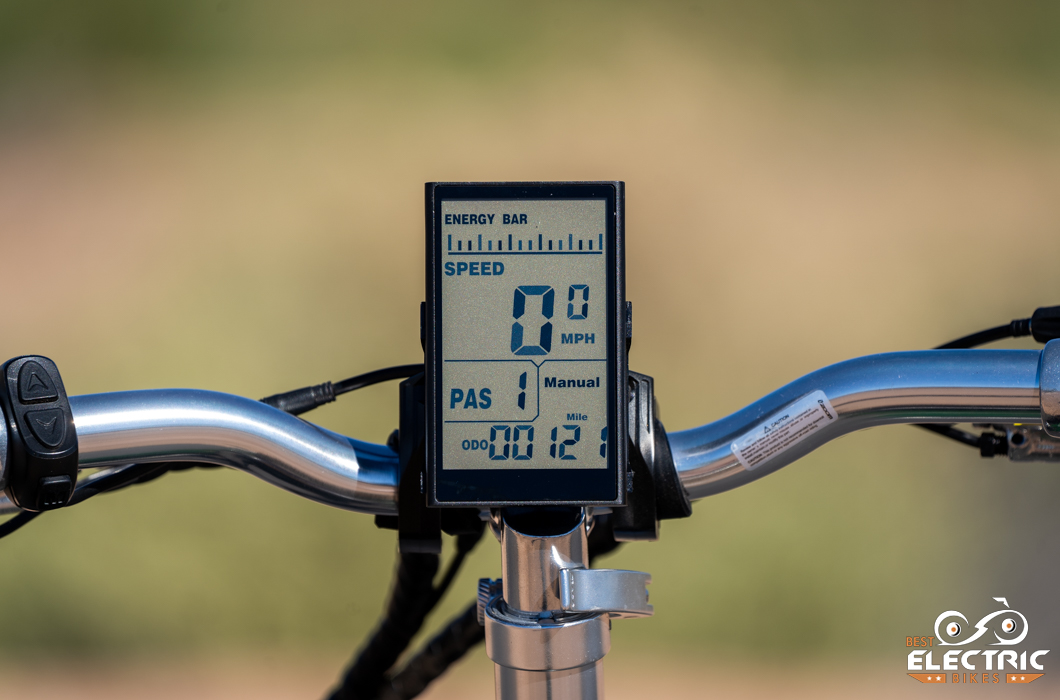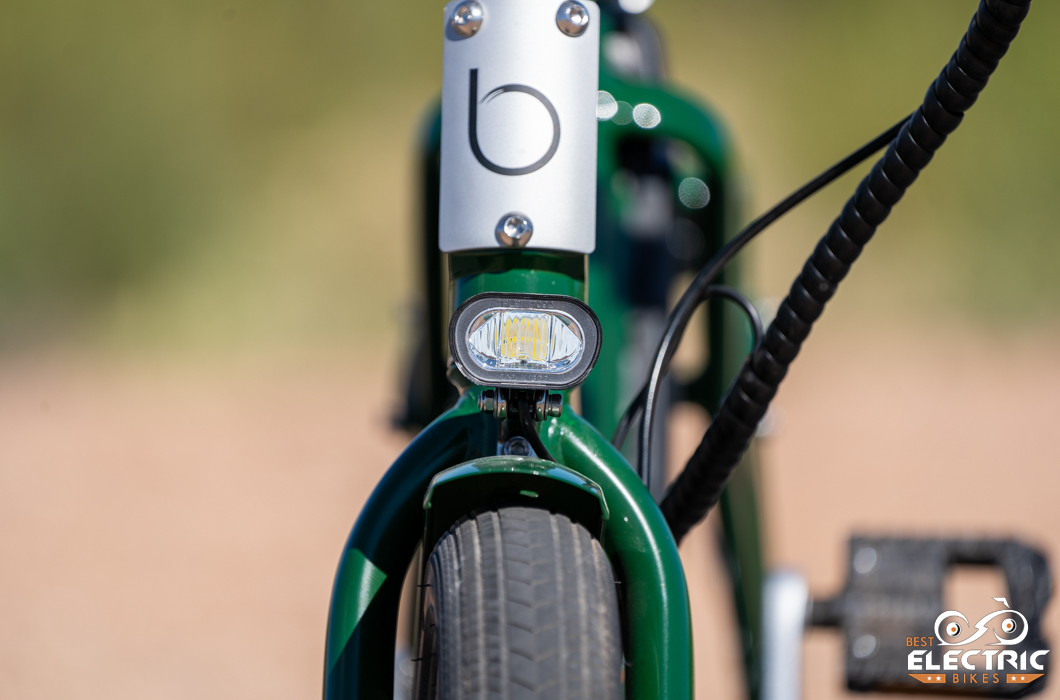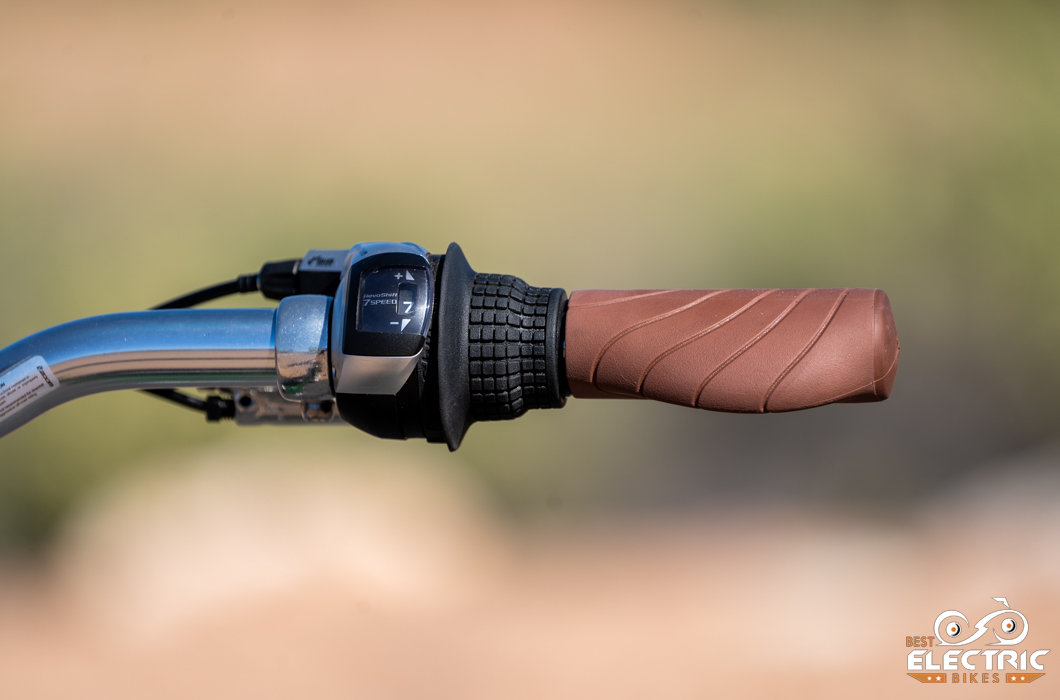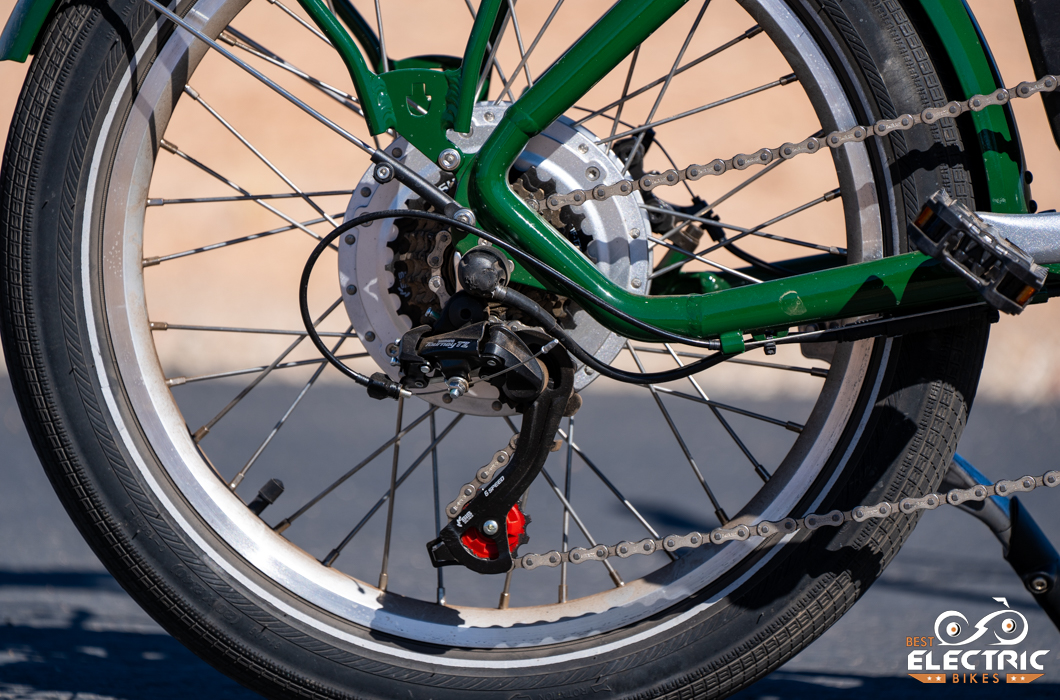 E-Bike Category: Folding e-bike
Who the Blix Vika+ Flex Electric Bike Is For:
The Blix Vika+ Flex is an affordable folding e-bike suited to commuters and people short on storage space.
Blix Vika+ Flex Review Ratings:
***All ratings are relative to e-bikes of a similar style and price point***
| | |
| --- | --- |
| Speed/Acceleration | |
| Hill Climbing | |
| Battery Range | |
| Braking | |
| Construction Quality | |
| Handling | |
| Included Accessories | |
| Warranty & Customer Service | |
| Value | |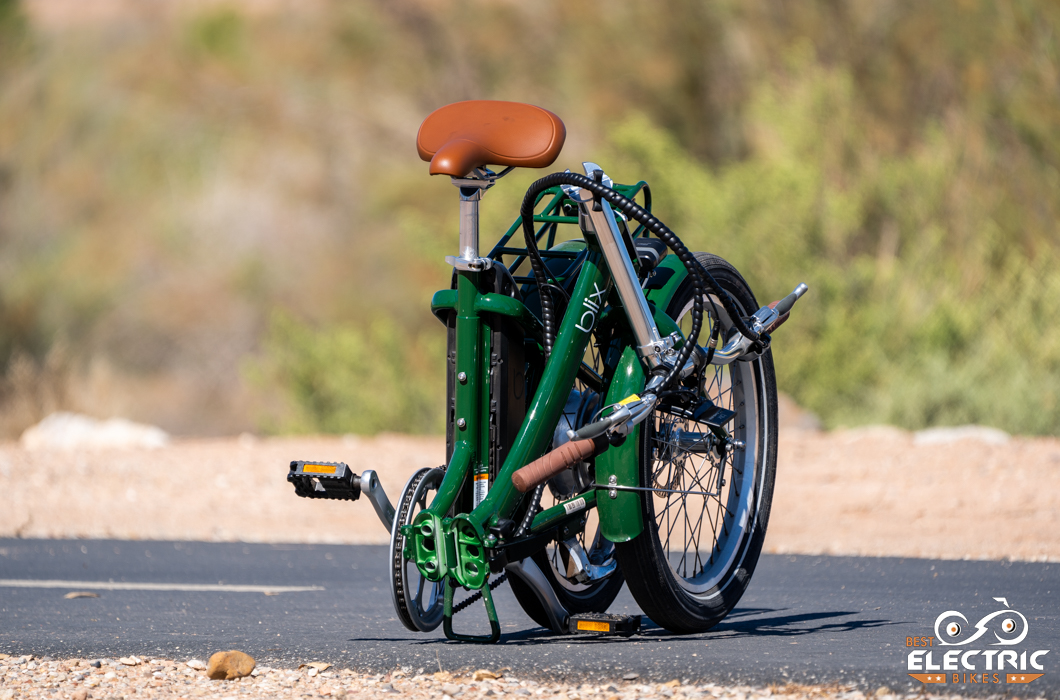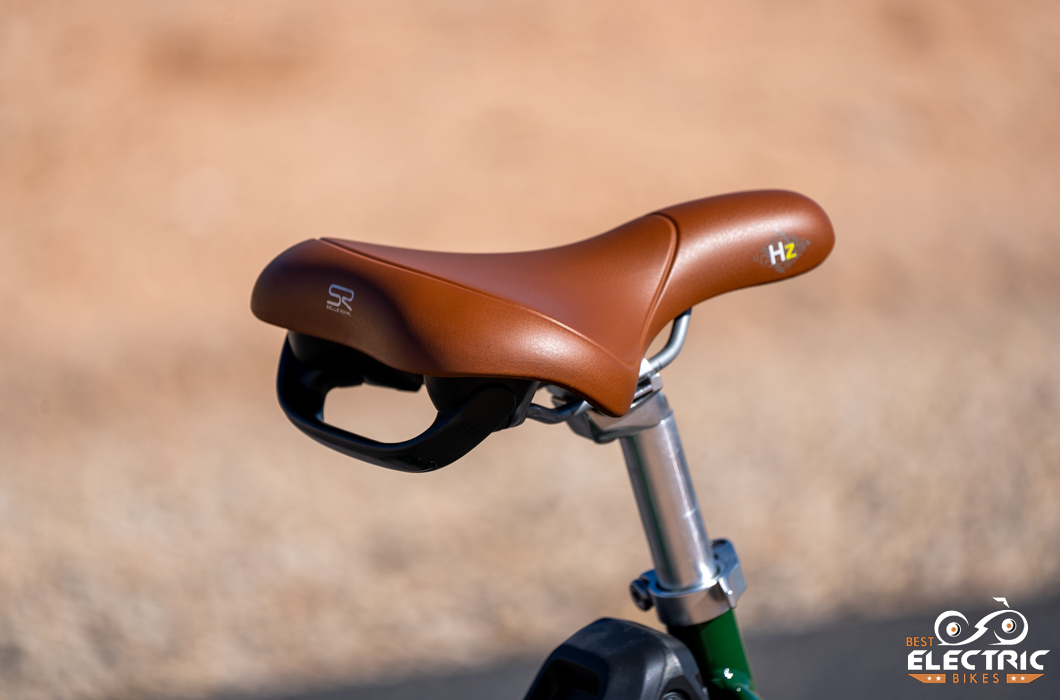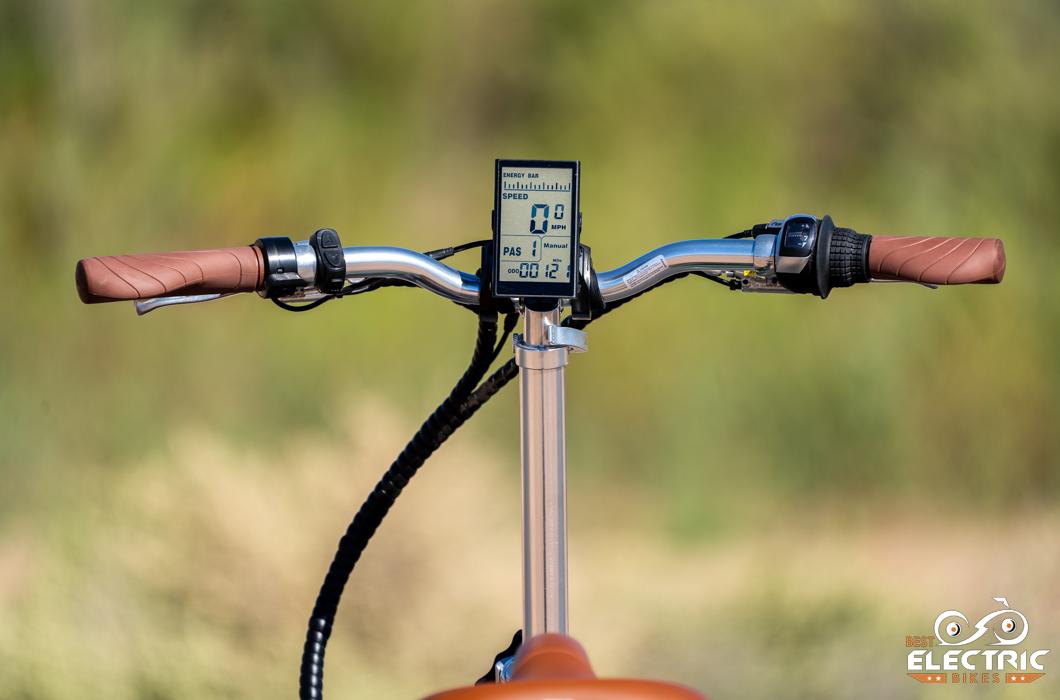 Blix Vika+ Flex Review: E-Bike Specs
Battery: 48V, 614Wh
Expected Range: 50-52 miles on average
Motor: Rear Hub, Geared, 500W
Pedal Assist: 0-5 level pedal assist
Display: LCD, with USB Charge Port
Headlight: Included
Taillight: N/A
Frame: 6061 Aluminum, folding
Fork: Aluminum Alloy, 1 1/8″ Threaded
Fenders: front and rear included
Kickstand: Heavy duty
Handlebars: Rise Bar, 630mm
Grips: rubber
Drivetrain: 7-speed Shimano Tourney
Brakes: Tektro Aries Mechanical Disc, 160mm Rotors
Pedals: Alloy, folding
Saddle: Comfort Padded
Tires: 20" x 2.4", Puncture Resistant, Reflective Strip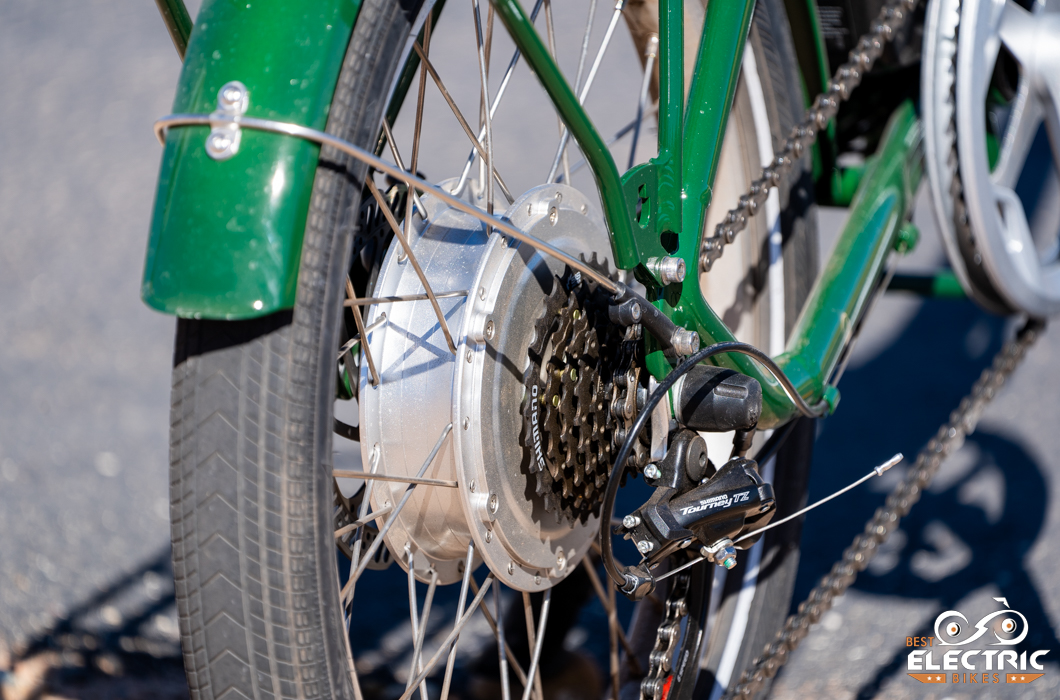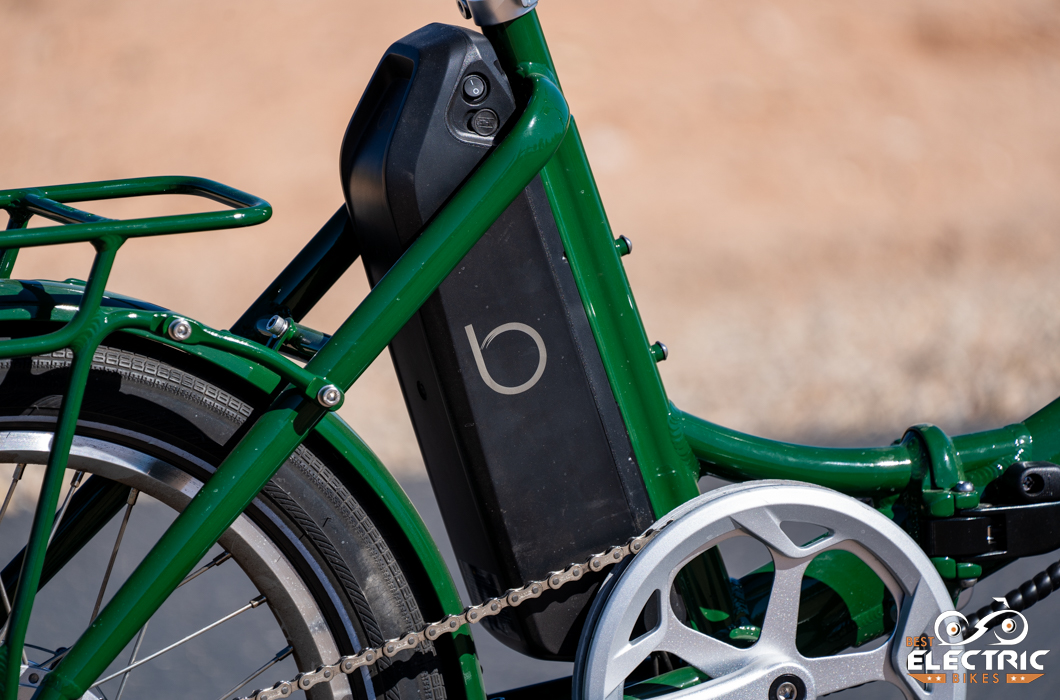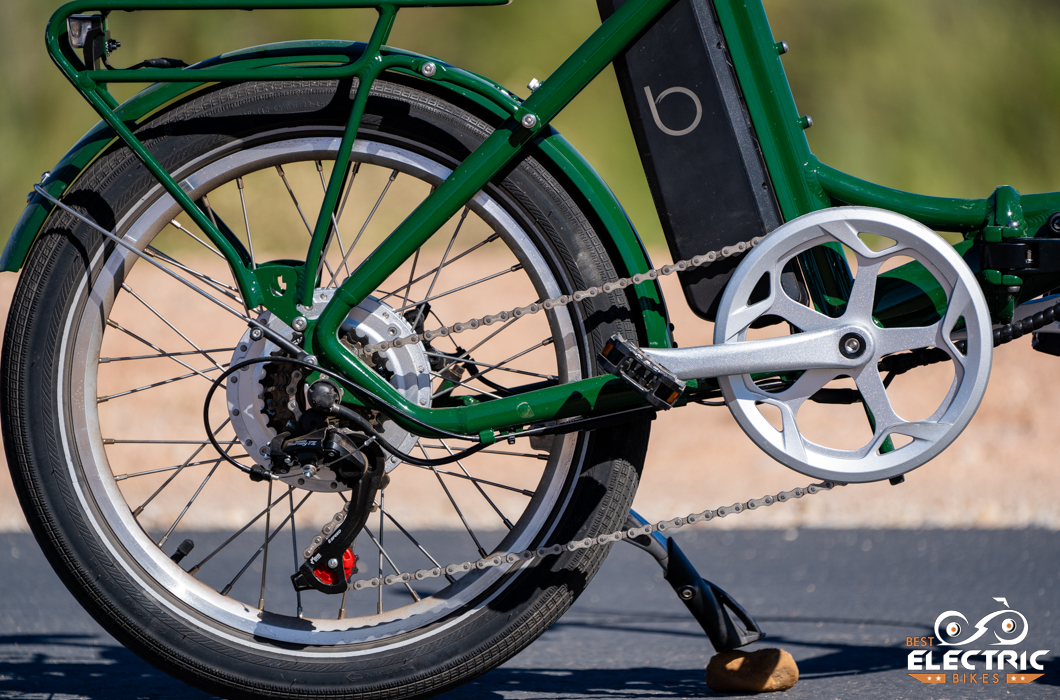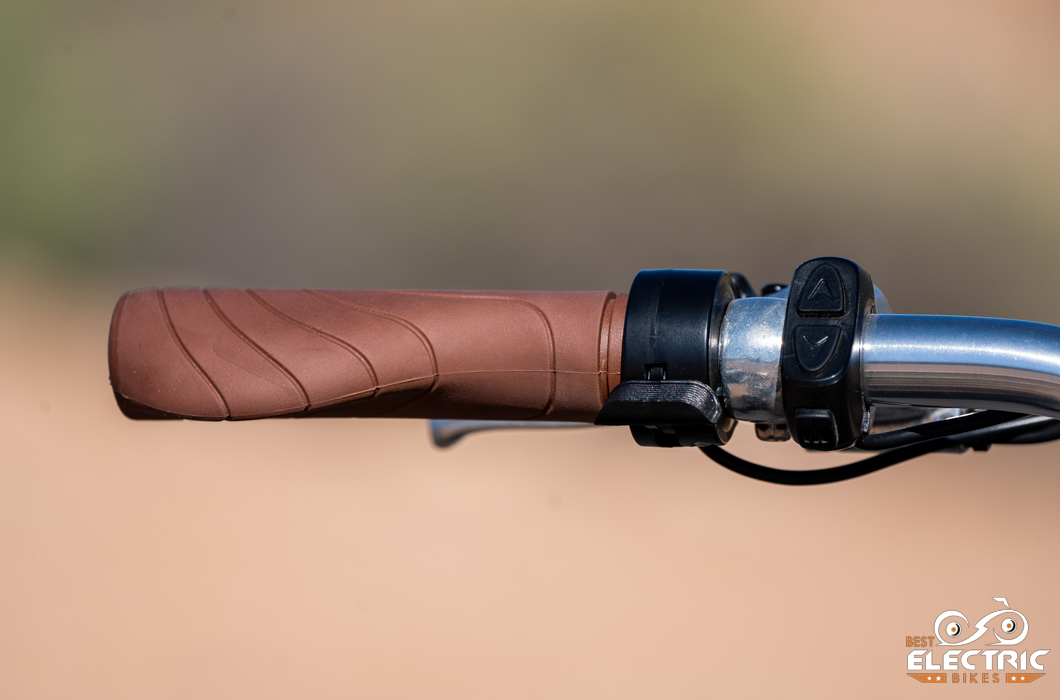 In-Depth Blix Vika+ Flex Review
Blix Vika+ Flex Review: Comfort, Handling, and Ride Qualities
Every e-bike is the result of a number of choices made by someone at a bike company, usually the product manager. What the frame is made of, what the components are, whether it has suspension or not, how powerful the motor is, every one of these choices involves a trade of some sort. Spec'ing wide tires on an e-bike increases the rider's comfort as well as the e-bike's traction, but range suffers because rolling resistance goes up. Similarly, adding a suspension fork increases an e-bike's weight, making it harder to carry. With the Vika+ Flex, Blix created a relatively lightweight folding e-bike with plenty of range for commuting.
As a result, Blix left a little bit of comfort on the table, so to speak, but in return they delivered a bike that rolls a bit quicker, making it accelerate more quickly and go farther on less battery.
One factor we have to talk about where comfort is concerned with folding e-bikes is how easy it is to fold and move the e-bike. The Blix Vika+ Flex takes mere seconds to fold; there are only three steps to folding the bike up. Blix also included a strut extending from the bottom bracket that enables the e-bike to stand upright once folded. The Selle Royal saddle is wide, comfy and includes a big handle that makes picking up the Blix Vika+ Flex very easy.
The Blix Vika+ Flex benefits from the nimble handling that comes with 20-in. wheels. Small wheels make it easier to turn a bike and maneuver around everything from parked cars to leashless dogs. It is confident at cruising speed, but can feel a bit nervous at higher speeds.
Thanks to its 16.2-in. standover height, the Blix Vika+ Flex is easy to mount and the saddle will go low enough to accommodate riders under 5 feet tall. However, the reach from the saddle to the handlebar is 24 in. and might be a big stretch for anyone under 5 feet 8.
Blix Vika+ Flex Review: Motor, Battery, and Drivetrain Performance
Pairing a 500W hub motor with 20-in. wheels is a bit like upgrading the motor relative to bikes with bigger wheels. The smaller a wheel is, the easier it is to accelerate, so the Blix Vika+ Flex zips up to cruising speed easily and climbs well.
The Blix Vika+ Flex is equipped with a 614Wh battery, and while that combination of motor and battery may seem modest compared to some of the e-bikes we review, a smaller motor (which is more effective because of smaller wheels) uses the power from the battery more efficiently, which is how this e-bike can get a projected 45 mi. from a single charge.
Our colleagues at Electric Bike Report covered 43 mi. in PAS 3, and 27 mi. in PAS 5. Blix projects 20 mi. of range in PAS 5, which suggests that the judicious user could substantially exceed the 45 mi. projection.
The Shimano Tourney drivetrain is common to many e-bikes in the $1000-$2000 price range and it provides reliable performance with gears low enough for most hills riders will encounter. San Francisco residents might take issue with that last statement, though.
Blix Vika+ Flex Review: Braking, Safety, Customer Service & Warranty
The Blix Vika+ Flex is equipped with mechanical disc brakes. Mechanical discs tend not to offer as much power as hydraulic disc brakes, but another advantage of 20-in. wheels is that they are easy to stop, so the Tektro brakes paired to 160mm rotors offer plenty of control.
We've noted a number of advantages that 20-in. wheels offer. They do come with one drawback; they aren't especially stable at higher speeds, so some e-bikes with 20-in. wheels will feel nervous as the speed approaches 20 mph. They can be downright scare at high speeds. Riders focused on speed will better enjoy e-bikes with 27.5-in. or 700C wheels; they offer greater stability at higher speeds. For the rider cruising their neighborhood and likely to encounter kids on scooters, moms with strollers and the occasional clueless texter, the Blix Vika+ Flex will carve around anything they need to avoid.
Any time we review a folding e-bike, we are concerned with just how the e-bike folds up and whether there are sufficient safeguards in place to prevent any folding while on the e-bike. The levers the lock the frame and the handlebar mast in place have good fail-safes in place so even folks who don't think of themselves as mechanically minded will have an easy time folding and unfolding the Blix Vika+ Flex.
Blix bikes are covered by a one-year warranty that includes everything from the frame and fork to all the parts and the manufacturer's assembly labor. And Blix owners seem satisfied. The great majority of Vika+ Flex owners (84 percent) gave the e-bike five stars in their review. Buyers can also purchase an extended warranty at the time of purchase.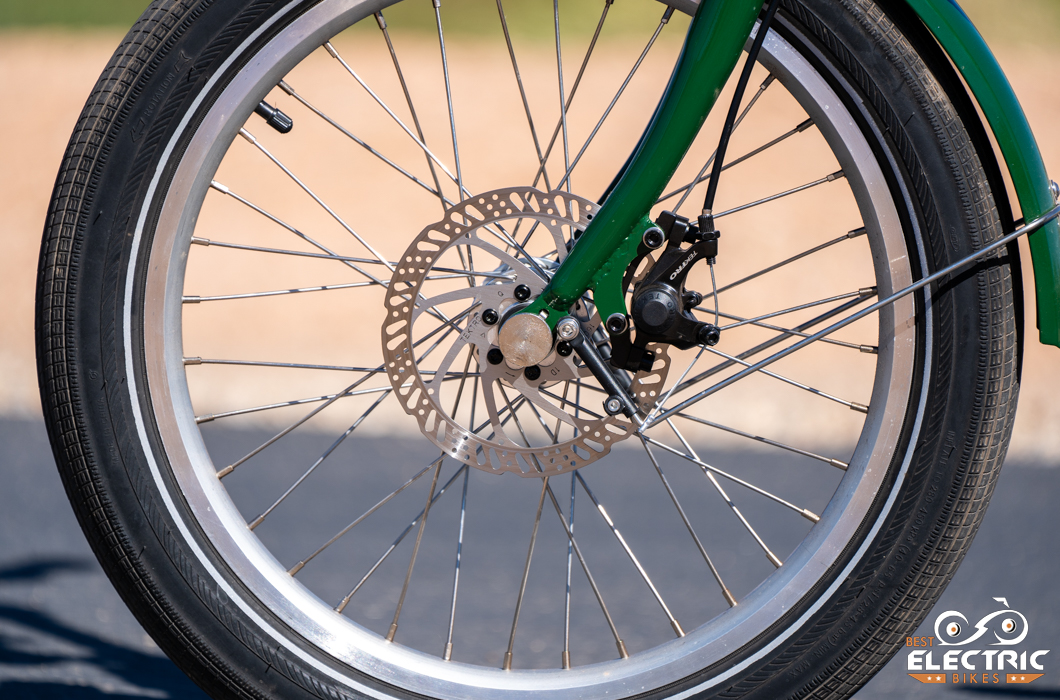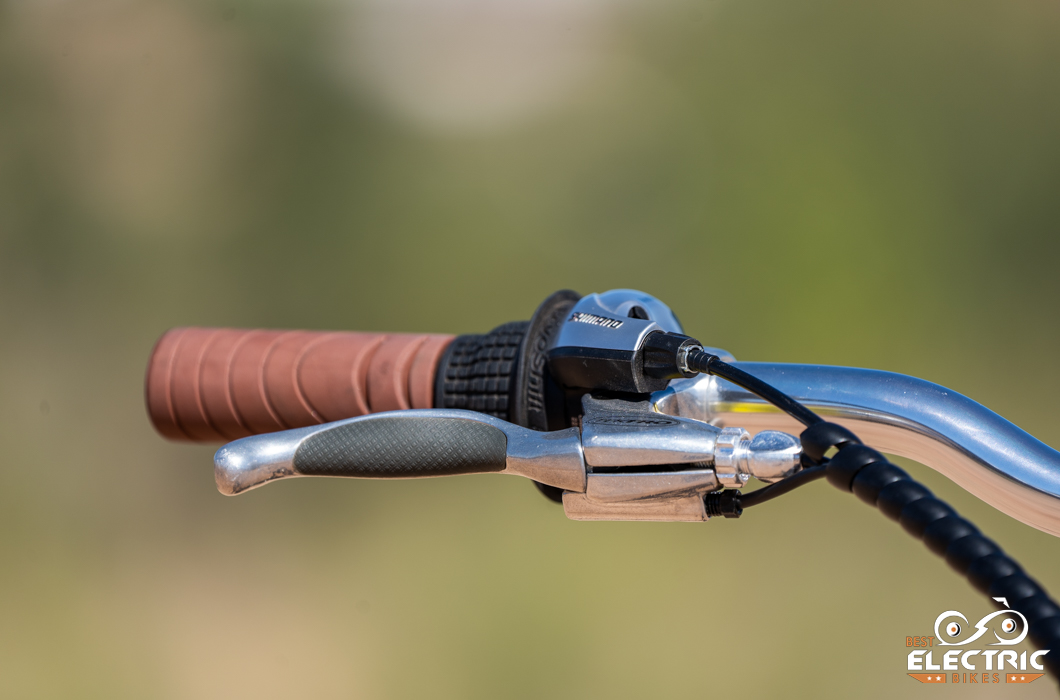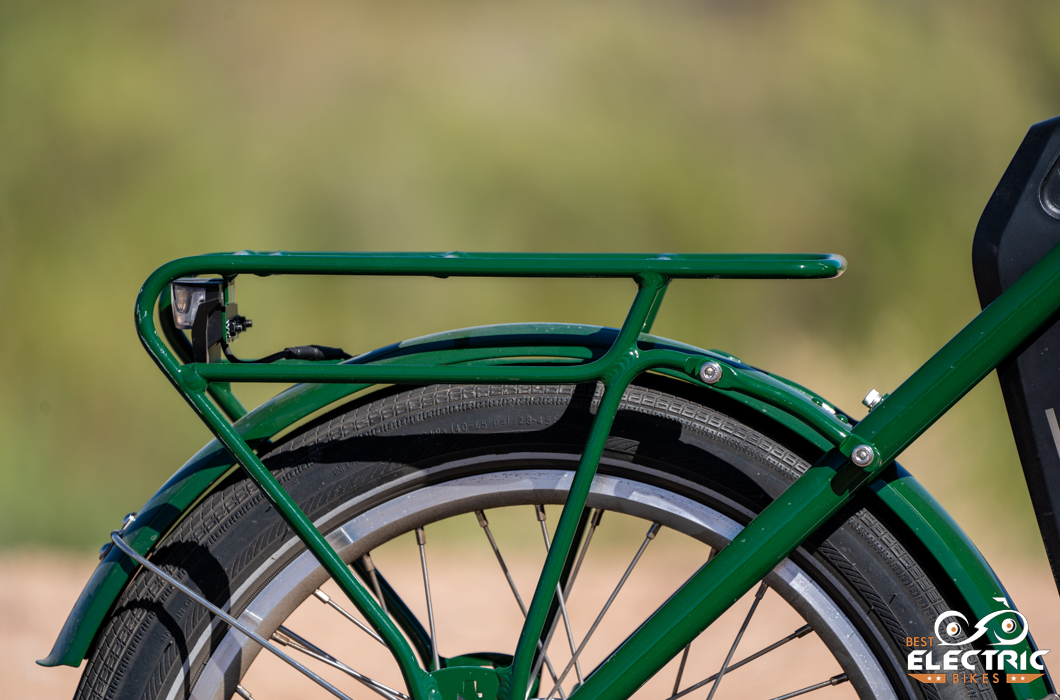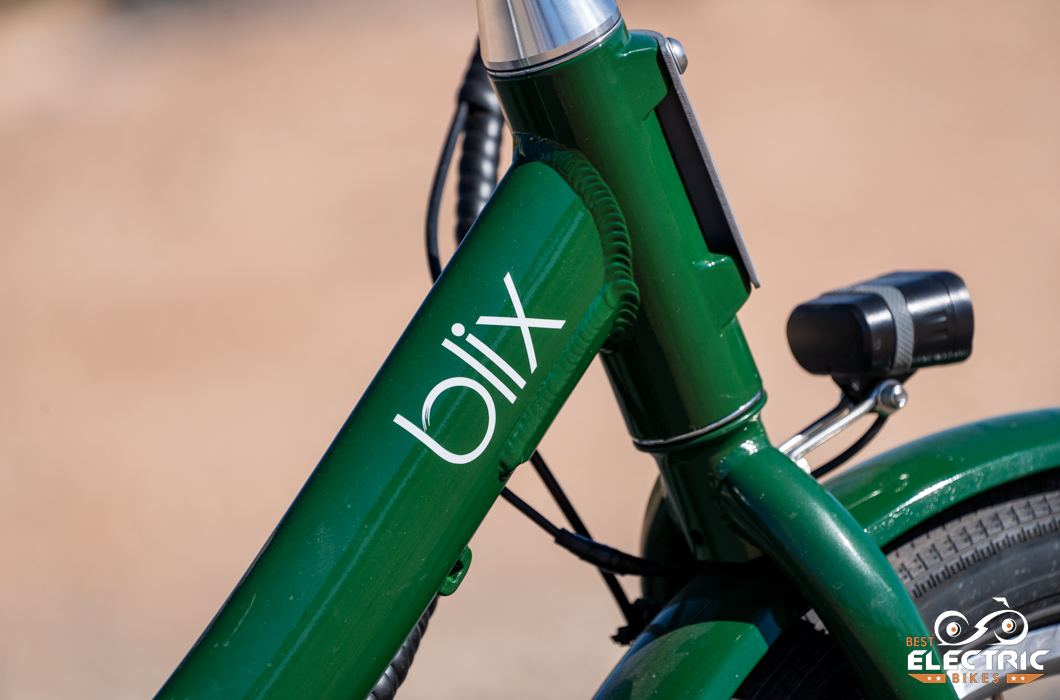 Blix Vika+ Flex Review: Recommendation/Final Verdict
Creating an e-bike that folds, has a 500W motor, 7-speed drivetrain, full fenders, rear rack, front and rear lights, 45-mi. range and weighs only 55 lbs. is no small feat; the Lectric XP 2.0 has all these features, but weighs roughly 10 lbs. more.
Pulling all those features together for less than $2000 is also noteworthy. This is a value-packed e-bike that has an appeal that extends well beyond the fact that it is easy to store. Speaking of which, Blix offers a carrying bag to make moving and storing the Vika+ Flex even easier. This is especially handy for anyone who is concerned about the drivetrain leaving marks on anything it might rub up against.
We love that Blix positioned the battery low and behind the seat tube. That improves the e-bike's handling and makes the e-bike a bit easier to fold because there is less weight in the front-end of the bike; most of the bike's weight is concentrated in the rear, which has that support to keep the bike upright as it is being folded and unfolded. The curving main tube of the frame helps give the e-bike an especially low standover height, making it easy to mount and dismount.
For riders who don't plan to ride unpaved surfaces, we think narrower tires that don't sport knobs are the way to go; they can help extend an e-bike's range and even help an e-bike reach a higher cruising speed.
We often praise commuters for being one-stop buys. The Blix Vika+ Flex is just such a bike thanks to the fact that it includes a rear rack, front and rear fenders and front and rear lights. Just add panniers.
In addition to the carrying bag, Blix offers a number of accessories that can be used to customize the Vika+ Flex to the rider's needs.
Folding e-bikes fit a particular sort of need and the Blix Vika+ Flex does that with some style, efficiency and affordability.
Thank you for reading through our review of the Blix Vika+ Flex. Still have further questions? Wondering how it compares to a similar bike? Leave us a question in the comments below and the team at BestElectricBikes.com will answer!