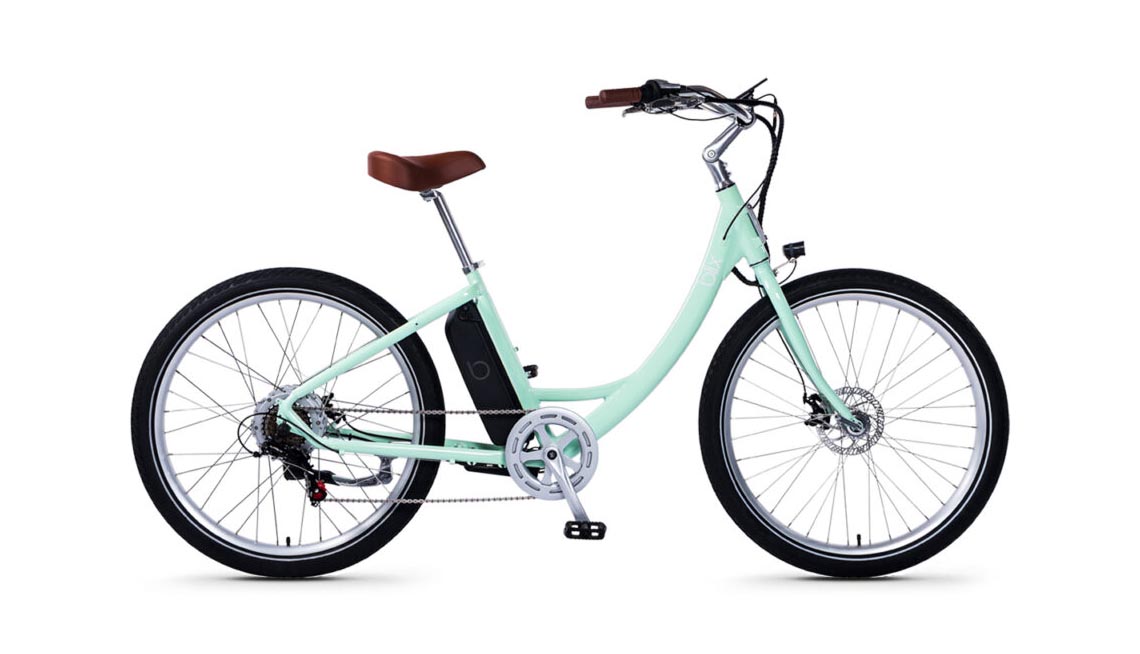 Looking for the best electric beach cruiser bikes of 2023? You've come to the right place!
There aren't many things that say gorgeous summer day better than a cruiser, especially an electric cruiser. Cruisers have always been about going for a bike ride for the sake of a bike ride. There are times when fun is enough.
An electric cruiser bike takes the notion of fun and simply multiplies it. The higher speeds that an electric cruiser bike can achieve do something remarkable to the character of a cruiser, though. A bike that might be ridden no faster than 8 or 10 mph can't really be considered as potential transportation, but a bike that can go 20 mph or more can be both summer afternoon fun and a way to run to the market or maybe even commute into the office.
In the olden days, cruisers generally had one speed and a coaster brake. Not so with these cruiser e-bikes. Most have multiple gears to help them hit those higher speeds and disc brakes (some hydraulic, some mechanical) to make sure they can be controlled when at speed.
Many of these e-bikes are better equipped as well. Many have fenders, lights and racks. Some offer options like baskets, second batteries and even child seats. What follows are the best electric cruiser bikes we have found from the many on the market.
And if you love cruisers but you are curious about some other styling as well, you can always head to our selections for the best overall e-bikes of 2023 and see if something there fits you too.

Quick Answer: The 8 Best Cruiser E-Bikes of 2023
Ride1UP Cafe Cruiser
With motorcycle-cool lines, an integrated rear rack that can carry loads as heavy as a child and a powerful 750W motor that will reach a Class 3-rated top speed of 28 mph, the Ride1UP Cafe Cruiser needed to be part of our roundup of the best cruiser electric bikes. As with most e-bikes in the sub-$2000 price range, the Cafe Cruiser has some notable strengths along with a couple of weaknesses.
We love the stylish frame with an integrated battery which catches eyes everywhere it goes and with an 80mm air/oil suspension fork and 3-in.-wide tires plus an upright riding position, it offers an unusually comfortable ride for electric cruiser bikes in this price range. We also like that style doesn't put substance in the back seat; the Cafe Cruiser comes in both a traditional frame design as well as a step-thru design.
We would like to have seen the 750W motor produce a little more torque to help it get over hills more convincingly and the battery could use a little more juice. Unfortunately, that lack of juice robs the Cafe Cruiser of some range. Electricbikereport.com's testing showed that it fell short of the claimed range of 30 mi. in PAS 5, with 26 mi. covered, and instead of the 50 mi. claimed in PAS 2, it managed 46 mi. That said, those numbers aren't bad; they just aren't what the website claims and we can't help but ding a bike a bit any time marketing and reality don't match.
Two places where the bike succeeds in the above-and-beyond department is with its drivetrain and brakes. We've seen bikes that claim Class 3 speeds but most riders can't pedal fast enough to reach 28 mph. The Cafe Cruiser's 8-speed Shimano drivetrain has a high gear that can do 28 and a bit more. Of course, few riders will want to go that fast if they don't feel they can stop the bike and the Zoom hydraulic disc brakes with 180mm rotors keep the stopping distance short and controlled.
Rear racks are common on e-bikes, given how many of them get used for commuting. Even so, not many are designed to haul people, little or not, which makes the integrated rear rack of the Cafe Cruiser an unusual asset. Riders can accessorize the bike with a seat pad and foot pegs to include ferrying duties in its array of talents. Including the Ride1UP Cafe Cruiser in our collection of best cruiser electric bikes wasn't difficult.
Pros
With a top speed of 28 mph this Class 3 e-bike can double as a commuter
The integrated rear rack is so strong footpegs and a pad can be added to turn it into a kid carrier
Class 3 e-bikes need powerful brakes and these hydraulic discs with 180mm rotors keep riders feeling in control
8-speed Shimano drivetrain is well-geared to Class 3 needs
Back-swept handlebar gives a comfortable riding position
3-in.-wide tires give cushy ride and terrific control, even on wet streets
Cons
Despite a 750W motor and 60Nm of torque, it lacks the power necessary to perform well on steeper hills
While its relaxed handling can feel nice in a straight line, it lacks maneuverability in tighter spaces
Step-thru frame has higher standover height than with some bikes
Aventon Pace 500
The classic cruiser frame design evokes the look of an old motorcycle frame. It's a stylish appearance that is eye-catching in the best possible way. The curvy tubes aren't necessarily the most efficient, though and can result in a bike that weighs more than necessary. The Aventon Pace 500 is a no-nonsense approach to a cruiser at a great price, which is why it gets our nod as one of the best cruiser electric bikes.
The backbone of the Pace 500 is an aluminum frame and fork for excellent strength, weight and durability. A 500W brushless hub motor provides enough power for riders to reach 28 mph on pedal assist for a zippy Class 3 experience. The battery is seamlessly integrated into the down tube for a low center of gravity and excellent handling, and a range that exceeds the company's own estimates. Electricbikereport.com found that in PAS 5 the Pace 500 covered 28 mi. (not 25) and in PAS 2 it sailed past the 48 mi. estimate and didn't quit until it ate up 58 mi. Some of this notable range owes to the 614Wh battery, while some credit owes to the way the aforementioned aluminum frame and fork contribute to the bike's respectable 52-lb. overall weight. Thanks to a thumb throttle, anyone with tired legs can sail home.
The typical cruiser is designed to handle well in the 10-14 mph range; they don't always handle well north of 20 mph. The Pace 500 is designed to be a bit more maneuverable overall, but also more stable at speed; in that regard, it could easily double as a commuter.
The Pace 500 comes with an adjustable stem to dial the fit for riders, which many e-bikes in this price range do, but unlike many e-bikes we see in this price range, it comes in four sizes, two each in a traditional frame and a step-thru version, giving far more riders the opportunity to achieve a comfortable fit, adding to the many reasons we needed to include it in our collection of best cruiser electric bikes.
Pros
614Wh battery offers an impressive range of 25 (PAS 5) to 58 (PAS 2) mi.
Aluminum frame and fork contribute to a relatively light 52-lb. overall weight
Well-geared 8-speed Shimano drivetrain can reach 28 mph
Hydraulic disc brakes with 180mm rotors provide a quick stop from 28 mph
Excellent app for customizing the ride experience
Large, color display is easy to read while on the move
Comes in four sizes
Cons
Decidedly underpowered on more extreme hills
Lack of suspension
Blix Sol Eclipse
Even among electric cruiser bikes, not all comfort is created equal. Some comfort is more comfortable than others, to misquote George Orwell. One of our favorite features about the Blix Sol Escapes is that it takes what is an already rider-friendly position and gives it just a bit more ease. Add in wide tires, disc brakes and an easy step-thru frame and it's easy to see why the Blix Sol Escape made our roundup of best cruiser electric bikes.
What makes the Sol Eclipse different from other electric cruisers is the way it places the saddle farther behind the pedals than most bikes. Combine that with a backswept bar and it is unlikely that any other bike in our group will allow a rider to sit more upright than this one, making it perfect for anyone who needs to keep their head above their shoulders, not in front of them.
Traditionally, cruisers have been relatively simple bikes—usually one speed, a coaster brake and few accessories. The Blix Sol Escape takes that cruiser mindset, adds a 750W hub motor to give the bike a zippy ride and plenty of hill climbing power, makes the sensible addition of a 7-speed Shimano drivetrain, keeps the bike safe with disc brakes and stirs in more ride comfort and excellent traction with 2.4-in.-wide tires. This ain't your childhood cruiser.
Electricbikereport.com found the Sol Escape to not only be a capable climber, but also to be an impressive performer in overall range. In PAS 5 they found it exceeded its 20 mile advertised range by a full 25 percent, rolling under power for a full 25 mi. In PAS 2 its performance was even more impressive by rolling a whopping 60 miles on a single charge, besting Blix' own estimates by a third. The way this bike overdelivers is reason enough to like this ride. Does anyone need a cruiser that will last for 60 miles? Maybe not, but who has never forgotten to plug in their smartphone before bed?
Smaller and less flexible riders will appreciate the low—17-in.—standover height of this e-bike, which will make both starting and stopping an easier, more secure affair. A large backlit disply gives riders plenty of information about speed, range assist level, while the bike also includes some other nice details such as a throttle and a bell. While we have a decided preference for hydraulic disc brakes, the Sol Escape is a Class 2 bike that provides help up to 20 mph, keeping speeds reasonable—and reducing the advantage of hydraulic discs. An extensive package of accessories made this e-bike an easy one to include in our roundup of best cruiser electric bikes.
Pros
750W hub motor provides enough oomph to get over hills, often a problem with cruisers
Low 17-in. standover height is excellent for less flexible and more diminutive riders
7-speed drivetrain for perfect pacing
Impressive 25-60-mi. range
Terrific array of accessories including racks and baskets
Cons
Comes with a front light but no rear
We question whether it can really fit riders at the edges of Blix' sizing range: 5-feet-1 to 6-feet-2
Electra Townie Go! 8D EQ
Mid-drive motors aren't common on cruisers. It's hard to say why, but a mid-drive motor, like the Bosch Active System unit found on the Electra Townie Go! 8D EQ (trying saying that three times fast), drives up the cost of an electric bike noticeably, pushing the bike into a higher price bracket than it might otherwise occupy. But that extra cost comes with some terrific benefits, which is why we needed to include this e-bike in our best cruiser electric bikes.
Mid-drive motors use power more efficiently, which is why the 250W Bosch motor can deliver riders over hill and dale and cruise up to 70 miles on a single charge. Because this is a Class 1 e-bike with a maximum speed of 20 mph and no throttle, it is legal any place e-bikes are permitted. While we tend to frown on mechanical disc brakes on Class 3 bikes that go 28, due to the Townie Go! 8D EQ's 20 mph top speed, we think they are effective on this bike and do a nice job of helping to prevent the cost from running up. While the difference between 7-speed and 8-speed drivetrains may seem like just one cog, the design of the rear wheel changes with the switch to eight speeds, resulting in a stronger wheel that rolls better and is more durable. The wider gear range doesn't hurt, either.
Electra bikes are known for what they call "flat foot technology." It's a design that results in the rider being able to move their feet from the pedals to the ground without getting off the saddle. For anyone concerned about their balance and being able to start and stop safely, few designs can come close to the confidence-inspiring position found on this e-bike. This helps make up for the relatively high (20-in.) standover height and lack of a step-thru frame.
Fenders and LED lights are included, making the Townie Go! 8D EQ versatile enough to handle some weather as well as evening spins. Big 2.35-in.-wide balloon tires round out the comfort-facing ride, making this bike an excellent addition to our collection of best cruiser electric bikes.
Pros
250W Bosch Active line mid-drive motor has plenty of power to provide a smooth ride
8-speed drivetrain gives riders the range to get over hills with ease
At just 49.5 lbs. it is relatively light
Flat Foot Technology gives riders a very comfortable position to start from
400Wh Bosch battery can deliver up to 70 mi. of range
Cons
With a 20-in. standover height and only one size, some riders may struggle to fit
We don't mind the mechanical disc brakes but we'd like to see the 160mm rear rotor match the 180mm rotor in front for more bite
Electric Bike Company Model S
Despite the fact that most of us don't live within 50 miles of a beach, it's not uncommon to put the word "beach" in front of the word "cruiser." If only these e-bikes came with a beach, amiright? Well, the Electric Bike Company Model S may not include sand, but we could swear it comes with a warm, salty breeze. If only for its styling, we had to include the Model S in our selection of best cruiser electric bikes.
It would be easy to wax poetic about how the ability to choose from dozens of paint colors and the opportunity to choose different colors for the frame, fork, chainguard, fenders and battery case, and how that level of customization makes this bike the category killer in terms of style, this bike doesn't just have style, it has substance, too. One notable feature is how not only do hydraulic disc brakes come standard with 180mm rotors, but EBC chose to spec more powerful 4-piston calipers.
No other bike here allows riders to choose suspension fork or not, between four different batteries, an extra motor, an anti-theft alarm, suspension seatpost, wheel size, GPS tracker and more, heck, much more. It's possible to double the cost of this bike over its base price with upgrades and add-ons, but this is our favorite a la carte approach to electric bike buying. There's not another e-bike that will allow this much customization.
It would be easy for us to ding the 18Ah battery for the Model S for falling short of its range estimates by only managing 35 mi. in PAS 5, rather than the projected 40 and an embarrassing 66 mi. instead of 100. But. Let's be honest; 66 mi. is probably a month's-worth of riding on most cruisers and for anyone dissatisfied with the shortfall, the solution is laughably easy—order a bigger battery.
Most cruisers are built in a single frame size, limiting the range of rider stature they can accommodate, but because the Model S offers two different wheel sizes among its options, riders who may not otherwise be tall enough for most cruisers can order the Model S with 24-in. wheels and lower the standover height by a full inch (18 in.). With so many reasons to recommend it, the Electric Bike Co. Model S is an indispensable addition to our best cruiser electric bikes.
Pros
Incredible array of options and colors to make each bike unique to its owner
Four different battery sizes for just-right range
Second motor and battery available for anyone who needs to hotrod their bike
Anti-theft options to keep the bike out of the wrong hands
28 mph top speed makes longer errands and rides short work
Two wheels sizes increases the range of riders who can fit—5-feet-2 to 6-feet-10
Cons
We doubt that anyone much taller than 6-feet-1 will fit comfortably
We'd like to see the 7-speed drivetrain be standard
Benno eJoy 10D
It's common for an e-bike manufacturer to offer some options that may include a bigger battery, racks, fenders, lights and more. Choosing just which motor the bike is equipped with is rarely an option. The Benno eJoy offers three choices in Bosch mid-drive motors, giving buyers more choice over their electric cruiser bike. This selection makes the Benno eJoy 10D unusual among our best cruiser electric bikes.
Bosch makes a variety of mid-drive motors. The eJoy 10D offers choices between three different 250W motors; one offers 28 mph, Class 3 performance, or a choice between two Class 1 options: one with more torque but less range (65Nm and 25-75 mi. range), and one with a bit less power on the hills but more range (50Nm and 30-85 mi. range). Additionally, Benno offers a choice between two different batteries: a 400Wh and a 500Wh; the 500Wh increases range by more than 10 percent.
The eJoy 10D is built around an aluminum frame and steel fork like other bikes in this collection, but is unusual in that it has a premium Shimano 9-speed drivetrain and hydraulic disc brakes with 180mm rotors. Another great feature that helps distinguish this e-bike is the full chain guard to protect pants and calves alike from dirty chains, plus the rear rack that is compatible with a Yepp baby seat.
Arguably the e-bike's one weakness is that it comes in a single size. Its standover height is 19 in., giving it a higher standover than some step-thru frames. Despite that, we think the Benno eJoy 10D is a compelling choice among our selections for best cruiser electric bike.
Pros
Choice of three different 250W Bosch motors to suit each rider's needs
Choice of 400Wh or 500Wh batteries to a rider's need for range
Full chain guard will keep pants and legs free of dirty chain marks
Premium 9-speed Shimano drivetrain for better performance on hills
Sturdy rack is designed to hold a Yepp baby seat
Cons
With only one size, the fit is limited to riders between 5-feet-0 and 6-feet-0
We'd love to see a handlebar and stem that would allow more adjustment for better customizing fit
iZip Simi
The iZip Simi is as straightforward an approach to turning a cruiser into an e-bike as can be found. It's a Class 1 bike—no throttle, not a speed demon. Its simplicity and straightforward approach is why we included the Simi in our roundup of the best cruiser electric bikes.
A cruiser is a good time, full stop. The Simi works from the idea that an electric cruiser bike doesn't need to climb mountains or hit freeway speeds to be a good time. Because it isn't overpowered or saddled with more technology than someone headed to a picnic needs, the Simi weighs only 54 lbs.—not lightweight by performance standards, but not the behemoth some e-bikes are.
With a 250W brushless hub motor, the Simi has power enough to be fun, which is the point. The mechanical disc brakes and 180mm rotors are powerful enough for anyone cruising the neighborhood. A 7-speed Shimano drivetrain evens out the hills.
Like some other e-bikes in this collection, the Simi gives riders an upright position and places the pedals ahead of the rider in a way that keeps their feet close to the ground without leaving the rider feeling like they are on a bike that's too small.
LED lights front and rear as well as fenders and a rack give the Simi some latitude beyond summer days. Its 2.125-in.-wide tires offer a comfortable if not luxurious ride, aided by an ergonomic saddle and grips.
iZip claims a range of 15-62 mi.; Electricbikereport.com achieved 29 mi. in its testing, enough to handle multiple trips to the park or beach. While the Simi is a no-frills response to a cruiser, its mix of quality parts and simplicity make it an excellent addition to our list of best cruiser electric bikes.
Pros
250W brushless hub motor delivers surprisingly good performance despite its modest wattage
7-speed Shimano drivetrain shifts smoothly on hills
As a Class 1 e-bike it is legal any place e-bikes are permitted
Mechanical disc brakes with 180mm rotors are sufficiently powerful for a controlled stop
Cons
Standover height is on the high side at 23 in.
Web site offers no guidance on sizing, despite offering a single size frame
Specialized Turbo Como
The Specialized Turbo Como is what happens when one of the world's most sophisticated makers of racing bikes decides to make an electric cruiser bike. It's a ringer, as cruisers go. It's a bit like calling a Ferrari a sports car. The Turbo Como isn't just one bike; it's a collection of eight different variations. Some have step-over frames, some more low-step, and two are step-thru, and they range in price from $3250 up to $5000, depending on how fancy you want to get.
At the lower end of the range the bike comes with a 9-speed Shimano drivetrain and hydraulic disc brakes and 180mm rotors, while at the high end, users can pedal with an infinitely adjustable Enviolo internally geared hub turned by a muss-free Gates belt drive.
The Turbo Como with the step-thru frame fills an important spot in this group thanks to a standover height of just 14 inches, making it the easiest e-bike to mount in our collection. And because it comes in three sizes, it better fits a wide variety of riders, from 5-feet-0 up to 6-feet-5.
The Turbo Como features a mid-drive motor with 250W and generating 50Nm of torque, and while that may not seem like all that much power, because it's a mid-drive, it uses that power efficiently and makes the e-bike a capable climber and smooth accelerator with a maximum speed of 28 mph. Spending more sees an upgrade from a 460Wh battery up to a 710Wh unit; spend more, get more range.
Every edition comes with lights, fenders and a rear rack to give the bike maximum versatility. Some are also equipped with front suspension. All of them benefit from Specialized's MasterMind app and security features, which include GPS tracking and the ability to remotely disable the motor. This collection of the best cruiser electric bikes would be incomplete without the Turbo Como.
Pros
The 250W mid-drive motor has more grit than its numbers would suggest
The MasterMind app is the most comprehensive and secure interface with an e-bike on the market
Choices include a 9-speed Shimano drivetrain or Enviolo planetary gear hub
Includes lights, fenders and a rack
Some versions include an air/oil suspension fork with 80mm travel
Cons
For this much money, we'd like to see tubeless tires
Criteria We Used To Rank The Best Electric Cruiser Bikes of 2023
Cruisers are among the most straightforward of all e-bikes. They really don't need to do much other than be fun to ride and easy to handle. Because it can be nice to use an e-bike for a run to the store or meet friends for a barbecue, we find features like a rear rack, fenders and lights handy, but not a requirement. The following were the big questions we asked when we considered the cruiser e-bikes currently available.
How comfortable is the rider position? The point of a cruiser is a comfortable, upright ride position, one that leaves the rider's head above their shoulders and their feet not far from the ground. This usually means a design with the saddle farther behind the pedals than with other bikes.
Is the handling calm and relaxing?We take a hard look at the geometry charts for these e-bikes and want to see a design that will result in a bike that handles gently. Think luxury sedan, not sports car. Each of these bikes is pretty relaxed in their handling, though some are more laid back than others.
Does the cruiser display versatility? As we mentioned before, a cruiser doesn't need to do anything more than be fun, but a few extras can take it from making for a great spin around the neighborhood, to the perfect way to head to a daytime get-together, and lights will ensure a safe ride home.
That hand-of-God feeling that comes with an e-bike enjoys an ideal marriage with a cruiser. It's a feeling that can make cloudy days sunny, make the bike feel like it's meant to—fun, not a workout. The right cruiser gets us off the couch, out the door and into the world.
Thanks for sticking with us and reading through our picks for the best beacr cruiser electric bikes of 2023! Did you notice any that we missed? Make sure to leave a mention in the comments down below!