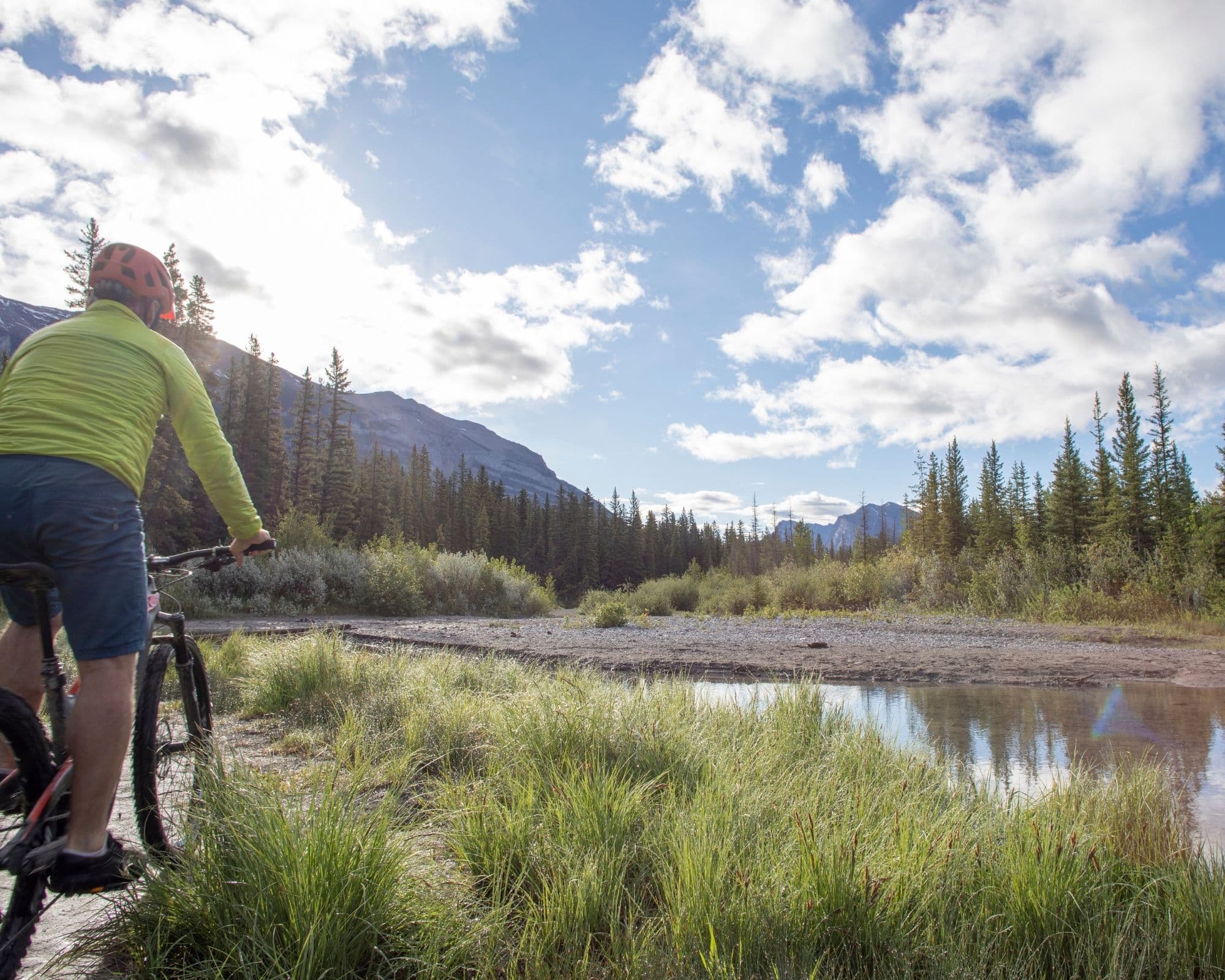 It's no secret that people in North America (and other parts of the world) are larger and heavier now than in past generations. Due to better access to food, people are now both taller and wider than ever before.
We feel e-bikes are one of the best ways people can get into exercise. Sometimes being bigger limits physical activity, but biking is an excellent, low-impact way for everyone to get fresh air and healthy exercise. And electric bikes provide a way for you to exercise longer and get assistance tackling challenging or intimidating hill climbs–allowing you to have adventures you didn't think possible.
Not all e-bikes are suitable for those who are taller or heavier. Most e-bike manufacturers give a maximum weight the bike can carry–including the rider and any cargo. These are useful but are just a guide. Sometimes they are too conservative and sometimes not. The very best way to find out is to research and review as many e-bikes as possible before you purchase.
Let's go over each part of an e-bike you need to consider so you can spend your hard-earned money wisely and start enjoying fresh adventures outdoors.
Best e-bikes for large riders: Frame build
An e-bikes frame will be a clue to the potential strength of an e-bike. Hefty frames with large section joints and plenty of welds are a positive sign. Luckily, bike frame construction and strength have significantly improved over recent years, and most frames from significant manufacturers are strong and of very high quality.
Full-suspension frames where much of the rider's weight is over the rear suspension need to be checked to see enough travel and resistance in the rear suspension unit to keep the suspension from bottoming out. You don't want to cause damage to it. You can contact the manufacturer to find out if a rear suspension unit is suitable for your weight.
Best e-bikes for large riders: Motor power and battery range
A powerful motor and good-sized battery become critical the more weight your e-bike has to move. Mid-drives are usually the better choice for carrying heavier loads as they leverage the gears over a range of speeds.
However, larger hub motors with a high Nm of torque and geared correctly can be an excellent candidate as well. Avoid small, lightweight hub motors.
The benchmark for good battery capacity for daily commuting is 500Wh for a heavier rider traveling medium distances. Riders traveling longer distances can even look for options above 500Wh, and up to 1000Wh is not uncommon. We recommend that our bigger riders have a spare battery to swap out if needed.
Best e-bikes for large riders: Tires
Double-wall rims are relatively standard and provide good strength and load-bearing. Wider rims help dilute the forces throughout the rim. Any rim you're looking at should have 36 spokes, and wider and thicker spokes are better.
All factors being equal, smaller wheels are more robust than large ones. And wider tires have an advantage for stability, grip, and load-bearing. Anything about 2" wide is excellent. Thru-axles are thicker and are an outstanding feature on any bike.
Best e-bikes for large riders: Brakes
You must look for hydraulic disc brakes since they provide much better stopping power than older, outdated systems. Most high-quality bikes have hydraulic brakes, and we always recommend them. Also, look for rotors over 160mm.
Best e-bikes for large riders: Gearing
It's only natural that heavier riders may put more force on different components of the bike. The force will begin at the pedals and move through the cranks, chain, and gears. Since pedal axles can buckle under pressure, a heavy-duty spec pedal can be added at a low cost and are reasonably easy to install. If steep hills will be traveled frequently, a powerful motor coupled with lower gearing is vitally important. Keep in mind that hub gears are tougher and have lower maintenance compared with derailleur gearing systems.
Best e-bikes for large riders: A few e-bikes to consider
Aventon Aventure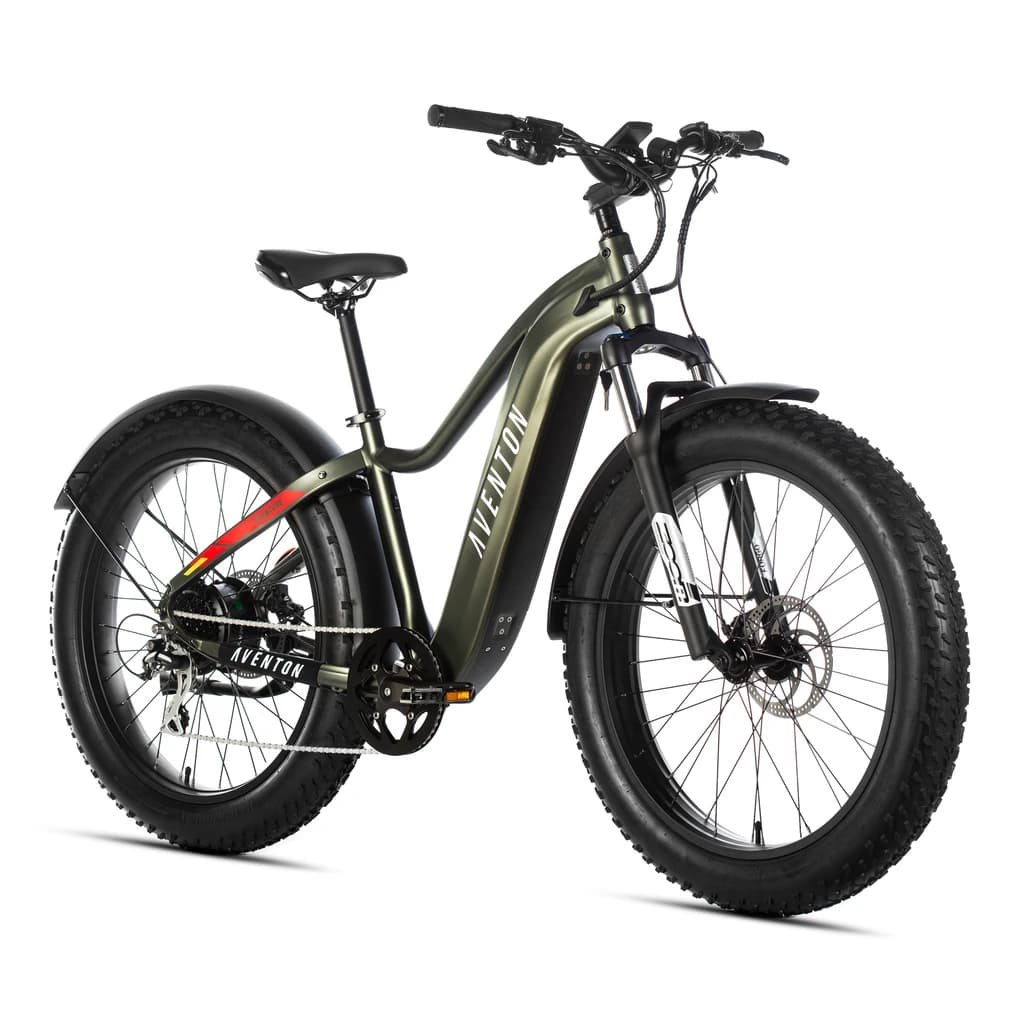 *For current pricing on the Aventon Aventure click here*
The Aventon Aventure is one loaded bike, and any larger rider wanting to ride for miles should jump at getting one. The 4" fat tires coupled with the front suspension fork bring a comfortable handling ride. The built-in fenders will keep you clean wherever you ride, and the lights integrated into the front and rear offer a level of on-road safety.
Whether you're new to e-biking or a seasoned rider, you'll love the Aventure's 25 mph top speed and 45-mile range. Classified as a class II e-bike, the Aventure can easily be configured as a class III. A beefy 750 W motor and a slew of features make this an attractive buy for a larger rider weighing up to 250 lbs who is looking to get out and around in style.
Himiway Cruiser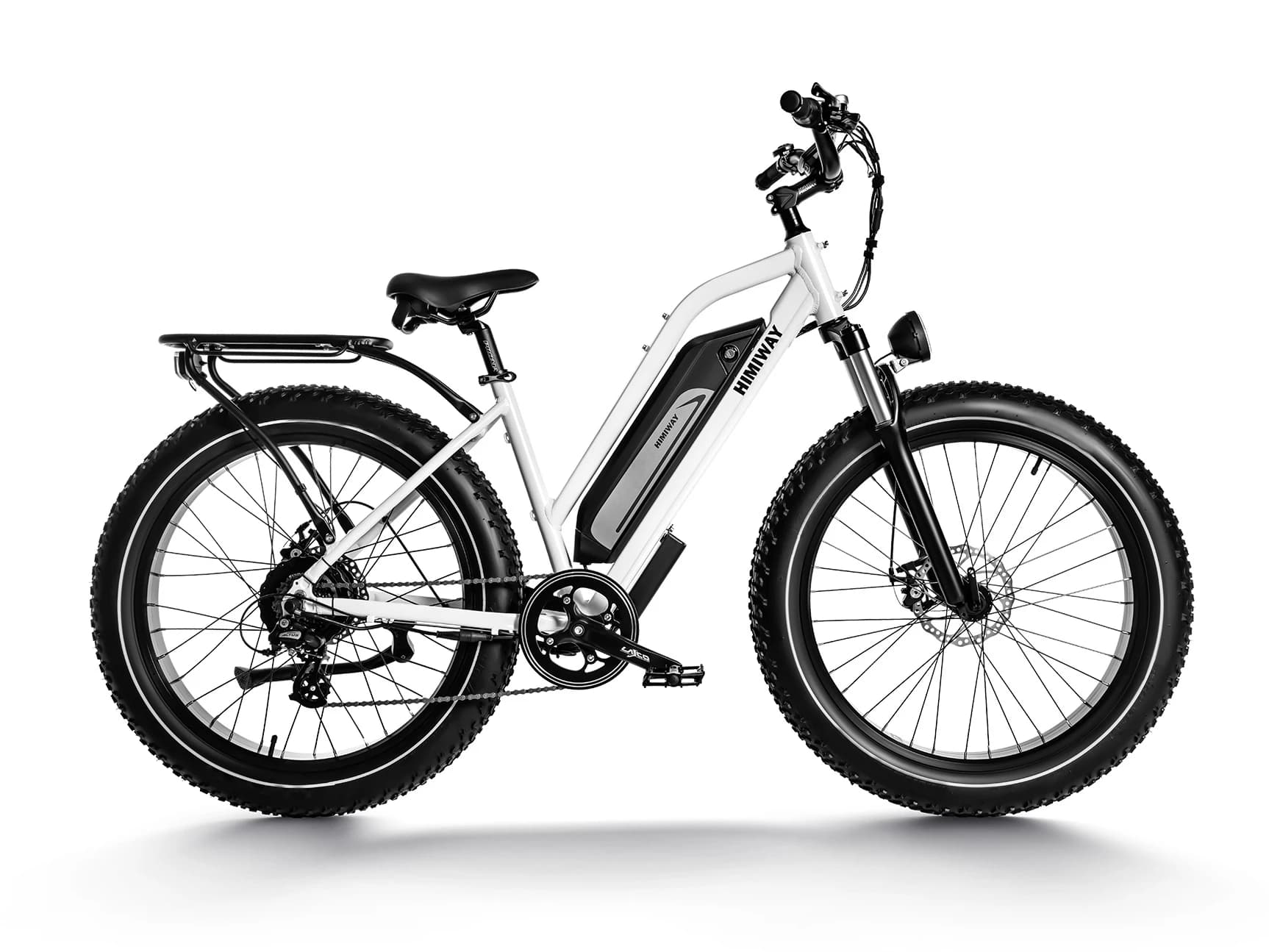 *For current pricing on the Himiway Cruiser click here*
The Himiway Cruiser was designed to give riders a top-notch cycling experience with exceptional comfort. A stylish fat tire look, fully outfitted for riders up to 350 lbs. With 750W of motor power fueled by an 840Wh battery, the Cruiser has plenty to give. You can take a 60-mile ride on one charge, which amounts to one of the best distances available with a battery.
Making your ride comfortable are the 26 inches fat tires, which provide fantastic grip and mechanical stability. The backlit display offers riders plenty of info and feedback. And you can't beat these free accessories: Himiway E-bike Full Fenders, 16 in 1 Multi-Function Bicycle Repair Tool, Himiway Rear Rack, Himiway Bike Cap, Waterproof Bike Pannier Bag.
Juiced Bikes Ripcurrent S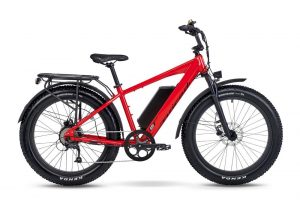 *For current pricing on the Juiced Bikes Ripcurrent S click here*
Juiced Bikes' 275 lb weight capacity Ripcurrent S is their top-rated and best-selling sport utility e-bike. This e-bike truly brings the fat-tire fun factor while still delivering the enhanced safety features they're known for. Featuring a massive 52V 19.2Ah battery to drive the 750W motor is only the beginning, with so many other massive upgrades.
Pushing the distance limits with a battery, the Ripcurrent S offers a riding range of 70 miles with speeds up to 28MPH. Adding to your safety and comfort, the Ripcurrent comes standard with all these features;
Hydraulic Disc Brakes
Rear Rack and Fenders
All-Terrain Fat Tires
9-Speed Transmission
​​Super Bright Headlight
Upright Handlebar
SUPER73-S2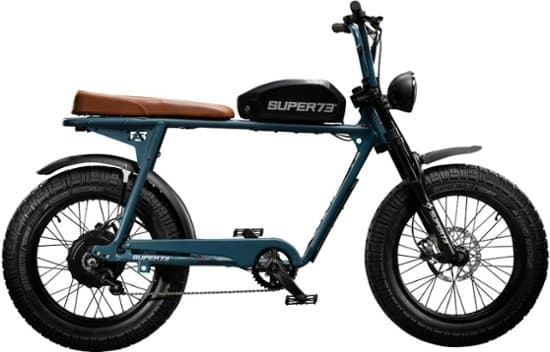 The Super73-S2 is designed for the urban adventurer, and with a 325 lb weight capacity, it can suit just about any rider. Do you want sturdy? You've got it with this e-bike. The S2 has a sport-cruiser style look, and it was built with an aircraft-grade aluminum alloy frame that's more rigid than steel. The hub motor is capable of 2000 W of peak power and is fueled by a 960 Wh battery.
The fully adjustable air spring suspension fork brings some comfort to the trails or potholes around town. A 31″ seat height, adjustable handlebars, and accommodating riders between 5 '1 – 6'8″ make the Super73-S2 a bike for just about any size rider. The Super73's onboard electronics suite is compatible with iOS and Android devices using the Super73 App.
The 5" BDGR fat-tires not only look amazing but provide a measure of comfort when off on a 40+ mile ride. And it doesn't matter if that ride takes you into the night with the triple LED halo headlight. You will definitely be seen.
QuietKat Warrior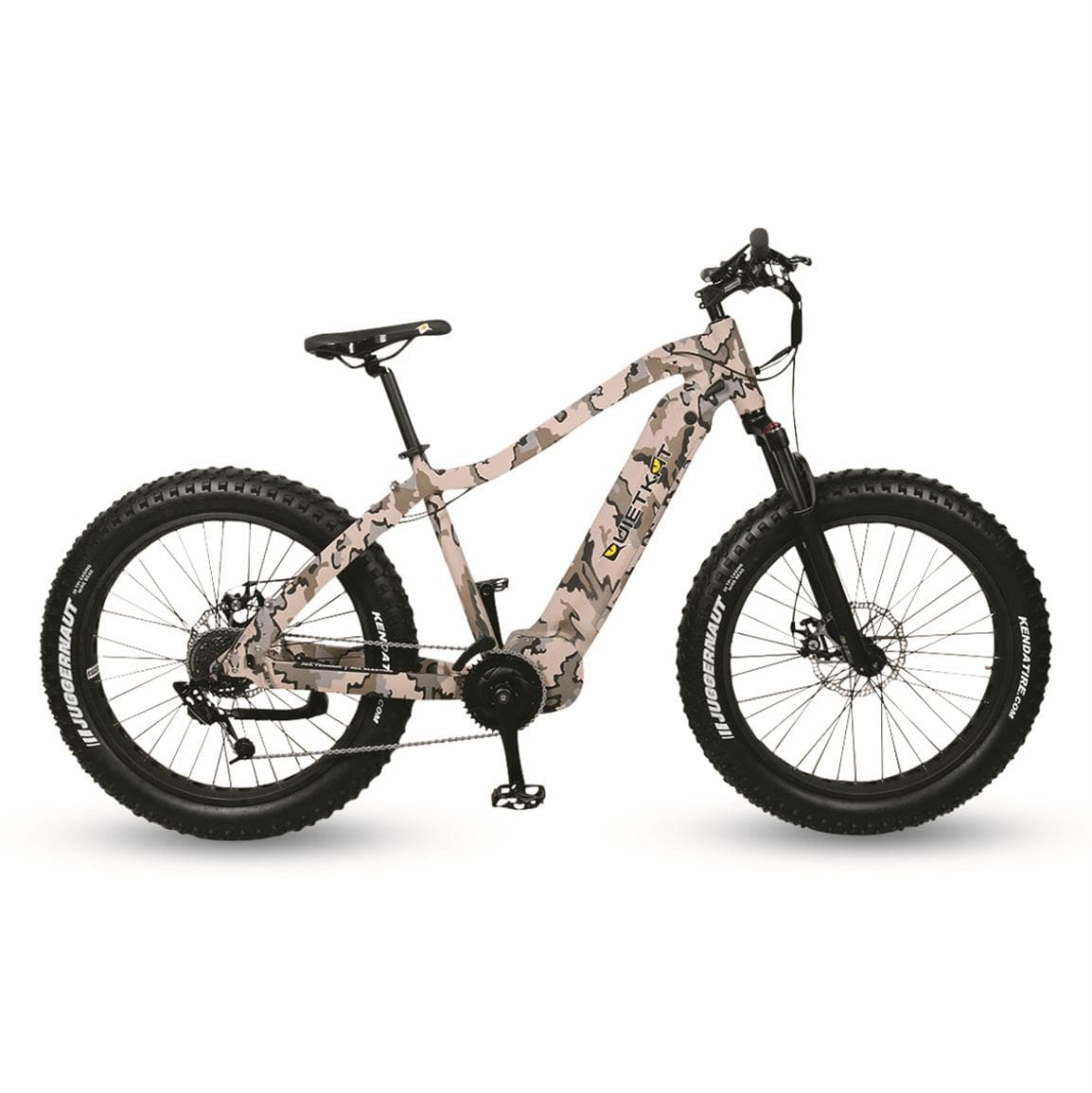 *For current pricing on the QuietKat Warrior click here*
One look at the QuietKat Warrior, and you'll know you are in for some adventurous riding if you feel so inclined. The powerful mid-drive motor and loaded performance component package brings a punch not many other e-bikes possess. With a max user weight of 325 lbs, the Warrior brings an opportunity to larger riders.
The integrated rack and compatibility with other QuietKat accessories put this bike at the top of the heap. Perfect for exploring the outdoors! You just can't beat these robust features:
High-end motor: This powerful mid-drive motor uses all available gears for maximum torque during climbing steep inclines.
Classification options: You can purchase the maximally powerful 1000W unclassified eBike, or the programmed 750W for Class 1 & 2 compliance.
Primo suspension: The coil-suspension fork will absorb much if not all the hazards you might come across.
Innovative brakes: The Tektro mechanical disc brakes will bring comfort and confidence as you descend steep grades.
Fat-tires: The Kenda Juggernaut 26" x 4.5" tires tackle rugged terrain from sand or snow to mountain trails and rocks.
Frame Flexibility: Multiple sizes are available to suit most riders. Frames come in medium or large 17 or 19-inches.
8 Speeds: The SRAM 8-speed drivetrain allows riders to adjust their gears for steep grades.
Range: 48 Miles