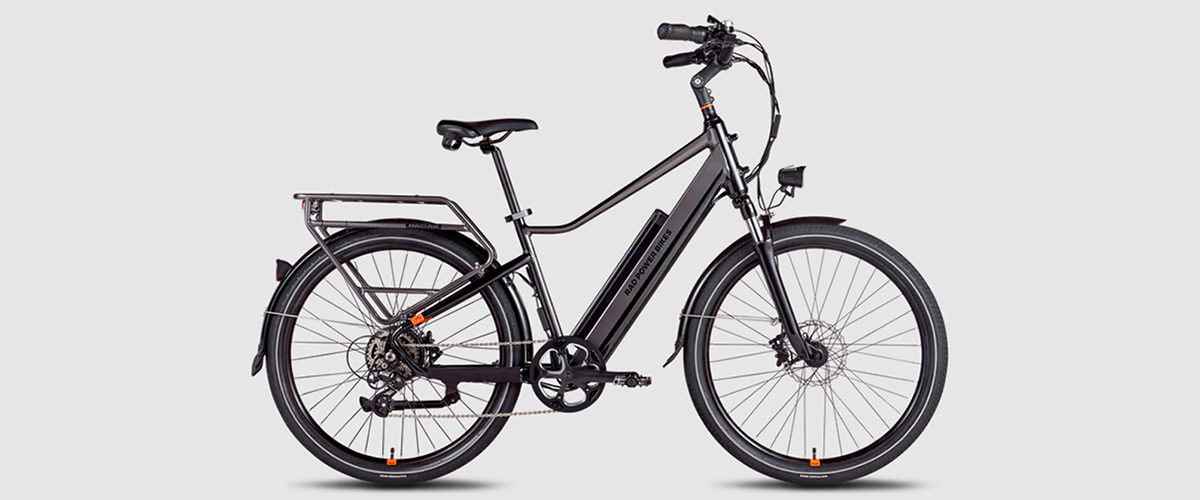 Wheter you're looking to switch from traditional cycles to motorized ones, or reuniting with the cycling world entirely, we've got you covered on the best electric bikes for seniors.
One thing about aging is that none of us like being reminded that we are doing it—aging, that is. Riding bikes is a way to keep aging at bay and riding e-bikes is a way to not be reminded that we are slowing down. The thing is, most of us aren't as flexible as we used to be, so getting on and off a bike can be a bit more challenging than when we were nine and ran with our bike and hopped on the saddle, yelling, "Heigh-ho Silver!" E-bikes might not make us 10 again, but a great e-bike can make us feel young, which is what sent us looking for the best electric bikes for seniors.
Enter electric bikes with a step-thru frame – the best choice for seniors wanting to reenter the e-bike world. The e-bikes we've assembled for this collection all share in common a step-thru frame. The similarities end there. We've assembled a group that includes electric bikes with classic cruiser styling, understated commuters, with fenders and without, and even a folding e-bike model.
We're excited to say that no matter what your needs, there's an electric bike out there to suit you without needing the addition of loads of accessories—but there are accessories galore, too.
While this list will cover the best electric bikes for seniors, we also have a list that names the overall best electric bikes of 2023 if you're curious which e-bikes get top billing sans any of the filters of style, rider, or use case.
The 9 Best E-Bikes For Seniors of 2023
Rad Power Bikes RadCity 5 Plus
Among the many benefits of being a senior is a simpler life. Probably not shopping for so many mouths. It's nice when a run to the market results in two bags, not six. And with the Rad Power Bikes RadCity 5 Plus, everything someone needs to run errands by e-bike is present.
With a 750W brushless hub motor, the RadCity 5 Plus provides smooth acceleration up to a comfortable cruising speed for getting around town. And with a range of 28-50 miles it can handle significant distance, even if most of it is covered with the half-twist throttle.
One of the reasons this made our list of best electric bikes for seniors is the low (21-in.) step-thru frame option means that not only can riders as small as 4-feet-8 can comfortably ride this e-bike, but anyone with limited flexibility and mobility can hop aboard this electric bike.
With 2-in.-wide tires and a suspension fork with 50mm of travel, the RadCity 5 Plus will offer one of the most comfortable rides of any electric bike included here. Anyone sensitive to jarring will find the smooth ride of this e-bike to be a welcome comfort.
The combination of a seven-speed drivetrain and hydraulic disc brakes make this bike a great choice for anyone who lives in a place with lots of hills; seniors need an e-bike that offers a pick your own pace for going up hills, with solid stopping power when going down. While the front and rear lights, rear rack, kickstand and fenders make this electric bike an ideal choice for anyone who values a way to leave their car parked some.
Such a feature-rich e-bike was a natural choice for those on the hunt for the best electric bikes for seniors in 2023.
Pros
Standover height of 21 in. will accommodate a wide range of heights
The 750W brushless hub motor gives consistent power through changes in terrain
With lights, a rear rack and fenders, the bike won't be stopped by a lack of daylight or good weather
Big tires and a suspension fork make for a comfortable ride
Rad has a strong reputation for customer service amongst affordable e-bike brands
Cons
Either the high-step or step-thru comes in just one size, though it accommodates 27-36.25-in. & 25-33.5-in. inseams respectively
Cadence sensor needs the better part of a pedal stroke to add power
Ride1UP 500 Series
The Ride1UP 500 Series is a feature-rich e-bike that offers the lowest standover height of any bike costing less than $2000 in our lineup. That was reason enough to include this bike on our best electric bikes for seniors list, but the reasons why we chose it don't end there.
One common complaint we hear from seniors is that they can't take the jarring that comes with high-pressure tires; the 500 Series features both a 100mm suspension fork and 2.2-in-wide tires for a gentle ride on an easy-to-maneuver e-bike.
We love the 750W motor (a recent upgrade from what was a 500W motor) that will allow a rider up to a Class 3 maximum speed of 28 mph in max PAS. The bike's range goes up to 45 miles with minimal assistance in PAS 1. While that's plenty of range for most folks, those wanting more range between charging are limited to buying a second battery in lieu of upgrading the stock one to a larger size. It's a relatively small complaint for what is a terrific value e-bike all around.
While we like to see racks and fenders included on most e-bikes we recommend, some buyers may not see the need for them; that Ride1UP gives you the option to save $100 and omit some features is great for those keeping costs as low as possible.
The 500 Series has all the features we look for in a solid-value e-bike, which is why it made our list of the best electric bikes for seniors.
Pros
Standover height of 15 in., giving it one of the lowest standover heights of the more moderately priced models
750W motor achieves 28 mph in pedal assist or 20 with a push-button throttle with ideal acceleration that won't blow you off the bike
2.2-in.-wide tires and 100mm suspension fork offer a smooth ride
8-speed Shimano drivetrain provides wide-range of gears for going up hills and top speed coming back down
Cons
Rack and fenders are extras, but some will value the savings more
Those wanting more than the 45-mile range only have an option to buy a second battery instead of upgrading the first battery's capacity
Aventon Pace 500
In compiling our collection of best electric bikes for seniors, we knew that some more active sorts would want an e-bike with a bit more juice. The Aventon Pace 500 made our list because it's an e-bike with a maximum speed of 28 mph. It's terrific for anyone who wants to feel a greater sense of wind in their face or has greater distances they need to cover when out for a ride.
Like the other electric bikes we selected for this collection, the Pace 500 is well-suited to seniors because it has one of the lowest standover heights (16.7 in.) of any bike here. The e-bike comes in two sizes, to accommodate riders from 5-feet-1 to 6-feet-4.
The Pace 500 offers five PAS levels, resulting in a 25-48-mi. (PAS 5 and PAS 1, respectively) range per charge. While seven-speed drivetrains are common at this price point, the eight-speed drivetrain here makes sense for a Class 3 e-bike, given the greater range in speeds it can achieve. One issue we have noticed on some Class 3 e-bikes is that the high gear isn't actually high enough to reach 28 mph without just spinning the cranks while the motor does all the work; this bike doesn't have that issue.
The combination of lights and fenders makes it great for getting around any time. And while most of us aren't likely to ride in the rain, going for a ride after it rains makes fenders a terrific idea. Rear lights integrated into the frame light up any time the brake levers are pulled.
The Pace 500's weight, at 52 lbs. is less than we see on some e-bikes and that reduced heft makes the bike easier to manage when it's not being ridden, or when trying to mount it to a hitch rack. The Pace 500 was easy to include in our compilation of best electric bikes for seniors.
Pros
Standover height of 16.7 in. makes mounting the bike easy
8-speed drivetrain is one more gear than most; no worries of soft-pedaling up to 28 mph speeds
500W brushless hub motor provides great acceleration all the way up to the max speed of 28 mph
Easy-to-use app allows riders to customize their experience
The Pace 500 has the comfort of a cruiser with the handling of a commuter – it's a stellar combo
Cons
Only two sizes of frame, covering riders from 5-feet-1 to 6-feet-2
The aluminum fork maneuvers well, but won't offer as comfortable a ride as a suspension fork
Blix Sol Eclipse
One complaint we hear from many prospective senior e-bike buyers is how they don't want to bend over to reach the handlebar. The e-bikes we've collected all tend to have a fairly upright riding position, but none have as relaxed a seated position as the Blix Sol Eclipse thanks to the short reach to the handlebar and the way the pedals are positioned farther ahead of the rider. That's just the first reason why we had to include this e-bike in our collection of the best electric bikes for seniors.
The second reason is great motor performance. The Sol Eclipse features a 750W hub motor that provides smooth acceleration and stable pacing, not to mention plenty of power for managing hills. Depending on a few variables, Blix Sol Eclipse riders can enjoy a maximum range of 45 mi. per charge – pretty good for an affordable cruiser.
The Sol Eclipse comes in just one size, but can fit riders from 5-feet-1 up to 6-feet-2, covering most people out there. With a second size, though, they could accommodate both smaller people and taller people (we're adding that to our wish list for future models!).
One of our favorite features of the Sol Eclipse is how modular its design is, with the ability to add racks, baskets and more. Also, compared to some companies, Blix bikes ship relatively quickly, within two or three days.
With a big seat and 2.4-in.-wide tires the Sol Eclipse is meant to be long on comfort, keeping the comfort-conscious crowd happy who are hunting down the best electric bikes for seniors.
Pros
Standover height of 17 in.
2.4-in.-wide tires for a smooth ride
The bike's geometry, saddle and handlebars all add up for a comfortable ride
Many cruisers struggle on hills, but the Sol Eclipse is a very capable climber
Cruiser style e-bikes aren't always known for efficiency, so a 45 mile range from the 614Wh battery is more than respectable
Cons
Comes in only one size, but should accommodate riders 5-feet-1 to 6-feet-2
Mechanical discs with 160mm rotors could be improved with either hydraulic discs or larger rotors.
Lectric XP 2.0
Not everyone has lots of room to store a bike or two and it's not uncommon for people with no children at home to downsize their digs. A folding electric bike can be a terrific solution to bike ownership for anyone short on storage space. No list of the best electric bikes for seniors would be complete without a bike suitable to small-space living. Whether living on a motor home on the open road or an urban condo, the Lectric XP 2.0 is an affordable (~$1000) e-bike that is easy to stow.
The XP 2.0 is an impressive e-bike for its cost. It isn't equipped with the highest level of componentry, but dollar-for-dollar you're hard pressed to find a more feature-laden e-bike worth recommending.
It's built around a 500W brushless motor capable of accelerating up to its max speed of 28 mph. It includes fenders, lights, a rack and kickstand, giving it capabilities beyond recreation. Five levels of assist give the bike a range of between 17 and 45 mi per charge.
It's important to note that the XP 2.0 comes in both a step-over design and a step-thru design, but they are not different options on the same page; they are listed as entirely different bikes on the web site. The step-thru version is ideal for anyone short on both flexibility and storage space all without breaking the bank; that's what makes it a good fit for our best electric bikes for seniors.
Pros
There isn't a do-it-all e-bike out there cheaper than this worth recommending
As a folding bike, it is very easy to store, and folding takes seconds
3-in.-wide tires give cushy ride
The backlit, LCD display provides plenty of info on battery charge, current speed and more.
Assembly of a folding bike is easier than most other DTC e-bikes for purchase—just unfold and inflate tires
Cons
Seven-speed drivetrain is slightly undergeared for the wide range of assisted speed
Mechanical discs with 160mm rotors aren't exceptionally powerful
Vvolt Alpha S
Not all watts are created equal, and an e-bike doesn't need a crazy powerful motor to make riding more efficient and enjoyable. With a 350W motor, the Vvolt is one of the rare e-bikes that went less powerful, resulting in a bike that accelerates more gently and doesn't have the weight penalty of many bikes. The Vvolt Alpha S is an unambiguously Class 1 bike with a max speed of 20 mph and no push-button or twist throttle, which means it is legal to ride anywhere e-bikes are legal; it has no additional restrictions.
The Vvolt Alpha S weighs between 44-46 lbs., making it ideal for anyone who may have been nervous about whether they might be able to handle a heavy bike. As strength tends to taper in our later years, we knew it would be important to include a relatively light electric bike in our roundup of the best electric bikes for seniors.
The range is modest, with the Alpha managing a respectable 20 mi. on its 375Wh battery in PAS 5, and 40 miles in PAS 1. In addition to five PAS levels, another feature of this electric bike that we find excellent for older riders is a walk mode. For a rider who may not be comfortable riding up a steep hill, the walk mode will make moving the e-bike considerably easier. It's a helpful feature that's not included on all e-bikes which is another reason this felt like a better option for seniors looking for their best e-bike.
While we like that the Alpha S includes front and rear lights to keep the rider visible, we would prefer to have seen lights powered by the battery, rather than needing to be charged separately.
Maintenance for the Alpha S is nearly nonexistent thanks to the fact that the bike features a belt drive rather than a chain. No lube, no messed up pants or marks on the rider's leg. Sometimes it's the little things, right?
Pros
Standover height of 27 in.
Belt drive is quieter than a chain and maintenance free
We don't often see hydraulic disc brakes at this price point
The relative light weight of 44-46 ponds makes moving the bike around a much easier task than most other e-bikes
A three-year warranty is longer than most
Cons
Just one gear can be a problem on hills, even with the aid of a motor
The bike includes lights, but they aren't powered off the battery; they must be charged separately
Trek Verve+
As one of the biggest bike brands on the planet, Trek can be found in nearly any town in the U.S. Trek's Verve+ has the benefit of some of the most experienced engineers in cycling, and Trek's massive reach means maintenance and access to parts come tune-up time is a breeze.
Very few step-thru frames come in multiple sizes, and the Verve+ comes in more sizes than any other bike in our roundup—four. It would be easy to underestimate the value of so many sizes, but it can accommodate riders as diminutive as 4-feet-9 all the way up to 6-feet-1.
Some buyers might be put off by the premium price tag (the Verve+ series starts at $2850), but there are good reasons why this bike goes for that much. Among them is the bike's parts pick. Shimano hydraulic discs with 160mm rotors and a Shimano Alivio 9-speed drivetrain give the Verve+ high-quality components that will be easily serviced in a bike shop.
Trek's web site has an innovative range calculator into which you can enter your weight, pedaling speed (they have a clever animation to help buyers visualize how quickly they pedal) and the level of PAS to get a realistic estimation of how many miles a rider is likely to cover per charge. Most riders can expect at least 21 miles in PAS 5 and possibly more than 80 miles in PAS 1.
That impressive range is matched by the equally impressive feel of the Bosch Active Line mid-drive motor. It offers great performance on hills, and a natural pedaling sensation.
Riders may be concerned that the tires are narrower than on some competitors' bikes and combined with an aluminum fork, rather than a suspension fork, the bike's ride may be a bit harsh, but Trek included a suspension seatpost, putting the comfort right where it needs to be. Any e-bike this well designed from an industry frontrunner had to be included on our list of best electric bikes for seniors.
Pros
Standover height of 18 in.
9-speed drivetrain for plenty of gear range on varying terrain
Comes in four sizes for better fit
Mid-drive motors respond more immediately and with smoother acceleration than hub motors, and the Bosch active Line Plus motor is an industry leader
Cons
With a 1.75-in-wide tire and an aluminum fork, the ride may be a bit harsh. It comes with a suspension seatpost to counter that though
Specialized Turbo Como
The Specialized Turbo Como is a must-have in our collection of best e-bikes for seniors for a host of reasons. For starters, it has the lowest standover of any e-bike in this list, at just 14 inches, a full inch lower than its nearest competitor. For riders with restricted mobility, this e-bike will be the easiest to mount and dismount. The standover height on this bike is also emblematic of Specialized as a brand. They are intensely competitive and not only want to offer the best electric bikes in a given category, but they will also offer multiple configurations of a model in order to hit multiple price points.
The Turbo Como comes in five sub-models with step-thru frames, from $5000 at the high end, down to $3250 at their entry-level model. They differ, essentially, in the quality of componentry. What they all share are parts that come from the most reputable suppliers on the market: Shimano and SRAM. Replacement parts are easy to find, as are Specialized dealers to service the bikes when the time comes.
Each Turbo Como is based on Specialized's 250W, mid-drive motor, which produces 50Nm of torque. These numbers may seem modest compared to some other bikes, but one of our favorite features about Turbo Como is that it isn't overpowered. Lurching acceleration isn't really what we want to see in the e-bikes for seniors category; also, mid-drive motors use their power more efficiently, which is why a 250W mid-drive motor can provide all the zip of an e-bike with a 750W hub motor.
With its Mission Control app, Specialized has given the Turbo Como a security system that is unrivaled in e-bikes. The Turbo Vado comes with a GPS tracker and the motor can be disabled should the bike be stolen. And because this is a mid-drive e-bike, disabling the motor disables the bike; it can't be pedaled.
The Turbo Como is a turnkey bike for anyone who wants to use their bike for more than recreation, or that has the scratch to spend. Errand running and work commutes are aided by the presence of lights for low-light conditions, a chain guard to protect pants legs, a rear rack to carry groceries or a laptop, and fenders because no one likes road spray. A suspension fork and suspension seatpost make this bike an especially comfort-minded machine.
If the price is within budget and you're looking for the top tier of the best electric bikes for seniors, put the Specialized Turbo Como on your shortlist.
Pros
Standover height of 14 in. is the lowest in this collection
Brakes and drivetrains come from trusted suppliers like Shimano and SRAM; good performance and easy to replace
Its 11-speed, 11-42 cassette has a wider range of gears than most bikes we encounter
Arguably the best security system of any e-bike we've encountered
Cons
We're getting a bit nitpicky, but we wish there was a way to add a front rack or basket.
Electric Bike Company Model X or Y
The Electric Bike Co. Models X and Y are classic-style cruisers that beg for the first warm day of spring. As much as we love electric bikes that can be used as grocery-getters or for work commutes, a bike doesn't need to be able to do those things or sail down hiking trails to earn our respect. Our group of best electric bikes for seniors reflects that. Cruisers have been a mainstay of the bike world for obvious reasons: they offer a comfortable riding position and have gentle handling. Add a basket to one and you've got a picnic waiting to happen.
The Model X features a traditional frame design, while the Model Y possesses all the same features, but with a step-thru frame. And while each frame comes in but one size, the fact that the bike is available with either 26-in. or 24-in. wheels means that it can fit a far greater range of people than one frame size ordinarily can. The smaller wheels help accommodate smaller riders, lowering the standover height of the bike by an inch.
Riders have a choice of a single-speed or a 7-speed drivetrain, because hills. The X and Y are notable in that they come with hydraulic disc brakes and 180mm rotors to make stopping a non-issue. This may look like a cruiser, but there is a lot more under the hood, so-to-speak.
Seniors often have issues with flexibility and finding a bike that is easy on the back and neck can be a challenge. There may not be another bike in our list with a more upright riding position or a larger, more comfy saddle.
When it comes to stylish e-bikes, whether for seniors or not, The Models X and Y put most other brands to shame. Rather than just a few colors—or just one—the Electric Bike Co. site allows buyers to choose the bike color as well as the colors of: the fork, the chain guard, the front and/or rear baskets, the mesh basket liner, trim and rims. Additional options include the size of the battery, wheel size, tires, anti-theft alarm, rigid or suspension fork, and even a GPS tracker.
Of all the e-bikes on this list, the Electric Bike Co. Models X/Y/ offer unmatched customization.
Pros
Standover height of 18 in. (Model Y)
Nearly limitless color customization options
Options include a bigger battery and choices in drivetrain
Anti-theft system and GPS tracker are also options
Few e-bikes can stake a claim to the comfort provided from the geometry and saddle – ideal for seniors
Cons
Custom options can add up in a hurry
Despite the many options, lights aren't among them
Criteria We Used To Rank The Best Electric Bikes For Seniors of 2023
When we began considering which e-bikes we would recommend to seniors, we knew that our priorities would be different than if we were recommending an e-bike to someone in their 40s. Comfort and accessibility would rank high on all the bikes, but every rider will have their own specific needs to look at. Here's how we considered our picks:
Is the e-bike easy to mount? Stiffness and reduced range of motion happens even without arthritis. Our first question was the most basic. An e-bike is no good if the rider can't climb on. With one exception, every bike we chose featured a step-thru design.
Is the e-bike comfortable? Again with the flexibility. You don't need to be old to dislike leaning over like a racer. We focused on designs that promote a comfortable, upright position. Sitting upright also makes looking around at the pretty sights and traffic much easier, increasing both enjoyment and safety, a handy twofer.
Does the e-bike offer a throttle? Though Class 2 and Class 3 e-bikes often have restrictions on where they can be ridden that Class 1 bikes don't have, fatigue comes more quickly with age. Nearly every bike in this compilation features either a push-button or twist throttle to step in for legs that can't quite make it home.
Is the bike a good value?While the bikes we selected vary wildly in price, in every instance we concluded that they are fairly priced relative to the features offered. We see excellent reasons to buy a premium bike like those from Specialized and Trek, but we see the value in the D2C brands presented here. We respect what it means to be on a fixed budget.
Ultimately, each of the electric bikes we presented with seniors in mind offers some unique value proposition, whether in riding position, comfort from road shock, ease of storage, premium quality, security, ease to handle when off the bike. Honestly, we were pleased to realize just how many great bikes there are in the market that are suitable for seniors. It's proof that the e-bike market has matured nicely.
What did you think of our choices for 2023's best electric bike for seniors? Is there any e-bikes not included that you think are worthy of a spot on the list? Let us know in the comments section below!