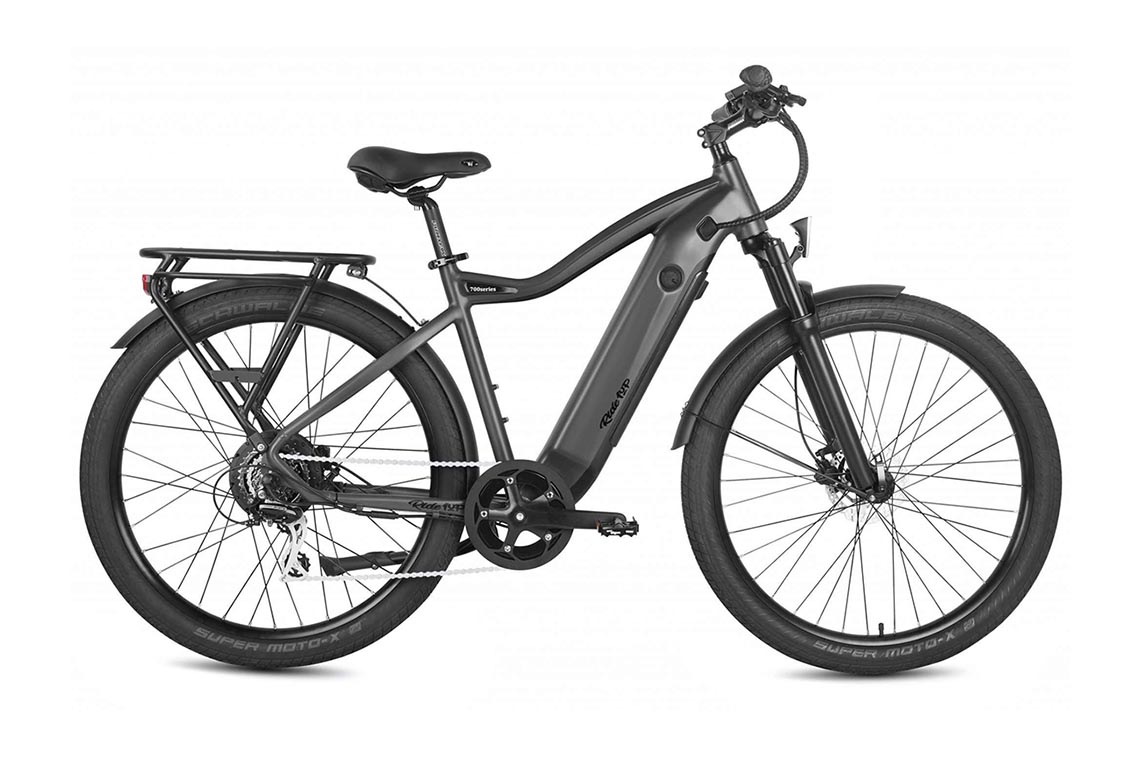 It's possible that no better application suits an e-bike than commuting. The big criticism of riding an unassisted bike is that no one wants to arrive at work needing to shower. An e-bike gives people a chance to ride to work, enjoy the sights and smells we miss in the car, get that dose of the sun's Vitamin D and—for urban commuters—and possibly arrive at work within minutes of when a car can.
Driving to work means not having to worry much about what the weather is, what time of day it is or just how much stuff needs to come with. Cars are handy that way. To make commuting a five-day-a-week venture, most riders will need more than just a bike. That bike must be properly equipped.
While a speedy commuter can be handy, a properly equipped commuter is more important. The best of these come with fenders, lights and a rack. Just add a pannier or two and they are ready to go.
These e-bikes cover quite a range of price. We have some budget-oriented models as well as more sophisticated models that include security systems. Some pay attention to some easy-to-miss features like chain guards that protect pants legs, as well as suspension forks and fat tires for improved control and comfort.
Whether someone wants the Mercedes-Benz of commuters or the Kia, there's a commuter here to suit every needs, and ever wallet.
Down below you'll see BestElectricBikes' selections for the Best Commuter Electric Bikes of 2023, but if you want to see the best options period -regardless of style – make sure to head to our page for the best electric bikes.
Quick Answer: The 12 Best Commuter E-Bikes of 2023
Ride1UP 700 Series
The Ride1UP 700 Series is a terrific example of what we look for in an e-bike for commuting. To be a solid commuter, an e-bike needs to be good in all sorts of weather, meaning fenders; must accommodate shorter daylight hours in winter, meaning lights; and must be able to carry a load so that the commuter can travel with a change of clothes and a laptop, meaning a rack. We also like to see enough range to be able to cover two round-trip commutes. The 700 Series delivers on all these points, which is why it leads our collection of best electric commuter bikes of 2023.
In Electricbikereport.com's testing the 700 Series post respectable range but came up a bit short in hill-climbing power. Their test e-bike powered through 27.5 mi. in PAS 5, and in PAS 1, the battery lasted 45 mi. In its hill test, despite the 750W hub motor the 700 Series couldn't produce enough power to conquer the hill on throttle alone, which is why we like to know how much torque a motor produces; power alone can't determine if an e-bike can climb; torque is critical.
Hill performance aside, this is a Class 3 e-bike that can be throttled up to 20 mph, and with pedal assist up to 28 mph. That extra speed doesn't require that much work and can really cut time in getting around town.
The 700 Series offers a step-thru frame that will please anyone who doesn't want to do a karate kick every time they get off the bike. For anyone is lesser stature or with flexibility issues, the low (17-in.) standover height of the 700 Series is worth noting.
The parts pick on this e-bike, considering it only goes for ~$1700, is outstanding. It has an 8-speed Shimano drivetrain for plenty of gear choice, hydraulic disc brakes with 180mm rotors to stop effectively and a 100mm-travel air/oil suspension fork good enough to take in off-road riding. We consider all of those to be the mark of a premium e-bike. Finding them on a sub-$2000 e-bike is a pleasant surprise. We couldn't put together a collection of the best electric commuter bikes without the 700 Series
Pros
Two frame choices: traditional and step-thru
Low standover height—17 in.—on step-thru frame
8-speed Shimano drivetrain is impressive considering the bike's cost
Mozo air/oil suspension fork has 100mm of travel for real off-road use
Includes a rack, fenders and lights
Cons
May beoo difficult for most consumers to assemble at home, advised to consider professional assembly
Lacked power on hills, in spite of a 750W hub motor
Aventon Level
Commuting to work is impractical for many people because of the distance and the fact that at most places of work it's hard to take a shower upon arrival. That's why e-bikes have been such game changers. Distances that were impractical for most people became much easier to cover when riding at nearly 20 mph without sweating like a glass of iced tea on a summer day. The Aventon Level takes things a step further than most bikes by virtue of being a Class 3 e-bike with a top speed in pedal assist of 28 mph. That's but one of the reasons it made our roundup of best electric commuter bikes.
It's great to have an e-bike that can hit a top speed of 28 mph and knock out a 10-mile commute in under a half hour, but the e-bike isn't worth much if it can't make the round-trip without recharging the battery. According to our sister publication Electricbikereport.com, the Level managed 29.5 miles on PAS 5 and a whopping 66 miles in PAS 1. Many riders will be able to commute several days before needing a charge. Ever forgotten to charge your phone? Yeah, this e-bike has your back.
One of our biggest points of criticism against most of the consumer-direct brands is that the bikes come in just one or two sizes, and often those two sizes don't vary by much more than standover height. The Level comes in three sizes in a traditional frame and two more sizes in a step-thru frame. E-bike sizing is a feature often overlooked but it can be even more central to a rider's comfort than what saddle and tires the e-bike is equipped with. While it's easy to find multiple frame sizes from big legacy brands like Trek and Specialized, it's less commonly found for an electric bike that goes for less than $2000. It's like getting a tailored shirt from Macy's.
The parts pick on the Level features enough quality to seem like it should cost more than it's $1700 price tag. Hydraulic disc brakes with 180mm rotors handle the stopping duties, making sure this e-bike doesn't overshoot the driveway. An 8-speed Shimano drivetrain gives riders plenty of ability to choose the right gear for going up a hill or coming back down the other side. The $1600-$2000 price range is increasingly competitive and the Level was an obvious choice for our roundup of best electric commuter bikes.
Pros
Comes in three sizes in a traditional frame and two sizes in step-thru
Cadence sensor is more sensitive than most, delivering power quickly
Hydraulic disc brakes are a terrific feature at this price point
Includes fenders, rack and lights making it ready for a morning commute
75mm travel suspension fork and 2.2-in.-wide tires make for a comfortable ride, even on rough roads
Cons
Would have been nice to see an air-oil fork for a more comfortable ride
We'd like to see a longer warranty on the frame.
Rad Power Bikes RadCity 5 Plus
For someone who commutes to work daily, a bike's finer details may only reveal how careful those choices were. Yes, a good commuter needs fenders, a rack and lights—not to mention a kickstand—but the quality of those components will make a difference in a rider's experience. The Rad Power RadCity 5 Plus is a bike that features a number of carefully selected components, which is why it's part of our collection of the best electric commuter bikes.
City riding forces a rider to stay on the lookout for the unexpected. From potholes to texting pedestrians, a rider must stay alert and often be ready to brake hard. The RadCity 5 Plus features hydraulic disc brakes that offer unusually powerful stopping; they'll stop on a dime and leave five cents change.
Hub motors like the 750W brushless one in the RadCity 5 Plus have pluses and minuses. The big plus is they help keep the cost of the bike down. The minuses include a tendency to lag behind the rider's effort because of the cadence sensor and they can be a little under-powered on hills due to a lack of torque. The RadCity 5 Plus has a cadence sensor more responsive than most and the motor offers plenty of torque for getting up hills, and the e-bike still goes for $1999.
Our sister site Electricbikereport.com reviewed the RadCity 5 Plus; in their testing they found that the e-bike exceeded Rad Power's published range figures. The tester for Electricbikereport.com rode for a whopping 31 miles on PAS 5, not the 28 Rad Power indicated. Similarly, in PAS 2 the tester covered 51 miles before the battery was tapped.
The RadCity 5 Plus is equipped with one of the best racks in this price range; not only does it allow for panniers, the rack is designed to take child seats like Thule's. The fenders are plastic, which will cut down on potential rattles that so many fenders develop; these fenders offer more coverage front to rear and side-to-side than some fenders, which will result in riders staying dryer. The lights are brighter than we normally see on e-bikes in this price range. This bike was a must-have for our roundup of best electric commuter bikes.
Pros
750W hub motor is more responsive than most and offers great torque
Longer fenders, a better rack and brighter lights make this a commuter's dream
Rad Power Bikes is known for customer service superior to most of their competitors in the affordable e-bike space
The Nutt hydraulic discs offer unusually good performance for a bike at this price point
Being able to adjust the tilt of the stem makes it easier to fit the rider than with some bikes
Solid range even in PAS 5
Cons
There are a number of cables and wires that make the front end of the bike look busy
At 21-in., we'd like to see a lower standover height on the step-thru frame
Gen3 The Stride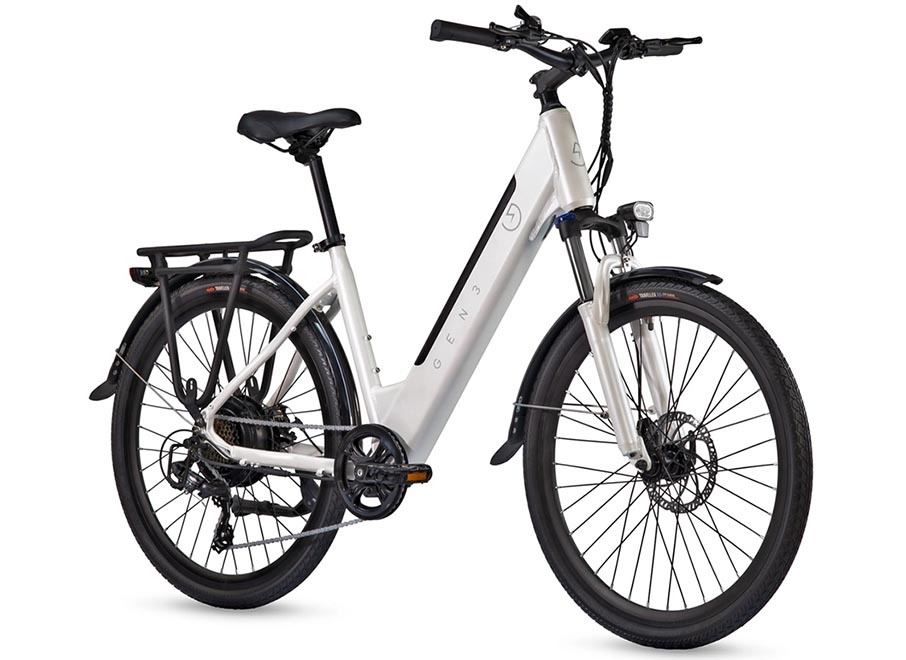 When it comes to e-bikes we believe there is a floor of minimum quality that a manufacturer must reach in order for us to recommend the e-bike in good conscience. With the many advances made in technology and manufacturing of e-bikes, these days that threshold is at roughly $1000. It's possible to find less expensive bikes out there, but the Gen3 Stride is a great example of how a manufacturer can balance affordability and quality, which is why we wanted to include this in our list of best electric commuter bikes.
Discounted to $1199, the Stride bears a great resemblance to other bikes in this collection. It includes a 500W hub motor powerful enough to propel a rider to 20 mph as a Class 2 e-bike, disc brakes, a rack, fenders and lights, not to mention a relatively low standover height on its step-thru design.
Where the Stride differs from some of our other bikes is that it goes for more price-conscious parts, such as mechanical disc brakes, 26-in. wheels instead of larger 27.5 or 700C wheels (which roll faster), relatively narrow 1.75-in.-wide tires instead of 2-in. or even wider tires which offer a cushier ride. While these choices result in a bike that's not as dialed as some in our roundup, every one of these choices was a strategic way to reduce cost and deliver a very workable bike for not much over $1000. This kind of resourceful product spec is something that, in aggregate, give us confidence that experienced hands guide this ship.
Those 26-in. wheels offer advantages of their own. Smaller wheels often accelerate faster and generally turn more easily, giving the e-bike a more nimble feel (unusually heavy wheels can offset this sort of handling). Narrow tires and a suspension fork with 50mm of travel mean this e-bike won't be as comfortable as some, but it will still be far more comfortable than a traditional road bike.
A notable exception to the price-conscious choices is the choice of the Bafang hub motor which we generally see on higher-price-point bikes; putting a higher emphasis on the motor is yet another sign this is a well-designed e-bike. Terrific product design is what compelled us to include the Stride in our collection of best electric commuter bikes.
Pros
The 500W hub motor offers more power and hill-climbing torque than similar motors
We usually see Bafang motors on more expensive bikes.
Surprisingly good climbing ability in part due to the motor's TKNm of torque
At 56 lbs. the Stride's weight is surprisingly good; inexpensive usually means heavy, too
Cons
The LCD display is hard to read due to small numbers
Web site leaves out a number of details many shoppers will want for comparison purposes like standover height and gearing
Narrow 1.75-in. tires don't offer a particularly comfortable ride
Vvolt Proxima
Commuter e-bikes all tend to handle pretty well, but every now and then we encounter a bike where the handling achieves a kind of finesse and riding the commuter is so in tune that we are reminded what we love about bikes. It's fair to ask, why should riding to work be anything other than fun? There was no way we were going to pull together our favorite electric commuter bikes and skip the Vvolt Proxima.
It's easy to criticize a bike for too little range, too easy, in fact. Not everyone needs an e-bike that sports a range of 30 mi. in PAS 5. For anyone with a relatively local life where the runs tend to single digit miles, a bike with only TK mi. of range in PAS 5 like the Proxima can still roll for several days before needing to be recharged.
It's also easy to criticize the bike for lacking those usual commuter necessities (not accessories), such as fenders and a rack. So why would a bike that runs the better part of $3000 lacking those features get our nod? It's one of the best values in mid-drive motor-equipped e-bikes out there. Vvolt combined that with a belt-drive and an Enviolo TR CVT hub for one of the most maintenance-free and easy-to-use drivetrains we've encountered. And while the mid-drive motor only puts out 250W (500 at peak), mid-drives tend to use their wattage more efficiently and this e-bike proves it with solid hill performance because it produces 80Nm of torque.
We don't often see e-bikes with 160mm rotors, except on budget models, and while the smaller rotors might seem a miss, the fact that the Radius brakes are hydraulic discs and not mechanical makes up for the smaller rotors; it also doesn't hurt that this bike only weighs between 50 and 52 lbs. (depending on the size).
Every touch on this bike is well-considered and shows the insight that comes with a knowledgeable team. The Proxima was an easy addition to our selection of best electric commuter bikes
Pros
Handling of unusually good finesse, a joy to ride
250W mid-drive motor for seamless and instant acceleration
Enviolo TR CVT hub gives stepless shifting for the perfect gear, always
At 50-52 lbs. (depending on size), relatively light
Gates belt drive for a practically maintenance-free drivetrain
Cons
Range of 17-29 mi.
Doesn't include rack or fenders
Trek Allant+ 9.9s
For most of us, a Toyota is a perfectly fine car. However, some folks want Lexus or Mercedes. Compared to most of the other bikes in our roundup, the Trek Allant+ 9.9s is a premium e-bike with an accordingly premium price tag. No survey of the best electric commuter bikes would be complete without the Trek Allant+ 9.9s.
It's fair to ask what's so great about an e-bike that costs three or four times what some of the other bikes here do. Everything about the Allant+ 9.9s is noteworthy. For starters, the industrial design of this bike isn't just stylish, it's downright handsome. It features a 250W mid-drive motor with smooth yet instantaneous power application. This e-bike gets up to speed promptly, but with nary a lurch, and it eats hills for breakfast.
The brakes and drivetrain on this e-bike also take a marked step up from what we see on more budget-minded models. The hydraulic disc brakes only require a light touch and are squeak-free. The Allant+ 9.9s offers a greater number of gears and over much broader range of ratios. This is the sort of bike that can make commuting in San Francisco a snap.
And what about range? Even in PAS 5 at 28 mph, Trek estimates the Allant+ 9.9s will enjoy 20 mi. of range, while in PAS 1, it can achieve as much as 80 mi., but add Trek's "range boost" which mounts a second battery on the bike and range can be stretched to a whopping 120 mi.
If all of that wasn't enough to impress riders, Trek took the extra step of crafting the entire frame and fork from carbon fiber, which helps keep the weight below 50 lbs. Few e-bikes can impress the way the Allant+ 9.9s does, which is why it's one of the best electric commuter bikes on the market.
Pros
Bosch 250W mid-drive motor gives one of the best ride experiences on the market
Carbon fiber frame and fork give a terrific ride and keep weight down
Shimano 4-piston hydraulic disc brakes might be the most powerful brakes on a commuter
12-speed Shimano Deore XT drivetrain offers incredible range and precise, quiet shifting, a truly premium drivetrain
Tubeless-compatible wheels offer the opportunity to escape the inevitable flats that come with inner tubes
Comes in three sizes, fitting riders from 5-feet-5 to 6-feet-5
Cons
Providing smaller sizes would help riders of less stature
A brighter headlight would be helpful at dusk, when more light, not less is required
Diamondback Union 2
Even if the name Diamondback doesn't sound familiar, they are producing one of the more surprising offerings on this list. It shouldn't be surprising, though; Diamondback has been producing high-end mountain and road bikes for more than 30 years. The Diamondback Union 2 is a bike that benefits from the company's longstanding expertise in producing bikes that perform well, and needed to be part of our collection of the best electric commuter bikes.
For those who want a step up in quality, but don't require the premium experience of a Trek or Specialized, the Diamondback Union 2 begins with an aluminum frame and fork, adds a Bosch mid-drive motor and high-quality 10s-speed Shimano drivetrain and Shimano hydraulic disc brakes (4-piston,180mm rotor front; 2-piston, 160mm rotor rear). The mis-matched brakes may seem like a mistake, but the choice shows the experience of the Diamondback product management team: most of a e-bike's stopping power is concentrated in the front brake, so it makes sense to make that brake more powerful than the rear.
We've encountered Class 3 bikes that handled fine up to about 20 mph, but at 28 mph they felt less stable, a bit squirrelly, in fact. The solution to that is a change in geometry, which is the sort of thing a company with a history of making racing bikes for both on-road and off understands. The Union 2 has exceptional manners at top speed and is the sort of e-bike that begs to be pedaled in PAS 5 when on the road.
With 85Nm of torque this is an e-bike that deserves to be considered by anyone living in a hilly community. That's more torque than is found in most motors and the result is a bike that climbs as well as it rides on the flat.
Rather than spec an inexpensive suspension fork with a steel spring, Diamondback went with a rigid aluminum fork which will improve handling and then chose to spec 2.4-in.-wide tires that can soak up bumps as well as most inexpensive suspension forks. And at $4100, this e-bike occupies a price point between the most premium offerings and the more budget-oriented e-bikes offered by the D2C companies.
Pros
Comes in four sizes, offering a great fit for riders between 5-feet-4 and 6-feet-4
Mid-drive Bosch motor offers instant power and thanks to 85Nm of torque doesn't struggle on hills
Quality lights from Lezyne
An impressive range estimate of 35-65 mi.
Should a wheel need to be removed, thru-axles front and rear are easy to use and require no tools
Cons
The Bosch display is rather small and doesn't give all that much info at one time.
Priority Current
If there's a thing with a motor, someone is going to have to hotrod it. Witness the original Mini Cooper; it was as underpowered as a toddler, but the Works version doubled its horsepower and it went on to win the Monte Carlo Rally. The Priority Current is what happens when a product manager decides more power would be a fun idea. We can't deny that more power and torque can be fun, so including the Current in this roundup of best electric commuter bikes seemed obvious.
The Current may not be the bike for everyone, but with a 500W mid-drive motor that can produce a whopping 140Nm of torque, this is the e-bike that could cause someone to confuse San Francisco with Chicago. Hill climbing has never been less of a thing than with the Current. Such power carries other benefits, like incredibly smooth and insistent acceleration all the way to its Class 3 top speed of 28 mph (though it initially ships as a Class 1 bike restricted to 20 mph). Without that restriction this bike might break speed limits.
The Current gives buyers a choice between a Shimano 5-speed internal hub or an Enviolo continuously variable hub, turned by a Gates belt drive rather than a chain, which reduces maintenance and unsightly chain marks. Hydraulic disc brakes with 180mm rotors seem a necessity given the power of this e-bike.
The Current comes in three sizes and while Priority lists inseam length ranges, it would be nice if they offered some basic guidance on likely height ranges for the simple reason that we're not sure how many people are going to go to the trouble to take measurements before choosing a bike. Bike sizing may be a whole science at the high end, but we respect that the typical commuter wants a simple answer.
Priority suggests a range of 20-50 mi. depending on whether the rider is using PAS 5 or PAS 1. This range depends on the e-bike being set up as a Class 1 e-bike with a top speed of 20 mph. If set up to be Class 3, that range in PAS 5 will be even shorter.
Where this e-bike will truly excel is for riders dealing with lots of hills and/or an abundance of stoplights. The Current is fast off the line and gives riders a chance to get through intersections quickly. When compiling a list of the best electric commuter bikes, this one had to get a mention.
Pros
With a 500W mid-drive motor producing up to 140Nm of torque, this is one of the most powerful e-bikes we've encountered
Ships as a Class 1 bike, but can be adjusted to ride as a Class 3 with a 28 mph top speed
The display is large and shows plenty of relevant data.
Cons
More straightforward guidance on sizing would be helpful
We were surprised that Priority didn't include a rack on the Current considering it includes both lights and fenders
Gazelle Medeo T10 Plus e-Bike
If the name Gazelle (say Ga-zell-eh) doesn't ring any bells, don't worry. They are part of the world's largest collection of bike brands and retailers. The brand is arguably the crown jewel in the portfolio of the Dutch holding company Pon. And because they are Dutch, they've been making bikes for commuters for longer than Ford has been making cars. Yeah. We couldn't make a roundup of the best electric commuter bikes without including a bike from one of the first companies to offer an electric commuter bike.
The T10 Plus is a bit like a greatest hits collection of the best features in commuter e-bikes. It begins with an aluminum frame that comes in two frame designs and three sizes, adds a Bosch mid-drive motor with enough power and torque to provide solid Class 3 performance and with 85Nm of torque hills won't pose an issue. A front suspension fork and 2.1-inch-wide tires offer a comfortable ride on bumpy city streets. The seated position isn't quite as upright as some bikes we see, but having the rider lean forward a bit more adds weight to the front wheel to make the e-bike better balance maneuverability and calm handling.
A Shimano Deore 10-speed drivetrain gives the rider fine control over gearing not to mention a wider range than found on most commuters and the Shimano 4-piston hydraulic discs stop the bike like weighing anchor. In PAS 1 the bike has a reasonable 55-mi. range, while zooming through town at 28 mph, the T10 Plus still manages a 20-mi. range.
Because Gazelle has been making commuter bikes for as long as they've been making bikes, they understand the importance of including details like fenders, a rear rack, lights and a chain guard; heck, they even included an integrated lock. At $3699, this bike isn't inexpensive, but such an investment results in a very reliable bike that performs well and will last for years to come. This bike occupies an important spot in our collection of best electric commuter bikes.
Pros
Exceedingly well-thought-out e-bike with few details not given deep consideration
4-piston hydraulic disc brakes with 180mm rotors stop well even mid-downhill
A second battery can be added to extend the T10 Plus' range
Not only does it include fenders, lights and a rack, it also includes an integrated lock
Cons
The dropped top tube on the frame isn't as high as on a traditional frame, but it's too high to be step-thru for many people
Coil spring suspension fork isn't the same level of quality as the rest of the bike
Specialized Turbo Vado 5.0
If Trek is the Mercedes of e-bikes, then Specialized is the BMW. The Specialized Turbo Vado 5.0 is one of best e-bikes we've encountered. This is just the sort of bike that comes to mind when considering where to begin a roundup of the best electric commuter bikes. And while we focus on the 5.0, Specialized offers the Turbo Vado at a number of price points; think of it as different trim levels.
This Class 3 e-bike wants for nothing. The 250W mid-drive motor offers such smooth acceleration it's easy for a rider to zip up to 28 mph and only realize it upon looking down at the color LCD display. Some bikes that handle great at 12 mph feel less stable above 20 mph, but the Turbo Vado handles with such aplomb it contributes to the feeling that the bike isn't going flat-out.
The Turbo Vado 5.0 is at the upper end of the Turbo Vado collection of bikes; the 5.0 goes for $5000, but there are 13 other flavors of the e-bike that range in price from $3250 up to $5500. The upshot here is that riders can right-size a Turbo Vado purchase to their budget.
The Rockshox Recon Silver RL is arguably the most sophisticated suspension fork on any commuter e-bike we've seen. This is a sophisticated air/oil fork meant for eMTBs and Specialized has a special 80mm-travel version produced for the Turbo Vado. Add in a suspension seatpost and 2.3-in.-wide tires and it would be difficult to find a more comfortably riding commuter.
SRAM 4-piston hydraulic disc brakes with 180mm rotors and a wide-range SRAM 11-speed drivetrain make for a decidedly better-performing e-bike. Add fenders, lights, a rear rack, bell and an app-based security system that gives the owner location info on the bike and the Turbo Vado rests its case for why it's one of the best electric commuter bikes on the market.
Pros
The 250W, 90Nm torque mid-drive motor makes this a very capable e-bike on hills or at speed
Comes in two designs—traditional and step-thru—and four sizes
Web site features sophisticated range calculator based on height, weight and use for more accurate range estimates
MasterMind not only gives the rider control over their e-bike, but it adds in sophisticated security measures
Cons
We'd love to see a stripped-down version with fewer bells and whistles in order to hit an even lower price point
The standover height of their smallest step-thru frame is still quite high at 28 in.
Stromer ST5
Vying for the slot as the hands-down best electric commuter bike is the Stromer ST5. This is no ordinary Class 3 e-bike. It sports some technologies found on no other bike in this collection.
Aside from having the most powerful hub motor we've encountered, the ST5 takes stopping as seriously as it does accelerating. Our favorite feature on this bike is the only anti-lock braking system we've encountered. The brakes are made by the respected manufacturer TRP and feature ongoing data analysis that helps the bike recognize dicey situations so it can modulate braking in a way that helps the rider maintain better control of the bike … and the situation.
The pro move in electric commuter bike design is to select components made for mountain bikes. They offer terrific gearing range for hilly riding and are built with durability (abuse) in mind.
It's unusual for a high-end e-bike to use a hub motor rather than mid-drive, but the Stromer's hub motor performs much like a mid-drive, especially in its immediate response to pedal input; there's no discernible lag. The ST5 impresses riders with powerful acceleration that is smooth and predictable.
The ST5 is also unusual in its security; it features keyless locking via a Bluetooth connection and GPS tracking. The Bluetooth security adds another benefit; removing the battery happens with the push of a button—no key needed. The security features alone might have merited the ST5 a place in our roundup of best electric commuter bikes, but the intelligence behind the whole bike ensured that.
Pros
Arguably the most powerful hub motor on the market at 650W
Keyless security that includes GPS tracking with a smartphone app
The only anti-lock brake system for commuter e-bikes
27.5×2.4-in. tires offer a comfortable ride and terrific traction even in the wet
High-end Shimano Deore XT drivetrain
Cons
This bike's top gear is appropriate to freeway speeds; we'd like to see a smaller chainring on the crank
The web site can be thin on some details while others may be unfamiliar to an American audience
Riese & Muller Charger4
The Riese & Muller Charger4 is veritable wish-list of a bike in terms of its design and features. It begins with an aluminum frame and Bosch's best motor, the Performance Line CX that produces 350W and 85Nm of torque, making this Charger 4 a beast on hills and flats alike. With choices between and Enviolo planetary hub or a Shimano 11-speed drivetrain, the presence of premium parts at every turn made it a must-have for our roundup of the best electric commuter bikes.
Magura hydraulic disc brakes handle the stopping duties and these brakes, which were designed specifically for e-bikes, feature a standard 2-piston brake in the rear, but a more powerful 4-piston brake in the front and the brakes feature a cutoff switch for the motor when brakes are applied and the rear brake light will activate.
The combination of an air/oil suspension fork with 100mm of travel, a suspension seatpost and front and rear tires that are 2.4-in. and 2.35-in.-wide, respectively, result in a bike that is unusually comfortable and will make any commute a smooth ride.
Our one knock against this bike is its lack of integrated app with security features like those we have seen, in particular, with Stromer and Specialized.
The rear rack, fenders, lights and additional accessories that can be ordered are all first-rate. This is one of the very best Class 2 e-bikes we've encountered. For those who want a premium bike but want to make sure they don't run afoul of any local ordinances, the Charger4 is an ideal choice and needed to be part of our roundup of best electric commuter bikes.
Pros
350W Bosch mid-drive motor provides and exceptionally smooth ride experience
Choice between Shimano 11-speed drivetrain and an Eviolo continuously variable hub
100mm travel air/oil suspension fork, and suspension seatpost for comfort
Powerful Magura hydraulic disc brakes, featuring a 4-piston caliper in front for quick stops
Cons
For more than $7000, we'd expect the e-bike to have GPS tracking as well as other security features
Riesse & Muller don't yet offer D2C, which makes buying one harder if a dealer isn't nearby
Criteria We Used To Rank The Best Electric Commuter Bikes of 2023
In considering which electric commuter bikes to include in our best-of for 2023, we considered three primary questions in sorting through the great many bikes we considered. Indeed, the selection of commuter e-bikes is staggering these days; it's arguably the most crowded category in the e-bike world, rather understandably. The depth of field is why this collection includes 12 bikes.
Does the bike have everything necessary to begin commuting? Most buyers of commuter e-bikes were not previously commuting to work by bike. It's helpful to the first-timer to purchase a bike that is essentially ready to go. All they need to do is add a pannier or some other bag and they have everything they need. New riders may not appreciate how important lights are at dusk, not just at night. Similarly, fenders may be necessary for a day or two following heavy rains.
Does the motor have enough power to accelerate away from a stop and handle a hilly route?If an e-bike can't make it up a hill on a fun, weekend ride, it's no big deal, but commutes are ridden with a schedule in mind and if a rider has to walk the hills that will get old in a hurry. Not only should a bike have enough torque to get up the hills, it also needs to provide enough zip to get through an intersection quickly because nowhere is more dangerous for a cyclist than while riding in an intersection.
Does it represent a good value relative to its price point? The bikes we selected for this collection range from $1000 to a bit more than $11,000. To be fair to a $1000 bike it's important to remember where a product manager must manage costs in order to hit that target. Conversely, if a bike runs more than $6000, we think it ought to have a bulletproof app with security features including GPS tracking.
Obviously, not every e-bike had a great answer for these questions, but how well they did overall gave us a clear indication of what e-bikes would make the cut. Based on our experience, a buyer's dollar goes furthest in the $2000-$3000 range. These e-bikes achieve more than 80 percent of the quality found in the $5000-$6000 models. They do a great job of balancing cost vs. quality and in each instance here, these bikes do a great job of fulfilling all the major needs a commuter faces without costing two arms and a leg.
What did you think of our choices for the best electric commuter bikes of 2023? Any that we missed? Let us know in the comments below!