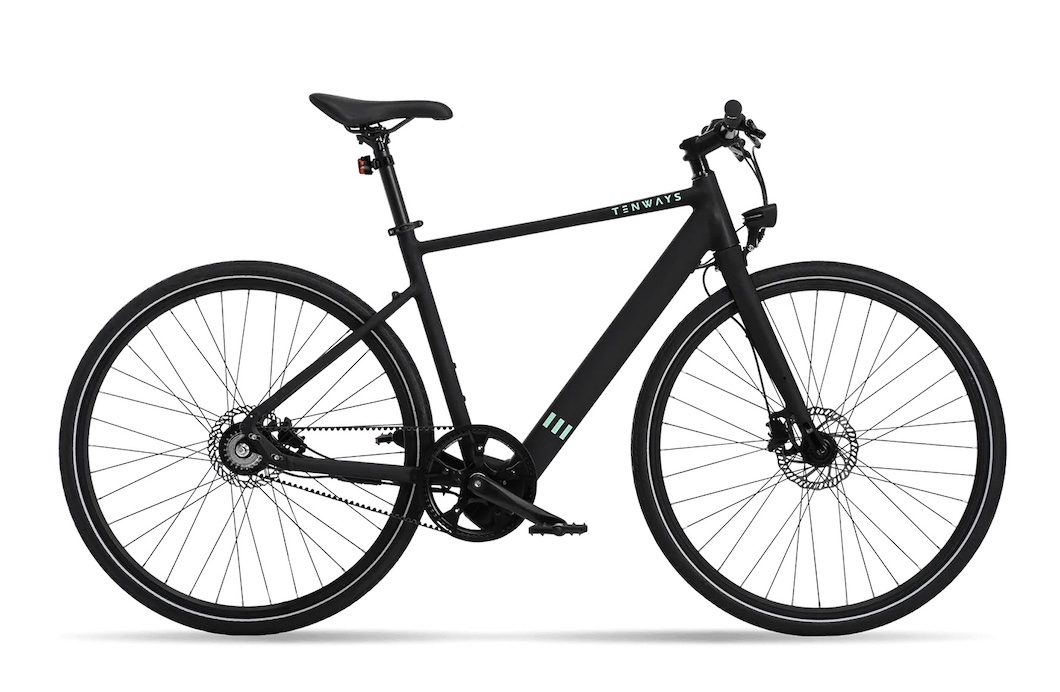 Intro
How can a company improve an e-bike's performance without increasing the power of the hub motor or the battery size? It's an interesting question and Tenways' approach isn't unique, but is uncommon. The Tenways CGO600 features a 250W hub motor paired with a 252Wh battery. That would seem rather under-baked were it not for the fact that this e-bike weighs only 33 lbs., making it among the lightest full-size e-bikes on the market.
As much as we appreciate that approach, Tenways makes the CGO600 even more interesting by spec'ing a torque sensor rather than a cadence sensor to give this e-bike instant acceleration. In our Tenways CGO600 review we will dig into why the combination of a small motor, small battery, single-speed drivetrain and torque sensor add up to an e-bike with a spirited personality.
Bigger, in a word, is not always better. The minimalist approach of the Tenways CGO600 offers riders a substantially different experience than the e-bikes we typically see in the sub-$2000 price range. As we've noted with some other e-bikes, this is one for a person who wants exercise, not activity.
The Tenways CGO600 is a Class 1 e-bike with a maximum PAS speed of 20 mph, and no throttle. With some single-speed e-bikes the one gear is big enough that a throttle can seem almost necessary to get going. This e-bike avoids that pitfall with the help of its torque sensor; push down on the pedals and the e-bike goes, and thanks to its low weight, its acceleration is more spirited than people might think. Let's take a deeper look.
E-Bike Category: Commuter
Who the Tenways CGO600 Electric Bike Is for:
Shoppers looking for an e-bike that's easy to handle both in and out of the saddle and provides a spirited and thrilling ride.
Tenways CGO600 Electric Bike Review Ratings:
***All ratings are relative to e-bikes of a similar style and price point***
| | |
| --- | --- |
| Speed/Acceleration | |
| Hill Climbing | |
| Battery Range | |
| Braking | |
| Construction Quality | |
| Handling | |
| Included Accessories | |
| Warranty | |
| Value | |
Tenways CGO600 E-Bike Specs
Battery: 252Wh Lithium-ion
Expected Range: 43 mi., estimated
Charger:
Motor: 250W brushless, geared hub motor
Pedal Assist: 5 PAS levels
Throttle: N/A
Display: OLED
Headlight: Included
Taillight: N/A
Frame: 6061 Aircraft aluminum
Fork: 6061 Aircraft aluminum
Fenders: N/A
Kickstand: Included
Handlebars: Alloy
Grips: Rubber, lock-on
Drivetrain: Single-speed with Gates Belt
Brakes: Tektro hydraulic disc with 160mm rotors
Pedals: Metal, platform with reflectors
Saddle: Anatomic, padded
Tires: 700C
In-Depth Tenways CGO600 Review
Tenways CGO600 Review: Comfort, Handling, and Ride Qualities
When it comes to lightweight, zippy-feeling e-bikes, the Tenways GCO600 should be on the list for anyone who is shopping for a maneuverable and light e-bike. At 33 lbs., this is one of the lightest e-bikes we've encountered. Making an e-bike that weighs less than 50 lbs. Isn't easy without resorting to expensive carbon fiber. To make one that weighs less than 40 lbs. is harder still. The effect of riding an e-bike that weighs only 33 lbs. is to feel superior maneuverability and terrific acceleration.
The Tenways GCO600 is essentially a flat-bar road bike, which is to say that the reach from the saddle to the handlebar is longer than we typically see with a commuter. The rider is in a more aggressive position, leaning farther forward, but able to corner more aggressively.
This is a reasonably big e-bike. While the seat tube length isn't all that great in either size, the 578mm effective top tube length in the medium size is long enough to make for an uncomfortable reach for anyone 5 feet 9 inches tall, or less. The 591mm effective top tube length of the large isn't much of a difference; the two sizes are quite similar.
Riders looking for more of a traditional bike experience, but with some added help, will enjoy the Tenways CGO600.
Tenways CGO600 Review: Motor, Battery, and Drivetrain Performance
As we've discussed in some of our other recent reviews, an e-bike with a small battery and small motor can still offer terrific performance thanks to the weigh reduction they offer. The Tenways CGO600 specs a 250W brushless, geared hub motor and pairs that with a 252Wh battery. This is a modest amount of power and a modest battery capacity, but they save the Tenways CGO600 at least 30 lbs., weight that robs a bigger motor and battery of some of their punch.
What makes the Tenways CGO600 especially exciting is their decision to spec a torque sensor rather than a cadence sensor, which is much more common in the sub-$2000 price range.
Another factor in this e-bike's low weight is their decision to go with a single-speed drivetrain using a Gates Belt. No derailleur, shift lever or multi-gear cassette helps to cut weight and the Gates Belt eliminates the need for chain lube and the risk of ruining a pair of pants with a black mark from the chain.
The small motor, small battery, single-speed drivetrain and torque sensor come together to yield an e-bike with instant acceleration and a sensitive feel that dives into turns like a racing bike. This is a ride that will appeal to athletic types who want the zoom, but don't mind doing some work.
Tenways claims the CGO600 can offer riders up to 43 mi. per charge, a number that will drop some if riders choose a higher PAS.
Tenways CGO600 Review: Braking, Safety & Warranty
Another way to keep an e-bike's weight low is to spec mechanical disc brakes rather than hydraulic disc brakes, but that's not something Tenways did with the CGO600. They went with Tektro hydraulic disc brakes and 160mm rotors, a size that is entirely appropriate to the e-bike's light weight.
To the degree that we would suggest anything about the Tenways CGO600 is a concern for safety we would point to the large size of both frames. Their suggestion that riders standing 5 feet 5 inches can fit on the medium isn't realistic. For anyone shorter than 5 feet 10 inches, we would encourage a visit to a bike shop to ride an e-bike with a similar-length top tube. The reach is significant.
The warranty for the Tenways CGO600 is rather unusual. Each different part on the bike is given a specific warranty length. While they present a terrific five-year warranty for the frame and fork, some parts, like the seat tube clamp, grips and brake pads are given only a three-month warranty, which seems awfully short. Good news: the battery and motor are each given a two-year warranty.
Tenways CGO600 Review: Recommendation/Final Verdict
We've seen a few different affordable, lightweight e-bikes introduced to the market. They give shoppers an interesting alternative to high-powered e-bikes that may weigh upwards of 70 lbs. Variety is the spice of life, we like to say. There's no one style of e-bike that's better than another, but there are certainly some e-bikes better suited to some riders' needs than others.
The Tenways CGO600 is an exciting take on what an e-bike can be. We're disappointed that the medium size is so large; that will keep this e-bike out of reach for some smaller riders, which is a shame; after all, the lighter the rider, the more impressive this e-bike's performance will be. Our one other knock against the Tenways CGO600 is the display, which we experienced with the FLX Babymaker II. While we like the minimal design, those of us who need glasses to read can't make out anything other than current speed because the display is so small.
For riders tall enough to ride the Tenways CGO600 comfortably, this is an exciting e-bike and thanks to its inclusion of a torque sensor to give it immediate acceleration and make it responsive to the rider's pedaling style, we would give it the edge over other similar e-bikes. This is a terrific use of a torque sensor and will give riders looking for a dynamic riding experience an uptick in thrill.
One other feature of purchasing a Tenways e-bike worth noting is their smartphone app. This gives riders a more integrated experience and makes tracking the amount of time spent on an e-bike easier, though there are other brand-neutral apps (like Strava) that offer all of this functionality. The Tenways app is available for both iPhone and Android.
Riders who want an e-bike that doesn't scream "Hey, I'm an e-bike!" will definitely want to put the Tenways CGO600 on their short list. It would be easy to ride past folks and never have them notice that they'd just been passed by someone who is receiving a bit of help. Neat trick.
Thank you for reading through our review of the Tenways CGO600. Still have further questions? Wondering how it compares to a similar e-bike we've reviewed? Let us know in the comments below!

Reader Interactions