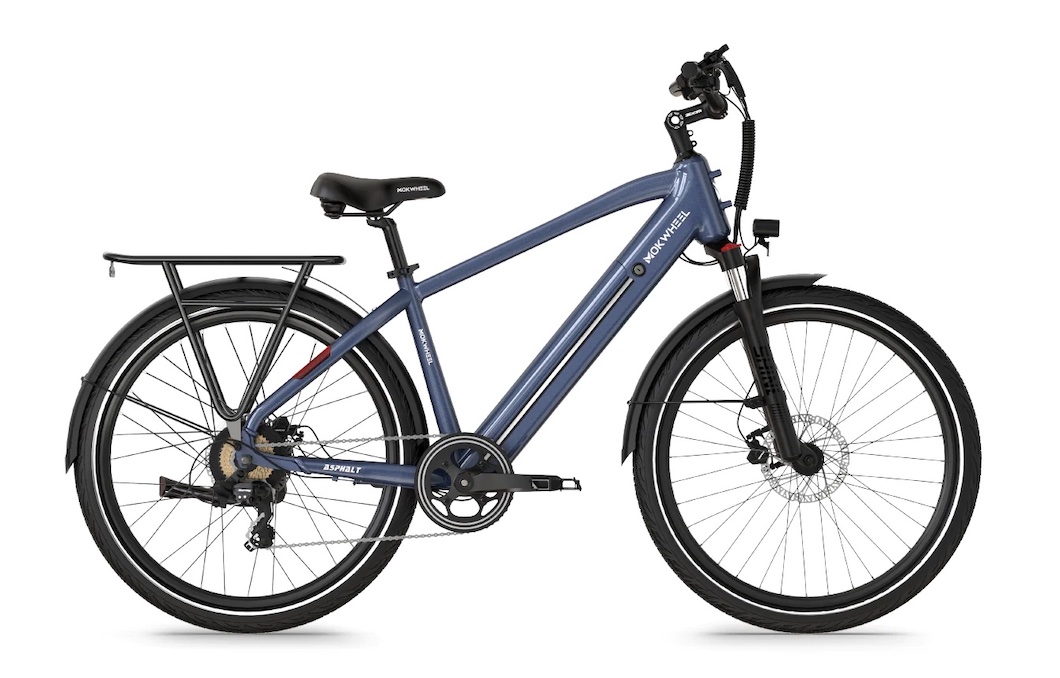 Intro
Commuter e-bikes are to the e-bike world what four-door sedans are to the car world. Every company makes at least one and they serve with terrific versatility and are more economic than many other options. Mokwheel has made a name for themselves for their fat-tire e-bikes, so the Asphalt is a departure for them. In our Mokwheel Asphalt review we will weigh just what sort of a commuter this is.
There are a few details that set the Mokwheel Asphalt apart from other commuter e-bike models. The first, biggest difference between it and many of its competitors isn't even visible to the sharp-eyed. Rather than use a cadence sensor to govern the motor's action, Mokwheel chose to spec a torque sensor. This upgrade will make the motor more responsive as well as tie acceleration to the rider's effort. While it means that the rider will have to make more of an effort to hit top speed, the torque sensor makes the riding experience more hand-in-glove and the seamlessness of the experience always makes riders smile.
The torque sensor gives riders another benefit: Because it makes the motor's operation and power delivery more efficient, we typically see more range out of a battery than it would offer on an e-bike with a cadence sensor.
And while many commuters come in but a single size, Mokwheel produces the Asphalt in both a traditional frame and a step-thru design, plus the step-thru model comes in two different sizes, to give riders more options for finding their ideal fit.
One of the big questions that comes up when anyone looks at a commuter is just how quickly someone can cover their distance to work and home again. The Mokwheel Asphalt ships as a Class 3 e-bike—no unlocking necessary. It will go 28 mph straight out of the box.
Helping to round out that commuter mission is a full set of commuter necessities: front and rear lights, full fenders and a rear rack. The frame also sports a head tube mount for a basket for anyone who needs to run an errand after work. Let's dive into what makes this a great option among commuters.
E-Bike Category: Commuter
Who the Mokwheel Asphalt Electric Bike Is for:
The Mokwheel Asphalt is ideal for anyone who wants a commuter with a more responsive personality.
Mokwheel Asphalt Electric Bike Review Ratings:
***All ratings are relative to e-bikes of a similar style and price point***
| | |
| --- | --- |
| Speed/Acceleration | |
| Hill Climbing | |
| Battery Range | |
| Braking | |
| Construction Quality | |
| Handling | |
| Included Accessories | |
| Warranty | |
| Value | |
Mokwheel Asphalt E-Bike Specs
Battery: 706Wh lithium-ion
Expected Range: Up to 60 mi. in PAS 1
Charger: 3A
Motor: 500W brushless, geared hub motor, 65Nm of torque
Pedal Assist:
Throttle: Thumb button
Display: Color LED
Headlight: LED
Taillight: LED, integrated
Frame: 6061 Aircraft aluminum
Fork: Adjustable suspension fork, 100mm travel
Fenders: Included
Kickstand: Included
Handlebars: Alloy
Grips: Faux leather, lock-on
Drivetrain: 7-speed Shimano Tourney with trigger shifter
Brakes: Star Union hydraulic disc, 180mm rotors
Pedals: Alloy, with reflectors
Saddle: Customized comfort leather seat
Tires: 275. X 2.4-in.
In-Depth Mokwheel Asphalt Review
Mokwheel Asphalt Review: Comfort, Handling, and Ride Qualities
The Mokwheels Asphalt is just as it says: an e-bike meant for the commuter who plans to stick to paved surfaces. Mokwheel makes the Asphalt in two different frame designs: traditional and step-thru. The step-thru comes in two different sizes: large and normal. This is what happens when the translation into English goes awry.
The step-thru frames have a proposed height range of 5 feet 1 to 5 feet 9 (normal) and 5 feet 5 to 6 feet 1 (large); the traditional frame shares the same sizing recommendation, though it has the shortest reach of the three frame designs (24.4 in., as opposed to 25 in. for the "normal" step-thru or 25.4 in. for the large step-thru). This these sizing recommendations aren't as crazily optimistic as some we see, we do encourage riders who fall at the edges of their recommended sizing to take a close look at the geometry chart and compare that to an e-bike they can test-ride close to home.
Commuter e-bikes are often designed to split the difference between efficiency and comfort. With the Asphalt, Mokwheel has done a nice job of balancing those two needs. Thanks to 27.5 x 2.4-in. tires and a 100mm-travel suspension fork. With its back-swept bar and adjustable stem, riders can enjoy a comfortable, upright seated position on quick-rolling wheels.
The handling of the Mokwheel Asphalt is agile enough to keep people moving through the flow of traffic and pedestrians, without ever seeming nervous as we sometimes experience with e-bikes with 20-in. wheels.
Smaller riders might especially like the Mokwheel Asphalt as it weighs only 60 lbs., which is reasonably light for a full-featured commuter.
Mokwheel Asphalt Review: Motor, Battery, and Drivetrain Performance
The Mokwheel Asphalt is equipped with a 500W brushless, geared hub motor that produces a solid 65Nm of torque. Despite being a 500W motor, this is a Class 3 e-bike with a top assisted speed of 28 mph. Riders wondering if the 500W motor has the power necessary to deliver Class 3 speeds can be reassured by the solid torque numbers.
Powering the motor is a 706Wh battery that Mokwheel estimates will give riders up to 60 mi. of range per charge. If this seems generous for that size battery, the efficiency estimate isn't inflated, and the reason why is the presence of a torque sensor.
Torque sensors are able to take a rider's input and send a signal to the controller that delivers power in proportion to the rider's effort. Where cadence sensors are blunt instruments, either telling the motor to turn on or off, torque sensors respond based on how much effort the rider makes. Pedal harder and the motor delivers more power. Ease off the pedals in a turn and the motor eases off. Also, the motor function follows the rider's effort instantaneously, not a second or two later, as with cadence sensors.
The Mokwheel Asphalt is equipped with a 7-speed Shimano Tourney drivetrain, but it receives an upgrade over what we typically see—the usual thumb shifter has been replaced by a trigger shifter that is easier to use.
Mokwheel Asphalt Review: Braking, Safety & Warranty
A pair of Star Union hydraulic disc brakes paired with 180mm rotors handle braking duties. This is a quality brake that will bring a rider to a stop in a short distance and do an excellent job of scrubbing speed in turns. The brakes feature electronic cutoff switches so that braking need never fight the motor.
Compared to some e-bikes we see, the Mokwheel Asphalt has a fairly average weight rating—300 lbs. That may limit just how much a rider may be able to load up the rear rack, or a front basket—if they choose to add one. That's not a safety concern, per se, but it's a limitation that bigger riders may need to consider.
Mokwheel offers a two year warranty, which is double the length we typically see with direct-to-consumer brands. It's nice to see a company offer better protection for their e-bikes.
Mokwheel Asphalt Review: Recommendation/Final Verdict
The $1500 price point is the sweet spot for commuters. The buyer's dollar goes further in this price range than at most other price tiers. It wasn't long ago that we didn't see torque sensors on e-bikes in this range and most of the commuters that advertise Class 3 performance have to be unlocked. With the Mokwheel Asphalt, that speed is on tap, right out of the box.
The Mokwheel Asphalt contains all the basics of what we want to see in a good commuter: It is spec'd with a 7-speed drivetrain, hydraulic disc brakes, a battery big enough to carry a rider at least 50 mi. per charge and a commute-ready accessory package including lights, fenders and a rear rack.
The presence of the torque sensor may be the biggest consideration for many shoppers. That's because of the way a torque sensor fundamentally changes the action of the motor. With a cadence sensor, the controller's job is to take that signal and then turn the motor on and the motor's output is governed by the PAS level the rider has selected. If the controller is set to make the e-bike go 15 mph in PAS 3, it's going to go at least 15 mph as long as the rider pedals. With a torque sensor present, the controller's job is different. The PAS level indicates how much assistance the motor gives relative to the rider's effort. PAS 1 may offer 100 percent of the effort the rider makes, doubling the power at the rear wheel. Or it may add 400 percent of the rider's effort in PAS 5. With a cadence sensor an e-bike in PAS 5 will hit cruising speed seconds after starting. With a torque sensor, the e-bike won't hit its maximum speed without the rider earning it.
What we like to say is that an e-bike with a cadence sensor is ideal for someone who wants activity. A torque sensor is for the person who wants exercise. But let's not forget that the Mokwheel Asphalt includes a thumb-button throttle; even athletes get tired.
It's not hard to make a good commuter e-bike. What is hard is to make a commuter e-bike that stands out, that rises above the static, as we like to say. With the Mokwheel Asphalt, shoppers have the opportunity to pick up a quality commuter, but with the DNA of a higher-performance e-bike hiding inside.
Thank you for reading through our review of the Mokwheel Asphalt. Still have further questions? Wondering how it compares to a similar e-bike we've reviewed? Let us know in the comments below!

Reader Interactions