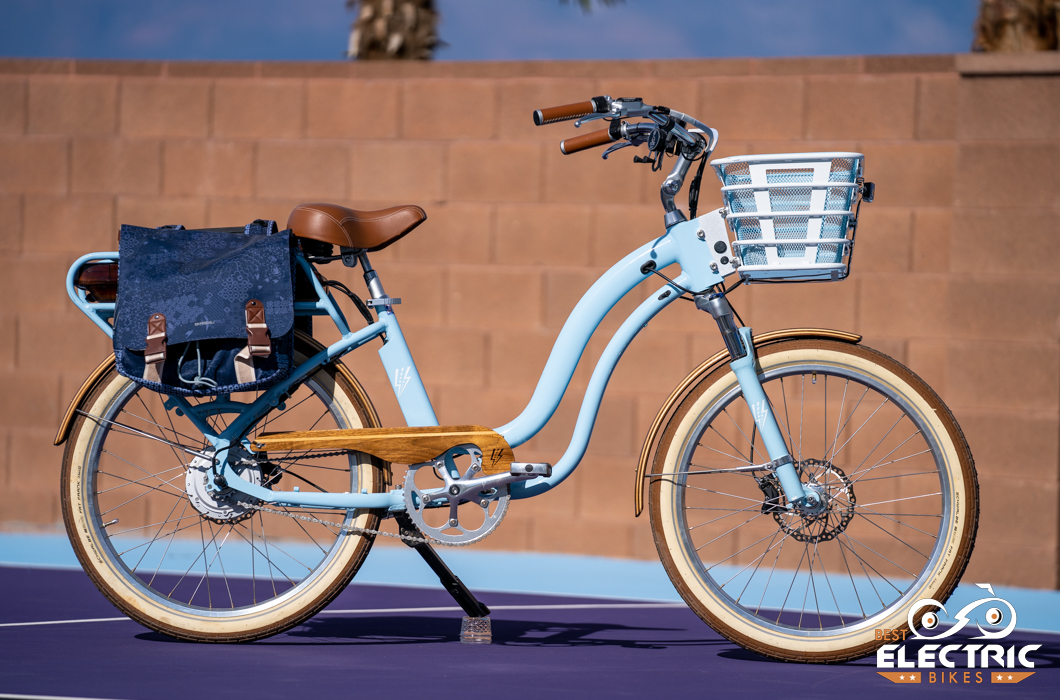 Intro
If a brand wants the public to love their product and see it as their own, something that is truly theirs and not just a thing they bought, one of the best ways to do that is to allow the buyer to customize the project. That's why we have different trim levels on cars and options upon options. In the e-bike world, customization is often limited to the color someone chooses, maybe the frame style or size and the accessories we add at or after the purchase.
Based on the Model S, the Electric Bike Co. thinks that approach is bunk. Of the many e-bikes we've done spec reviews of, none are more customizable than the Electric Bike Co. Model S. In our Electric Bike Co. Model S review we will dig into the many ways a buyer can make this e-bike not just look cool, but fit their needs as a rider.
The Electric Bike Co. starts with all the basics, like frame color, as well as addable accessories like baskets, suspension seatposts and locks, but that really just scratches the surface. The fact is, there are few details on the Model S that the buyer doesn't have some ability to customize, either by selecting its color or by choosing different parts.
The sheer number of items that can be color customized is staggering. Riders can choose the colors of each of the following items: frame, fork, fenders, chain guard, battery case, basket frame and basket liner. Riders can also select black or silver components (bar, stem, crank, seatpost, etc.), as well as black or brown saddle and grips. Battery size (and number of batteries) can be customized to give the rider a maximum range of 60, 100, 140 or 200 mi. A suspension fork and seatpost can be chosen as well. Added up with all of the premium options (including lock and helmet), the Model S goes from sitting in the $2000-$2500 price range to more than $6000. That's a big spend, but every Model S holds the promise of being truly unique.
Customization is cool and creates an opportunity to feel deep ownership of a bike, but that really doesn't mean all that much if the underlying e-bike is of poor quality. The Electric Bike Co. Model S is a compelling e-bike even without the customization. Let's take a look inside.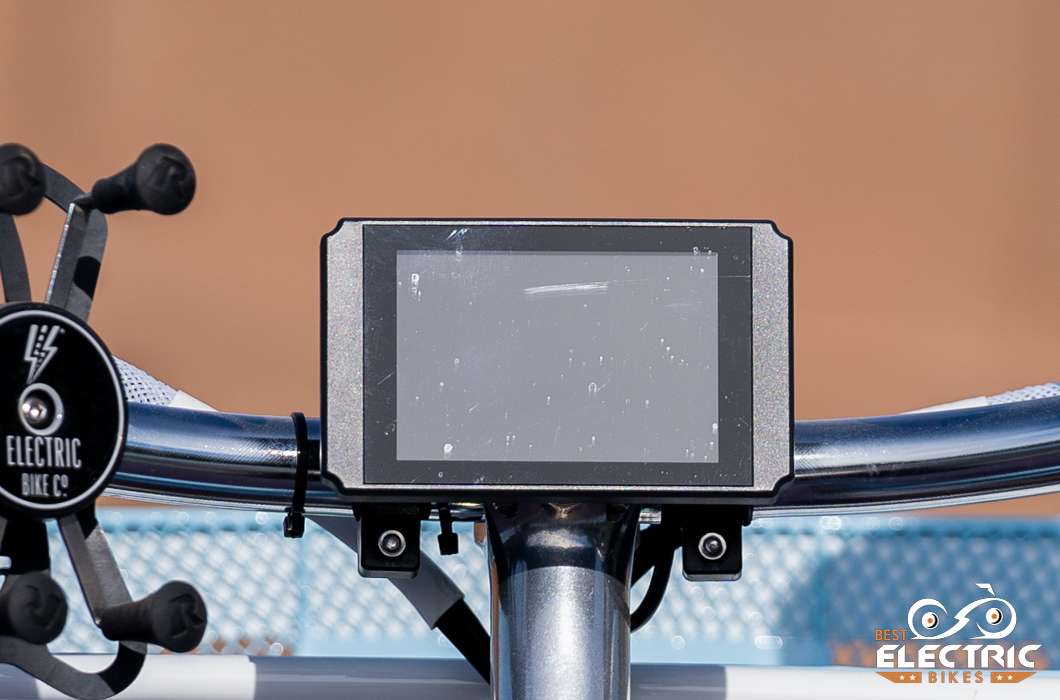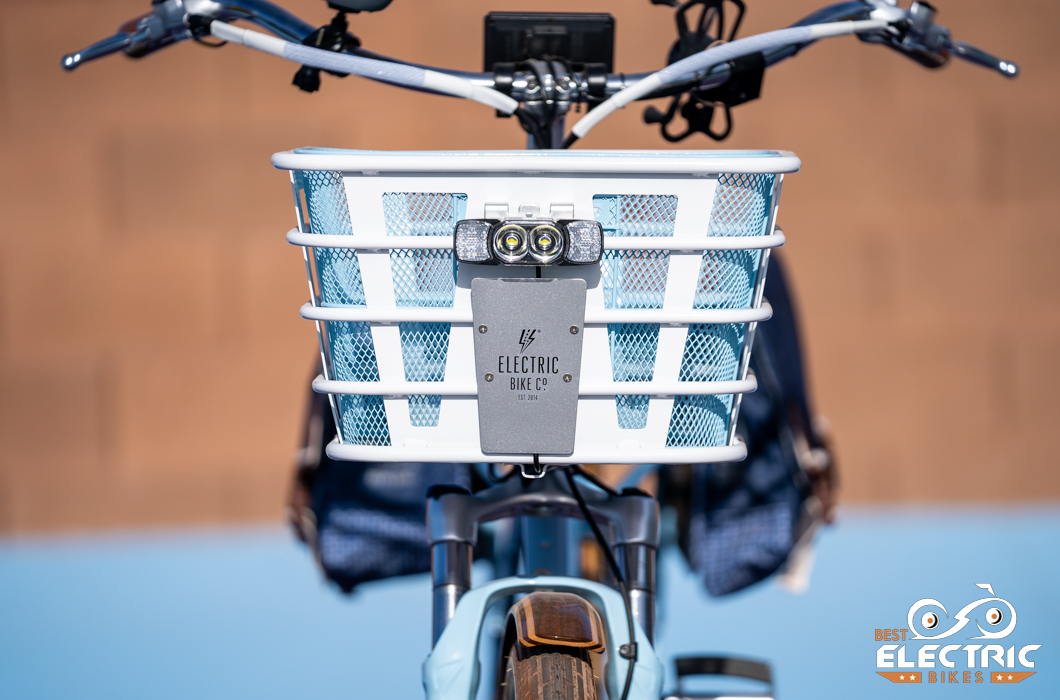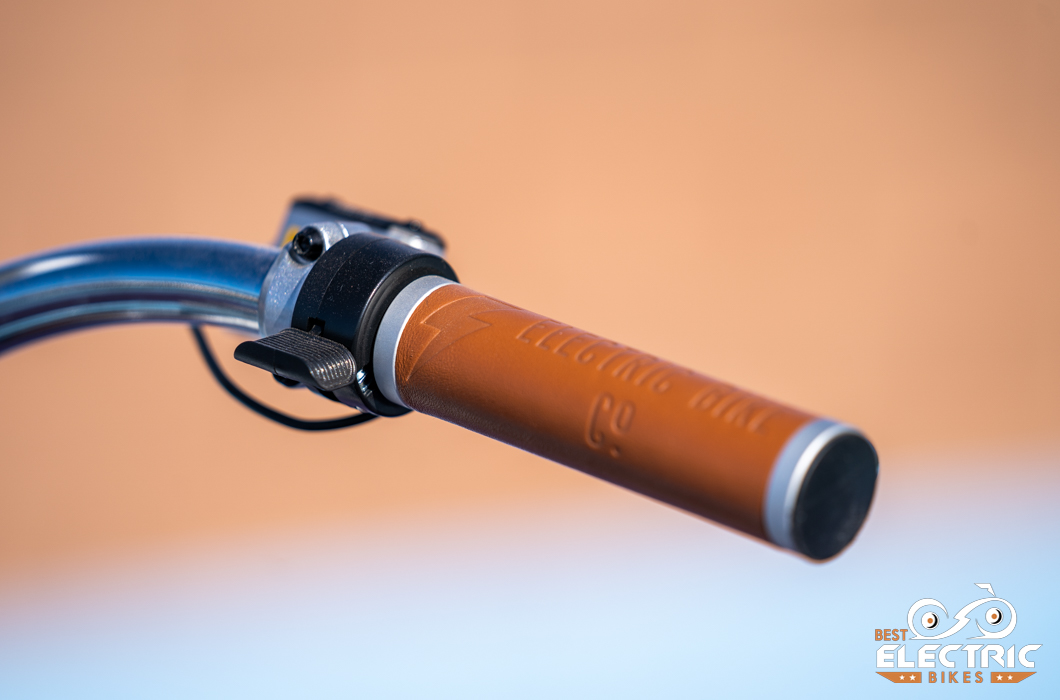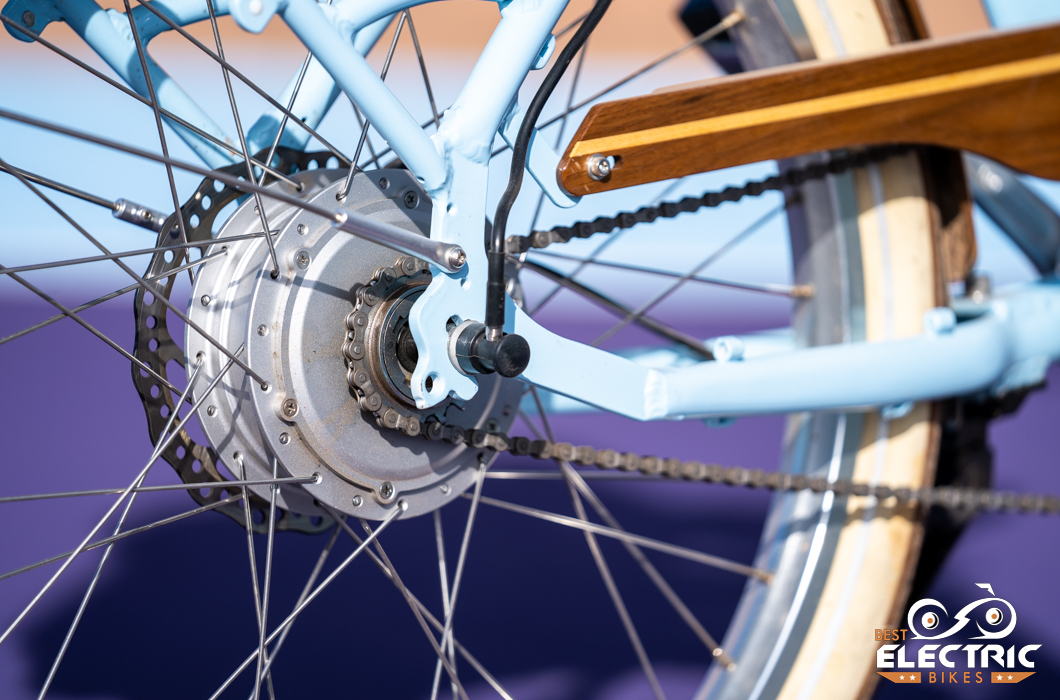 E-Bike Category: Cruiser
Who the Electric Bike Co. Model S Electric Bike Is for:
The Electric Bike Co. Model S is suitable to nearly anyone looking for a quality e-bike with a powerful motor.
Electric Bike Co. Model S Review Ratings:
***All ratings are relative to e-bikes of a similar style and price point***
| | |
| --- | --- |
| Speed/Acceleration | |
| Hill Climbing | |
| Battery Range | |
| Braking | |
| Construction Quality | |
| Handling | |
| Included Accessories | |
| Warranty & Customer Service | |
| Value | |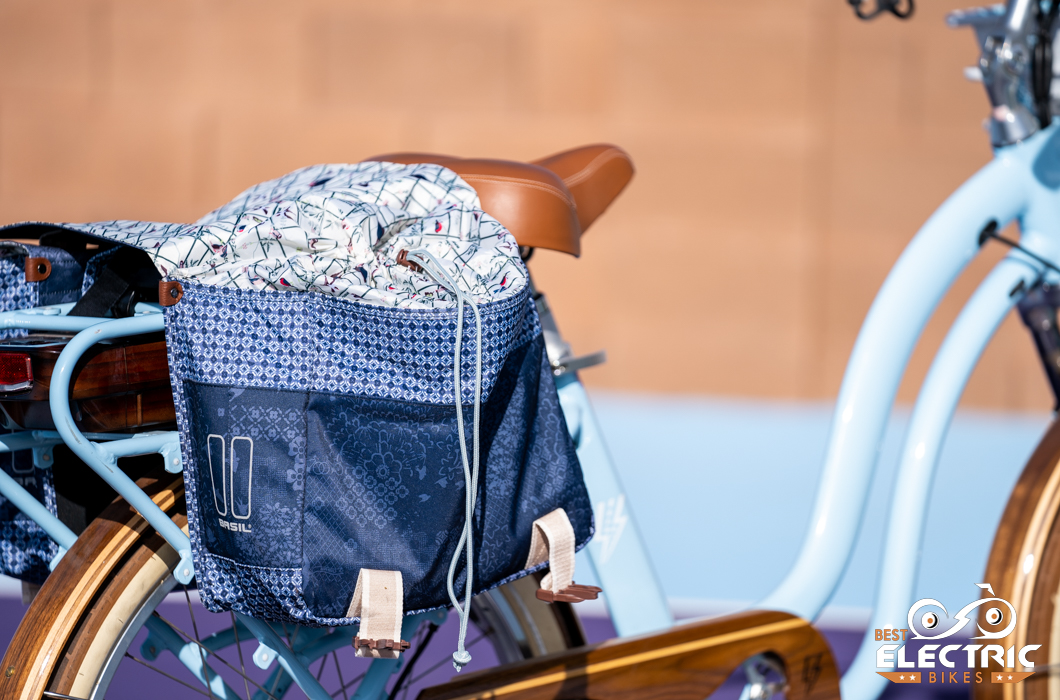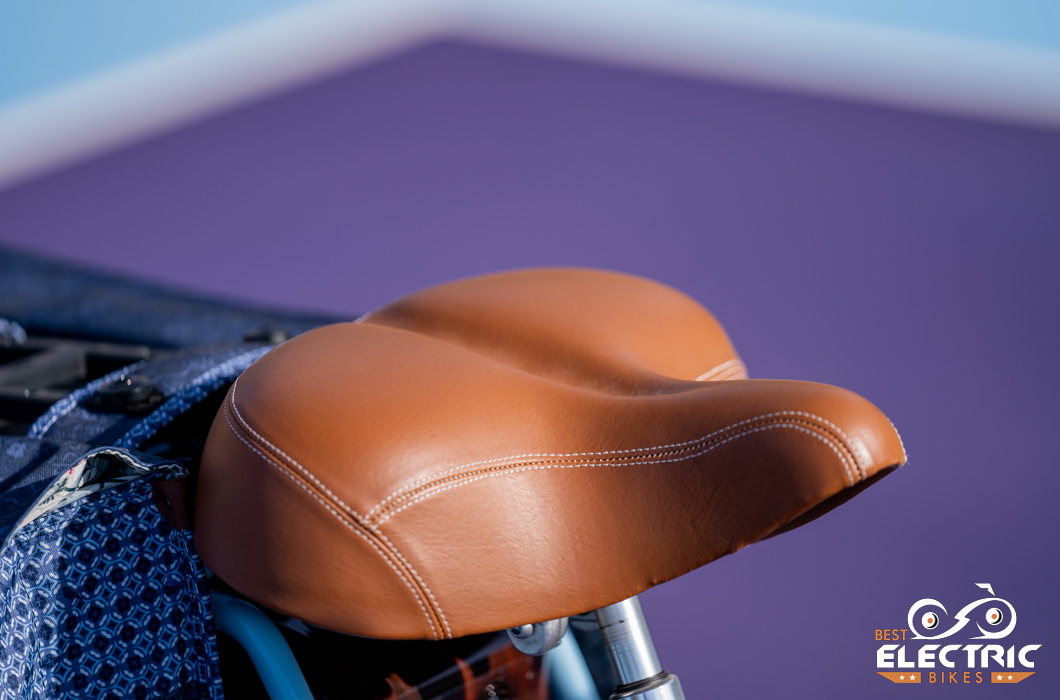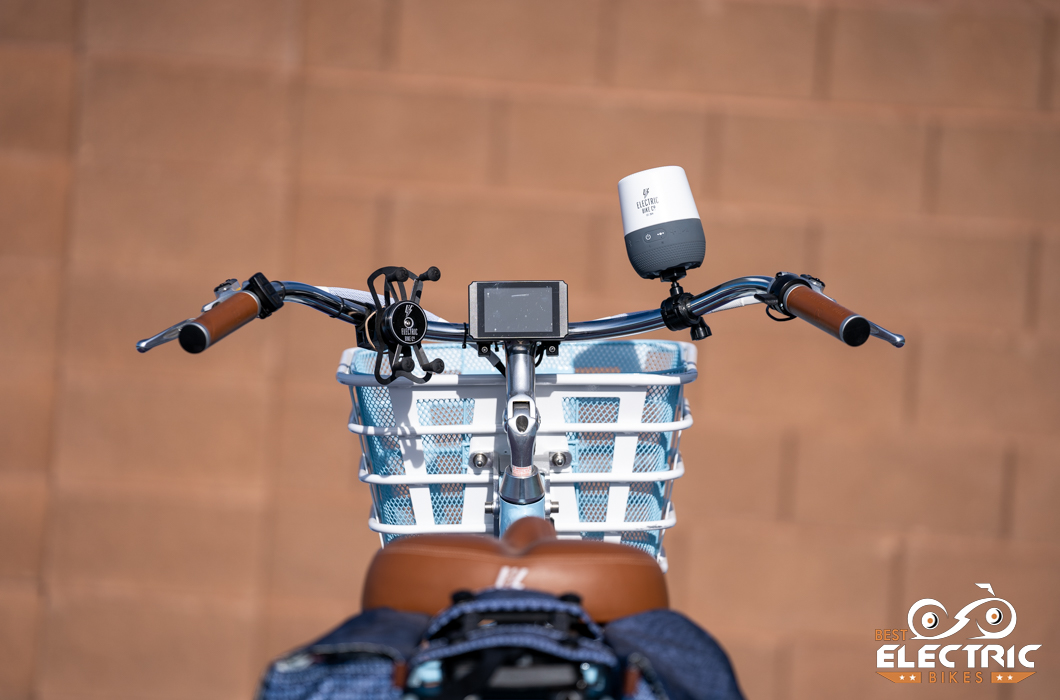 Electric Bicycle Co. Model S E-Bike Specs
Battery: Samsung Lithium-Ion Battery, 556 or 835 Wh
Expected Range: Up to 60 mi. (estimated) on standard battery
Charger: 1.7 Amp Internal Charger, Optional 5 Amp Super Charger
Motor: 1250W brushless, geared Samsung hub motor
Pedal Assist: 5 PAS levels
Throttle: Thumb button
Display: Backlit LCD Color Display
Headlight: Integrated LED
Taillight: Integrated LED
Frame: 6061 Aluminum Frame
Fork: Steel
Fenders: N/A
Kickstand: Adjustable Length Kickstand
Handlebars: 27'' Wide Steel Cruiser Bars
Grips: Locking Hand Stitched Vegan Leather Grips
Drivetrain: Single speed w/7-speed upgrade available
Brakes: Tektro Hydraulic Disc Brakes, 180 mm Rotors
Pedals: Wellgo Aluminum Pedals with Comfort Non-Slip Rubber Protection
Saddle: Custom Leather Comfort Saddle
Tires: Schwalbe Fat Frank 26'' x 2.1'' Puncture Resistant Tires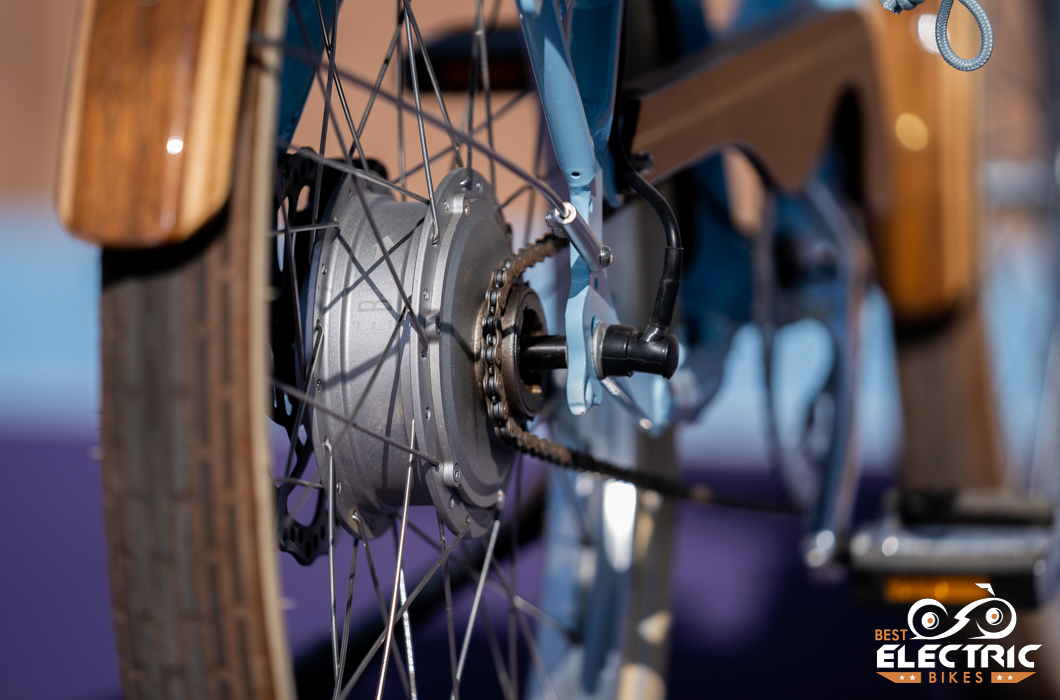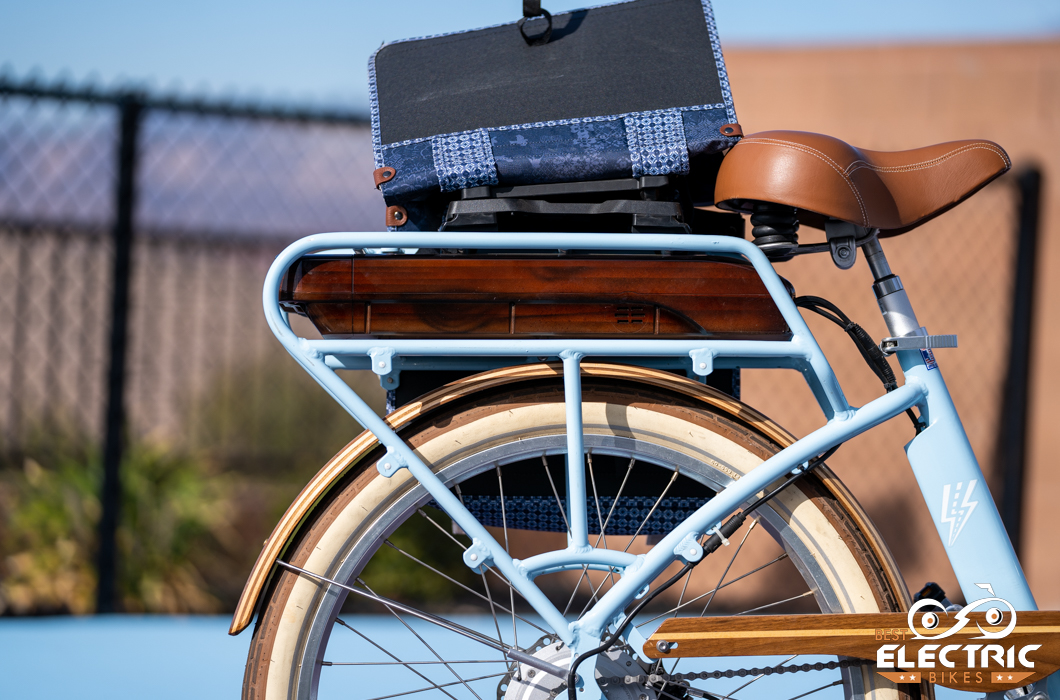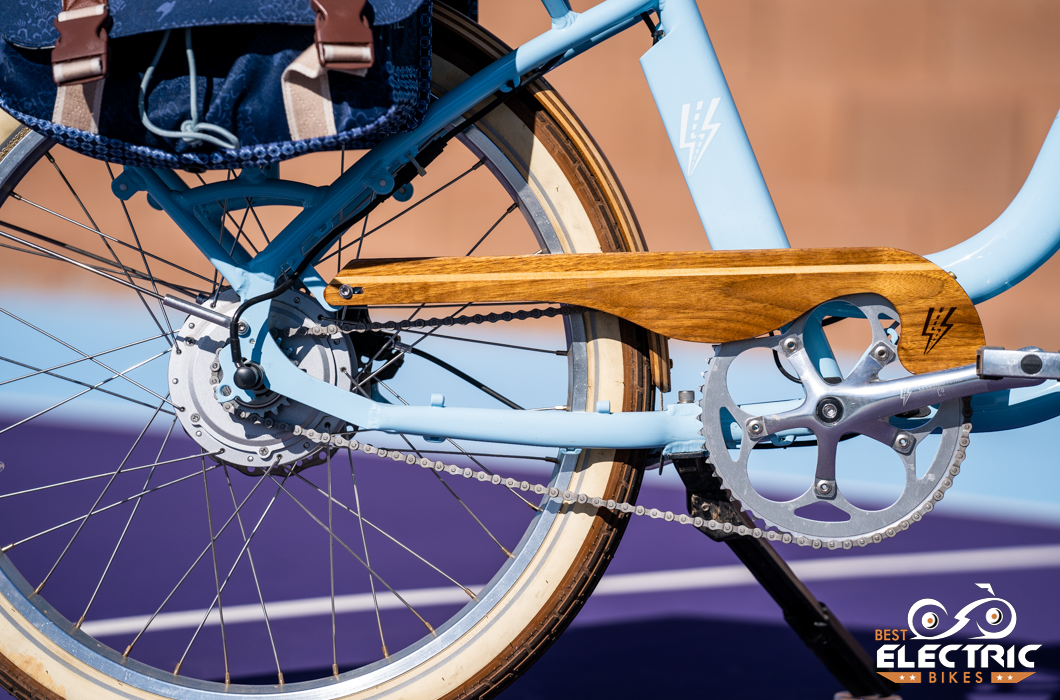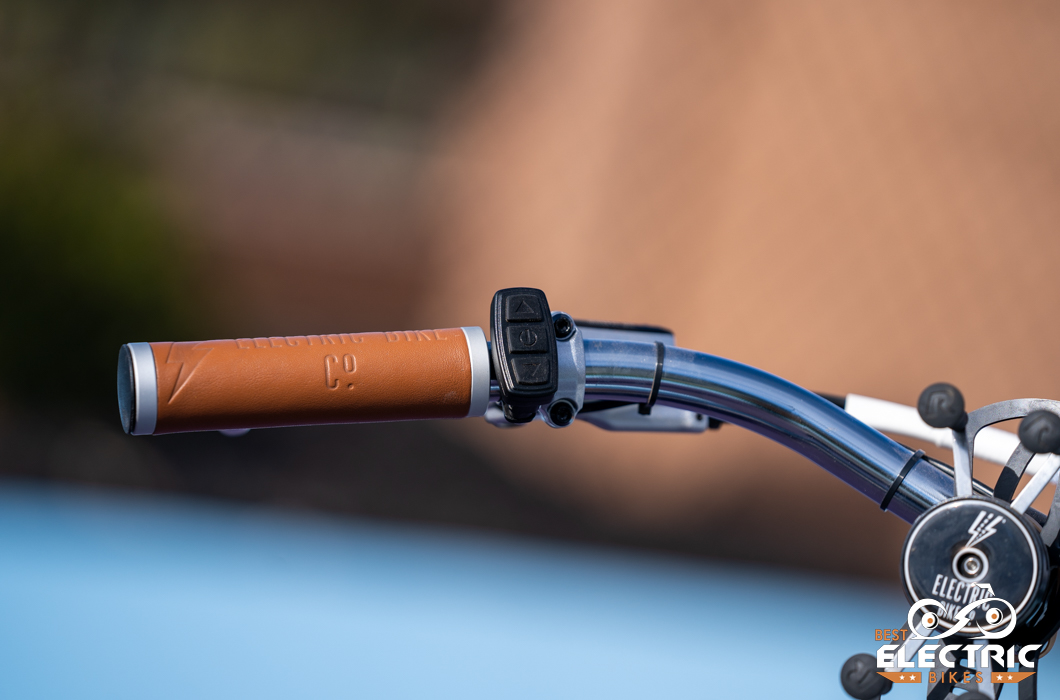 In-Depth Electric Bike Co. Model S Review
Electric Bike Co. Model S Review: Comfort, Handling, and Ride Qualities
Electric cruisers are to e-bikes what the La-Z-Boy is to chairs. It's as comfortable and easy an e-bike to ride as is made. No other kind of e-bike allows the rider to sit more upright, rather than hunched over. They tend to come with the largest, cushiest saddles found on e-bikes. And no other kind of e-bike handles with such ease at low speeds. A cruiser also positions the pedals a little farther in front of the rider than other bikes and that allows the designer to decrease the distance from the seat to the ground—even with proper leg extension—making it easier for riders to start and stop.
While the Model S comes in just one frame style, a step-thru, it does come in two sizes in a way. As buyers scroll through the many options, one of the options is to select 24-in. wheels, rather than the standard 26-in. wheels. Choosing the smaller wheels lowers the standover height from 19 in. to 18 in., bringing the overall saddle height down by an inch.
While buyers can choose the color (black or brown) for their saddle, they can't choose a different saddle, which says something about how comfortable Electric Bike Co. thinks their saddle is.
The handling on the typical cruiser is relaxed, assured. We might even describe their handling as chill. They aren't super maneuverable like some of the e-bikes with 20-in. wheels, but they aren't meant to be. Cruisers do a better job of allowing a rider to sit up and look around at what they are passing. Most have a sweet spot in their handling between 8 and 18 mph.
The Electric Bike Co. Model S is different from a commuter in that riding one is meant to be relaxing. This isn't an e-bike to dodge in and out of traffic with. E-bikes that can turn like a Formula 1 car don't offer the same ability to look around; they require more of the rider's attention.
Electric Bike Co. Model S Review: Motor, Battery, and Drivetrain Performance
The Electric Bike Co. Model S ships as a Class 2 e-bike; that is, it has a maximum pedal-assist speed of 20 mph and can be throttled up to 20 mph as well. It is powered by a 500W brushless, geared hub motor that produces a capable 60Nm of torque. With some assistance from the folks at EBC, the motor can be "unlocked" to allow the Model S to achieve a Class 3 top speed of 28 mph on pedal assist.
The Model S comes standard with a 48V, 576Wh Samsung battery, which EBC says should offer a rider up to 60 mi. of range per charge. At the time of purchase, riders can upgrade to an 864Wh battery for 100 mi. of range, a pair of batteries (one in the basket) for 1440Wh and a projected range of 140 mi., or a pair of larger capacity batteries for 1728Wh and a maximum range of 200 mi. Most folks could commute for an entire month with that kind of range.
The EBC Model S comes standard as a single-speed, just like most traditional cruisers. For riders who live in relatively flat places, a single-speed drivetrain will work just fine. People living in hillier places (like Boston), would do well to spring for the 7-speed drivetrain in order to make climbing hills easier. That the motor produces 60Nm of torque will definitely be helpful on hills, but low gears are still a smart choice.
Electric Bike Co. Model S Review: Braking, Safety, Customer Service & Warranty
While the Electric Bike Co. offers a nearly overwhelming assortment of options in ordering the Model S, one aspect of the e-bike they don't offer any choices on is the brake they spec. That's okay, because their choice of the Tektro Dorado 4-piston hydraulic disc brakes, paired with 180mm rotors, is very hard to argue with. This is a setup that is more than adequate even if someone chooses to unlock the the motor to go 28 mph.
Where safety is concerned, cruisers have always been one of the safer bikes and e-bikes around because their handling is so easy. Riders tend to feel very well-balanced on them, which lends confidence.
We like that the LCD display is large enough to read easily and is mounted above the stem, making it very easy to view when riding; we prefer this to displays mounted next to the brake lever. The issue here is that many people tend to turn left any time they look left.
We often get questions about e-bikes suitable to bigger people. While there are a number of quality e-bikes that can take a load of 300 lbs., be it person plus stuff or just person, there are very few that can handle 400 lbs. or more. The EBC Model S is a rare e-bike in that it has a payload capacity of up to 420 lbs. Anyone worried about whether or not their size might be an issue will likely be reassured by this.
Electric Bike Co.'s warranty is a bit complicated; in some regards, it is quite good. They offer a five-year warranty on the battery and a 10-year warranty on the motor, but beyond that the warranty is thin.
Based on their reviews, their customer service appears to be strong. They seem responsive and buyers seem satisfied with the solutions they offered.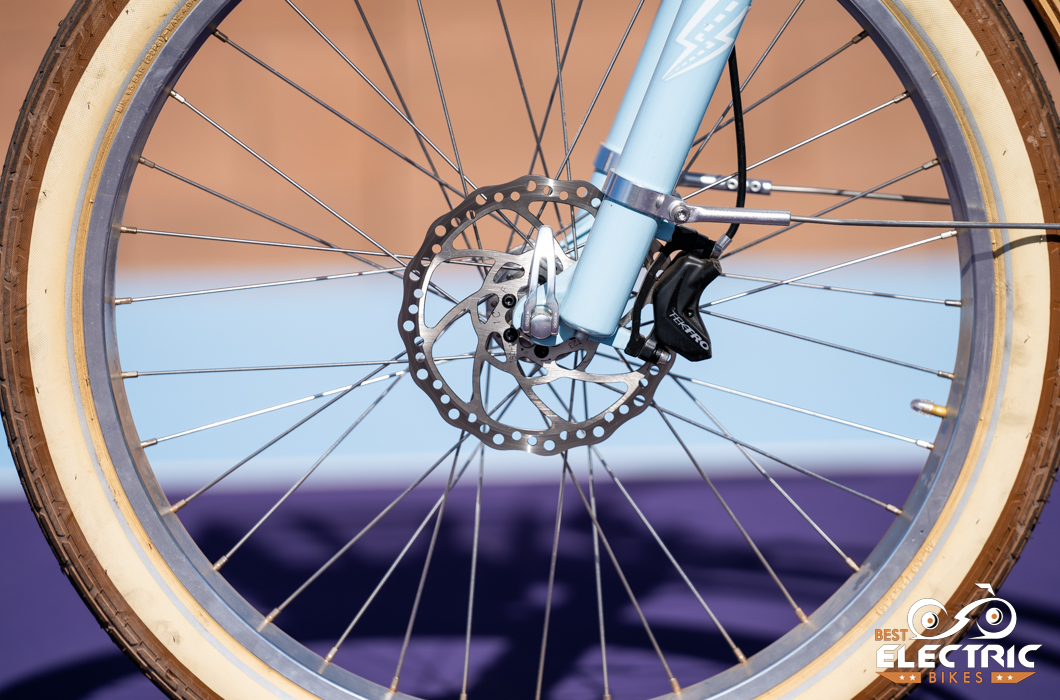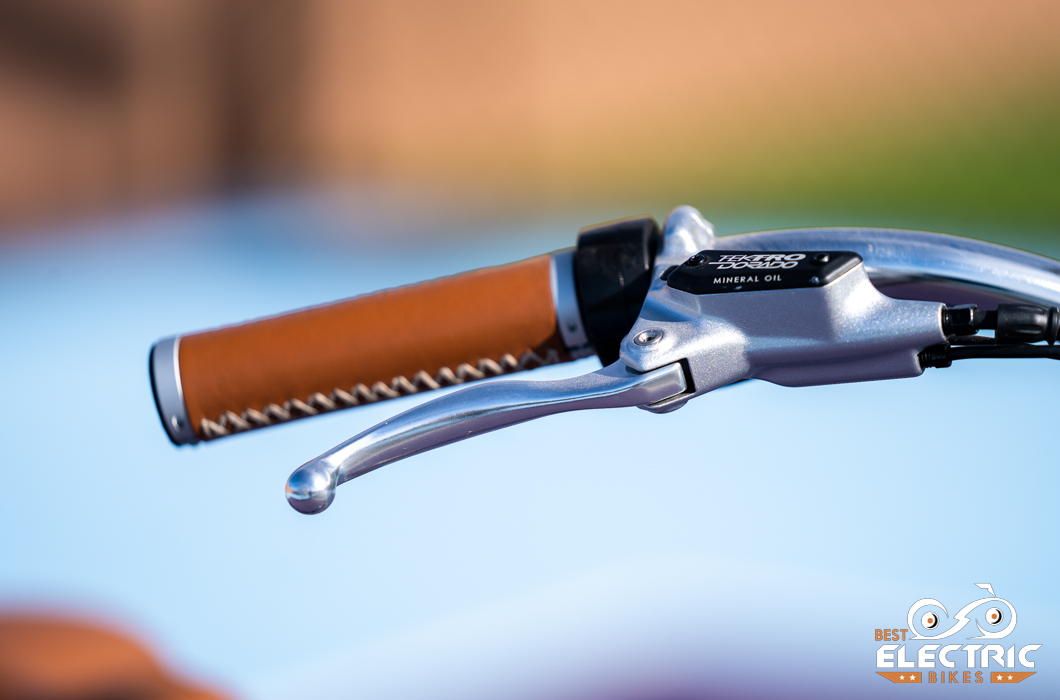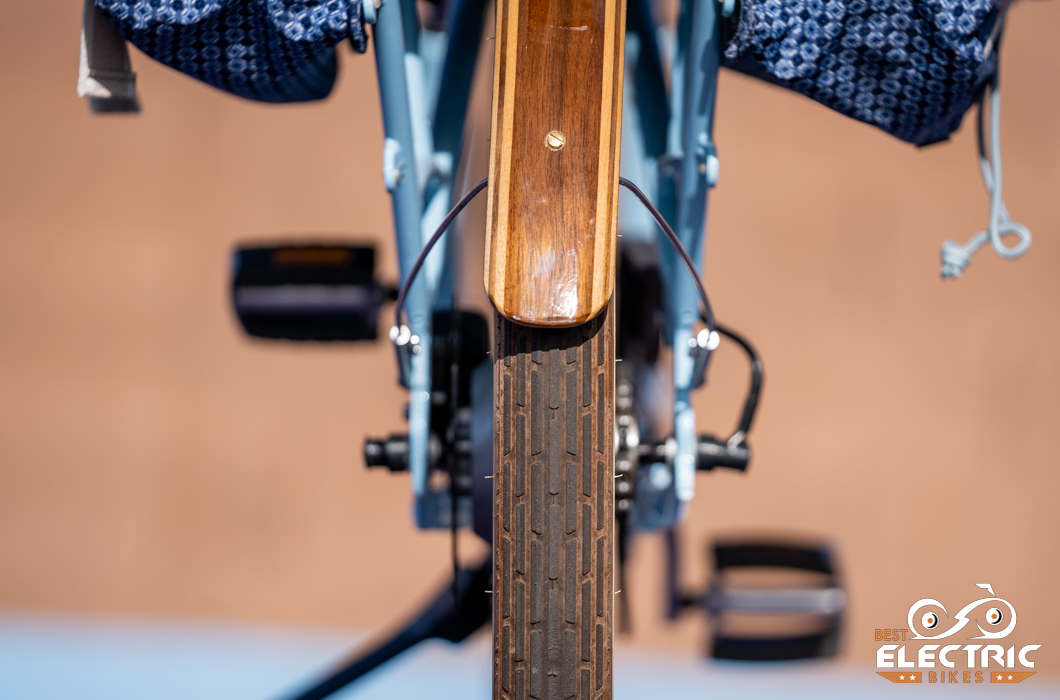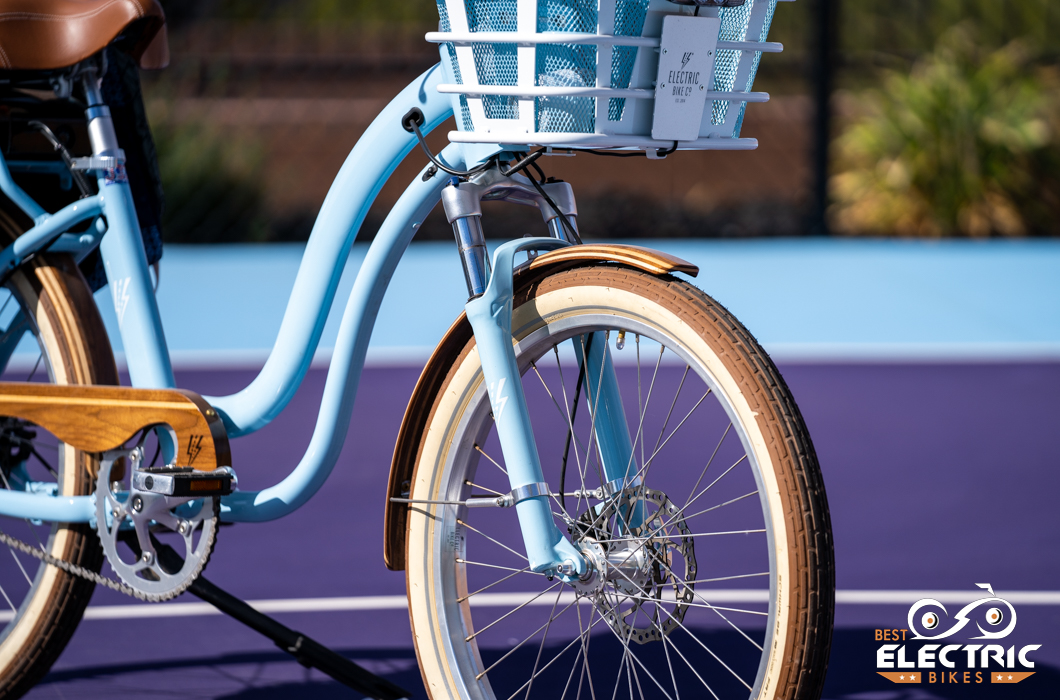 Electric Bike Co. Model S Review: Recommendation/Final Verdict
Most e-bike makers usually offer a number of accessories to help buyers tailor their e-bike purchase to their specific needs. Very few offer many options, though, beyond a few colors and maybe a choice between a traditional frame and step-thru version. The folks at EBC said, "Hold our beer."
Were EBC using lots of choices to try to wow customers into thinking the Model S is a better e-bike than it is, we would call that out. Fooling people is no way to receive a good review from us. But what they've done is make a very capable e-bike that can be customized to a staggering degree.
Another detail of the EBC Model S that isn't captured in the rest of our interview is their decision to spec stainless steel cogs and chainrings as well as sealed bearings. This is a significant upgrade and one they chose to go for because they acknowledge that most people park their bikes outside. In terms of weatherproofing an e-bike, this is a great step.
With a retail price north of $2000, there are definitely less expensive options that offer many of the same features, just without the customization. One perspective is to see the higher price as the cost of entry to choose from their wide array of options in color, suspension, range and drivetrain.
This is one occasion where buying the base model may mean missing out on the real beauty of this e-bike. In that regard, it seems fair to suggest that this e-bike is best-suited to someone who can afford to spend $3000 or more in order to take advantage of the many custom options. No matter what someone can spend, though, this is a very fun e-bike with an exciting purchase experience.
Thank you for reading through our review of the Electric Bike Company Model S review. Still have further questions? Wondering how it compares to a similar e-bike we've reviewed here at Best Electric Bikes? Let us know in the comments below!