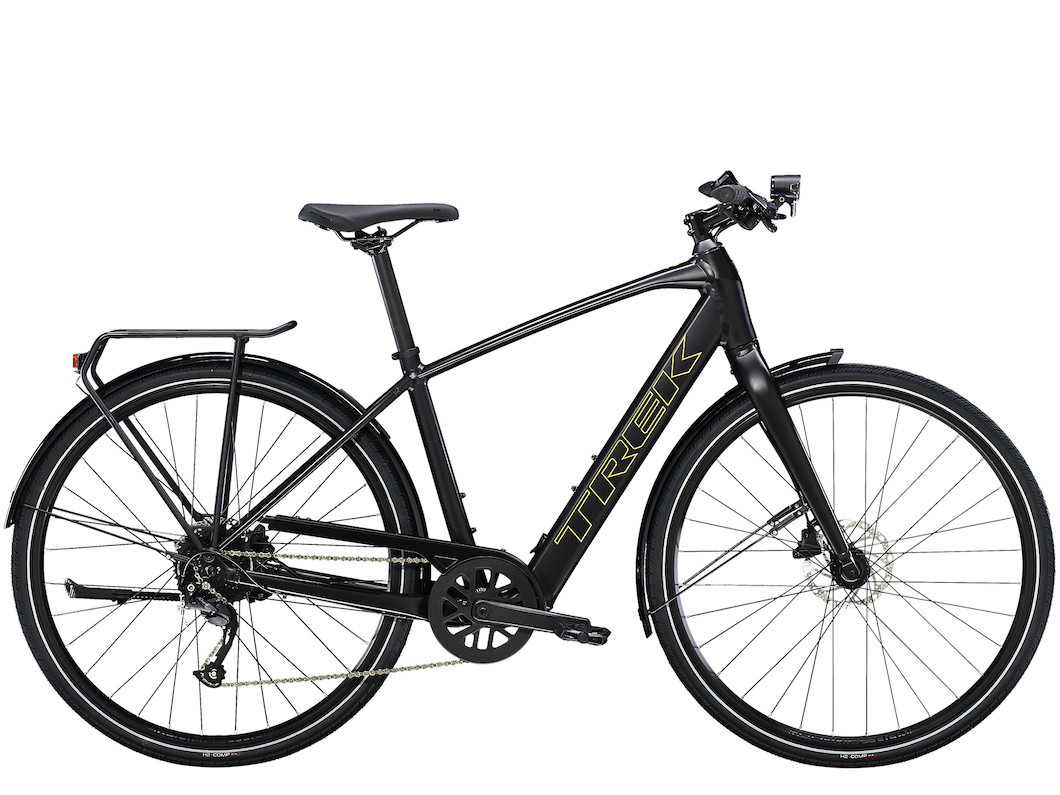 Intro
The Trek FX+2 is an unusual offering among city bikes. It's priced a bit higher than most of the e-bikes we see and its parts pick is more sophisticated at every turn. It's also half the weight of some e-bikes. In our Trek FX+2 review we will look at the many benefits buyers are afforded by spending a bit more than what most of the competition runs.
The majority of e-bikes sold today are priced somewhere between $1000 and $2000. Arguably, a buyer's dollar goes farthest in terms of total value with e-bikes in the $1500 to $2000 range. Above $2000, we see a significant drop in the number of models offered until the price reaches $3000-$3500, the point at which we begin seeing e-bikes with mid-drive motors. The Trek FX+2 goes for $2499—and that's whether someone purchases it online or walks into their local dealer.
The bike biz considers pricing bikes outside of the accepted price points to be a risky move. It can create an apples-to-oranges comparison situation where consumers might struggle to appreciate the value of the more expensive bike. With the FX+2, Trek cast caution to the wind and created an e-bike so well-considered that its higher price can easily be justified.
Compared to the e-bikes against which it is meant to compete, broadly speaking, the Trek FX+2 is lighter, has a better drivetrain and brakes and is meant to give riders a very zippy experience in the saddle. And pedaling it is a joy because Trek included a torque sensor for a very natural pedaling experience.
The Trek FX+2 is rich in compelling details. Let's have a look.
E-Bike Category: Commuter
Who the Trek FX+2 Electric Bike Is for:
Anyone who wants to park the car and get around the city.
Trek FX+2 Review Ratings:
***All ratings are relative to e-bikes of a similar style and price point***
| | |
| --- | --- |
| Speed/Acceleration | |
| Hill Climbing | |
| Battery Range | |
| Braking | |
| Construction Quality | |
| Handling | |
| Included Accessories | |
| Warranty | |
| Value | |
Trek FX+2 E-Bike Specs
Battery: 250Wh
Expected Range:
Charger: 42V, 2A
Motor: 250W brushless, geared hub motor, producing 40Nm of torque
Pedal Assist:
Throttle: N/A
Display:
Headlight: Hermans MR4, 120 lumen
Taillight: Spanninga solo
Frame: 6061 Aluminum
Fork: 6061 Aluminum
Fenders: SKS, plastic
Kickstand: Alloy
Handlebars: Alloy, 660mm wide (S/M sizes) 690mm wide (L/XL sizes)
Grips: Bontrager XR Endurance Comp, lock-on
Drivetrain: 9-speed Shimano Altus
Brakes: Shimano hydraulic disc brakes with 160mm rotors
Pedals: Bontrager City Pedals
Saddle: Bontrager Sport
Tires: Bontrager H2 Comp, 700x40mm
In-Depth Trek FX+2 Review
Trek FX+2 Review: Comfort, Handling, and Ride Qualities
The Trek FX+2 is a city commuter with a slightly different twist. Rather than a 500W (or more) motor, a swept-back bar, suspension fork and tires more than 2 in. wide, resulting in an e-bike weighing more than 60 lbs., the Trek FX+2 takes a more lightweight, and high-performance approach.
We are openly skeptical of the direct-to-consumer brands that claim their one-size-fits-all e-bike can, in fact, fit everyone from 5 feet up to 6 feet 4 inches. We've been riding bikes too long to believe such a claim. As one of the big legacy brands, Trek has a deep history in producing bikes in a variety of sizes in order to offer riders adequate comfort while riding. There is literally nothing more important in a rider's comfort than being on the right size bike. Trek offers the FX+2 in four sizes; they estimate those four sizes will cover everyone from 5 feet 1 inch up to 6 feet 6 inches. That's a claim we are willing to believe.
The FX+2 features an aluminum frame and fork—no suspension—and a relatively flat bar, as well as 700C wheels sporting 40mm-wide tires. The rider will be in a more forward-leaning position and more vibration will reach the rider's hands and rear end than would happen with most of the city bikes we review around the $2000 price point. The rider looking for the most comfortable city bike won't be looking at that Trek FX+2.
But faulting this e-bike for not being more comfortable is a bit like faulting a Formula 1 car for not having a passenger seat. The Trek FX+2's strengths come from the lightweight aluminum frame and fork, those skinnier tires and that flat bar. Think of this e-bike as akin to a BMW—yes, the rider is firmer, but it offers a spirited ride. Compared to many similar e-bikes, the Trek FX+2 will be more confident at speed, while still offering terrific agility at lower speeds. This is one e-bike that will reward the rider's pleasure center with every additional mile per hour of speed gained.
Where most e-bikes in this general price range will weigh upward of 60 lbs., the Trek FX+2 weighs just 40 lbs., fully a third or more less than much of the competition.
Trek FX+2 Review: Motor, Battery, and Drivetrain Performance
In order to deliver a city bike that weighs just 40 lbs., Trek had to approach this e-bike's design in a different fashion. To keep the FX+2 affordable, Trek avoided a mid-drive motor and instead selected a 250W brushless, geared hub motor producing 40Nm of torque. This is a great reminder of one lesson regarding physics and mass: The lighter an e-bike is, the less power required to get it (and the rider) moving.
This is a Class 1 e-bike with a maximum speed of 20 mph. It does not include a throttle.
Trek includes another important (and easily overlooked) detail with the FX+2: a torque sensor. Cadence sensors register whether the rider is pedaling or not and turn the motor on or off based on that input. A torque sensor sends a signal the moment the rider begins pedaling and it dispenses power in proportion to the rider's effort. When the rider goes harder, the motor works harder. Acceleration is entirely more thrilling this way.
Because Trek chose a 250W motor, they were able to go with a 250Wh battery. In an e-bike with a 500W motor, a 250Wh battery would be woefully small, small enough to require the rider to charge the e-bike every night, or two. Trek doesn't give any estimates for range, unfortunately, but we would be surprised if the FX+2 didn't get at least 20 mi. in its highest PAS level and in the neighborhood of 40 mi. in its lowest PAS level.
Those with range anxiety can pick up the range extender battery, which mounts a second 250Wh battery on the frame, doubling the Trek FX+2's range.
The Trek FX+2 is equipped with a 9-speed Shimano Altus drivetrain. It has a wide-range set of gears (11-36t cassette), broad enough to make pedaling at 20 mph easy as well as spinning an easy gear up the hills. We don't often see 9-speed drivetrains in this price range.
It's fair to ask how much it matters to have two more gears than the much more common 7-speed drivetrains. Here's why it is significant: First, two more cogs allows the drivetrain to offer a much broader range of gears, making the high higher and the low lower, which adds up to easier pedaling; riders neither have to pedal like an electric motor to hit top speed nor slog their way up a hill in a gear that is so big it is hard to turn over. Two more cogs also means that the jumps between gears are smaller. But that's not all.
Shimano's higher-end drivetrains feature cogs with a carefully profiled shape that aids the chain shifting from one cog to the next, particularly with downshifting where a slower cadence on a hill can make shifting more difficult. Shifting is both smoother and faster as a result. Also relevant: The action of the shifter is lighter and more precise than with 7-speed (and even 8-speed) drivetrains.
Trek FX+2 Review: Braking, Safety & Warranty
Trek specs Shimano hydraulic disc brakes on the FX+2 and pairs them with 160mm rotors. These rotors are a bit smaller than what we typically see on city bikes (180mm rotors are more common), but its important to bear in mind calipers come in a wide variety of designs and even among two-piston hydraulic calipers, some are more powerful than others. This particular brake from Shimano offers terrific performance
One upside to 160mm rotors is that they allow the rider to feather the brakes more easily, that is, apply them lightly in order to scrub speed, like when approaching a turn. The bigger the rotor, the more "grabby" the brake becomes.
When we consider safety, one of the first details we look at the components that directly support the rider—the seat, handlebar and pedals. With the Trek FX+2, we see no cut corners or anything else that would concern us. Moving on from that, we consider the tires and here we can nitpick. Trek makes a more puncture-resistant commuter tire; it goes for almost double the Bontrager H2 spec'd here, but that's not to say the tires offer no puncture protection; they do.
Considering that Trek is the largest bike company in the world and they couldn't get there by making a habit of producing bikes and e-bikes that didn't stand up to repeated use, the Trek FX+2 is an e-bike we can recommend without reservation.
Trek stands behind their products to a degree very few manufacturers do in this day. They offer a lifetime warranty on their frames and forks. They also offer a two-year warranty on all parts, and that's with no upcharge for an extended warranty. Why offer such a good warranty? Well, it's easy to afford when a company makes great products that are rarely recalled. A warranty this good is advertising for reliability.
Trek FX+2 Review: Recommendation/Final Verdict
When an e-bike falls outside of popular price points it can be hard(er) to evaluate. 'Is it really worth the extra money?' is a fair question. Fortunately, with the Trek FX+2, they stack up so many really terrific features, the only question is why this e-bike doesn't cost more.
The typical $2000 e-bike from one of the direct-to-consumer brands would include a 500W or 750W hub motor, a cadence sensor, a 7-speed drivetrain, decent hydraulic disc brakes and big tires for a cushy ride—possibly a suspension fork as well. It would likely weigh between 65 and 75 lbs.
Before we go any further, that's a terrific e-bike, full stop. We've review lots of e-bikes like this and they provide a great ride. Trek, however, took a very different approach.
For $500 more, Trek offers an e-bike with a torque sensor and a 9-speed drivetrain as well as better brakes that allow the rider a finer sense of control. The 250W motor and 250Wh battery can seem underpowered—on paper—but because they are included in an e-bike that weighs only 40 lbs., they perform more like a 500W motor in a 70-lb. e-bike. Riders unconvinced that a lighter e-bike will go far enough on a small battery can purchase another 250Wh range-extending battery.
Some riders may object to the lack of a throttle, but to be able to throttle from a dead stop to 20 mph, a more powerful (read: also, heavier) motor would be required. The Trek FX+2 is aimed at riders who are happy to pedal. Similarly, to reach Class 3 speeds would require the FX+2 to be spec'd with a more powerful motor.
The presence of a torque sensor fundamentally changes the ride experience, making the motor respond in a much more natural-feeling manner and dispensing with the lag between when a rider starts to pedal and when the motor zings to life a pedal stroke later, which are the big drawbacks to cadence sensors.
Trek also goes the extra mile by including a standard complement of accessories—front and rear lights, front and rear fenders as well as a rear rack.
Admittedly, when we first saw the barest details about the Trek FX+2—250W hub motor, 250Wh battery, and a $2499 price tag, we wondered what they were up to. In digging into this e-bike's many strong features the price tag became easier and easier to understand until we found ourselves nodding. For anyone who budgeted $1500-$2000, the Trek FX+2 is a stretch, but given the weight, the motor and battery, the torque sensor and the drivetrain, this is one e-bike that more than justifies its cost.
Among the many bikes we've looked at in the $2000-$3000 price tier, this is absolutely one of our favorites.
Thank you for reading through our review of the Trek FX+2. Still have further questions? Wondering how it compares to a similar e-bike we've reviewed? Let the Best Electric Bikes team know in the comments below!
Reader Interactions