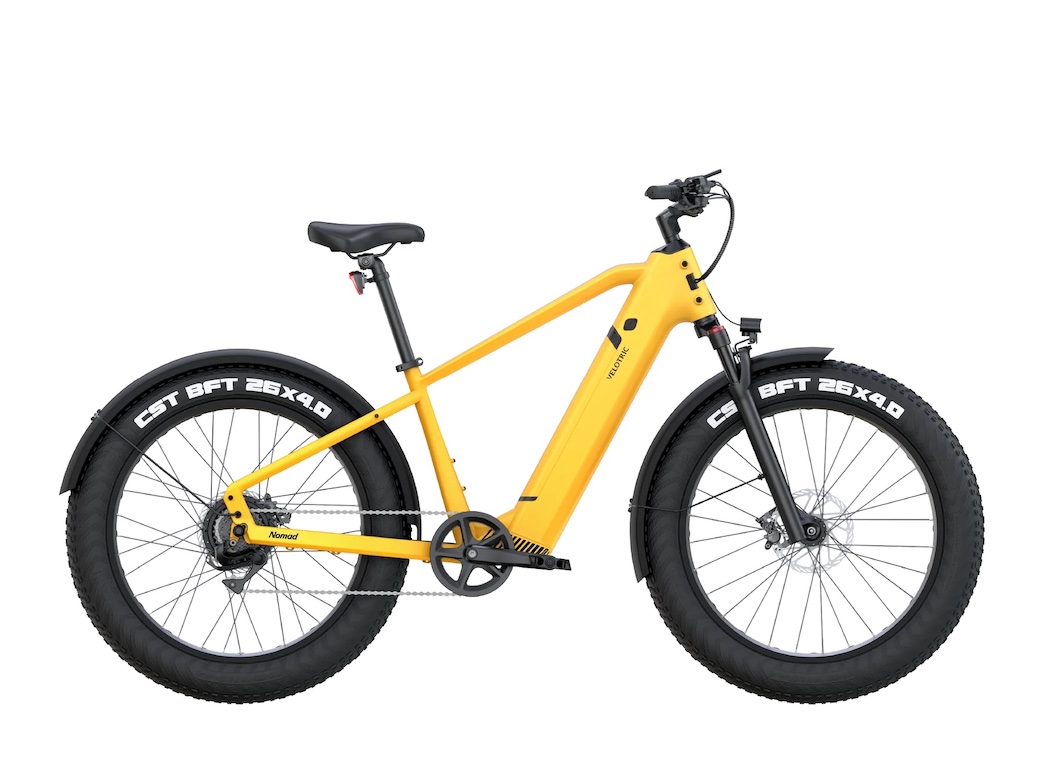 Overall Rating: 4.5/5
Pros:
750W brushless hub motor produces 75Nm of torque for excellent climbing ability
720Wh LG/Samsung battery can provide as much as 55 mi. of range on a single charge
8-speed Shimano drivetrain for more gear choice and a lower gear for climbing
Comes in both a traditional frame and a step-thru frame to fit a broader range of riders
Large LCD display that is easy to read on bumpy roads
Cons:
Kickstands and fenders tend to rattle when riding rough roads and trails
Small selection of accessories may frustrate people who want to commute on the Nomad 1

Velotric Nomad 1 Review: Intro
The extra power that comes with an e-bike presents a rider with more options than just going faster and feeling the wind rush over their body. More power, when combined with bigger tires, can mean going more places, like places only reachable by dirt road or maybe even a Jeep trail. The Velotric Nomad 1 is a fat tire e-bike with serious versatility.
Velotric is a relatively new e-bike company and the Nomad 1 is their entry into the all-terrain category. In our Velotric Nomad 1 review we will examine this e-bike's capabilities and strengths, as well as a few points worth considering.
The Velotric Nomad 1 begins with a powerful 750W brushless, geared hub motor paired with a 692Wh Panasonic battery estimated to give the Nomad 1 an average of 50 mi. per charge. An 8-speed drivetrain provides gearing wide enough to handle riding on unpaved roads. Hydraulic disc brakes give the rider terrific control as well as plenty of stopping power. And fat, knobby tires will find purchase even on soft or loose ground.
Those are the basics. Let's take a deeper look at the Velotric Nomad 1
E-Bike Category: All-terrain e-bike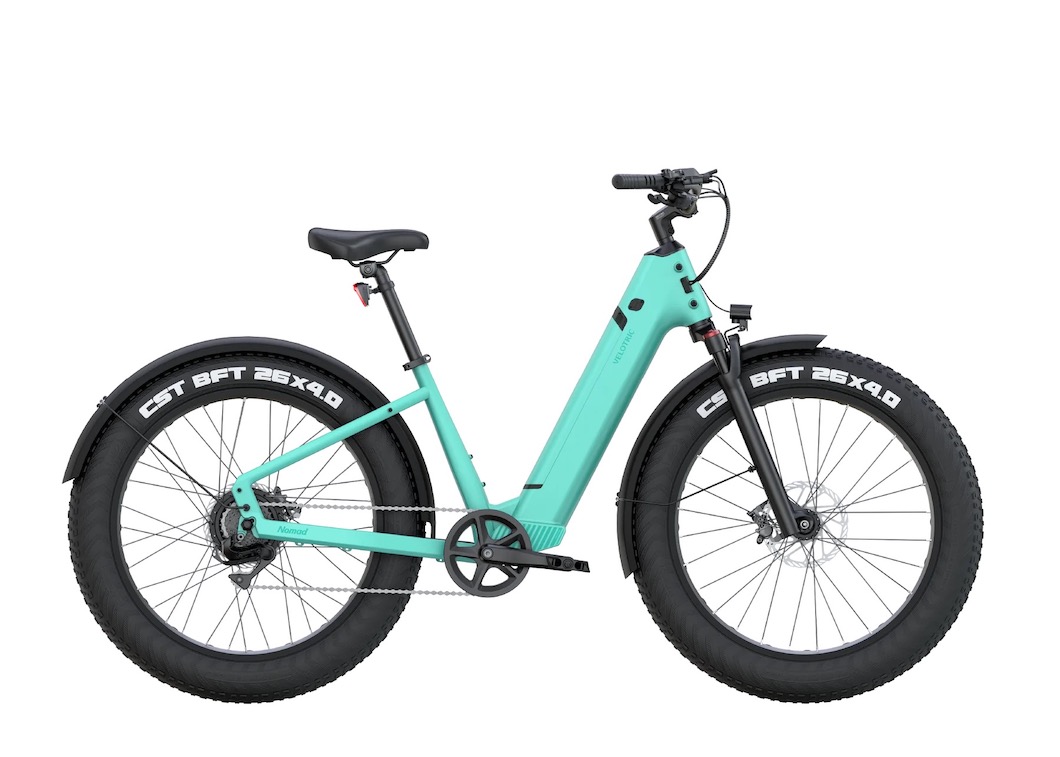 Who the Velotric Nomad 1 Electric Bike Is For:
The Velotric Nomad 1 is great for anyone looking for an affordable all-terrain e-bike.
Velotric Nomad 1 Review: E-Bike Specs
Battery: 48V, 692Wh Panasonic lithium-ion
Expected Range: 50-52 miles on average
Motor: 500W brushless, geared mid-drive motor
Pedal Assist: 0-5 level pedal assist
Display: Backlit LCD
Headlight: Included
Taillight: N/A
Frame: 6061 Aluminum
Fork: Air/oil suspension fork with 80mm travel
Fenders: front and rear included
Kickstand: Heavy duty
Handlebars: aluminum, 700mm wide
Grips: rubber
Drivetrain: 8-speed Shimano
Brakes: Hydraulic disc brakes with 180mm rotors
Pedals: Alloy, platform
Saddle: Comfort ergonomic, 220mm wide
Tires: 26 x 4-in., puncture resistant
Velotric Nomad 1 Review Ratings:
***All ratings are relative to e-bikes of a similar style and price point***
| | |
| --- | --- |
| Speed/Acceleration | 4.5/5 |
| Hill Climbing | 4.5/5 |
| Battery Range | 4/5 |
| Braking | 4/5 |
| Construction Quality | 4/5 |
| Handling | 4/5 |
| Included Accessories | 4.2/5 |
| Warranty & Customer Service | 4/5 |
| Value | 4.0/5 |
In-Depth Velotric Nomad 1 Review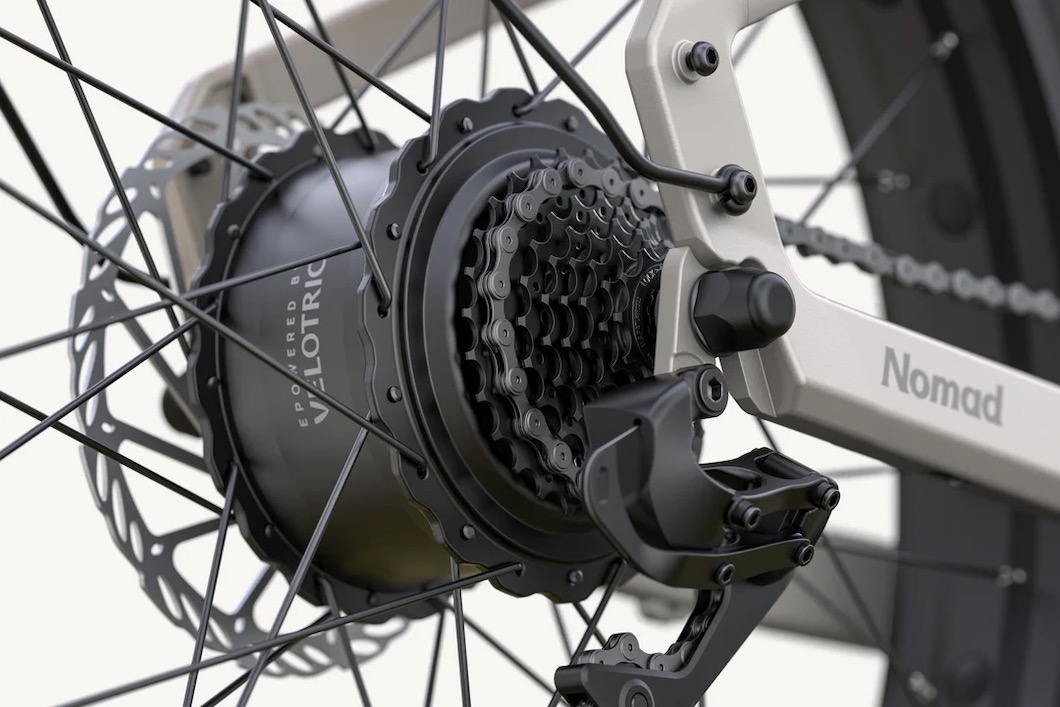 Velotric Nomad 1 Review: Comfort, Handling, and Ride Qualities
One of our favorite features of the Velotric Nomad 1 are its wide tires. Fat tires, that is, those tires that are 4-5 in. in width, ride with the cushy feel of an air suspension. So long as they aren't pumped up to 40 psi (or more), they have a magic carpet quality to them that makes riding on unpaved roads and paths a much less jarring experience than it can be.
The Velotric Nomad 1 comes with 4-in.-wide tires and when pumped up to 10-15 psi (less for lighter riders) they make moderately rough roads feel like they are paved. The fat tires combined with the 80mm-travel fork do more to give the rider a comfortable ride than any saddle can do. Not only will this tire and fork combination make unpaved roads feel smooth, it will make bad pavement feel like glass.
The big tires and wheels add a fair bit of heft to the Nomad 1, which slows its acceleration a bit, but gives the ride a very secure and stable feel—more SUV than sedan. The backswept bar allows the rider to sit a bit more upright than on a typical mountain bike, allowing the rider a better view of the world around them.

We consider the Velotric Nomad 1 an all-terrain bike. A true mountain bike would be equipped with a suspension fork with more travel and a drivetrain with more gears covering a wider range, for starters. Anyone wanting to ride singletrack trails and truly rough terrain would do well to consider a different e-bike. But for the person looking to simply get away from it all, to ride unpaved roads or possibly even jeep trails, the Velotric Nomad 1 is worth considering.
Velotric Nomad 1 Review: Motor, Battery, and Drivetrain Performance
A common issue we encounter with e-bikes in the sub-$2000 price tier is that the hub motor will perform well on flat terrain but falter on hills. The Velotric Nomad 1 is unlikely to display any such weakness. Its 750W motor peaks at a massive 1200W and produces 75Nm of torque. This is one e-bike that should climb hills without stalling. Lighter riders may be shocked with just how aggressively this bike climbs and big riders should be pleased when it doesn't stall the moment the road goes uphill.
The 48V, 15Ah (720Wh) LG/Samsung battery carries quite the charge; Velotric estimates that riders can cover as many as 55 mi. per charge. If that seems like a lot, it's important to bear in mind that unpaved and uneven terrain will draw down a battery more quickly than if a rider is pedaling on pavement. This battery can power a PAS 5 adventure on backroads without fear of being stranded 15 miles in.
With the battery fully integrated into the Nomad 1's down tube the low-slung weight contributes to the e-bike's stable handling.
It's not often that we see an 8-speed drivetrain on a sub-$2000 e-bike. The Shimano drivetrain spec'd on the Nomad 1 will last under hard use and offers a somewhat wider gear range than its 7-speed counterparts, though not as wide as an eMTB. We also like the trigger shifter selected; it's easy to learn what the two different triggers do and muscle memory after a few rides will make shifting seamless and quick.
Velotric Nomad 1 Review: Braking, Safety, Customer Service & Warranty
Seeing an upgrade in the drivetrain compared to other similarly priced bikes usually means that something was sacrificed elsewhere, like in the brakes. We're pleased that Velotric chose hydraulic disc brakes matched with 180mm rotors for excellent speed modulation and prompt stopping.
Riders planning to explore the backcountry need a level of confidence that if a road turns steep—either up or down—that their e-bike will have the power in both the motor and the brakes to go up and come down safely. The Velotric Nomad 1 is an e-bike that will offer riders the security they need to explore new places.

Riding into the backcountry can be a problem for e-bikes that don't have sufficiently watertight seals for the electronics. The Velotric Nomad's electronics feature IPX6-grade seals, meaning this is an e-bike that can go splashing through a creekbed or stream crossing and won't end up shorting out.
The Velotric Nomad 1 is new enough that it hasn't been reviewed on their site. Looking at the reviews for the Discover 1, the company appears to be fairly responsive to customer issues. One reviewer noted that they don't answer the phone but are very responsive by email. Most of the issues relayed have to do with assembly, it seems.
The warranty covers all parts and labor for one year from date of purchase, much like what we see with other D2C brands.
Velotric Nomad 1 Review: Recommendation/Final Verdict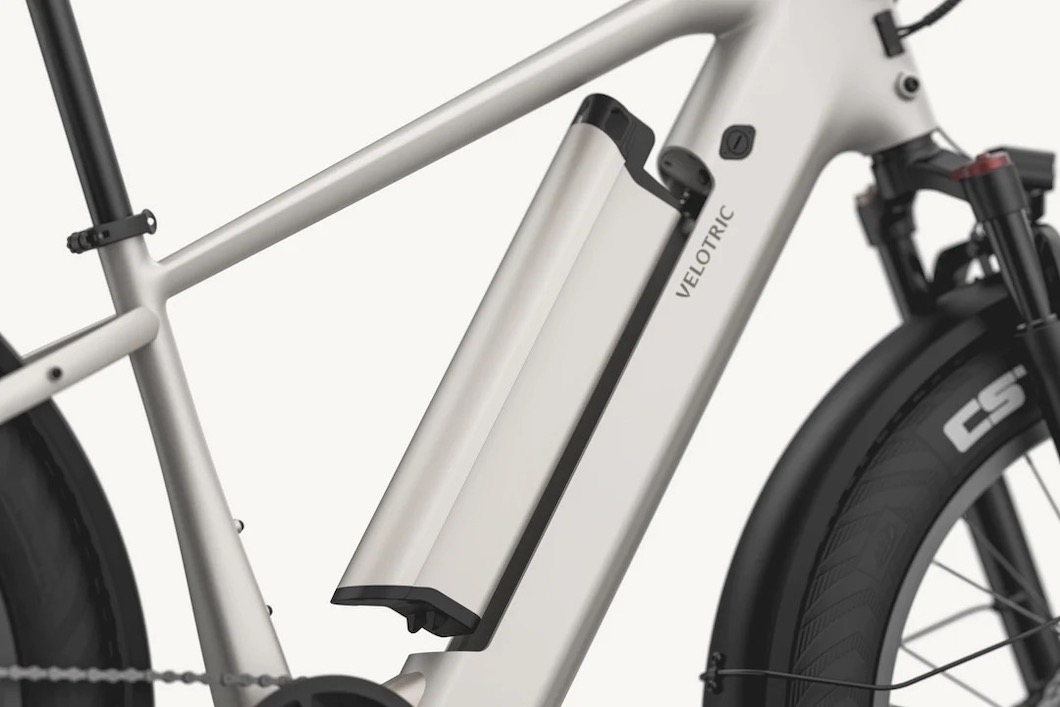 We don't often see an all-terrain e-bike so well-equipped in this price range. Hydraulic disc brakes? Yes. Fat tires? Sure. Powerful batteries? Absolutely. However, 8-speed drivetrains are rare in this price range, as are 750W brushless hub motors, which make the Velotric Nomad 1 an e-bike of above average value.
Anyone planning to explore backcountry roads, jeep trails and the like may find the fenders and kickstand to be problematic. On bumpy terrain they can rattle and if conditions turn muddy the fenders can pack up and stop the wheels from turning.
With sub-$2000 e-bikes, once a shopper has selected the type of e-bike that suits their needs, the next goal is to find the best value and stretch each dollar like saran wrap. The Velotric Nomad 1 presents a pleasant surprise where value is concerned.

As is typical with e-bikes that come in two frame designs, we are encouraged that the Velotric Nomad 1 will fit more people than a one-size-fits-all design, but we encourage riders closer to the edges of their fit guidelines to look closely at the bike measurements before committing to a bike.
The LCD display is large and easy to read, something that is important when riding on uneven terrain. Small displays, even if they are color, can be difficult to read if the road is bumpy.
One place where Velotric doesn't compare as favorably as with other brands is in the accessories they offer. They offer a front rack, but not a rear one, nor do they offer any baskets. Anyone who wants to commute to work with the Velotric Nomad 1 may find themselves wearing a backpack.
Velotric is a relatively new brand and we are encouraged by the creativity they bring to the world of e-bikes. This is a brand working hard to provide more for less. Their choices make this apparent in an unmistakable way.
Thank you for reading through our review of the Velotric Nomad 1. Still have further questions? Wondering how it compares to a similar bike? Leave us a question in the comments below and the team at BestElectricBikes.com will answer!
Reader Interactions