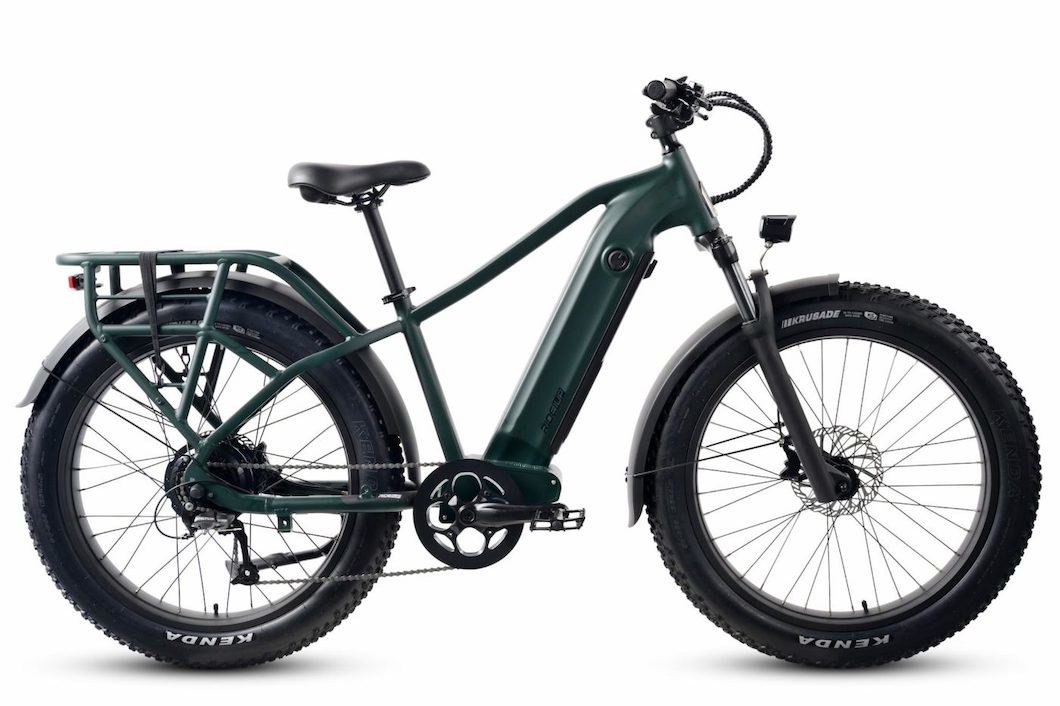 Intro
Fat-tire e-bikes present an exciting opportunity for riders. While they can serve as comfy commuters and make for a fun way to get outside, they offer riders a chance to explore the backcountry and go places that would be hard to reach by any other method. The Ride1UP Rift is an affordable fat-tire e-bike loaded with features that anyone wanting to strike out for the hinterlands would find ideal.
In our Ride1UP Rift review we will look at the strategic choices Ride1UP made to give the Rift an impressive off-road ability. Even the barest facts are impressive. They start with a 750W motor powered by a 960Wh battery, added a 120mm-travel fork, an 8-speed drivetrain and hydraulic disc brakes that are more powerful than most.
Riders who want to tote along everything from camping equipment to camera gear will find the Rift an especially able e-bike thanks to its aluminum frame and integrated rack. It can bear more weight than most because the rack isn't bolted on, it's welded in place.
The Ride1UP Rift is made in two different frame styles, one with a traditional frame and another with a step-thru design to fit more riders than is possible with just one frame. It also comes with an impressive accessories package, making it a ready-to-go purchase. Let's take a deeper look.
E-Bike Category: Fat tire
Who the Ride1UP Rift Electric Bike Is for:
Anyone who wants an especially versatile e-bike that can do everything from exploring to commuting.
Ride1UP Rift Electric Bike Review Ratings:
***All ratings are relative to e-bikes of a similar style and price point***
| | |
| --- | --- |
| Speed/Acceleration | |
| Hill Climbing | |
| Battery Range | |
| Braking | |
| Construction Quality | |
| Handling | |
| Included Accessories | |
| Warranty | |
| Value | |
Ride1UP Rift E-Bike Specs
Battery: 960Wh Lithium-ion
Expected Range: 45-60 mi. Depending on rider and terrain
Motor: 750W brushless, geared hub motor, 95Nm torque
Pedal Assist: 5 PAS levels
Throttle: thumb button
Display: Color LED
Headlight: 80 Lux
Taillight: 48V
Frame: 6061 Aircraft aluminum
Fork: 120mm-travel air spring
Fenders: Included
Kickstand: Included
Handlebars: Alloy, 680mm wide, 9° rise
Grips: Lock-on
Drivetrain: 8-speed Shimano Altus, 12-32 cassette
Brakes: 4-piston hydraulic disc brakes, 180mm rotors
Pedals: Metal, platform, with reflectors
Saddle: KNUS Ergo Gel
Tires: 26 x 4.0-in. Kenda Krusade
In-Depth Ride1UP Rift Review
Ride1UP Rift Review: Comfort, Handling, and Ride Qualities
Ride1UP's lineup of e-bikes is truly diverse. They've got a commuter, a lightweight urban, a cruiser, a moped-style and more. To that they've added their first fat-tire/all-terrain e-bike, the Rift. It comes in two versions—a traditional frame and one with a step-thru design. The two frames are similar enough that the only real change between the two designs is the standover height, which on the step-thru model is 19 in. As happens often with direct-to-consumer e-bikes, the reach on the Rift is long enough that more diminutive riders may find the reach to the handlebar to be a bit of a stretch.
All-terrain e-bikes tend to have powerful (750W) motors and big batteries to power them, which can make them rather heavy, and at 84.5 lbs., the Rift run similar to its competitors. That said, it is spec'd with a 120mm-travel air-spring fork, making the suspension far more effective.
One detail we like to see with e-bikes meant for off-road use is a frame design that will handle well on rough terrain and that's another terrific detail about the Rift; this is a design that will be plenty stable over dirt roads and natural surface trails.
Riders looking for an e-bike that prioritizes comfort ahead of most other priorities will dig the combination of 4-in.-wide tires and 120mm-travel suspension fork. Just be sure not to pump the tires up to more than 20 psi.
Ride1UP Rift Review: Motor, Battery, and Drivetrain Performance
Armed with a 750W brushless, geared hub motor that produces 95Nm of torque, the Ride1UP Rift has the power necessary to take a rider most anywhere and should the legs tire, a thumb-button throttle can get someone home. The Rift ships as a Class 2 e-bike with a throttle and a maximum pedal-assist speed of 20 mph, but it can be unlocked for Class 3 top speed.
We've seen battery capacity growing in fat-tire e-bikes and the Ride1UP Rift follows that trend with a 960Wh battery. While bigger may not always be better, in this setting the increase in battery size is understandable, maybe even warranted. Let's consider why.
Fat-tire/all-terrain e-bikes are intended to be used to explore. These are e-bikes that are meant to keep going where the pavement ends and we may not always know where they lead or how long a loop or an out-and-back might last. And if there is one place where people absolutely don't want to risk running low on charge it would be the middle of nowhere.
Ride1UP estimates that the Rift will carry riders between 45 and 60 mi. on a single charge. That range owes to variables like the surface quality, terrain and PAS level. For the conservative rider, the Rift can make for all-day adventures.
The 8-speed Shimano Altus drivetrain is a nice touch and makes this a more capable e-bike than some in this price range. The Altus drivetrain features a trigger shifter that is much easier to operate on the fly than the thumb shifter we usually see with Shimano's 7-speed systems. The 8-speed system comes with another benefit—a wider gearing range—thanks to its 12-32 cassette; the lowest gear with this drivetrain is lower than the low gear we see on the 7-speed systems.
Some shoppers might wonder why how low a gear an e-bike possesses matters. Can't the motor do all the work? Isn't that what it's there for? Yes and no. Expecting the motor to do all the work on a steep hill puts a strain on the motor and will shorten its life. Also, to the degree that someone does choose to pedal uphill, its simply easier with a lower gear.
Ride1UP Rift Review: Braking, Safety & Warranty
The Ride1UP Rift is a bit of a beast, thanks to its 750W motor and 960Wh battery. Both the traditional frame and the step-thru weigh 84.5 lbs. Ride1UP made the wise call to equip it with 4-piston hydraulic disc brakes. Most hydraulic disc brakes have two pistons—one on each side of the caliper—pushing the pads together; 4-piston calipers use bigger brake pads, increasing a brake's stopping power, which is a selling point for an 84.5-lb. e-bike. The levers are equipped with cutoff switches so that there's no lag between when a rider wants to start braking and how quickly the e-bike begins to slow.
There's not a single detail in the Ride1UP Rift that gives us pause. Among e-bikes that sell for less than $2000, the Rift is a terrific design. Details like the 4-piston hydraulic disc brakes, 8-speed drivetrain, the way the rear rack is integrated into the frame design, giving it a 150-lb. carrying capacity, the 120mm-travel air-spring suspension fork—not to mention the 750W motor and 960Wh battery—all add up to an e-bike that squeezes as much value into a single e-bike as we might hope for. To add anything else would either eliminate the profit margin or result in a price increase.
Ride1UP offers riders a one-year warranty on their e-bikes, but there are a number of exclusions that buyers should read through before placing an order.
Ride1UP Rift Review: Recommendation/Final Verdict
Most of the direct-to-consumer e-bike makers offer a fat-tire e-bike, in part because it's such a popular category. They have a few compelling sales pitches. The first, easiest, most obvious pitch is comfort. No other category of e-bike offers as instantly comfortable a ride as fat-tire models do. The combination of 4-in.-wide tires and a suspension fork doesn't need much of a sales pitch.
Another reason fat-tire models are so popular is that they offer the promise that our first bikes presented when we were kids: the chance to explore. With their big, knobby tires, they perform well on dirt roads and many trails. Those big tires give great traction without sacrificing that comfort.
That said, most fat-tire e-bikes have a weakness somewhere. Building a good sub-$2000 e-bike is an exercise in product management, with designers weighing how each little upgrade causes the final retail price to climb. In most of the fat-tire e-bikes we review some trades are made—a nicer fork but more budget-oriented brakes, a bigger battery but a 7-speed drivetrain, a powerful motor but no accessories.
What's so remarkable about the Ride1UP Rift is how it packages all of the features we consider premium—upgrades. Not only does it pull all of those elements together, but they keep the cost below $2000, which is a remarkable achievement. Normally, we don't have much trouble finding details that we'd love to see upgraded, but Ride1UP didn't miss a trick. Were this e-bike loaded with any more value it would necessarily be more expensive.
Riders looking for a fun e-bike to explore wild spaces could do worse than choosing the Ride1UP Rift.
Thank you for reading through our review of the Ride1UP Rift. Still have further questions? Wondering how it compares to a similar e-bike we've reviewed? Let us know in the comments below!

Reader Interactions