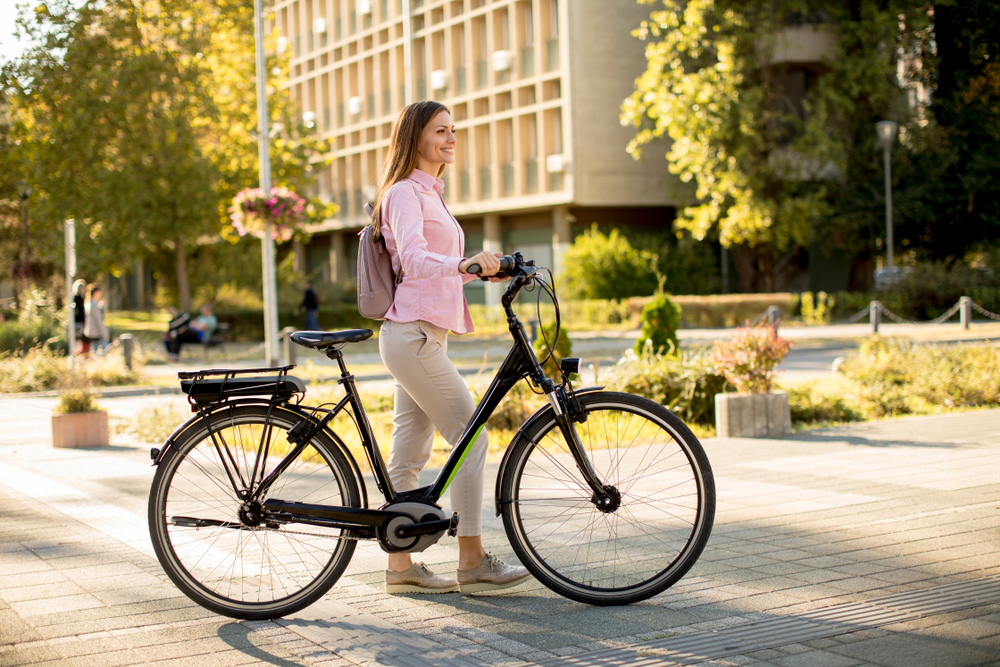 What is the best eBike for a smaller person? We have a list of options and ideas that will help smaller riders find the right ebike for you!
Before you evaluate the features of an ebike, we recommend riders consider a few things:
Recommendation #1:
Consider your personal weight and strength
You may be on the shorter side, but are you athletic and used to riding a bike? Or are you older with a limited range of motion? When considering the right ebike for you, there are lots of factors. Most cyclists know that regardless of your bike or ability, the power-to-weight ratio between you and the bike is vital to finding the right fit. This means you want to find a bike that is as powerful as you desire while also being both light and manageable. Some step-thru ebikes look small, but if the bike has a steel frame, lots of accessories, a rear rack, heavy battery and steel front basket, it may be very heavy and therefore would still be difficult for a smaller person to handle. Consider yourself when considering the bike — if range of motion is an issue for you, we recommend finding a step-thru frame. If you want to climb hills and keep up with non-motorized mountain biking friends, find the smallest but strongest frame possible and don't add any extra accessories to the bike — you can throw essentials in a backpack or have a friend carry them. If you want to take a quick jaunt to the market, look for a bike that is easy to get on and off and also has a rear rack for some lightweight cargo attachments.
Recommendation #2:
Find a Local Bike Shop for an in-person bike fit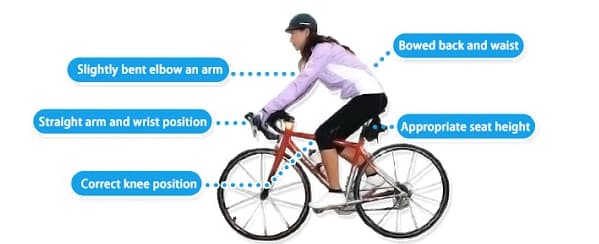 We recommend potential ebike buyers find a local bike shop (even if you don't plan to buy an ebike from that particular shop) and test several different frames and sizes. You may think that you want a small frame, only to find that you actually prefer a slightly roomier medium frame. Another consideration is inseam and torso length. A tall person may have a long torso but a comparatively short inseam which will change which bikes feel best. Alternatively, shorter people can have a long inseam and need a telescoping seat post on a small bike frame. Have a trained bike fit specialist help you measure your personal standover height maximum and minimum. Consider Q-factor (which is the distance between the pedals) since this may affect your knee alignment while riding. Also test out several different types of handlebar designs. Some are narrow and upright, while others are sweptback with minimal rise. You may find some handlebars force you to lean too far forward, while others may be too wide or swept back. Finding the right bike starts with determining what features and options are the most comfortable. Usually, smaller riders are smaller all over — including through the chest and shoulders — so make sure to get measurements of handlebar width and rise, as well as the distance from the saddle to the pedals and from your inseam to the floor (when standing).
Recommendation #3:
Consider the extra features and accessories you will need
As mentioned above, finding the right bike depends on not only your size, but other personal features. If you have tender knees or limited range of motion, you may want more gear options to keep your torque low and cadence high. Adding gears adds weight – but it also makes the bike easier to pedal, which would be a good option for those with joint concerns. Components drop in weight as they increase in price — so depending on your budget, we recommend finding the lightest weight components that are affordable for you. If you just try the small, entry-level beach cruiser, the frame size may be okay, but you may find the bike is still hard to handle due to entry-level components that weigh it down. Similarly, a rear rack may be a must-have if you plan to commute, but a front basket can limit the height or angle of the handlebars and add extra weight — so don't add it if you don't need it.
Recommendation #4:
Evaluate the following features on your ebike: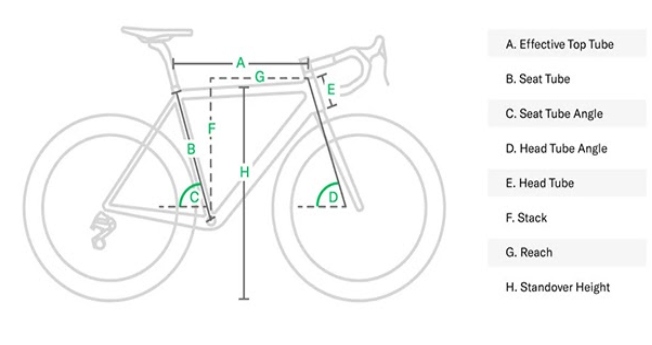 Appropriate Bike "Reach"
"Reach" is the distance between the nose of the saddle and the handlebar stem. For smaller riders you'll want a shorter reach so you don't have to lean uncomfortably forward to reach the handlebars.
Comfortable Handlebar angle and width
Handlebar angle is how much the handlebars angle up or down from the stem. This is often adjustable, so you can tilt the handlebars up if desired, which is often helpful for smaller riders. Also, width is the distance between both handlebars. We recommend looking for a handlebar width that allows your wrists to stay in line with your shoulders while riding. If your wrists and hands extend laterally out it can put strain on your shoulders and elbows while riding — especially for long distances.
Telescoping Seat post
The seat post supports the seat and most ebikes have an adjustable seat post that will raise and lower. If you need to drop the seat all the way down, make sure it doesn't rest on the rear rack or come in contact with the rear tire. Most modern bikes won't have this problem, but most bikes are built for "average" riders, so for those who really need to drop the seat the whole way, you'll want to check for those little issues that could arise. If the bike has a suspension seat post, it will bounce a little up and down while you ride which absorbs some of the impact shock and makes riding more comfortable, but this can affect how high/low the seat can adjust.
Standover Clearance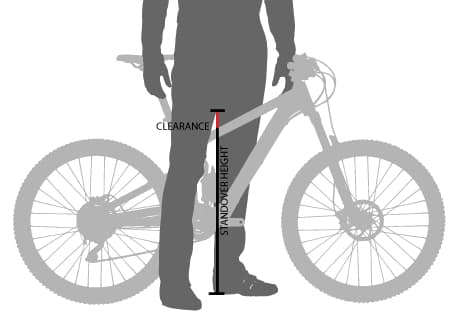 The standover height is the distance from the top tube to the floor. When standing over a bike, you should be able to stand upright with both feet on the floor with your groin above the top tube (not resting on it). If you can't stand comfortably over the bike, or if you have to angle the bike to the side to get on and off it, the standover height is too high for you. Many ebikes have either multiple frame sizes or two frame options of a step-thru or high-step model discussed below.
Multiple Frame Sizes (S,M,L) or Step-Thru and High-Step Frame Options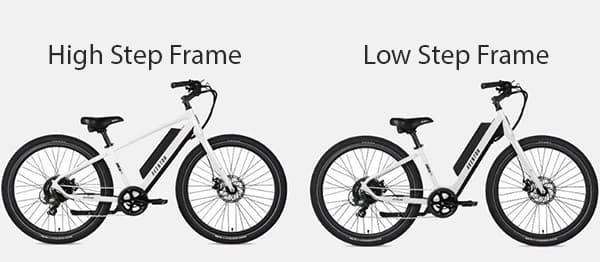 Many bikes come in a small, medium or large frame size where the geometry is scaled to fit different size riders. Some ebikes however, only have one frame size, but they will offer two frame options: a low-step or step-through frame and a high-step or standard frame. Low-step frames drop the top tube down in line with the downtube so it is easier to get on and off. A standard or high-step frame keeps the top tube lifted, so it runs horizontally from the seat post to the handlebar stem.
It would seem reasonable that most smaller riders would opt for a step-thru bike frame and this is what we would typically recommend. However, the high-step frames do tend to be a little stronger, so look for small frame sizes in high-step bikes as well — just to give yourself as many options as possible. If a particular bike doesn't come in a small size — or if you are buying a bike online direct from the manufacturer and you haven't had a chance to ride it in person — we recommend small riders default to the step-thru frame just to be sure you can safely get on and off the bike.
Lower Wheelbase (smaller tires)
The wheelbase is the distance between the center of both wheels. When a bike has smaller wheels, the wheelbase is lower to the ground. This makes the bike easier to get on and off and also makes it easier to handle for smaller riders. Wheels that are 26" or less are typically recommended for small riders. 27.5" wheels on eMTBikes or city commuters will work if the standover height is appropriate and/or there is a step-thru frame option. Consider wheel size when evaluating any ebike. The larger the wheels, the higher you will be off the ground.
Thankfully there are lots of good ebike options for smaller riders on the market today.
Best eBikes for Small Riders
RadMini
The RadMini is a step-thru ebike with low tires and adjustable handlebars and seat. This bike is an affordable option for riders of all sizes, but it works especially well for petite riders.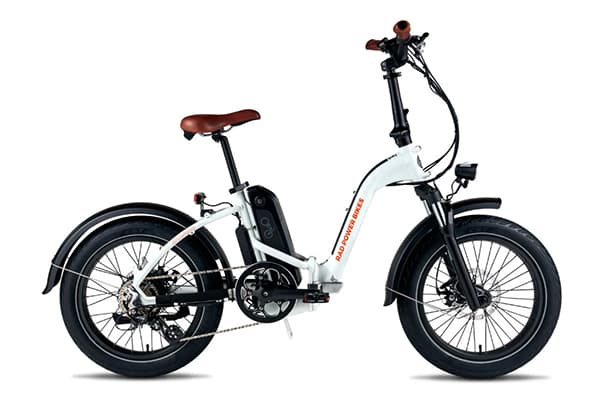 Ride1Up 500 Step-Thru
This comfortable ebike has a minimalist design with a low-profile battery that doesn't encroach on the step-thru frame. This bike has sweptback handlebars and a good geometry for smaller riders.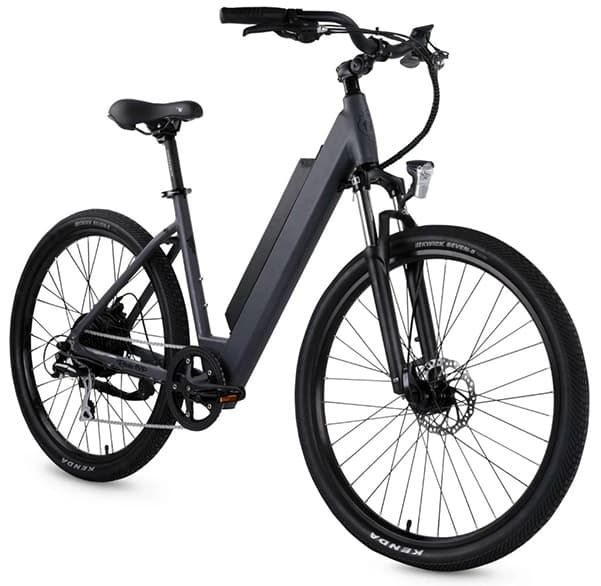 Evelo Galaxy 500
The Evelo Galaxy 500 is easy to handle with a small, step-thru frame and 500Wh battery. This bike has integrated cabling which keeps the frame simple. The battery is placed under the rear rack so you won't hit it with your foot as you step through the frame. The matching gel saddle and grips are a nice touch as well.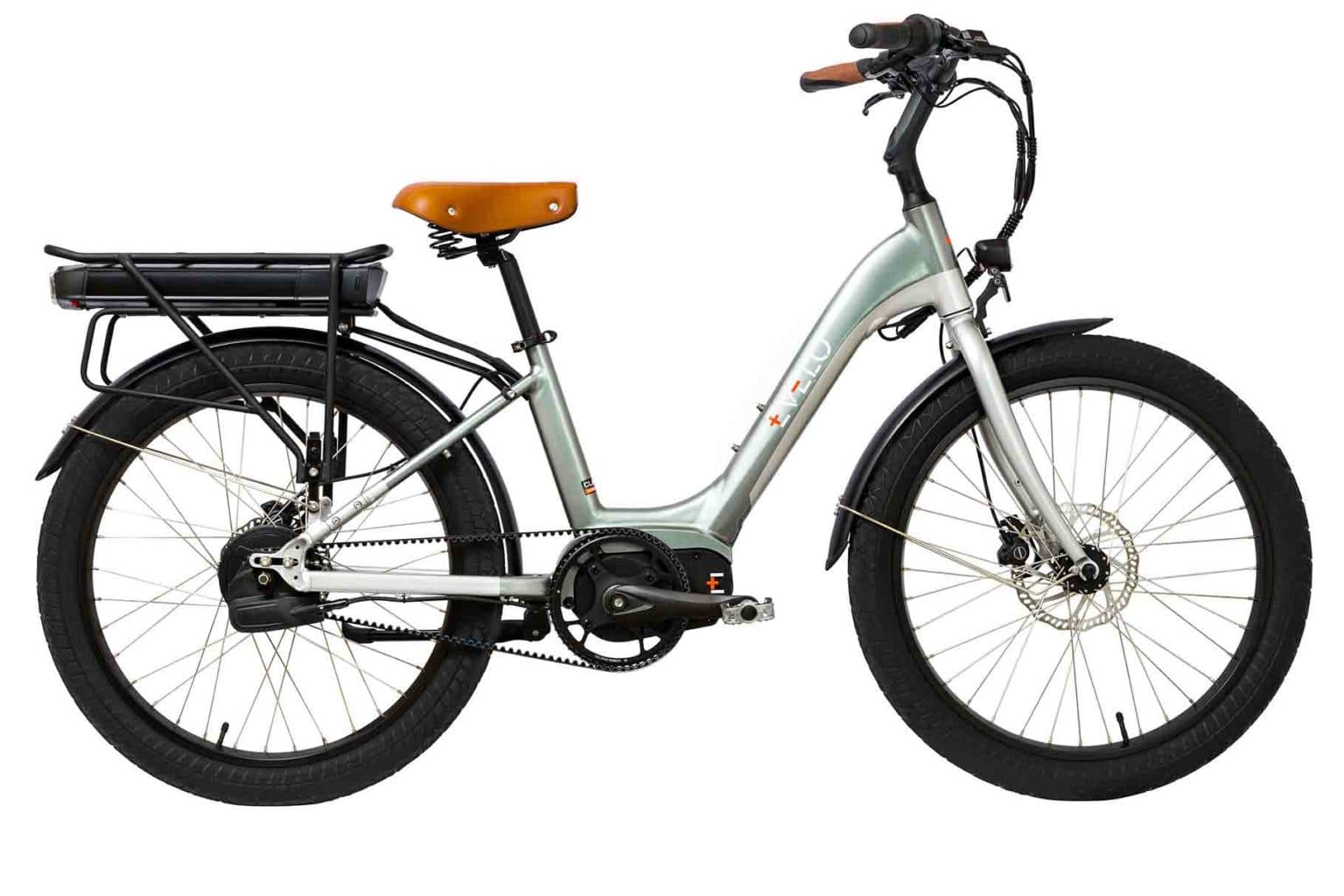 RadRover Step-Thru1
The RadRover step thru continues to be one of the most popular ebikes on the market. You can find these at almost any ebike rental shop — so go try one out! This bike is affordable (but on the heavier side).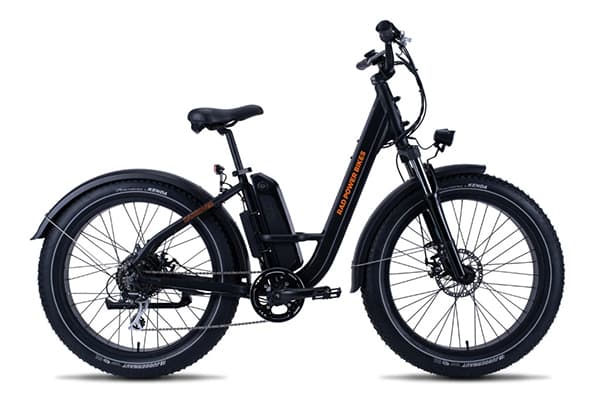 Raleigh Detour iE Step-Through
The Raleigh Detour has a minimalist rear rack for panniers or other light gear that won't weigh you down. The battery has been dropped low on the seat tube for better leg clearance and the handlebars are gently sweptback with a simple cockpit design.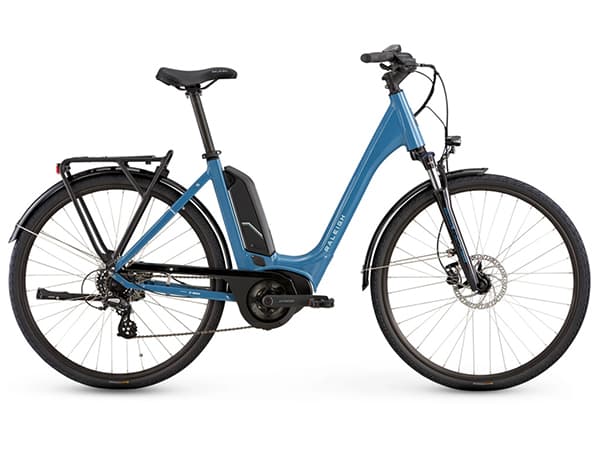 Trek Townie Path Go! 10D EQ Step-Thru
The Townie Path step-thru is one of our favorites for overall design. This ebike is a sprightly ride with the battery integrated into the downtube and completely out of the way! Take this stylish bike to your local cafe or library for a cozy chat with friends.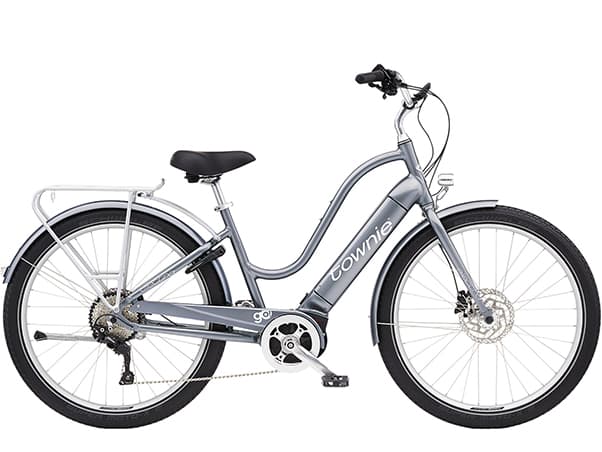 Pedego Boomerang Plus Low-Step
Pedego has taken the low-step down a notch for the lowest clearance ebike we've seen! The Boomerang drops the downtube to pedal height so it has a super-low 9 inch step over height. With the battery again tucked under the rear rack, you won't hit your foot or knee when stepping on or off the Boomerang.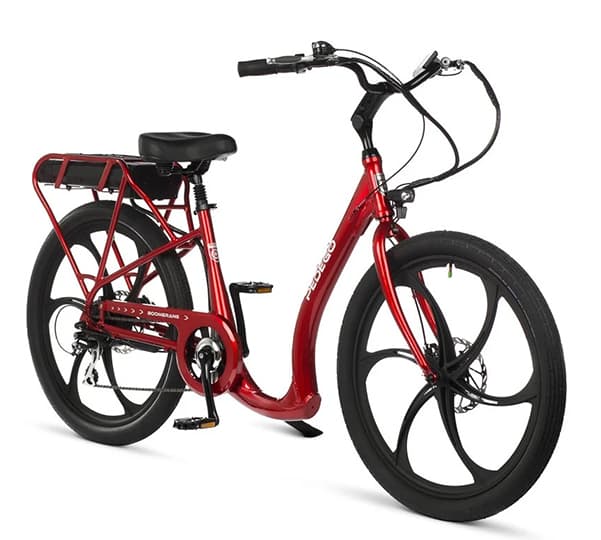 Tern Vektron
Tern makes fun, folding ebikes that you can ride, fold in half, throw in your car, and drive home. This bike has a lowered wheelbase with telescoping seat post and adjustable height handlebars. It is a good option for small riders with the battery behind the seat post and out of the way.