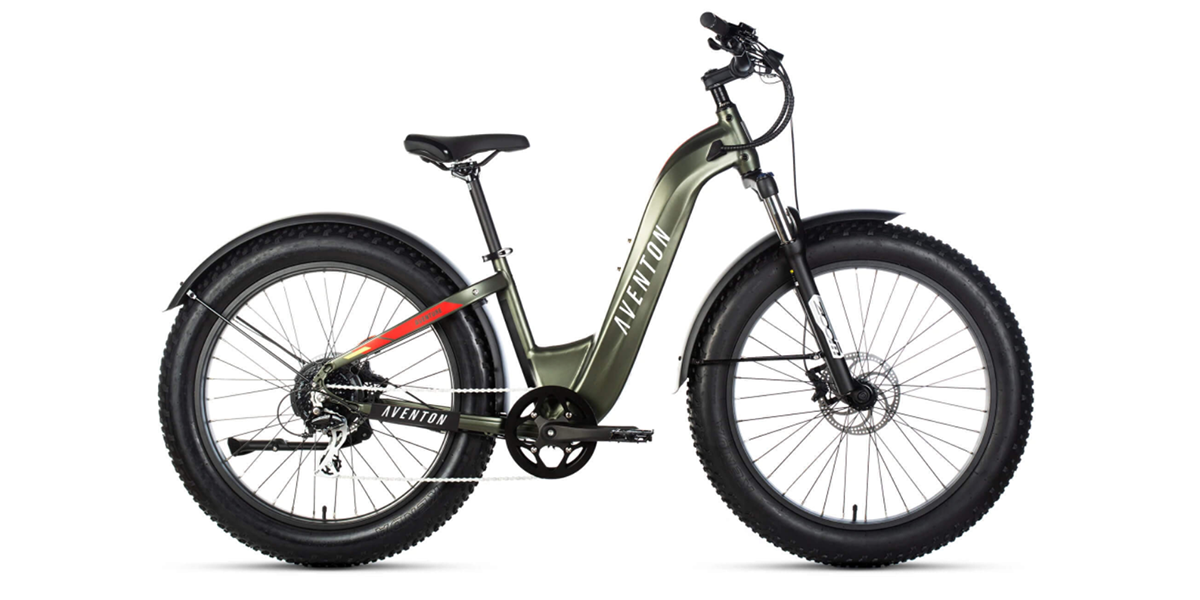 Looking for the best fat tire electric bikes of 2023? You've come to the right place!
When fat tire bikes were first introduced they were children of necessity. Normal bikes didn't fare well in snow or sand where fat tires are more capable. But the first fat tire bikes were cumbersome and slow.
Then someone had the bright idea to cross fat bikes and electric bikes and the resulting love child is probably what fat tire bikes should have been from the very beginning: fun. As it turns out, the magic carpet ride of fat tires feels noticeably more fun when the bike is moving at more than a walking pace.
A fat tire e-bike armed with a 750W or even 500W motor makes a crucial difference not just in speed, but in how they handle in a turn. The squish factor of the tires can feel disconcerting at low speed, but is much less pronounced once the bike is up to a reasonable speed, i.e., above about the 10 mph you'd get pedaling on your own power.
Our roundup of the best fat tire electric bikes includes a surprisingly diverse assortment of rides. From commuters, to pure off-road models to cruisers and even bikes meant for a sportsman, this category has matured to the point of true variety. What they all share is that cushy ride that is their signature move and many have come to love.
But in a sea of models to choose from, the crew at Best Electric Bikes is here to help guide you with our pick for the best fat tire e-bikes in 2023.
And while this list is dedicated to fat tire electric bikes that we find versatile for commuting, cruising, and more, if you're looking for the top options beyond fat tire styling you can always head to our picks for the best electric bikes of 2023.
Quick Answer: Best Fat Tire E-Bikes of 2023
Aventon Aventure
Starting off this list of the best fat tire electric bikes is Aventon's first fat tire e-bike with 26-in. wheels covers the bases that make it fun, versatile and a terrific value. Aventon began with an aluminum frame for reduced weight and durability, added a 750W brushless motor to give the bike smooth acceleration and the power to handle a top speed of 28-mph (should buyers choose to change the bike from its 20 mph, Class 2, limit). The standard Zoom suspension fork will increase comfort when riding roads and smoother trails.
Another mark that makes the Aventure one of the best fat tire electric bikes is that Aventon went with a Shimano 8-speed drivetrain, giving the Aventure a gear more than many similarly priced competitors. They also chose to spec hydraulic disc brakes with 180mm rotors to make controlling the bike's 74-lb. bulk easier.
When wet, fat tires can throw up quite the rooster tail, so we were glad to see fenders front and rear. Other nice touches included tail lights integrated into the bike, a kickstand stout enough to hold the bike up and a thumb-operated throttle that can speed riders from a dead stop.
Another key factor that makes the Aventure one of the best fat tire electric bikes is that we wouldn't be surprised to see a bike spec'd like this costing $2,200 or more, but at right around $1,999, this e-bike balances quality and cost in a terrific package.
Pros
750W-brushless hub motor has the power to handle getting the Aventure up to speed
720Wh battery offers greater capacity than many of its competitors at this price point
The metal fenders are well made and don't rattle or rub the tires
The LCD color display gives riders more info at a glance than with most e-bikes
Comes in five sizes (three in the traditional frame and two in step-thru) for a better fit
Cons
80mm Zoom fork will smooth rough roads but isn't up to the task of more serious trail riding
At 74 lbs. the Aventure is on the heavy side
Rad Power Bikes RadRover 6 Plus
When we consider what goes into the best fat tire electric bikes on the market, we look for many of the same features that we find in other electric bikes. The RadRover 6 Plus hits those notes convincingly with a 750W brushless motor to deliver riders up to speed with smooth, not jerky, acceleration. The RadRover's aluminum frame helps keep weight down while presenting the rider with a comfortable and reasonably upright riding position.
Because control is important to new and experienced riders alike, the combination of a semi-integrated battery positioned low in the frame and hydraulic disc brakes with 180mm rotors mean that the RadRover 6 Plus is well balanced and easy to bring to a stop.
The seven-speed drivetrain offers a wide range of gears for riding in town and out on trails. However, with only 60mm of travel, the fork will be more successful soaking up bumps on the road than out in the woods.
The RadRoverer 6 Plus is one of the best fat tire electric bikes on the market, in part, because the bike is so well-equipped. With many fat tire e-bikes, full fenders and front and rear lights would all be extras. Their inclusion on the Radrunner 6 Plus is a decisive factor in what helps make this bike a terrific value at junst under the $2000 price point.
Testing at our sister site, Electricbikereport.com, found that the RadRover 6 Plus actually exceeded RadPower's stated range specifications, with a 28.47-mi. range in PAS 5 and 50.49 miles in PAS 1.
Exceeding listed specifications and Rad Power Bikes' exceptional customer service are the sorts of details that make this bike one of the best fat tire electric bikes on the market.
Pros
Rad's 750W brushless motor provides smoother acceleration than most
With its 4-in.-wide tires it feels like a magic carpet on most terrain
Two displays allows riders to have more information in a glance
Fenders, lights and kickstand make the bike usable in more conditions and easier to park
Rad Power Bikes' reputation for customer service is well-earned – you'll get taken care of before, during and after purchase
Cons
At more than 70 lbs. the RadRover 6 Plus can feel a little unwieldy until it gets rolling
The suspension fork isn't suited to technical off-road terrain
Lectric XP 2.0
In compiling our list of best fat tire electric bikes, one of the first e-bikes to make the list was the Lectric XP 2.0. While we haven't found a bike less than $1000 we can endorse, at roughly $1,000, the XP 2.0 is an impressive bike due to its versatility. It folds neatly for easy storage and offers the comfort of fat tires as well as a 500W motor that provides plenty of torque to accelerate the XP 2.0 up to cruising speed.
Lectric could easily have skipped the rear rack, the fenders, front and rear lights and the kickstand, but we increasingly see those details not as accessories, but necessities. The XP 2.0 is an unusually versatile bike. The convenience of a folding design makes it perfect for anyone short on space (making it attractive for SUV and sedan owners who don't have a hitch for a bike rack), but even those with plenty of room will find this bike exciting thanks to its terrific value and fun ride.
Some folding e-bikes don't feel especially solid and can be difficult to handle at much more than a jogging pace. The XP 2.0 has a sturdy feel and gives a confident ride in PAS 5 or throttle riding at 20 mph. The XP 2.0 is unusual in that users can choose between Class 1, 2 or 3 depending on their need and local laws.
Compared to its predecessor, the XP 2.0 has a smaller battery. That helps the bike lose a bit of weight and keep the value high, but when our sister publication, Electricbikereport.com, tested it, the XP 2.0 fell short of its advertised range, getting only 19 mi. in PAS 5 and 32 mi. In PAS 2, which are 1 mi. and 13 mi. short of their advertised ranges, respectively. It's probably the XP 2.0's main drawback, but most riders will be just fine on 20 mile rides so it is by no means a deal-breaker for us.
For the sheer value alone, any list of the best fat tire electric bikes would be incomplete without the Lectric XP 2.0.
Pros
One of the best bang-for-your-buck options on the market
Can be set up as a Class 1, 2 or 3 e-bike
The large display is easy to read
7-speed Shimano Tourney drivetrain
The folding design makes it easy to store
It's no mountain bike, but it can handle lighter off-road romps
Cons
Mechanical disc brakes with 160mm rotors require more stopping distance than some setups
The battery size decreased compared to the original XP
Himiway Cruiser
If we were to pick out one bike as the muscle car among the best fat tire electric bikes, it would be the Himiway Cruiser. With the 28 mph speed of a Class 3 bike and a range of 35 miles even with maximum pedal assist, this is a hot rod of a rig. And like a hot rod, the powerful motor has plenty of toque; riders wanting quick acceleration will appreciate the launch that comes with using the twist throttle from a dead stop. For riders wanting a bike with enough range for all-day adventures, this is the best fat tire electric bicycle for the money of that pursuit.
The Himiway Cruiser also has a higher weight rating than most bikes, and can carry up to 350 lbs., making it one sturdy ride. The mechanical disc brakes with 180mm rotors perform solidly, but the one item on our wish list from the Cruiser would be hydraulic brakes on future models to help slow down those who do load the bike up to 350 lbs.
Himiway offers the Cruiser in two different frame designs, both constructed from aluminum. The traditional frame will be stiffer and therefor handle better, especially for heavier riders or riders carrying a load. However, at 72 lbs., many riders are likely to want the step-thru frame because the low stepover will make the bike easier to handle before the pedaling begins. Once it's moving with the motor, the Himiway Cruiser has decent handling for the amount of kick the bike can deliver.
Due to its heft, fat tires and upright position the bike is better with lazier turns; think roads and bike path, not hiking trails. But thanks to the 4" fat tires you can handle lighter sand and dirt areas better than a traditional bike tire.
The Himiway Cruiser would be one of the best fat tire electric bikes on the market with those features alone. But Himiway doesn't stop there. They include plastic fenders that remain quiet on-road or off. Front and rear lights, a kickstand and rear rack increase the bike's versatility. This electric bike would be a solid value at $2000, but it's currently going for $1599.
Pros
Amongst the best value in terms of battery range for the money with at least 35 mi. on PAS 5
Powerful acceleration with the twist throttle is great for those wanting excitement
With traditional and step-thru frame designs, riders from 5-feet-3 to 6-feet-2 can fit
Big 4-in.-wide tires make for a very cushy ride
Higher-than-most weight rating with 350 lbs payload capacity
Cons
Given the bike's power, we would prefer hydraulic disc brakes
The spring fork performs well, just remember it is best for paths and not light-duty offroading and not heavy, technical riding
QuietKat Apex
No list of the best fat tire electric bikes would be complete without an entry from QuietKat – makers of many fat tire electric bikes.
QuietKat's Apex is a feature-rich dream for the outdoorsman looking for an e-bike to get them to their favorite hunting or fishing spot. Given the rigors that a fat tire electric bike truly meant for backcountry use can encounter, QuietKat has taken steps to make sure the Apex is up to the task of getting a sportsman to remote areas with all the gear they need. Among the features we like is how the mid-drive motor is encased in an aluminum housing.
Buyers have a choice of either the standard street-legal 750W motor, which will limit top speed to 20 mph, or a 1000W motor for more unrestricted performance (good for use on BLM lands and private roads). With the 750W motor, riders have a chance to choose between Class 1 and Class 2 use, thanks to a removable push-button throttle, which is handy given how many trail systems will only allow Class 1 e-bikes.
Real off-road use—meaning terrain more challenging than we are likely to find in a city park—often features steep uphills and having a drivetrain that can gear down for the steepest stuff is important; QuietKat equipped the Apex with a 9-speed SRAM drivetrain, giving it the most performance-oriented drivetrain in our selection of the best fat tire electric bikes of 2023.
Backcountry use can see riders out for several hours at a time. The longer the ride, the more important it is that the bike fit correctly. QuietKat produces the Apex in three sizes to accommodate riders from 5-feet-6 to well over 6-feet. And because off-road touring riders have different needs from anglers whose needs are different from hunters, QuietKat offers a number of products to tailor the bike to use, including a variety of performance trailers.
Some bikes appear more versatile than they are. While the Apex is expensive—it begins at more than $5000—it does not pretend to be versatile. It can go anywhere and haul most anything in or out, be it a cooler or game. This really is one of the best fat tire electric bikes on the market.
Pros
The mid-drive motor provides smoother, more instantaneous power and acceleration than hub motors
Tektro 4-piston hydraulic disc brakes are among the most powerful out there
150mm air/oil shock can handle serious off-road use
Option for 1000W or 750W motors
A myriad of ways to customize the bike to your outdoor needs (hunting, fishing, camping, etc.)
Cons
At 71 lbs. the bike is heavy even before it's loaded with gear
No lights come standard, so don't get lost in the woods
iGo Outland – Oka
When picking the best fat tire electric bikes we considered just which e-bikes are really up to the task of off-roading. Some after all are still meant for urban environments while others were definitely built with trails in mind.
Knobby tires are a good start for a more trail-oriented fat tire electric bike, but that's hardly enough. We like to see a more robust drivetrain, an air/oil front suspension fork and brakes that can stop a bike on a steep downhill. The iGo Outland Oka provides all those features and more, making it an obvious inclusion on this list.
Once an e-bike is meant to be used off-road, hydraulic disc brakes become noticeably more important, in part because it often takes longer to stop on dirt than on pavement; the iGo Outland – Oka is equipped with Tektro hydraulic discs and 180mm rotors for enough power to stop all but the setting sun.
The 500W Bafang hub motor can provide up to 80Nm of torque for climbing the steepest hills and the thumb-button throttle is removable for those who need a Class 1 bike to be able to ride their local trails legally. The Bafang motor features 5 levels of assistance as well as a sixth called "Off Road" that can be unlocked for a 42km/h top speed (26 mph).
The iGo Outland Oka features its own app to tailor the bike's performance to a rider's preferences, making many adjustments easier to program; the app is available for both iOS and Android users. We don't often see e-bikes as capable as the Outland Oka and at ~$2700, it was a natural inclusion in our roundup of best fat tire electric bikes.
Pros
iGo's app allows for customized riding profiles to tailor the bike's performance to taste
RST 120mm air/oil suspension fork can handle the rigors of technical riding
SRAM X5 9-speed drivetrain
500W motor with 80Nm torque provides plenty of power even for steep hills
The massive 4.5" knobby tires handle wild terrain well, and are comfortable to ride on
Cons
Comes in one size; riders must have an inseam of at least 31 in.
For serious off-road use, we'd like to see a dropper seatpost to lower the saddle on steep drops
FLX Gladiator 2.0
For those wanting a mid-drive fat tire e-bike that can handle off-road riding but are on more of a budget, the FLX Gladiator 2.0 is a terrific option. It makes our list of the best fat tire electric bikes because of its 500W Bafang mid-drive motor with a whopping 120Nm of torque. With that kind of power, this e-bike could climb the Great Pyramid at Giza.
To hit a sub-$3000 price point (and this hits well below that), FLX made strategic choices about components , such as the 8-speed Shimano Acera drivetrain, SR Suntour spring suspension fork with 63mm of travel and mechanical disc brakes. And while they chose to spec a mechanical disc, they also made the strategic choice of choosing 203mm rotors to improve stopping power. It's a terrific strategic choice.
At 77 lbs. this is one of the heaviest bikes in our roundup of the best fat tire electric bikes, but we respect that with e-bikes they are either light or affordable, but seldom both; being price-conscious is an emphasis we respect as it will allow more riders to add an e-bike to their life. That extra heft means that the bike will be a bit harder to turn and won't be especially nimble in tight turns, like on trails. The integrated battery does place a good deal of the bike's bulk low to help make it more maneuverable.
Speaking of the battery, the 840Wh battery paired with a 500W motor will allow for many, many miles of riding per charge.
Good hill-climbing, great braking, and all-day battery? The FLX Gladiator 2.0 is worth a look amongst the other best fat tire elctric bikes.
Pros
With 120Nm of torque, this is one of the more capable hill-climbing motors we've encountered
Also, the 500W mid-drive motor provides smooth and instantaneous acceleration
They made up for mechanical disc brakes by spec'ing ginormous 203mm rotors
4-in.-wide Kenda Juggerrnaut tires roll like a magic carpet
Cons
The suspension fork features only 63mm of travel
The website is a little vague on sizing guidance to know if your height/inseam are an ideal fit
Aventon Sinch Step-Through
The value of a folding e-bike is that the reduced storage size is useful to a variety of potential buyers. Living the van life? Commuting to a job in a cubicle? Don't have a garage? A folding bike is an unobtrusive answer. The Aventon Sinch is a folding fat tire e-bike, combining the best of a few different worlds, which is why it made our collection of the best fat tire electric bikes.
The trick to a great folding e-bike is making one that doesn't remind the rider it's a folding e-bike while it is ridden. To do that, it needs to offer smooth acceleration and consistent top speed no different than other e-bikes. It needs to offer a comfortable and upright position that doesn't force the rider to hunch over. It also needs parts that would be found on other, similar, bikes. A 7-speed Shimano drivetrain and 180mm rotor disc brakes make the Sinch's performance comparable to other similarly priced e-bikes.
Fat tires make even the roughest roads smooth, but most fat tires are covered in knobs, making the road not quite as smooth as it could be. Aventon sourced a fat tire that is much smoother than many tires and that will give rides on it just a bit smoother ride. The smoother semi-slick tires also roll more easily, increasing the bike's acceleration a smidge and extending the battery life a bit.
The Sinch has a range of 25 mi. at PAS 5 up to 54 mi. at PAS 1, enough for anyone to get days of riding between charging. A recent redesign decreased the standover height to just 15.5-in.
Aventon's Sinch is one of the best deals available in fat tire e-bikes and its value comes through in everything from the design and shaping of the hydroformed-aluminum frame to the backlit, color display. This was an easy bike to include in our best fat tire electric bikes.
Pros
500W brushless hub motor gives quick acceleration up to 20 mph
Integrated frame member acts as kickstand when folded, making storage easier
Despite being a folding bike, it can fit riders from 4-feet-11 to 6-feet-3
At 15.5-in. the Sinch has one of the lowest standover heights on the market
Cons
Mechanical disc brakes rather than hydraulic
Himiway Cobra
We've covered commuters, folders, and trail riders. But what about the best fat tire e-bike for true all-terrain capability? The Himiway Cobra gets our nod in this style.
The Himiway Cobra packs a lot into a bike built to thrive on doubletrack, fire roads, and 4X4 roads. The Cobra notably includes front and rear suspension to soak up bumps, a powerful 750W brushless hub motor that produces 86Nm of torque to tame even the steepest hills and a 20Ah battery to give the Cobra a whopping 37-65 mi. of range.
Despite an aluminum frame, and in part due to the four-bar suspension linkage and the bike's long wheelbase, the Cobra is a beast and tips the scale at 88 lbs. Make no mistake – this is no children's e-bike. That bulk will reduce the bike's maneuverability, but make it very stable in a straight line or long, sweeping turns. Fortunately, bringing the e-bike to a stop are Tektro hydraulic disc brakes with 180mm rotors.
While this e-bike is a ripping good time we want to keep our recommendation to the right rider. Because this electric bike comes in one size and it is an unavoidably large e-bike in both length and height, this is a bike we will recommend to taller riders almost exclusively due to its long top tube and 32-inch standover height.
In its overbuilt nature, the Cobra features another reason why it was included in our collection of best fat tire electric bikes. The Cobra is clearly intended for offroad use, but for those just seeking a powerful e-bike to haul a larger rider or one carrying a heavy payload, the Cobra features a 400 lbs payload capacity – one of the best we've seen on any e-bike.
Pros
The 750W hub motor provides instantaneous power
86Nm of torque to devour steep grades
Range of 37-65 miles
Total payload capacity of 400 lbs.
Built like the ATV of the e-bike world
Cons
A seven speed drivetrain lacks some of the low-end gearing we'd like to see
At 88 lbs. it weighs more than most dogs
RadExpand 5
Rad Power Bikes makes a second appearance on this list of the best fat tire electric bikes thanks to its latest release the RadExpand 5.
This folding e-bike is so feature-laden that we are amazed that RadPower can offer so much bike for ~$1500. Running 4-in.-wide tires and featuring mechanical disc brakes with 180mm rotors and a 7-speed drivetrain, the RadExpand 5 is such a versatile e-bike it compares well to full-size bikes.
The RadExpand 5 is built around RadPower's 750W brushless hub motor which has the power to zip the e-bike up to speed, either with pedal assist or with the half-twist throttle. Range runs between 25 mi. In PAS 5 up to a maximum of 45 mi. In PAS 1.
Folding the RadExpand 5 is a speedy operation. An extra strut extending down from the bottom bracket acts as kickstand to keep the bike upright and minimize the space it occupies once folded. Standover height is just 16-in.
The RadExpand 5 made our list of best fat tire electric bikes in part due to the fact that its sizing accommodates riders as small as 4-feet-10. It's ability to fit smaller riders does limit how tall a rider can be and still ride this bike; 5-feet-10 is the upper limit. Something had to give – and there are plenty of other options featured on this best fat tire e-bike list for taller riders anyway.
RadPower didn't stop with just making an effective and easy-to-use folding bike. They gave it fenders, a rear rack to carry loads and lights to ride when the stars are out. Given the price, this bike is one of the best values we have seen in fat tire e-bikes.
Pros
750W brushless motor provides smooth, not jerky acceleration
Quick to fold and put away, and takes up little space once stored
Fit is more adjustable than on many similarly-priced e-bikes
A 275-lb. payload capacity is sizable for a folding bike
Cons
Though we think it's comfortable enough without it, some will be sad to see no suspension fork
Criteria We Used To Rank The Best Fat Tire Electric Bikes of 2023
When we began considering bikes for a round up of the best fat tire electric bikes on the market, there were several questions we posed. We knew some fat tire e-bikes would excel in some dimensions more than others. We knew no one bike would do everything well, and that was a big driver for compiling this collection.
How versatile is the e-bike? An e-bike doesn't need to do anything more than be a fun way to be outside. That's enough, right? Still, some folks will want to commute to work or run errands on their bike and the presence of a rack, lights and fenders make e-bikes a practical substitute for a car some of the time.
Does the e-bike present a good value? It would be easy to misconstrue the word best into meaning just high-quality. Certainly, we've got some extraordinarily well-made e-bikes in this roundup. However, we know not everyone can afford to drop $5k on a bike. There are some inexpensive entries in this category that balance low cost with quality construction and parts.
Is it a comfortable Fat tire e-bikes are, as a category, comfortable. So what do we mean here? There's more to comfort than just big-squishy tires. We looked at how wide a range of rider heights the bikes could accommodate, and the folding bikes excelled here due to their low standover height, which can serve more diminutive or less-flexible riders.
Is it really capable of backcountry use?Tires with knobs were designed for off-road use. There's no need to put knobs on a tire that's meant strictly for city duty. But just because an e-bike has knobby tires, that doesn't mean its design and parts pick is appropriate to dirt trails. E-ikes with plenty of battery life and that had parts able to stand up to the rigors of wilderness use scored well here too.
Because of the differences in mission that many of the e-bikes have, our resulting compilation is notable in that the fat tire e-bikes we selected share almost nothing more than the fact that they have an electric motor and fat tires.
The upshot for buyers is that once a rider is clear on whether they need a commuter, something on which to disappear into the woods, or a space-saving rig that won't compromise comfort, we found so many fat tire e-bikes that there are options in each category.
Thank you for reading through Best Electric Bikes picks for the best fat tire electric bikes! Was there any bikes you were surprised to not see here? Tell us which ones we need to take a closer look at in the comments below!