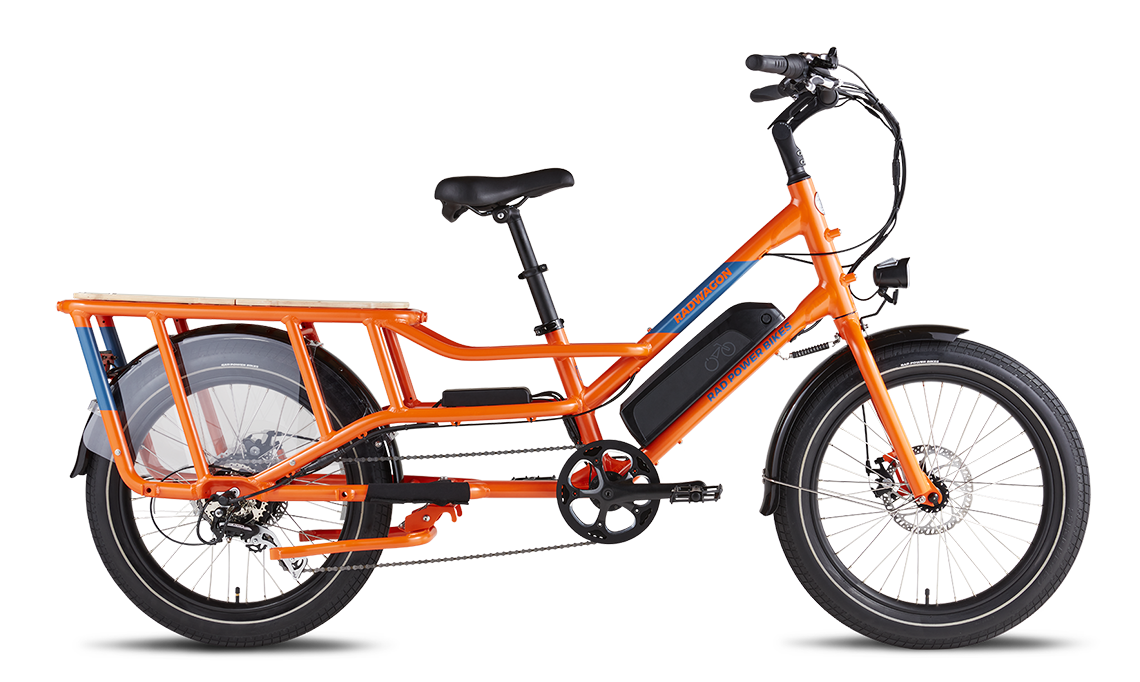 The reasons for wanting one are endless, but which is the best electric cargo bike to get in 2022?
For anyone who really wants to park their car and begin running more errands with two wheels, rather than four, a cargo bike is the way to go. If the commuter is the sedan of the e-bike set, the cargo bike is the SUV. It can carry more and it can carry more different kinds of things. A cargo e-bike can carry a laptop and a change of clothes, just like a commuter, but it can also carry a kid (or two) and groceries for that night's dinner.
Once viewed as a curiosity, meant for a special purpose, electric cargo bikes are finally receiving the image makeover they deserve. Manufacturers are offering more modular designs to suit different needs. Our belief is that any truly effective cargo bike will allow a rider to transport a kid and some kind of load, like a couple of bags of groceries. Regardless of what someone chooses to transport, the target market for cargo bikes happens to be folks who are probably parents.
One consideration with all these bikes is frame stiffness. The more a bike frame flexes, the more unpredictable its handling. A cargo bike needs a very stiff frame to be able to handle precisely when loaded with a rider, a kid or two and the day's shopping.
Unlike SUVs, electric cargo bikes aren't difficult to park and aren't any more expensive to run than any other e-bike. Other than what may be a higher initial cost, the extra capacity comes with no recurring cost like more expensive trips to the gas station. Better yet, most cargo bikes offer some flexibility of use, like removing a child seat in order to carry a few bags of potting soil.
Most of these bikes can carry two kids, which can make school dropoff an opportunity for fun. And while their range suffers when carrying a load, for most of us the solution is to simply charge them more frequently. And because it costs just pennies to charge an e-bike battery, doubling the cost to charge the battery may mean spending a dime instead of a nickel.
We collected a variety of designs. Many use a 20-in. wheel either front or rear (or both) in order to carry a load closer to the ground, lowering the center of gravity and improving the e-bike's balance and handling. Most feature a longer wheelbase to accommodate a load and/or kids and while that increase in length will reduce maneuverability, it will make the bike calmer at speed.
What we are most excited about with this roundup is just how many great e-bikes there are to choose from. Here are our favorite electric cargo bikes.
Quick Answer: The 13 Best Cargo E-Bikes of 2022
Rad Power Bikes RadWagon 4 – Best Electric Cargo Bike for Families
The Rad Power Bikes RadWagon 4 is a terrific example of how a cargo bike can serve a family. It typifies the kind of versatility we look for in a cargo bike, which is why it leads our collection of the best electric cargo bikes.
The RadWagon 4 is considered a long-tail e-bike. That is, the rear wheel is farther behind the saddle than with most e-bikes. This leaves room to be able to have a kid (or two) sit behind the rider. Mounts on the head tube allow a basket or rack to be mounted, increasing carrying capacity. Because the bike is designed around 22-in. wheels, the rear deck sits low to make any load easy to handle. That said, 22-in. tires are not a common size and may be hard to find.
An obvious question is how broad an age-range of kids can ride as passengers and the answer is: broad indeed. The RadWagon 4 can accept high-quality Yepp baby seats and once they outgrow those, a seat, running boards and handlebar can be added.
The greater loads moved with a cargo bike—one adult, two kids and a load of groceries can approach 300 lbs.—require a motor with a bit more oomph, so the RadWagon 4 features a powerful 750W motor as well as a sizable 672Wh battery because a bigger motor will draw more electricity.
A bike like this can't get by with mechanical disc brakes; Tektro Aries hydraulic discs with 180mm rotors will stop the bike in the time it takes to say Safeway. The 11-34 freewheel offers a wide range of gears with enough low end to get over hills, even with junior's bookbag.
Lights and fenders come standard, which is important for keep the little people dry when riding through puddles. The mid-step frame will fit a broad range of riders, especially thanks to the telescoping seat tube, though especially tall or small riders may want to go to a longer or shorter stem.
The RadWagon 4 starts at $1999—that's with no racks, seats or baskets. Adding the various accessories can tack on several hundred dollars more to that cost. Rad Power Bikes offers a couple of preconfigured versions as well as the opportunity to custom outfit one yourself. This is a great example of why we needed to look at the best electric cargo bikes.
Pros
Modular design can fit a variety of needs
750W has the power necessary to get the bike up to speed even when loaded
Telescoping seat tube and mid-step design will accommodate riders from 5-feet-2 up to 6-feet-4.
Stiff aluminum frame can handle heavy loads
Cons
Finding 22-in. tires to replace these should one be cut or wear out won't be easy
Under load, the first pedal stroke before the cadence sensor kicks the motor on can be a bear
Blix Packa Genie – Best Modular Electric Cargo Bike
The Blix Packa Genie demonstrates why the long tail design is becoming so popular in electric cargo bikes. With its low, step-thru frame and aluminum truss design, this electric cargo bike is another take on the modular approach that allows users to purchase exactly the bike they want. This was one of the first bikes we picked when we began considering the best electric cargo bikes on the market.
Larger wheels are easier to keep at speed and offer greater stability and with its 24-in. wheels the Packa Genie has an easy demeanor. The 750W motor has power to spare for getting up to speed and with a 614Wh battery and an option to add a second 614Wh battery, this e-bike has a range that can be as high as 80 mi. Don't worry; no one needs to pedal 80 mi.; a lever throttle can take over when the legs give out.
With the ability to carry up to 200 lbs. hydraulic disc brakes are a must-have. The Bengal brakes are paired with 180mm rotors for excellent control in traffic. A 7-speed Shimano drivetrain offers a wide enough gear range that it can power over hills, loaded or not. 2.4-in.-wide puncture-resistant tires offer excellent traction and a comfortable ride.
A motorcycle-style kickstand holds the e-bike securely upright for loading of kids and more, and makes mounting the e-bike much easier; an easy push forward and the e-bike is off and rolling. Lights and fenders come standard.
Thanks to its modular design riders can choose from a veritable slew of add-ons such as front and rear baskets, not to mention cushions, handlebars and running boards to give kids a place to sit. They drive up the price from its base of $1999. A large, backlit LED display gives plenty of information that's easy to read at a glance. It even has a bell to alert pedestrians. Anyone shopping for an electric cargo bike will want to consider the Blix Packa Genie; it's truly one of the best electric cargo bikes available.
Pros
With two 614Wh batteries, this e-bike's range can be as high as 80 mi.
750W brushless motor has the power to take the rider to 20 mph and stay there
An auto power cutoff switch is especially handy on a bike that might be carrying upwards of 200 lbs. in rider, kids and cargo
Total carrying capacity exceeds 350 lbs.
With a standover height of just 19 inches, this is a solid option for smaller riders
Cons
Accessories that allow the e-bike to carry cargo add up in a hurry
Because of its long wheelbase and gentle handling we wish there was a Class 3 option
Lectric XPremium – Best Affordable Mid-Tail Electric Cargo Bike
Coming in next on our roundup of the best electric cargo bikes with the Lectric Bikes XPremium, the single most affordable option in this collection. At $1799, this is the only sub-$2000 option and the bike that is most traditional in its design. It's also the only true folding design.
With a wheelbase in keeping with most adult bikes and 20-in. wheels, the XPremium is the most nimble of the bikes in this group. It also has the only true step-thru design making it the easiest bike to manage when getting on and off a loaded bike.
The 500W mid-drive motor has more than enough power to deliver the XPremium up to speed even with front and rear racks loaded. It comes standard with a double battery system with a nearly 1000Wh capacity, giving it a roughly 100-mile range on a single charge. This is also one of the few bikes here that can be configured as a Class 1, 2 or 3 e-bike, though the gearing is modest enough on this bike that actually reaching 28 mph will be a challenge.
Most electric cargo bikes don't place much of a premium on comfort. They need tires with enough air in them not to bottom out when a load is added. The 4-in.-wide tires on the XPremium will offer a pretty cushy ride, and the air/oil suspension fork will provide a very comfortable ride.
We were pleased to see hydraulic disc brakes and at first glance some riders might think the 160mm rotors will decrease brake performance but smaller wheels, such as the 20-in. ones found on the XPremium, don't require as big a rotor as other bikes. For anyone especially petite, the XPremium is a bike we would point to. And while the assortment of accessories isn't all the extensive, front and rear baskets will make it an exceptional grocery-getter. Despite it being more of a mid-tail design, this was a natural to round out our collection of the best electric cargo bikes.
Pros
With its short wheelbase and 20-in. wheels this is a nimble bike
4-in.-wide tires and an 80mm travel suspension fork make for comfortable riding
Our favorite option for petite riders
The only true folding bike in this collection
Cons
The 7-speed drivetrain is under-geared for anyone wanting to go 28 mph
Doesn't offer an option for transporting kids
Cero One – Best Compact Electric Cargo Bike
One of the oldest cargo bike designs around matches a 20-in. front wheel with a 26-in. rear wheel. The small front wheel creates a big space to mount a large basket or box. In Europe, many postal workers use bikes with this design. Because of its unique handling character, we needed to include this in our collection of best electric cargo bikes.
For riders in tight urban environments the Cero One is a terrific choice. It has a short wheelbase and that combined with the small front wheel and the weight sitting over the front wheel give it outstanding maneuverability.
The 250W motor may seem underpowered for a bike meant to carry more than a rider, but because it's a mid-drive, that power goes farther, and with 60Nm of torque, it can handle hills. Also, because it's a mid-drive motor, the Cero One is easy to get going on thanks to the torque sensor's near-immediate responsiveness. According to the web site, thanks to the 504Wh battery, the One can go for as long as 105 mi. on a single charge—yes, more than 100 mi.
Because people tend to treat cargo bikes a lot like cars—we want to climb on and go and not worry about maintenance beyond pumping tires and charging the battery—we love the drivetrain on this bike. It features a Gates belt drive for no black marks on pants and a Shimano Nexux 5-speed internally geared hub. This is as no-fuss a setup as we see.
Shimano hydraulic disc brakes with 180mm (front) and 160mm(rear) rotors make the bike easy to control.
The Cero One goes for $3799, in part, because it includes much that other bikes leave out. In addition to basics like front and rear lights, fenders and a motorcycle-style kickstand, front and rear racks are included as well. With rider, it can handle a total load of 300 lbs. Thanks to its uncommon design, this was a bike that definitely belonged in our roundup of the best electric cargo bikes.
Pros
250W Shimano STEPS mid-drive motor has plenty of power to handle a rider and load and can get up hills thanks to 60Nm of torque
Shimano Nexus 5-speed internal hub and Gates belt drive make for a near maintenance-free drivetrain
Includes front and rear racks
Adjustable stem helps to dial the fit
Cons
Can be a little nervous at speed if there is no load on the front rack
Display is rather small and not especially bright
Yuba Spicy Curry – Best Handling Electric Cargo Bike
The Yuba Spicy Curry is arguably the most original and thoughtful design among the long-tail cargo e-bikes. Knowing that bigger wheels roll faster and offer improved stability and handling, but that a small wheel allows the rear deck to be lower, Yuba went with the cargo bike world's first mullet—26-in. wheel in front and a 20-in. wheel in back. Any bike this original needed to be part of our roundup of the best electric cargo bikes.
This long-tail is built around a Bosch Cargo Line Cruise motor, which offers an impressive 85Nm of torque, making it an exceptionally strong performer not just on flats, but even uphill. Some folks may wonder if a 250W motor can provide the power that's necessary for a cargo bike, given that it's ⅓ the power of some of its competitors. It's important to remember that mid-drive motors don't need as much power and because this is a Class 1 e-bike with a maximum assist of 20 mph, 250W can and will get the job done with no weaknesses in performance. That low wattage pays an additional dividend: the Spicy Curry's 500Wh Bosch battery enables the bike to achieve as much as 60 mi. on a single charge.
The Spicy Curry has the second longest wheelbase of the longtail bikes contained in this roundup. Thanks to its 20-inch rear wheel, its rear deck has the best combination of overall space and height of these e-bikes. It's easier for kids to climb into their seats as well as easier to handle the bike before rolling out. The Bosch mid-drive motor means that there's power the instant pedaling begins, so even with a heavy load, the bike quickly accelerates to a pace that makes the bike easy to handle.
Some people will suffer some sticker shock at the $5199 base price. However, that price is easily justified by the bike's quality. For instance, the aluminum frame and fork are so stout that it can carry up to 440 lbs., which is a solid hundred pounds more than many competitors' e-bikes. A 10-speed Shimano Deore drivetrain means that the rider will a greater selection of gears, which can be important when pedaling a big load. High-quality Magura hydraulic disc brakes with 180mm rotors provide amazing stopping power, even with kids aboard.
Versatility doesn't mean much if changing out accessories requires a Saturday afternoon. Many of the Spicy Curry's add-ons are easily swapped so that a rider can remove a child seat and running boards, mount a surfboard carrier and be headed to the beach with just a few minutes of effort. The Yuba Spicy Curry is one of the most impressive e-bikes in our collection of the best electric cargo bikes.
Pros
With a 20-in. rear wheel, it has one of the lowest rear deck heights of any long-tail
Bosch Cargo Line Cruiser mid-drive motor is designed specifically for cargo bikes and puts out 85Nm of torque
One of the best-handling long-tail designs out there
The biggest assortment of add-ons and accessories of any manufacturer
Cons
The Yuba web site has a design that makes finding the technical
For this kind of money, multiple sizes would be nice.
Benno Boost – Best Electric Cargo Bike For Picking Your Motor
An electric cargo bike needn't be extreme to be effective. The Benno Boost splits the difference, length-wise, between a traditional frame and a longtail. For someone looking for an e-bike with more capacity to carry than a typical commuter e-bike, but doesn't need a full-size option. If a typical longtail is the Chevy Tahoe of the category, the Benno Boost is the Toyota Rav4. Thanks to its fresh approach, we needed to include the Boost in our collection of the best electric cargo bikes.
The Boost is 6.5 in. shorter than the Yuba Spicy Curry, leaving solid room for a kid or some big panniers behind the rider while an optional front rack can carry any cargo. Because it's not as long as a longtail, the Boost is a more nimble e-bike. And while Benno says the bike will fit two Yepp child seats, we suspect that would be an unpleasant fit for most kids.
The Boost is another bike that permits the buyer to choose between different configurations of motor and batteries. Four different variants of the Bosch Performance motors can be chosen, plus there are options for one battery or two. Depending on how the bike is spec'd, the range can be as modest ast 25 mi. in PAS 5, or as tireless as 160 mi. in PAS 1, with the help of a double battery configuration. That may seem excessive, but people with motor homes are usually short on storage space; someone could go on a month-long vacation with this bike and leave the charger at home.
Standard equipment includes a high-end Shimano Deore 10-speed drivetrain and hydraulic disc brakes. The frame is available in both a step-over and a mid-step (they call the mid-step a step-thru, but with a standover height of 25 in. we think calling it a mid-step is more accurate). Similarly, they claim that the bike will fit riders from 5-feet-1 up to 6-feet-3, but we suspect riders at either extreme will struggle to find comfort on this bike.
One of our favorite features of the Boost-buying experience is how the Benno web site shows a variety of possible setups and which accessories the bike employs. Each setup is purpose-specific, with names like beach setup, dog setup and family setups A-D. This way, a prospective buyer is shown exactly which items would be helpful. Due to its unique approach to carrying loads, we needed to include the Benno Boost in our compilation of the best electric cargo bikes.
Pros
Benno's website shows a number of different possible configurations of bike with accessories
Choose between four different Bosch Performance motors suited to the bike's purpose
10-speed Shimano drivetrain offers smooth shifting under load
Options include bags matched in size to their racks for a perfect fit
Cons
We'd like to see a motorcycle-style kickstand be standard, especially with child seats so the bike can't fall over with a child strapped in
Their sizing is overly optimistic; we suggest caution for riders at the edges of the range
Tern GSD S10 – Best Electric Cargo Bike For Storing at Home
One detail that almost all cargo e-bikes share in common is that they are larger than standard electric bicycles, making them a bit more difficult to store. Tern took an unusual approach by making the GSD a folding e-bike. It's an idea with obvious appeal—make the big thing less big. Anyone who wants a cargo e-bike but needs to make its storage easier will want to check out the GSD, which made it a must-have in our collection of the best electric cargo bikes.
For reasons of stiffness, safety and strength, the frame of the GSD S10 does not fold. Only the handlebar and seat/seatpost fold up, but once folded it is a more manageable 69 x 16 x 32 in.
The GSD S10 is built around the Bosch Cargo Line motor, which at 250W has a Class 1 max speed of 20 mph, but a very capable 85Nm of torque to conquer the hills. The component selection shows a lot of thought, with a 10-speed Shimano drivetrain and Magura 4-piston hydraulic disc brakes with 180mm rotors. This thing may not stop on a dime, but it will on a silver dollar.
Due to its frame design, the GSD S10 has the ability to carry two batteries without cutting the cargo capacity at all. With just one battery, the range is estimated to be as much as 53 mi., which is certainly respectable, but with a second battery added, range more than doubles to 120 mi. One could ride from LA to San Diego on this without recharging.
The GSD S10 was designed with 20-in. Wheels. While we like what that does for the center of gravity and maneuverability, it does mean that the bike can be a hair nervous at speed. Part of that also owes to its wheelbase, which is a bit shorter than most of the other longtail designs.
The GSD S10 goes for $5399, and that's before any of the accessories are added. The array of add-ons numbers in the dozens and will allow a rider to carry everything from pizza to people. The Tern GSD S10 is a terrific example of how a different set of priorities will result in a very different bike, which is why we needed to include this in our roundup of the best electric cargo bikes.
Pros
Cargo e-bikes can be big and this one partial folds for easier storage
10 speed Shimano Deore drivetrain for smooth shifting and finer steps in shifting
4-piston Magura hydraulic brakes for maximum braking power
250W mid-drive Bosch motor has more than enough power and torque for cargo duties
Cons
Very little sizing or geometry info
A suspension fork will struggle to work well if a basket is added; changes in the overall weight of the bike will affect fork performance
KBO Ranger – A Highly Affordable Electric Cargo Bike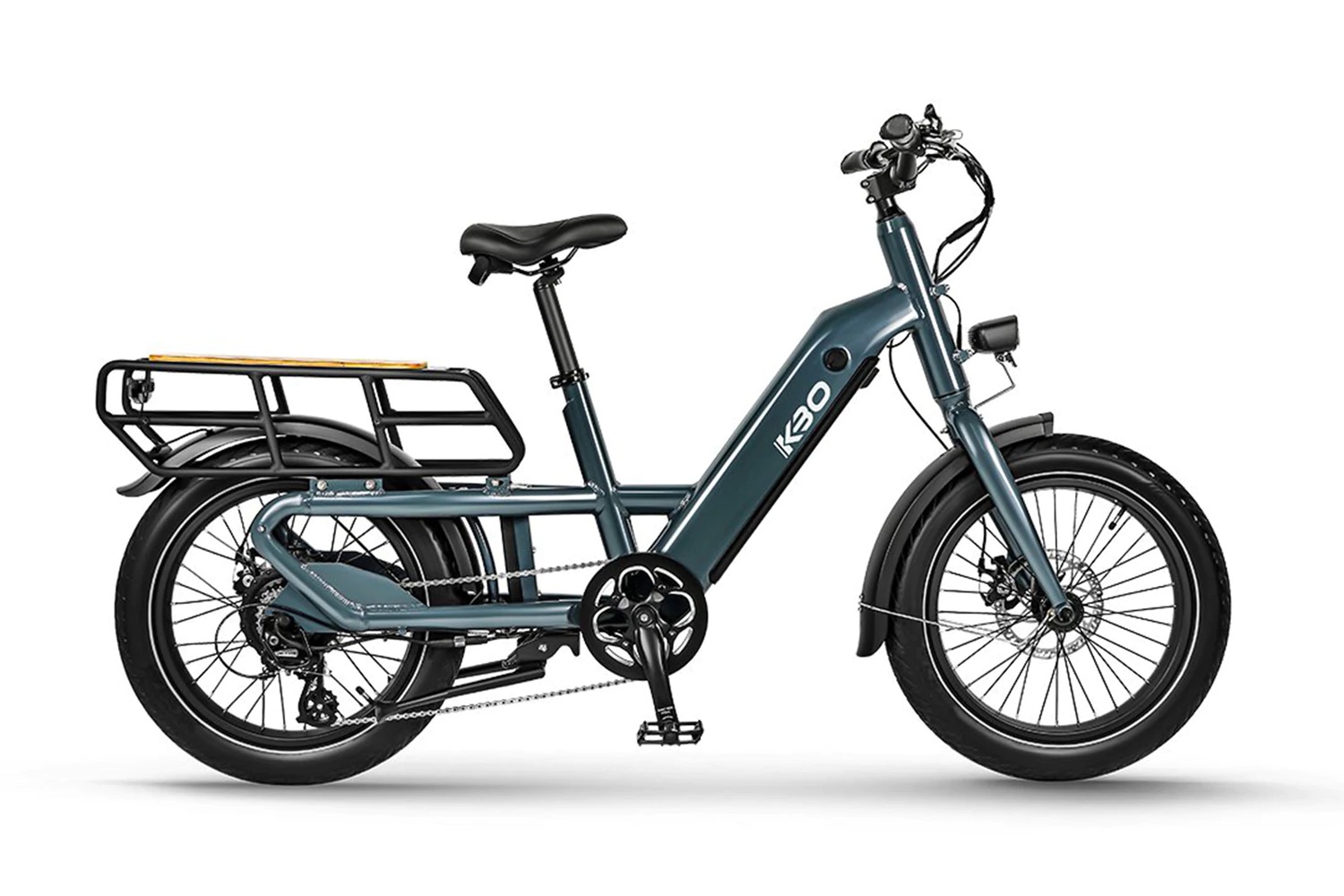 The KBO Ranger is another longtail design, but it features a simpler frame design than the Rad Power Bikes RadWagon 4 or the Blix Packa Genie. Coming in at a very affordable $1699, this cargo bike finds some opportunities to save riders and come up with a competitive bike. The alternative it presents to some of the more expensive bike made it a compelling option for this collection of the best electric cargo bikes.
The 750W brushless hub motor provides power enough to get around with a load, be it kids or bags of dog food. The 840Wh battery is one of the largest single batteries we've seen, resulting in a range of as much as 60 mi. per charge
Not only is the KBO Ranger more affordable than some similar designs, it also includes a few extras, such as the rear rack, running boards and a multitool. Of course, every budget-oriented e-bike ultimately chooses some priorities over others. In the case of the Ranger mechanical disc brakes were chosen to reduce cost, though 180mm rotors were still spec'd to give it sufficient stopping power.
Pros
At $1699 the Ranger is a terrific cargo e-bike for someone on a budget
750W brushless motor provides prompt acceleration up to speed
Comes with front and rear lights as well as fenders
Has a range of 35 mi. (PAS 5) to 60 mi. (PAS 1)
Has an exceptionally low standover height of 16 in., which is great for smaller riders
Cons
Mechanical disc brakes may be a little underpowered for a fully loaded bike
20-in. wheels can be slow and and don't offer as comfortable a ride
Urban Arrow Family – Unique Front-Loading Electric Cargo Bike
In Europe bikes like the Urban Arrow Family are referred to as bakfiets. It's a design endemic to Netherlands and is popular in the low countries where compact city centers don't allow cars to clog the narrow roads. If longtails are the SUVs of the e-bike set, then bucket bikes like the Family are the box truck.
Compared to longtails, bucket bikes have a different set of priorities. They are much longer than longtails and much less maneuverable. This is the longest bike overall, on this list, with a total length of 108 in. To turn around, a rider carves a wide arc or walks a three-point turn, which makes an easy step-thru frame a must. That said, they are surprisingly stable even at low speeds, in part thanks to a super-low center of gravity, making them remarkably compatible with pedestrians. They make it easy to keep an eye on kids. (Only longtail owners have ever had to say, "Don't make me pull this bike over.")
There's also hardly any limit to how much shopping is possible. A 50-lb. bag of dog food? Sure, just drop it right there. Longtails also have a limit of three riders—an adult and two kids—where the Family can accommodate four passengers, plus rider. Bucket bikes carry the highest cargo capacity of any cargo bikes; the Family can handle a total of 550 lbs.
Bucket bikes are popular with kids because of the view they offer. Even at low speeds, passengers get a terrific sense of zoom because they sit so close to the ground. And if it's raining, an enclosure can be added to keep the little ones from getting soggy.
For reasons of design complexity, strength and safety, budget-minded bucket bikes aren't really a thing. The Family starts at about $5550 and goes up from there, depending on the accessories. More than most cargo e-bikes, someone buying a Family can configure it to their exact needs, including just how powerful a motor it has, whether it has one or two batteries and much more.
Pros
Bucket bikes have the most carrying capacity of any cargo bikes
They are remarkably graceful thanks to their low center of gravity
Kids love the view they offer
Total load capacity is a whopping 550 lbs.
Can be customized more than most bikes, including motor choice and extra battery
Cons
This is big e-bike and isn't easy to store or turn around
Inexperienced cyclists will find them difficult to manage, in part because it weighs 110 lbs.
Riese & Muller Load 75 – Premium Electric Cargo Bike
Riese & Muller is the brand people turn to when they want a bike for urban use and aren't willing to compromise on quality (though they do make a couple of mountain bikes, too.) The Load 75 is what happens when a bucket bike and a BMW have a two-wheeled love child. Our compilation of the best electric cargo bikes would be incomplete if we left this machine off.
The most stripped-down version of the Load 75 goes for $9559. Add in a half dozen extras and this bike will hit five figures. And while we get that is a lot of money for something that doesn't come with an internal combustion engine, the quality that goes into the Load 75 is apparent at every turn. That it features a Bosch Cargo Line Cruise motor is just the first indication.
This is the only bike in our roundup that has rear suspension, as well as a suspension fork. Setting the suspension up will be difficult as the air pressure in the shock is set according to weight.
The steering mast can be adjusted in both height and angle, making this bike the most adaptable in sizing of any bike in this roundup. The seat tube is angled in a way that also helps with sizing. And converting this bike from fitting one rider to another really won't take long.
This is also the only e-bike in our roundup with an 11-speed Shimano drivetrain, giving it a wider gearing range than any other design we included. Tektro hydraulic disc with 180mm rotors will make sure this is easy to control even when loaded.
Ordering the Load 75 is a pretty a la carte affair. There are six base models, with the top-end unit going for more than $12k. After choosing a base model then a buyer can begin choosing all the different accessories. As the luxury option in the electric cargo bike category, the Riese & Muller Load 75 is absolutely one of the best electric cargo bikes out there.
Pros
Drivetrain options include high-end components from Shimano, Enviolo and Rohloff
250W mid-drive Bosch Cargo Line Cruise motor can handle delivering this bike up to speed
Kids love the view from the bucket
For someone with a relatively local life, this really can replace a car
Cons
Suspension will work well either loaded or unloaded, but not both
A new rider might not understand the differences between some of the choices to be made when ordering
Xtracycle RFA – Best Electric Cargo Bike Featuring an Adjustable Wheelbase
What does someone do if they can't decide whether they need a full longtail design or something more modest like the Benno Boost? Well, our advice is to check out the Xtracycle RFA. In a category full of highly modular bikes, the RFA enjoys the distinction of being the one bike in this roundup where the frame itself can be changed. We simply had to include this novel approach in our roundup of best electric cargo bikes.
What makes the Xtracycle RFA so unusual is its DynamicDrops feature that allows a rider to remove the standard long rack and mount a shorter one that allows the rear wheel to sit closer to the rider. The web site could use a few more photos and details, but it's a truly unique feature.
The RFA gets our nod for having one of the best values of any cargo e-bike we've looked at. It's the least expensive of the premium longtails at $4499, but includes some very premium components like the SRAM 11-speed drivetrain and Tektro 4-piston hydraulic disc brakes with 180mm rotors. However, while we love steel as a frame material, a cargo bike needs stiffness like rock bands need electric guitars. Aluminum frames are stiffer at the same or less weight. It's really only a knock for someone who intends to load this thing to capacity.
The motor is a Shimano STEPS EP8, which is generally seen in eMTBs. It's only rated as a 250W motor, but puts out a whopping 85Nm of torque which means getting going with a heavy load won't ever be a problem. The 630Wh battery should give a range of roughly 30 mi. (PAS 5) to 60 mi. (PAS 1) on a single charge.
Unlike so many bikes in this category the RFA is made in three frame sizes. Riders in the 5-feet-0 to 5-feet-5 range will benefit from the small and riders taller than 6-feet-0. That alone was reason enough to include this in our best electric cargo bikes, but the RFA offers so much more.
Pros
The adjustable-length wheelbase helps the RFA be tailored to use
With an 11-speed SRAM drivetrain and 4-piston Tektro brakes, this is a truly premium e-bike
The RFA includes many items that are extras on other bikes such as wheel skirts and foot rests
250W mid-drive Shimano STEPS motor puts out 85Nm of torque, enough for even the biggest loads
With three frame sizes it is one of the best options for the small and the tall
Cons
The Shimano STEPS battery is slow to charge—0-100% takes 10 hours
Steel frames aren't as stiff as aluminum ones and stiffness is important in a loaded bike
Surly Big Easy – Best Electric Cargo Bike for Maximum Deck Space
Of all the longtail electric cargo bikes in this best-of survey, the Surley Big Easy is the longest. Being longest doesn't automatically make it better, but it does create some opportunities other bikes don't enjoy. Adaptability is a quality we value, especially in cargo bikes, which is why we think this is among the best electric cargo bikes out there.
When considering a bike to carry kids, an often overlooked dimension of the purchase is the child's experience. Sitting 6-in. behind mom or dad isn't actually all that fun. Kids want to be able to see what's going on, which is why they tend to love bucket bikes. With longtails, the farther behind the rider that the kid is, the more they can see and the more they will enjoy the ride. Of all the longtails, the Big Easy gives kids the most breathing room.
The $5249 base price Big Easy features a steel frame with a Bosch Performance CX motor mounted. One thing the more budget-oriented e-bikes give up is gearing range. The electric cargo bikes included here with 11-speed drivetrains have a noticeably lower low gear than those with 7-speed drivetrains, which makes them easier to start with a heavy load and easier to get over a hill. Again, a steel frame will flex more under a heavy load and that will affect how the bike handles.
With 26-in. wheels front and rear, the Big Easy will be stable at speed, but it does mean that any load sitting on top of the rear rack will make balance just a little more touchy than bikes with a smaller rear wheel and lower deck. Another nice little touch is that the bike was spec'd with tubeless-ready tires, which, once set up with sealant, will reduce the number of flats a rider suffers.
The Big Easy comes in three sizes, and as much as we love that, we believe the size run skews tall. The standover height on the small frame is 28.5 in., making it unlikely that anyone under 5-feet-6 will be able to ride it. However, there's no better-fitting bike for someone 6-feet-2 or taller. Despite this relatively minor failing, we do think this is one of the best electric cargo bikes made today.
Pros
Longest of the long-tail designs with more rear deck space than any other bike in our collection
Comes in three sizes
Bosch Performance CX 250W mid-drive motor for instant power
This is a truly premium e-bike thanks to an 11-speed SRAM drivetrain and 4-piston Tektro brakes
Cons
Steel frame is not as stiff as aluminum; under load it will flex more
The small size frame is not especially small
Magnum Payload – A Great Mid-Tier Electric Cargo Bike
The Magnum Payload occupies a price point none of the other bikes in this collection do. At $2799, it's noticeably less expensive than the designs with mid-drive motors, but it does feature a nicer build than the other hub-driven models here, making it a unique option and an important addition to our collection of the best electric cargo bikes.
The Payload differentiates itself in another significant way. While the e-bikes equipped with Shimano STEPS and Bosch Performance mid-drive motors are all Class 1 bikes with a top speed of 20 mph, the Payload can be configured as Class 1, 2 or 3. For anyone looking to cover longer distances on a daily basis, the 25 mph max speed of this e-bike can be very handy.
While it might sound like moving from a 7-speed drivetrain to an 8-speed one is just one more gear, there's a bigger gain under the hood, so to speak. Bikes with an 8-speed rear wheel incorporate the ratchet mechanism into the hub itself, moving the bearings farther apart to better support the axle and ultimately make for a stronger rear wheel. For anyone considering heavy loads and a budget under $3000, the Payload is difficult to beat.
What the Payload includes also helps make the case for its value. Like other longtails, the rear rack is integrated into the frame, but the front rack is included as well. Other included items include a bamboo deck and running boards. And while the website doesn't really spell it out, the Tektro brakes are a 4-piston model, making the Payload the most affordable bike in this collection with such a powerful brake. Ultimately, the Payload is arguably the most affordable bike for someone looking to carry substantial loads on a daily basis. An e-bike like this is why we needed to compile a list of the best electric cargo bikes.
Pros
At $2799 it's not as pricey as the mid-drive bikes, but has a nicer build than the more affordable options
Big LED display is easy to read and shows lots of info in one screen
Its 8-speed drivetrain is a noticeable step up in quality from 7-speed ones; the rear wheel on an 8-speed bike is substantially stronger than 7-speed designs
4-piston hydraulic disc brakes provide exceptional stopping power.
Cons
The frame is too big for anyone shorter than 5-feet-5
Unlike the other longtails, the Payload has very few accessories to add
Criteria We Used To Rank The Best Electric Cargo Bikes of 2022
Because electric cargo bike designs can vary wildly, the criteria by which they are judged vary as well. What makes for a great longtail isn't what makes for a great bucket bike. There are some details that do translate from one bike to the next.
Depending on the design, we weighed some criteria more than others.
What sort of motor is spec'd? Mid-drive motors have a distinct edge here. Motors like those from Shimano and Bosch only produce 250W, but they produce 85Nm of torque, which means the bike will go, no matter how loaded it is.
How powerful are the brakes?There's no point in loading up a bike if the brakes won't stop it. We like seeing cargo bikes equipped with 4-piston hydraulic brakes and 180mm rotors. They could stop a charging rhino.
How many gears does it have? The question here is less about how many gears the bike has than the benefits that accrue with more cogs. The bikes with eight or more cogs have rear wheels that can support more weight than those with seven or six. Also, the bikes with 10 or 11 gears have much lower gears than are found on bikes with fewer cogs. Low gears make rolling with a load from a dead stop a good deal easier.
How long is the longtail? The longer the long tail, the more flexibility the bike offers in terms of setup and total capacity.
Is it easy to get rolling? Cargo bikes with a cadence sensor can make for a challenging start. We place a real premium on mid-drive motors for the reason that their power is instantaneous.
Will kids be the primary cargo? Bucket bikes are cool, but from a riding experience, longtails are just easier to handle. However, kids love the view from the seat of a bucket bike. Also, we know what it's like to go someplace with a three year old. Between the blanket, the snacks and bottles, the diaper bag, the toys and the rest, well a bucket bike is just easier to dump all that stuff into. You might say it's parent friendly. It's worth noting that the more the kids enjoy the experience, the easier it is to get them out the door.
How many accessories are offered? An electric cargo bike is a design-your-own-adventure sort of machine. We like bikes that are easily customized.
Can it really replace a car? Some of these designs can't come close to replacing a car while others have more carrying capacity than a subcompact car. We doubt many people will sell their car, but many of these bikes could allow someone to keep their car garaged for weeks, if not months, at a time.
To our eye, the cargo bikes are the most exciting category within e-bikes. The weight penalty that comes with a cargo bike is completely negated with a good motor. The calm handling that comes with the longer wheelbase bikes is also quite nice, though turning around in a schoolyard with a bucket bike is a real challenge. Running errands becomes so much more pleasant when we aren't encased in our cars and can feel the sun on our faces. And don't forget, people with a bike get the best parking space of all—right outside the door.
What did you think of our picks for the best electric cargo bikes of 2022? Are there any that we missed that we should consider? Let us know down in the comments below!