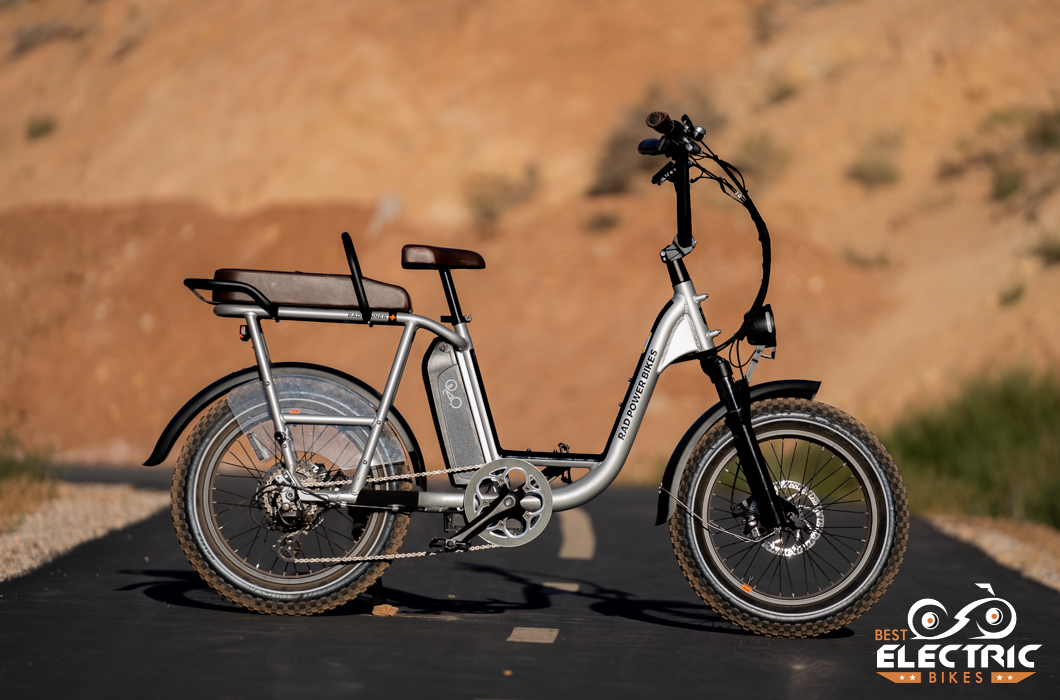 Intro
The promise of buying an e-bike—often, but not always—is the idea that we will be able to leave our car at home and go places (like work) and do things (like grocery shopping) and get home with ease afterward. And in our experience, e-bikes are terrific at exactly that. They serve up a trio of inarguable benefits: saving gas, helping the environment and getting more fit. However, most e-bikes don't (can't) do much to address one of the biggest uses of a car: Carrying a passenger.
The Rad Power Bikes RadRunner Plus is a different sort of e-bike, one that truly prioritizes having a passenger. In our review of the Rad Power Bikes RadRunner Plus, we will take a look at how the real point of this e-bike is to allow duos to go places with ease. From the integrated passenger seat to the 750W hub motor, the Rad Power Bikes RadRunner Plus is a feature-rich e-bike at an affordable price. For parents, the RadRunner Plus eliminates the need to grab the car keys every time a child has to be ferried to school, sports practice or a playdate. And for families with multiple kids, an older brother or sister can shepherd younger kids.
E-bikes meant to carry more than one person get lumped in with cargo and utility bikes, even though there are a great many cargo e-bikes that can only carry a single rider. It may be that the way e-bikes are classified needs to evolve because while the term cargo bike sounds very specialized use, the fact is most will do all the standard things most riders need, plus some other very useful duties, like carrying kids.
The Rad Power Bikes RadRunner Plus is a Class 2 e-bike with a top speed of 20 mph and a half-twist throttle that will allow a rider to get up to speed without a big effort, especially with a passenger.
Let's take a deeper look at just what makes this e-bike a fresh take on e-bike utility.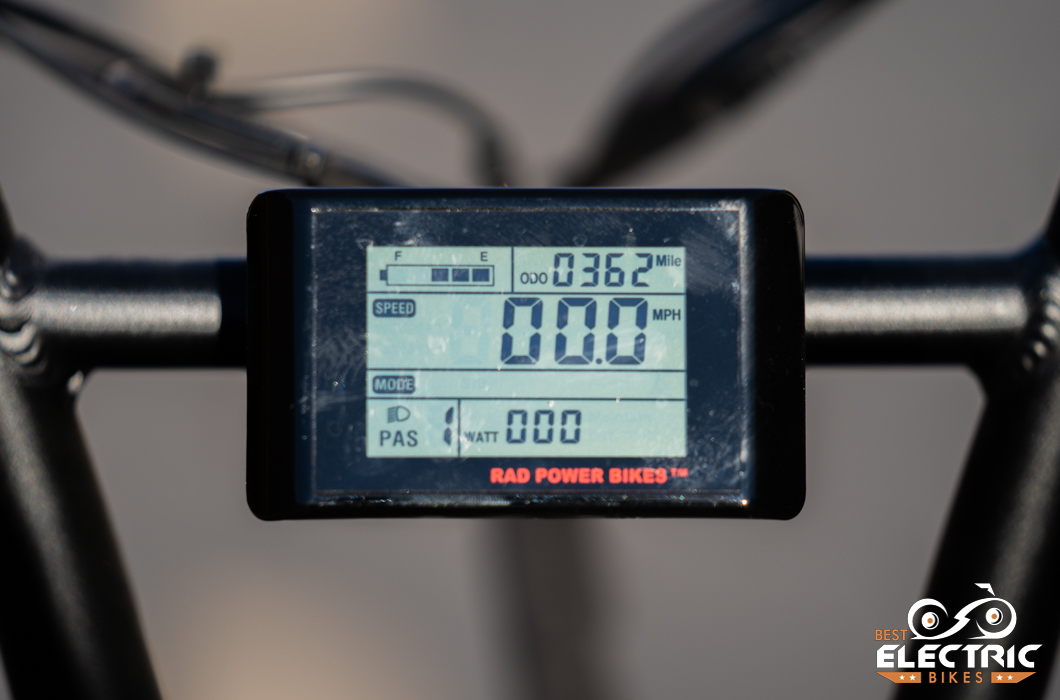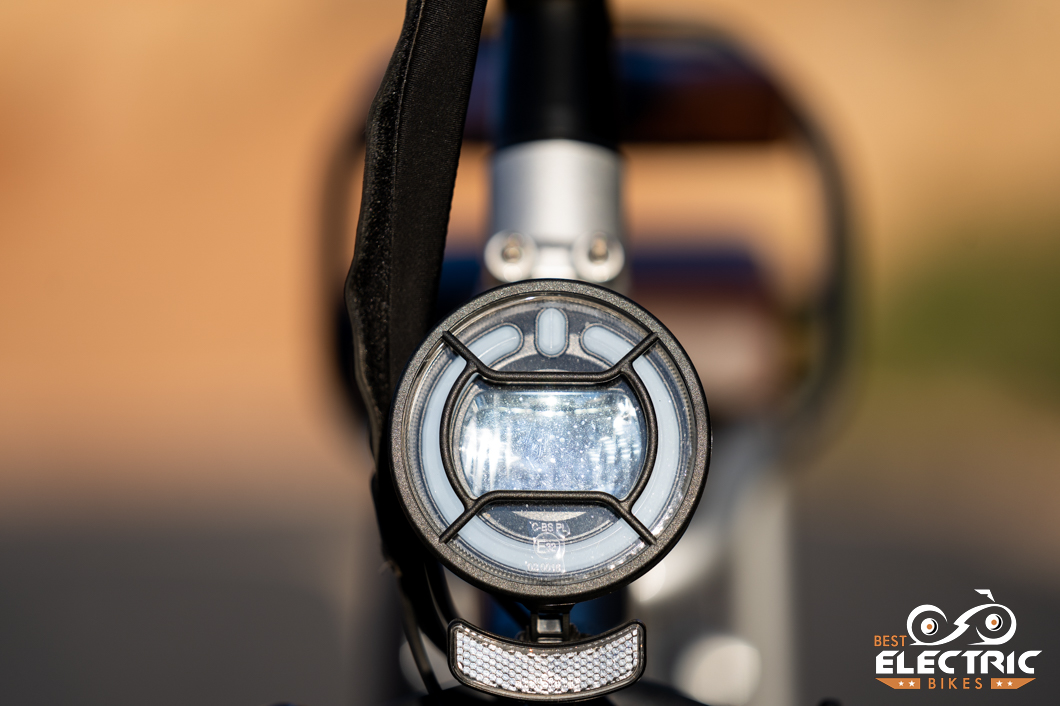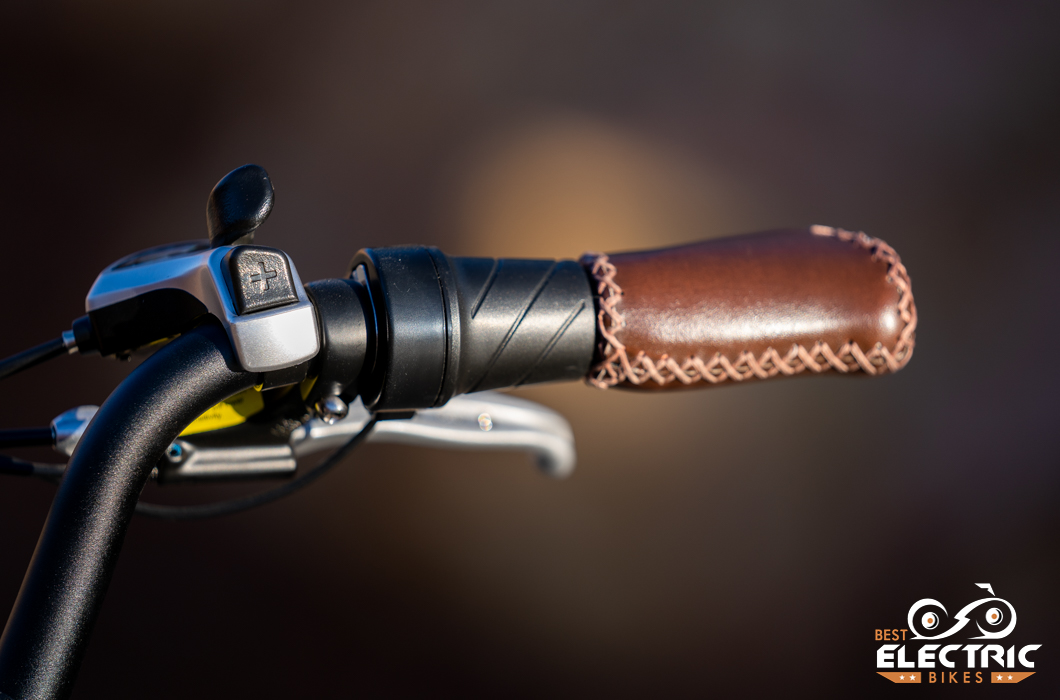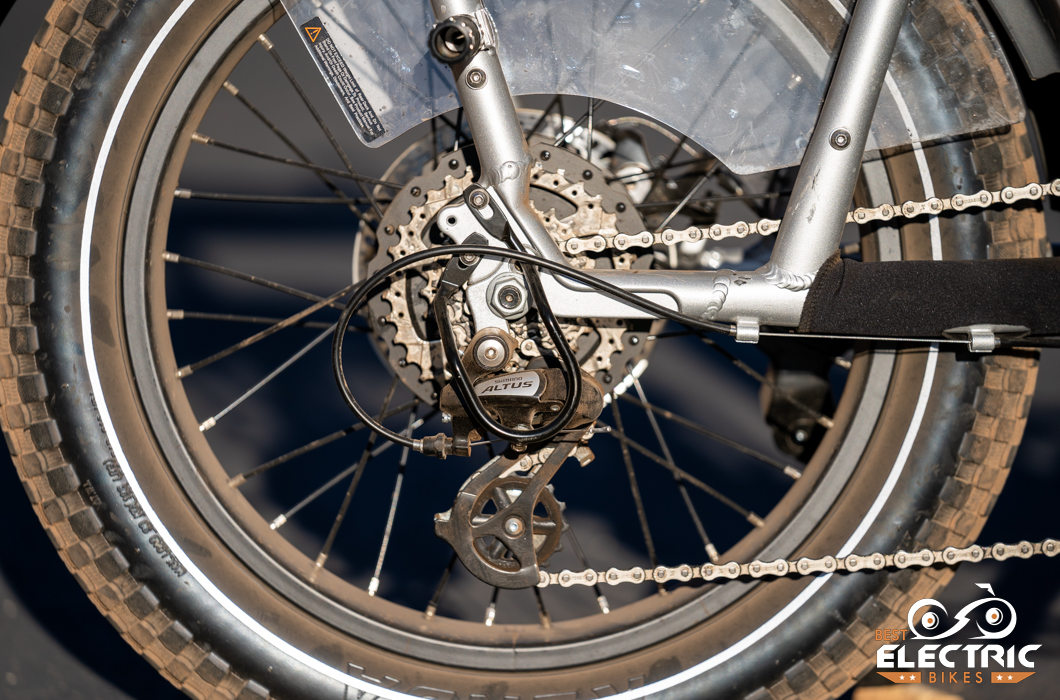 E-Bike Category: Cargo/utility
Who the Rad Power Bikes RadRunner Plus Electric Bike Is for:
Someone who is looking for an e-bike with utility beyond a commuter, especially someone who may need to carry a passenger.
Rad Power Bikes RadRunner Plus Review Ratings:
***All ratings are relative to e-bikes of a similar style and price point***
| | |
| --- | --- |
| Speed/Acceleration | |
| Hill Climbing | |
| Battery Range | |
| Braking | |
| Construction Quality | |
| Handling | |
| Included Accessories | |
| Warranty & Customer Service | |
| Value | |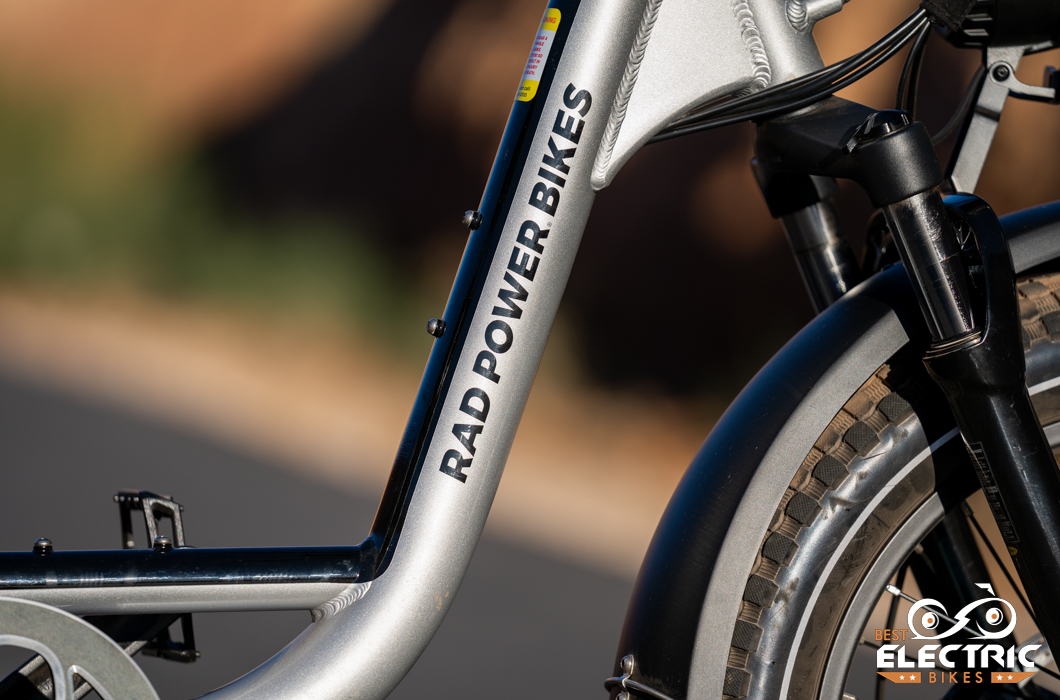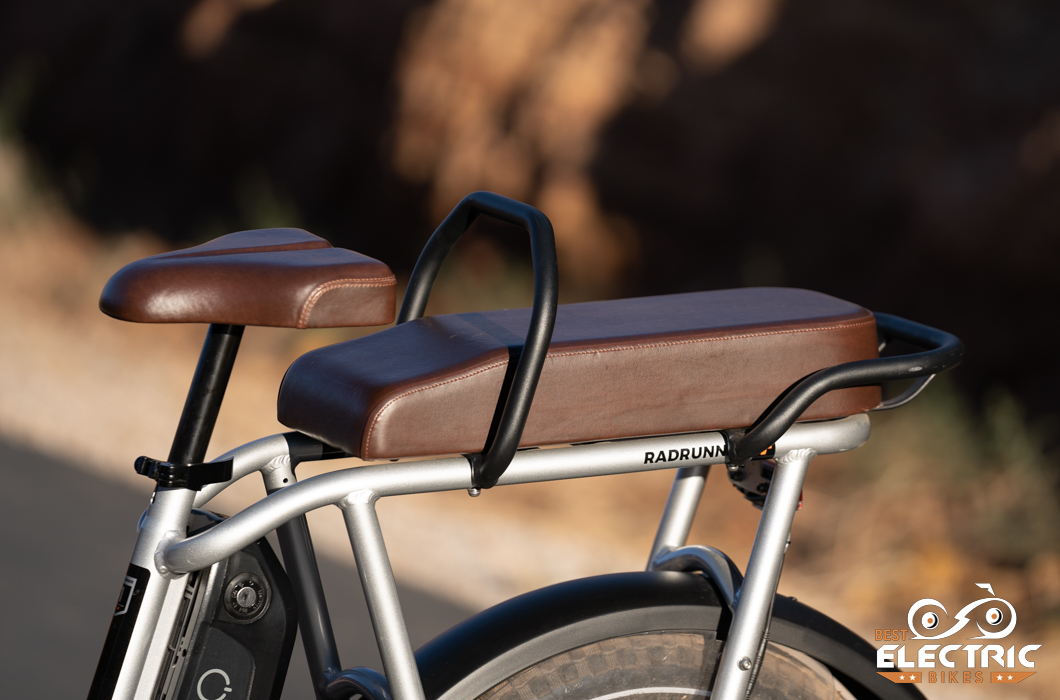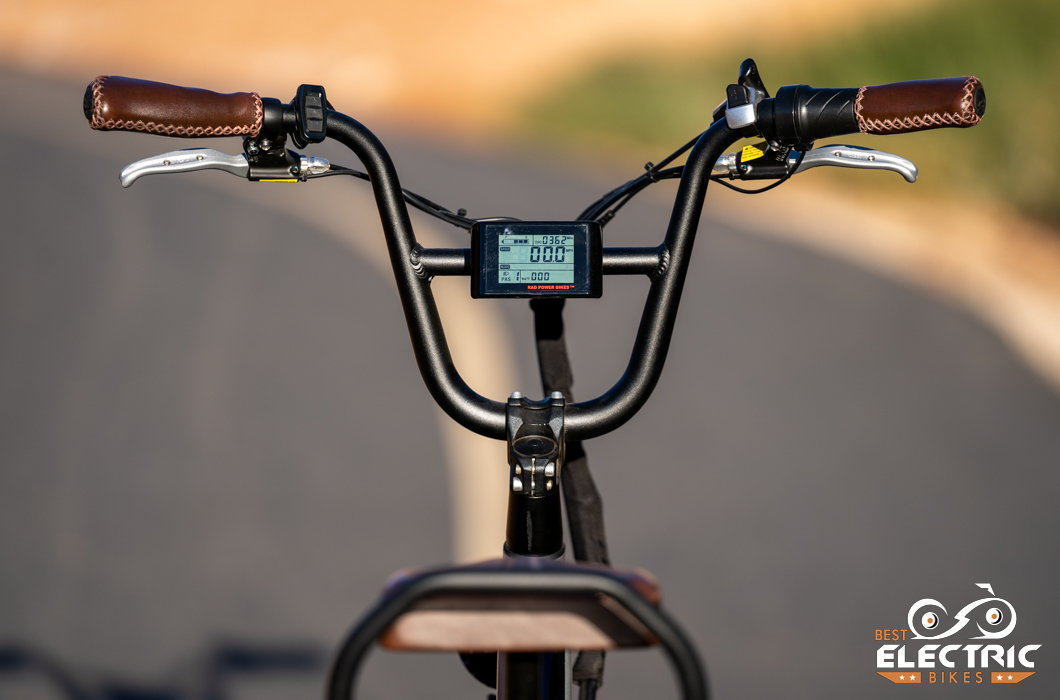 Rad Power Bikes RadRunner Plus E-Bike Specs
Battery: 925Wh Samsung
Expected Range: up to 45 mi. per charge, estimated
Charger: 48V, 2A
Motor: 750W brushless, geared hub motor, producing 80Nm of torque
Pedal Assist: 5 PAS levels
Throttle: Half twist grip
Display: Backlit LCD
Headlight: Included
Taillight: Included, wired for brake light
Frame: 6061 Aluminum
Fork: 80mm travel RST w/adjustable coil spring
Fenders: Front and rear included
Kickstand: Included, adjustable
Handlebars: Alloy, 686mm wide
Grips: Ergonomic w/faux leather
Drivetrain: 7-speed Shimano Acera
Brakes: Tektro Aries with 180mm rotors
Pedals: Wellgo alloy w/reflectors
Saddle: Custom Rad Power Bikes moped style
Tires: Kenda K-Rad 20 x 3.3 in.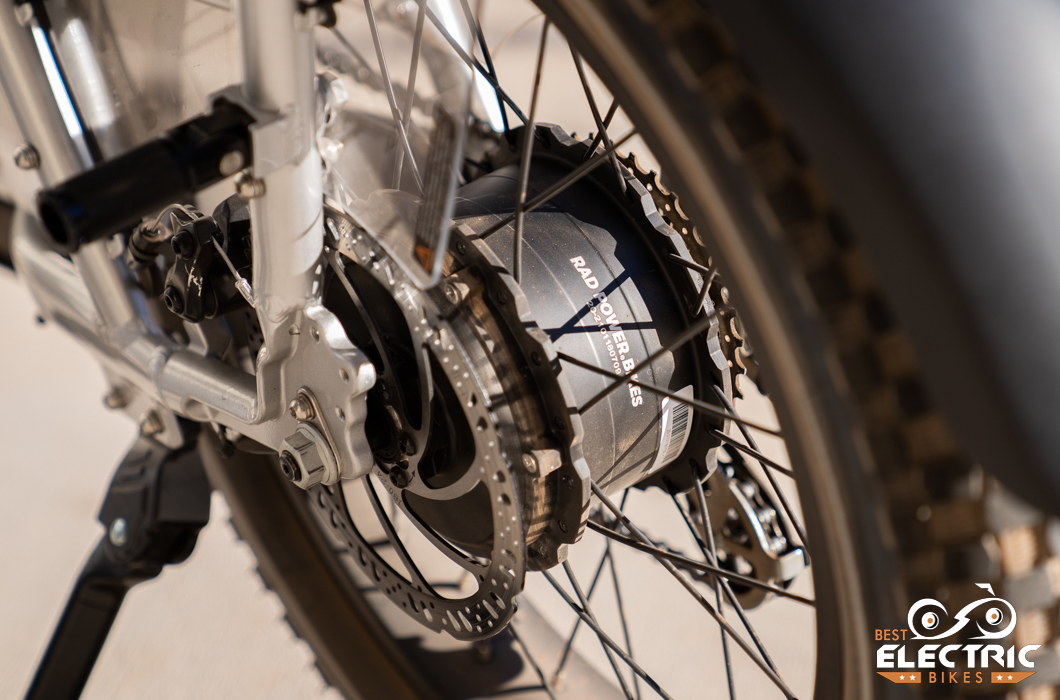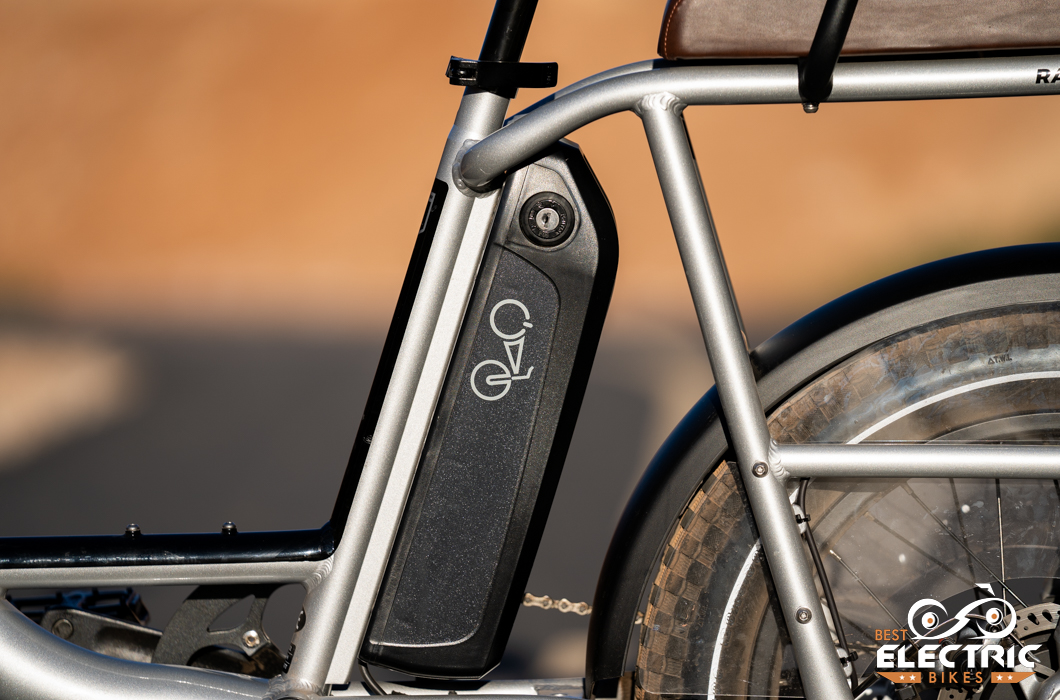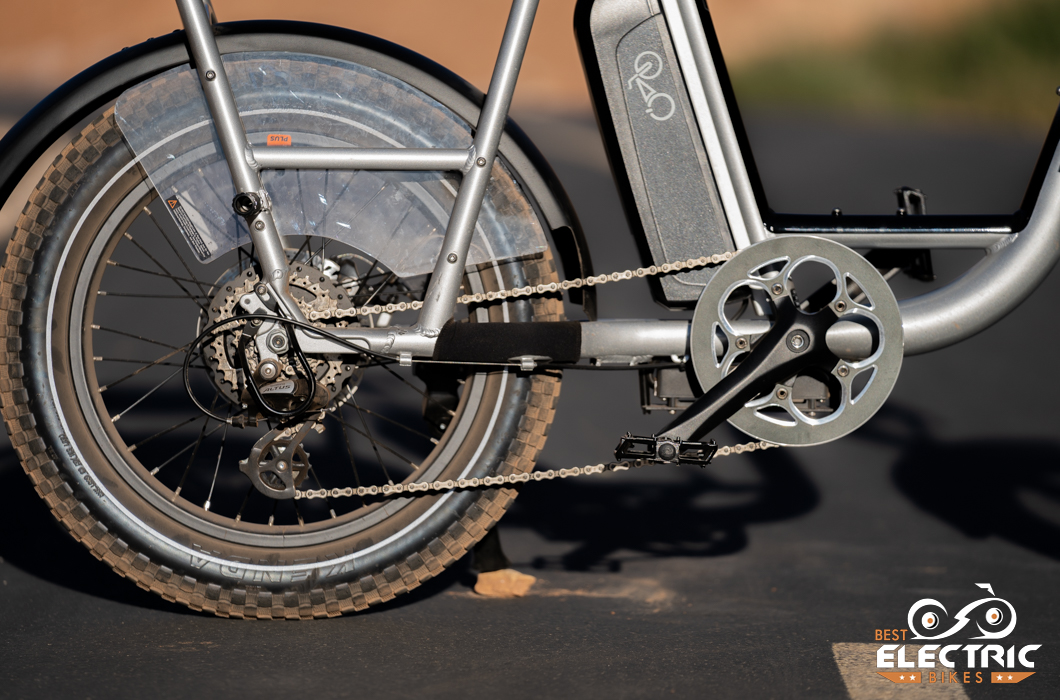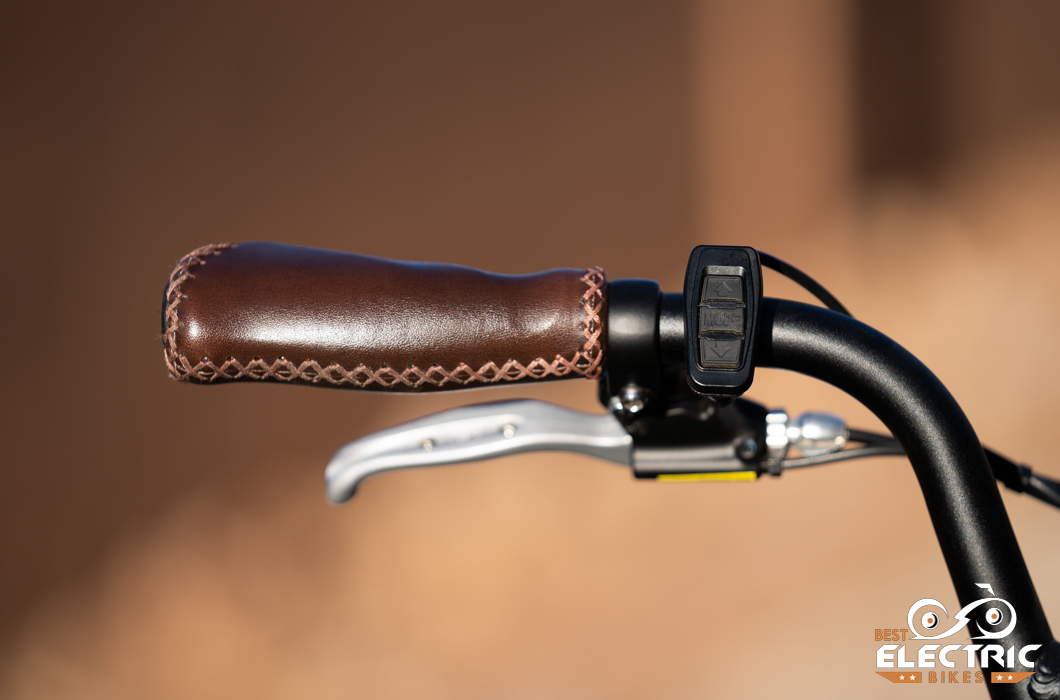 In-Depth Rad Power Bikes RadRunner Plus Review
Rad Power Bikes RadRunner Plus Review: Comfort, Handling, and Ride Qualities
Thanks to its step-thru design, 20-in. wheels and high-rise bar, the Rad Power Bikes RadRunner Plus is an easy handling and reasonably nimble e-bike. With a standover height of just 16.5 in., this is an especially easy bike to mount, which isn't just a consideration for people with flexibility or range-of-motion issues; it is helpful to the rider in controlling the e-bike when a passenger is on the back. And the closer to the rider's weight the passenger is, the more ease of control becomes an issue.
The RadRunner Plus comes in a single size and frame design, and while our concern about one-size-fits-all bikes is usually for smaller riders, that isn't an issue here. Thanks to its short seat tube and high-rise bar that can be tilted back toward the rider, making this a terrific option for riders who have felt too stretched out on other e-bikes.
Rad Power Bikes touts the moped-style saddle and in many photos it is shown at roughly the same height as the included bench seat in the rear. We have two issues with this. First, the rider's saddle is unusually small, smaller even than we find on many road bikes. Second, when positioned at the same height as the bench seat in the back, that will really only be comfortable for a rider with relatively short legs.
To the degree that we have a concern about sizing, we worry about the comfort of riders 6 feet tall and taller.
The Rad Power Bikes RadRunner Plus has a slightly shorter wheelbase than we see with many e-bikes. That, combined with the 20-in. wheels, gives riders an easy sense of maneuverability, making this an e-bike that can negotiate crowded bike paths and urban environments with confidence.
Rad Power Bikes RadRunner Plus Review: Motor, Battery, and Drivetrain Performance
Any time an e-bike is meant to carry more than one rider—or one very large rider—a powerful motor is called for. The Rad Power Bikes RadRunner Plus is equipped with a 750W brushless, geared hub motor that produces 80Nm of torque. Certainly, we see more powerful motors than this, but this is on the upper end of what we see in the $1500 to $2000 price range. This is power enough to accelerate a rider and passenger up to cruising speed thanks to the 80Nm of torque, and also means that it will ascend hills without bogging down.
The battery, which is mounted behind the seat tube to help the e-bike's handling and to allow the low step-thru design, holds a charge of 672Wh, which Rad Power Bikes estimates should provide power enough for 25 to 45 mi. of range, depending on the PAS level. This range is, arguably, even more fluid than that because as a bike's payload goes up, its range goes down; an e-bike with one 100-lb. Rider can be expected to go twice as far as one with two 100-lb. Riders.
The 7-speed drivetrain features Shimano components, including an Acera rear derailleur and an 11-34 freewheel (the set of gears mounted to the rear wheel). This is a notable step up in quality from what we usually see in this price range. An ongoing criticism we have for many similarly priced e-bikes is that their 14-28 freewheel offers too little high end as well as too little low end. One of the ways to express gearing is to say that a 14-28 freewheel has a range of 200 percent because 28 is 200 percent of 14. With the 11-34 freewheel, riders enjoy just more than 300 percent range—300 percent of 11 is 33. With this gearing a rider will climb hills with greater ease and not have to pedal quite so quickly to reach top speed.
Rad Power Bikes RadRunner Plus Review: Braking, Safety & Warranty
The Rad Power Bikes RadRunner Plus is spec'd with Tektro Aries mechanical disc brakes. The feel at the lever is a little different than with hydraulic disc brakes, lacking a bit of the smooth feel and easy modulation, but they do provide plenty of stopping power, in part because they are matched to 180mm rotors.
With the RadRunner Plus, our primary consideration with regard to safety is for the passenger. There's nothing about the RadRunner Plus that raises red flags as regards the rider who is pedaling. Nor are there any red flags for the passenger.
The Rad Power Bikes RadRunner Plus includes foot pegs that can be folded up when not in use. Without those and the rear bench seat, the RadRunner Plus wouldn't be suitable to carrying a passenger, unless it was a child in a child's seat. Also, a plastic guard that keeps feet and toes from tangling in the spokes, should a foot slip on a foot peg; they cover an area roughly equivalent to the arc from the chainstays to the seatstays. The handlebar shown in our photographs is an accessory and does not come standard with this e-bike; we'd like to see it included, but we don't suppose that in its absence holding on to the rider in front is a significant issue.
Rad Power Bikes' warranty is a single year. It's not a great warranty, but it's plenty common in this price range. Rad Power Bikes has had some recall issues, but from everything we've seen, they have been very proactive about taking care of issues that arise.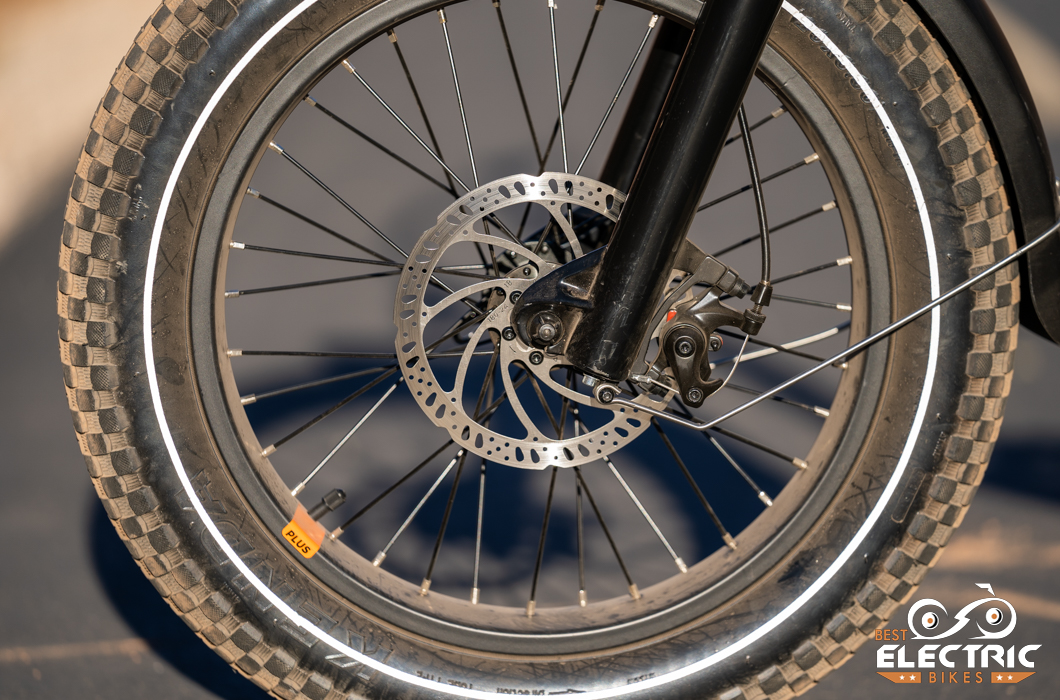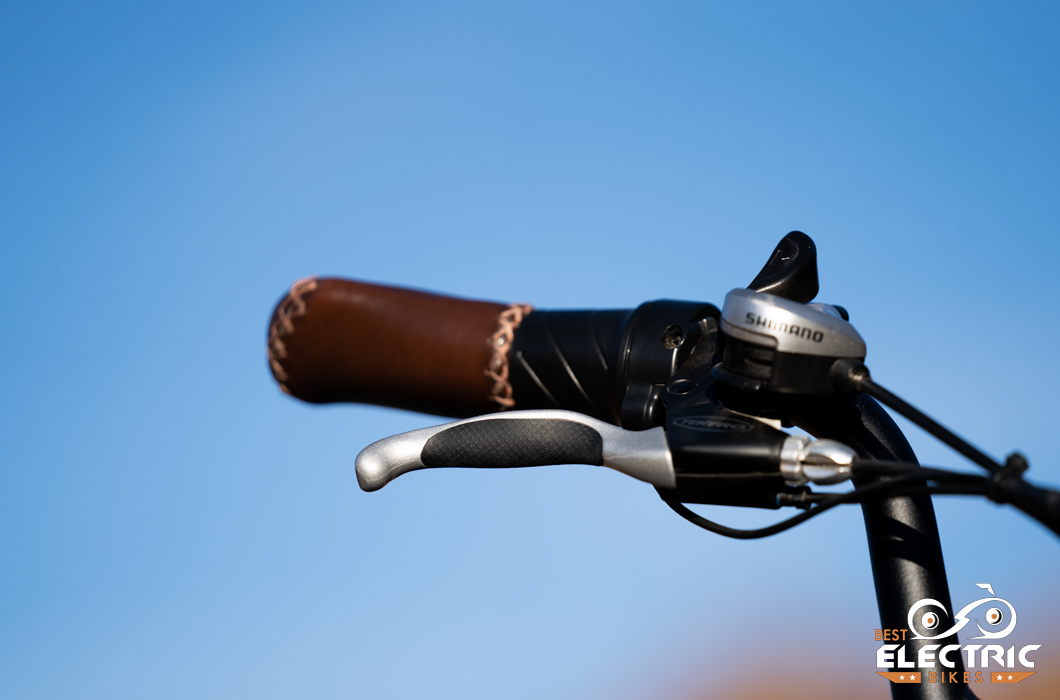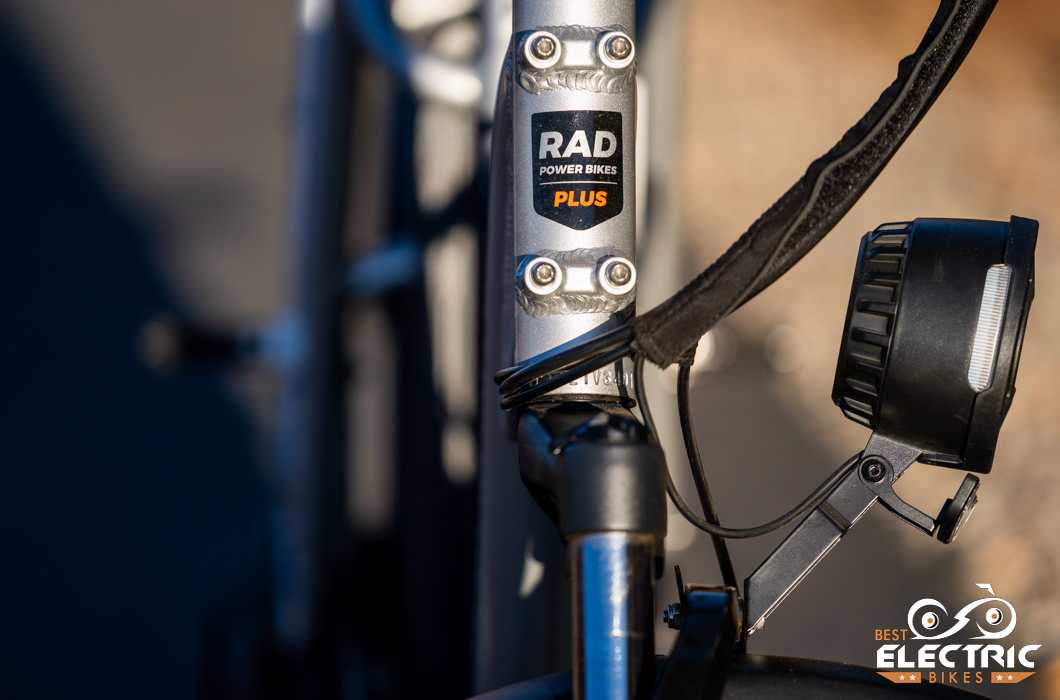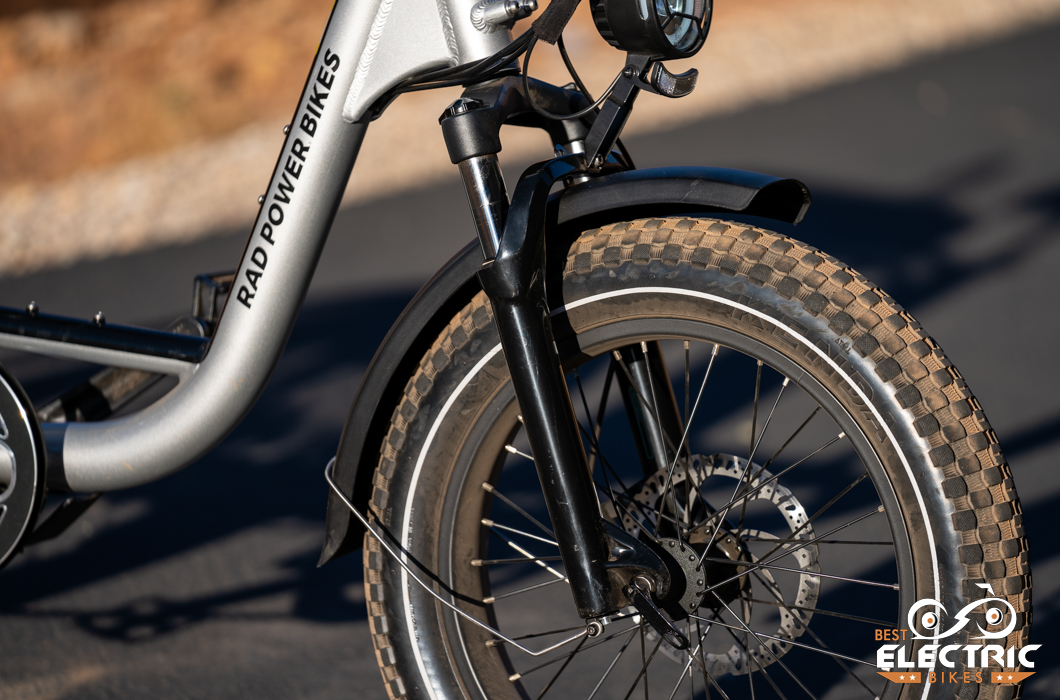 Rad Power Bikes RadRunner Plus Review: Recommendation/Final Verdict
The Rad Power Bikes RadRunner Plus is a pleasantly different take on what a utility e-bike can be. Precious few e-bikes take up the question of transporting a second rider. Indeed, most e-bikes that are sold with a rear rack can't carry a person—even a child in a child seat—on the rack. That's because few of those racks can support more than 50 lbs. Once a child seat is mounted, there's precious little weight capacity left for putting a child in the seat.
Rad Power Bikes took a different approach to the frame design and rack for the RadRunner Plus. Integrating the rack into the frame's design eliminates the need to bolt on a rack and the large-diameter aluminum tubing can support more weight than a smaller rack. Prospective buyers should be aware, though, that while the RadRunner Plus can carry up to 300 lbs. total, the rear rack maxes out at 120 lbs. That good, but it does limit this e-bike's ability to transport adults. Not too many couples will be using it on dates.
The seat spec'd on Rad Power Bikes' RadRunner Plus is narrower and shorter than most saddles. That means the rider's weight is supported by less of their kiester, and a consistent criticism of this e-bike is that tiny saddle. Sliding backward, onto the bench seat can only do so much.
One of our favorite features of the RadRunner Plus is the high-rise bar. By spec'ing a bar with lots of rise, it is better able to accommodate riders who can't handle a long reach to the bar; it's possible to roll the handlebar back toward the rider more than can be adjusted than with most other e-bikes.
That the reach on the two step-thru models is longer than with the traditional frames is disappointing. Often, people who have reduced range of motion or other flexibility issues need to purchase an e-bike with a step-thru frame if they are going to ride a bike at all. Reducing the reach on these bikes helps those riders sit more upright, which usually increases their comfort. This isn't a huge issue, but it's a detail we'd love to see corrected.
The RadRunner Plus includes a number of accessory mounts, including ones for a front basket. We love that it offers so much ability to be customized according to a rider's needs. Ultimately, that's one of the most important aspects of purchasing any e-bike—will it fit the rider's needs? Equipped with a basket in front and the bench seat in the rear and the Rad Power Bikes RadRunner Plus could be used to pick up a kid from school, stop by the store for a few items for dinner and then head home, all without burning even an ounce of gasoline.
This is a very fun e-bike that will suit most anyone's life.
Thank you for reading through our review of the Rad Power Bikes RadRunner Plus. Still have further questions? Wondering how it compares to a similar e-bike we've reviewed here at Best Electric Bikes? Let us know in the comments below!