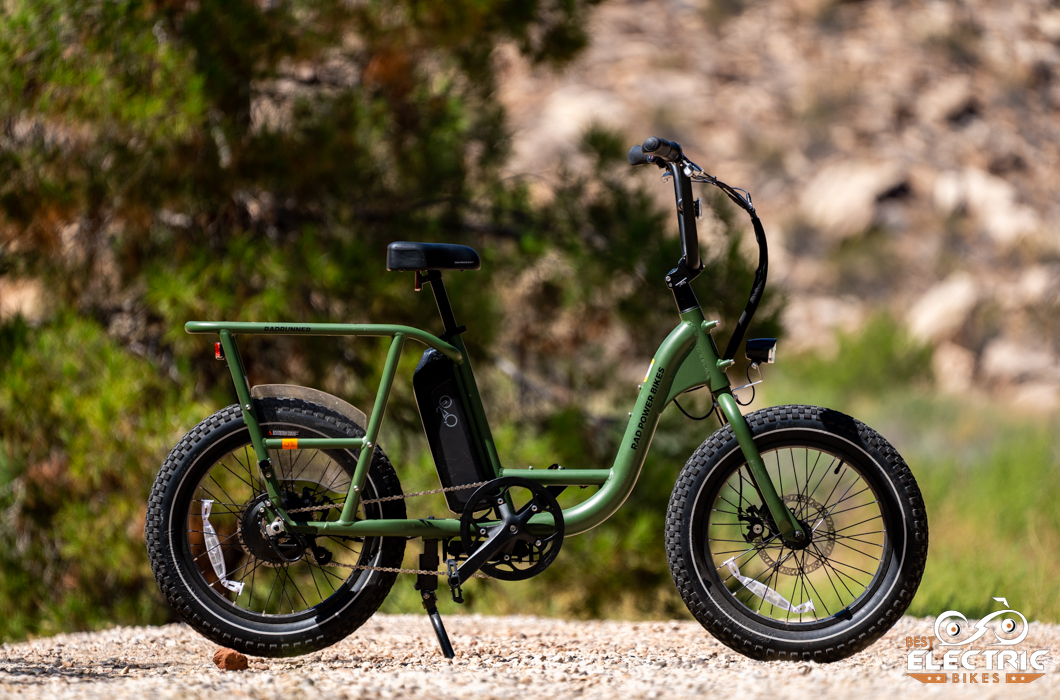 Rad Power Bikes RadRunner 2 Review: Intro
Not all e-cargo bikes have to be longtail as you'll soon learn in this Rad Power Bike RadRunner 2 review.
Electric cargo bikes have a reputation for being long, longer than a Lord of the Rings movie. While an e-bike with a long wheelbase can be handy for carrying a couple of kids so that they don't have to sit so close to each other that the kid in back can tell what shampoo the kid in front used, not everyone needs to be able to carry multiple kids, or even any kids. There's a lovely freedom that comes with being able to hop on a bike, zip over to the store, do some shopping and bring a few bags home without having to battle traffic and find parking. That whole wind-in-your-face thing sells itself.
The Rad Power Bikes RadRunner 2 is a novel take on an electric bike aimed at utility. In many ways, it's an ordinary e-bike: As a Class 2 e-bike, it has a maximum assist speed of 20 mph as well as a throttle for those times the legs have had enough. The frame is constructed from 6061 with a design that integrates the rear rack into the frame. Thanks to a step-thru frame design with a very low standover height, the bike is as easy to mount as it is to park. And a single gear.
The genius of the Rad Power Bikes RadRunner 2 is how adaptable it is to an individual rider's needs. The base model is competitively priced in the $1000-2000 range, but can be configured with accessories when ordering, rather than waiting for it to arrive and then purchasing the extras. Shoppers can choose from three different baskets, two different child seats, as well as upgrades like a better display and headlight.
With a payload capacity of 300 lbs., the RadRunner 2 is capable of carrying an adult, a kid and a few bags of groceries without challenging the tires.
As we breakdown the spec sheet in this RadRunner 2 review, keep in mind that few bikes on the affordable end offer this much customization; however you want to ride the RadRunner 2 you can!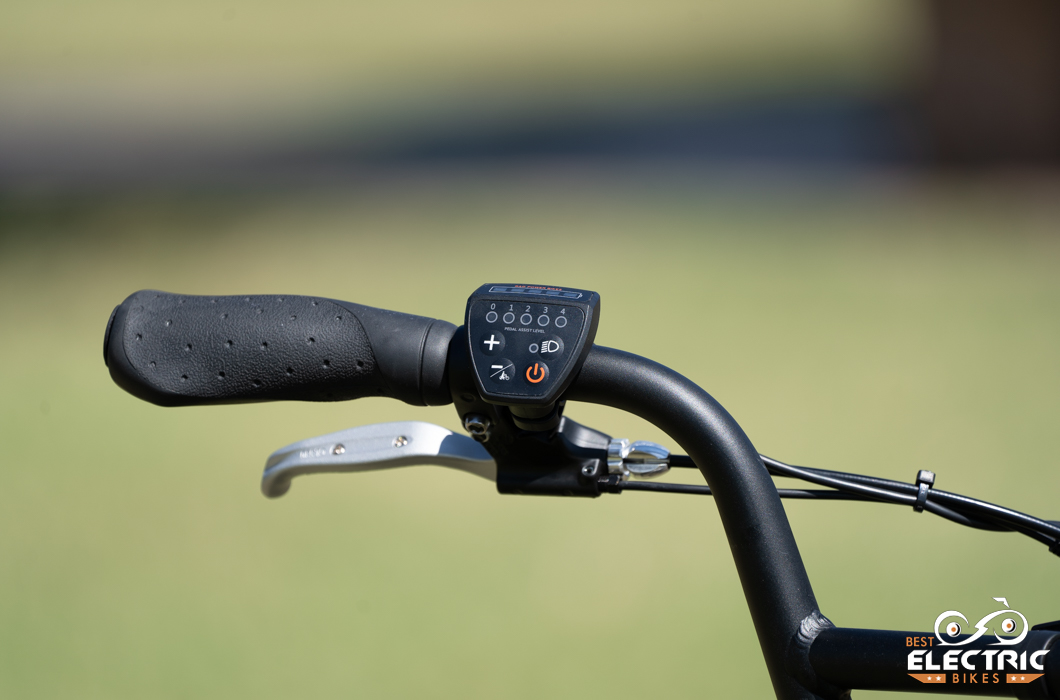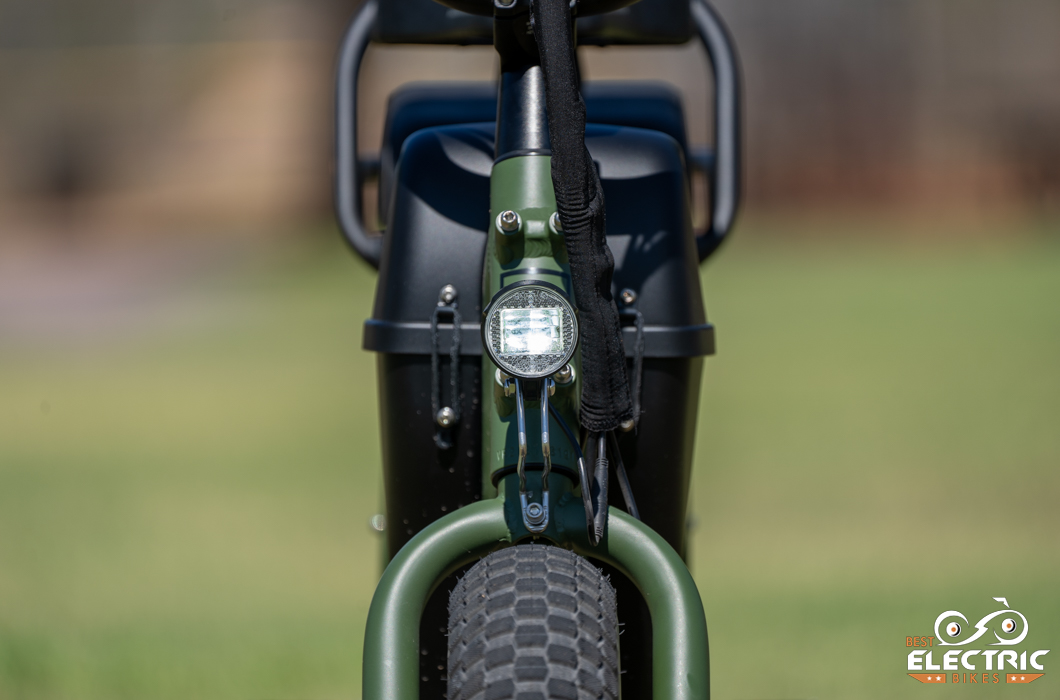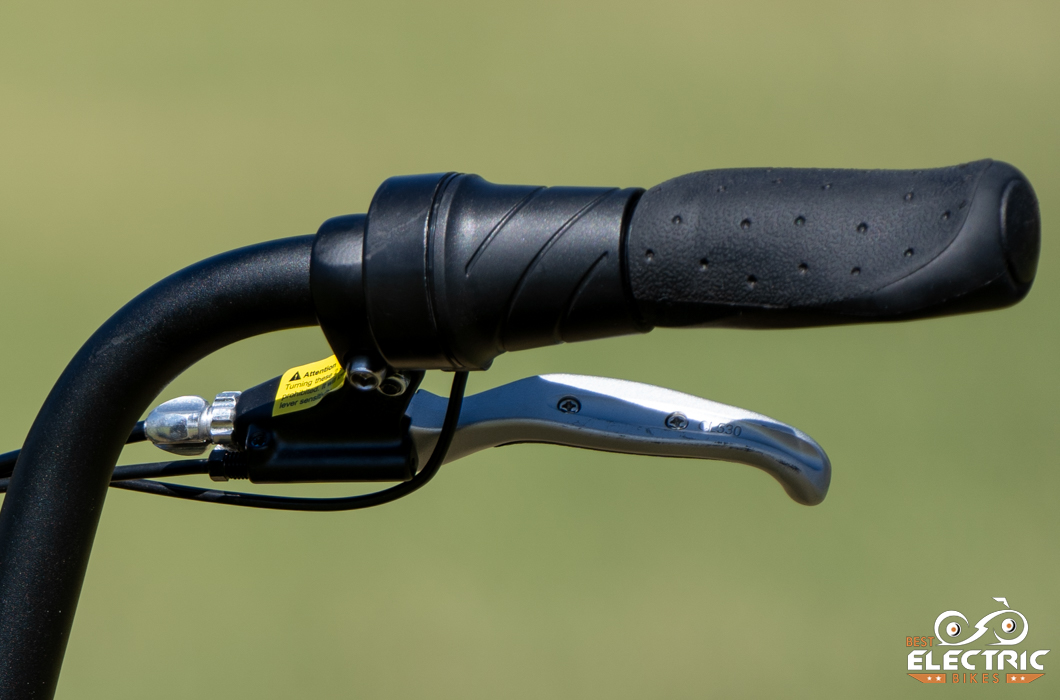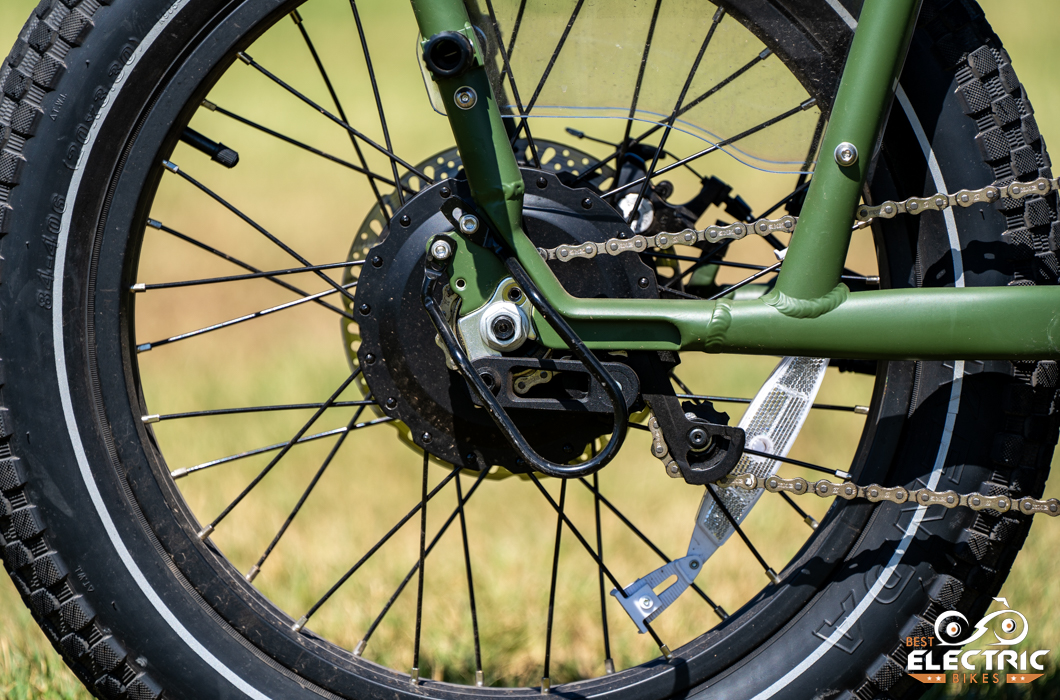 E-Bike Category: Commuter/Urban
Who is the Rad Power Bikes RadRunner 2 Electric Bike Is For:
This is a cargo bike for people who consistently carry small loads. From kids to groceries to Chihuahuas, it can carry lots of stuff.
Rad Power Bikes RadRunner 2 Review Ratings:
***All ratings are relative to e-bikes of a similar style and price point***
| | |
| --- | --- |
| Speed/Acceleration | |
| Hill Climbing | |
| Battery Range | |
| Braking | |
| Construction Quality | |
| Handling | |
| Included Accessories | |
| Warranty & Customer Service | |
| Value | |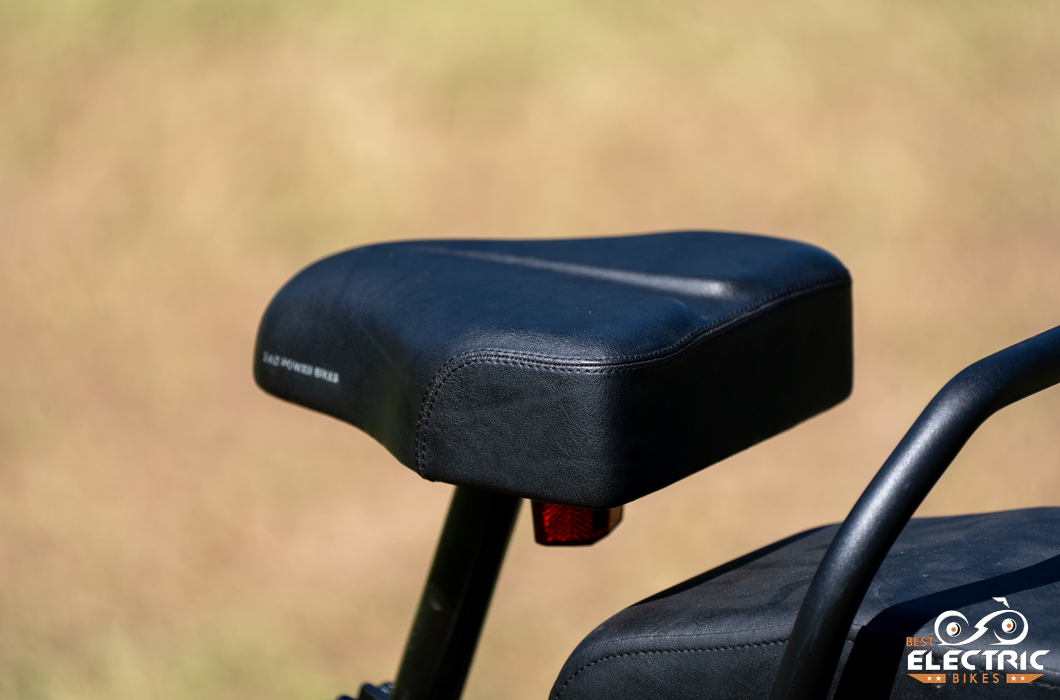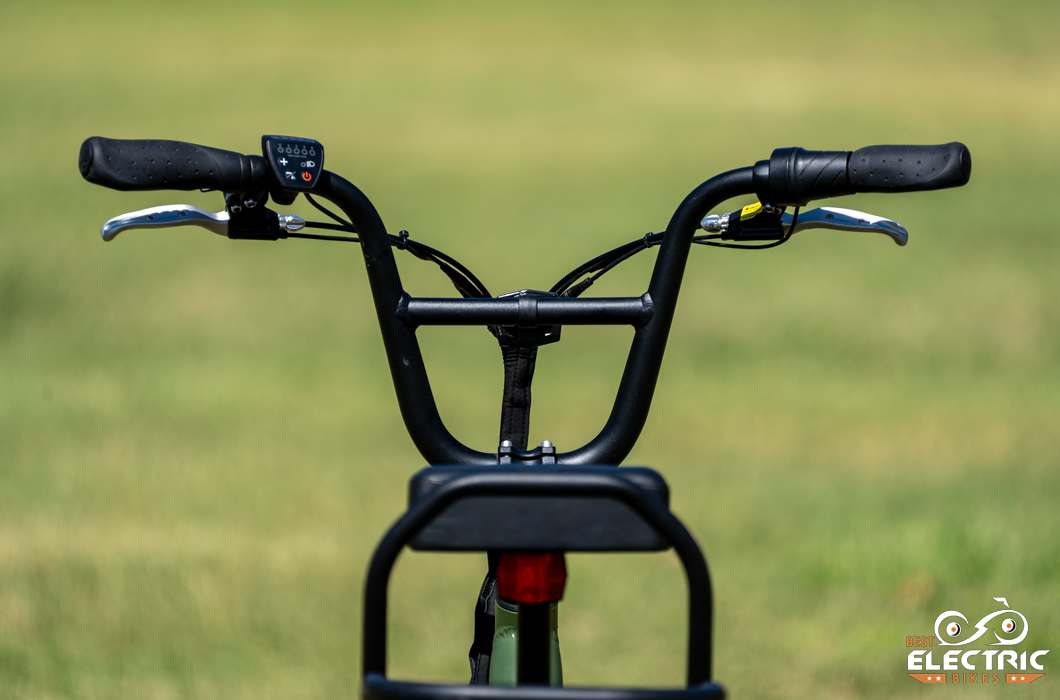 Rad Power Bikes RadRunner 2 E-Bike Specs
Battery: 672 Wh
Expected Range: 25-45+ miles per charge (estimate)
Charger: 48V, 2 Amp Rad Power Bikes smart charger, operates on 100V-240V AC power outlets
Motor: 750W brushless geared hub motor, 5:1 planetary gear reduction. Stated wattage is the manufacturer's rated power capacity. Actual power-to-ground wattage is under 750W to ensure ebike regulatory compliance and may vary depending on riding conditions
Pedal Assist: Intelligent 4 level pedal assist with low-profile cadence sensor
Throttle: Half twist grip throttle
Display: Rad Power Bikes custom LED display
Headlight: Standard Rad Power Bikes LED headlight
Taillight: Integrated taillight with brake light and flash mode
Frame: 6061 aluminum
Fork: Rigid steel fork
Fenders: N/A
Kickstand: Dual leg, spring loaded, steel
Handlebars: Aluminum high rise, 686 mm wide, 10″ rise
Grips: Durable ergonomic rubber grips
Drivetrain: Single speed, 53-16
Brakes: Tektro Aries caliper, 180mm rotors
Pedals: composite platform pedals with reflectors
Saddle: Custom Rad Power Bikes moped-style saddle with extra padding, fixed angle, and integrated steel seat post
Tires: Kenda K-Rad 20″ x 3.3″, 4-ply with K-Shield puncture-resistant liner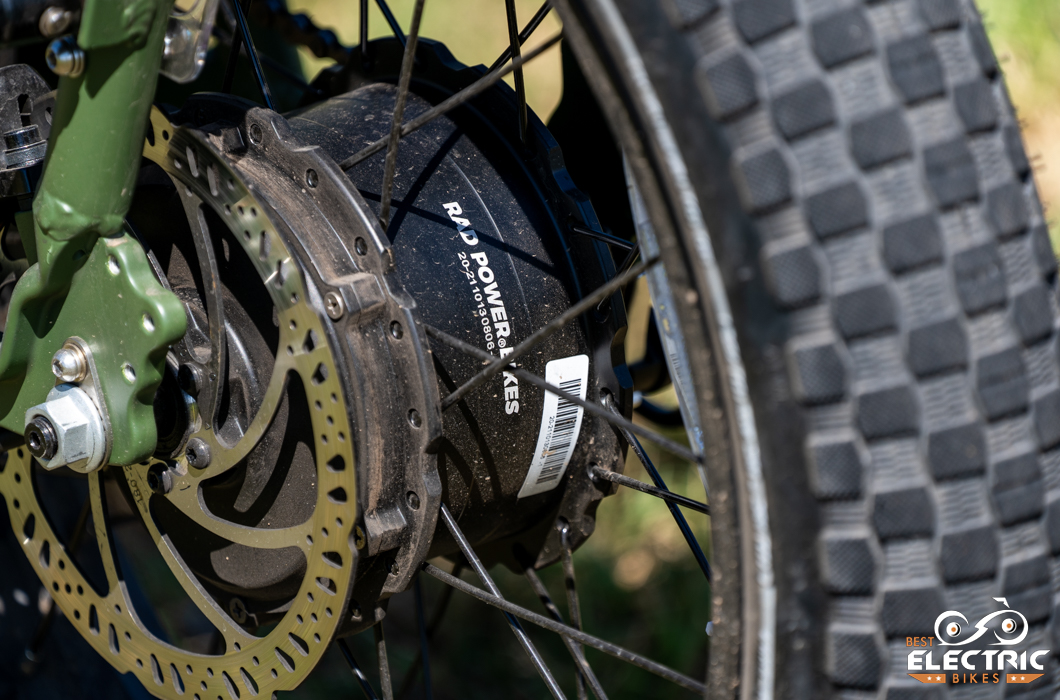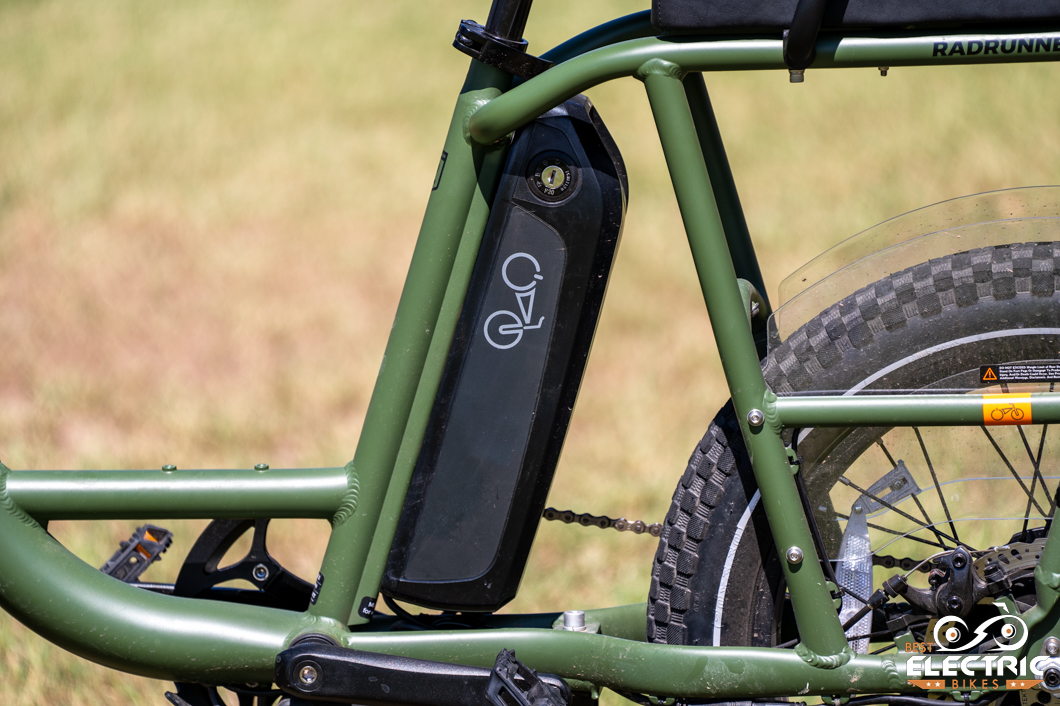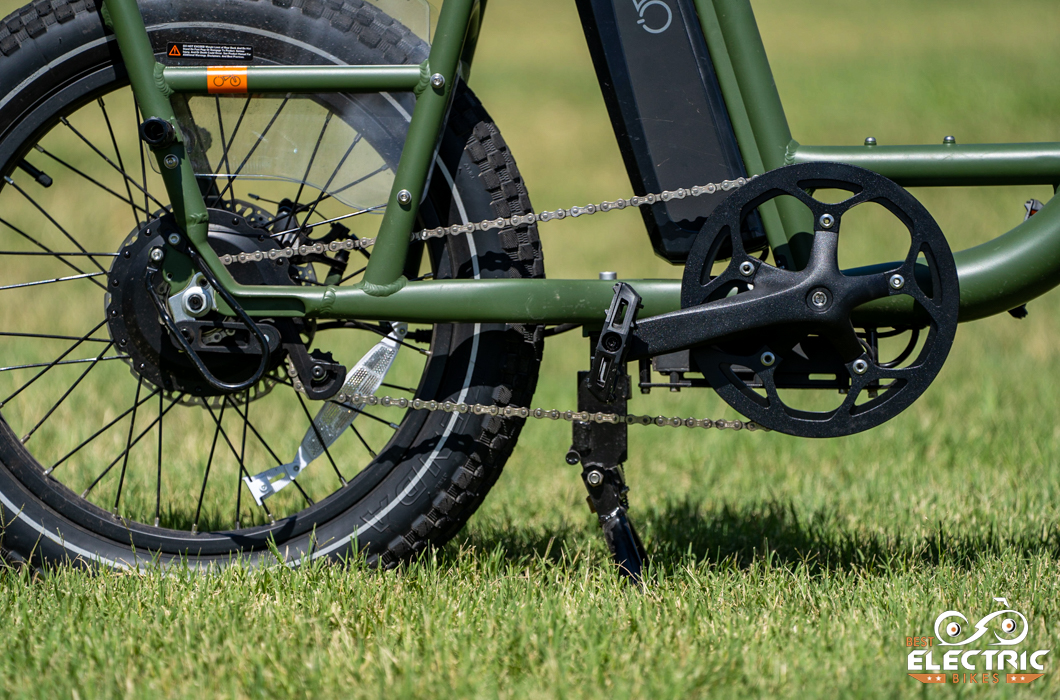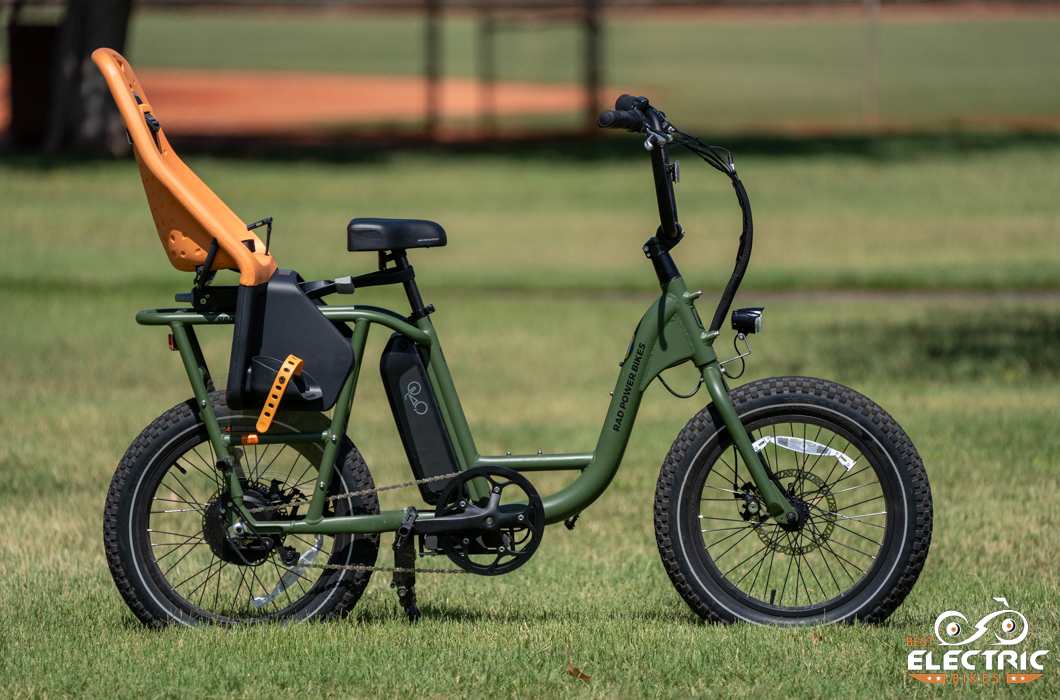 In-Depth Rad Power Bikes RadRunner 2 Review
Rad Power Bikes RadRunner 2 Review: Comfort, Handling, and Ride Qualities
The RadRunner 2 is a reasonably comfortable bike, and its character in this regard is largely determined by the 20 x 3.3-in. Kenda K-Rad tires. It's a tire big enough to be run at fairly low air pressure, which will give any rider a nice, cushy ride. That said, why Rad Power Bikes chose a saddle that looks more like something off a moped from the last century we will never know. The saddle itself is reasonably comfortable, but isn't well suited to pedaling and it has a fixed angle relative to the seatpost, making the RadRunner 2 review the only adult bike we are aware of where the saddle tilt cannot be adjusted.
We would take the manufacturer's advice on sizing for anyone 6-feet-0 or taller with a grain of salt, maybe half a grain. The bike's short seat tube and reach is terrific for accommodating riders between 5-feet-6 and 5-feet-11, and while riders between 5-feet-0 and 5-feet-6 will be able to lower the seat to a height comfortable to their needs, they may find the reach to the bar to be a bit much. There's a reason, a number of reasons, in fact, why high-end bikes often come in five or even six sizes.
Step-thru frames, because they don't have a traditional top tube, often suffer issues with their handling due to a lack of stiffness in the frame. Because Rad Power Bikes designed the RadRunner 2 with large-diameter 6061 aluminum tubes meant to handle up to 300 lbs., this e-bike features stable, consistent handling and due to a slightly longer than usual wheelbase thanks to the battery being positioned along the seat tube rather than the down tube, that extra bit of length improves its manners. It's still plenty maneuverable because of the 20-in. wheels, though.
The e-bike's wide tires are going to impart a smooth ride, more luxury sedan than SUV. While it is plenty zippy, it won't have the snappy, connected-to-the-road feel of some bikes.
Rad Power Bikes RadRunner 2 Review: Motor, Battery, and Drivetrain Performance
The Rad Power Bikes RadRunner 2 is built around a 750W brushless hub motor that produces 80Nm of torque, making it especially powerful for a Class 2 e-bike. Getting rolling won't be a problem even when loaded down with a little person, a gallon of milk and a pot roast (slurp). We don't often see a hub motor this powerful, which makes it a fitting choice for a bike meant to do more than get a grownup moving.
The 672Wh battery is estimated to offer between 25 and 40 mi., depending on the assist level used. Electricbikereport.com found that the RadRunner 2 exceeded both those figures in their testing, providing daily users with plenty of trips between charges.
One of our only knocks against this bike is the fact that it has but one gear. Not having a derailleur, freewheel and shifter simplifies riding and brings the cost down, but it does mean that going uphill will see a rider pedal rather slowly as the gear is sized to make for pleasant spinning at the maximum assist speed of 20 mph. And while the gear is tall for our taste, the 80Nm of torque the motor provides means that the RadRunner 2 will cruise up hills without balking. Residents of flat places such as Chicago and Miami won't notice the lack of gears; this motor will boost riders to 20 mph and keep them there.
Rad Power Bikes RadRunner 2 Review: Braking, Safety, Customer Service & Warranty
A key question for this RadRunner 2 review (and any e-bike review for that matter) comes down to how safe it is. Mechanical disc brakes provide a terrific balance of affordability and absolute braking power. Sure, they aren't quite so powerful as hydraulic disc brakes, but they do provide terrific stopping power, even with a heavy load. The Tektro Aries brakes with 180mm rotors are a setup we've seen on a number of e-bikes and the fact that they are spec'd so frequently on cost-conscious e-bikes is all the recommendation they need.
When we consider how safe an e-bike is, our two biggest concerns are how easily the bike is stopped and how easy it is to manage a bike when stopped. Halting this bike isn't an issue, nor is managing it when stopped, What gets most riders into trouble is moving from the saddle to standing and if the bike has a traditional frame with a high standover (we consider anything within a couple of inches of a rider's full inseam to be high), the bike can be a little awkward to manage, especially if the bike is loaded with a passenger and groceries. Thanks to its step-thru frame design and very low overall standover height, the RadRunner 2 will be easy to hold upright and steer into a parking spot, even if its carrying capacity is maxed out.
Rad Power Bikes has a more robust infrastructure than many of the direct-to-consumer brands than they compete against. They have a number of shops located around the country, though they tend to be found in major population centers like Seattle, Los Angeles and Denver. That can make servicing a bike easier in the case of a warranty issue, while also increasing the odds of being able to take one for a test ride. Their reviews tend to be very positive, with lots of happy owners willing to sing their praises. Another data point worth noting is that their warranty is a full two years on all parts and labor, which should give any buyer a measure of reassurance.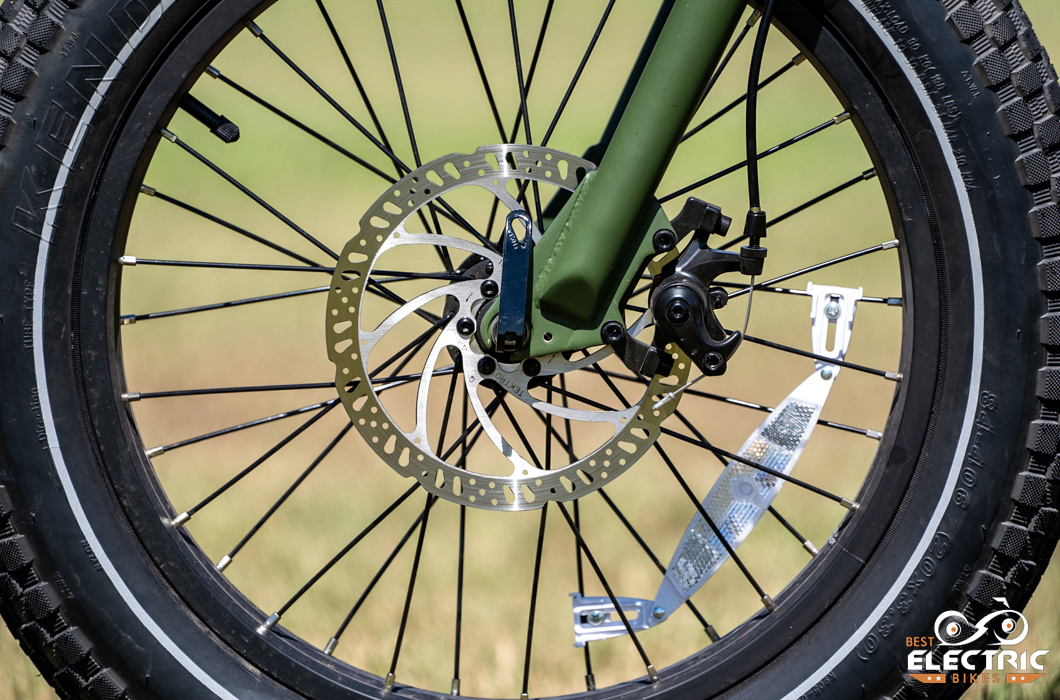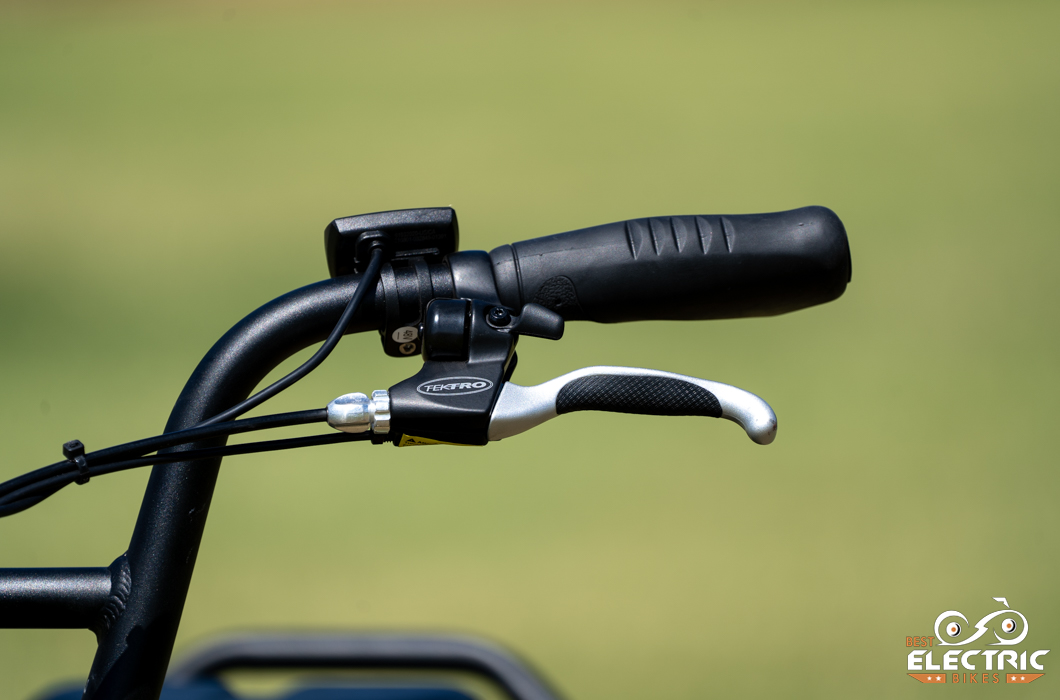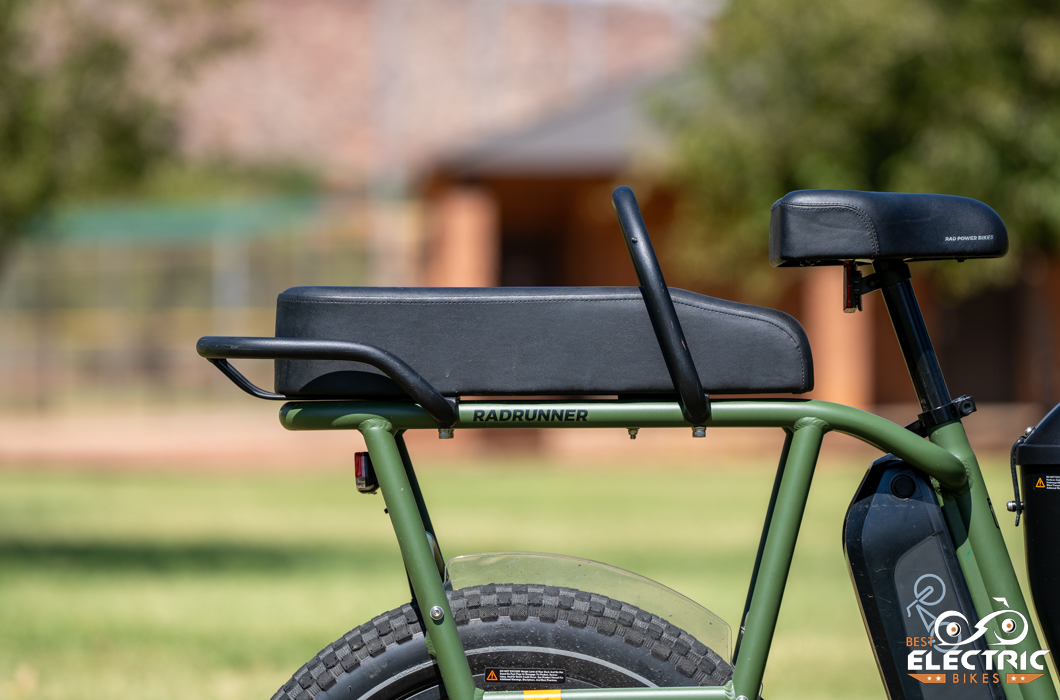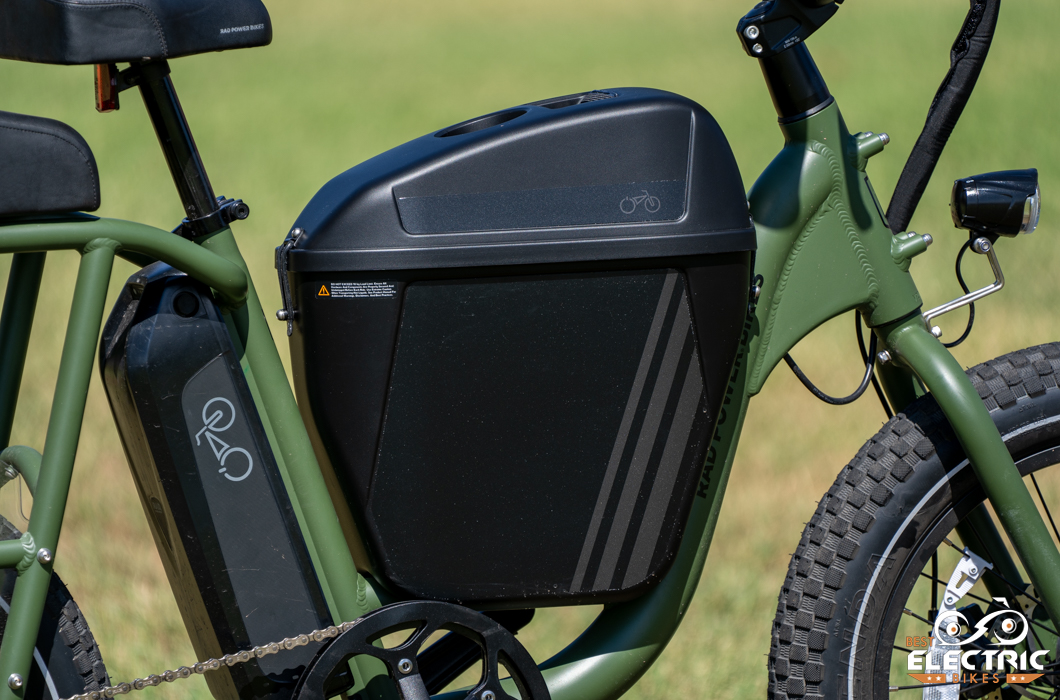 Rad Power Bikes RadRunner 2 Review: Recommendation/Final Verdict
So, what's the bottom line of this Rad Power Bikes RadRunner 2 review? For an urban dweller looking to simplify getting around town while maintaining maximum freedom, the RadRunner 2 is a way to make the bicycle as fun as it is practical. The big tires will smooth rough roads, road seams and other surface blemishes and flatting a big tire at low pressure is about as difficult as trying to cut white bread on a trampoline.
The display may only be a black and white, backlit LED screen, but it offers plenty of info and is easy to read.
We love the variety of different accessories Rad Power Bikes makes available for the RadRunner 2. With options like their front and rear baskets and the center console (pictured above), this is an e-bike suited to running errands. We also love that the simple frame design incorporated the rear rack into the frame, rather than make it an add-on. Because of that, the bike has a much higher weight capacity than most bikes.
And while the wide tires give a squishy ride, the small-diameter wheels make turns easy to initiate. The motorcycle-style kickstand holds the bike upright while its being loaded and there is no risk of having the bike fall over because the kickstand couldn't manage the load without the bike being centered. Load up the groceries and the kiddo and then give the bike a shove and it will roll off the kickstand, ready for the ride home.
Despite the proliferation of direct-to-consumer brands, assembling a bike is not for the faint of heart. We love that Rad Power Bikes offers assembly and pick-up options, making buying one of their e-bikes a good deal easier than most other e-bikes.
Thank you for reading through our review of the Rad Power Bikes RadRunner 2. Still have further questions? Wondering how it compares to a similar bike? Leave us a question in the comments below and the team at BestElectricBikes.com will answer!