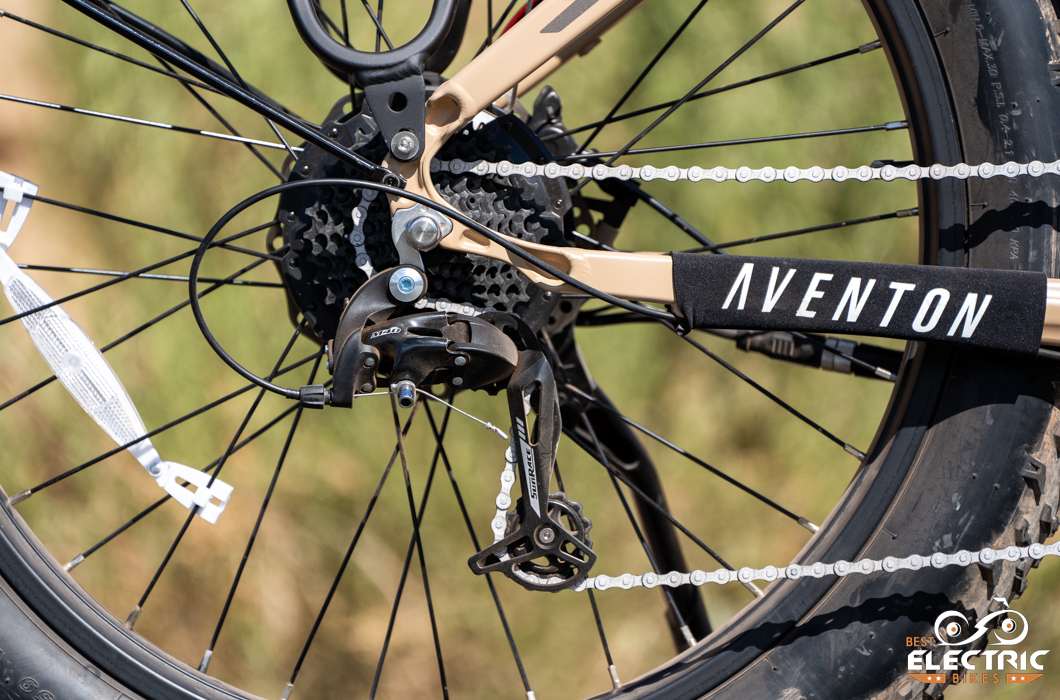 Of mankind's many inventions, the bicycle is one of the most significant. And the e-bike is the only way we topped the bicycle itself. Of all of man's assorted conveyances—feet, horse, car, boat, plane—the bicycle is the single most efficient because it allows us to multiply our effort thanks to gearing. And of the many powered ways we've created to move about, the e-bike is still the most efficient means by which we move.
Here's a way to frame just what an advantage gears give us: Anyone who has spent time with kids has experienced how an adult's normal walking pace is much faster than a toddler's. Longer legs are a mechanical advantage. Now imagine having stilts that were 12 feet tall, and agile enough that they permitted running. That's gears, in a nutshell.
An e-bike with a derailleur and multiple cogs is like having adjustable stilts; the longer the stilts, the faster we go.
Bicycle drivetrains come in two broad classes: those with external gears (a derailleur with a multi-cog cassette) and those with internal gears. We will take a look at both types as well as the relative advantages and disadvantages of each.
First up, we will discuss the basics of how gears multiply our effort.
The basics of gearing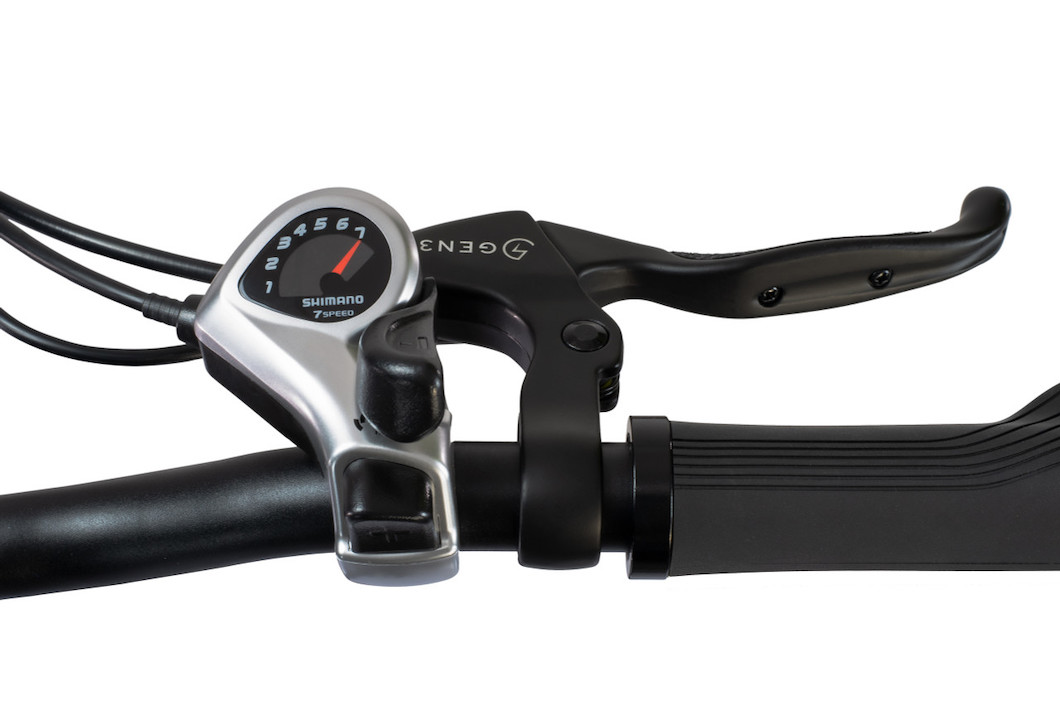 When we write in a review that an e-bike has a 7-speed or 8-speed or even 10-speed drivetrain, we haven't told the reader much about the gearing of the e-bike. It's simply an indication of the number of choices that the rider has.
In order to understand in an absolute sense how low or how high a gear is, the person shopping for an e-bike needs to know three things:
1. Tire size (both diameter and width)
2. Chainring size (number of teeth)
3. Rear cog size(s) (number of teeth)
Fortunately, we don't often need to know how big or small a gear is. Understanding how these factors function in a relative sense is enough knowledge to be useful. Here are the basics to know about each of these details:
Tire size: As tire size grows, the size of the gear effectively increases. Smaller tires, like 20 x 3-in. (like those spec'd on the Lectric XP 3.0) are easier to accelerate than larger ones (like the 26 x 4.0 found on many models from Himiway). Also, wider tires are bigger than narrower ones; that is, a 27.5 x 1.9-in. tire has a smaller circumference than a 27.5 x 2.4-in. tire.
Chainring size: The effect a chainring exerts on a drivetrain is very easy to understand. With chainrings bigger = faster. The more teeth a chainring has, i.e., the bigger it is, the faster the rider will go. Because tire size and chainring size have the same effect in terms of making a gear either faster or easier depending on if the size goes up or down, it is common to see an e-bike with 20-in. wheels be spec'd with a larger chainring than an e-bike with 27.5-in. wheels.
Rear cog size: The rear cog in a drivetrain functions opposite of the chainring. As the cog gets smaller (fewer teeth), the faster the gear becomes. Provided there is no change to the tire size or chainring size, a 13t cog is faster (harder) than a 26t cog, provided the rider's pedaling speed (cadence) remains the same.
Gearing range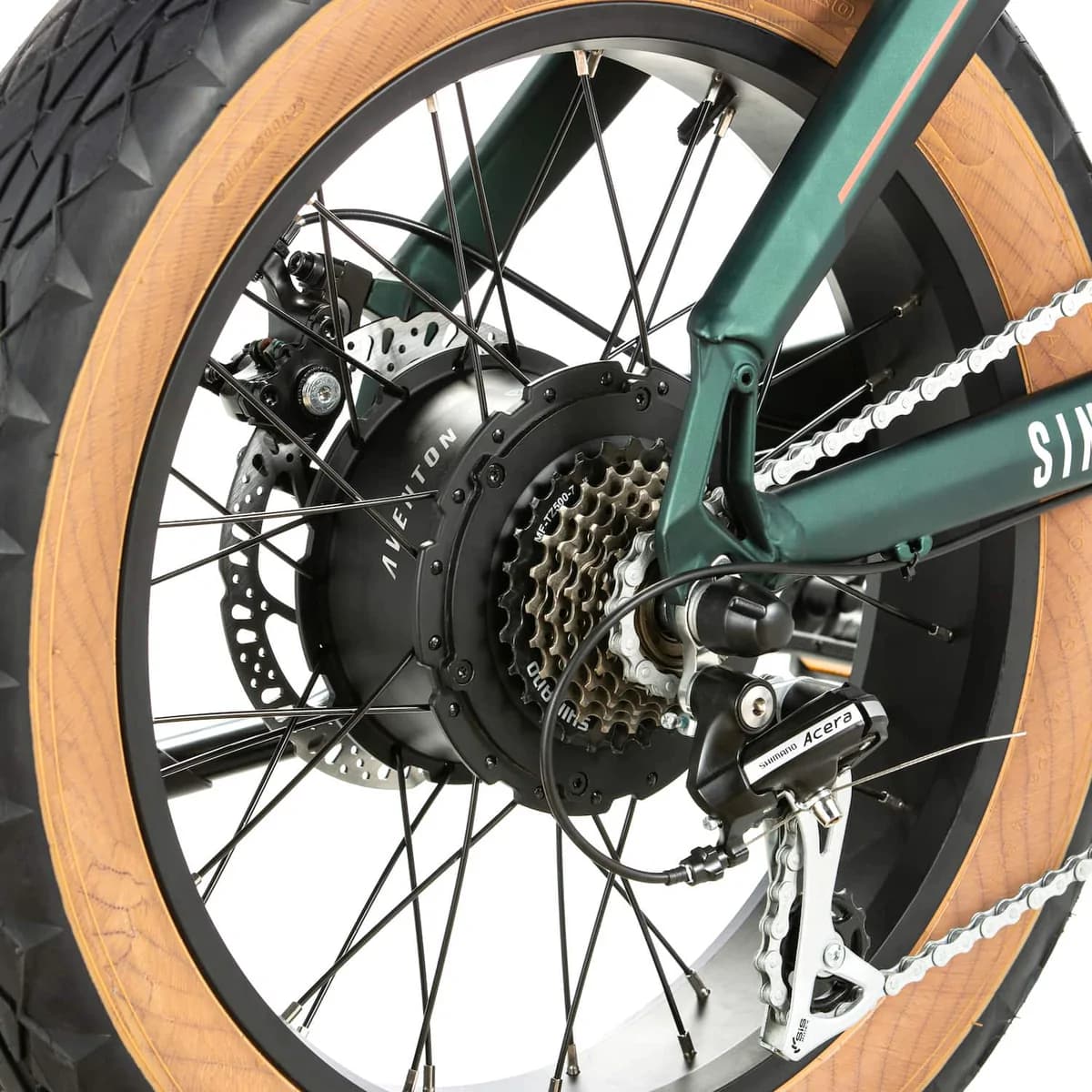 An e-bike's gear range, that is, the difference between the smallest gear and the largest gear, is typically represented as a percentage. The bigger the percentage, the greater the difference the rider will feel between the easiest gear and the hardest.
The obvious question is why someone needs a big gear range. Human legs are happiest in a fairly narrow range of cadence (pedaling speed as measured in rpms)—from about 60 on the low end up to about 120 on the high end. We are most efficient from about 80-100 rpms.
This means that if we are going to be able to climb a steep hill without making a huge effort and we are going to go 20 mph—again, without a big effort—we need a broad range of gears to turn our pedaling effort into motion.
Here at Best Electric Bikes tend to be critical of drivetrains that offer a range of only 100 percent. They work well for people who live in relatively flat places or don't encounter steep hills. Riders who live in places with plentiful and sometimes steep hills—places like San Francisco, Seattle and Philadelphia—will be happier with a gear range of 200 percent or more.
To help frame this in terms of need, the average eMTB drivetrain has a roughly 500 percent range, which is reasonable considering that the trails can often be steeper than a steep road.
7 and 8-speed drivetrains
The bulk of the e-bikes sold today—those in the $1000 to $2400 range—feature drivetrains with seven or eight cogs on the rear wheel. These drivetrains often feature a 14-28 cassette. That means the smallest cog has 14 teeth and the largest cog has 28 teeth.
Shoppers should keep an eye out for 7-speed drivetrains that spec an 11-28 or 14-32 cassette instead of the 14-28 if they are concerned about having a broad range of gears for hills.
As drivetrains increase in the number of speeds (cogs in the rear) they include, the range inevitably increases. Most of the 8-speed drivetrains we see feature a 12-32 cassette, which gives riders a 275 percent range.
Drivetrains with 9 or more speeds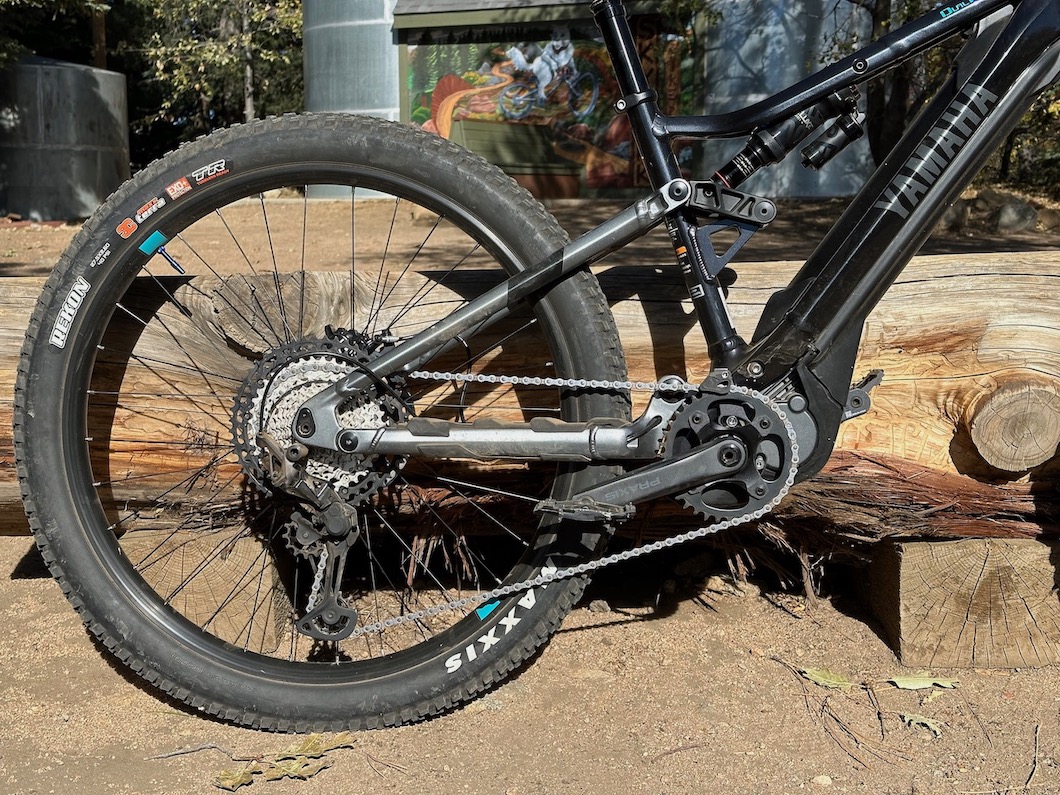 As drivetrains increase in the number of gears they offer, riders enjoy several different gains. Here are the improvements a buyer can expect:
Wider gear range. Riders can expect to see drivetrains with a range of 300 to 500 percent.
Smaller steps. With more cogs, not only can a drivetrain offer a greater range, but they can make the steps between the gears smaller so that the change isn't a shock to the legs.
Better ergonomics. The lever position becomes more natural, necessitating less reach. The shift action becomes shorter and lighter, so that shifts happen more quickly and easily.
Lighter materials and higher precision manufacturing. With lighter materials and stricter manufacturing standards, drivetrains both lose weight and shift more precisely, also increasing shift speed.
We typically see 9-speed drivetrains start to appear on e-bikes at around the $3000 mark.
Internal Gear Hubs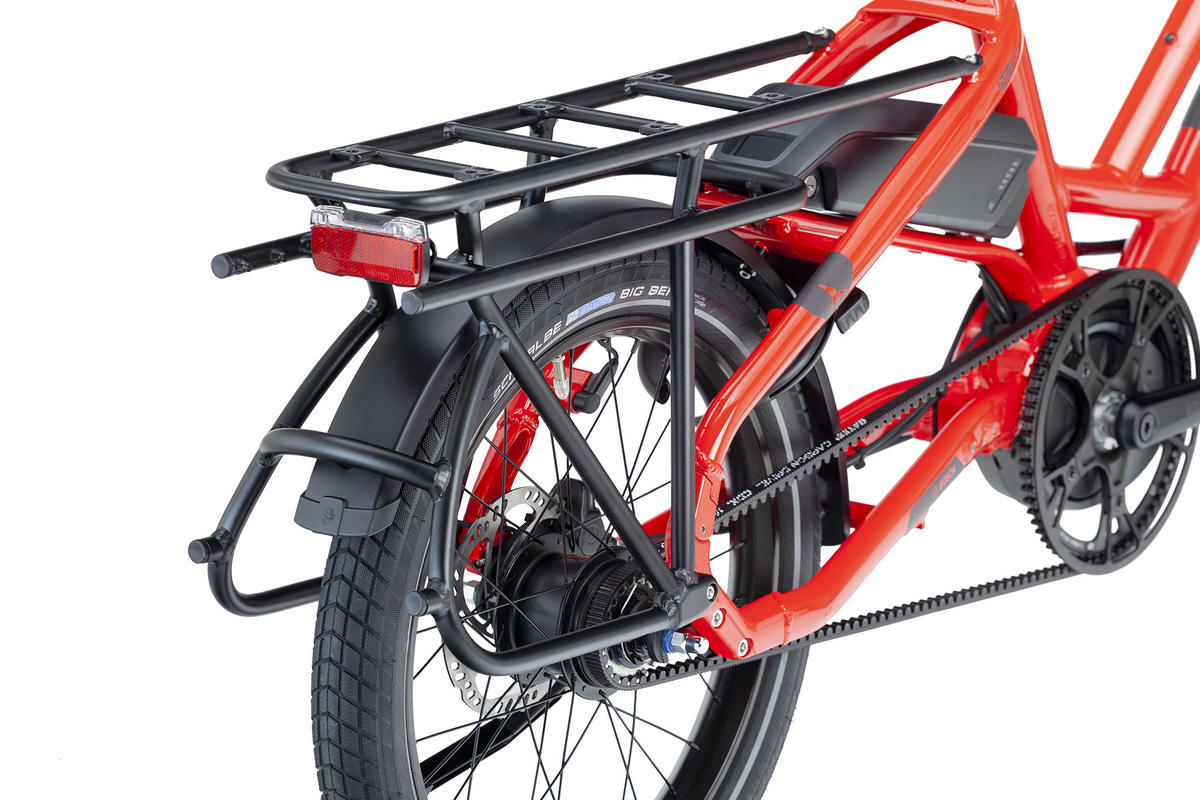 E-bikes with mid-drive motors will sometimes skip the derailleur and cassette in favor of an internal gear hub. E-bike with hub motors can't have internal gearing because there's only room enough in the hub for either a motor or a transmission, not both.
We're going to skip trying to explain how internal gear hubs work because they are as complicated as a car's transmission.
Here's what is worth knowing: They can offer a wide range of gears—sometimes as much as 500 percent. In addition to that obvious selling point, they also eliminate a good deal of maintenance. When combined with a Gates Belt Drive system—in which a nearly indestructible belt replaces the chain—it eliminates the need for chain lube as well as the threat of ruining a pair of pants from having them rub up against the chain. It's a very handy setup for a commuter.
Many of us may recall the old internal 3-speed hubs. Today's internal hubs may have eight or more gears; Rohloff makes one with 14. Enviolo makes an internal hub that uses a continuously variable planetary (CVP) gear design that allows for an infinite variety of gearing. That is, shifting is stepless. Enviolo makes three hubs that range from a 256 percent gear range up to 380 percent range.
E-bikes with derailleurs shift only while pedaling because the derailleur can only shift the chain to a different cog while the chain is in motion. E-bikes with internally geared hubs work the opposite way. To shift gears, there needs to be a pause in pedaling. This can be pretty handy because it means a rider can downshift to an easy gear while waiting at a traffic light if they didn't remember to downshift as they were approaching the intersection.
A word on materials
As e-bikes increase in price, drivetrain materials gradually switch from steel to aluminum, and sometimes even titanium. This helps cut weight and it's less expensive to precision-manufacture aluminum than it is steel.
That's a good thing, generally, but there are some consequences to be aware of.
Mid-drive motors insert power before the drivetrain, using the gears to multiply the motor's power, just as they do our effort. This is why a 250W mid-drive motor can be as effective as a 750W hub motor. With a hub motor, all but the rider's effort happens at the wheel, after the drivetrain.
As a result, mid-drive motors put more wear and tear on a drivetrain, often tripling or quadrupling the amount of strain on the chain and cogs. As a result, the drivetrains on e-bikes with mid-drive motors tend to need more frequent maintenance.
While normally less expensive products tend to need more maintenance and wear out faster, this is one place where the e-bikes in the sub-$2000 range enjoy a slight advantage. The motor's operation will place no strain on the drivetrain.
Easier than ever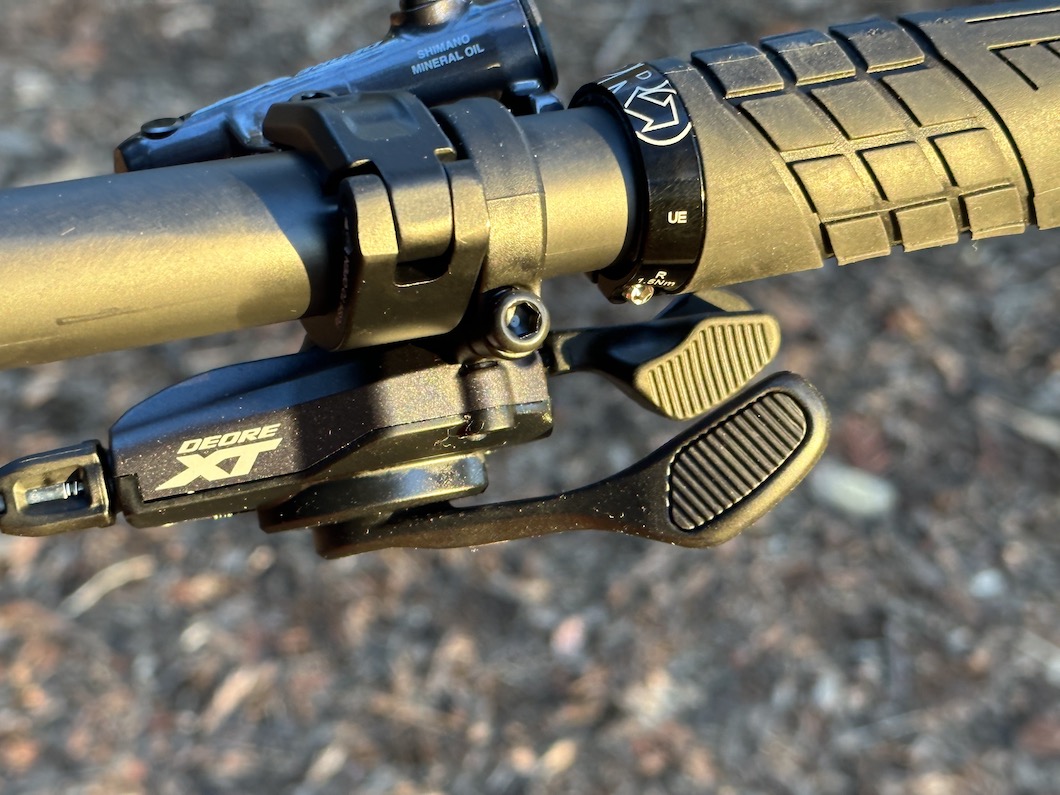 The good news for anyone intimidated by a multi-speed drivetrain is that they've never been easier to use, or more foolproof in operation. They've also never offered gears as low as are available today.
We have a word of caution for those who don't like to shift. We sometimes see riders leaving their e-bike in its fastest (hardest) gear and make the motor do all the work of accelerating from a dead stop. Most motors have the power necessary, so what's the harm? Making the motor do all the work is hard on it, and will shorten its lifespan. And for e-bikes with mid-drive motors, that strategy is not only hard on the motor, it's hard on the chain and cassette. The cassette and chain won't last a year in that event.
As we continue to see technology mature and drop in price, we are seeing ongoing improvements to e-bikes in that crucial $1000-$2400 price range. As the e-bikes get better, the hills get easier.
There's no better time to be shopping for an e-bike.