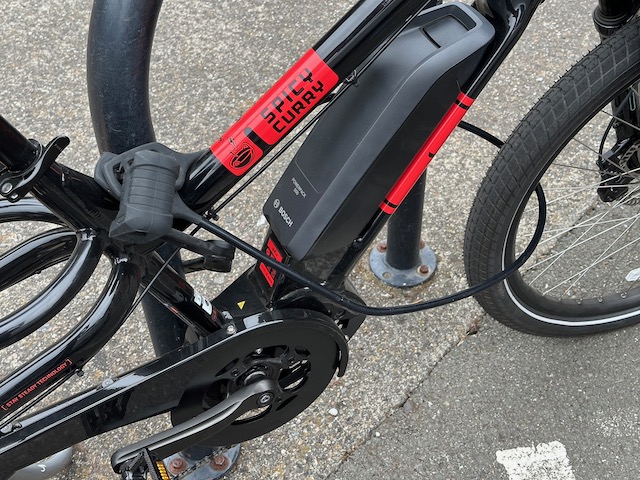 Having anything stolen is the worst. Trust us, we know. And having an e-bike stolen feels personal. Also, we know. So when we say it's important to protect your e-bike from theft, we know from personal experience what is good enough to protect an e-bike and what steps are not good enough to make sure that bike thieves don't make off with it in the night.
E-bike security comes in three broad classes. The first and easiest is keeping honest people honest. The second class of security is keeping an e-bike secure in a suburban neighborhood. The third class is what we might call urban security—making sure an e-bike is still secure even in the presence of experienced e-bike thieves.
The circumstances of theft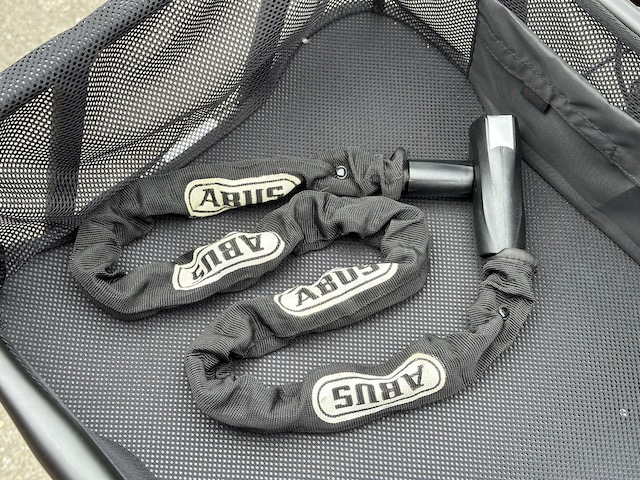 There are several conditions that contribute to thieves stealing e-bikes. This isn't to say all e-bikes are stolen in this manner, but we want to point out that thieves look for certain details that they know make it easier to succeed with a theft.
For each of these issues, there's a solution.
Problem: Leaving an e-bike unsecured. Most people would never cut a lock in order to steal an e-bike, but some might try to ride away on one if it's left unlocked.
Solution: Lock the e-bike. Any lock at all will cause otherwise honest people to think twice before trying to ride away. Even if the lock is just a padlock and a chain passing through the wheels and frame, that is a reasonable first line of defense.
Problem: The e-bike was locked, but it was stolen anyway. Not all thieves escape by riding away. Some thieves make sure to have a vehicle nearby so that they can drive away with an e-bike that was locked, but not locked to anything.
Solution: Always lock the e-bike to something that won't move. Bike racks, parking meters, metal fenceposts and railings are all great things to lock a bike to. Always choose metal over wood or plastic.
Problem: The cover of night. Darkness is a thief's best friend. If a thief or thieves can access an e-bike while it's dark, that makes the e-bike a more attractive target.
Solution: Lock the e-bike in a well-lit place. Light helps keep thieves away. We can't prevent the sun from going down, but we can lock an e-bike up in a place that is lit all night long.
Problem: Leaving an e-bike outside. Leaving an e-bike outside will attract more attention and if enough people see the e-bike, eventually, one of them will happen to be a thief. Even if an e-bike is locked to something, leaving it outside gives thieves easier access.
Solution: Don't leave an e-bike out in the open. Whenever possible, take the e-bike indoors. Even a parking garage is better than leaving it outside where passersby may see it. A secured garage is ideal. People lacking a secured garage at home may want to bring their e-bike inside their home. Honestly, the most secure e-bike is the one the thieves don't know about. If they never see it, they won't try to steal it. Even an enclosed patio or balcony is an improvement over being out in the open.
Problem: The e-bike must remain outside and in the open at night. The rider who has no choice but to leave their e-bike outside at night faces a tough challenge. An e-bike left outside at night is especially vulnerable to theft as this gives a thief more time to work and a lower probability of being noticed.
Solution: Urban-level security. The maximum-security approach to protecting an e-bike means that not only will the e-bike be locked to a rack or some other unmovable object, but the wheels will be locked to the frame. Rather than using a cable, a chain or folding link made from hardened steel should be used to lock the e-bike to the rack or other object.
Bike security: a how-to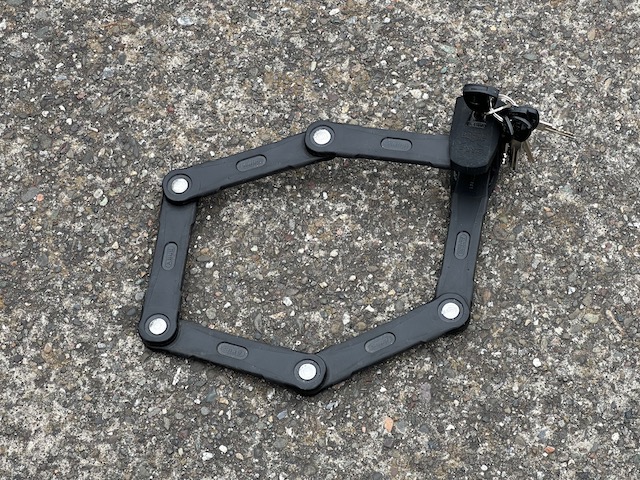 Locking an e-bike well enough to make it secure isn't especially difficult, provided the right items are used to protect the e-bike. A good lock isn't cheap, but defending an e-bike from theft is worth the investment.
Step 1: Find a good location. Always lock the e-bike to something. Inside locations are better than outside locations. High-traffic areas are preferable for locking an e-bike outside when running errands. Avoid locations that aren't well lit.
Step 2: Purchase a good lock. Locks that use hardened steel for chain links or folding links combine a high level of security with greater ease of use than a U-lock. Avoid cables as a primary means of security.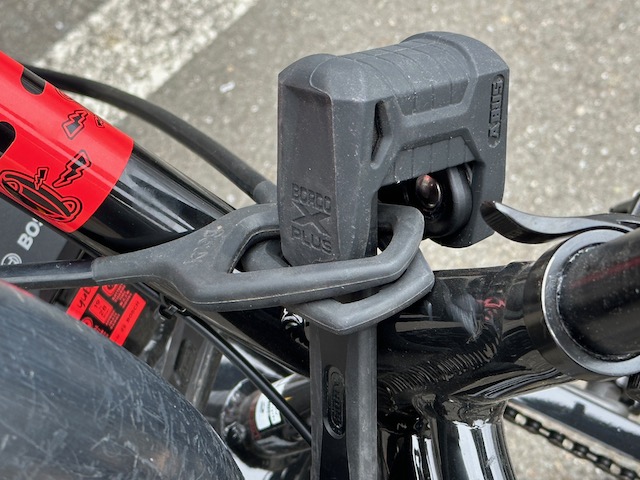 Step 3: Purchase an additional cable. A sad reality of e-bike security is that there are e-bike thieves who will steal parts off of an e-bike if they are unable to steal the whole e-bike. A 6-foot cable with loops on each end can pass through the spokes of the wheels and through the rear triangle of the frame. (This is the triangle formed by the seat tube, seatstays and chainstays.) The chain or link lock can be passed through these loops to keep someone from stealing the wheels.
Step 4: Remove the seat, display and battery. Most e-bikes feature a quick-release lever on the seatpost, making the seat and seatpost very easy to steal. So remove the seatpost. We recommend placing a wrap of electrical tape around the seatpost right at the insertion height to make sure that the seat height stays consistent from day to day. Most displays can be removed from their mount; pop it off as well. Finally, while most batteries feature a keyed lock, one way to make a thief lose interest in an e-bike is to remove the battery.
Wrapping up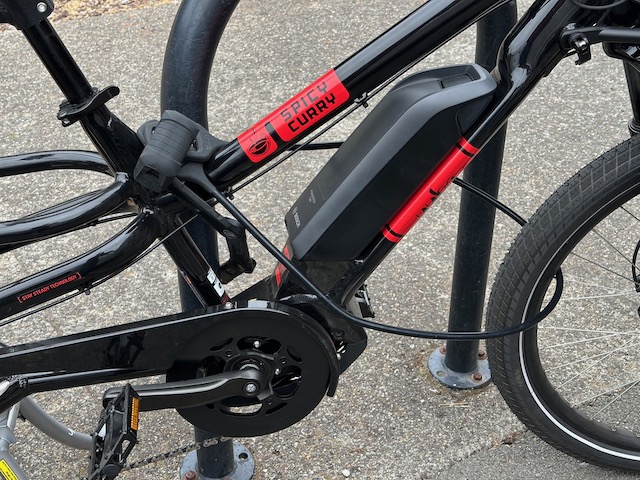 Of course, not everyone needs to go for maximum security. People living in big cities and riding in urban landscapes where crime tends to be higher face the greater challenge of keeping their e-bike secure. For those living in small towns or suburbs, these suggestions can be adopted in whole or in part, but the bottom line on e-bike security is pretty basic—lock that e-bike to something secure.