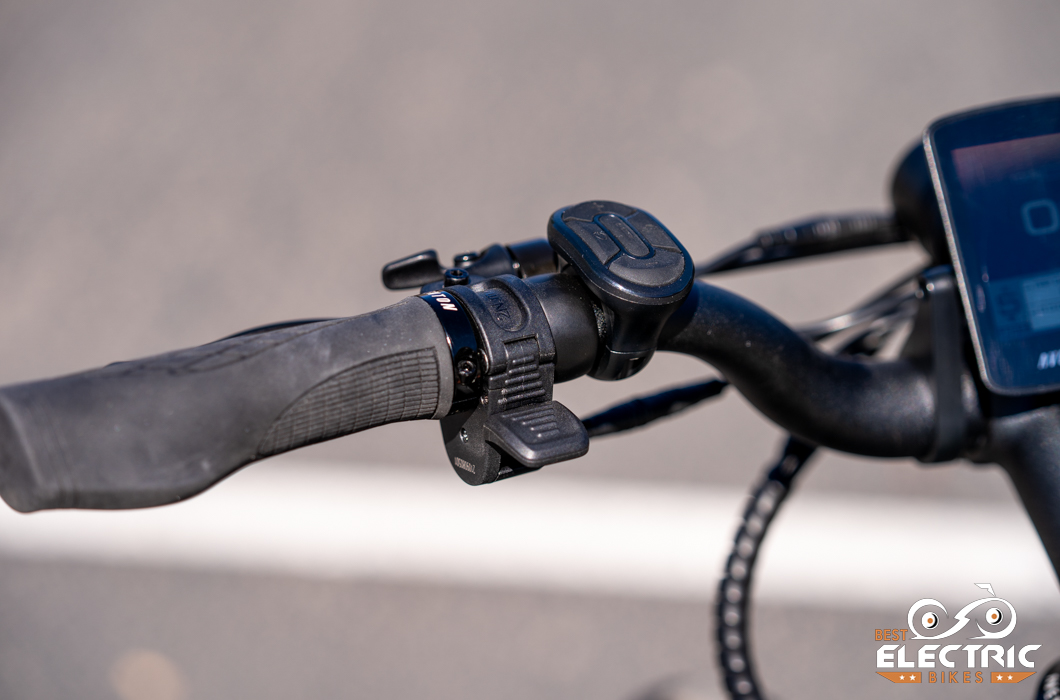 Most e-bikes sold in the US come with a throttle, so judging the value of a throttle may seem irrelevant, but they deserve some consideration for a variety of reasons. They offer a handy feature for many riders, but they come with some potential liabilities. In our look at throttles, we will break down both the pros and the cons because, like most things, they aren't all good or all bad.
The presence of a throttle on an e-bike automatically makes it at least a Class 2 e-bike. Many Class 3 e-bikes also include throttles, but what determines whether an e-bike is Class 2 or 3 is its top pedal-assisted speed.
Legality
E-bikes aren't legal everywhere. It seems a bit silly to us, but we have a responsibility to remind our readers that there is the potential of a ticket in some places for simply riding an e-bike. Fortunately, that's not a common problem.
What is a much more common issue is that in many locations that do permit e-bikes, their use is restricted to Class 1 e-bikes. That means riding an e-bike with a throttle isn't supposed to happen. But as we know with speed limits on streets and highways, lots of us choose just when we follow the rules and when we go, "Rules, shmules."
The concern on the part of communities is that someone riding along using the throttle may not moderate their speed when passing pedestrians and even other cyclists. Some anecdotal evidence suggests that when people are pedaling they will slow as they pass others on bike paths and narrow roads.
Rules or not, people seem to ride Class 2 e-bikes wherever they choose and we're not hearing about people with their thumb on the button being pulled over and given tickets. So with that let's jump into the fors and againsts.
Pros
Great for people building aerobic fitness and/or strength. An e-bike is a terrific way to rehab an injury or build fitness. Pedaling works both strength and cardio. The thing is, if someone doesn't have great fitness, the threat of getting too far from and running out of gas can cause people to ride shorter distances, which results in less fitness gained. With a throttle, someone can go for the long ride and if their legs give out, they can get home with the aid of the throttle, or at least use the throttle until the legs recover some.
Excellent for rehabbing an injury. In addition to helping build cardiovascular fitness and strength, pedaling is a low-impact way to restore range of motion, but once the knee, ankle or hip starts to get sore, it's time to stop. Again, a throttle gives someone a way to get home.
Instant acceleration. When pulling away from an intersection, especially one with cars, getting through and out of the intersection quickly can be helpful. Often, a rider can accelerate most quickly by using the throttle.
That stupid hill. Most everyone has one hill that isn't easy to climb. In the vein of our first pro, getting help on a hill can save someone from having to get off and push their e-bike.
Cons
The rules. As we mentioned in our opening, Class 2 e-bikes aren't permitted everywhere and for anyone who considers themselves a law-abiding citizen is likely to be troubled by this. That said, we're not sure anyone is harmed by pedaling their e-bike in a place where Class 2 e-bikes aren't allowed. It's a point we have a responsibility to report.
Less exercise. Any time spent outside on an e-bike is a win, right? However, relying on the throttle too much is a missed opportunity to gain fitness, strength and burn calories. Not everyone loves the gym and part of the beauty of an e-bike is the opportunity to get exercise without it seeming like exercise.
Reduced range. Nothing will run down a battery quicker than riding around purely on the throttle. For anyone with range anxiety, the throttle is Kryptonite.
The big picture
So there aren't many downsides to buying an e-bike with a throttle, and two of the cons can be avoided by simply not pushing the button or twisting the grip. And as to the legality of a throttle, there's no reason to avoid purchasing an e-bike with a throttle because most of them can be removed with little difficulty.
The bottom line, as we see it, is that they can be a handy form of insurance. Knowing someone has a way to get home even if they get tired can give someone the confidence necessary to go for a longer ride, and a longer ride usually means nothing so much as more fun.