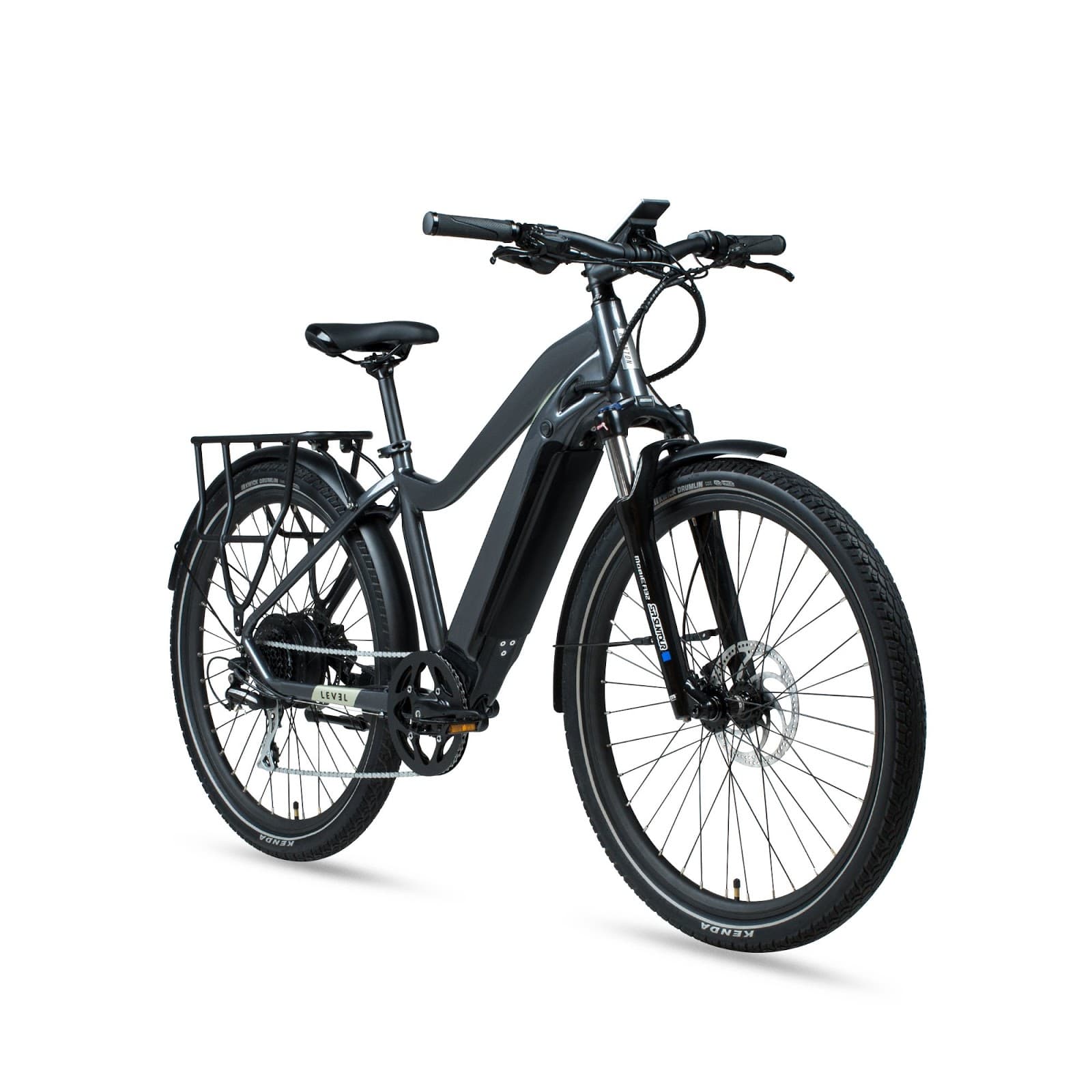 Welcome to our spec review of the Aventon Level eBike! Due to high demand of the Aventon Level, and recent disruptions due to several world events, we haven't had the chance to ride the Aventon Level eBike ourselves. However, by comparing the Aventon Level eBike to previous Aventon eBike models, along with studying the major components it shares with other eBikes we've tried, we have been able to develop our spec review of the Aventon Level eBike. We hope our spec review will provide you with a general idea of what you can expect from the Aventon Level eBike, from how it will perform to how it will feel using it to commute to work.
The Aventon Level eBike is a class 3 eBike designed for city commuting, with great suspension support that will make every trip a smooth and steady riding experience. The Aventon Level features both pedal and throttle assistance, with a 250 lbs recommended rider weight capacity and an additional 50 lbs of cargo weight support. In optimal conditions, the powerful 750 W / 60 Nm motor will travel between 40 to 60 miles, and is able to tackle flat roads and steep hills alike. The Shimano Acera drivetrain is one of the most reliable eBike drivetrain systems on the market, with 8 speed changing and full coverage fenders for rapid shifting that won't get disrupted while you ride. This is a great commuter eBike, especially given its affordable entry-level/mid-level price point made better by the assortment of accessories included with the Aventon Level eBike. So, if you don't have too much to spend and want a fast eBike that is sturdy and reliable, read on for our full review of why you will want to consider the Aventon Level electric bike!
Bike Category: Class 3: Pedal assist to 28 MPH, Throttle Assist to 20 MPH
Who It's For: Riders who want a smooth yet powerful electric bike great for stop and go traffic while commuting to work.
Bike Specs
FRAME: 6061 Double-Butted Aluminum Alloy
UI/REMOTE: M5 LCD Smart Easy Read Display with Backlight
BATTERY: Removable Internal Lithium-ion 48V, 14Ah (672Wh)
CHARGER: 48V 3 Amp Fast Charger
MOTOR: 750 W 48V 60Nm Brushless Rear Hub Motor
CHAIN: KMC Z Series, 8 Speed
SHIFT LEVERS: Shimano Acera Triggers
CASSETTE: Shimano Acera Cassette, 12-32T, 8 Speed
CHAINRINGS: 170 mm 46 Tooth Steel Chainring
DERAILLEUR: Shimano Acera 8 Speed
RIMS: Double Wall Aluminum 36h Front & Rear
TIRES: 27.5″ x 2.2″ Kenda Kwick Drumlin
SADDLE: Aventon by Velo
STEM: Threadless, 31.8mm, 7 Degree Rise
HANDLEBARS: Aluminum 31.8mm, 680mm
GRIPS: Ergonomic Comfort
BRAKES: Bengal Ares 3 Hydraulic Disc Brakes, 180mm Rotors
PEDALS: Wellgo 9/16″ Alloy Platform with Pins
KICKSTAND: Rear mounted kickstand
BELL: N/A
HEADLIGHT: N/A
TAIL LIGHT: N/A
FENDERS: Aluminum Alloy Fenders
Pros
Affordable entry/mid-level eBike that is great for commuting around the city. Available in three sizes, so that tall and short riders can all feel comfortable with the Aventon Level.
Sleek design. Integrated wiring and battery design minimizes the risk of damage to key electronic components. Looks fantastic in its black and gray color.
Powerful 750 W 60 Nm rear hub motor. This is a commuter eBike you can feel confident using to travel up hills or carry cargo on without overworking the motor.
Class 3 eBike with a 28/20MPH motor assistance speed cap. Optimal max range is estimated to be between 55 to 60 miles on a single charge.
Comfortable ride. Suntour Mobie A32 suspension fork further improves shock absorption for the commuter eBike. Can handle rough patches and cobblestone with minimal jitteriness and shaking.
48V 3 Amp Fast Charger. 0% to 100% takes about 4 to 5 hours. A more powerful charger than what is typically included for a eBike at this price point.
Great gear system. Shimano Acera 8 Speed drivetrain. Reliable build that is sufficient for city riders who want a simple to ride eBike that requires minimal drivetrain tuning and maintenance.
Large, backlit LCD controller with 5 assist levels that can be used during the day or night. Adjustable angle helps you glance down without taking your eyes off the road.
Kenda Kwick Drumlin 27.5'' by 2.2'' tires. Extra tire width provides additional suspension support when you hit troubled roads, while still performing well at very high speeds.
Great assortment of additional accessories despite its entry-level/mid-tier price. Fenders, cargo rack, kickstand, and more. Ready for more add-ons and upgrades as well.
Cons
Cannot throttle from a dead stop. You have to start pedaling for a bit before you can use the throttle. This design is uncommon, but is included as a safety feature.
Minimal reflective safety lighting, and no headlight, tail light, or even a bell. You will want to add extra safety components to increase your rider profile on the Aventon Level.
Great design, but currently only available in one color option. Not a huge complaint, but we would prefer at least a couple color options to choose from in the future.
Non-removable controller. Easy to use, but basic features and lack of extras like USB charging will disappoint those accustomed to more advanced display controllers.
Powerful motor, but it gets loud once you push it past 20 MPH, even for a rear hub motor. Can grow very irritating if you ride for long stretches at high speeds.
The Kenda Kwick Drumlin tires are built tough with great puncture protection, but they are not easy to get off of the Aventon Level when they do need to be serviced.
Features
6061 Double-Butted Aluminum Alloy
6061 is the alloy used for many key boat, automobile, and even aircraft components, providing a sturdy but lightweight frame. The double-butted design provides additional reinforcement for an eBike that can take the occasional crash without falling apart. Available in three sizes to accommodate short and tall riders alike.
672 Wh Lithium-ion battery
The large battery is integrated right into the frame of the eBike, providing a direct power supply for a larger range while also providing better battery protection. The battery is removable, making it easier to service or allowing you to store the battery inside without having to drag the whole frame indoors.
48V 3 Amp Fast Charger
The charger plugs right into the eBike, allowing you to charge it without having to take the battery out. The 3 amp charger is a bit more powerful than the standard 2 amp charger typically included with eBikes at this price point. A full charge from 0% to 100% will typically take around 4 to 5 hours.
750 W 48 V 60 Nm Brushless Rear Hub Motor
The rear hub motor has 60 Nm of torque, so combined with its peak 750 watt power you have a powerful motor that will help you climb steep hills with ease if they're paved. Max range in optimal conditions is about 55 to 60 miles with the Aventon Level.
M5 LCD Smart Easy Read Display with Backlight
Large display that makes it really easy to glance down and see your riding stats like your current speed, odometer, battery life, and more. The backlit display works well during the day and night alike.
8 Speed Shimano Acera Drivetrain
Shimano is one of the most recognized drivetrain manufacturers in the eBike industry, with the Shimano Acera drivetrain a proven and reliable setup. The 8 speed shifting is a bit limited for dedicated cyclists, but it does provide a steady and smooth riding experience for those who just care about navigating the city.
27.5″ x 2.2″ Kenda Kwick Drumlin Tires
Great tires designed specifically for a city commuter eBike, allowing you to pedal comfortably at fast speeds over pavement. The extra width reduces turning radius, but it does provide a smoother experience for when you hit the occasional rough patch.
Aluminum 31.8mm, 680mm handlebars with Suntour Mobie A32 Suspension Fork
Extra wide handlebars so that especially tall riders with long arms can feel as comfortable riding the Aventon Level as shorter riders who don't need to reach as far. Suntour Mobie A32 spring suspension fork further increases rider comfort, providing shock absorption for when you hit less than smooth terrain.
Bengal Ares 3 Hydraulic Disc Brakes
Powerful 180 mm rotor disc brakes that provide great, steady stopping power. Levers are easy to pull, but provide good feedback to affirm that your brakes are working as intended. Motor inhibitors automatically shut off motor power when either brake lever is pulled.
Wellgo 9/16″ Alloy Platform with Pins
Oversized aluminum pedals that are a step above the common plastic pedals traditionally included at this price point. Pedals should feel comfortable to use even as you hit higher, 30+ MPH speeds.
In-Depth Review
Frame
The Aventon Level is constructed with a 6061 double-butted aluminum frame. 6061 aluminum alloy is a common base material used for eBike frames, as it provides a great balance of being sturdy and durable while also being lightweight and compatible with electronic wiring. At 58.6 lbs, the Aventon Level isn't the lightest eBike we've ever reviewed, but it's far from being the heaviest either. The Aventon Level has a recommended rider weight capacity of 250 lbs, with an additional 50 lbs suggested if you want to make use of the rear bike cargo rack. This eBike is also available in three size options, ensuring that most teens and adults can feel comfortable while riding the Aventon Level eBike. Aventon's recommended height range is between 5'1''' and 6'4'', but we think that riders between 4'10'' and 6'6'' will feel comfortable if you properly adjust the saddle and make sure you buy either the S or L sized frame respectively. We would like to see more color options than the Earth Gray/Black, but it's just a small complaint against the otherwise great frame.
Motor & Battery
The Aventon Level is a class 3 eBike with pedal assist up to 28 MPH and throttle assist up to 20 MPH.
The Aventon Level has a rear-hub drive motor, and while it can be a bit jerky once you activate your eBike it does help the Aventon Level stay very affordable. The Shengyi motor has a peak output of 750 watts and 60 Nm, which is more than enough power to climb even steep hills as long as you're sticking to well paved roads. The estimated max range in optimal conditions is about 60 miles, but most days you'll get about 40 miles unless you are sticking to the first power assist level. The range is a bit smaller than what we typically expect from a eBike, but the powerful motor means that the Aventon Level won't struggle with cargo or climbing hills to the same degree as many other eBikes.
This is a great eBike that features both throttle and pedal assist, with throttle assist capped at 20 MPH and pedal assist capped at 28 MPH. The motor will cut itself off if you exceed these speeds, but with manual pedalling you'll be able to go over 30 MPH, the motor kicking back on if you drop below the respective speed caps. If you aren't familiar with eBikes, you'll also be pleased to learn that you can pedal a eBike just like a traditional bike even without motor assistance, so if you drain the battery or if your motor stops working you can still ride the Aventon Level.
The one thing we do want to highlight when it comes to the motor is the safety feature that Aventon put in for the throttle. You cannot activate the throttle from a dead stop, with the Aventon Level forcing you to pedal for a few seconds before allowing you to use the throttle. The benefit of this is that you can't accidentally shoot out with the throttle while you're mounting or servicing the eBike, but the downside is apparent with stop and go traffic. We typically recommend throttle bikes because they allow you to keep up with the city flow, ensuring you get up to speed almost immediately even from a dead stop due to a red light or stop sign. While we appreciate that Aventon is thinking about rider safety, it does mean this is just a good commuter bike for traffic instead of a great one.
The last component we want to discuss in this section is the 48V 3 Amp Fast Charger. Most entry to mid-level eBikes tend to just have a 2 amp charger, so the 3 amp charger is better when it comes to rapidly recharging your eBike. The Aventon Level can be recharged from 0% to 100% in about 4 to 5 hours, and can be recharged by plugging directly into the eBike or by dismounting the battery and taking it in with you. The battery is integrated directly into the frame when in use, which not only improves battery efficiency but also provides greater protection for the battery should you suffer a crash.
Display/Assist Modes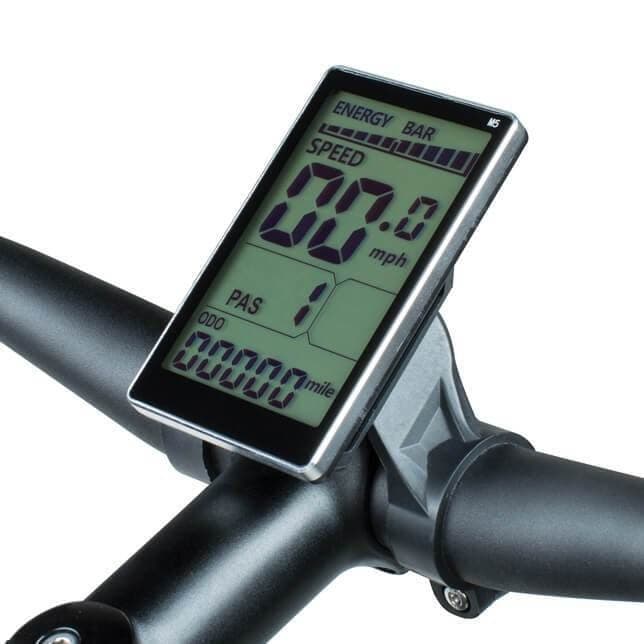 The Aventon Level has a large square backlit LCD display, able to be used during the day or night thanks to its lighting settings. This is a fairly basic controller, so it is very easy and simple to use but lacking in features and extras incorporated into more advanced controller systems. Most riders who are interested in the Aventon Level will find the M5 LCD smart display to be more than enough for their needs. For those who prefer something a bit more feature heavy, be warned that the Aventon Level's LCD display cannot be removed from the eBike.
If you are wondering what data and information is reported by the M5 LCD controller, it will allow you to control or keep track of the following:
Aventon Level Display Metrics and Control Settings:
Current Speed
Assist Level (Five Levels and Walk Mode)
Battery Level (10 Levels)
Trip Distance A
Trip Distance B
Odometer
Voltage
Time Spent Riding
There are a total of five motor power assist levels on the Aventon Level electric bike, not counting the additional walk mode for motor assistance while off the bike. Lower power assist levels maximize energy efficiency for great range, but take longer to reach the speed cap on the eBike. Higher power assist levels will do the opposite, helping you get to your speed cap faster and providing extra torque for tougher terrain but draining the battery faster. If you purchase the Aventon Level, we definitely recommend taking the time to try out each speed level so you can figure out which setting balances battery life with the motor assistance you need. It also just takes the touch of a button to change your speed settings, allowing you to switch it up even if you're already using the motor.
Overall, we think that the Aventon Level has a good controller, and while we would prefer more features or the ability to swap it out with something more advanced, it should satisfy the typical eBike commuter.
Handling
On Streets- The Aventon Level has a forward suspension fork and extra wide tires that provide great shock absorption while traveling over city streets. The Aventon Level will not only ride well over smooth, paved roads, but won't feel shaky when you hit the occasional rough patch of ground or cobblestone path either.
Turn Radius- The extra wide tires does reduce the Aventon Level's ability to make a tight turn, but it should be sufficient for most riders who take their time while riding. You'll be able to easily dodge any obstacles or riders that encroach your riding path, and as long as you don't try to rush it you'll be able to pivot in the occasional alley without issue.
Low Speed Handling- Power assist level 1 and the walk mode are both very helpful if you need support for handling your eBike at low level speeds. At 58.6 lbs, it isn't too difficult to handle the Aventon Level even without motor assistance, but if you have the power we would make use of the motor given the great aid it will provide.
Gears/DriveTrain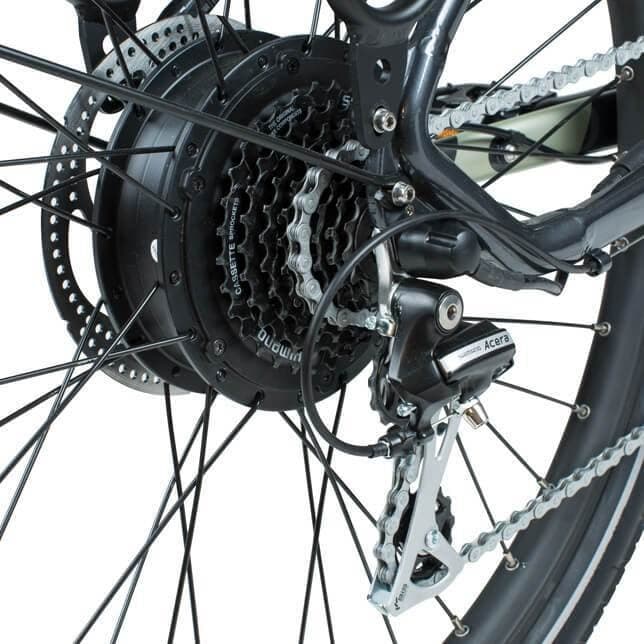 The drivetrain is made up entirely out of Shimano Acera components, with a 12-32 teeth cassette and 170mm 46 teeth crankset, featuring an 8 speed derailleur and rapidfire lever shifting. While 8 speed might not be enough for the dedicated cyclist who really wants to finetune their riding performance, it will be more than sufficient for the typical commuter who just wants to go to work, visit a friend, or get some shopping done. The Shimano Acera is a very reliable drivetrain system, and with a KMC Z Series chain this is a drivetrain system that requires very little finetuning or maintenance to make the most of its performance. Gear shifting consistently works even at high speeds, and with full-coverage aluminum alloy fenders you are very unlikely to get rocks, mud, and other debris jamming up your chain and drivetrain either. With further assistance provided by the cadence sensing pedal assistance motor system, we doubt you'll need to service your Aventon Level electric bike more than once or twice a year in order to maintain its great drivetrain and eBike performance.
Brakes
The Aventon Level uses high quality Benal Aries 3 hydraulic disc brakes, with 180 mm rotors on both the front and back of the bike. These large and powerful disc brakes will help you come to a very rapid, steady, and smooth stop even if you pull the brakes at high speeds, with great feedback in the three-finger levels that just makes it fun to pull the brakes. The braking system does incorporate motor inhibitors, so the second you pull one of the brake levers the motors will shut off automatically, even if you are still pedaling or holding the throttle. With the motor inhibitors, your brakes and motor system won't compete with one another, and outside of coming to a stop more quickly your brakes and motor system will both last longer because of it.
Suspension
The Aventon Level features a mid-range SR Suntour coil suspension fork, with 75mm of travel along with preload, compression, and lockout adjustment. Combined with the wide tires, and you will have great suspension support when riding through the city, feeling steady even as you hit potholes or cobblestone paths. The city commuter eBike isn't really designed for off-roading or mountain biking, but you would probably feel good if you did want to hit the occasional light riding trail. The SR Suntour Mobie A32 suspension fork is one of the reasons why the Aventon Level weighs as much as it does, but we are glad for its inclusion since it does provide great shock absorption without significantly driving up the eBike cost.
Pedals
There are oversized Wellgo pedals included with the Aventon Level, secured with pins and built with aluminum alloy construction. Aluminum alloy pedals provide a more stable and sturdier feel than plastic pedals that are often incorporated into eBikes at this price point, so we like that Aventon opted to go with the higher quality option for their eBike. As mentioned previously, the Aventon Leven has an estimated rider weight capacity of 250 lbs, and with the aluminum Wellgo pedals you can get real close to that weight limit without worrying about your pedals breaking off. While we wished the eBike had more visibility options, the pedals do feature front and back orange reflective lighting, helping you be a bit easier to spot while riding the Aventon Level eBike.
Grips and Saddle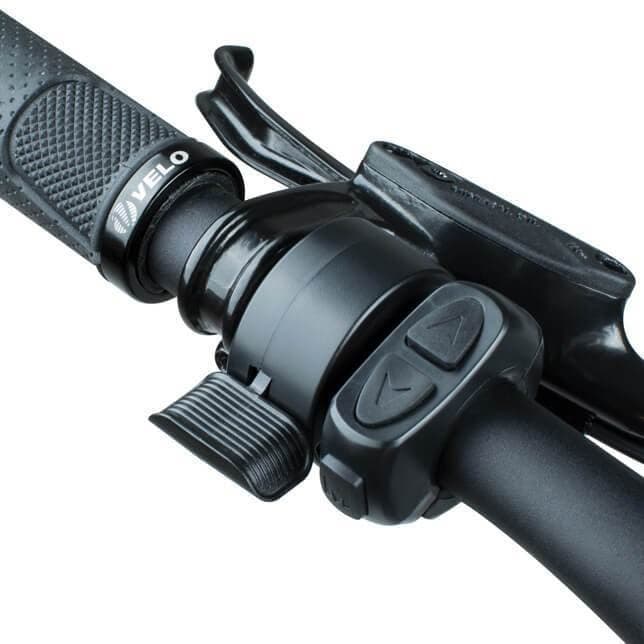 If you are wondering what the grips are like, the Aventon Level has Velo Comfort grips made out of rubber, with an ergonomic design allowing you to ride for hours without irritating your hands. These grips are locked onto the handles, so besides making them have a tight grip to the handlebar, they are easy to replace if you ever need new grips. We prefer lock on grips to glue grips, as glue grips don't quite have as solid of a feel and have to be cut off just to replace them. Regarding the handlebars themselves, they are made out of the same aluminum alloy as the frame, with a 690mm width. The extra width ensures that the larger frame sizes really will accommodate taller riders, while shorter riders can still comfortably reach out thanks to the mild swept-back design.
The saddle is a custom Aventon foam saddle developed by Velo, attaching to the sturdy aluminum alloy post. The city commuter eBike is shaped so that you can casually ride the Aventon Level to work, or you can push yourself if you are a more dedicated cyclist. The adjustable stem does allow for a greater height range no matter which eBike model you get, and both the stem and saddle are replaceable if you do want to customize your riding experience. As it is though, we definitely think the Aventon Level should provide a smooth and comfortable riding experience for your typical commuter who just wants to explore their city.
Wheels and Tires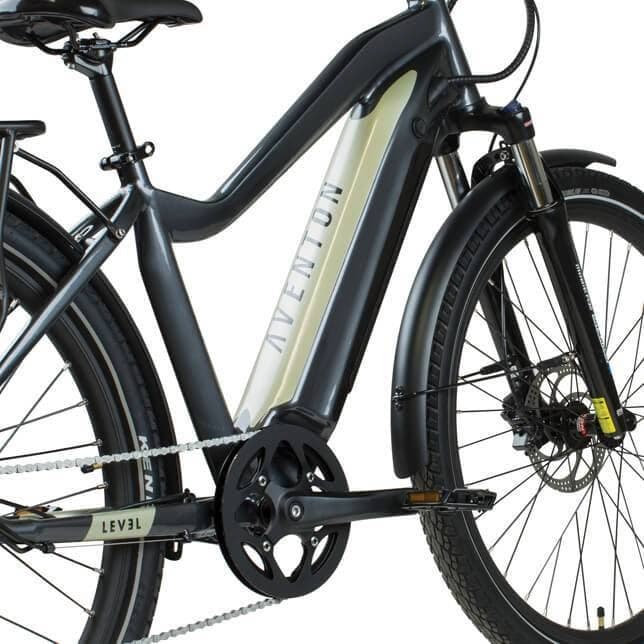 If you want to know more about the tires, the Aventon Level utilizes 27.5″ x 2.2″ Kenda Kwick Drumlin Tires, with 36 hole aluminum alloy double wall rims and 13 gauge stainless steel spokes. The 27.5'' wheel size is great for riding at higher speeds, while the 2.2'' extra wide width for a city commuter helps it handle rougher terrain better than many other commuter eBikes. The PSI inflation range is from 50 PSI to 80 PSI, which further makes the Aventon Level a fantastic eBike when you're on the road, but not so good if you do hit dirt roads or other loose terrain. The Kenda Kwick Drumlin tires have puncture protection, further reducing the likelihood of having to service or swap them out. That is a good thing, because there is no quick release functionality on the Aventon Level eBike. The lack of a quick release system means that the Aventon Level's tires are more secure and harder to steal, but it also means that even fixing a simple flat requires you to have multiple tools on hand you might not ordinarily carry. You should be fine sticking to city roads, but make sure you have extra repair equipment on you if you are going to try some trail riding with the Aventon Level electric bike.
Accessories/Upgrades
The Aventon Level is an even better valve once you consider the accessories and add-ons it comes with as a stock model. Full coverage aluminum alloy fenders, a rear mounted kickstand, and a rear cargo rack able to support up to 50 lbs are all great add-ons that would add up to several hundred dollars on their own. However, the one area where we wish Aventon went out of their way was the lighting and visibility components. There is no headlight or tail light, and there isn't even a bell on the Aventon Level, with minimal reflective taping and lighting on the tires and pedals. If you are looking to ride the Aventon Level, we highly recommend buying additional lights and safety features to increase your rider profile, as even a simple headlamp will do a lot in reducing the risk of suffering a collison.
You may also want to consider other accessories and add-ons from Aventon, including a couple of their own great accessory lights. A few of our favorites we would recommend checking out include the following:
Aveton Mirrycle Mountain Handlebar Mirror
Aventon Level Spare Battery
Aventon Headlight V10-500
Aventon Tail Light W08-40A
Aventon ABUS BUFFO 34 U-Lock
Recommendation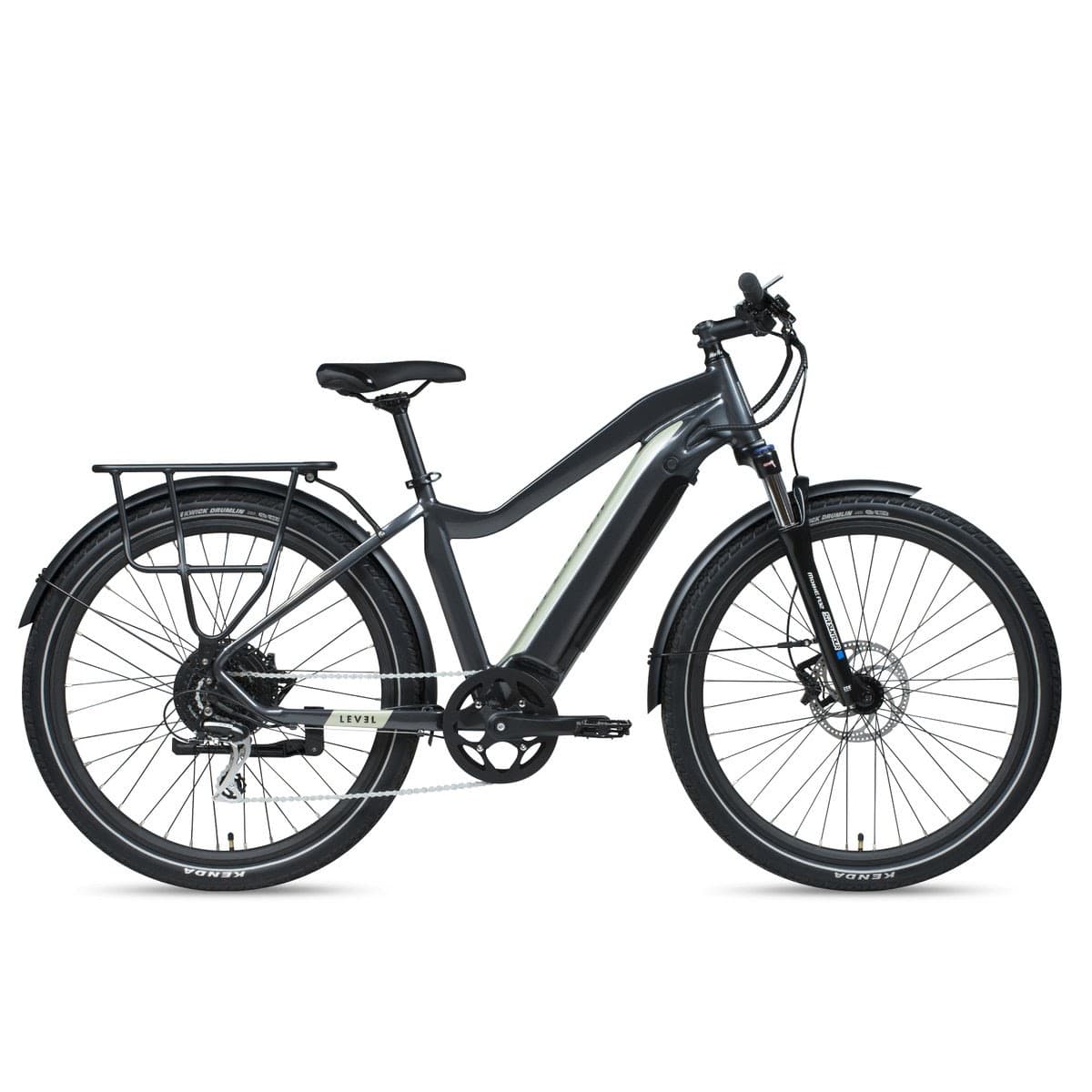 The Aventon Level electric bike is a affordable option for those who need a rapid, well-built eBike that will help them commute to work or explore the city day after day. The tough frame is available in three different sizes, ensuring that short and tall riders alike can feel comfortable and enjoy the Aventon Level. The Class 3 electric bike provides pedal and throttle assist, and with a range of 40 to 60 miles you'll be able to explore all over the city without disruption, especially with the assistance of the rapid 3 amp charger. The display is simple enough to use, and with it you'll make use of the very powerful 60 Nm motor along with the proven Shimano Acera drivetrain. The suspension system is great and bolstered by the wide Kenda Kwick Drumlin Tires. With a number of other great features and accessories all packed in at a great entry-level/mid-range price point, this is a stellar commuter eBike in almost every regard. However, it's definitely not perfect, as you will have to spend a bit more money to add a suitable lighting system to the Aventon Level, with other quirks like being unable to throttle from a dead stop, the lack of other frame colors, and a louder-than-others motor. If you can look past the minor flaws though, you'll find a city commuter available for a great price (with up to 12 month finance options) with the Aventon Level commuter eBike!
Would you like to see us do a full review and test of the Aventon Level? Let us know in the comments below!