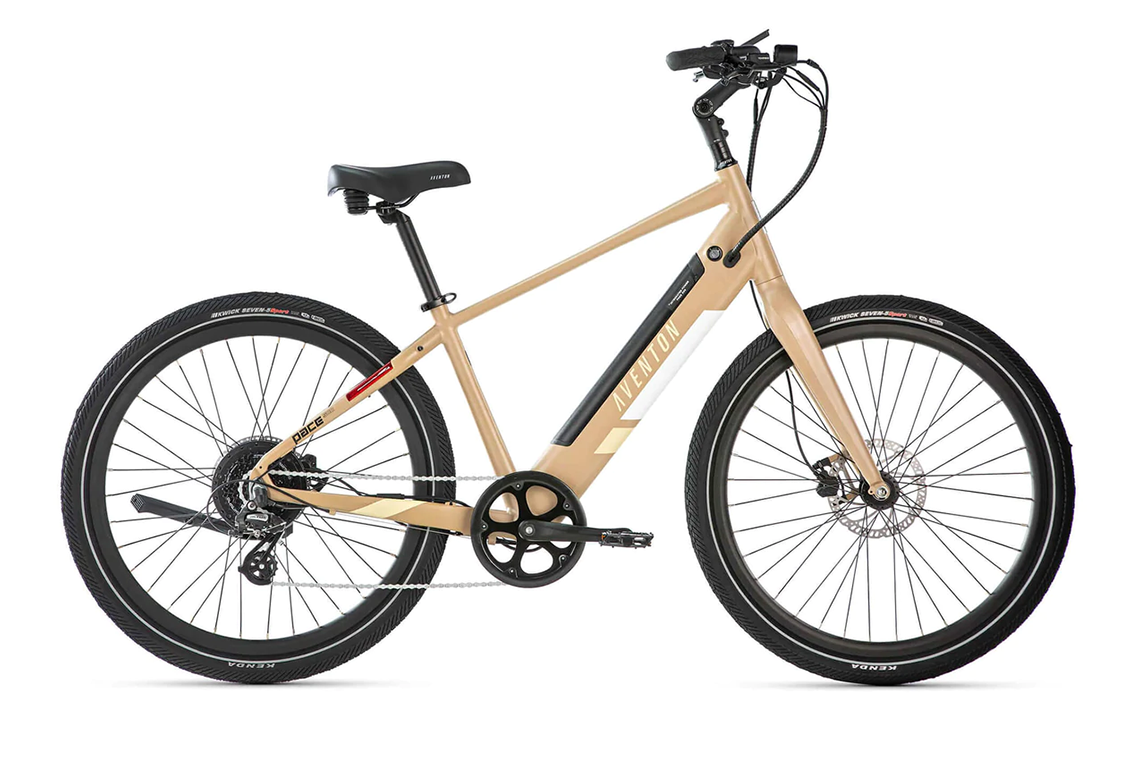 Overall Rating: 4.8/5
Pros:
Comes in traditional and step-thru frames and two sizes in each style
500W brushless hub motor can handle the demands of a 28 mph top speed
Impressive full-color display with integrated app that increases user control
Has the maneuverability of a commuter and the upright position of a cruiser
Fully integrated 614Wh battery looks good and lowers the center of gravity
Range of 24-47 mi. gives commuters flexibility
Cons:
Does not include fenders or a rack, common to many competing bikes in this price range

Intro
With a gallon of gas costing more than a gallon of milk, there are people across the country looking at parking their car for whole days at a time. And who can blame them? For those who want a bike that will be fun to ride but maybe let them do some commuting or run the odd errand, the Aventon Pace 500 is an electric bike that prizes functionality and simplicity against a terrific price.
When it comes to riding instead of driving there are a couple of realities to weigh. The first is that most of us don't like riding bikes in the rain. Commuting in the rain is some hardcore stuff and requires a level of organization for cleanup upon arrival at work that is more than some folks want to consider. Fenders aren't nearly as necessary as we like to think. It's easy enough to avoid most puddles.
Another reality is that for most people a backpack can carry everything someone might be taking into an office or other workplace. A backpack that holds a change of clothes, some baby wipes and a laptop will cover the needs of most riders.
We do think that lights are key. Fading light is one of the times of day when visibility can be toughest. Bright lights shouldn't be considered an accessory, but a necessity.
The Aventon Pace 500 is a different take on a commuter bike than some of their competitors have taken and their unique approach results in a bike that balances features, price and comfort in a package that we find very compelling.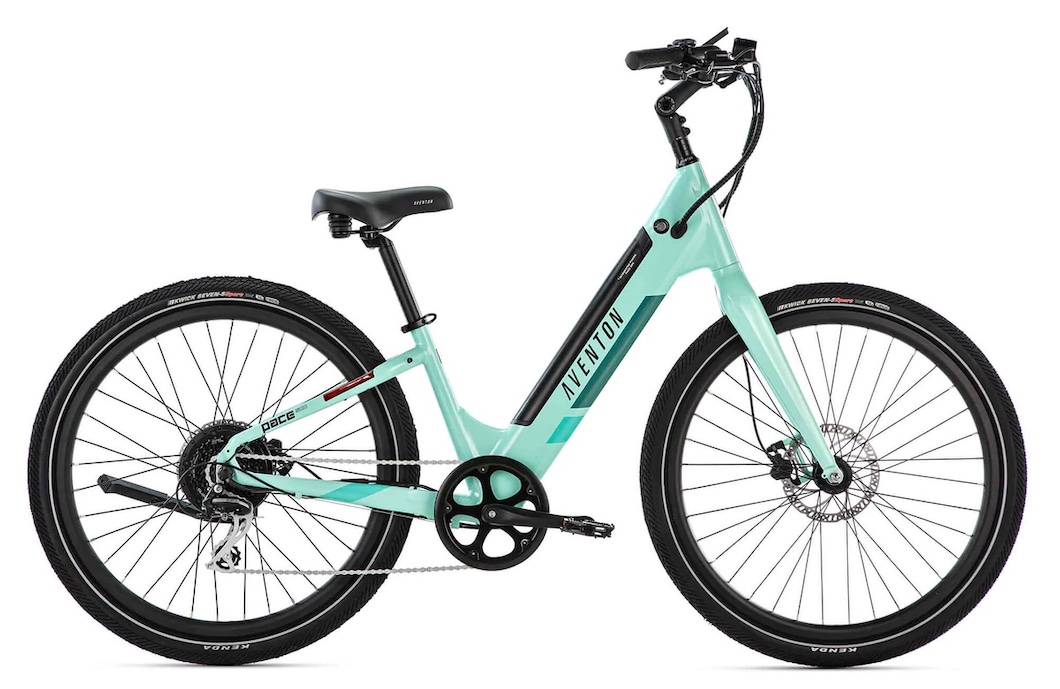 E-Bike Category: Commuter
Who the Aventon Pace 500 Electric Bike Is For: Commuters, weekend riders and anyone not planning to go off road.
Aventon Pace 500 E-Bike Specs
Battery: Removable Internal Lithium-ion 48V, 12.8Ah(614Wh) with LG Cells
Expected Range: 25-48 Miles Average
Charger: 48V 3 Amp Fast Charger, 4-5 Hour Charging
Motor: 500W brushless hub motor
Pedal Assist: Levels 1-5
Throttle: Thumb throttle
Display: LCD Smart Easy Read Display with Backlight, Colorful screen with app
Headlight: Included
Taillight: Included
Frame: 6061 alloy
Fork: 6061 aluminum
Kickstand: Included
Handlebars: Aluminum 15 Degree Sweptback
Grips: Ergonomic comfort
Drivetrain: 7-speed Shimano Altus
Brakes: Tektro HD-E350E hydraulic disk brakes, 180mm rotors front and rear
Pedals: 9/16″ Alloy Platform
Saddle: Aventon by SelleRoyal
Tires: 27.5×2.2″ Ebike Rated, Reflective Sidewalls
Ratings:
***All ratings are relative to e-bikes of a similar style and price point***
| | |
| --- | --- |
| Speed/Acceleration | 4.6 |
| Hill Climbing | 4.0 |
| Battery Range | 5.0 |
| Braking | 5.0 |
| Construction Quality | 4.5 |
| Handling | 4.7 |
| Included Accessories | 4.0 |
| Warranty & Customer Service | 3.9 |
| Value | 4.5 |
In-Depth Aventon Pace 500 Review
Aventon Pace 500: Comfort, Handling, and Ride Qualities
The Aventon Pace 500 does an impressive job of blending the comfortable position of a cruiser with the handling of a commuter. This is a more impressive achievement than it may sound like. It's a bit like finding an SUV with the handling and mileage of a sedan. Normally, the upright position of a cruiser requires that a bike have more gentle handling for reasons of balance and weight distribution, but with a few tweaks Aventon has created a bike that is both maneuverable and easy on the butt and shoulders.
A big, underestimated piece of comfort is being on a bike that fits. Even if the handlebar is several inches higher than the saddle, if a bike is too big for a rider they will be forced to lean way forward to reach the handlebar. The Aventon Pace 500 comes in two frame styles—traditional and step-thru. Both the traditional and step-thru frames are made in two sizes, effectively giving riders four sizes to choose from. Honestly, this is one of the bike's very best features. This will be especially helpful to more diminutive people and anyone who ducks through doorways.
Commuters have an inherent need in handling. Getting to a place of work means dealing with driveways, sidewalks, slow-moving cars and pedestrians. Any of those can be a challenge to someone on a bicycle. Cruisers can be a challenge in these situations because their gentle handling can make them slow to react, which is not so helpful to dodging texting pedestrians. The Pace 500 goes where the rider points it without being so quick to react that it feels like a sports car.
The ride of the Pace 500 is a bit different than many similar bikes in that it doesn't spec super-squishy tires or a suspension fork. With an aluminum fork and 27.5 x 2.2-in. tires, this e-bike has a snappy feel and rolls quickly.
Aventon Pace 500 Review: Motor, Battery, and Drivetrain Performance
For bikes in this price range, a 500W brushless hub motor is fairly standard. It produces enough power to speed riders up to the Class 3 max speed of 28 mph, something that it manages in part because its top gear is big enough for people to pedal at a reasonable cadence at 28 mph, rather than have their legs whirring like a blender.
The fully integrated, 614Wh battery is positioned well in the frame, helping to lower the bike's center of gravity, which improves its handling. Lots of weight down low makes a bike easy to maneuver, without being squirrelly.
The Pace 500 received a number of upgrades recently, and one of the more significant ones was in its drivetrain. The big change was at the rear wheel, with a switch from seven speeds to eight. One more cog is nice enough, but what is significant is that it now has a wider range of gears, giving it both more high-end and low-end. The design of the rear wheel changed as well, to one that better supports the rear axle, making for a stronger wheel overall.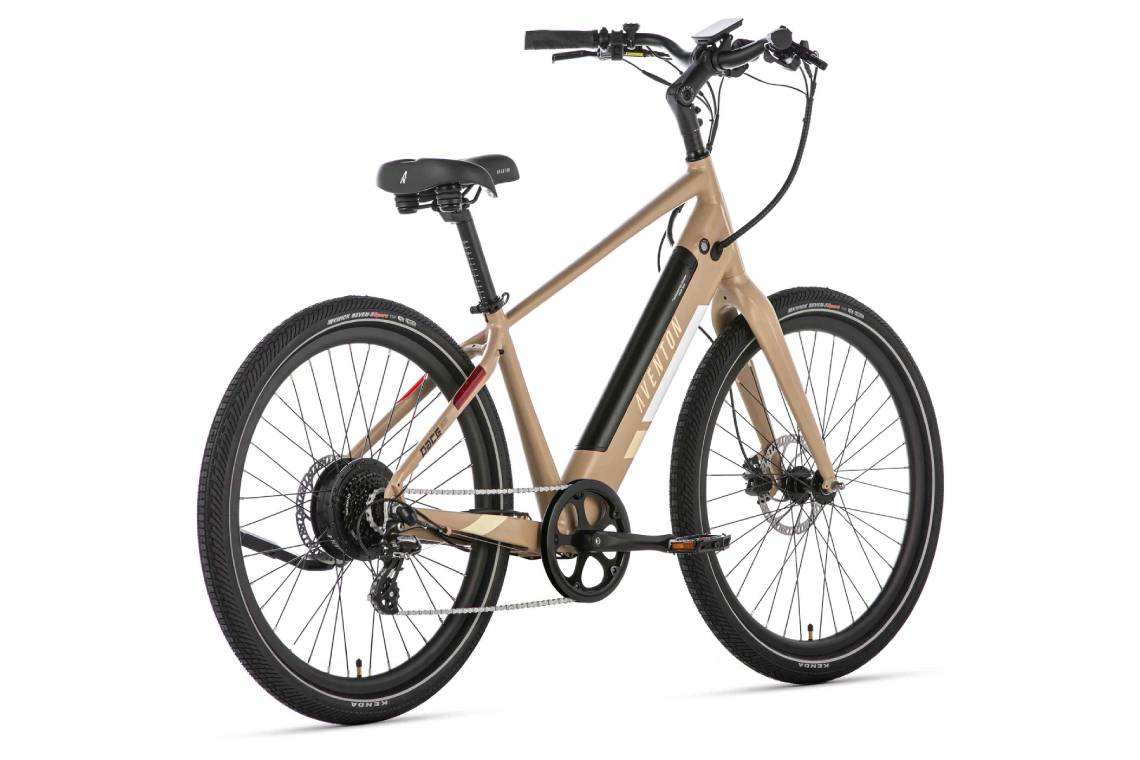 Aventon Pace 500 Review: Braking, Safety, Customer Service & Warranty
Any bike that has the capability of going 28 mph needs to have solid brakes in order to give the rider a short enough stopping distance to feel like they are in control. The Tektro hydraulic discs with 180mm rotors do just that. It's a powerful brake perfect for threading obstacles.
To be safe on a bike, step one is control, i.e., brakes. Step two is being seen. The Aventon Pace 500 comes with front and rear lights and the rear lights are integrated into the frame and light up when the brakes are applied. It gives the bike a very stylish look.
The responsiveness of a company's customer service can be hard to judge until someone actually has a problem. However, a quick look at their reviews show less than 2 percent of all bikes received bad reviews and in each instance they engaged with the reviewer in an effort to resolve the issue. This is especially encouraging because some companies simply delete all bad reviews.
We were honestly surprised to see just how good Aventon's warranty is; it's comparable to what used to be the warranty for big bike companies like Trek. The Pace 500 has a lifetime warranty to the original owner on the frame and fork, while the components are protected for a year. It's the best warranty we've seen (so far) from an e-bike in this price range.
Aventon Pace 500 Review: Smartphone App
Aventon is one of a handful of e-bike makers that offers a smartphone app to give users more control over the functionality of their bike. Impressively, they didn't punt on this and introduce only iOS or Android; they have both.
The app gives riders the opportunity to track their rides, from distance covered, average pace, calories burned and more. There's a social media component made up of other Aventon owners posting pictures and rides. There's also a page where a number of the e-bike's settings.
One criticism we have of some e-bikes is that the PAS levels can be poorly set. We've seen PAS 1 be too weak to offer any noticeable assistance as well as too small a jump in assistance from one level to another. With the app, those parameters can be adjusted as well as setting a maximum speed, such as if a rider wants to make sure their bike performs as a Class 2 and not as a Class 3 bike due to local laws.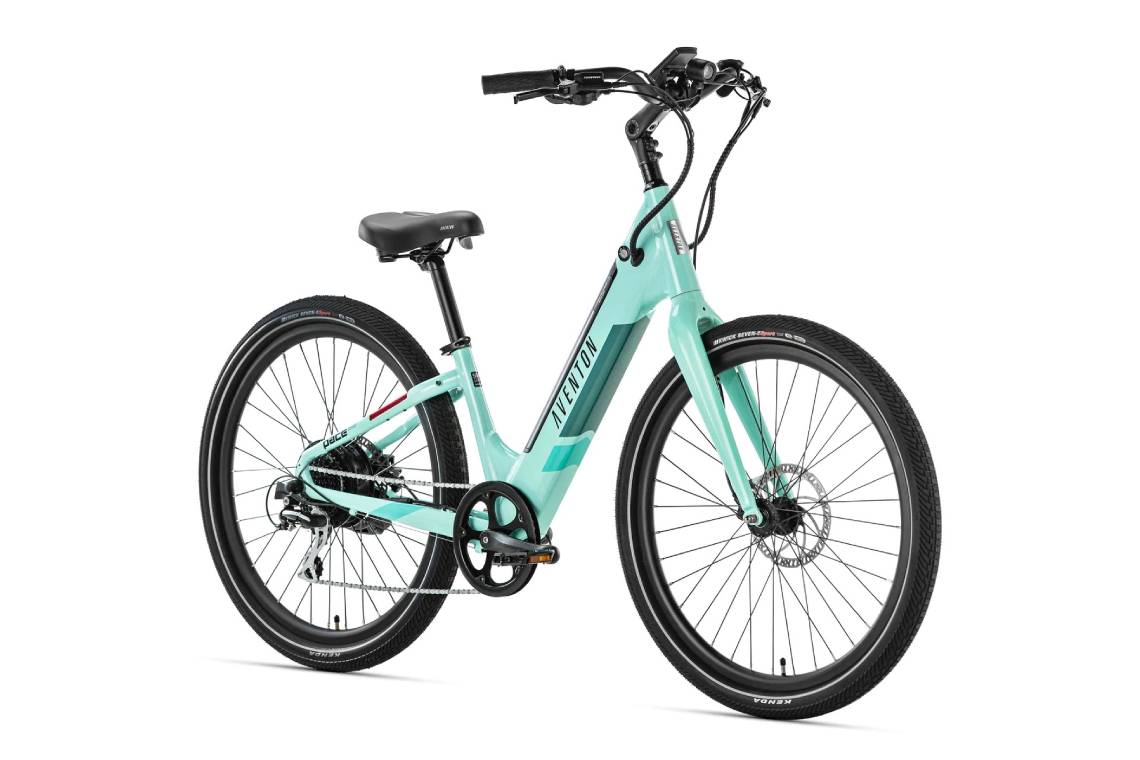 Aventon Pace 500 Review: Recommendation/Final Verdict
When we look at the various features that make the Aventon Pace 500 a bike worth recommending, we take note of the solid motor, excellent battery, powerful brakes and wide-range drivetrain. Those are, together, reason enough to recommend the Pace 500. That said, one of the bike's very best features is something no one can pick up from looking at the bike: the fact that it comes in four sizes.
For someone of relatively average height, plenty of bikes exist to choose from. However, people at the extremes of height, either very tall or very petite, will have trouble fitting any bike that comes in just one size. This bike ought to kill with gymnasts and basketball players.
We also love the fact that this is a bike that doesn't do backflips to make the rider more comfortable. This is a bike that gives a zippier, crisper feel on the road, which is more of the feel we had on the bikes we rode as kids. The aluminum fork helps give a great sense of road feel. Think BMW, rather than Lexus.
This isn't a perfect bike, not by any means. However, for it to be a better bike, it would have to be more expensive, more than $2000 in order to make the upgrades noticeable. When we consider all this bike offers and the fact that it is $1699, we can't really do enough to stress what a terrific value this bike is.

Thank you for reading through our review of the Aventon Pace 500. Still have further questions? Wondering how it compares to a similar bike? Let us know in the comments below!
Reader Interactions