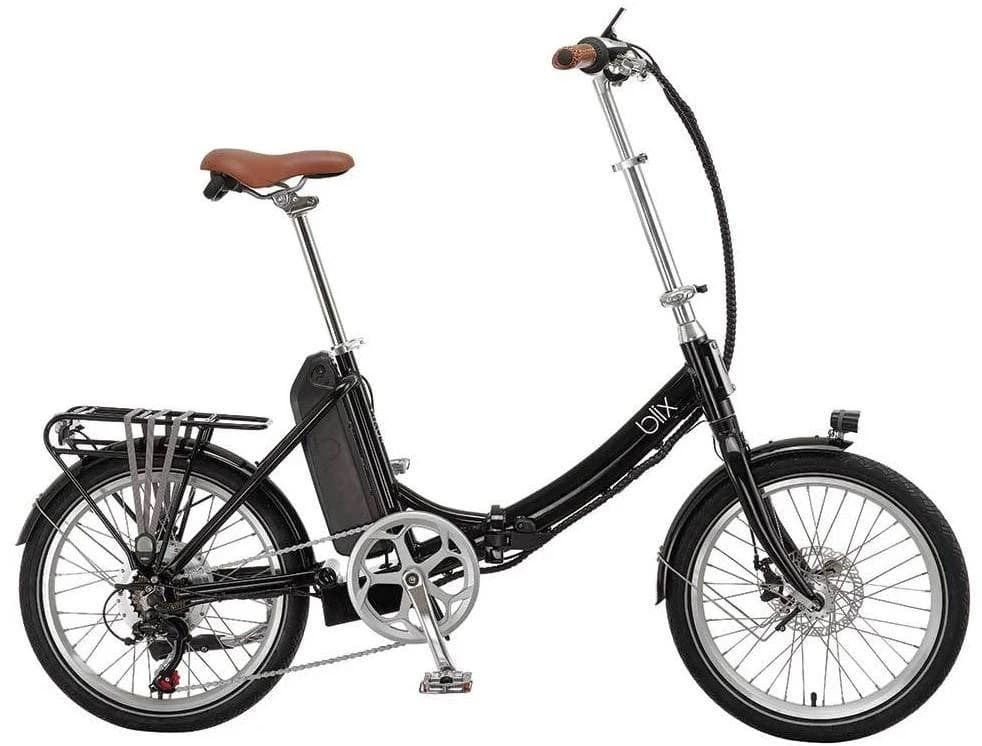 In this spec review we'll be evaluating some of the key components and features of the Blix Vika+
The 2020 Blix Vika+ is a good entry-level/mid-tier eBike option for those looking for a bike they can use to commute to work, visit their favorite restaurant, or tour the city with. As a class 2 eBike, it has both pedal assist and throttle assist power up to 20MPH, the eBike equipped with a 672 Wh battery and rear hub 500/750 W motor. On a full charge, you can travel about 45 miles with the eBike, and recharging it is easy thanks to the included 2.5 Amp charger. The 56 lbs eBike's standout feature is its ability to fold, allowing you to pack it up in a car or travel bag when you want to head out on a trip with it. With a few other great accessories, along with a very comfortable saddle and handles, there's plenty to love about the Vika+. This is a dedicated city bike though, and with a lack of suspension and somewhat overly responsible handlebars it is definitely not something you'll want to challenge a mountain trail or unpaved road with. If you are looking for an electric bike you can ride through town on, and even fold down and take inside with you.
Bike Category: Class 2: Pedal and throttle assist to 20 mph
Who It's For: Riders looking for a commuter bike great for stop and go traffic or cruising around town alike.
Bike Specs
FRAME: Aluminum Alloy
UI/REMOTE: Blix LCD Display with USB Port
BATTERY: Samsung 48V / 14Ah
CHARGER: 2.5 Amp Charger
MOTOR: Geared rear hub motor, 500W
CHAIN: Silver Prowheel 170mm
SHIFT LEVERS: Grip shift
CASSETTE: 14-28 Tooth Cassette
CHAINRINGS: 52t chainring
DERAILLEUR: 7 Speed 1×7 Shimano Tourney Derailleur
RIMS: Aluminum Alloy, Double Walled, 36 Hole
TIRES: 20″ x 2″ (50-599)
SADDLE: Comfort padded, brown
STEM: Promax Foldable, 25.4mm clamp
HANDLEBARS: Rise Bar, 630mm, 25.4mm clamp
GRIPS: Faux Leather Stitched Grips with Ergonomic Edge
BRAKES: Tektro Aries Mechanical Disc with 160mm Rotors
PEDALS: Folding Wellgo, Aluminum Alloy Platform, Silver
KICKSTAND: Rear Mount Kickstand, 40mm
BELL: Left brake lever activated bell
HEADLIGHT: Integrated Axendo, 6-36V
TAIL LIGHT: Integrated with brake light, Flexio 6V
FENDERS: Painted Alloy
Pros
Affordable rear hub eBike that folds, making it a great option for those who want to take a bike with them when they travel. Costs just $1,599 dollars, and weighs just 56 lbs fully assembled.
Class 2 eBike that features both pedal assist and throttle assist motor systems. Has a typical maximum range of up to 45 miles on a single charge with its 48V / 14 Ah battery.
Available in three distinct colors with silver accents throughout the eBike. The silver plating makes the eBike more reflective, helping you stay safe and easy to spot while you travel with the Vika+.
48V 2.5 Amp charger. Able to charge from 0% to 100% in less than five hours. Not the quickest charger on the market, but good enough that you can top off your battery while you're at work. Easy to plug into the battery as well.
7 Speed drivetrain, consisting of a 14-28 flywheel and 170mm prowheel with a 52t Chainring. Shifting is reliable, and the silver colored coating helps your drivetrain look great and clean for years with just a little proper care.
12 Magnet Cadence Sensor and hand throttle provide two options for activating your eBike motor. The Vika+ is highly recommended for those dealing with stop and go traffic, looking for a bike that will get them going quickly.
Sprung saddle, ergonomic grips, and adjustable stem height with some seat adjustability all make the Vika+ a very comfortable eBike to use. Great for those within the 4'10'' to 6'4'' range.
Very simple, easy to use display that monitors your battery life and 5 pedal assist levels. The display also comes with a speedometer, tripmeter, odometer, and even USB charging.
Versatile integrated lights further help the Vika+ stand out while you're riding it on the road. 6-36V front light and Flexio 6V integrated rear/brake light provide good illumination during the day and night alike.
Cons
Display panel is not removable, and has a tendency to get scratched if you don't fold the Vika+ up carefully.
Recommended weight capacity is a bit low at 240 lbs, but we think it can probably support more given the high luggage weight capacity support.
Highly maneuverable stationary bike, but narrow handlebars and quick responsiveness means that the handlebars feel unsteady to some newer riders. Keep both hands and a solid grip on the handlebars at all times.
No suspension system means it can be a very bumpy ride if you're going over less than smooth roads or off roading entirely. This is a city commuter bike built only with city streets in mind.
Features
Foldable Aluminum Alloy Frame
The Vika+ is rather sturdy, and weighs around the same as many other eBikes with a 56 lbs frame. The 240 lbs recommended weight is a bit more limited than we expected, but that's because of the bike's great folding nature. You can store it in the back of your car, or even a carry bag as it shrinks down to just 36'' by 21'' by 28.5''.
672 Wh Samsung Battery
The central mounted battery has more battery life than past Vika eBike models, now featuring a 48V / 14Ah battery over a 36V / 11Ah. In the right conditions, you can expect a maximum range of 45 miles on a full charge of the Vika+ eBike.
2.5 Amp Charger
If you're recharging the battery from empty, the 48V/2.5 Amp charger will fill the battery to full in about 5 hours. The easy to charge plug in port is located just below the saddle, helping you keep your charger off the ground as well.
500 W, 70Nm Rear Hub Motor
Despite being a smaller folding bike, the Vika+ packs a powerful motor that will help tackle flat roads and steep hills alike. The rear hub-drive motor activates quickly, making the throttle bike a great pick for those dealing with stop and go traffic.
Blix Assist LCD Display
The very easy to use display sits in the middle of your handlebars, letting you control one of the 5 levels of pedal assist among other features. There's even USB charging to help you top off your phone battery on the way to work.
Silver Prowheel 170mm, 52t Chainring with Shimano 7-Speed, 14-28 Freewheel
The Vika+ features a seven speed drivetrain with a 14-28 tooth freewheel, allowing you to propel the Vika+ by pedaling forwards or backwards. The silver drive train components are reinforced to withstand the occasional crash, while still looking nice and shiny even after years of use.
20" wheel, 2.0" Tires
The Vika+ tires are now a bit thicker over past models, with the 2'' tires providing improved comfort and stability without sacrificing much maneuverability or speed. These tires are great for commuting around the city, though you'll want to avoid heavy off roading if you can unless you enjoy a very bumpy ride.
Ergonomic Faux Leather Grips with a Gel Padded Selle Royal Saddle
The Velo Ergonomic grips will allow you to ride the Vika+ for long stretches of the road without irritating your hands. The saddle itself should be quite comfy for most riders as well, with a moveable head to help you find a more comfortable position.
Tektro Aries Mechanical Disc with 160mm Rotors
If you find yourself needing to make frequent and sudden stops in the city, the Tektro Aries mechanical disc brakes will help you come to a quick yet smooth stop. These brakes are also very easy to maintain, and the rim style mechanical brakes means you can fold your bike without worrying about bending the discs.
Folding Wellgo Plastic Pedals
The included Wellgo plastic pedals provide good support, and have stunning silver accents as well. The silver colored coating helps the pedals stay more reflective, while matching the overall look of the eBike as well.
In-Depth Review
Frame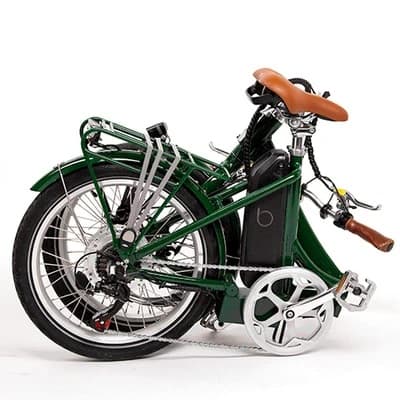 The Blix Vika+ electric bike is built with a coated aluminum frame. The electric bike won't be a very durable bike, and it does have a lighter 240 lbs weight capacity than is typically expected for an eBike of this size. We personally think that a bike like this could support a bit more weight, especially because the rear cargo rack has a high 50 lbs recommended weight limit. Even so, it's going to be a bit of a flimsier bike because of one of its best features, the Vika+ able to fold into a small, compact size. When folded, the Vilka+ measures just 36'' by 21'' by 28'', making it very easy to store in your typical car trunk or even your typical large carry bag. The Vika+ weighs 56 lbs, which is a few lbs more than expected for a folding bike but still largely easy to carry and lift into the trunk of a car when needed.
The Vika+ is only available in one size in 2020, but it does have some high adjustment capabilities you can read about in the handlebar section of our review. The design is also well suited for all types of cyclists, with the recommended height usage for the Vika+ fitting between 4'10'' and around 6'2'' to 6'4''. As such, we anticipate that the vast majority of adults should feel very comfortable riding the Vika+, though very short or tall cyclists may have to consider another option. Lastly, the Vika+ is available in Black, Racing Green, and Cream, with all three colors being complimented by the silver colored coatings that help the bike be more visible when you're out riding it.
Motor & Battery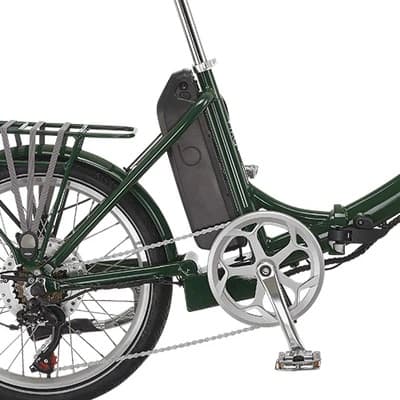 The 2020 Blix Vika+ is a class 2 eBike with both pedal and throttle motor assist up to 20 MPH.
The Blix Vika+ features a 500 (750 peak)W/70Nm rear hub motor, and is paired with a 672 Wh Samsung lithium cell battery. This is a powerful motor setup, but it does struggle a bit with its overall range because of it, but it still has a solid 45 mile max range when pedaling in ideal conditions on a full charge. As a class 2 eBike, you can turn on the motor by either using the hand throttle, or with the 12 magnet cadence sensor built into the pedals. The motor will remain active until you hit 20 MPH, at which point the motor won't provide any assistance beyond maintaining a 20 MPH speed. If you want to go faster than 20 MPH, have the motor help you get to 20 MPH and start pedalling manually, with the bike typically averaging around 30 to 35 MPH at full pedal for the average adult user. While the motor is capped and could probably help your bike go even faster, the Class 2 restrictions allow it to be purchased and operated even without a motor license.
Charging up the battery from empty to 100% typically takes about 5 hours thanks to the 48 V 2.5A charger. While this isn't the fastest charger on the market, it's still pretty close, and you'll be able to charge up your battery in less than 2 hours if you just want to charge about 50%. The motor itself features five power levels (controlled by the display you'll read about next) that will let your prioritize how much power assistance you desire while you pedal. You can pick a lower power assistance mode for extended range but slower acceleration, or you can pick a higher level for greater acceleration but a shorter overall battery range. The Vika+ can still be pedaled normally if your battery runs out of juice or you decide not to use the motor, and you can even shed about 7 lbs off the overall bike weight if you decide to take the battery off. With a fully removable battery, you can decide to take it into your office with you to charge, or leave it on your bike outside to charge it if you can find a port near the electric bike.
Display/Assist Modes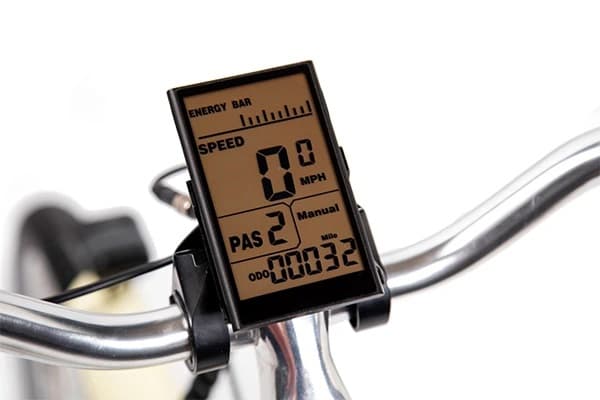 The Vika+ has a very simple to use display unit that sits in the center between the two handlebars. The LCD display will allow your to track, control, or monitor the following while you're riding on the Vika+:
VanMoof App Features:
Assist Level (5 levels)
Speedometer
Energy BAy
Odometer
Trip Meter
Riding Time
While it might not be as interesting or feature heavy as other displays, it has a great size that makes it easy to track your riding states in real time without excessively weighing down the bike. However, the one major flaw with the display is that it's not removable, and it can get stuck or scratched if you aren't paying attention while you fold the eBike. This is the part you will want to keep track of the most while you fold up the Vika+ as, while durable, it can be broken if you fold your Vika+ in the wrong way.
Handling
On Streets- This is a eBike built for city riding, with 20'' wheels and 2'' tires that are stable and cushy but also fast and agile while you ride over flat, paved roads. The comfortable frame build means you won't feel too much instability if you cobblestone, but you're going to feel any large cracks you ride over while you ride on the Vika+ eBike.
Turn Radius- The Vika+ has a great turning radius, making it a great option for those who need something that will help them navigate tricky roads and streets. Some customers have even reported that the Vika+ is a bit too agile, and that it can turn too sharp if they don't maintain a good, solid grip at all times while riding.
Low Speed Handling- There is a low power assist mode on the Vika+ that is great for walking with the bike while you're on the ground. At 56 lbs, the Vika+ isn't too hard to walk by hand without power support, and the battery is removable to shed about 7 lbs if you do need to make the eBike lighter.
Gears/DriveTrain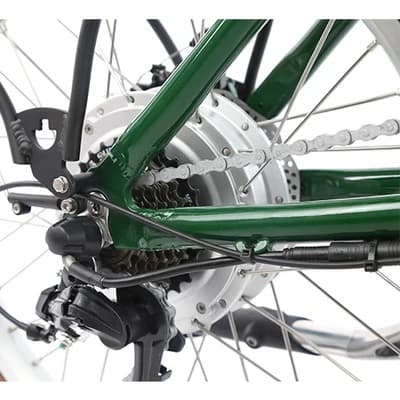 The 2020 Blix Vika+ consists of a premium silver Prowheel 170mm chainset with a 52t chainring, topped off with a Shimano 7-Speed, 14-28 Freewheel. Having a freewheel means that you can pedal forwards or backwards in order to get your tires going, pedaling backwards a useful trick to help loosen up tight leg muscles after a long ride or for those who want to try something new. The drivetrain, coupled with the powerful motor, does mean that this is a great commuter bike if you do have to hit some particularly steep paved hills or long stretches of road alike. However, the drivetrain and lack of a true suspension system were not built with off roading or mountain biking in mind, so try to stick to urban riding as much as you can. As a final note, the whole drive train does feature silver accents that will further help the electric bike standout on the road, increasing the rider's profile and making it a safer eBike to use.
The shifter is done with a high quality Shimano Revoshift Grip lever on the right handle bar, featuring three finger support. It's pretty easy to shift when you need to, and Blix was smart in putting the thumb throttle on the left so you won't get confused and accidentally press on the wrong lever while you're biking. This also helps the handlebars feel more balanced and less cramped, which is rather important as the handlebars themselves are rather narrow.
Brakes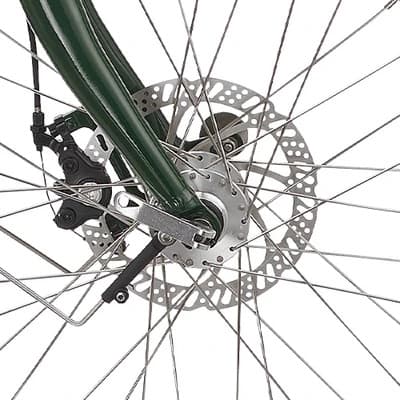 The braking system consists of Tektro Aries mechanical disc rim brakes with 160mm rotors. Mechanical rim brakes aren't as responsive as hydraulic, but they are a great choice for folding bikes like the Vika+ because they won't get damaged or bent when folded up. The disc brakes themselves are responsive enough anyway, allowing you to come to a quick and steady stop as you deal with city traffic, stop signs, and red lights. The interconnected braking system will also override your motor, cutting it off automatically even if you are in the middle of pedaling or holding down the throttle. This interconnected system extends the operation life of both systems, while also reducing the overall maintenance you'll have to do to preserve them both.
The brake levers offer three finger support, and the wires are connected in such a way as to make sure they don't overwhelm the bike while also ensuring that they don't get disconnected when folding. The brakes provide great feedback support, which also makes it easy to check your brakes right when you mount the bike. Before getting your ride started, give your brakes a good squeeze just to make sure they're connected and that you're ready to hit the road.
Suspension
There isn't a true suspension system for the Blix Vika+, but for the most part it doesn't need one if you plan on sticking to city riding. The handles, saddle, and height adjustment options all help the aluminum alloy frame deal with some of the stress and tumble that comes with riding over less than perfect roads. However, you are going to feel some shaking when you hit cobblestone or the occasional pothole, and the electric bike really isn't going to handle mountain paths and off road riding well. As there are no suspension upgrade options either available from Blix, you may want to consider a different electric bike model if you need something you can take onto back country paths.
Pedals
Many eBikes like the Blix Vika+ rely on plastic pedals, but the Vika+ pedals are surprisingly good given its lower, mid-tier eBike price. They provide great strength support, and they also fold in very well when packing up the Vika+. The pedals, crank arms, and crank wheel all have silver colored coatings as well, which are largely reflective and further make the eBike as a whole stand out on the road. Visibility is important when it comes to an eBike, so we're glad to see the silver reflective coating, even if it doesn't match the color of the rest of the bike frame.
Grips and Saddle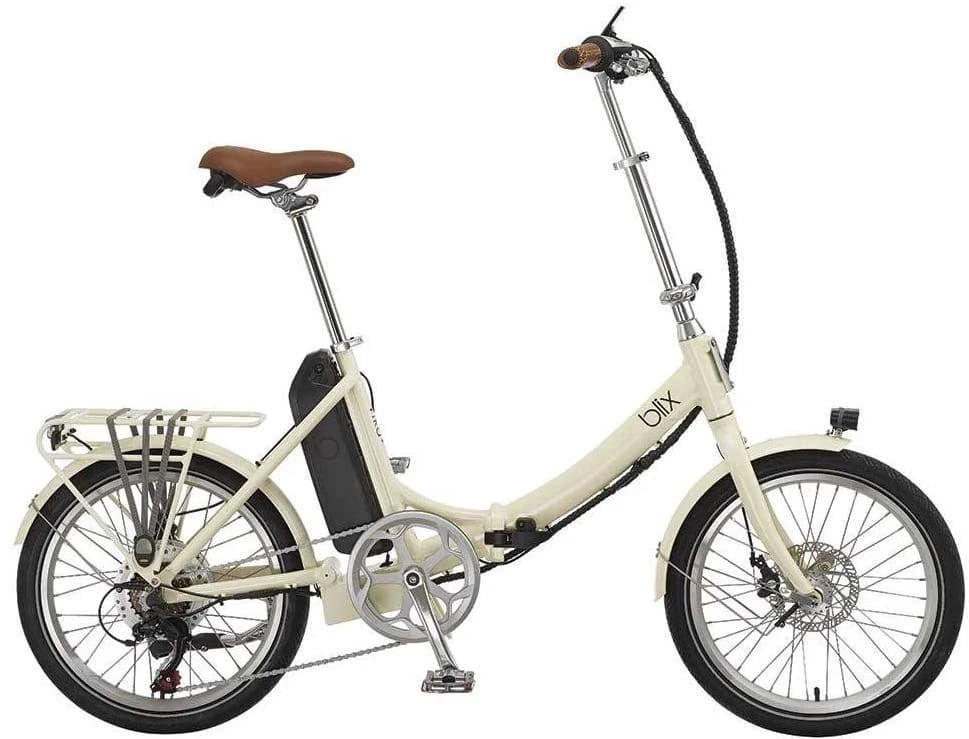 The comfort padded, Selle Royal gel saddle is a very comfortable seat to sit on, absorbing some of the tumultuous vibrations you might feel when riding over less than perfect road conditions. One of the great features is the sprung mount, allowing the saddle to flip up in order to make it a whole lot easier to remove or install the battery pack. The saddle seat post also has some adjustability customization, allowing shorter and taller riders alike to get a more comfortable feel while riding the Blix Vika+.
The ergonomic faux leather handles are all quite cushy, helping protect your hands against blisters and other forms of skin irritation over long rides. Something that a few customers and other riders have noted while riding the Vika+ is the unusually high responsiveness of the handlebars. While this helps the Vika+ feel nimble and highly maneuverable, it does mean that you will want to maintain a steady and solid grip on the handlebars at all times. Overall though, the aluminum alloy handlebars are also rather accommodating, with a 10 degree backsweep for greater comfort while riding as well.
Wheels and Tires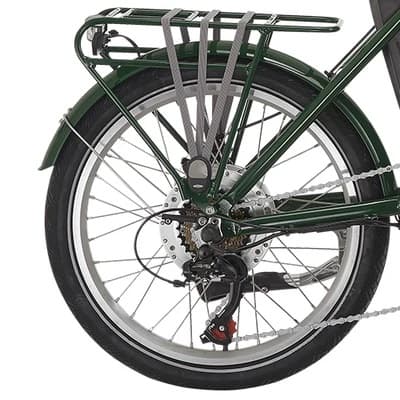 The Vika+ rims are quite sturdy, the silver accented 36 hole rims featuring a double wall and 31.7mm outer width to ensure that they will withstand the occasional crash without too much damage. This is especially true because of the stainless steel spokes, consisting of a 13 gauge front tire and 12 gauge rear tire. The tires themselves are thicker compared to past tires used on the Vika+, the 20'' by 2'' tires accelerating and turning easily on paved roads while now being a bit more steady and stable for rougher patches as well. These tires are great for city riding, but while puncture resistant with kevlar technology they will not handle off-roading well. Stick to urban environments and avoid dirt trails and unpaved roads as much as you can with the Vika+ electric bike.
Accessories/Upgrades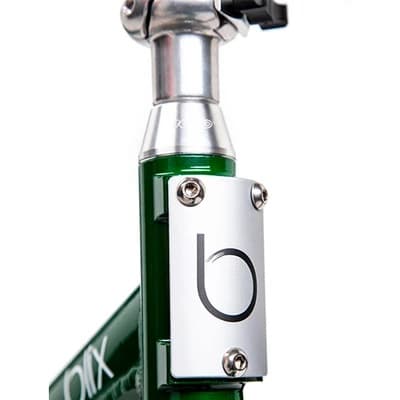 With a built in back cargo rack platform and solid fenders, along with other features like great front/rear lights and a bell lever, there isn't too much that you really need in terms of upgrades to complete the Vika+. However, if you are hoping to add a few extra baskets or components to the Vika+, here are a few official options from Blix we think will pair well with the electric bike.
Blix Front Rack
Front Basket
Blix Large Rear Basket
Blix Rear Rack Cushion
Recommendation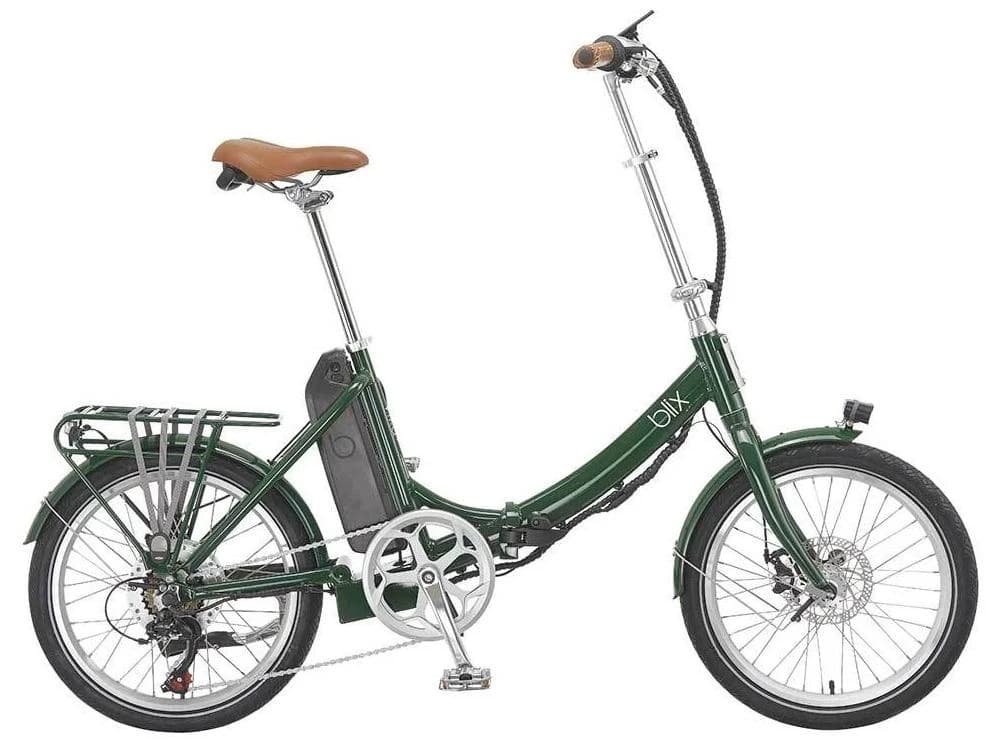 The folding Blix Vika+ eBike is a great option for those who want a comfortable yet powerful city commuter bike that will keep up with traffic. The powerful motor and battery will help you get up to 20 MPH in seconds, and the fast recharging battery with a 45 mile max range should be more than enough to get you to work or your favorite store. The 56 lbs frame is quite a few lbs lighter than several other folding bikes out there, and outside of being sturdy the silver accented frame is highly visible as well. The overall adjustment options make it great for short and tall riders alike, and will be one of the more comfortable electric bikes you can try out thanks to its ergonomic and high quality saddle and handles. The lack of suspension, along with highly responsive handlebars and lower recommended weight capacity means that you won't have a steady, comfortable riding experience if you do take it off roading. However, if you are in the market for an eBike that you'll be using to navigate city streets and deal with stop and go traffic, we recommend considering the 2020 Blix Vika+ eBike!
If you would like to have us do a video review for the Blix Vika+, please let us know down in the comments below!