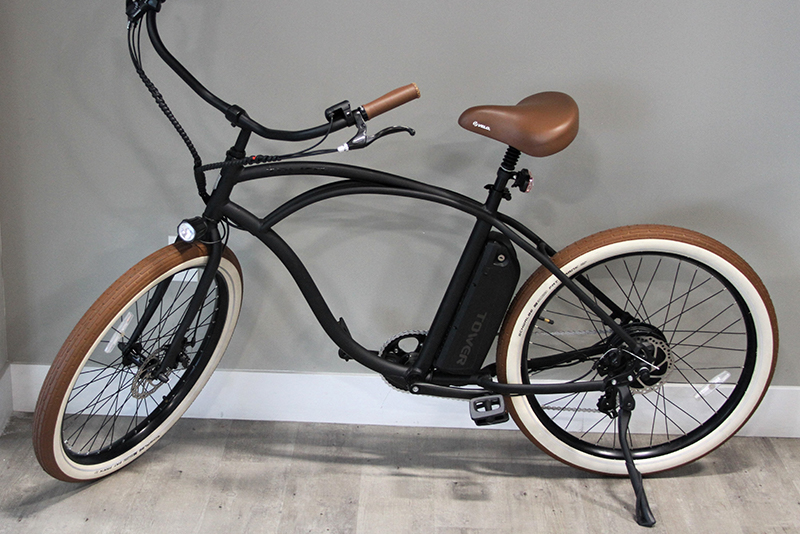 When it comes to their overall size, electric bikes aren't that different from traditional, motorless bikes. However, be it an e-bike or a normal bike, they are big and can be difficult to store. For many bikers, storing your bike inside isn't an option. If you can store your bike inside, we recommend doing so for the reasons found in this article.
However, if you can't store your bike inside, you're probably wondering if outside is an option. With the proper care and maintenance, you can store your e-bike outside, though there will be at least a few parts you'll want to take in with you for long term storage.
Bring your Battery In
While you can store your e-bike outside with the proper steps, always make sure to bring your e-bike battery in with you for long term storage. Most traditional e-bikes rely on Lithium-Ion batteries, which are meant for storage within the 40°F to 70°F temperature range. When stored in temperatures above or below this range, you potentially damage the overall capacity of the battery, especially when stored over the long term. For long term storage, make sure you take your e-bike battery out and place it in a stable, moderate temperature environment.
Once your battery is taken care of, you're probably wondering what to do with the rest of the e-bike if you're storing it outside. Before we get to that though, let us explain why the outside isn't the best for long term e-bike storage.
Dangers of Storing E-bikes Outside
Water Damage: While e-bikes are built for use in the rain, they can be damaged if they just sit in the rain for long periods of time. Further, because you'll be taking your battery out, extra rain water can seep into your e-bike frame and cause damage to the motor and battery compartment. Keeping your e-bike dry is a priority for long term storage.
UV Radiation: On the opposite end of the spectrum, too much sunlight can degrade the structural integrity, overheat electrical components, and cause colors to fade if left in direct sunlight for too long. Even if kept out of the sun's direct rays, UV radiation will cause long term damage, even without direct sunlight contact. Just as you can get a sunburn even on a cloudy day, your e-bike can erode even without constant exposure to the sun.
More Likely to Get Stolen: The number one danger of storing your e-bike outside is the threat of it getting stolen. E-bikes are far more expensive than traditional bikes, making it more likely for thieves to try to take them from you. Because you're not keeping your e-bike in your home either, thieves will be even more encouraged to try to steal it.
To counteract these factors, we recommend taking the following precautions when storing your e-bike outside:
Top Tips for Outside E-Bike Storage
Try to Find a Roof, or Buy a Bike Cover: A simple roof or bike cover might not offer the entirely same protection as storing it inside, but it will be pretty similar. The UV radiation exposure will be greatly reduced, as will the chances of suffering water damage. If you can find a outdoor roof or pavilion to put your e-bike under, or are willing to take the time to properly cover your bike, you'll avoid the majority of problems that come with storing your e-bike outside.
Clean your E-bike before Storing: For long term storage, make sure you clean your e-bike before covering it. Besides preserving the look of your e-bike, you'll be preventing dirt, grime, and muck from permanently attaching to your e-bike. A simple bucket of water, a rag, and some soap should be all you need. Avoid using pressure washers, or other powerful cleaning instruments, as they might damage the more sensitive components e-bike.
Invest in a Good Lock: Just as important as a cover of some kind is a lock as well. Some e-bikes are built with an internal locking mechanism that ensures you can't pedal without a key or battery inserted. For the majority of e-bikes though, you'll need to invest in your own lock. While there are many types of locks available, we recommend using multiple locks for added security and protection, especially for long term storage.
Conclusion: Take Your Time to Preserve your E-bike
While it isn't as optimal as storing your e-bike inside, you can definitely store your e-bike outside without suffering any long term damage. However, you'll want to make sure you protect your e-bike, both from the elements and potential thieves. You'll also want to make sure that you take the e-bike battery inside, as it is among the most sensitive components on your e-bike. With the proper care though, you can leave your e-bike outside for months on end, and find it just as good as ever when you're finally ready to ride again.
Have a question about storing your e-bike outside, or want to know something else about e-bikes? Then feel free to leave a comment below, or send us an email with any questions you may have. We love talking e-bikes, and look forward to hearing from you soon!