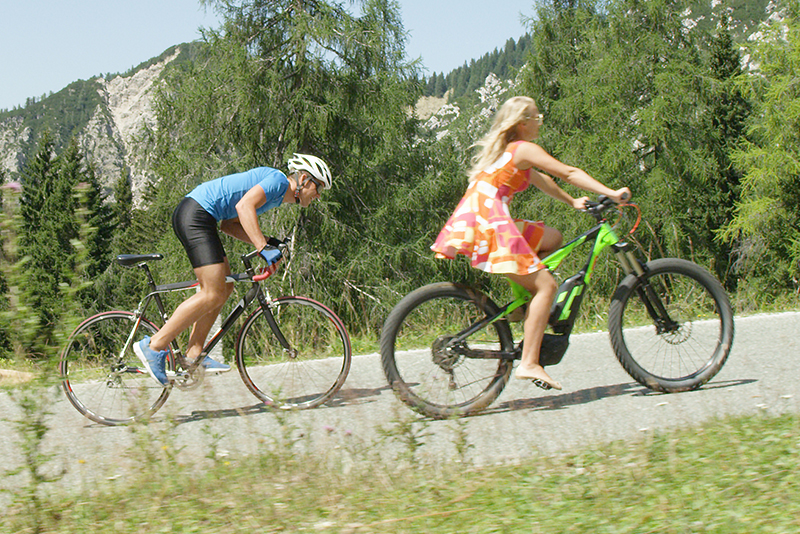 If you've seen an e-bike in person, odds are it was someone cruising by you down the street. You might even know someone that swears by them, that they use it to get to work everyday instead of going by car or a traditional bike. While e-bikes are great for urban environments, you're probably wondering if they can go up a hill? Can e-bikes even do many of the same trails that bikers use traditional mountain bikes on?
The answer is a resounding yes! Not only can many e-bikes go up hills, but there are e-bikes that can tackle challenging trails even better than a traditional mountain bike can. If you're struggling to keep up with your friends, or just want some assistance as you ride, an e-bike is a great solution for challenging steep hills.
There are a few things you should consider before trying to climb a hill while riding an e-bike:
The Type of E-Bike
If you are just climbing small hills, especially those with smooth, paved roads in cities and other urban areas, your typical e-bike should be able to assist you in your climb. For more difficult slopes, you'll want to look at e-bikes specifically designed for mountain biking. Mountain e-bikes tend to have suspension systems, larger batteries, and are designed to encourage a more upright riding position. In exchange, mountain e-bikes can be a little slower on pavement, and tend to weigh more than traditional city bikes. Consider what level of climb you have to deal with before making your decision.
HUB motor e-bikes are simple and tend to be easier to use than mid-drive motor e-bikes, but they don't tackle hills as well either. Most HUB motor e-bikes have limited gear and speed options, so while they're great for flat and slight inclines they don't do well on major climbs. If you have some steep inclines you're trying to surmount, a mid-drive motor will be better suited for your needs.
Whatever you go with though, make sure you know about the local laws that dictate the category of e-bike you can use. As a new riding phenomenon, there isn't a global set of rules classifying e-bikes, nor are there laws on a national level for most countries. However, most manufacturers and states use a three category system that serve as general guidelines for e-bikes. Class 1 and 2 e-bikes are generally allowed in most cities, and while class 3 e-bikes offer the most performance they are the most heavily restricted as well. Be sure to see which type of e-bikes are legally permitted in your locality before purchasing an e-bike.
Throttle, Peddle Assist, and Torque Sensors
How you activate your e-bike motor will also vary by the type of e-bike you purchase. The most basic version is a hand throttle, where twisting your handle will turn on your motor and propel you forward. While this is the easiest type of electric assist to you, you might launch yourself too quickly with the throttle. Throttle e-bikes are better suited for flat, smooth distances than hill climbing.
The other most common electric assist mode is peddle assist. Pedal assist e-bikes provide power only while you peddle, with different settings to allow you to choose how much assistance you want. Pick a low assist mode for easy sections, and a high power assist mode for tougher, rougher climbs. By picking the right setting, pedal assist e-bikes will kick only as you're pedaling, giving you better control on the total power you need to complete your climb.
The downside of most pedal assist e-bikes is that they always activate when you pedal, no matter how flat or steep your path is. If you don't pick the right setting, you might not get the power you need to climb a hill, or might get too much and find yourself crashing. To resolve this, many premium e-bikes include a torque sensor system that will measure the difficulty of your pedaling and adjust your power usage automatically. Your e-bike will optimize itself for you to pedal up and down the hill, making torque sensor e-bikes the best for climbing hills.
The Proper Bike Climbing Techniques
For most gentle, small hills, you won't have to alter your riding style much to make it to the otherside. However, changing your posture for more difficult climbs can make things much easier on you and your bike. Lean into your bars more, pull your elbows closer to your chest, and try to push your weight forward. Lowering your center of gravity will keep you stable and steady as you continue to peddle.
Be sure to also maintain a steady cadence as you pedal as well. Whether you use a pedal assist or a throttle, you'll find it easier to climb by maintaining momentum then stopping and trying to climb from scratch. If your e-bike has a gear shift, make sure you adjust it so that you have a healthy balance of steady pedaling and firmness. Altering your power assist to help you maintain a steady pedal is just as important as changing your gears if you have the option on your e-bike.
Lastly, make sure that you don't accidentally fling yourself over your handlebars once you reach the top. Unless you have a torque sensor, your e-bike is still going to be pushing with the same amount of energy as it was during the climb. Start to slow down or alter your level of power assist just before you reach the crescent, or you'll be going downhill quicker than you expected.
Conclusion
E-bikes are great at climbing hills, and can take on many challenging slopes even better than a normal bike. However, they do take a little practice, along with determining the right e-bike for the right hill. If you have any questions about this article, or just want to know more about e-bikes in general, feel free to leave a question below or send us an email.
Thank you for reading, and have fun riding!