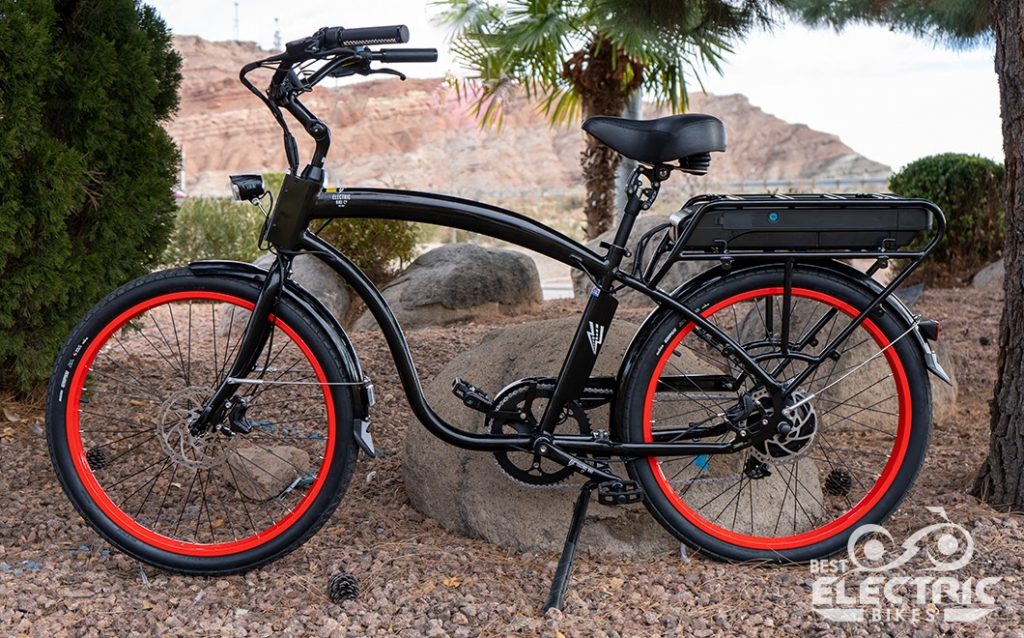 The Electric Bike Company Model C is a high-step beach cruiser with sturdy rear rack and standard front basket, lots of cargo accessories, a hearty motor with 26amp controller and robust aluminum frame. This bike is ideal for a casual ride to the beach or a quick jaunt through town!
Bike Category: Class 3: Pedal Assist with Throttle on Demand to 28mph
Who It's For: Riders looking for comfort and quality on an upright beach cruiser with plenty of cargo options
Bike Specs
MXUS XF15R Geared Rear Hub Motor and 26amp Controller generate 1250watts
48v Battery with internal charger mounted under rear rack
50 mile range (11Ah battery) 100mile range (17.6Ah battery)
Tektro Dorado Hydraulic 4-Piston Disc Brakes with 180mm rotors
26" Double-walled aluminum 2" wide Jetset Rims and Maxxis puncture resistant tires
Pedal Assist Sensor (PAS)
Thumb Throttle with lockout
LCD Color Display with USB Port
6061 Hydroformed aluminum frame with 3 coats of paint and 2 coats of sealant
Single Gear system with 56T front chain ring and 16T or 18T for the rear
Suntour Suspension Seat Post
Front Basket included standard; attaches directly to frame
Leather saddle and grips
Integrated Spanniga front and rear safety lights
Weight Capacity 380lbs.
Our Video Review
Pros
Fun, beach-style cruiser with solid frame and lots of color options
Integrated front and rear lights for safety and visibility
Suspension seat post adds to overall comfort
Designed for around town riding with lots of cargo options, including a surf rack mount!
Comes in both Step-Thru (Model S) and Classic (Model C) frames
Rear hub motor and 48v battery gives you a whopping 1250 watts of power!
Impressive 380lb weight capacity
Cons
Bike is heavy, especially loaded with additional cargo add-ons
Single gear system limits gearing options
Bike can be hard to pedal from a stand-still; a little throttle helps get things moving
Features
MXUS XF15R Geared Rear Hub Motor and 26amp Controller
This geared hub motor is lighter than comparable brushless motors, but a bit noisier. It does offer some good power though, at 1250 watts it is a real powerhouse, especially when paired with the 26amp controller.
48v Battery with internal charger mounted under rear rack
The 48v battery is lockable and removable, but it is designed to be charged on the bike via a retracting power cord that pulls out from the battery port to plug into any wall outlet. An additional charger is sold separately so you can remove the battery and charge it inside when needed.
While the placement of the battery keeps it off the downtube and out of the way, it does add a bit of rear weight.
The powerful drivetrain will get you a 50 mile range (11Ah battery) and 100mile range (17.6Ah battery)
Tektro Dorado Hydraulic 4-Piston Disc Brakes with 180mm rotors
Tektro brakes are pretty good here; replacement pads will make them even better. 4-pistons and 180mm rotors spread braking power evenly along the disc. We found stoppage to be adequate for the 28mph max speed. Long term brake pad wear may be an issue with Tektro, but pads are easily replaceable.
The brakes do have motor disconnect, so as soon as you tap them the motor shuts off all supplemental power.
Pedal Assist Sensor (PAS) and Thumb Throttle with lockout
The power system on the Electric City bikes is a little different than your standard set up. There are two power buttons: one on the battery and one on the display. EBC says this is to prevent accidental start ups, which makes sense, but it also takes a bit of effort to get going.
The Pedal Assist levels are adjustable with an easy toggle on the display and Thumb Throttle has a lockout to prevent unintentional jumps. There is certainly plenty of power and the 12 magnet sensors provide smooth pedal assist based on your cadence.
Throttle will supplement up to 20mph, you can pedal faster to get to that 28mph assist speed, but throttle alone maxes out at 20mph.
LCD Color Display with USB Port
Like other LCD displays, this one has large digital readout for pedal assist levels. The other modes are a little small and can be hard to see in bright light. The screen is not removable, but it is pretty hearty and should withstand moderate weather. A UBS port is a nice addition so you can plug in and charge a phone or other device. A few other bikes also have a USB port but on the Model C it makes sense because you can set your device down in the front basket for safety.
6061 Hydroformed aluminum frame with 3 coats of paint and 2 coats of sealant
EBC bikes are solid! This frame is sturdy with only a little wobble in the step-thru design (Model S); the "classic" frame (Model C) rides like a tank. There are lots of paint options through EBC so you can customize your bike from any of 24 colors! The aluminum frame keeps the bike lighter than it looks at just 56.8lbs.
Single Gear system with 56T front chain ring and 16T or 18T for the rear
EBC keeps things simple with the single gear system. You can add an optional derailleur if you need more gears, but really, the powerful drivetrain offers enough supplemental power to offset the limited gears. It also keeps the front end clean with minimal wires and no shifters. The only time we noticed this was really a problem was at start up. The bike has a hard time getting off the line to begin, so a little throttle support helps at the get-go.
Suntour Suspension Seat Post
Again, comfort is the goal here and the suspension seat post makes up for the hard tail frame.
Front Basket included standard; attaches directly to frame
The heavy duty front basket is standard and a headlight is attached to the front of the basket. Since the basket is attached to the headtube, it rotates with the front tire, but not the handlebars. This can make light position a bit tricky, but the headlight is bright enough to provide good visibility.
Integrated Spanniga front and rear safety lights
Lights are controlled from the display. Rear light is brake responsive and has a flashing option for increased safety in traffic.
In-Depth Review
Unboxing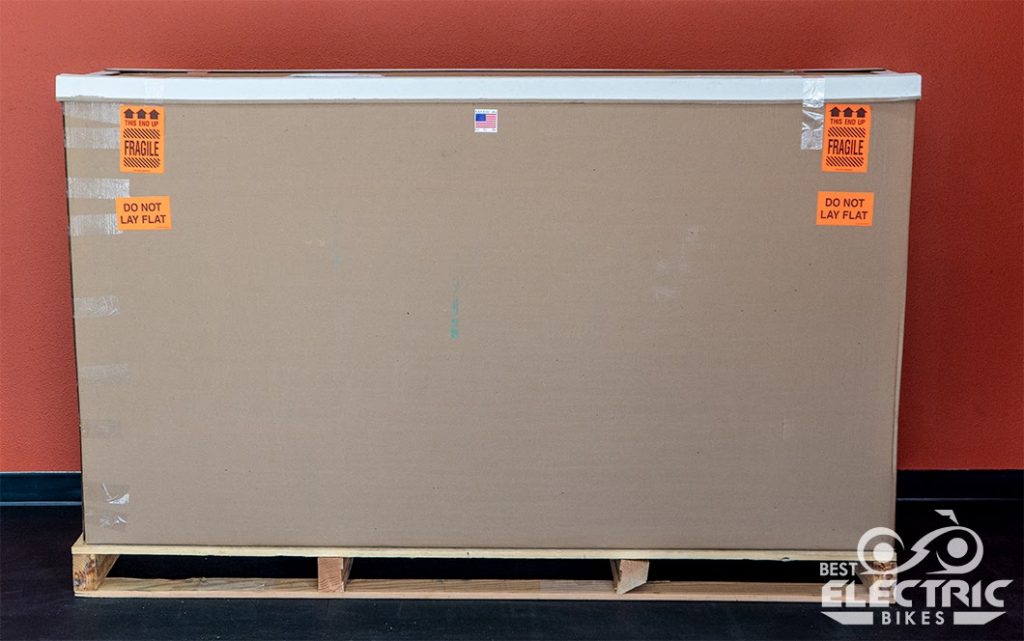 When our box first arrived, it was large but not heavy. Electric Bike Company says its bikes ship fully assembled, but we weren't sure what this meant. We've unpacked many electric bikes and there's always some assembly required. The box arrived with warnings to keep it upright. Unpacking was surprisingly simple.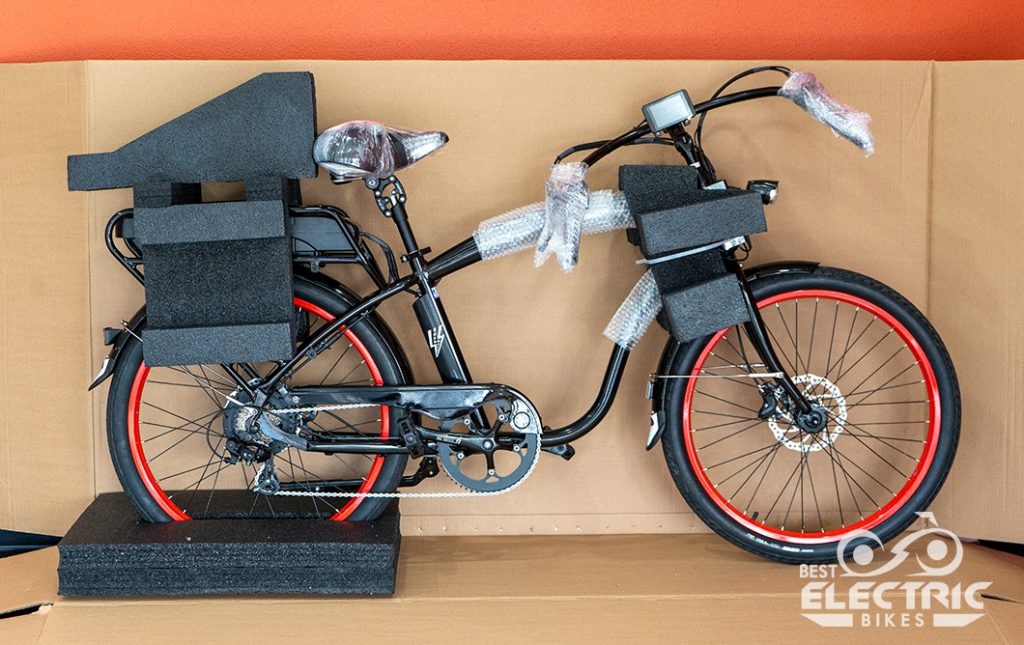 The bike really does come fully assembled. A few adjustments with a hex wrench allow you to align the handlebars and wheel. This is the easiest assembly we've experienced on an electric bike. It is a great option for those who don't want to hassle with attaching wheels and handlebars after unboxing.
Frame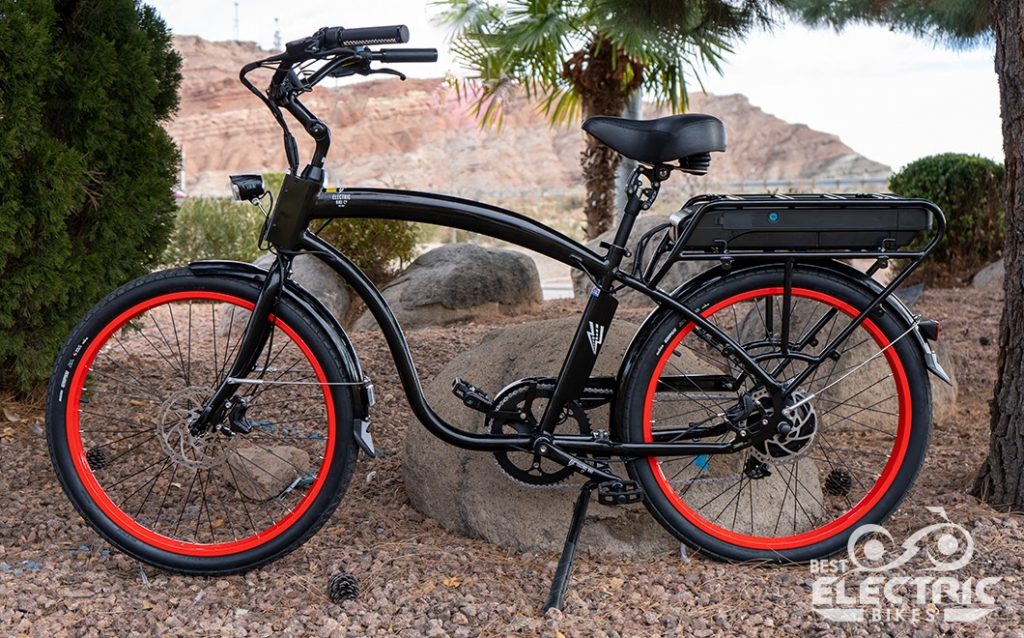 The EBC Model C 6061 aluminum alloy frame is sturdy and tips the scale at ~59lbs (unloaded). However, most of the weight is in the back, which can make it difficult to get through small doorways or navigate through a tight garage. There are two frame options: the Model C top tube provides increased stability and the Model S is easy to step thru, so there are benefits to either design. We reviewed the Model C and the 32" step over height is a challenge for shorter riders. I'm 5'5" and could not stand over the bike. While not a negative, it is something to consider when evaluating which frame is best for you. Once you're on the bike, it feels solid and not too large.
Handling
This bike handles well for what it is designed to do: get you comfortably (and quickly) around town. This is a beach cruiser, so it is not ideal for steep inclines and feels heavy on descent. But even loaded with gear, you can ride comfortably on the padded leather saddle and wide, upright handlebars. The long frame increases turn radius slightly, and it is rear-heavy, so be careful when turning in tight city streets. Also, I find it's best not to pedal when turning. The bike doesn't know if you are going forward or turning, so if pedal assist is on, it can propel you forward too fast in a turn.
The throttle is a bit touchy, and it can be jumpy. When you turn on the main power switch, the default is for pedal assist to be off, so turn it on via the display when you get started. As always, be careful not to touch the throttle when moving the bike up or down a curb — it will lurch forward.
I found pedal assist on the Model C to be powerful. Especially at level 5, I was easily cruising at 22mph with hardly any pedal. The throttle is not as powered. With pedal assist off, the throttle only took me to about 15mph, so it's more for support than independent power.
Cruising along city streets on this bike is a blast. Once you get to speed, the power and weight are impressive and the seat is very comfortable. The wide handlebars are adjustable up and down so you can find the right fit.
Electrical System
The EBC Model C is a Class 3, 28mph speed pedelec with both pedal assist and a throttle. This bike may not be street legal in all cities, so verify your local laws beforehand. You can turn off pedal assist if needed.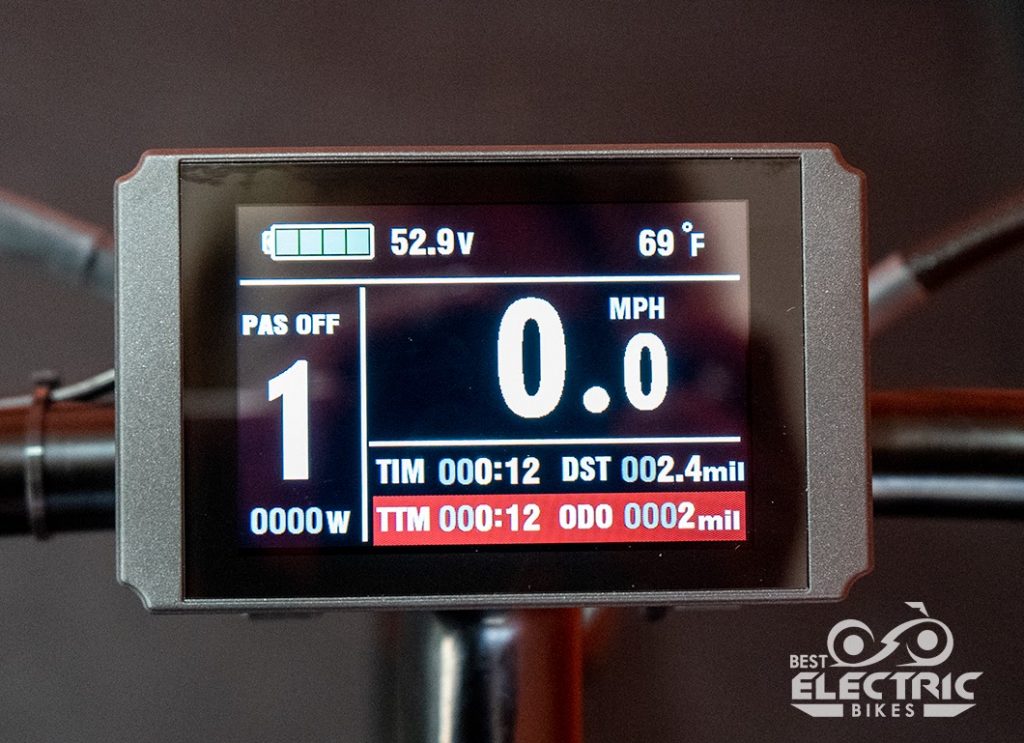 The LCD console on the handlebars is not removable, but it does feature a color display. Pedal assist has 5 levels of support. Like many beach cruisers, the bike feels a bit heavy at the start and a little kick from the throttle helps a lot. Since this is a single gear system, you have to pedal strong to get it rolling. However, once at speed, the power really kicks in. Levels 1 and 2 are moderate; at level 3 you start to really feel some push and by 4 or 5 you're full on sailing! Like a large car, when this bike gets to speed, it stays there, so be aware of your speed as you cruise along.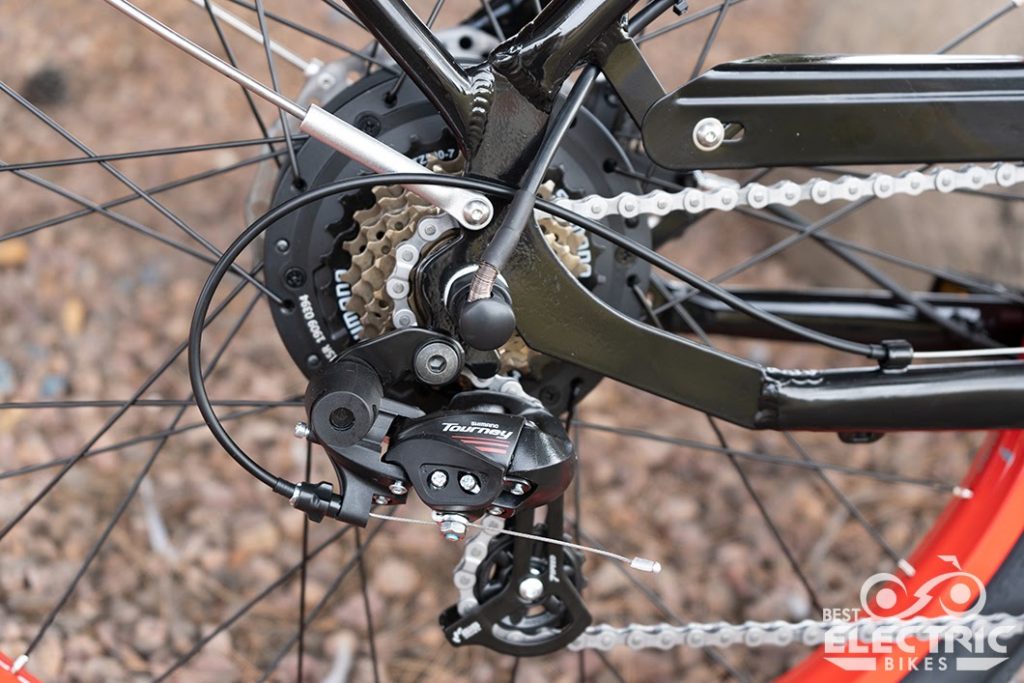 The single gear system is probably the biggest drawback on this bike. While the Model C certainly doesn't lack for power, it can feel heavy riding uphill with only one gear — especially fully loaded. The powertrain gives it a nice kick, but a few more gear options would be nice. The single gear system has a 56 tooth chain ring in the front and 16 tooth (or 18T optional) in the rear. You can add a derailleur for additional gears (we did — as pictured above), but this doesn't come standard.

The battery is hearty and EBC lists it as "the safest, most universal battery pack in the world." Rated to produce 555 watt hours, one charge should give you 25-50 miles (on the 11.6ah battery). Having the battery under the rear rack is nice because it's protected and doesn't impose on the downtube, but the weight is noticeable, especially if you load up the rack as well. Battery can be charged right on the bike via a retractable cord or removed and charged in EBC's proprietary super-charging port which is an additional cost. It takes about 7 ½ hours to charge on the bike.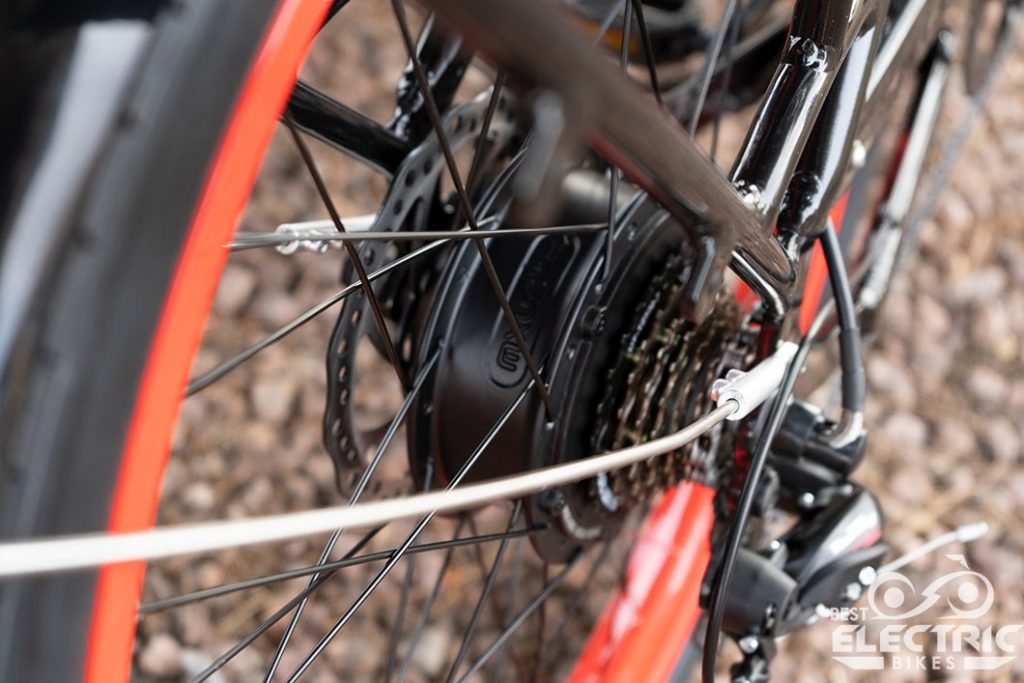 A MXUS XF15R geared rear hub motor and 26amp controller provide solid power. The motor is powerful but slightly noisier than comparable gearless motors. We'll take it for the weight reduction though. This motor produces 60Nm of torque, which helps when the bike is loaded. The single gear system and streamlined hub motor keep the rear wheel clean so it really looks and feels like an old-fashioned cruiser.
Components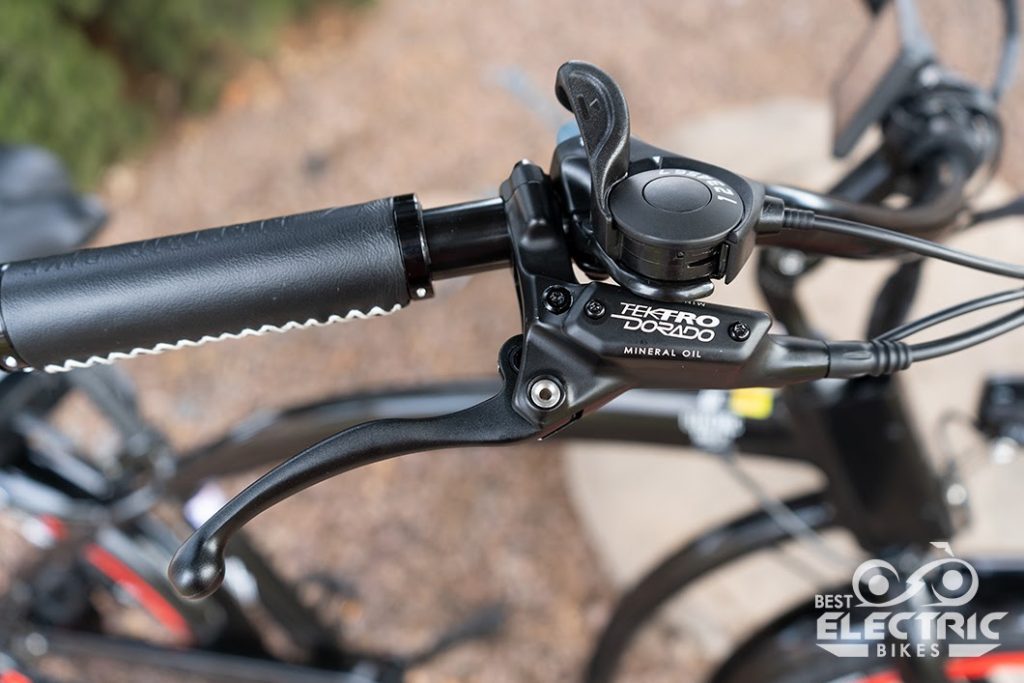 Tektro brake levers are responsive and feel nice in your hand. Motor inhibition shuts off power anytime you hit the brakes, which works well to naturally slow speed and make sure you're not working both the brakes and motor at the same time. Tektro has a reputation for quality brakes with poor brake pads. An upgraded shoe might help prolong life on the rotor. 4 pistons and 180mm rotors generate smooth braking power that's not jerky or overly stiff.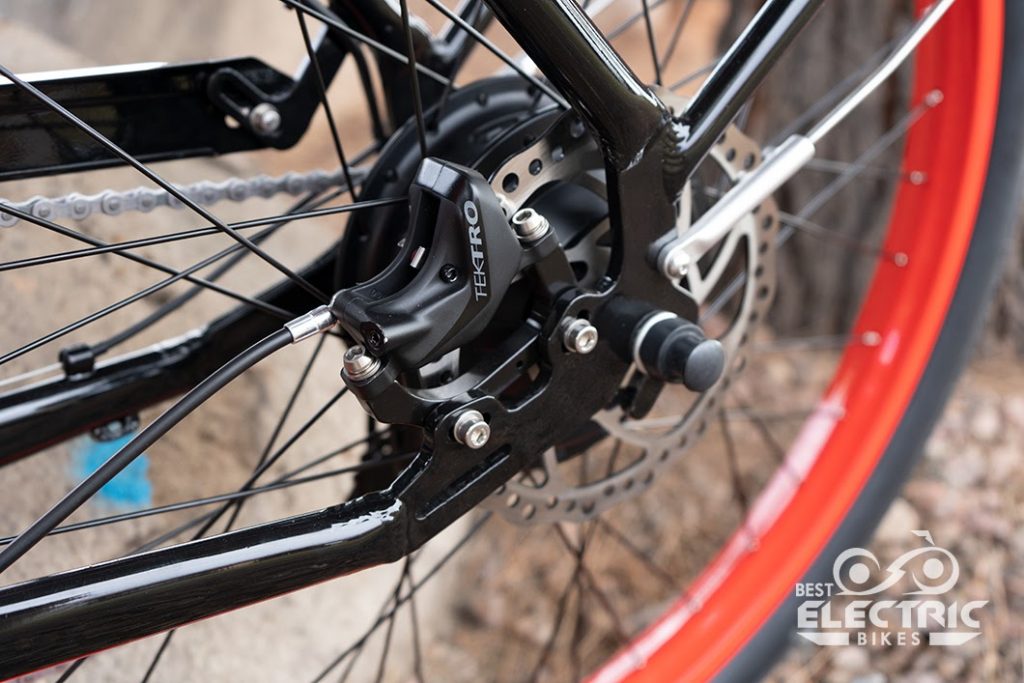 Suspension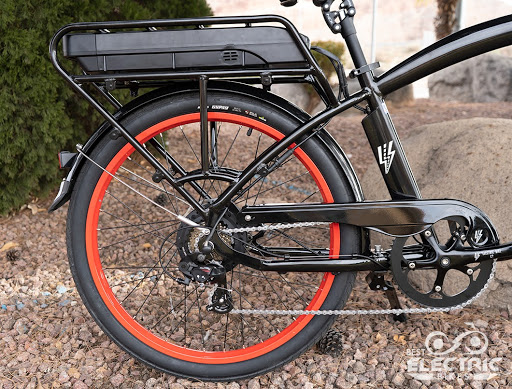 There is no suspension on the Model C — although you shouldn't really need it with this kind of riding. A suspension seat post mitigates bumps on your saddle so you've got stability with a bit of added comfort.
Pedals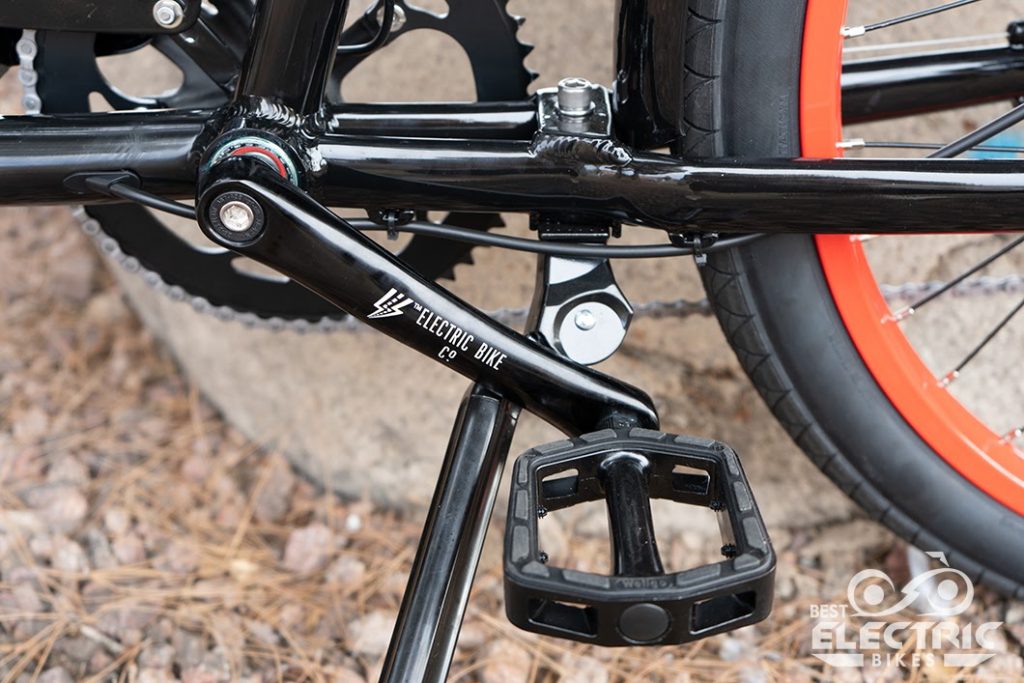 The pedals are flat with a wide surface and rubber grip around the perimeter. They provide comfortable support and work with any shoe (or sandal!). Our only issue with the pedals is the proximity between the pedal and kickstand. When the kickstand is down, it impedes the pedal, so be careful to roll your bike forward before releasing the kickstand or it will collide with the rear pedal.
Grips and Saddle
Leather grips and saddle come standard in either black or tan. The wide, padded saddle is contoured for comfort so it holds you snugly in position when riding. Handlebars are adjustable up or down.
Wheels and Tires
26" Double-walled aluminum 2" wide Jetset Rims and Maxxis puncture resistant tires give you some nice clearance to navigate sidewalks and boardwalks. This bike is not designed to go off road, but 2" wide puncture resistant tires will protect you from unnecessary flats.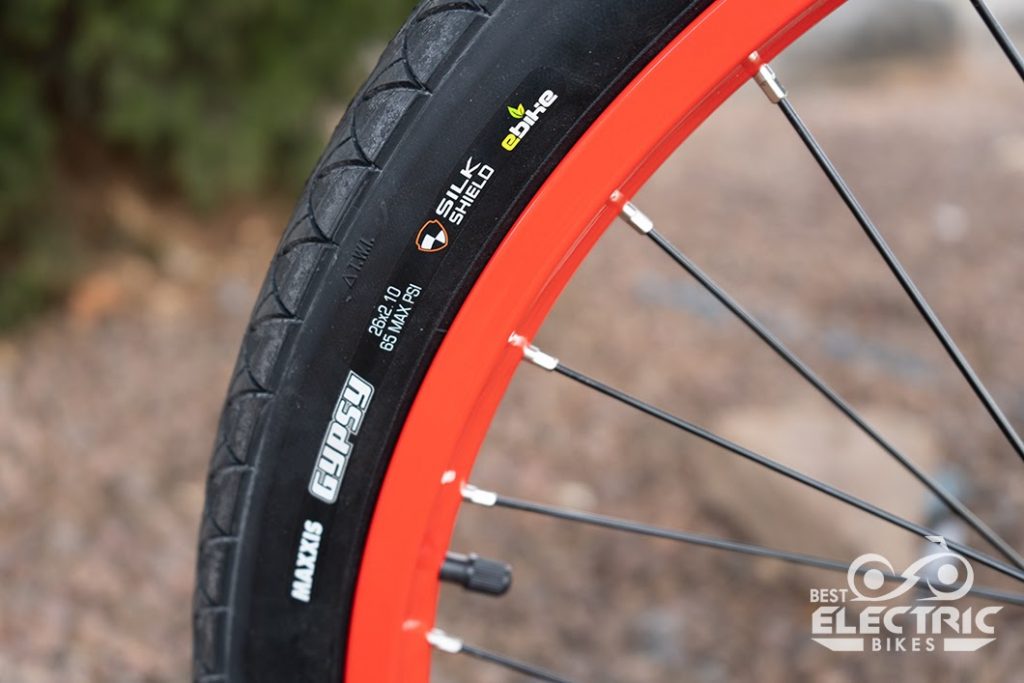 Both front and rear tires have fenders with splash guards on the end to keep your pants clean. The grooved tread is perfect for city streets with just enough traction but not too much grip. Lights on the front and two on the rear enhance your visibility in traffic.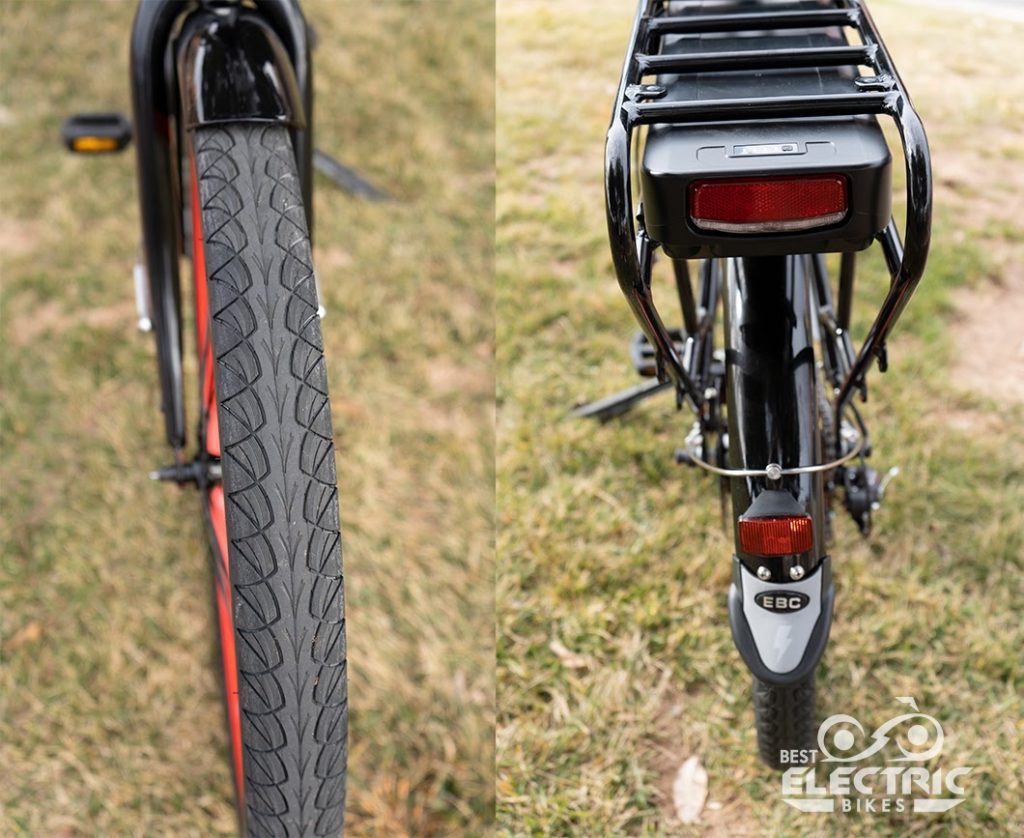 Accessories/Cargo options
Double fenders, rear rack, front basket, bell, and integrated lights all come standard. Optional add-ons include fun things like a large cargo basket for the rear, a surf-rack for the side, rack panniers, and even a flatbed cargo trailer.
Recommendation/Final Verdict
The Electric Bike Company Model C is a fun and comfortable way to get around town (and to the beach, obviously). However, it isn't weighted or geared for off-road riding and has some power limitations when fully loaded. If you are looking for a stylish beach cruiser to ride in a swimsuit and flip flops that will haul you and your stuff — the EBC Model C is a great choice.