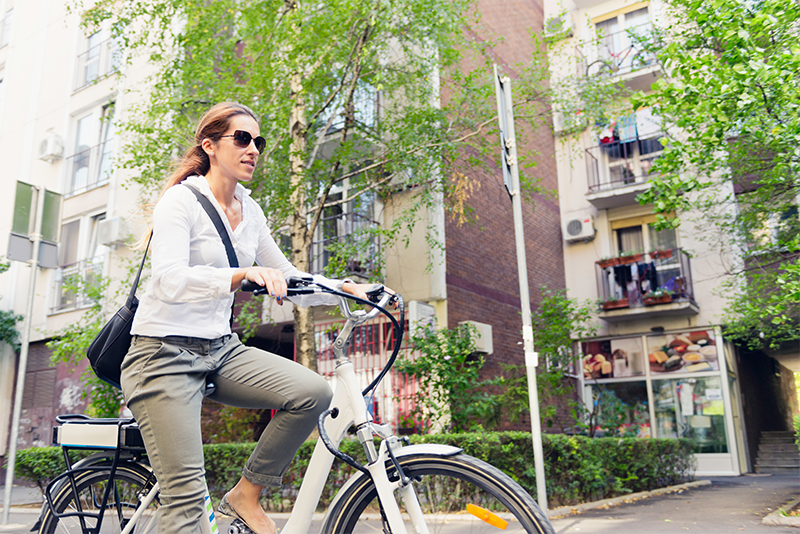 If you're interested in investing in an E-bike, you've probably wondered if it's that much faster than a normal bike. The answer is both yes and no. With the motor function, you technically won't be going faster than your typical bike pedaling at peak performance on a flat and smooth surface. However, due to the personal energy you'll be saving thanks to the motor along with a higher average rate of speed, an e-bike will generally get you where you're going faster than a normal bike. In order to understand why that is though, there are several factors you have to understand when it comes to e-bikes speed.
E-bikes are Built with Speed Limits in Mind
While there is no universally accepted regulation system for e-bikes across the world, most countries tend to have a cap on how fast an e-bike can be without a license. This limit is 45 kph in Europe, which correlates to about 28-30 mph here in the US. Local laws and bike trails might also have additional rules and regulations specific to them. However, as long as the motor turns off after 28 mph/45 kph, you'll generally be able to use it without getting pulled over or require additional licensing.
Most e-bikes are also categorized into 3 different classes throughout the world. These classes help designate the type of motor assist it provides, along with their speed limits. They are as follows:
Individual Class E-bike Speed limits
Class 1 E-Bikes
Category 1 e-bikes have a pedal assist motor that will stop providing power once 20 mph is reached. These types of e-bikes are the most accepted, and are allowed on almost all of the same pathways that normal bikes are allowed on.
Class 2 E-bikes
Category 2 e-bikes also stop at 20 mph, but have a throttle either with or instead of a pedal assist motor. While you'll be able to use these types of e-bikes most places as well, trails with special restrictions on motor powered vehicles won't allow class 2 e-bikes.
Class 3 E-bikes
Category 3 e-bikes are those that have a throttle or pedal assist, but are capped at 28 mph instead of 20 mph. Due to their high speeds, class 3 e-bikes are typically restricted to highways, cities, and other urban roads and streets only.
Besides the categories, there is also the motor to consider. Despite what you might expect though, a larger motor doesn't necessarily mean you'll go any faster. Here are the important things to consider when it comes to your e-bike motor:
How Motors impact Speed and E-bike performance
Examine the specs, not the motor size itself: You might notice that the motor size is larger on one e-bike compared to another, but that might be deceiving from a performance perspective. The motor casing might be huge, but the actual battery itself could be worse than another e-bike with a motor casing. When selecting an e-bike, you'll want to look at the power, voltage, and total watt hours rather than the motor size.
You probably can't make full use of the motor anyway: All other things being equal, and assuming your frame could support it, a larger watt battery would produce more speed than a battery with less watts. However, because the battery turns itself off and no longer assists with pedaling after a certain point, a larger watt engine will not let you go any faster past the cap. If your e-bike is built to fit in within a certain class, it will not go any faster than a bike of the same class, no matter the difference in battery power.
Total motor battery watts impact length of use, not speed: If you're wondering why a larger watt battery matters if it doesn't impact speed, the answer is that it impacts battery life instead. All else being equal, an e-bike battery with more watts will be able to maintain maximum speed longer than the same e-bike with less total watts.
While wheel size, terrain, and other factors will definitely impact the overall speed of your bike, your total motor size and wattage generally does not and instead impacts battery life. However, there are still reasons why you'll find an e-bike will get you places faster than a motorless one. These reasons include:
Why E-bikes are Faster than Motorless Bikes
E-bikes Maintain Speed on Hills and Difficult Terrain: Once you get some momentum going, it's definitely possible to go past the 28 mph motor limit on a smooth, level road with a motorless bike or e-bike alike. However, it's likely you're going to have to try to go uphill, on a dirt road, to traverse some other less than friendly path at some point. Pedaling fast when the road is easy is one thing, but even the most athletic bikers have a hard time hitting 15-20 mph once they have to climb a steep hill or go over very rocky terrain.

With their motors, E-bikes can maintain the same speed, whether it be pedaling down a highway or climbing a difficult hill. While the degree by which you'll be aided will depend in part by whether you got a mountain e-bike or not, even a motor on its simplest setting will give you a boost to pedal on uneven terrain. If your biking trip isn't just on simple city streets, you'll have a faster and easier time by using an e-bike than a normal one.

E-bikes help you Conserve Energy: Even if you are pedaling only on friendly, easy streets, it takes effort to build and maintain momentum, to get your bike going and making sure you don't lose your speed. Urban environments have stop signs and stop lights though, meaning you'll be braking and having to start building your speed again every time you see red. Even if you can pedal more than 30 mph, it takes time to build up to that speed, and you'll probably fail to even get close to it given how many times you have to stop and start again.

E-bikes make it much easier to maintain a constant high speed of travel, even in the heart of the city. The motor takes away much of the work of having to build momentum, and will get you traveling over 20 mph in just a couple seconds. You won't be putting in as much work peddling, so you'll have more energy to really push yourself later in your ride when the opportunity to go really fast comes. If you're someone that wants to bike to work or places while looking presentable and without working up a sweat, an e-bike will help with that.

E-bikes are often more Fun: This might not seem like an obvious one, but if you're not looking forward to using your bike, it's unlikely that you'll pedal as fast on it. With an e-bike, we expect that you'll generally have a more enjoyable experience, given how easy it is to go fast on them. You'll want to zoom around on them, and as you do you'll find yourself pushing forward instead of holding back with it.
Conclusion
Want to know more about e-bikes? Is there a specific model you had a question about? Is there some other aspect you want to understand better? Then feel free to leave a comment below, or send us an email. We would love to answer any questions you may have, be it about this article or e-bikes in general.
Thank you for reading, and have fun biking!