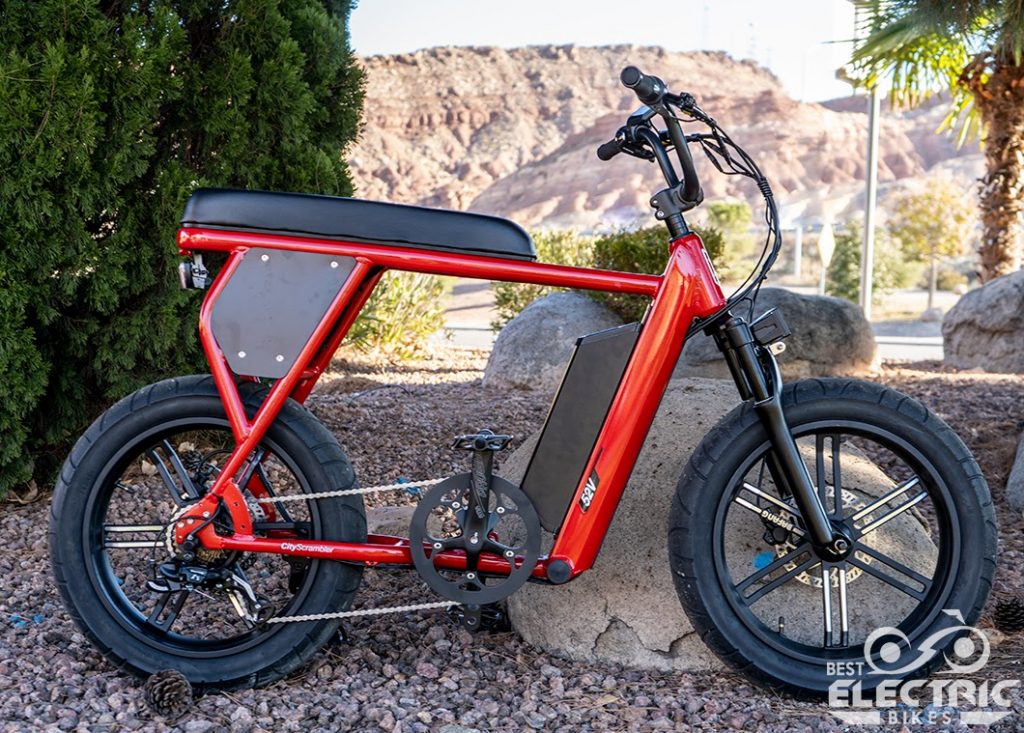 *To see current pricing on the Juiced Scrambler click here
The CityScramber from Juiced Bikes is a retro style e-bike with a motorbike frame, banana seat that will fit two riders, 275lb weight capacity, and zippy 28mph top speed.
Bike Category: Class 3 – Pedal Assist with Throttle on Demand to 28mph
Class 3 bikes feature both pedal assist and a throttle. Automated pedal assist supports the rider's cadence, while a throttle on the handlebar will augment speed to 28mph. This bike has a higher max speed that may not be legal in all cities.
Who It's For: Riders looking for a motorbike style e-bike with throttle assist for pedal free riding
– CityScrambler is great for riders who want to zip around town at speeds over 20mph
– Long, wide seat is comfortable and best for light pedalling or throttle only
– Motorbike style frame handles light off road and dirt trails nicely
– Designed to carry two riders comfortably, but has limited cargo space
Bike Specs
Motor- 750w Bafang rear hub motor, 80Nm
Battery- 13 or 19.2 Ah Extended Range 52volt Battery
Controller- 20 Amp Peak Controller
Brakes- Hydraulic 180mm Disc Brakes
Computer- LCD Advanced Matrix Display
Fork- Front Coil Suspension Fork
Power- Pedal Assist and Twist Throttle
Tires- Innova Road Tires 20" by 4.25"
Components- Shimano 7-Speed Freewheel
Lights- Integrated 1050 Lumen LED Front light; AA battery powered rear Light
Saddle- Comfortable Long Saddle will seat 2 people
Weight- Bike weight 78lb with battery
Max Weight- 275lbs
Our Video Review
Pros
One of the most affordable e-bikes on the market
Saddle designed for 2-rider capacity
20" tires lower center of gravity for a cool, motorbike design
750w Bafang rear hub motor is quiet and powerful
Heavy duty 52v battery is standard with 13Ah or 19Ah options
Has both throttle and pedal assist
180mm Hydraulic disc brakes are quiet and responsive
Cargo/rider capacity of 275lbs.
Designed like a dirt bike with long seat, low wheelbase and fatty tires
Cons
Bike is heavy. 78lbs total weight with battery
Unusual frame design may not appeal to all riders
Display is small and difficult to see in bright light
No adjustment points on seat post or saddle; standover height may be too high for some riders
Features
13 or 19.2 Ah Extended Range 52volt Battery Juiced Bikes offers two battery choices on the CityScrambler. You can select the base model with a 13Amp/hour battery or upgrade to the 19Ah battery. At 52 volts, this is a high-powered battery. Combining the 52v battery with 19Ah will give you extended range and power. Estimated ranges are listed below:
– 52v/13Ah – up to 42 miles with throttle only (~16mph)
– 52v/13Ah – up to 53 miles with Level 3 Pedal Assist (~16mph)
– 52v/19Ah – up to 68 miles with throttle only (~16mph)
– 52v/19Ah – up to 78 miles with Level 3 Pedal Assist (~16mph)
750w Bafang rear hub motor, 80Nm (20 Amp Peak Controller) This rear hub motor by Bafang is high-quality and pairs well with the upgraded 52v battery. Ungeared rear hub motors require a controller to manage electrical flow through the motor. The controller is tucked up under the saddle. Rear hub motors bring the weight low and rear on the bike, which can offset weight distribution. Thankfully, the CityScrambler has a sporty frame with a lower 20" wheelbase which keeps center of gravity down for safety.
180mm Hydraulic Disk Brakes Hydraulic brakes are responsive and quick when moving through traffic. Less force is required on brake levers compared with mechanical brakes and hydraulic brake pads wear evenly to maintain braking performance over time. We were impressed with the responsive braking on the CityScrambler.
LCD Advanced Matrix Display The LCD displays riding modes from Eco-1-2-3-Sport-Racing. It also includes readouts for battery life, voltage, wattage, and distance. While modes are displayed in large digital numbers, the other metrics are very small and hard to read. The LCD can also be hard to see in bright light.
Front Coil Suspension Fork suspension with adjustable lockout adds just a bit of travel to the front end for rider comfort. Riders can adjust suspension depending on weight and terrain. The suspension is a nice addition, since this bike is designed for both city and light off-road riding. An upgraded off-road kit is available through Juiced if you want to do more rugged dirt biking.
Pedal Assist and Twist Throttle Throttle twist gives the rider a bit more control over pedal assist alone. Both supplemental systems support speeds up to 28mph. Since the CityScrambler is designed to be a crossover between a dirt bike and city commuter, it is nice to have both power systems. It feels natural to utilize the throttle as the preferred power source since the frame handles more like a motorcycle than a standard bike.
Shimano Drivetrain with 7-Speed Hub motors are limited to a 1-7 gear ratio, so 7-speeds is standard. The Shimano components work smoothly on the CityScrambler to create a fluid feel underfoot. Gear rotations are quiet and seamlessly integrated with pedal assist modes.
Integrated LED Front light; AA battery powered rear Light The LED front light is integrated with the bike battery. Rear light has an on/off switch and runs off two AA batteries. Not having rear-light integration and a brake light is a drawback to the CityScrambler. Since it is a crossover bike intended for city use, we'd like to see an integrated brake-responsive tail light.
Extra Long Saddle will seat 2 people The CityScrambler easily seats two riders on the extra-long banana style seat.
In-Depth Review
Performance
The Juiced Bikes CityScrambler is a peppy e-bike with a retro, motorbike-style frame. Juiced Bikes builds high-speed e-bikes and the CityScrambler is a unique combination of a motorbike frame designed for urban use. The wide 20" tires and sporty frame will take you (and a friend) quickly and comfortably along city streets or up into the trails.
Electrical System


Class 3 Bike: Pedal Assist with Throttle on Demand to 28mph
The CityScrambler has 6 pedal assist modes which will supplement rider's cadence with additional
power as needed.
– 0: No power assist
– Eco: Minimal assist
– 1: Moderate assist
– 2: More assist
– 3: More assist
– Sport: Full power for climbing
– Race: Top speed for short spurts. There is also a throttle for an added kick. You can use throttle alone when you want to ride without pedaling, although this requires more battery support. The throttle is a bit touchy at low speeds, so it's best to start pedaling first and then add throttle from there. There is no lockout on the throttle, so don't start the throttle from a stopped position as the bike has a tendency to lurch forward.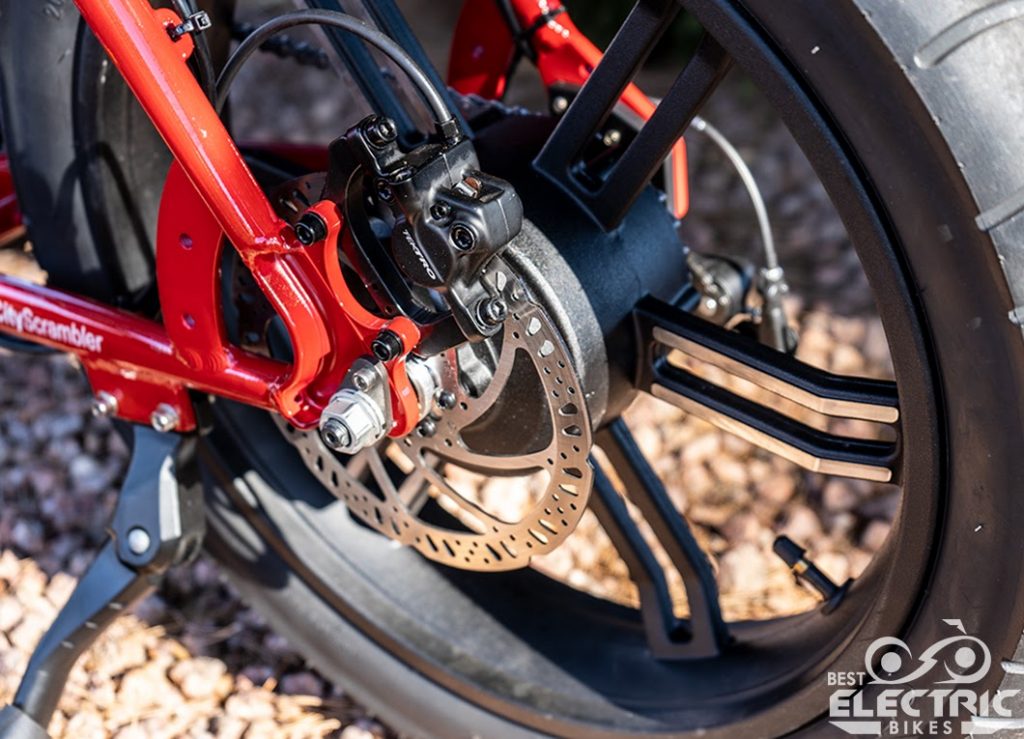 750w Bafang rear hub motor, 80Nm (20 Amp Peak Controller)
Bafang makes quality motors and the CityScrambler rear hub motor provides 750 watts with a max torque of 80Nm. Bafang motors are quiet so noise output is minimal on the CityScrambler. It looks like it would put out a small roar when running, but actually this bike is remarkably quiet. This powertrain makes for a zippy machine with quick pep at the start up. You don't have to wait long to get up to speed. This motor/battery system is powerful enough to offset the 78lb bike weight so you can achieve and maintain speed quickly. We did notice that with a rear passenger, the speed does lag a bit at times if you rely solely on throttle – especially when going uphill. But with a bit of pedal assist, there's plenty of power to move you along.
52v Battery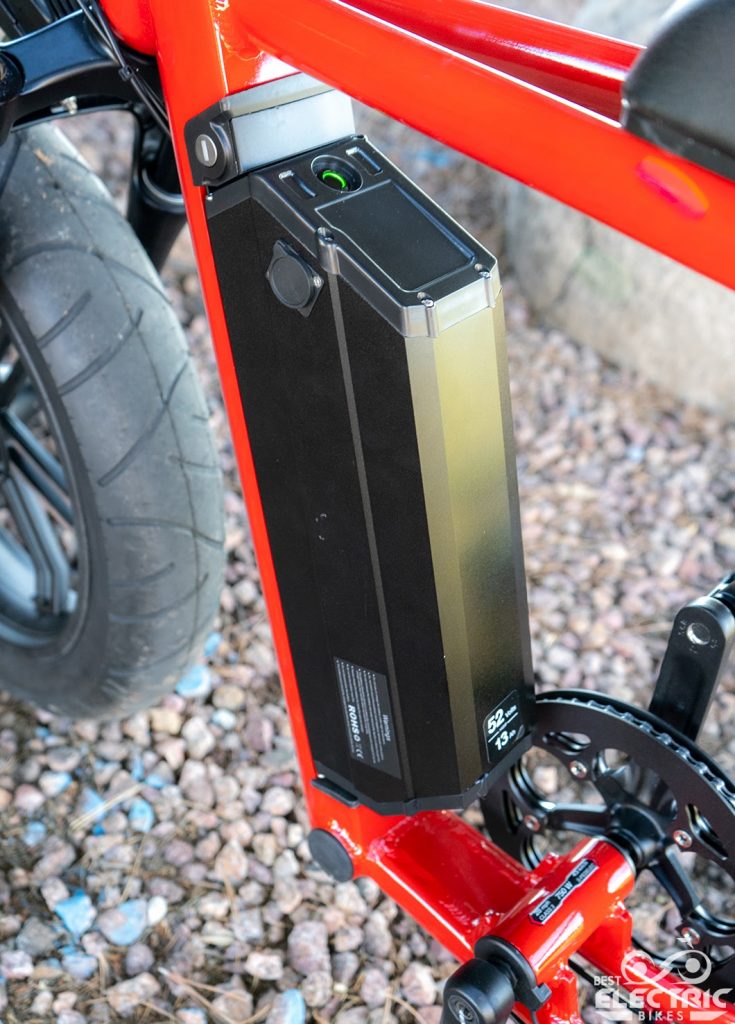 The 52volt battery in the CityScrambler is larger than the standard 48volt usually seen on bikes in this price range. While the bigger battery does add a bit of weight, it gives you more power and added range, so you can ride longer and faster in between charges. An optional upgrade to a 19Ah battery over the standard 13Ah battery will increase range by about 50% Juiced recommends keeping battery power between 20-80% for maximum battery life. Also, store your battery at 50% power when you don't plan to ride for a while. The 52 volt battery weighs 12lbs, so it adds a bit of weight to the bike, but Juiced positioned the battery along the downtube to balance rear hub motor weight in the back.
Components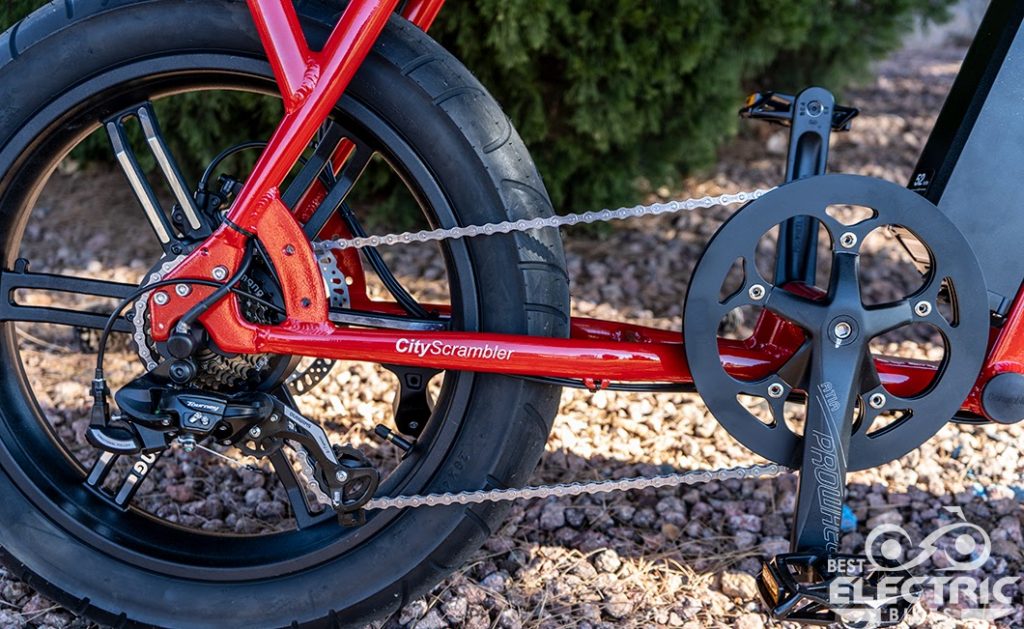 7-Speed Shimano Drive Train
Shimano shifters, derailleur and cassette are all high-quality for easy gear changes and extended life. We were impressed with the smooth gear transitions. There were no hiccups as the bike moved between gears.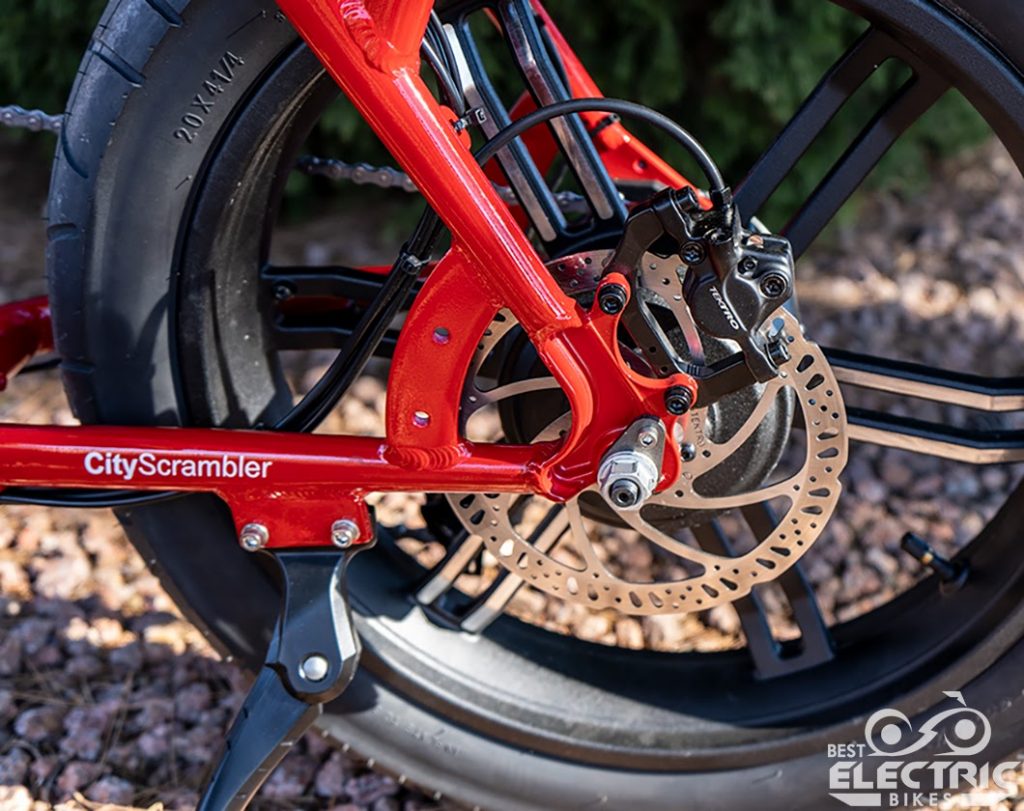 180mm Hydraulic Brakes
The CityScrambler uses Tektro hydraulic brakes for quick, responsive stoppage that isn't hard on the drivetrain. It's a nice perk to have full hydraulic brakes on a bike in this price range. Quality brakes counterbalance the 28mph (or more) that's possible on the CityScrambler so you have good stopping power even at higher speed.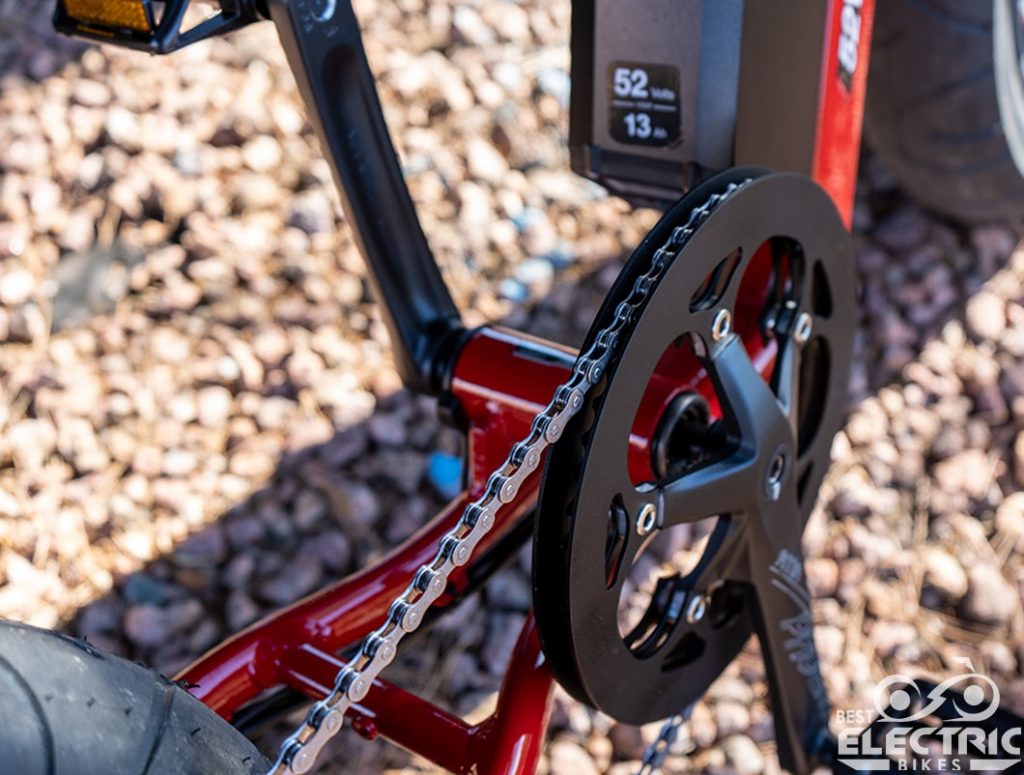 A Double Chain Gaurd protects the chain and keeps it snugly in line. Since this bike can be used for light off-roading, the double chain guard prevents chain drops and protects it from ricocheting debris. We noticed that when in the highest gear, the chain comes quite close to the rear tire. However, we didn't feel or see any contact while riding, so the double guard does a nice job of holding the chain in place.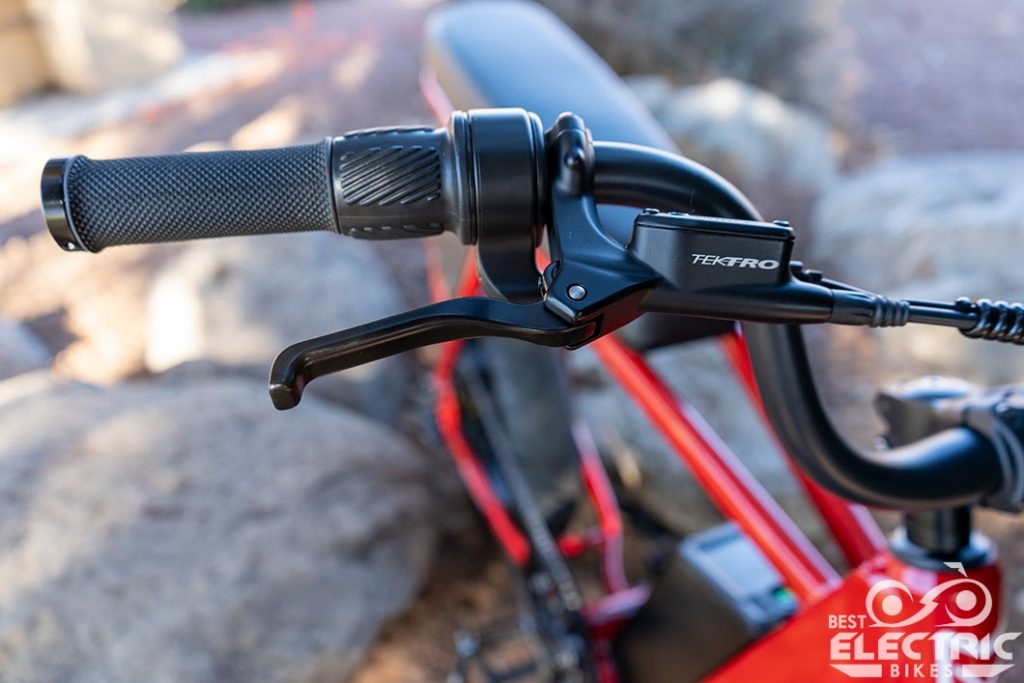 Brake shifters are sensitive so you can adjust light pressure when needed to moderate speed. A quick tap on the brakes shuts off any pedal assist or throttle power to drop speed safely
Frame and tires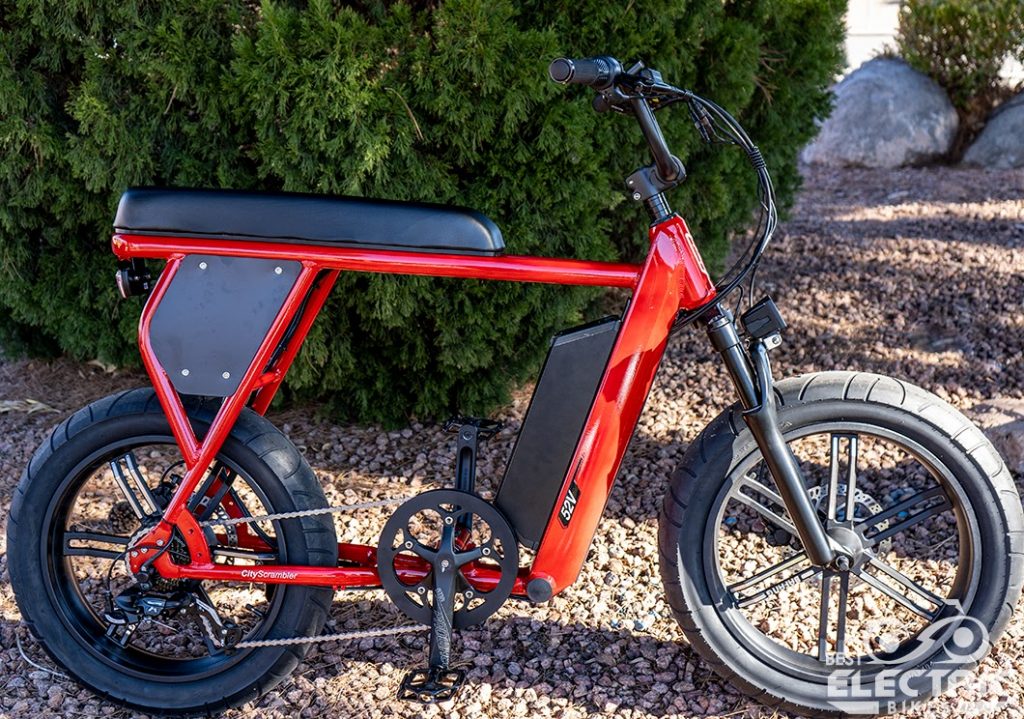 City Scrambler Frame is sturdy aluminum alloy. The frame is square rather than triangular, with a long, wide seat and no adjustment points. You cannot raise or lower saddle, and there is no step-thru frame option. This bike is designed for riders who like the look and feel of a motorbike but want to use it around town.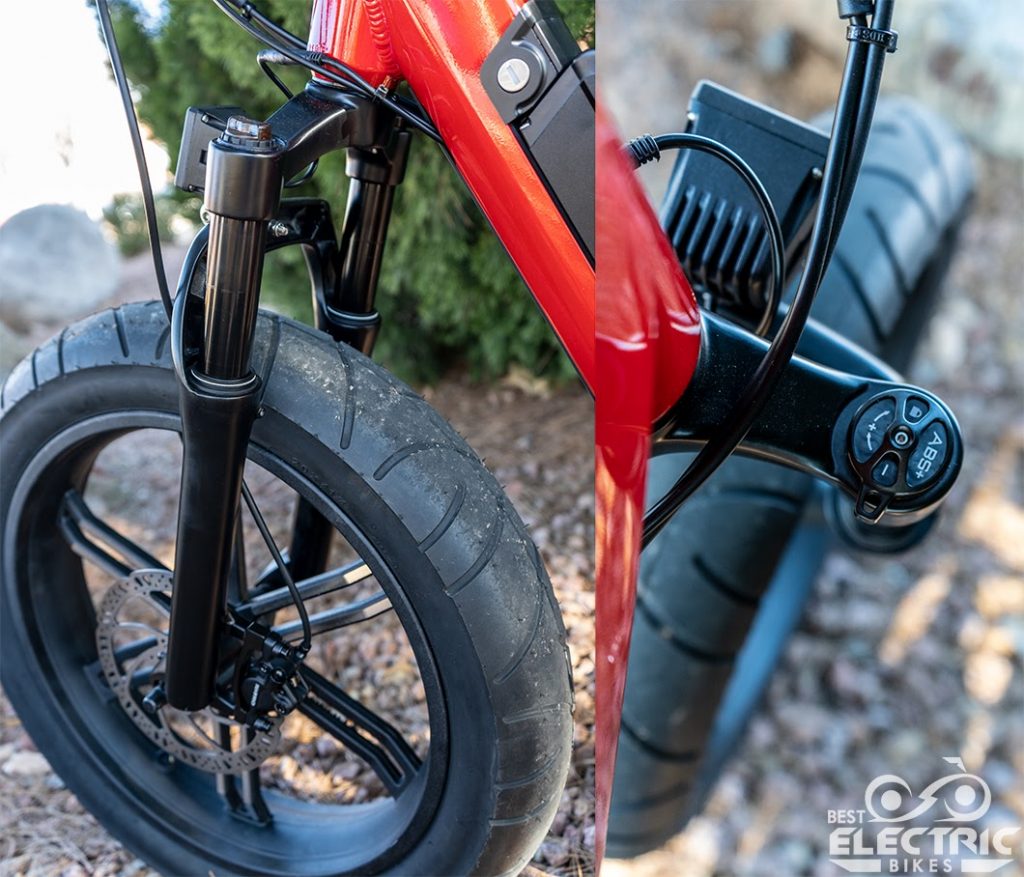 Front coil suspension which is lockable and adjustable. This adds much needed impact absorption on the front end since the tires a little smaller on the CityScrambler. You can adjust suspension as needed based on your terrain. Front suspension is a nice addition, even on urban commuters because sidewalks and rough roads can feel bumpy, especially on 20" tires. The suspension enhances comfort for all riding conditions.
Innova road tires.
The CityScrambler frame looks like a motorbike until you get up close to evaluate the tires. Unlike it's cousin, the CampScrambler, which is built primarily for off road dirt biking, the CityScrambler has mag wheels with Innova road tires. These are smoother and less grippy so you get better mileage on slick city roads. The fatty 4.25" wide tires keep it both comfortable and cool.
Saddle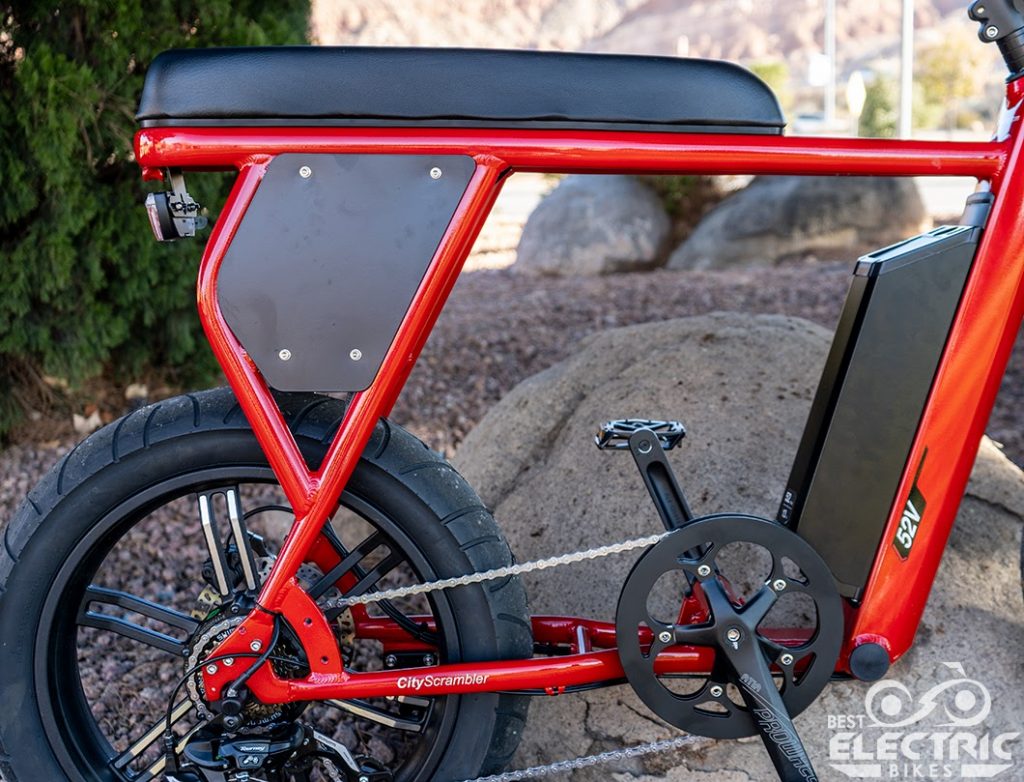 Frame design is unique on the CityScrambler so the saddle is shaped differently than standard e-bikes. The seat is 12" long, 3" thick, slightly tapered on the front end and it cannot be adjusted up or down.
From the top of the seat to the bottom of the pedal crank is 29".
Full standover height from ground to downtube is 31" — standover height to the top of the seat is 34". None of these metrics are adjustable. Be aware that for shorter riders, there may be more friction points between saddle and inner thigh when pedalling. Also, the standover height is a little high and cannot be adjusted, so standover height may be too high for riders under 5'5". The CityScrambler lists a minimum height of 5'4" to use the bike safely.
Lights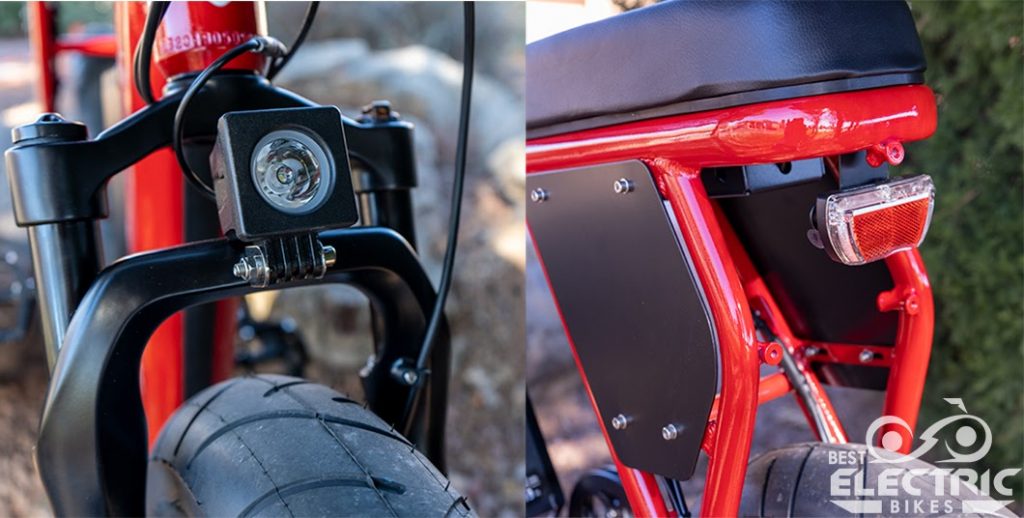 1050 lumen integrated front lights are battery powered.
The rear tail light is not battery integrated, it runs on two AA batteries and must be turned on and off. We'd prefer to see integrated and brake responsive tail lights, especially on a city commuter.
Cargo/Accessories
The CityScrambler has no real cargo space. Aside from the long banana seat, there is not a rear or front rack. You may be able to attach bags or baskets via bungee cords to the top of the saddle, but it really isn't designed for this. Juiced doesn't offer cargo add-ons that we could find. This is a great bike for one or two people, but it isn't the best bike for transporting cargo.
Accessories and custom options
Some users have complained about limited controller capacity and Juiced Bikes does offer an upgraded controller you can buy separately.
Fenders are not included. You must buy fenders from Juiced as an add-on.
There are limited (if any) cargo options for the CityScrambler.
Recommendation/Final Verdict
*For up-to-date pricing on the Juiced Scrampler click here
Someone described the Juiced CityScrambler as a gateway vehicle to your next motorcycle and we'd have to agree. It is designed — and feels — like a motorbike. Wide tires give you enhanced traction, a low wheelbase augments stability, and the amped powertrain offers plenty of kick. This is a super fun e-bike with a rugged off-road feel that will take you (and a friend) comfortably around town!