Welcome to our review of the Rad Power Bikes RadRunner Plus electric bike! Rad Power Bikes continue to be some of the most popular eBikes throughout the world, their popularity causing the RadRunner Plus to be sold out at the time of our review. Having ridden other Rad Power Bikes, and by comparing the specs of the RadRunner Plus to other eBikes with the same components, we managed to develop our spec review of the hybrid style electric bike. While it won't be as detailed as our full review, we hope to give you some of our general impressions of the feel, design, and performance of the RadRunner Plus electric bike.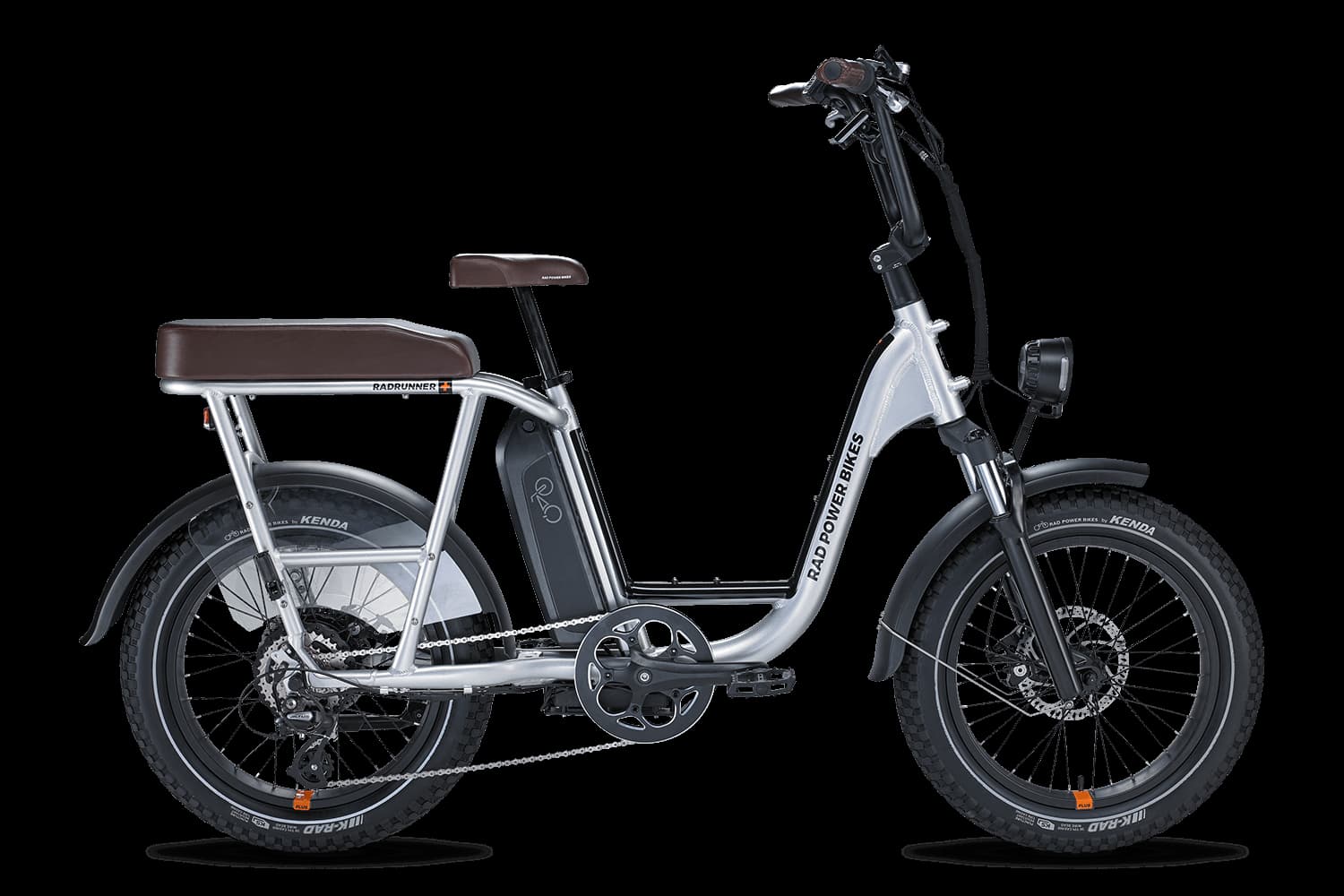 *To see current pricing on the RadRunner Plus click here
The RadRunner Plus is regarded by Rad Power Bikes to be their premium hybrid utility bike, and given its many features it's easy to see why. The 6061 aluminum frame provides the durability and strength to support not just an adult rider, but an additional passenger behind them as well. The bike is mounted with a powerful 80 Nm Bafang motor, and what it lacks in terms of range it makes up for it with the motor strength to climb almost any hill you come across. The short and fat tires will have you riding lower to the ground, but with it comes added handling support, stability, and the ability to ride over almost any terrain without swapping out eBikes. A Shimano 7-speed drivetrain, Tektro Aries mechanical disc brakes, aluminum pedals, full fender coverage, and plenty of other premium features and components are included on this entry-level eBike. If you want to stick to shopping for an entry-level eBike but are hoping to make the most out of your buck, we suggest reading our spec review for this electric bike to learn why you'll want to consider the Rad Power Bikes RadRunner Plus electric bike!
Bike Category: Class 2: Throttle and pedal motor assistance to 20 MPH.
Who It's For: Cyclists who want a feature heavy entry-level eBike, with a strong motor great for city riding or tackling the occasional mountain bike trail.
Bike Specs
FRAME: 6061 Aluminum
UI/REMOTE: LCD display
BATTERY: Lithium NMC Samsung Battery, 48 V / 14 Ah
CHARGER: 48V, 2 Amp Rad Power Bikes smart charger
MOTOR: 750W / 80 Nm brushless Bafang geared hub motor
CHAIN: KMC Z7
SHIFT LEVERS: Shimano SL-TX50-7R thumb shifter
CASSETTE: 7-speed freewheel, 11-34T
CHAINRINGS: 48T, 170 mm forged alloy Chainring
DERAILLEUR: 7-speed Shimano Acera
RIMS: Double wall, 36H
TIRES: Kenda K-Rad 20″ x 3.3″, K-Shield puncture-resistant liner
SADDLE: Moped-style, integrated steel seat post, fixed angle
STEM: 50 mm + 30º (15 mm rise)
HANDLEBARS: Aluminum high rise, 660 mm wide, 10″ rise
GRIPS: Durable ergonomic rubber
BRAKES: Tektro Aries (MD-M300), 180 mm front and rear rotors
PEDALS: Wellgo aluminum alloy platform pedals
KICKSTAND: Dual leg steel, spring loaded
BELL: Integrated bell
HEADLIGHT: Standard Rad Power Bikes LED headlight
TAIL LIGHT: Integrated tail light with brake light
FENDERS: Optional addon
Pros
A more advanced model from the Rad Power Bikes lineup. Still an affordable eBike, but with extra features and components for a more mid-level oriented experience.
Arrives 85% assembled, with multiple adjustment options for a more personalized riding experience. Spring suspension particularly helps you have a comfortable ride.
7-speed 11-34 T Freewheel with full fender protection and an additional derailleur guard. You'll very rarely have to deal with a chain drop while riding the RadRunner Plus.
Custom Brushless Bafang 750W / 80 Nm motor. Plenty of motor power for keeping up with traffic, or if you want some help climbing your typical mountain trail.
More advanced LCD display with several important readouts to help you monitor your riding stats. Backlit, so it's easy to read during the day or at night.
20″ x 3.3″ Kenda K-Rad tires. These tires help make the RadRunner Plus an eBike you can ride almost anywhere, from your typical city road to sandy beaches and loose trails.
Tektro Aries 180 mm rotor mechanical disc brakes provide impressive stopping power despite the entry-level eBike price. Very quiet brakes, with great feedback too.
LED headlight tail light, aluminum reflective pedals, full fender coverage, and several other add-ons included in the base model. A fantastic value overall!s.
Cons
74.4 lbs full assembly weight. Easy enough to lift if you have a second person helping you, but on your own be extremely careful when loading the RadRunner Plus into a car.
The RadRunner Plus currently only has one frame size available at this time. Frame is designed for riders between 4'11'' and 6'2'', which covers most traditional adult heights.
Recharging from empty often takes between 5 to 6 hours. Coupled with the smaller 45 to 50 mile range, and the battery/charger setup just feels underwhelming.
Removing the battery can be tedious as well the first few times you try to take it off the eBike. Make sure your saddle lever is out of the way, and be careful when you slide it.
Features
6061 Aluminum Frame
Tough and sturdy bike frame that is great for all terrain, whether it be for riding through the city or the occasional light mountain biking trail. The solid build along with the electronic components does weigh the eBike down though, with the total assembly weight about 74.4. lbs.
Lithium Samsung 675 Wh Battery
The battery is mounted just beneath the stem post, which provides greater protection and centers the battery weight for a more traditional riding feel. In optimal conditions, expect to travel between 45 to 50 miles on a full charge.
2 Amp Rad Power Bikes Smart Charger
A simple but traditional charger found with many other eBikes is also included with the RadRunner Plus. Estimated recharging from 0% to 100% can take up to 5 to 6 hours due to how small and basic the stock charger is.
750W / 80 Nm Brushless Bafang Geared Hub Motor
Impressive 80 Nm torque engine that will let you cruise along and keep up with traffic in town or push you to climb tall, steep mountain biking trails. Great motor inclusion at this price point, though it does drain the battery very quickly.
RadRunner King Meter LCD Display
2.75'' large backlit LCD screen, letting you keep track of your riding metrics during the day or at night. Lets you choose from four different pedal assist levels, along with a walk mode if you want some power assistance while you're off the eBike.
7-speed 11-34 T Freewheel with Full Fender Protection
As a 7-speed eBike, you have plenty of gearing options for more precise control while riding through the city, and a few options to help you while you mountain bike. Extra-wide front and rear fenders are included as well, which further protect the drivetrain along with the derailleur guard to prevent chain drops while shifting.
Kenda K-Rad 20″ x 3.3″ with K-Shield puncture-resistant liner
Short and fat tires that aren't great at racing and acceleration, but are good for having a smooth and stable riding experience over almost any terrain. Puncture-resistant lining further extends the life of the tires, with a 5 to 30 PSI range to help you ride over concrete, sand, loose dirt, gravel, and other terrain with ease.
Aluminum high rise, 660 mm wide handlebars with RST Spring Suspension
The high rise handlebars and adjustable stem, saddle, and other options all contribute to one of Rad Power Bikes' most versatile options when it comes to sizing. Also appreciated is the RST Spring suspension, which includes compression, lockout, and rebound options.
Tektro Aries (MD-M300) 180 mm Mechanical Disc Brakes
Mechanical disc brakes with stellar stopping power for those who plan on riding downhill at high speeds. Integrated with the motor, so as soon as you pull on the brakes the motor will shut off so you can come to a quicker stop without damaging the motor system.
Wellgo VB087 K79 Aluminum Alloy Platform
More advanced and sturdy pedals than the entry-level plastic pedals included with many of the other Rad Power eBikes. Great traction support, and superior durability for when you crash on a trail.
In-Depth Review
Frame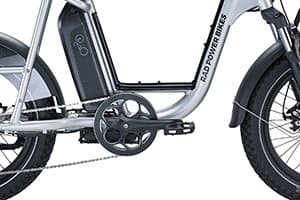 The RadRunner Plus features a high quality 6061 aluminum frame, the same frame material used by other Rad Power Bikes and eBike manufacturers throughout the industry. 6061 aluminum is popular because it is resilient without being excessively heavy or expensive, and for the most part that holds true for the RadRunner Plus. However, combined with all of its accessories, the motor, the battery, and other electrical components, the RadRunner Plus does weigh 74.4 lbs fully assembled. Two people lifting together isn't much of an issue, but if you are lifting the eBike yourself be especially careful in the rear section, as the motor and many of the heavy electronic components are located in the back wheel.
One of the few major strikes we have against the RadRunner Plus is that, at the time of our review, it is only available in one size. Thanks to the suspension, seat adjustment, handlebar customization and a few other features, the RadRunner Plus is one of the most versatile eBikes made by Rad Power Bikes. If you fit within the 4'11'' to 6'2'' range, you should find a setup that will make riding the RadRunner Plus a very comfortable and enjoyable experience. If you are outside of the recommended size range, be sure to contact Rad Power Bikes for assistance, as they may have a solution or are occasionally willing to make custom modifications to help suit your riding needs.
Motor & Battery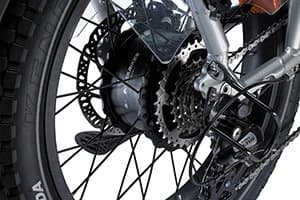 The Rad Power RadRunner Plus is a class 2 eBike with throttle and pedal motor assistance up to 20 MPH.
One of the components that is shared across almost every Rad Power Bikes model is the custom brushless Bafang 750 Wh / 80 Nm rear gear hub motor. Considering the quality, strength, and reliability of the motor, we can see why Rad Power Bikes consistently reuses it for their eBikes. You'll have plenty of motor power to help you keep up with traffic while you're in town, or the strength you need to climb your typical mountain biking trail with the RadRunner Plus. When it comes to the motor, the Bafang 80 Nm motor is top notch, though since it is a rear hub motor it can feel a bit jerky when you first start to ride.
We aren't as thrilled by the battery as we are by the motor. The lithium Samsung 675 Wh battery can only travel 45 to 50 miles on a single charge, and that is with optimal riding conditions and the proper settings. Usually, you'll find yourself travelling just 30 to 35 miles before your battery is fully out of a charge. The battery is mounted just beneath the saddle, but due to the frame design it can be tricky to remove, since you have to angle the saddle clamp a certain way in order to slide the battery out. Lastly, while it is the standard charger within the eBike industry currently, a full recharge from 0% to 100% can take 5 to 6 hours, if not longer. While we think the RadRunner Plus is an excellent eBike, the battery and charger configuration is one of the areas we would like to see improved.
Display/Assist Modes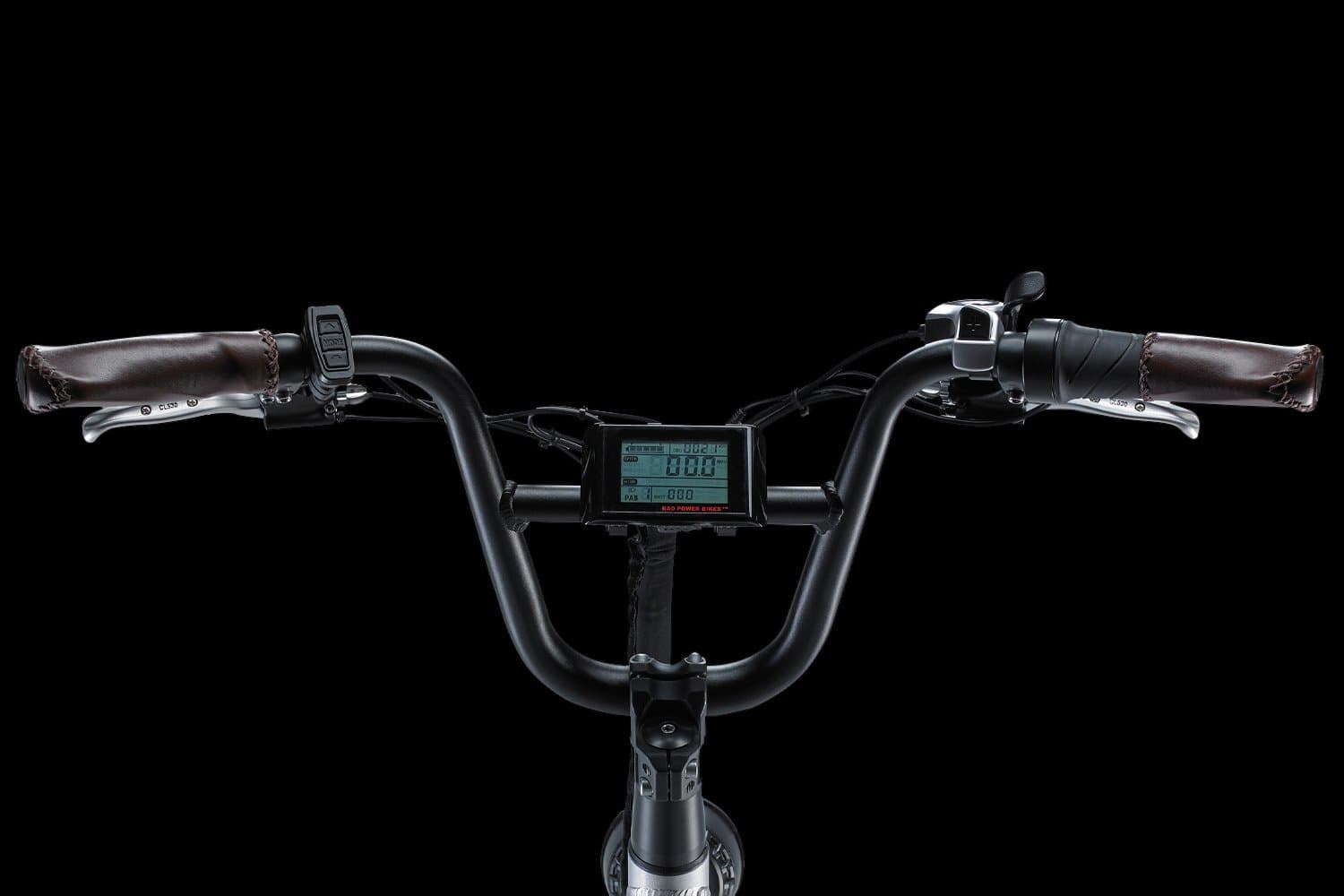 The RadRunner Plus has a center mounted LCD display, and is a backit 2.75'' grayscale remote. The backlit screen can be used during the day or at night, and outside of controlling your motor pedal assist settings it also provides a number of useful readouts and riding metrics as well. While you can't remove the LCD remote from the eBike, the display does have some angle adjustment, which will help you find a good position to read the screen without taking your eyes completely off the road.
The LCD display readouts, riding metrics, and other motor settings are as follows:
RadRunner Plus King Meter LCD Display Readouts and Settings:
Current Speed
Average Speed
Max speed
Pedal Assist Level (5 modes, including walk mode)
Motor Power/Watt Output
Trip Meter
Odometer
Battery Indicator (5 Levels)
Light Settings
Because this is a class 2 eBike, you can activate the motor by using the throttle or by pedaling. The motor will help you accelerate to 20 MPH, the speed cap for Class 2 eBikes. The cap is in place so that you can ride and operate the eBike almost anywhere in the world without needing additional licensing or registration. If you want to go faster than 20 MPH, you can still do so with manual pedaling, with the motor turning on again if you fall below 20 MPH.
There are four power assist levels, and a walk mode, with the RadRunner Plus electric bike. The lower power assist settings don't provide as much power, but they drain your battery more slowly for a greater riding range. Alternatively, you can accelerate more quickly and climb steeper hills with the higher pedal assist levels, but because of their larger power drain you won't travel as far before your battery is empty. Try out each of the power assist levels and switch them on the fly with a press of a button to have an optimal experience wherever you're riding. Just be aware that the power assistance is just for the pedals, as your throttle will offer the same level of power when you twist it no matter what your current pedal assist level is set to.
Handling
On Streets- While it might not be the fastest eBike in the world, the fat and short tires does mean that the RadRunner Plus will be a more stable eBike in the city. Whereas some commuter eBikes struggle with cobblestone, gravel, potholes, and other uneven terrain, you'll hardly notice the road changing with the RadRunner Plus. With a 5 PSI to 30 PSI range, you can further configure your riding experience as well, which will help you have even better handling while riding in the city.
Turn Radius- What it lacks in speed the RadRunner Plus makes up for with a very tight turning radius, the 20'' tires are great for those who need something that is easy to navigate with. Whether you need to cross through a narrow alleyway or have a difficult switchback on your favorite trail, you won't have a problem making a tight turn. However, since this is a 74.4 lbs eBike, do be careful if you need to lift or angle the eBike, as it isn't something you can move around easily once it's off the ground.
Low Speed Handling- Heavy eBikes like the RadRunner Plus aren't the easiest to handle at low speeds, but the RadRunner Plus does at least have a couple of motor options that will make it easier. By holding the down button on the remote display, you will turn on walk mode, which will provide you with a small motor push while you're off the bike and on the ground. Alternatively, if you just want a bit of motor power while you're riding, turn on Eco mode and just pedal very slowly. In Eco mode, you'll be able to pedal along more easily without traveling too fast, or feeling like you're losing control of your eBike.
Gears/DriveTrain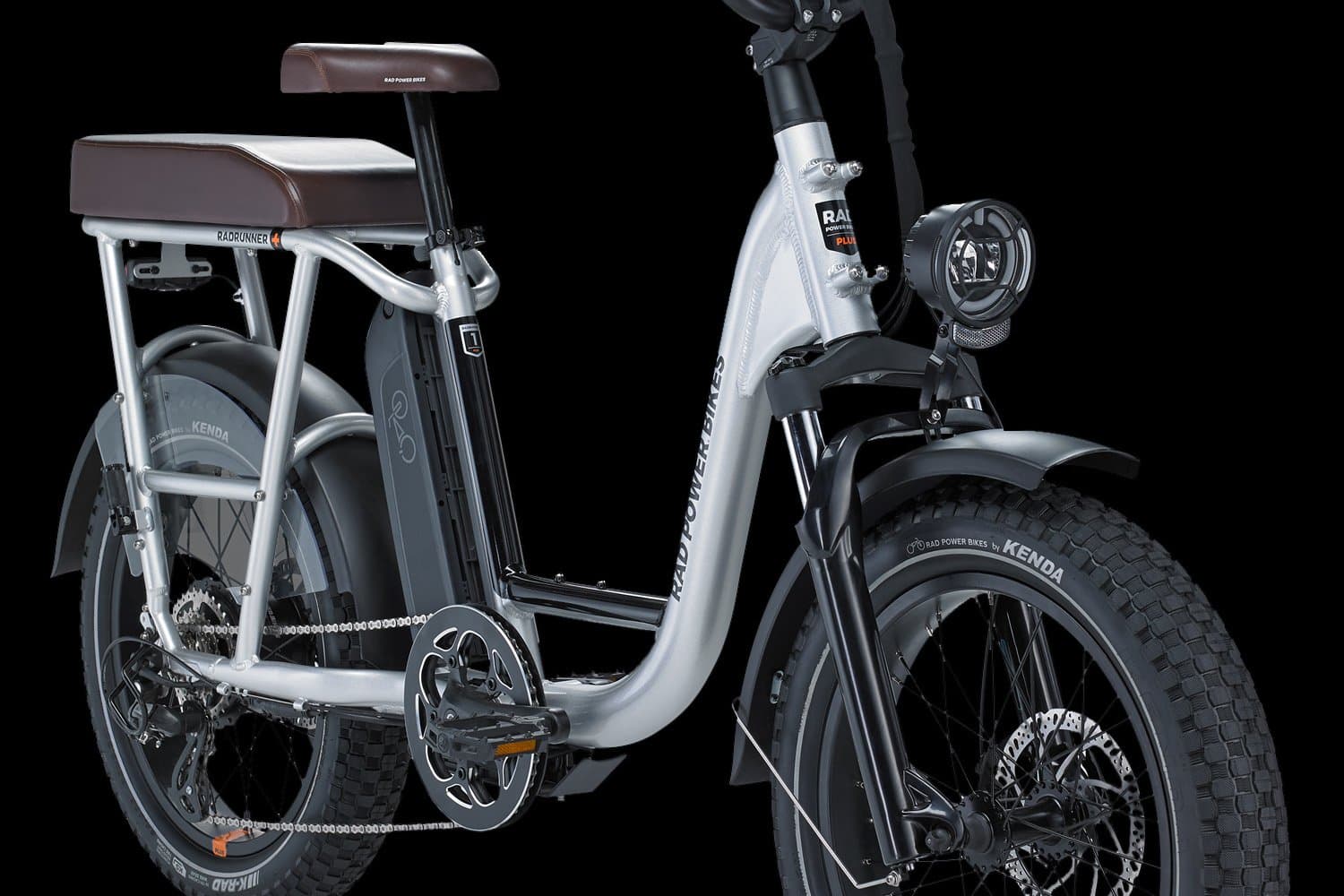 Another great reason to go with the RadRunner Plus over the other, less advanced models from Rad Power Bikes is the drivetrain. Whereas several of the other eBikes from Rad Power Bikes are all single speed bikes, the RadRunner Plus is a 7-speed eBike, featuring a Shimano 11-34 T freewheel connected to the 48 T chainring with a Z7 chain. Shimano makes some of the most dependable drivetrains on the market for eBikes, and the RadRunner Plus is further bolstered by the full fender coverage and steel guard protecting and assisting the derailleur system. If you stick to urban and light to moderate trail riding, you'll very rarely have to worry about a dropped chain or other issues with your eBike drivetrain. Since it is a 7-speed eBike, we wouldn't try to ride anything tougher than a moderate trail either, because while the motor may be built tough this was not built with the same support as a full suspension dedicated mountain bike.
Brakes
While they might not last as long or be as high quality as hydraulic disc brakes, there are still several reasons why we particularly like the RadRunner Plus eBike braking system. The Tektro Aries MD-M300 mechanical disc brakes feature 180 mm rotors in the front and rear of the eBike, which provides plenty of stopping power to help you quickly come to a full stop even when riding over 30 MPH downhill. That's more than enough power for city riding, and should still continue to be enough if you stick to light and moderate trails. The other important detail about the motors we want to mention is that they are integrated with the motor system, shutting off the motor automatically the second you apply the brakes. By having an integrated system, the motor and brakes won't compete against each other, ensuring that you slow down more quickly while also extending the functional lifespans of both components.
Suspension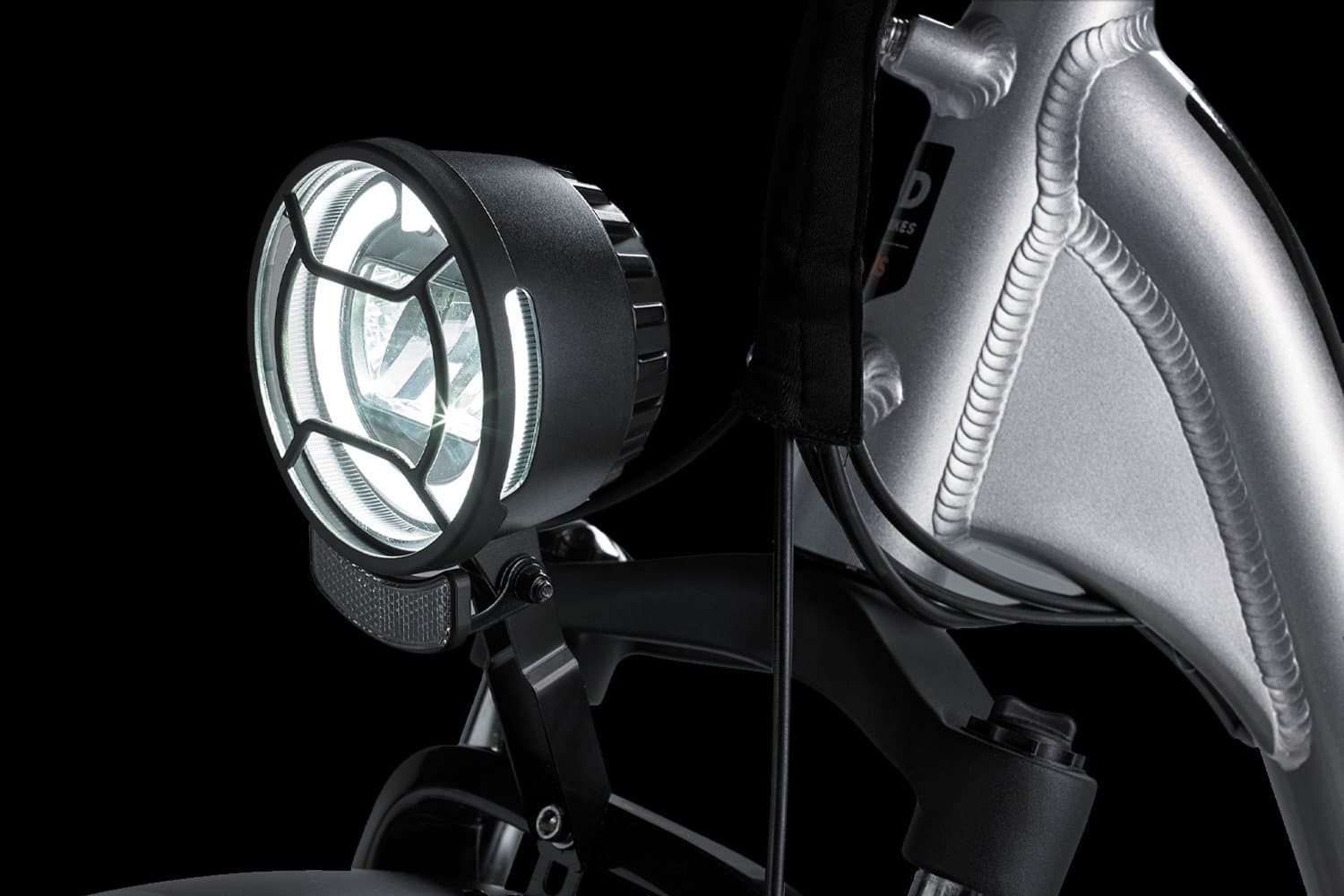 The RadRunner Plus is also one of our favorite eBikes from Rad Power Bikes due to its RST spring suspension system. The 80 mm travel is better suited for rough city patches and light trails than true mountaineering, but with compression, lockout, and preload adjustment you do have plenty of suspension configuration options depending on how you like to ride. The suspension fork is one of the major reasons why the RadRunner Plus is so expensive to bikes like the RadRunner 1, though a few other accessories make up the difference as well. For our part, we think having a bit of extra suspension makes city riding more stable, so we're definitely glad for the inclusion of great suspension support on the RadRunner Plus!
Pedals
Another feature that helps the RadRunner Plus stand out, aluminum platform pedals are included instead of the typical plastic pedals you find on many entry-level eBikes. Aluminum pedals provide better traction support, besides also being more durable and less likely to shatter if you crash compared to your typical plastic pedal. Rad Power Bikes also made sure to properly adjust and position the crank arms with the kickstand, so that you won't be in any danger of the two hitting each other while you pedal. With reflective sidewalls for improved visibility, these are pedals you'll want to stick with as you ride the RadRunner Plus.
Grips and Saddle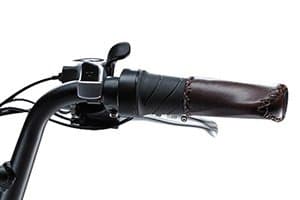 Rad Power Bikes always stand out for having eBikes that look as good as they are as comfortable to use. To explain why, we start with the grips, made out of stitched imitation leather with an ergonomic design, allowing you to grasp the grips for hours without worrying about irritating your hands or developing blisters. The grips pair well with the custom Velo moped style saddle, with a matching extended passenger seat behind it being just as cushy while maintaining the same espresso color. While your passenger will want to hold onto you, the rider themselves will make use of the 680mm width handlebars, with a high rise design so it isn't as tiring on your arms. Combined with the wheels and suspension support, you have one very steady eBike to enjoy, though configure the stem and handlebars a bit in order to maximize how comfortable you feel while riding.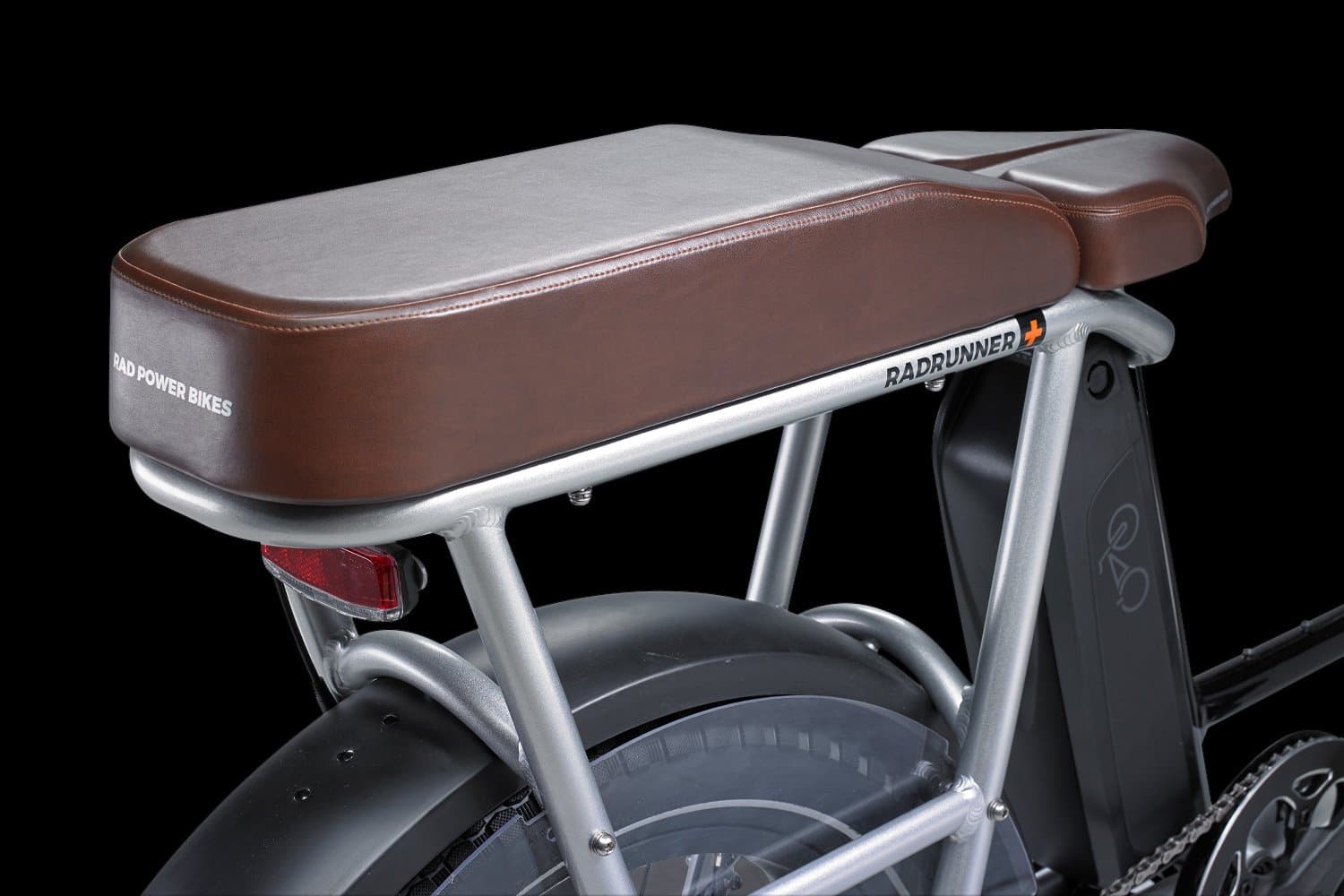 Wheels and Tires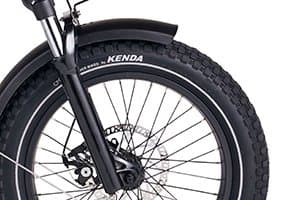 Another familiar component for those who have ridden Rad Power Bikes before is the Kenda Custom K-Rad tires. The 20'' by 3.3'' tires are mounted on a double wall, 36 hole rims made out of the same high quality aluminum as the frame itself. Regarding the spokes though, they are made out of even tougher stainless steel, with 12 gauge spokes in the front and rear tire. As mentioned earlier in our review, you can adjust the PSI from 5 to 30, with 5 PSI great if you're riding on very loose dirt, gravel, or sand while 30 PSI is better suited for more traditional road riding. The tires do feature K-shield puncture protection, with reflective sidewall taping further improving the overall visibility of the eBike. While the shortness of the tires does mean you'll have to get used to riding lower to the ground, we are otherwise impressed by the Kenda tires included with the RadRunner Plus.
Accessories/Upgrades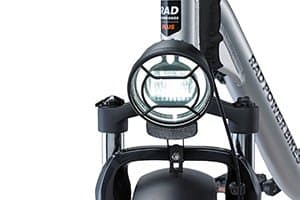 The RadRunner Plus has a very attractive entry-level price on its own, but it is an even more amazing value once you realize how many accessories come with the eBike. A headlight, tail light, aluminum pedals, integrated bell, kickstand, and an extra passenger seat are just a few of the great accessories included with the eBike as part of its stock model. Given the reflective lighting options, we don't think there is anything that is a must have upgrade for your eBike! If you are looking to make it even more special though, here are a few eBike accessories we think are worth considering:
SR Suntour SP12 NCX Suspension Seatpost
Rad Power Bikes Front Rack
RadRunner Center Console
RadRunner Bike Adapter Bar
RadRunner Passenger Package
ABUS Bordo Granit X-Plus 6500 Bike Lock
Rad Power Bikes Rad Mirror
Fremont Pannier Bag
Rad Power Bikes Basket Bag
Rad Power Bikes Delivery Bag
Recommendation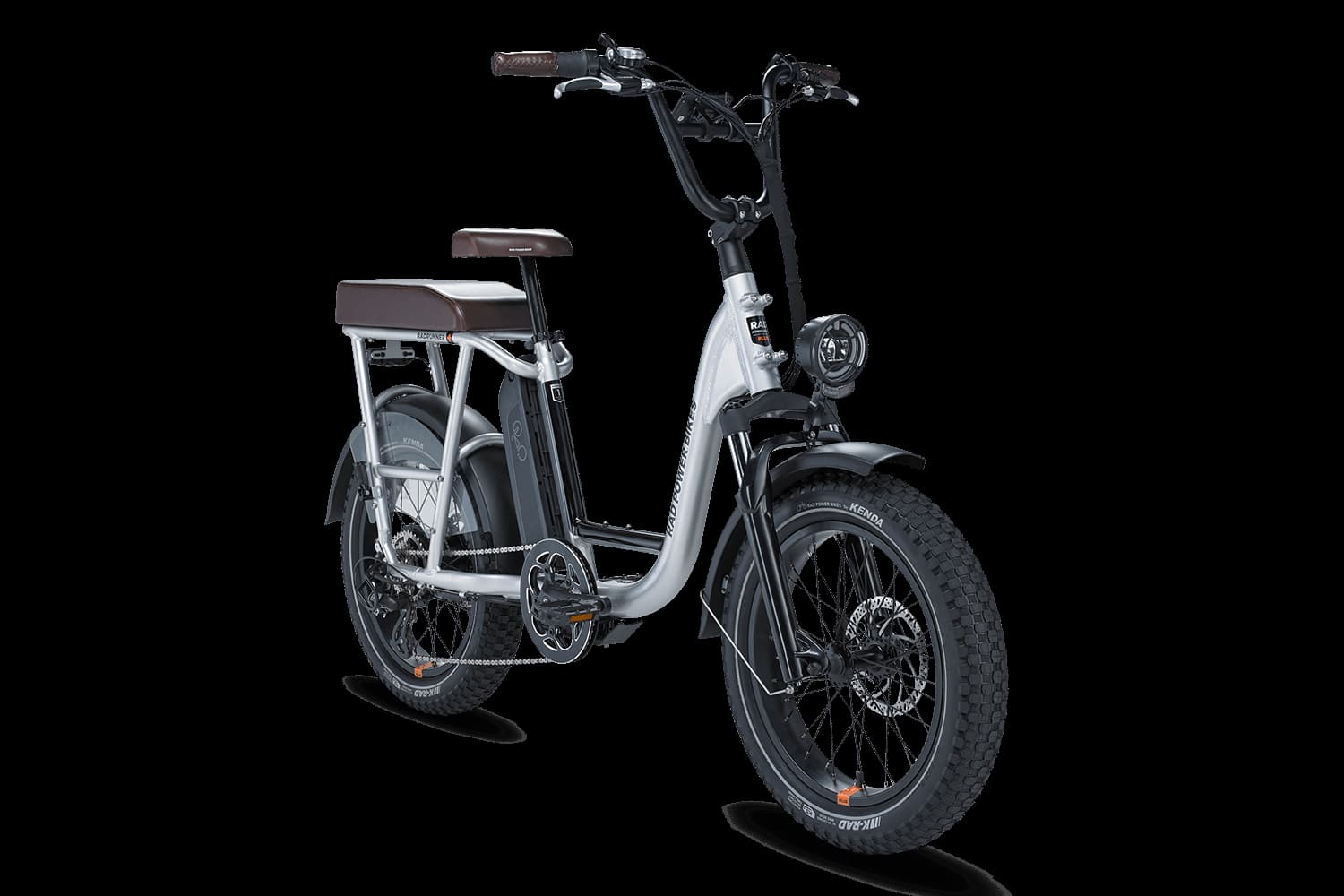 *For up-to-date pricing on the RadRunner Plus click here
The Rad Power Bikes RadRunner Plus is a true hybrid utility eBike that all types of riders can enjoy using. The 74.4 lbs is definitely heavy, but with the heavy weight comes performance and support so that up to two adults can enjoy riding the eBike together. The rear gear hub 80 Nm motor is strong enough to tackle almost any road, and if you pick the right settings you can still travel up to 50 miles on a single charge. Comfort matters as much as motor power, and you'll have plenty of the former with the moped style saddle, cushy faux leather grips, and RST spring coil suspension support. The Tektro Aries brakes provide more than enough stopping power, whether you're riding with stop and go traffic or blazing down a hill, with the custom Kenda tires well suited for riding wherever you hope to travel. There aren't many eBikes we feel are totally complete out of the box, but with the RadRunner Plus you also get a huge assortment of key accessories like fenders, a headlight, a tail light, aluminum pedals, a kickstand, and more! Though it may have an entry-level price tag, the RadRunner Plus is a more premium oriented experience from Rad Power Bikes, and a eBike well worth your consideration if you want something that all types of riders can share and enjoy.
Would you like to see a video or full performance review of the Rad Power Bikes RadRunner Plus? Then make sure to leave a comment below with any other questions you may have after reading our review!