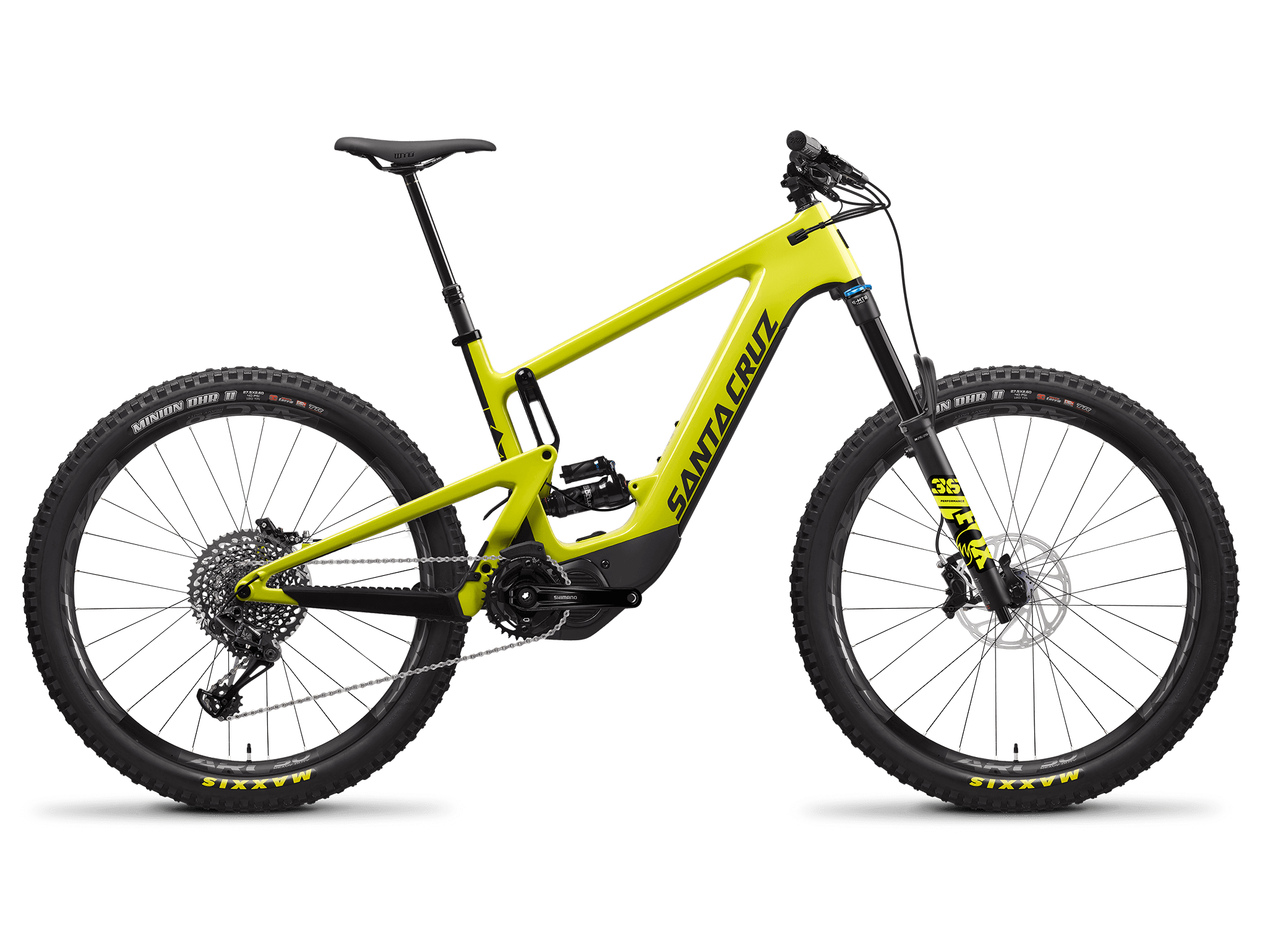 For this review we took a look at the S-kit
The Santa Cruz Heckler is a new high-end eMTB that has stoked interest and enthusiasm ever since it was announced by Santa Cruz. Patterned after the Bronson frame, the Heckler utilizes Santa Cruz's VPP (virtual pivot point) suspension with its lower-link mounted shock to create a supportive but generously cushioned rear suspension system. The Heckler eMTB is available in four models, each of which use a full CC Carbon frame. With Shimano motor and battery and impressive spec, the Heckler lineup begins with the pricey $7399 CC R-kit entry model and peaks at over $13,099 for the CC SS1 AXS RSV model.
Bike Category: Class 1: Pedal assist to 20mph
Who It's For: Riders who want — and are willing to pay for — the engineering and performance of the Santa Cruz Bronson MTB on a full carbon eMTB Heckler frame
Bike Specs
FRAME Carbon CC (S-Kit)
WEIGHT 47.66lbs
FORK FOX 36-E Float Performance, 160mm, 27.5″
SHOCK RockShox Super Deluxe Select+
REAR DERAILLEUR SRAM GX Eagle
SHIFTERS SRAM GX Eagle Single Click, 12spd
CRANKSET Shimano M8000 Crank Arms 165mm
CASSETTE SRAM XG1275 Eagle, 10-50T
CHAIN SRAM GX Eagle 12 SPD
BRAKES SRAM Code R, Avid Centerline 200mm rotors
HEADSET Cane Creek 40 IS Integrated Headset
BARS Santa Cruz Di2 Carbon, 25mm rise
STEM Race Face Aeffect R
GRIPS Santa Cruz Palmdale Grips
FRONT HUB DT 370 15×110, 32H
REAR HUB DT Swiss 370, 12×148, XD, 32h
RIMS Race Face ARC HD 30 27.5″ Rims
CHAIN GUIDE E13 LG1+ 34t Shimano STEPS Specific
BATTERY Shimano 504Wh Integrated
DRIVE UNITShimano DU-E8000
DISPLAYShimano Display Unit E7000
REMOTE Shimano E7000 Mode Switch
CHARGER Shimano Battery Charger
SPOKES Swiss DT Competition
FRONT TIRE Maxxis Minion DHR II, 27.5×2.6 EXO+ TR
REAR TIRE Maxxis Minion DHR II, 27.5×2.6 EXO+ TR
TUBES Stans Sealant 2oz
SEAT POST RockShox Reverb Stealth, 1X Lever, MatchMaker, 31.6
SADDLE WTB Silverado Race Pro
Pros
The Heckler suspension is lush and supportive
This bike carves up the trails and downhill is a riot
The CC Carbon frame keeps the bike lightweight and nimble
Several different color choices and model options
27.5" wheels — love them or hate them, they do make the bike easy to handle
Tried and true motor and battery system is easy to service
Internal Shimano battery is protected while riding but easy to swap out if you want to do a longer ride
48lb weight is competitive
Cons
You can find this motor/battery combo on much cheaper bikes
700Wh is the new standard for eMTBikes — the 500Wh is limited
Heckler lineup is pricey
No option for 29" wheels
Not as innovative as fanboys may have hoped
Features
Frame:Carbon CC (S-Kit)
All four models in the Heckler lineup feature fully CC Carbon frames. There is no option (and Santa Cruz doesn't plan to release) an aluminum frame. The full CC Carbon is a top of the line frame which is both lightweight and firm.
Weight:47.78lbs
Weighing in at just under 48lbs, the Heckler S-kit is not the lightest girl at the ball. But the lowered center of gravity and PPV shock system keeps it light and nimble on the trails. The weight drops to 46.29lbs on the premier AXS RSV model
Fork:FOX 36-E Float Performance, 160mm, 27.5″
A FOX 36-E front fork offers 160mm of travel and supports a 27.5" tire. There is no option to upgrade to a wider tire or 29" rim.
Shock:RockShox Super Deluxe Select
The lower-link PPV suspension system is proprietary to Santa Cruz and is designed to transfer all rider power into forward momentum rather so there's no loss of power in a saggy rear suspension.
Drivetrain:SRAM GX Eagle Single Click, 12spd, 11-50t Cassette
The Heckler is a 12-speed with a max 50t sprocket on the cassette so you have the option to really drop gears while powering up steep grades. This offsets any propulsion that may be lost due to the 27.5" wheels or shortened 165mm cranks.
Brakes:SRAM Code R, Avid Centerline 200mm rotors
200mm Avid Centerline rotors on both front and back provide plenty of stoppage power. SRAM Code R brakes are good here, higher models jump to SRAM Code RE.
Hubs:DT 370 15×110 32H (F) DT Swiss 370, 12×148, XD ®
15mm axle on the front and 12mm axle in the rear provide added support and strength necessary for powering up (and down) boulders, rocks and high-impact terrain.
Battery:Shimano 504Wh Integrated
The battery has been a big discussion point on eMTB forums — with eMTBikers wondering if is it too small, too old, or too dated for such a high priced bike. Santa Cruz's answer is to make the battery easy to swap out, so if you plan on a longer ride, just throw and extra battery in your pack and you can ride all day.
Motor:Shimano DU-E8000
The motor and battery system is a well-known industry favorite. It has been tried and tested over the years and is easy to service since most shops and dealers will have parts and knowledge of this system. While not the most high-end motor, it is reliable.
Rims, Tires:Race Face ARC HD 30 27.5″ Rims, Maxxis Minion, 27.5×2.6
Another point of discussion is the use of 27.5" wheels on all Heckler models. There is no option for an upgrade to a 29" wheel, nor can you adjust width beyond the 2.6". The 27.5" wheels keep the bike nimble and easy to handle, but the lack of a 29" option may be a deal breaker for some riders.
In-Depth Review
Frame
The original Heckler was introduced in 1995 and was consistently a top-selling mountain bike favored by capable trail hecklers worldwide until 2016 when Santa Cruz pulled it off the market. Long resistant to introducing an e-mountain bike, Santa Cruz finally relented in 2017 when it developed a prototype for an eMTB that was loosely based on the Bronson design with PPV lower-link suspension. This new eMTB went through several iterations and suspension tweaks until Santa Cruz perfected the current design, christened it the redesigned "Heckler," and introduced it to enthusiastic fanboys in 2020.
The frame is full CC Carbon (in all four models) so right out the gate it's clear the Heckler means business. The patented PPV suspension system, with anti-squat engineering, is designed to reduce any loss of power in the inherent downward motion of pedal force. Santa Cruz has long touted their anti-squat design as a way to reduce pedal sag, which results in more energy being translated into forward momentum rather than lost in pedal compression. The Bronson, Santa Cruz's ever popular non-motorized mountain bike, has perfected the PPV suspension with air-tight geometry that keeps the suspension tight but responsive. The Heckler required a few geometric adjustments to make room for the battery and motor.
Both chainstay and reach are 445mm, just a touch longer than the Bronson frame — but this lengthened frame and 27.5" wheels keep you stable on the trails. Added slack in the headtube and 160mm front fork add to the aggressive styling which makes the Heckler fun to ride and easy to handle.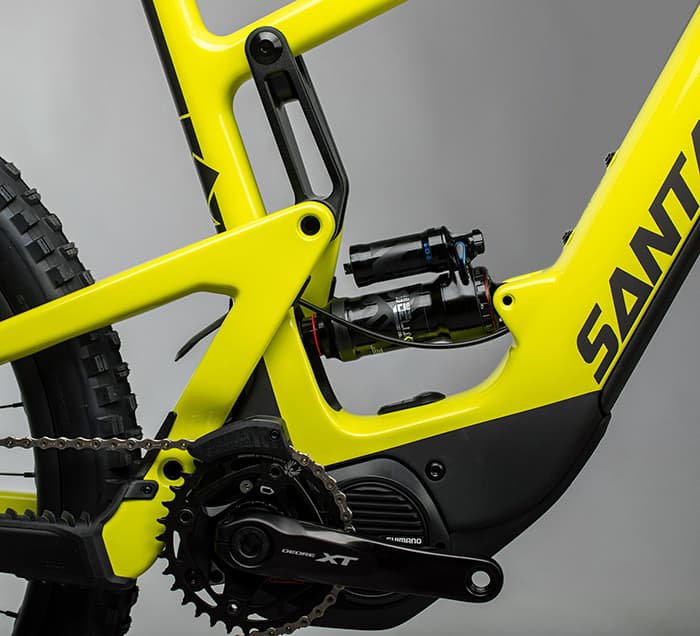 We love how the Heckler styling uses a crisp paint color to accent a traditional mountain bike frame, while the black color on the underside of the downtube and motor cover disguises the powered drivetrain so it nearly disappears. Until you hear it closing in behind you, the Heckler blends in with any mountain bike on the trails.
Motor & Battery
The Santa Cruz Heckler is a Class 1 electric mountain bike with pedal assist up to 20mph.
The Heckler motor is the Shimano Steps E8000. This is a reliable, easily serviceable motor that is used by many ebike manufacturers throughout the world — which is certainly something that matters in an industry where sometimes the newest, latest, and greatest can bomb with aplomb. The motor provides enough assist for moderate hills and navigating tricky berms and banks is no problem. The motor isn't going to cut out on you right when you need it. It is a little noisier than comparable motors, so unlike the stealthy Brose motors that hardly emit any sound, you will hear the E8000 approaching from behind. There are also a few complaints about the limited software and phone app options. This doesn't affect performance though, and since power is king when mountain biking, this reliable motor is a great way to conquer your next ride.
Santa Cruz paired the motor with a Shimano 504Wh battery that locks securely on the underside of the downtube. This is a smaller internal battery that Santa Cruz is one of the first to implement, but range-anxiety could be an issue on longer rides. Santa Cruz opted for performance over range when deciding on the smaller, lighter 504, so you may have to carry another battery pack on those extra-long days. Thankfully, the battery is super easy to remove, so you can swap it out while out on the trail without getting dropped. The battery is shielded by a thick armour casing that is the same structural carbon fiber as the rest of the CC frame. This protective armor keeps the battery protected from rock strikes and debris. The lighter battery weight and simple locking design helps keep the bike weight well below that 50lb threshold — which is part of what enables the crisp handling and playfulness of the Heckler.
The Heckler comes in four models, the R-Kit, S-Kit, X01 RSV-kit and XX1 AXS RSV-kit. There are also two color schemes, a crisp yellow jacket with black, and more subtle blackout and copper. The Heckler has five frame sizes: Sm, Med, Lg, XL and XXL.
Display/Assist Modes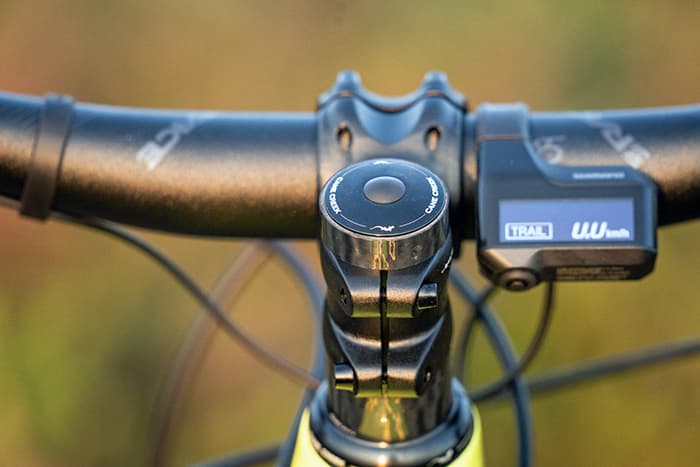 If you are looking for streamlined cockpit design, the Heckler has you covered. This is not your Grandma's city cruiser with five different screens that display everything from the weather to your stocks. The Shimano E7000 has a minimalist design with a mode switch for navigating metrics. The display is tucked adjacent to the headtube so it is easy to see if needed, but never in your way.
Handling
Handling is where the Heckler excels. While the drivetrain may be somewhat formulaic, the engineering and geometry of the Heckler make it a scream to ride. The frame doesn't rattle or shake, the tight suspension banks and berms with ease, the smaller 27.5" tires make it all feel very sprightly on turns and jumps – and during climbs, it was easy to forget that I was on a 27.5" tire as it climbed nearly as well as a 29" tire.
Uphill — We'll admit it, we ride an eMTB to overcome that uphill slog. So often, by the time you power up to the top of the hill, you're almost too tired to enjoy going down. One of the main benefits of ebikes is the uphill support that makes the rest of the ride more enjoyable. The E8000 motor performs nicely uphill. In general, this bike is powerful enough to offset most hill anxiety.
Downhill — This is where the Heckler shines. Suddenly, descents that can sometimes feel sluggish and heavy on a ebike are now a treat to ride. The Heckler is easy to handle headed downhill and this is when you see the benefit to those 27.5" wheels. While 29ers are great for climbing and rolling over whatever comes, when navigating quickly downhill, the 27.5" really help to keep you nimble and sprightly on banks, corners, berms and jumps. This is a fantastic downhill bike.
Jumps —Typically, jumping on an ebike is an exercise in frustration. While the centered mid-drive weight adds stability, it also makes these bikes hard to lift. The Heckler brings back the fun of bunny hops and quick front end lifts. Even though the bike is still heavier than a non-motorized ebike, the lowered suspension keeps the weight manageable. On the Heckler, downhill jumps are a blast, and uphill or graded jumps become fun again.
Stability —The Heckler offers very controlled stability. There's no frame flex or twitchy feeling while riding.
Cornering —Here again, the 27.5" wheels come in handy. The 2.3" width helps too, and adds just a bit of cushion. Wheel size, lowered weight, plenty of traction and dialed geometry make the Heckler a pro at tight, techy corners. This bike feels both agile and sturdy. This is where you start to see the geometry of the Bronson factor into how the Heckler handles — while the extra weight is present, it doesn't slow you down or limit your ability to flex some of your technical skills.
Gears/DriveTrain
The Heckler uses a SRAM drivetrain with an Eagle 12spd rear derailleur and Eagle single-click shifters. The SRAM cassette is 11-50t which gives you a few larger sprockets for those steep uphills. The drivetrain complements the geometry and suspension system with a few added gears to offset the 27.5" tires so you can still power up techy grades. The single-click shifters are smooth and the slightly shorter 165mm cranks keep your pedals up to reduce rock strikes. There were a few sections where we could have used a bit more motor power in the lowest gear, while it didn't prevent us from fully conquering the incline, it was a bit more work and this was the only time we felt any lag from the motorized weight.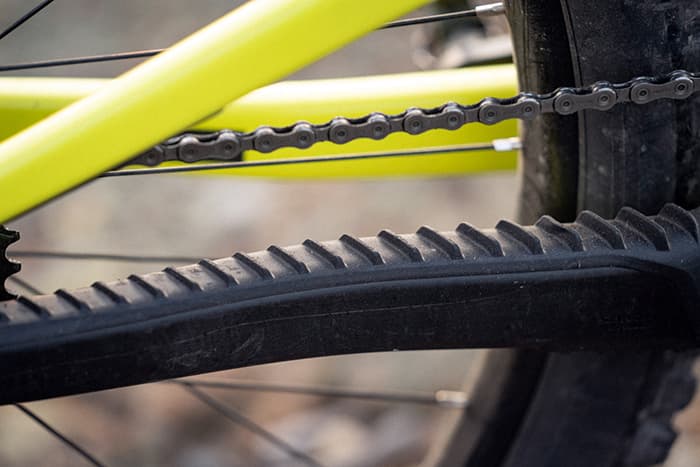 Chainstay length was expanded a bit on the Heckler to 445mm due to the space required by the motor and the lower linkages, but Santa Cruz adds a jagged slap guard that keeps it clean from chinks and chips. This slap guard reflects the aggressive handling anticipated on the Heckler.
Brakes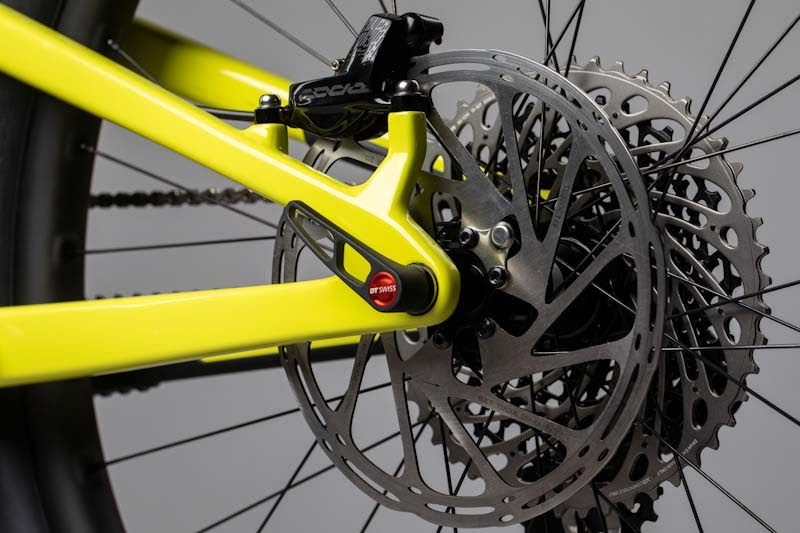 The Code R 200mm brakes are good — we had plenty of stopping power. Breaks start with the R-kit's SRAM Guide RE, but the brakes upgrade to the SRAM Code R in the S-kit (the one we tested) and to the SRAM Code RSC in the RSV and AXS. None of these braking systems is underpowered, so even the R-kit brakes would be sufficient to handle the Heckler's impressive downhill power. The 200mm Avid Centerline rotors are consistent throughout the lineup. The large rotors help dissipate any heat so even if you tend to baby the brakes, you won't burn them out.
Suspension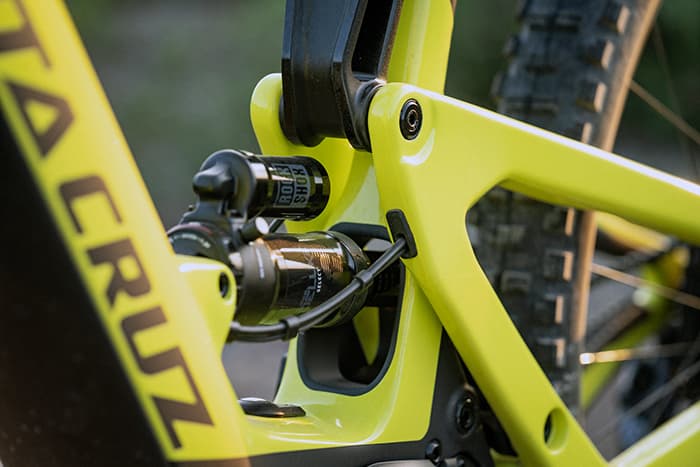 The Heckler incorporates Santa Cruz's proprietary VPP (virtual pivot point) suspension system. This system is designed allow for mid-stroke support with just a small bump which enhances pedaling efficiency so rider power is transferred into forward trajectory rather than lost in downward suspension sag. Santa Cruz uses the 150mm RockShox Deluxe+ lower-link mounted shock on the Heckler which is ideal for performance-focused on conquering rugged terrain with maximal power. The suspension is surprisingly cushy — you can feel the bike travel beneath you without transferring all the bumps and shocks up your spine. 160mm of travel on the FOX 36 front fork makes riding uneven ground much more fun since you can easily tackle jumps, drops, rock gardens, roots, and other technical obstacles without tensing your upper body to keep the bike under control. The Heckler feels aggressive underfoot, it does not shy away from tough terrain; but at the same time, you don't feel like you are trying to keep up with and manage a bike that is unwieldy. The combination of the lush suspension combined with 27.5" wheels makes the Heckler easy to handle and maneuver. Bombing downhill is a blast, climbing uphill is totally doable, and rolling over baby boulders doesn't slow you down or throw you off the bike. The suspension on the Heckler is one of its best engineering features.
Axles, Wheels and Tires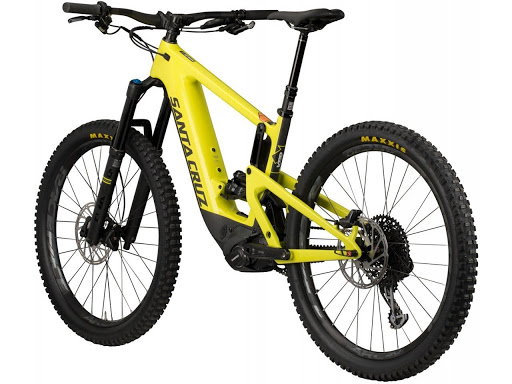 The Heckler has a 110x15mm through axle on the front and 148x12mm axle in the rear for added stability and support. The S-kit features Race Face ARC HD 30 27.5″ Rims and Maxxis Minion DHR II, 27.5×2.6 EXO+ TR tires both front and rear. The tires are grippy and aggressively crawl over the trail. 2.6" width adds nimbleness and keeps the bike playful so you have the advantage of just a bit of width but can still navigate tight lines when needed. These tires stay consistent throughout the lineup, so you get a lot of traction on all models of the Heckler.
Accessories/Upgrades
The Heckler lineup is impressive with spec quality ascending with the upgraded models. The R-kit weighs in at 47.66lbs and drops to 46.29lbs on the XX1 RSV. These are expensive bikes though, so even the entry-model R-kit starts at $7399 and the XX1 RSV peaks at $13,099. Cost to performance ratio is something to consider. Even though the Heckler is a sporty, well-engineered ride, it is expensive for what you get.
Recommendation/Final Verdict
The Heckler is a much-anticipated eMTB from one of the world's premier manufacturers, Santa Cruz. Inspired by many of the non-electric mountain bikes in their lineup, the Heckler takes the best attributes and characteristics from all of them to create a weapon of an E-MTB. We were extremely impressed with Santa Cruz anti-squat tech, and VPP linkage system that maximizes roll over ability and traction, while preserving rider power. This bike is a blast to ride, even for those who are devoted to 29ers. You'll find the 27.5" wheels do add to the overall handling on the Heckler, the VPP Linkage helps this bike hold speed like a 29″ wheelbase. This bike is not only suited for quick downhills, but it's also good on steep uphills. However, we felt this bike could have benefited from a slightly larger motor (From 250w up to 350w) – We did lose a bit of climbing power on the steep inclines. However, when it comes to techy topography and tight corners, you simply can't outplay the Heckler — The Heckler angles into berms like it has a personal vendetta, it also jumps better than many eMTB's with a similar weight. We believe this is due to the weight being evenly suspended between the crank arms. Added length to top tube reach, and chainstay support exceptional stability — the suspension feels bottomless, and plush. The VPP lower-link suspension provides very snappy handling that is playful downhill, and nimble uphill on rugged terrain. Our biggest issue is the cost of the Heckler: It's no question Santa Cruz makes a very high-quality product. However, you pay a lot out of pocket for the Heckler. While they do back this up with warranties on every component of the bike, it comes at a cost that is higher than comparable bikes. The motor and battery combo works extremely well, but for what you're paying we would have liked to see a little bit more juice packed into them. While the full CC Carbon lineup is impressive, the cost of these Heckler models will push them out of reach for many riders. But, if you have a bit of spare change to spend, the Heckler is a great all-around option — it's hard not to be impressed with the handling and performance of this sprightly eMTB.