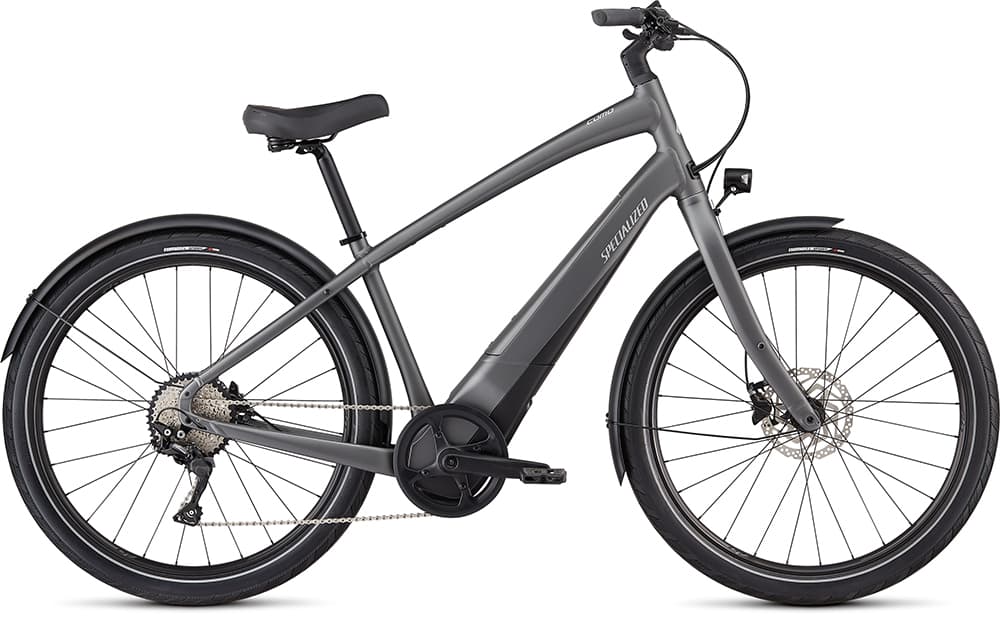 The Specialized Turbo Como is mid-range ebike with multiple model and frame options that is great for casual riding, road or light trail recreation, or even daily commuting. The Turbo Como comes in two frame styles, the regular (high step) or low-entry (step-thru) frame. Both frames have sizing options as well. The 2020 Como lineup features the 3.0 model which is a Class 1 ebike that peaks at 20mph. The Como 4.0, and 5.0 models are Class 3 Speed Pedelecs with a 28mph max assisted speed and upgraded components. Today we are reviewing the 4.0 Turbo Como high-step in slate gray.
Bike Category: Class 3: Pedal assist to 28mph
Who It's For: Riders looking for a fun, comfortable eBike for zipping around town
Bike Specs
FRAME Turbo Aluminum, bottom bracket motor mount, fully integrated & lockable down tube battery, internal cable routing, fender/rack mounts, Smooth Welds
UI/REMOTE Specialized TCD-W w/ handlebar remote & built-in anti-theft feature, Bluetooth® connectivity, 5 available display pages
BATTERY Specialized U1-500, On/Off button, state of charge display, 500Wh
CHARGER 42V2A Charger w/ Rosenberger plug
MOTORSpecialized 1.2, custom Rx Street-tuned motor, 250W nominal
CHAIN KMC X10eT, 10-speed w/ Missing Link™
SHIFT LEVERS Shimano Deore, RapidFire, 10-speed w/ Optical Gear Display
CASSETTE Shimano HG500, 10-speed, 11-42t
CHAINRINGS 48T, custom alloy
DERAILLEUR Shimano Deore, Shadow Plus, GS cage, 10-speed
RIMS 650b disc, double-wall alloy, pinned
TIRES Nimbus Sport Reflect, 650b x 2.3″, 60 TPI (front and rear)
SADDLE Body Geometry, 6-degree rise, elastomer base, steel rails,SWAT™ compatible mounts, 245mm
STEM Specialized Flowset, 3D-forged alloy, 20d rise, 31.8mm clamp
HANDLEBARS 30-degree backsweep, 26mm rise, 680mm width, 31.8mm
GRIPS Body Geometry Contour
BRAKES Shimano BR-MT200, hydraulic disc, 180mm front; 160mm rear
PEDALS Specialized Commuter w/ grip tape & reflectors
KICKSTAND Specialized kickstand, 40mm mount
BELL Simple bell
HEADLIGHT Herrmans MR8 180 lumens, stainless bracket for rigid fork, 6V
TAIL LIGHT Specialized integrated saddle mount, LED technology, 6V
FENDERS Specialized Como Fenders, 650b, stainless steel stays
Pros
The Como is comfortable and exquisitely rideable. The low-entry is especially easy to step on and off but the high-step is more of a mid-range, so either frame is easy to mount.
The swept back handlebars, wide saddle and flat pedals keep you upright for comfortable riding position
Integrated frame incorporates both battery and wiring so the lines are clean and uncluttered
Battery is lockable and removable for safety and convenience
Ergo grips provide an easy reach to shifters and assist controls
Mid-mounted display has 5 different screens and abundant customization options in Mission Control App.
Mission Control app will sync rider data to Strava, Garmin, etc.
Abundant retailers for easy maintenance and repair wherever you go
Great mid-range bike with lots of extra features for comfort and safety around town
Cons
4.0 model only comes in slate gray currently, we'd love to see more colors
Kickstand does not have a flat foot, it's pointed and not ideal for dirt or soft ground
Features
Turbo Como aluminum frame
The aluminum frame is both comfortable and navigable, weighing in at around 48lbs. The geometry favors an upright riding position with wide saddle and 30-degree swept back handlebars.
Specialized U1-500Wh Battery
Fully integrated into the downtube, the lithium-ion battery is both powerful and inconspicuous with 500Watt hours and 25-60 miles of range.
42V2A Charger w/ Rosenberger plug, AC power cord
3.5 hours of charge time; battery is removable for convenient charging. Port is on the side of the battery and the plug works with any standard outlet.
Specialized 1.2, Custom Rx Street-tuned motor, 250W Nominal
This sporty mid-drive motor gives you 530Watts of peak power and 90Nm of torque. It's relatively quiet and provides smooth assist for urban roads and neighborhoods.
2.2″ TCD Display, stem mount w/handlebar remote
This display is simple and easy to read with 5 different screen options
10 Speed Shimano Drivetrain
Shimano Deore shifters with RapidFire function make it so you can quickly and easily move through gears. The 10 speed drivetrain features 11-42t sprockets in the rear and a 48T chainring with nice guard for protection.
Nimbus Sport Reflect Tires, 650b x 2.3″, 60 TPI (front and rear)
The 650b Nimbus tires have street-tread and reflective stripes on the sidewall for visibility. Schrader valves can be refilled at any air station.
30-degree Backswept Handlebars, 26mm rise, 680mm width, 31.8mm
Sweptback handlebars with 20 degree stem post facilitate an upright position. Leather-wrapped ergonomic grips are both stylish and comfortable
Shimano BR-MT200 Hydraulic Disc Brakes, 180mm front; 160mm rear
The Shimano brakes counterbalance the Como's power with good stoppage when needed.
Specialized Commuter Pedals w/ grip tape & reflectors
Flat pedals with reflectors work with any shoe (or sandal). They aren't super grippy, but offer a wide surface for any size foot or shoe.
In-Depth Review
Frame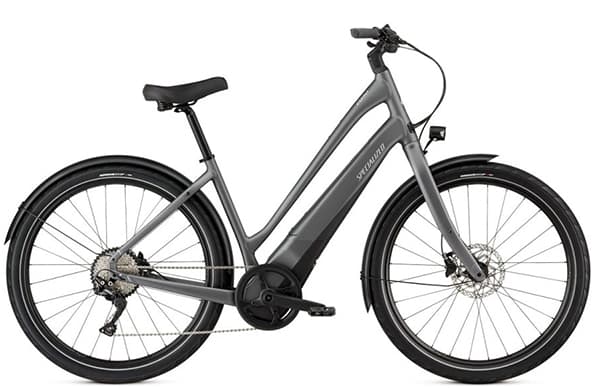 The Turbo Como frame stays the same throughout the 3.0 to 5.0 lineup, so regardless of which option you choose, it is streamlined, clean and uncluttered. For each model there is a low-entry and high-step frame. The low-entry model is a little easier to get on and has water bottle mounts on the top of the top tube for easy reach. However, the standard high-step frame is a popular option and provides just a touch more stability. The Como is patterned like a reclined beach cruiser with swept back handlebars and rear-placed seat. You sit up over the pedals with a comfortable forward leg angle which keeps your spine elongated and torso upright.
The Como frame is a city cruiser style, with no suspension in front or rear. Bumpers under the saddle add a little rider comfort, but the bike isn't designed for going up and down curbs or along rough road. Since it is built for street riding, the tight suspension makes it easier to handle on narrow streets, alleys, or in parking garages.
Motor & Battery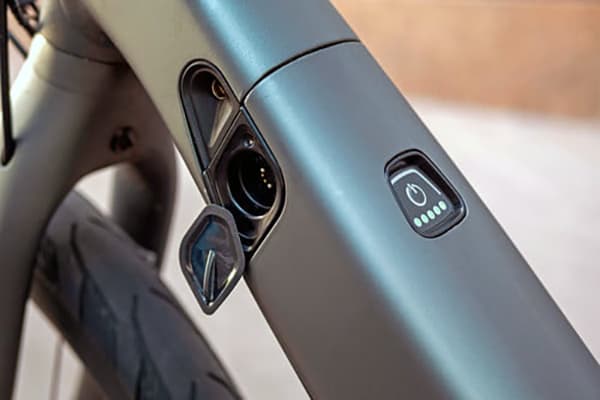 The Specialized Turbo Como is a Class 3 bike with up to 28mph pedal assist.
The motor is a Brose T specifically customized for Specialized. The motor offers 72Nm of torque with 250W nominal to 530W of max power. The "T" stands for "Trekking" and this motor has been finely tuned for quiet and efficient performance. As with other Brose motors, this mid-drive street-tuned set-up is ideal for around town riding — you can maneuver through traffic and pedestrians without projecting heavy motor noise. Also, the assist is smooth so there's no jerkiness on startup or lag when at speed. We love the consistent feel of motor power and the torque-responsive assist. Motor power will support a cadence up to 120rpm, so you don't max out the support at higher speeds.
As with other Specialized bikes, the battery is housed along the downtube with a side-entry placement. This allows the top tube to also be dropped low which enhances the step-thru design and keeps the frame tight so there's no flex like we sometimes see on other low-entry bikes. The battery features an on/off switch on the top along with a convenient charging port on the side. We love how Specialized has integrated a magnetized port cover so it won't get lost off the bike.
The high-step frame maintains a nice stability throughout and the centered placement of both battery and motor makes it stable and balanced while riding. There are extra bosses on both the underside of the top tube and surface of the downtube for water bottle cage, extra pump or kit, etc.
The 500Wh provided plenty of range throughout our test ride. The Como isn't really a commuter, it's more of a cruiser, so if you opt to ride it longer distances or commute to work, keeping the battery charged is a good way to maximize range. You can charge on or off the bike for convenience.
Display/Assist Modes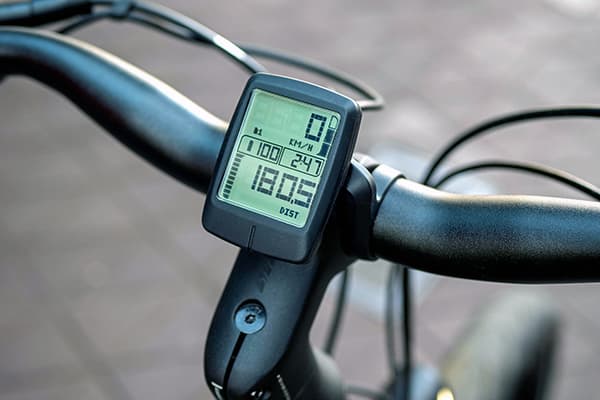 The TCD display is one of our favorites for a bike in this price range. It has readouts for speed, distance, battery, assist and even a timer. While it's not overly large, it is easy to see and has a backlit option. You have three levels of assist on the Como, and you can reduce it to "0" to turn off assist completely. The assist shifter on the handlebar moves you through power modes; it has easy-reach so you don't have to lift your hand off the grip.
As with other Specialized bikes, the Mission Control app for cell phones allows you more options to customize motor power, battery life and upload data to Strava, Garmin, etc. The display is not removable, but it does pivot for visibility. Various screens display: distance, speed, average speed, timer, cadence, heart rate, power level, calories, etc.
Handling
The Turbo Como has quick response time so it gets to speed smoothly. Depending on which level of power you choose, the Como motor will propel you right along!
On Streets -The Como is designed for street riding, so this is where you get the best performance. The street-grade tires and customized Brose motor zip you smoothly along sidewalks or streets. It feels nimble and sprightly at times, like it's as excited to get there as you are. It is well powered for both flat riding and uphill inclines. The hearty Brose motor and battery pack provide plenty of support.
Turn Radius – The turn radius is tight, with the forward angled front fork giving you a little more maneuverability than you may expect. As with all eBikes, don't pedal in a turn if you have assist set high — the bike can lurch forward in the turn. The 27.5 tires provide the perfect level of control, you can easily navigate sidewalks and curbs and the bike easily handles tight turns or dodging pedestrians.
Low Speed Handling – The Como is stable at low speeds and doesn't feel overly rear-heavy when walking. Sometimes eBikes can feel heavy or awkward moving through narrow doorways or alleys due to the increased weight. However, the Como is center weighted and feels manageable — both walking and at low speeds.
Gears/DriveTrain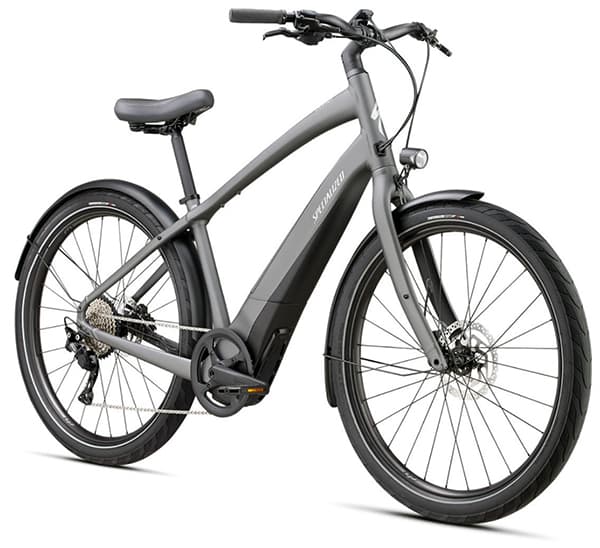 This is a 10-speed drivetrain with a 11-42t cassette and 48T chainring. Rear derailleur and double chain guard keep the chain taut and in line. Cranks are 170mm with flat nylon pedals and a grip tape surface. The mid-drive motor keeps the weight low and centered, and wide thru-axles; 12mm in the rear and 15mm in the front provide extra wheel support.
Brakes
We were impressed with the Shimano hydraulic disc brakes. Sometimes braking can lag on an eBike because traditional brakes can't compensate for the added motor speed. The 4 piston brakes create even pressure on the rotors and we found braking to be responsive but not jerky. Handlebar grip brakes are well placed for an easy hold.
Suspension
There is no suspension on the Como. You may be able to add a seat suspension post if desired, but this may change the height of the saddle and interfere with the rear tail light. Since this is a beach-style cruiser, it's not really designed to go off road or along trails. A little suspension is nice sometimes on an eBike since you achieve higher speeds which can accentuate road bumps. While the Como isn't a rough ride, it is a hard frame so navigate accordingly.
Pedals
Flat nylon pedals with side reflectors and surface grip are pretty standard. They're comfortable and will accommodate any shoe. Most bike shops will provide any pedal you want if you desire an upgrade.
Grips and Saddle


Specialized Body Geometry grips and saddle match. Bumpers underneath the saddle add just a bit of cushioning. Grips are ergonomic and locking; and the saddle is wide and comfortable with stylish stitching along the rim.
Wheels and Tires
Tires are Nimbus Sport Reflect 650b x 2.3″ wide with Schrader valves. The slightly wider tire gives you nice stability while the 27.5" height lifts the frame for more traction. Light street-grade tread on the tire is perfect for urban riding. Reflective sidewall stripes are a nice addition as well.
Accessories/Upgrades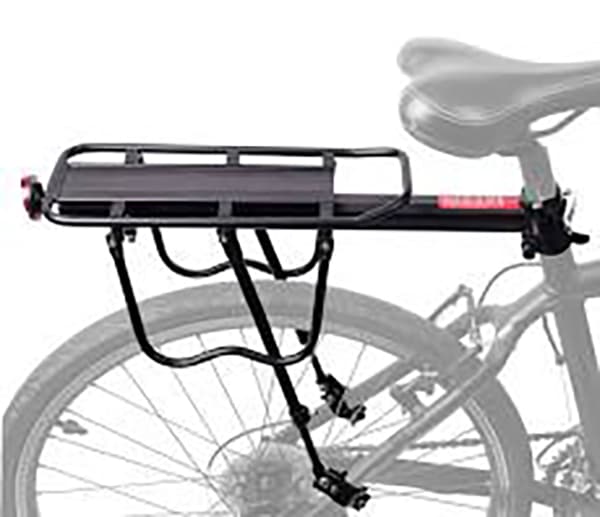 There are bosses on the top tube and down tube for a water bottle or bike pump mount. There are bosses on the seat stay for rear cargo attachments. Lights must be added after-market. There is a bell on the handlebar but no head tube bosses for a basket or rack.
Recommendation/Final Verdict
The Specialized Turbo Como 4.0 650b eBike is a solid, well-built city cruiser with excellent handling and navigability for around town. It's zippy and has a tight turn-radius for narrow alleys and streets. We love the stylish design and efficient engineering on the Como. A few more color options besides the charcoal on the 4.0 high-step would be nice. The Como features several bright colors in the low-step frame. This ebike is an excellent choice for anyone looking for a great around-town cruiser. It is comfortable, well spec'd and features Specialized stylish design and branding throughout. Specialized is a leader in quality bike design and manufacturing and their ebike line is no different. Look at the 5.0 for a few enhanced features and upgraded components. If you are considering a city cruiser, look no further than the Specialized Turbo Como 4.0 — it's one of our favorites.