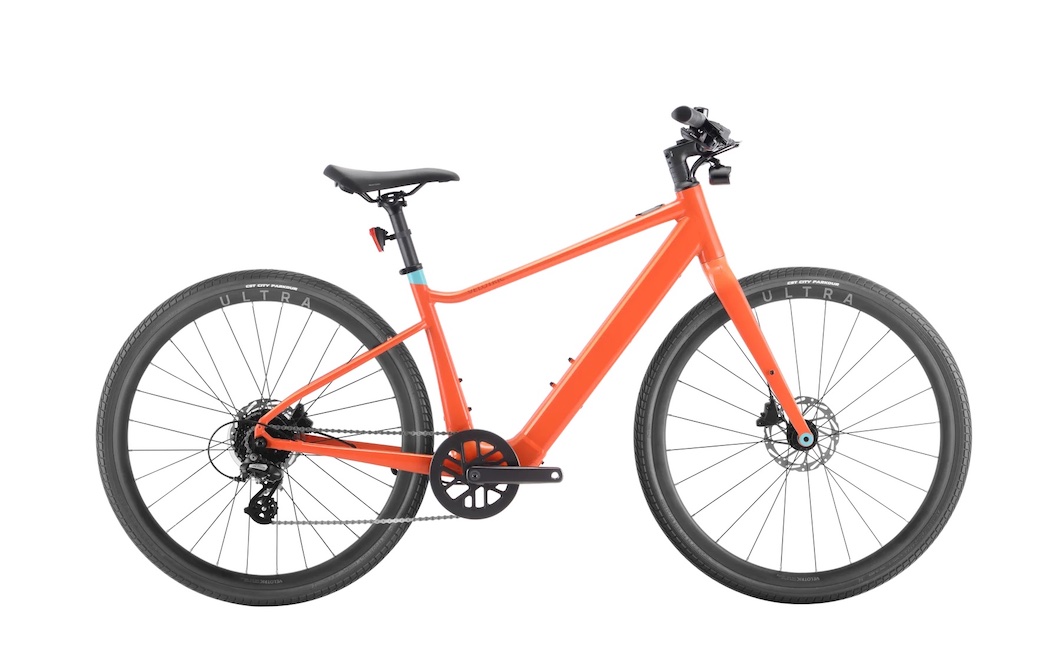 Intro
E-bikes have a reputation for being heavy. There are two reasons for that. The first is range anxiety; no one wants to have to pedal home without the motor because they were out too long. The second is that people want a powerful motor that offers good acceleration and determined performance on hills. The thing is, as our Velotric T1 ST review will show, an e-bike doesn't need to be heavy to offer good range and solid acceleration.
The Velotric T1 ST is built on a different philosophy. The idea is that a smaller battery weighs less and smaller battery will still offer good range if the motor is relatively small. A lighter motor and battery will result in a lighter e-bike overall, and the T1 ST proves that with its 36-lb. weight.
So how much smaller are the motor and battery in the Velotric T1 ST? It's built with a 350W brushless, geared hub motor, which is paired with a torque sensor to give it instant power, no waiting for the cadence sensor to tell the motor to deliver power. To go faster, all the rider needs to do is pedal a bit harder. The battery is a proportionally sized 353Wh unit which is estimated to give riders up to 52 mi. in range.
Making an e-bike that is both lightweight and affordable isn't easy. Velotric chose an 8-speed Shimano drivetrain and Tektro hydraulic disc brakes, choices that definitely give the V1 ST outsized performance for its price.
So who is the Velotric T1 ST aimed at? It's ideal for a rider who wants a responsive e-bike that prioritizes performance ahead of comfort. Not having big tires and a suspension fork makes for more feedback from the road, but it also strips away pounds of weight that would sap acceleration. This e-bike is definitely aimed at someone who wants to feel the world quicken in turns.
Let's look at how Velotric created an e-bike that balances low weight, affordability and responsive performance.
E-Bike Category: Urban
Who the Velotric T1 ST Electric Bike Is for:
the Velotric t1 ST is ideal for riders who want an agile e-bike that offers zippy performance.
Velotric T1 ST Electric Bike Review Ratings:
***All ratings are relative to e-bikes of a similar style and price point***
| | |
| --- | --- |
| Speed/Acceleration | |
| Hill Climbing | |
| Battery Range | |
| Braking | |
| Construction Quality | |
| Handling | |
| Included Accessories | |
| Warranty | |
| Value | |
Velotric T1 ST E-Bike Specs
Battery: 353Wh lithium-ion
Expected Range: Up to 70 mi., estimated
Charger: 2A
Motor: 350W brushless, geared hub motor, 45Nm torque
Pedal Assist: 5 PAS levels
Throttle: N/A
Display: LED
Headlight: 45 Lux
Taillight: N/A
Frame: 6061 Aluminum
Fork: 6061 Aluminum
Fenders: N/A
Kickstand: Included
Handlebars: Alloy, 680mm wide
Grips: Rubber, lock-on
Drivetrain: 8-speed Shimano
Brakes: Tektro hydraulic disc brakes, 160mm rotors
Pedals: Alloy, with reflectors
Saddle: Selle Royal SRX
Tires: Puncture-resistant, 700C x 38mm
In-Depth Velotric T1 ST Review
Velotric T1 ST Review: Comfort, Handling, and Ride Qualities
Velotric calls the the T1 ST an urban bike, and that's not a bad way to describe it. With 40mm-wide tires (that's roughly 1.5 in.), this is an e-bike that is best-suited to the road, but can certainly conquer some dirt roads. And like its stable-mate, the Velotric T1, this is a 36-lb. e-bike, as light as some of the high-end eMTBs we see.
With less weight thanks to a smaller battery and motor, the Velotric T1 ST will give riders a more agile, even nimble ride. It will turn in quickly and easily and will carve through turns with the sort of excitement we expect from sports cars.
Compared to some e-bikes with 4-in.-wide tires or even ones with tires 2.5-in. wide, the 40mm-wide tires on the T1 ST will give a great sense of the road, but won't be the most comfortable tires ever. The lack of a suspension fork will contribute in the same way.
The Velotric T1 ST comes in two sizes, small and medium and the reach on the small is 16mm less than on the medium. This is enough to really create two distinct sizes. We need to note, though, that for anyone looking at the T1 ST's stablemate, the T1, that the medium T1 ST has virtually the same reach as the large T1 (1mm difference). Riders 5 feet 6 inches tall, or less, will definitely want to look at the small in the T1 ST
Velotric T1 ST Review: Motor, Battery, and Drivetrain Performance
With a 350W brushless, geared hub motor and a 353Wh battery, this is an e-bike that some shoppers might assume is underpowered. That might be true if this e-bike weighed 60 lbs. or more, but at 36 lbs., this battery can keep a commuter happy. It is estimated to give riders a range of up to 52 mi.
Curiously, the T1 has the same setup as the T1 ST with regard to motor, battery and torque sensor and it is estimated to offer nearly 20 mi. more range. While we can't explain the discrepancy, an estimated range of 52 mi. for a 353Wh battery is plenty respectable.
One of the advantages to an e-bike with a torque sensor is that the rider has a greater ability to use hub motor's full range of power. The torque sensor means that a rider simply needs to pedal a little harder in order to take advantage of the motor's peak power.
The brushless, geared hub motor provides 350W, nominally. That's modest, yes, but again, this is a 36-lb. e-bike and its peak power is a substantial 600W. Because it produces 45Nm of torque, riders will find the acceleration and climbing ability of this e-bike to be surprisingly good.
The Velotric T1 ST features an 8-speed Shimano drivetrain. This is yet another reason why this e-bike weighs only 36 lbs.; while this may sound counterintuitive, as drivetrains increase in the number of gears (cassette cogs) they off, they drop in weight. The speed and precision of the shifting improve as well.
Velotric T1 ST Review: Braking, Safety & Warranty
Our gold standard for brakes on an e-bike is hydraulic disc brakes paired with 180mm rotors; that's a setup we like to see because it's a setup that will work in any conditions. The Velotric T1 ST is equipped with hydraulic disc brakes, but 160mm rotors, the next size down. We don't see that as an issue for two reasons.
First, it's not an issue because This is an e-bike that weighs only 36 lbs., roughly half the weight of many other e-bikes. Second, because this e-bike has a maximum assisted speed of 25 mph (if unlocked), it will be easier to stop than one going full mach.
Also worth mentioning is that the rider buying this e-bike is likely to want brakes that are easy to modulate as they dive into turns; with 160mm rotors, these brakes aren't quite as grabby, which makes scrubbing speed a bit easier.
We sometimes worry that with some designs, they are so focused on the rider's comfort—that is, allowing them to sit perfectly upright—that there won't be enough weight on the front wheel to give it good traction in a corner if the surface is wet, sandy or dusty. With the Velotric T1 ST, the rider adopts a fairly leaned over position in reaching for the bar, which puts plenty of weight on the front wheel and gives the rider a greater sense of command as they lean into turns.
Velotric offers a better warranty than most. They cover the frame and fork on the T1 ST for five years and then the motor, battery and other electronics for two years, while all the components receive a single year. Buyers can also choose to purchase a supplemental warrant of one, two or three years.
Velotric T1 ST Review: Recommendation/Final Verdict
Designing an e-bike is no easy task. With many kinds of e-bikes, making it lighter makes it more expensive, so creating a lightweight e-bike that is also affordable is no small feat. But as the proverbial "they" say, there's more than one road to Rome.
What we don't always remember is that improving acceleration can be done by reducing mass (weight) as well as increasing power. The Velotric T1 ST is a well-designed exercise in efficiency. The narrow, low-profile-tread tires, torque sensor and rigid fork are all votes for efficiency. They aid acceleration as well as momentum.
We're impressed that not only did Velotric create an e-bike that performs well with a 350W motor, but they also managed to give it terrific range; one or the other isn't hard, but doing both while keeping the cost affordable is genuinely impressive.
We love the fact that the T1 ST comes in two sizes to fit a broader range of riders, though we'd prefer that riders didn't need to use their smartphone for a display. While the integration is terrific, that's a vulnerable place for a smartphone and an alternative would be nice.
One of the worst fates a product can suffer is to try to do all the things. The Velotric T1 ST doesn't fall into that trap. This e-bike isn't for everyone, but for the rider who wants a workout, who wants a bit of thrill and wants an extra dollop of agility, the T1 ST may be just the ticket.
Thank you for reading through our review of the Velotric T1 ST. Still have further questions? Wondering how it compares to a similar e-bike we've reviewed? Let us know in the comments below!