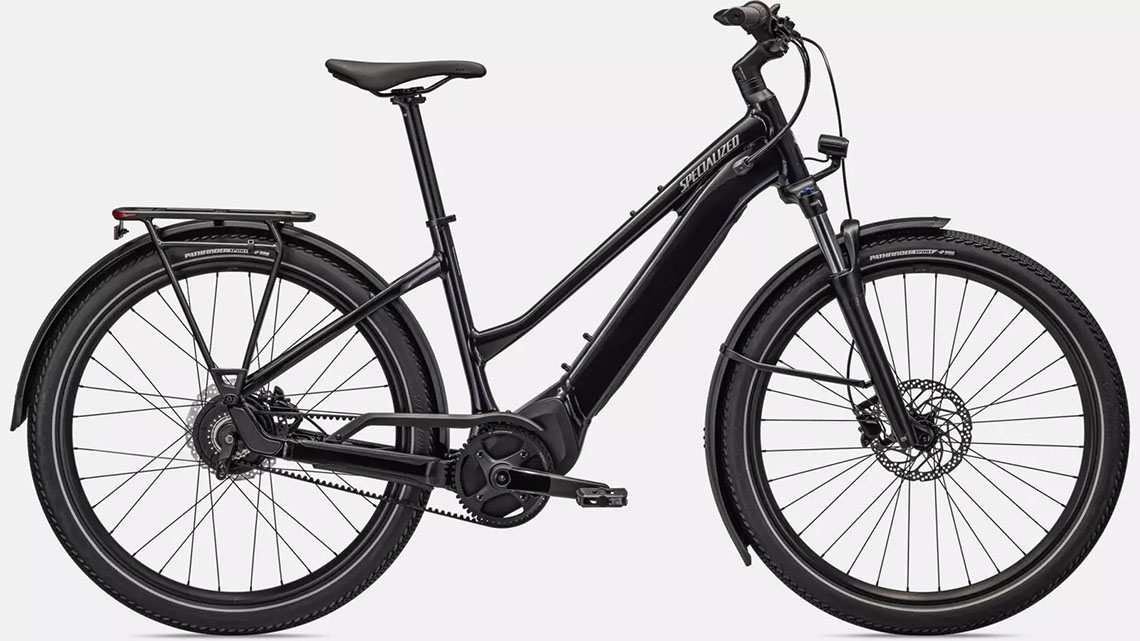 Overall Rating: 4.9/5
Pros:
With five different price points, there's a bike to fit most budgets
Has everything someone needs to begin commuting to work except panniers
250W Brose mid-drive motor produces 70Nm of torque giving this e-bike solid power on hills
All versions come with a suspension fork and some come with a suspension seatpost for excellent comfort on even rough roads
Comes in four sizes each in the traditional frame and the step-thru frame
Mission Control is arguably the best e-bike app out there, offering terrific security features
Cons:
We wish the step-thru frame had a lower standover height, like its stable-mate the Turbo Como
Would like to see appropriate accessories presented once a size is chosen

Intro
We need to open this electric bike review of the Specialized Turbo Vado with a bit of an explanation. Most bikes we review come in a single version with a set price and then possibly some accessories that can be added. Every now and then a manufacturer might add an opportunity for an extra battery or a different size (or style frame) or even a different motor on rare occasions. The Specialized Turbo Vado is different and a bit more complicated.
Here's why:
The Specialized Turbo Vado is produced at five different price points: $3250, $3750, $4000, $5000 and $5500. Rather than taking a look at just one variant in the series, we're going to give you an overview of the e-bike and why the top-of-the-line version costs 80% more than the entry-level model. They produce each of these different versions of this e-bike in both a traditional frame and a mid-step version (not quite as low as a step-thru).
Broadly speaking, at the $3250 price point the Turbo Vado is an incredible value in an electric bike, while at the $5500 price point it would be difficult to find a more sophisticated e-bike; one could spend more, but it isn't exactly necessary.
E-Bike Category: Commuter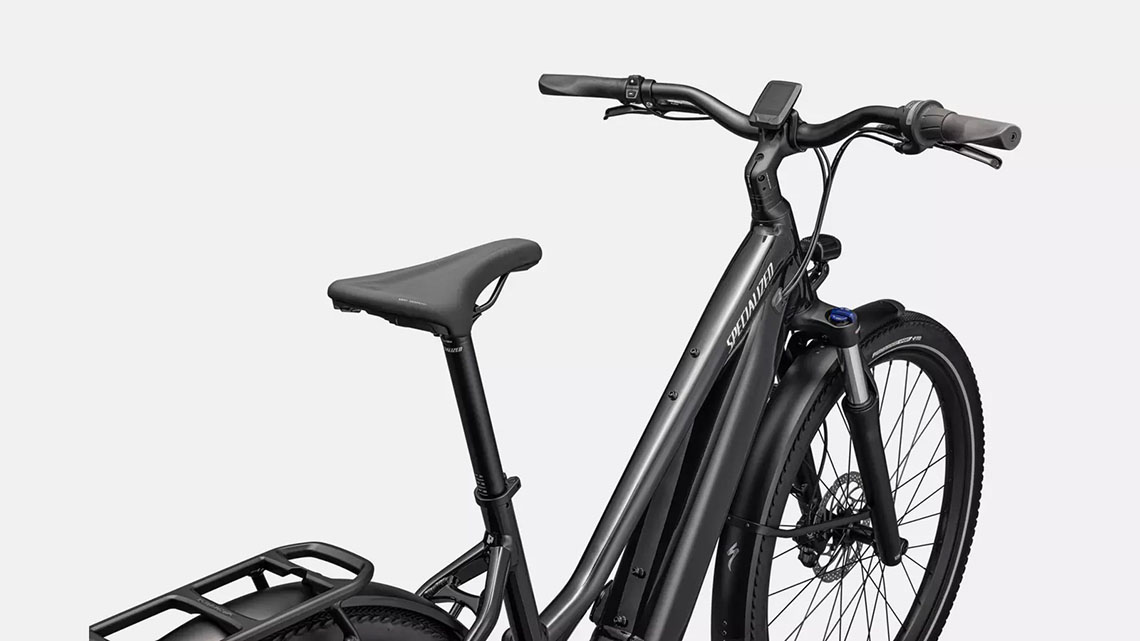 Who the Specialized Turbo Vado Electric Bike Is For:
The Turbo Vado is an ideal bike for anyone who wants a bike sophisticated enough to serve as a substitute for a car. From riding to work to picking up groceries, the Turbo Vado is secure, comfortable transportation.
Specialized Turbo Vado E-Bike Specs
Battery: Specialized U2-710, alloy casing, state of charge display, 710Wh
Expected Range:
Charger: Custom charger, 42V4A w/ Rosenberger plug, 100-240V
Motor: Specialized 2.0, 70Nm torque, custom tuned motor, 250W nominal
Pedal Assist: Three levels—eco, sport and turbo
Throttle: N/A
Display: MasterMind TCD, w/handlebar remote, built-in anti-theft feature, Bluetooth® connectivity, customizable display pages
Headlight: Lezyne Ebike Hecto E65, 210 Lumen, 12V
Taillight: Spanninga Commuter Glow XE, 12V
Frame: E5 Aluminum, bottom bracket motor mount, fully integrated & lockable downtube battery, internal cable routing, lock and front rack mount
Fork: SR Suntour MobieA32, 80mm travel, lockout, fender-mounts, integrated light mount
Fenders: Specialized DRYTECH fenders, 65mm width, aluminum fenderstay
Kickstand: Specialized kickstand, 40mm mount
Handlebars: Specialized, alloy, 15-degree backsweep, 46mm rise, 31.8mm
Grips: Specialized Body Geometry Contour, lock-on
Drivetrain: SRAM NX, 11-speed
Brakes: SRAM Level, 2-piston caliper, hydraulic disc, 180mm 6-bolt
Pedals: Specialized Commuter w/ grip tape & reflectors
Saddle: Rivo Sport, steel rails, 155mm
Tires: Pathfinder Sport Reflect, 650Bx2.3
Ratings:
***All ratings are relative to e-bikes of a similar style and price point***
| | |
| --- | --- |
| Speed/Acceleration | 4.8 |
| Hill Climbing | 4.7 |
| Battery Range | 4.8 |
| Braking | 5 |
| Construction Quality | 5 |
| Handling | 5 |
| Included Accessories | 5 |
| Warranty & Customer Service | 5 |
| Value | 5 |
In-Depth Specialized Turbo Vado Review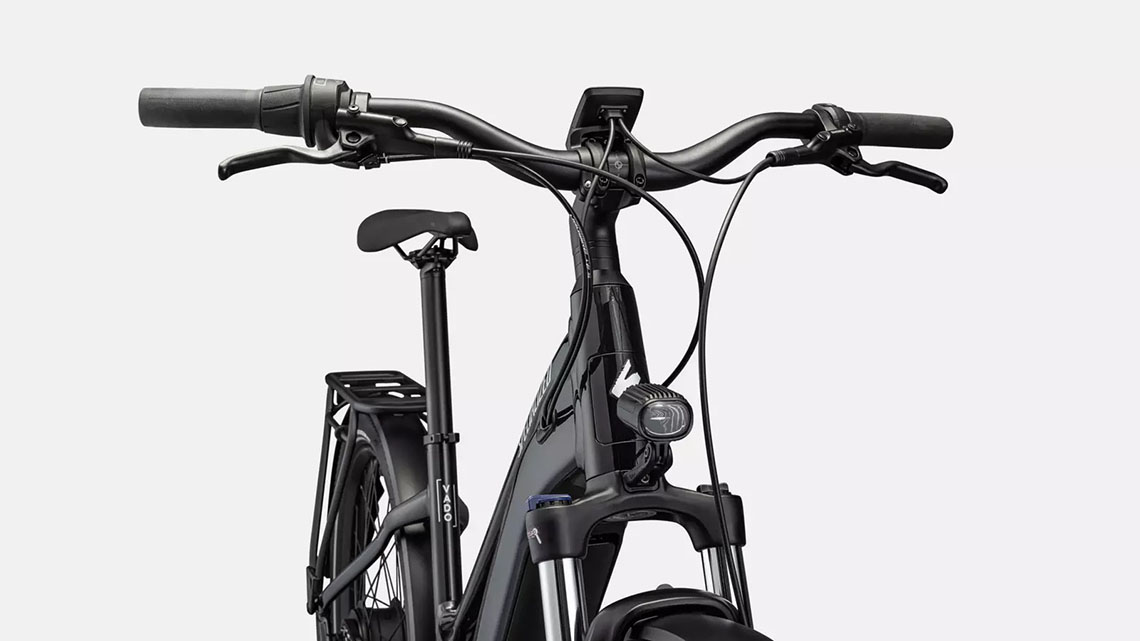 Specialized Turbo Vado Review: Comfort, Handling, and Ride Qualities
Specialized has built a reputation for making bikes that handle well. It can be hard to appreciate just how good a Specialized bike handles until someone takes a test ride. Their talent is to create a bike that feels stable and yet maneuverable, which sounds like saying someone is both short and tall, but is an accurate portrayal of what their bikes manage, and the Turbo Vado is no different. At speed, the Turbo Vado is assured and imparts confidence, but at lower speeds, like when threading parked cars and pedestrians, it is surprisingly agile.
Where comfort is concerned, this is one of the most comfortable e-bikes we've encountered. Not only are the tires wide to give a cushy ride, the bike includes an 80mm suspension fork and a 40mm suspension seatpost. The Turbo Vado isn't a couch, but it's close.
Specialized Turbo Vado Review: Motor, Battery, and Drivetrain Performance
Specialized works with Brose on their motors, which are known for smooth but quick acceleration. Because it's a mid-drive motor the fact that the motor averages 250W isn't a drawback and because it can forcefully turn with 70Nm of torque, the Turbo Vado is a very capable climber.
The 710Wh battery is estimated to deliver 40 mi. of range in PAS 3 (turbo) and 87 in PAS 1 (eco), though our friends at Electricbikereport.com found that their test bike got 23 and 61 mi. in PAS 3 and PAS 1, respectively.
While many of the e-bikes we review that are Class 3 also include a throttle, making them usable as Class 1, 2 or 3 rides, the Specialized Turbo Vado is strictly a Class 3 bike with a maximum speed of 28 mph, and no throttle. Some riders may see that as a drawback, but the amazing power of the e-bike in turbo mode means that even when tired, riders are unlikely to have any trouble getting home.
It's worth noting that with only three pedal-assist levels and a maximum speed of 28 mph, the difference in assistance between eco, sport and turbo is not just perceptible, but absolutely distinct.
We see plenty of 7-speed drivetrains on more budget-oriented e-bikes and while they work serviceably, the jumps in quality to a 9-speed Shimano drivetrain ($3250), SRAM's 11-speed NV or GX drivetrain ($4000 or $5000) or the Enviolo internally geared hub are all terrific values.
At each increasing price point, the shifting becomes smoother, the steps between gears more reasonable and the gear range grows noticeably broader; each bike is a great value relative to its price.
Specialized Turbo Vado Review: Braking, Safety, Customer Service & Warranty
As we mentioned, each jump in price results in a noticeable jump in quality. At $3250, the brakes are good quality Shimano hydraulic discs with 180mm rotors. At $4000 the brakes are SRAM Level, spec'd on many mountain bikes, while at $5000 and $5500 the brakes are SRAM's 4-piston G2 brakes, which are powerful enough to stop the gravity jockeys. Those 4-piston stoppers are not, by any means necessary. Often, what makes someone comfortable with controlling a bike isn't absolute stopping power, but the ability to modulate the brakes and alter how quickly the bike is slowing. The 2-piston brakes here will be plenty powerful for any rider.
We liked the tires on the Turbo Vado; the Pathfinder is a 27.5 x 2.3-in. semi-slick tire. Good tires are a balance of comfort and traction against fast rolling, and the Pathfinder rolls quickly without sacrificing traction and comfort.
Specialized integrates an app with its display to give riders an unusual amount of control over their e-bike. The Mission Control app adds safety features like the ability to disable the motor should the bike be stolen, as well as to track the bike's location. To detail all the features Mission Control offers would require a review of its own (hmm).
Specialized offers one of the better warranties we've encountered in the e-bike world. The frame and fork are covered by a lifetime warranty, while all the Specialized-branded parts (thinks like the motor, battery, hubs, fenders and grips) are covered by a two-year warranty and everything else by a one-year warranty.
With one of the largest dealer networks in the world, Specialized has one of the best-oiled machines for dealing with warranty issues (which are negligible), and service. Buying an e-bike from Specialized is a bit like purchasing an insurance policy against a host of future problems.
Specialized Turbo Vado Review: Recommendation/Final Verdict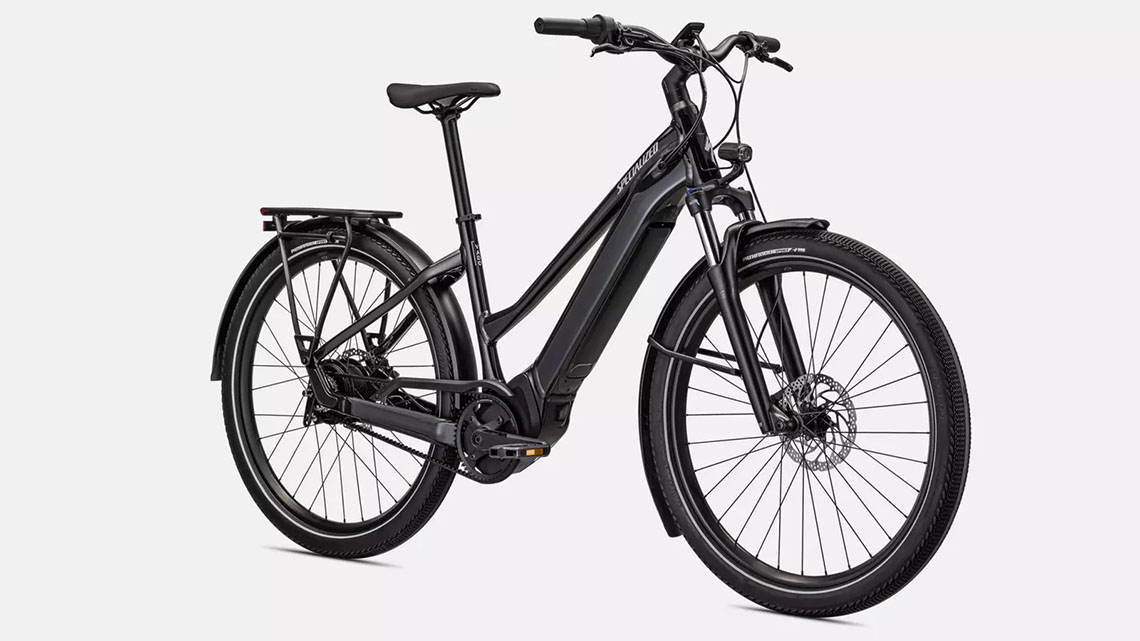 The Specialized Turbo Vado is a terrific bike, no matter which price point someone considers. To pick up our car analogy again, think of the different price points as trim levels. And while the base trim of many cars often lacks many of the features a model might be known for, the parts chosen for the $3250 version are solid. A fair comparison would be to equate the $3250 and $350 options with Hyundai, the $4000 with Honda and $5000 and $5500 versions with Mercedes.
As much as we like each of the price points for the Specialized Turbo Vado, our favorite is the $4000 edition, with SRAM Level brakes and NV drivetrain. The quality of the parts is very high and represents a notable saving over the two most expensive versions.

One of the very best features of the Turbo Vado is Specialized's Mission Control app which provides a suite of terrific features, but none more valuable than the ability to track the e-bike and disable the motor in the event of a theft. We're pleased to see that Mission Control is standard on all versions of the Turbo Vado, not just the pricey ones.
We've long respected Specialized's bikes and the Turbo Vado is a terrific example of why they continue to be one of the leading bike makers in the world. Even the least expensive version of this e-bike will serve capably for many years and because Specialized has dealers most everywhere, including some craters of the moon, seeing this bike serviced won't be a challenge.
Thank you for reading through our review of the Specialized Turbo Vado. Still have further questions? Wondering how it compares to a similar bike? Let us know in the comments below!
Reader Interactions