Electric bikes have multiple components that determine overall bike performance, but one of the most important parts is the braking system. While it seems that all braking systems are alike, they aren't. Different brakes determine how fast you slow down and how steady you come to a stop, where you come to rest, and other crucial riding factors.
While a typical brake setup's performance varies from brand to brand, most braking systems are classified into two categories: mechanical disc brakes and hydraulic disc brakes.
Hydraulic disc brakes are usually more expensive than mechanical disc brakes, but the differences between the two are more complex. It's unfair to say that hydraulic brakes are always better than mechanical brakes. Instead, they serve different purposes.
Each type of brake has its traits that make them better suited to different kinds of riders. Our goal is to help you understand the two systems' critical differences before you splurge on an Ebike or change out your brakes.
You're encouraged to leave a comment at the end of this post if you have any questions after reading our article.
How Do Mechanical and Hydraulic Disc Brakes Work?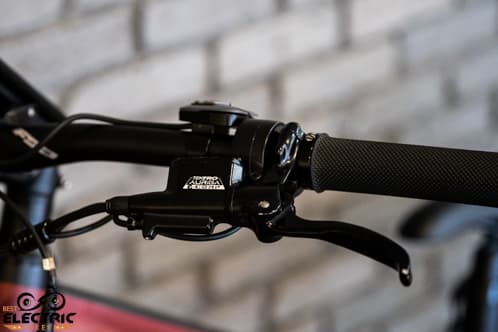 Before discussing the two systems' differences, let's discuss what mechanical and hydraulic disc brakes have in common. Both setups function in the same way. They consist of a brake lever connected to a brake caliper located in the center of your wheel.
As the caliper is pressed (often with a pad) into the rotor, it applies resistance to the wheel, making it harder to turn, slowing down your tire as a result. The harder you press the brake lever, the more pressure is applied to the rotor, resulting in greater resistance for additional braking power. Disc brakes are different from older rim brakes; they focus on the rotor rather than slowing down the tire by applying resistance to the rims.
The significant difference between mechanical and hydraulic disc brakes is how the two braking systems are connected from the brake lever to the caliper. Mechanical disc brakes rely on a cable that pulls on the caliper, which requires a strong pull to fully apply enough stopping power to bring the wheel to a stop.
Hydraulic disc brakes instead rely on a fluid based system instead, where pulling your brake lever causes fluid to push your caliper against the wheel rotor to bring it to a stop. While applying brake resistance may not seem too different between the two braking systems, the result is vastly different and is why many cyclists prefer one setup.
Why Some Cyclists Prefer Mechanical Disc Brake Systems: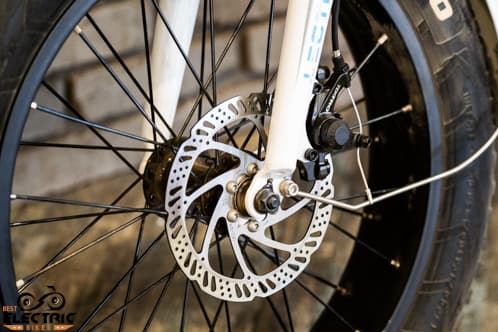 Mechanical disc brakes are the simpler of the two systems, so they are often significantly less expensive than hydraulic disc brake systems. Mechanical disc brakes are also easier to fix. And once they wear out, they're much more straightforward to replace than hydraulic disc brakes.
Some cyclists like to adjust their braking systems for different situations. This is easier done on mechanical disc brake setups.
Hydraulic disc brakes do provide greater braking power, but pulling on the lever often feels underwhelming and leaves cyclists unsure of how much braking power they're applying. With mechanical disc brake setups, the brakes must be forcefully applied, but you get a more robust feedback response, so you know more precisely how much brake power you're applying.
Mechanical Disc Brake Pros:
Less expensive.
Easier to fix.
Easier to replace.
More adjustable.
More versatile braking feedback.
Why Some Cyclists Prefer Hydraulic Disc Brake Systems: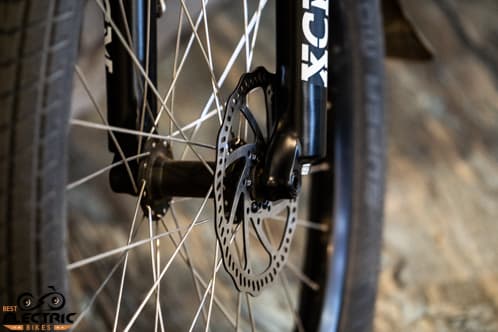 Hydraulic disc brakes are more expensive upfront, but their value tends to be greater since they last longer and don't require as much maintenance over their functional life span. Everyone crashes their eBike eventually, and hydraulic disc brakes are far more difficult to damage or shatter than most mechanical disc brake setups.
Pushing the caliper pad into a rotor with fluid instead of pulling down with a simple cable, hydraulic disc brakes provide more stopping power than mechanical disc brakes. You won't have to pull as hard on the brakes to slow or stop your eBike. And you can adjust your levers and brakes more extensively for a more customized riding experience.
While you might not have as many caliper adjustment options, hydraulic disc brakes are considered the more universal of the two options since they have a self-adjustment design that will automatically fix brake positioning while riding over different terrains.
Hydraulic Disc Brake Pros:
They last longer.
Require less maintenance.
More durable.
More stopping power.
Requires less lever pull.
More lever adjustment options.
Self-adjusting caliper/braking pads.
Which Braking Setup Should I Get for My eBike?
Budget
If money matters most, mechanical disc brakes will be less expensive upfront. However, if you're a serious cyclist, the hydraulic disc brake setup will last longer than mechanical disc brakes.
You're going to pay more to maintain your mechanical disc brake setup, and you will have to replace it sooner than hydraulic disc brakes. There is no good ratio of which one will ultimately save the most money in the long run, but if you have budget concerns, consider whether paying less upfront or over time is better for your financial situation.
City Commuters
Hydraulic brakes are more common on city commuter eBikes than mechanical disc brakes. While city riding may not need as much stopping power, keeping up with traffic or riding through town without stopping to perform brake maintenance or adjustments is essential.
Furthermore, city computers tend to be less expensive to purchase as a whole, so commuter eBike manufacturers typically emphasize improving the braking system as a result. You can get by with a mechanical disc setup, but many commuter eBikes feature a hydraulic disc brake setup.
Mountain Bikes
Mountain bikes typically have a mechanical disc brake setup but don't be surprised if you find one with a hydraulic system instead. Mountain bikes get beat up more than any other type of eBike, so they tend to require more maintenance overall–and occasionally need to be repaired while you're still on the mountain.
Mechanical disc brakes are significantly easier to service and repair. But when you have an oil leak with your hydraulic system, your brakes won't do you any good until you get to a professional repair shop. So, heavy-duty trail riders or backcountry riders usually stick with a mechanical disc brake setup over hydraulic disc brake setups.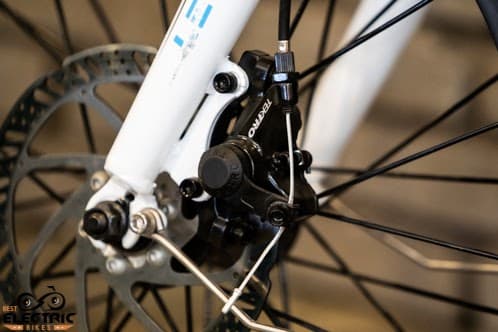 Racing/Cross-Country Bikes
Racing and cross country bikes focus on speed. They need mighty stopping power for sudden stopping in an emergency. As a result, hydraulic brakes are way more popular on racing bikes than mechanical disc brakes due to their substantial stopping power.
Furthermore, hydraulic disc brakes are often lighter than mechanical disc brakes and aren't as obtrusive when it comes to the overall design and wind resistance. While it's a minor difference, racing cyclists find that eBikes with hydraulic disc brakes offer slightly better performance than a standard mechanical disc brake setup.
Cruiser Bikes
If you plan to stick to riding on the beach, boardwalks, around the neighborhood, or other casual riding locations, you'll be OK with the mechanical disc brakes that come standard with cruiser bikes.
You don't need as much stopping power, and mechanical brakes cut down on costs so that the manufacturer can improve the bike in other ways. Because cruiser bikes seldom use their brakes–or at least not to the same degree as other eBikes–the functional lifespan either isn't much different.
Family/Cargo Bikes
Due to their larger size, family and cargo bike setups should have hydraulic disc brakes. The main reason is that mechanical disc brakes are often overwhelmed by the added weight, especially when trying to stop while riding downhill.
While not a universal rule, if you're looking for a new cargo or family eBike to go out with your kids on, you should restrict your search only to eBike setups that feature sound, robust hydraulic disc brake systems.
Why Aren't Hydraulic and Mechanical Disc Brake Combinations Popular?
You'll very rarely see them on a stock eBike model, but sometimes custom or upgraded models have a hydraulic and mechanical disc brake combination. There are several reasons why they typically aren't included on eBikes, including the following:
They provide unnecessary lever feedback. Typically, a mechanical disc brake lever with extensive pulling feedback isn't that hard to use if you have a good grip. The hydraulic pull is easier, but that's a lot of money to spend and work to do just so that you don't have to pull as hard on your pre-existing brake lever.
You don't have significantly more stopping power. One of the primary reasons some mechanics combine the two is for additional stopping power. Still, it's only slightly better than what you get with most hydraulic brake setups. You can only push the caliper and brake pad into the rotor so hard. Apply too much pressure, and you can damage, brake, or even burn the brake pad.
They're expensive and difficult to maintain. We call this combination a setup rather than a hybrid braking system because the brakes are rarely fully integrated into one another. Instead, hydraulic and mechanical disc brakes are typically two different systems that just happen to connect to the same lever, which means you have to maintain two separate systems. That's a lot of time and money spent compared to maintaining one braking system.
What to Know about Rotor Sizes: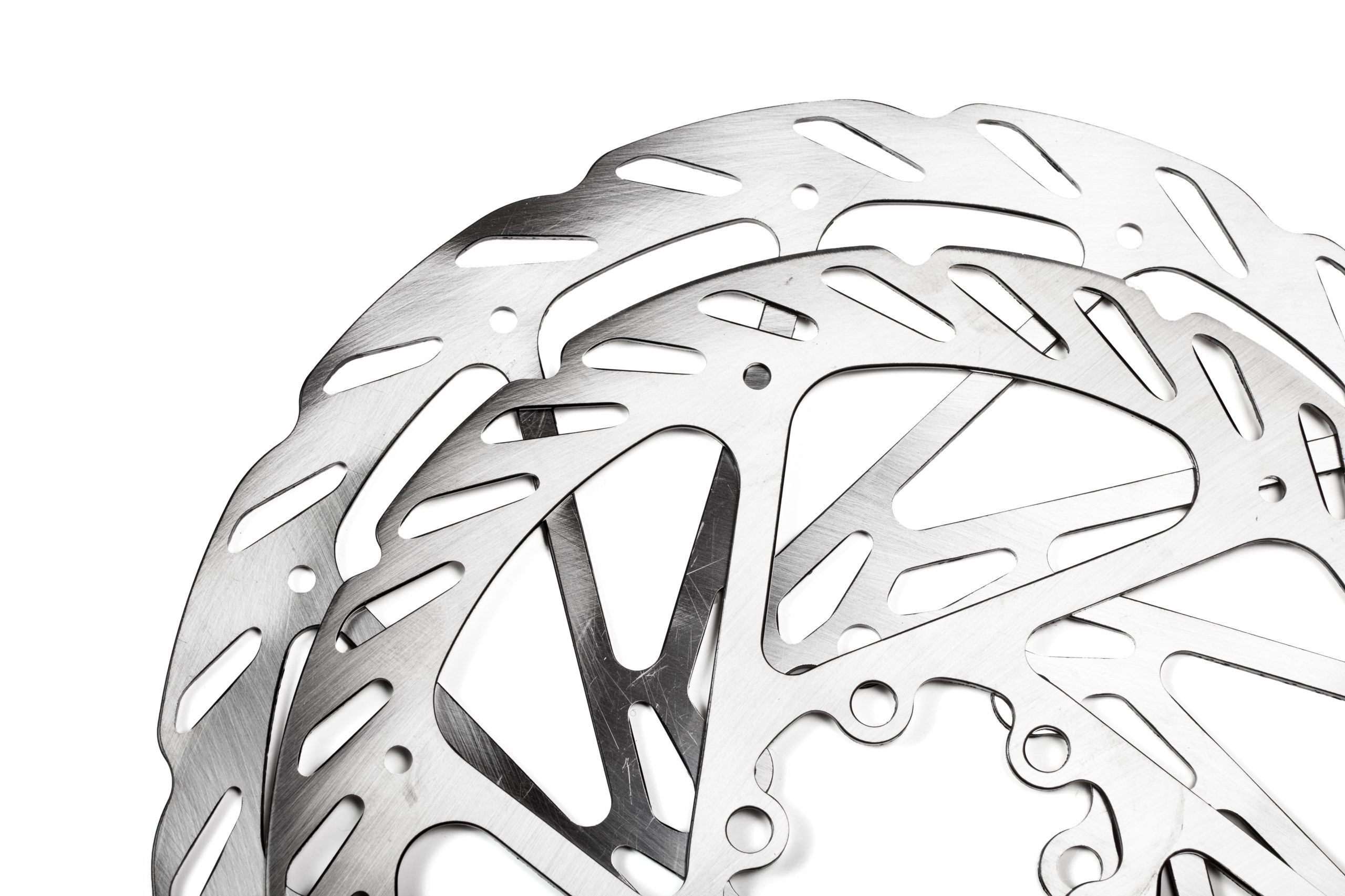 If you've read one of our reviews here at Best Electric Bikes, you know one of the primary aspects we focus on when discussing brakes is the rotor's size. Rotor size is a major factor in determining not just braking power but the lifespan of your braking system as well.
Larger rotor size offers greater leverage when the caliper and braking pad is applied, making it easier to slow down the tire. The larger braking rotors also have a larger surface area, allowing the heat generated from your braking system to disperse more easily. Generally, the larger your braking rotor, the better off your brake system is–although it will add to the weight of your eBike and increase the cost as well.
You might be asking yourself what rotor size you need for your particular eBike. That depends on several factors, including whether you have a hydraulic or mechanical disc brake setup.
We highlight our thoughts on the braking system on each eBike we review. You may have noticed that the two most common brake rotor sizes are 160 mm and 180 mm. We can give you a few of our recommendations for which rotor size is sufficient for each style of eBike:
160 mm Rotors: Casual cycling, city commuter bikes, cruiser eBikes, and lightweight eBikes.
180 mm Rotors: Racing/cross-country bikes, cargo bikes, mountain bikes, and heavyweight eBikes.
Conclusion: Different Preferences for Different Brakes: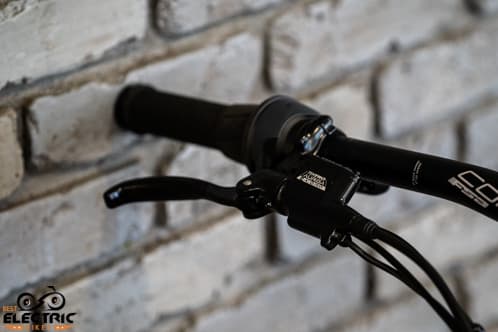 If forced to pick between the braking systems, we're generally more excited to see hydraulic disc brakes included on an eBike than a mechanical disc brake setup. However, each of them has their unique advantages and characteristics that make them better suited for different situations.
Budget, feel, maintenance, riding conditions, and other factors should be carefully considered if you're thinking about changing your eBike brake setup. Most eBikes are designed explicitly with their braking system in mind. So, with rare exceptions you're well off sticking with the stock brakes installed on your bike.
If you have any questions about a particular braking system our review team would be happy to give you their opinion here at Best Electric Bikes!