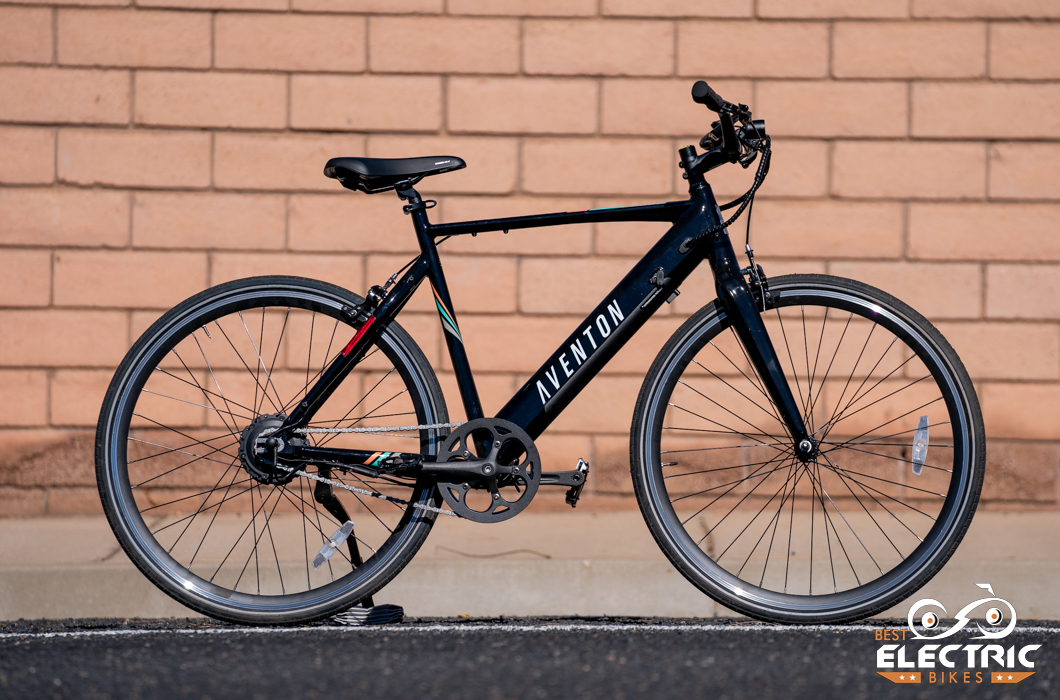 Aventon Soltera Review: Intro
When people ask us what their biggest priorities should be in purchasing an e-bike, our answer is consistent. Step one is for people to establish their budget. Step two should be to find a bike that fits. Step three should be … never mind. Most riders skip step two and as a result are often less comfortable on their e-bike than they could be.
In our Aventon Soltera review, we will look at what Aventon does differently with the Soltera and why we think it is a terrific e-bike at a terrific price point. There are a number of details that make the Soltera different from many of its competitors, differences that more companies ought to emulate.
For starters, the Aventon Soltera comes in four sizes: two in a traditional frame design and two in a step-thru design. As a result, it's one of the only bikes we've encountered that we believe can fit riders from as small as 4 feet 11 inches to as tall as 6 feet 4 inches.
The Aventon Soltera is unusual in another regard in that it gives buyers a chance to choose between a single-speed version and one with a 7-speed Shimano drivetrain. As a Class 2 e-bike, the Soltera has a maximum speed of 20 mph, and with a gear big enough to propel the e-bike up to 20 mph, some single-speed e-bikes can require a bit of effort to get moving. The Soltera is unusual in another regard; riders can throttle up to speed from a dead stop, making the Soltera much easier to get rolling.
Both the single-speed and the 7-speed versions go for less than $1500, making them super competitive, but we love seeing an e-bike maker give riders a choice that can reduce their total outlay.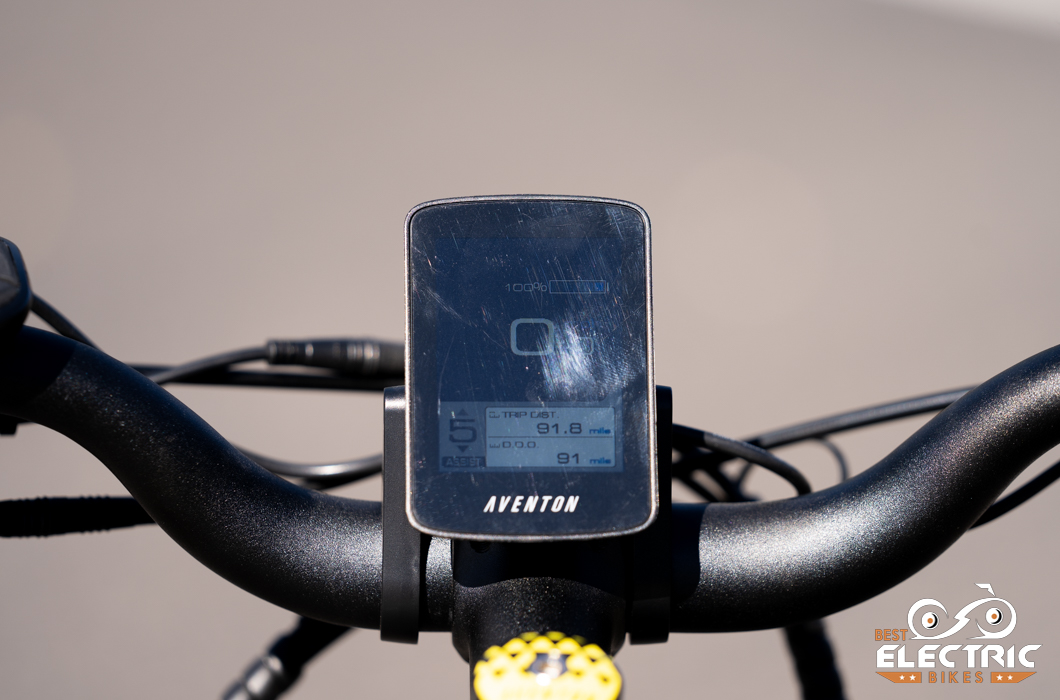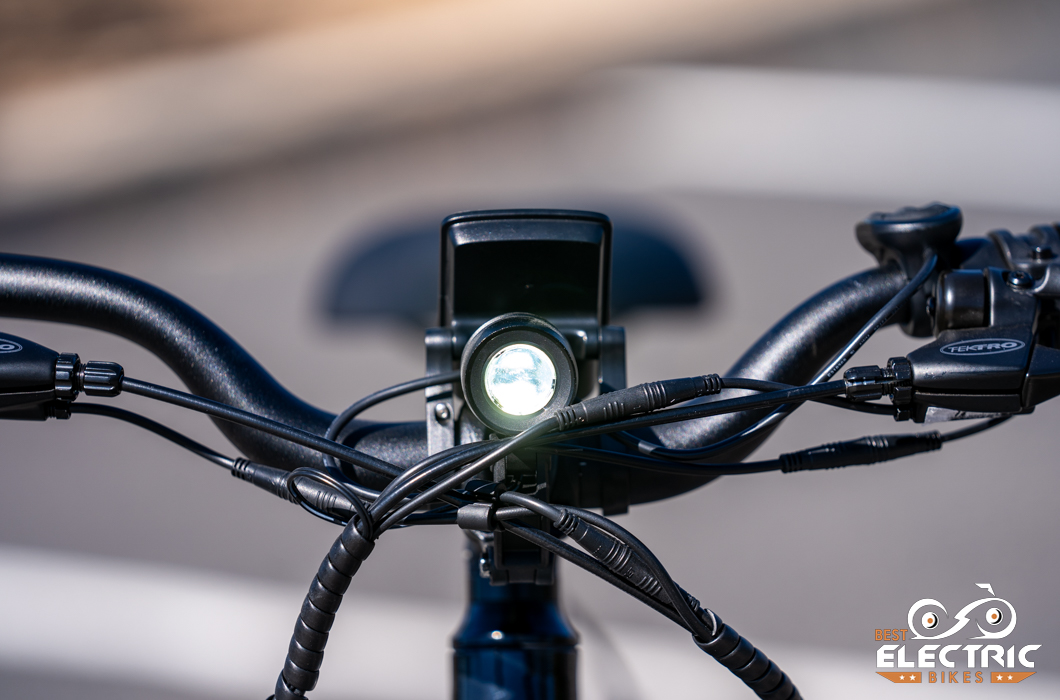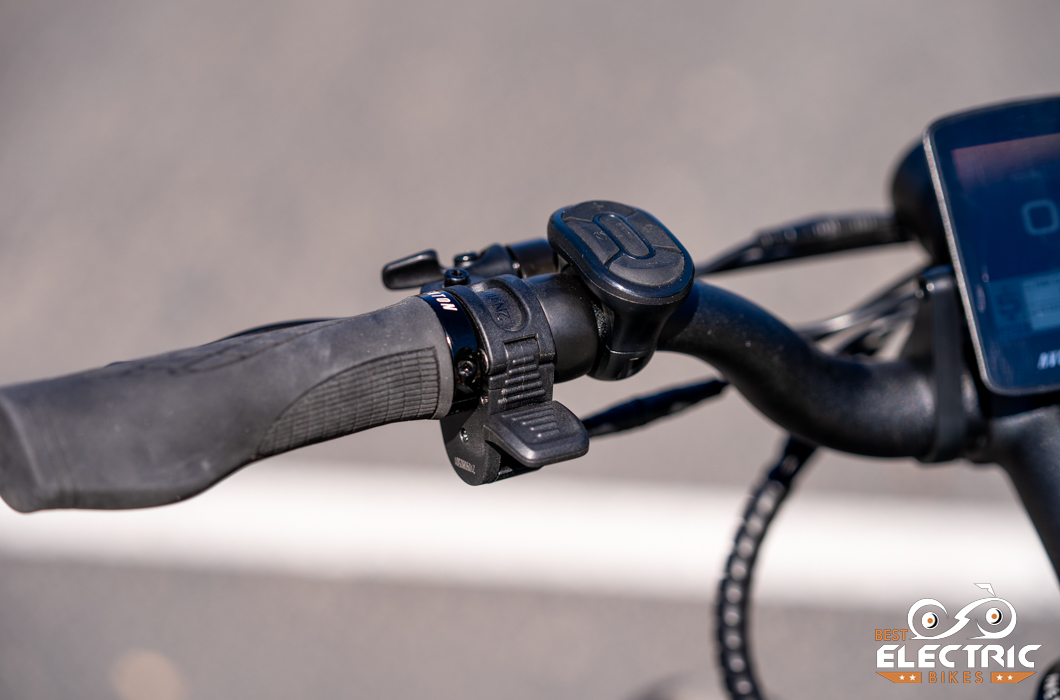 E-Bike Category: Flat-bar road bike
Who the Aventon Soltera Electric Bike Is For:
The Aventon Soltera is great for anyone looking for a lightweight commuter.
Aventon Soltera Review Ratings:
***All ratings are relative to e-bikes of a similar style and price point***
| | |
| --- | --- |
| Speed/Acceleration | |
| Hill Climbing | |
| Battery Range | |
| Braking | |
| Construction Quality | |
| Handling | |
| Included Accessories | |
| Warranty & Customer Service | |
| Value | |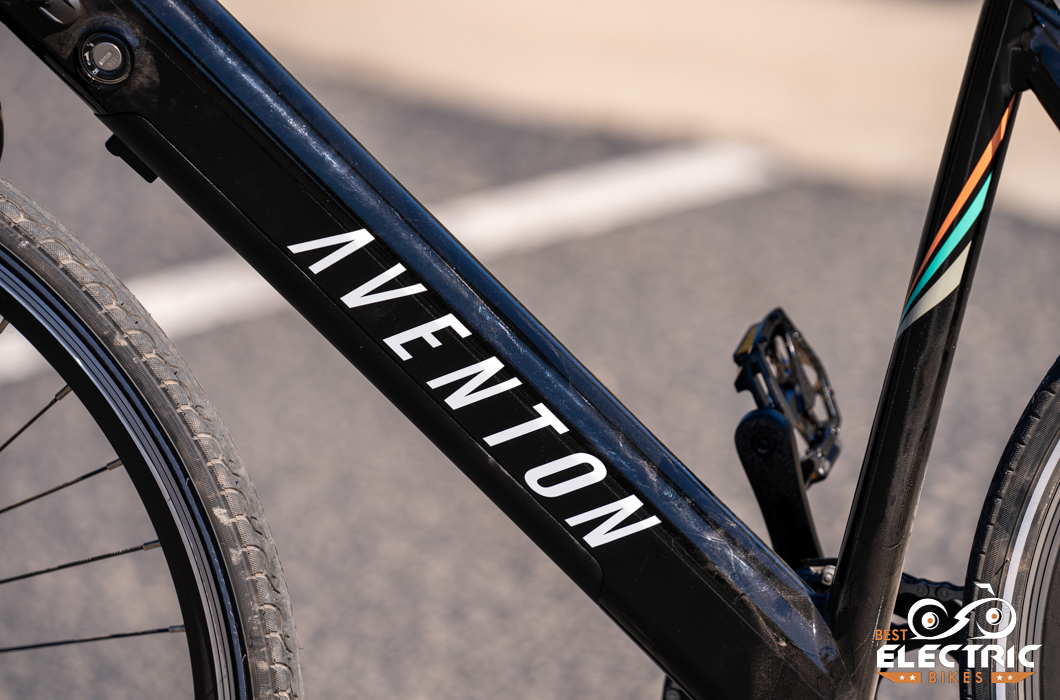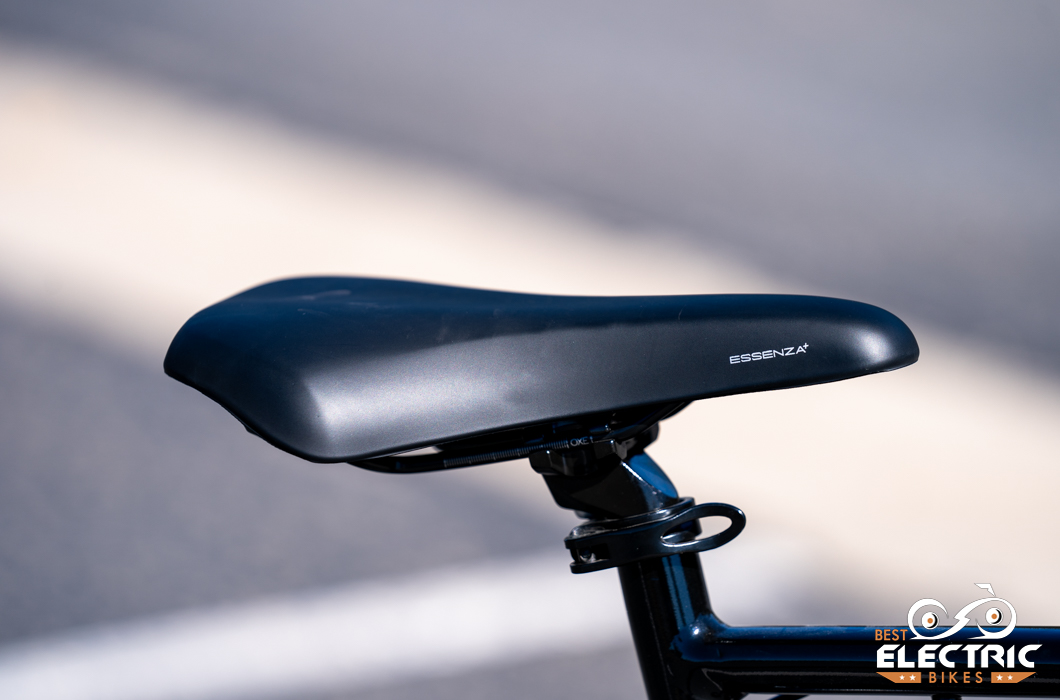 Aventon Soltera Review: E-Bike Specs
Battery: 36V, 346Wh
Expected Range: 41 miles on average
Motor: 36V, 350W Brushless hub motor
Pedal Assist: 0-5 level pedal assist
Display: LED
Headlight: included
Taillight: included, lights up when braking
Frame: 6061 Aluminum
Fork: 6061 Aluminum
Fenders: N/A
Kickstand: Included
Handlebars: aluminum, 620mm
Grips: egonomic
Drivetrain: Shimano 7-speed or single speed
Brakes: Mechanical disc with 160mm rotors on 7-speed, caliper brakes on single speed
Pedals: Included
Saddle: Selle Royal comfort padded
Tires: Kenda K193 700C x 35mm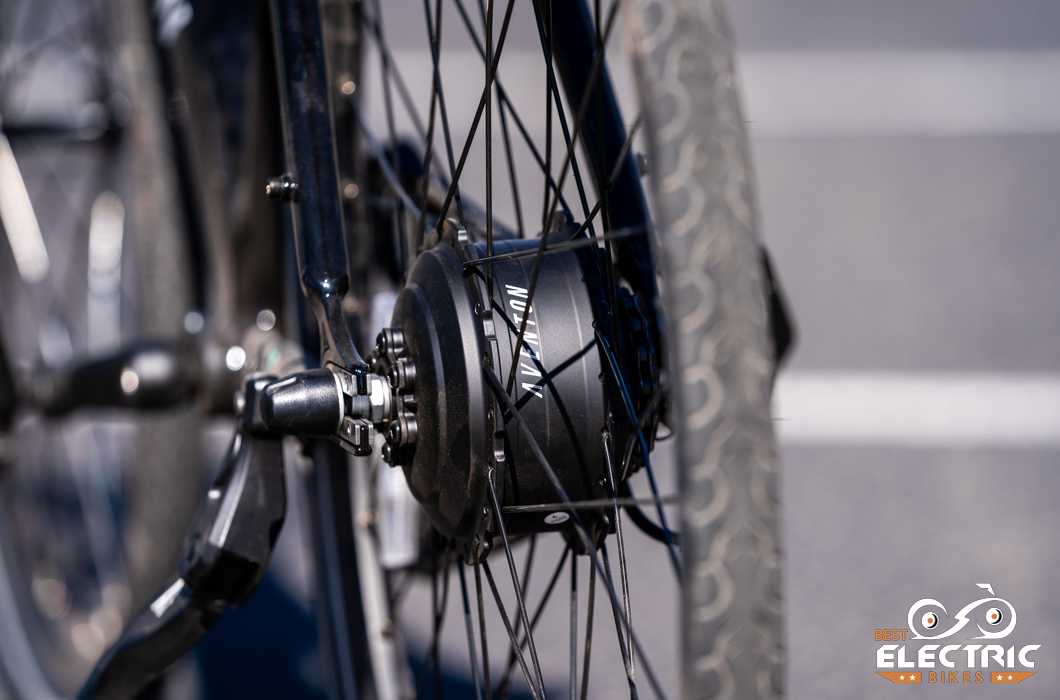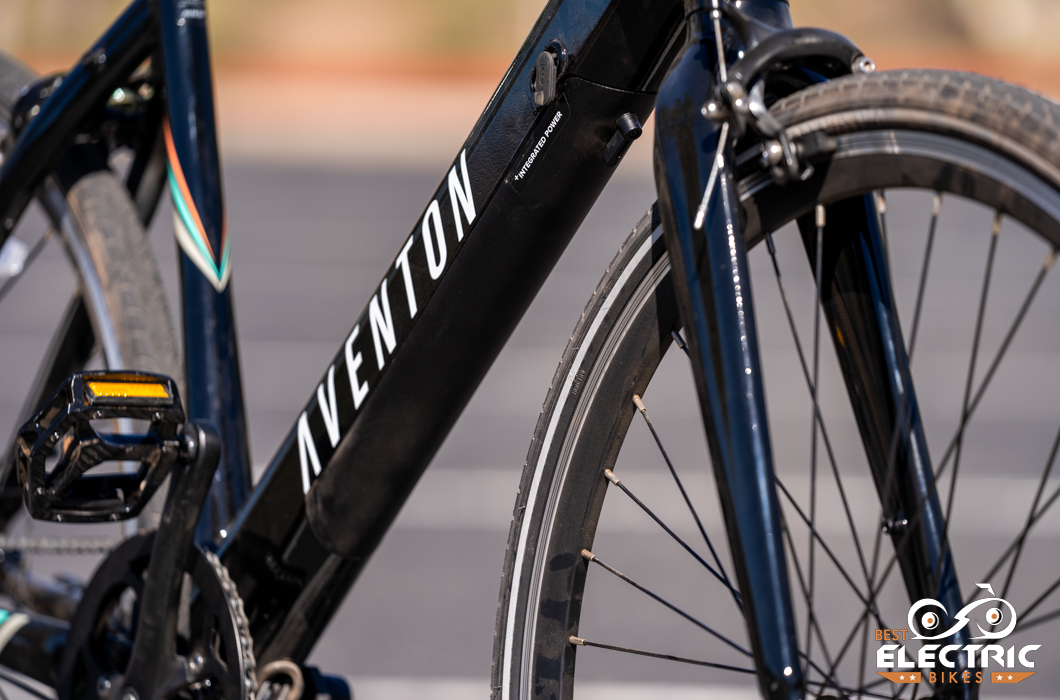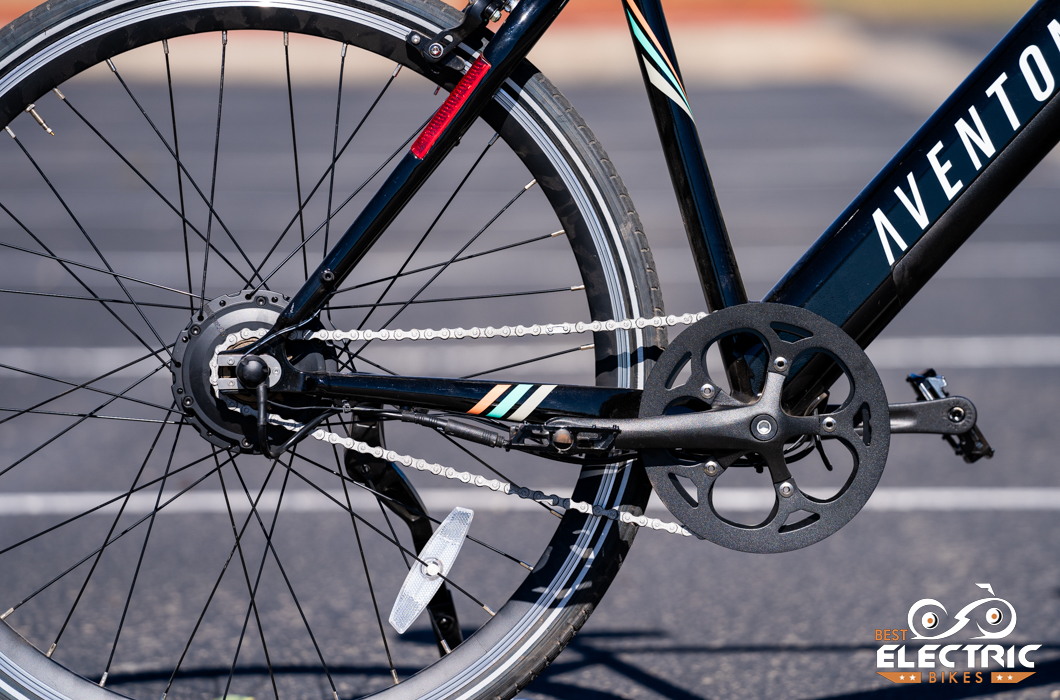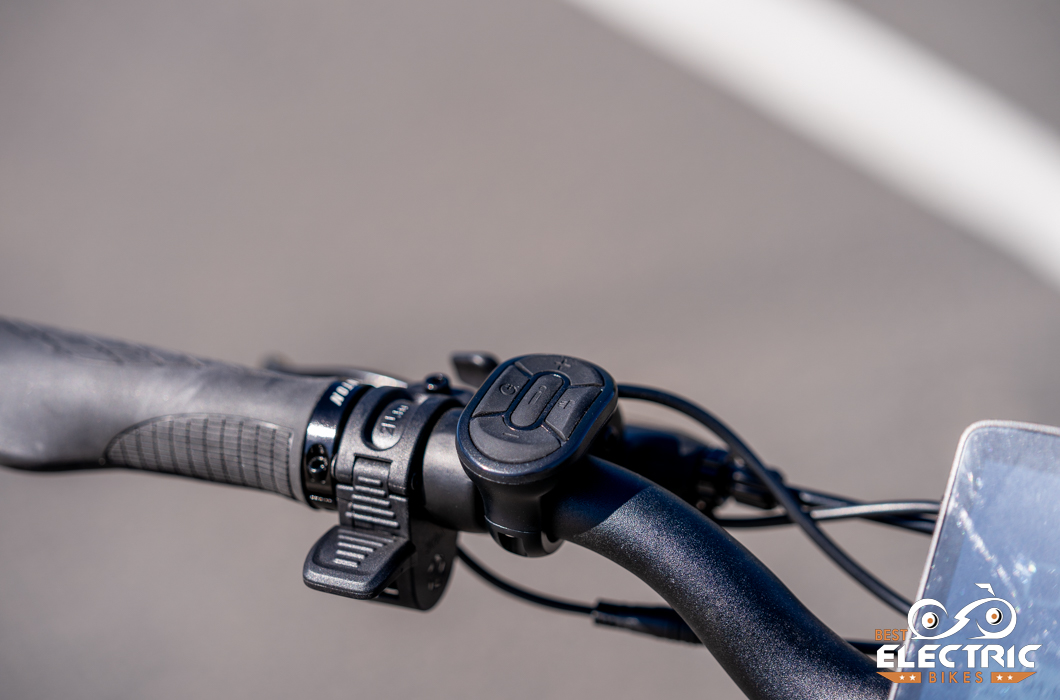 In-Depth Aventon Soltera Review
Aventon Soltera Review: Comfort, Handling, and Ride Qualities
The Aventon Soltera is a style of commuter we don't often see in e-bikes. It is spec'd with large 700C wheels with a 35mm-wide tire (roughly 1.5 in.), a flat bar, and slightly more aggressive geometry, which gives it a balance of stability at speed and agility when negotiating people on bike paths and traffic.
With its ergonomic grips and wide saddle, this e-bike is plenty comfy, but for the rider who wants a responsive bike that is easy to handle and makes riding fun, the Aventon Soltera is an e-bike of a different feather.
The Aventon Soltera comes with a rather small motor and battery (36V, 350W motor and 346Wh battery) which cuts the e-bike's weight. Lighter bikes are more maneuverable and feel more spirited.
Compared to most commuters, the Soltera will have a zippier feel and will handle better, in part because of the larger wheels with thinner tires and due to its low weight.
Aventon Soltera Review: Motor, Battery, and Drivetrain Performance
Aventon chose a 36V, 350W brushless hub motor for the Soltera, a somewhat smaller motor than we see with some e-bikes. They paired it with a 36V, 346Wh battery. This cuts the Soltera's weight by close to 20 lbs. compared to many similar e-bikes. The single speed is said to weigh 41 lbs., while the 7-speed version is said to weigh 43 lbs. Because they are so light, the range doesn't suffer the way some might expect; Aventon says the Soltera will have a range of roughly 41 mi. per charge. Also, lighter bikes are easier to accelerate, so getting the Soltera up to speed will sap less charge with each acceleration.
A 346Wh battery may not seem to have much charge, but because it is being paired with a 350W hub motor, this lightweight e-bike can accelerate up to speed quickly. Also, in an unusual move, the thumb throttle can accelerate the Soltera from a dead stop. That makes a pretty compelling feature for the single-speed version. Riders need not worry about muscling a large gear to get going.
There are plenty of locations throughout the U.S. where riders need not worry about hills. For riders in Chicago or Dallas, the single-speed Soltera could be all they need to get around. Riders in hilly Atlanta can choose to go with the 7-speed drivetrain. Low gears may be necessary to help the Soltera over the tops of hills.
Aventon Soltera Review: Braking, Safety, Customer Service & Warranty
As part of Aventon's pricing strategy for the Soltera, the single-speed version comes with rim caliper brakes. Simplifying the parts pick for both the drivetrain and the brakes shaves a couple hundred dollars from the e-bike.
Given how few e-bikes come with rim caliper brakes, we suspect some potential buyers could end up overlooking the Soltera due to an understandable desire to purchase an e-bike with disc brakes. The Soltera deserves a closer look, though.
The 7-speed version of the Soltera comes with mechanical disc brakes and 160mm rotors, which are not much more powerful than the rim calipers. Either setup will stop this e-bike just fine, though.
Whenever we tackle the issue of safety, what we return to is the concept of control. Being able to control the bike is infinitely easier when the bike fits. We feel more balanced on the bike and initiating turns and carving through them is easier. That the Soltera comes in four sizes is one of our favorite features of this model.
On the score of customer service we should point out that some of their hundreds of reviews (fewer than 20) complain of problems with bikes that were slow to be resolved (if at all). Also troubling is that of the few customer service responses we see, they appear to be written by a non-native English speaker, which suggests that any issues with a bike must be coordinated with people on another continent.
The warranty on the Soltera is solid: lifetime on the frame and fork and one year on all parts and labor.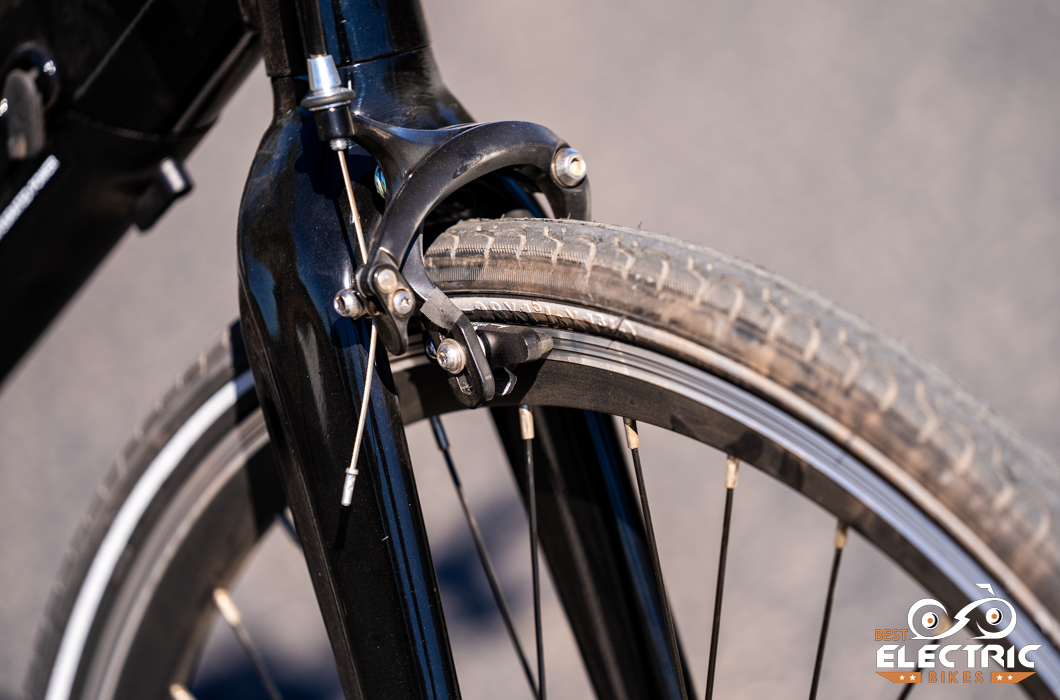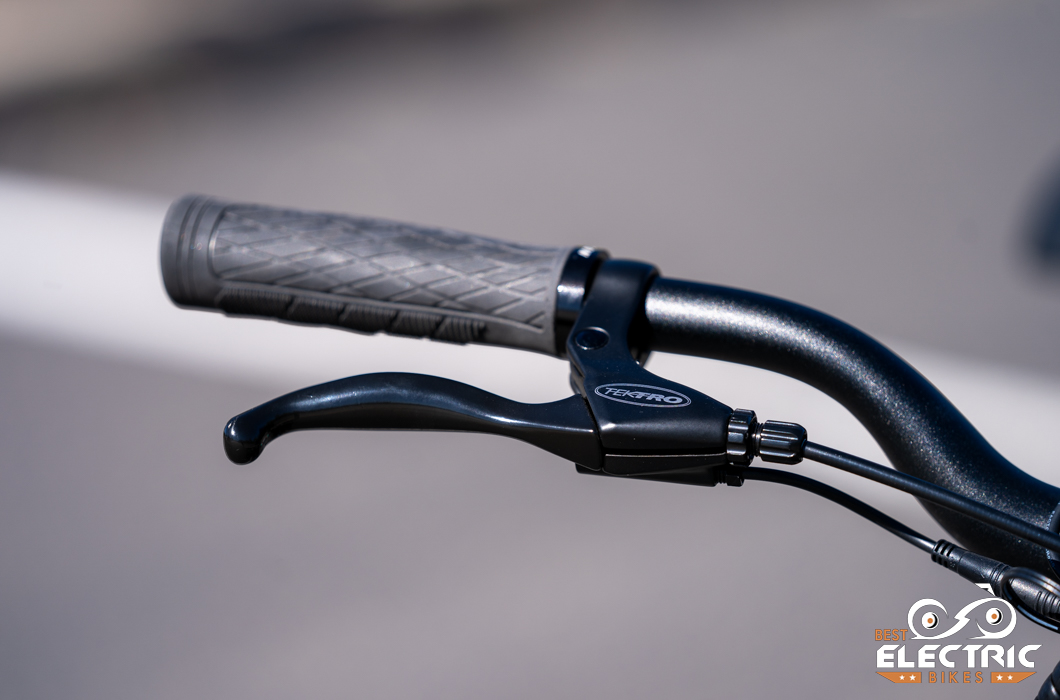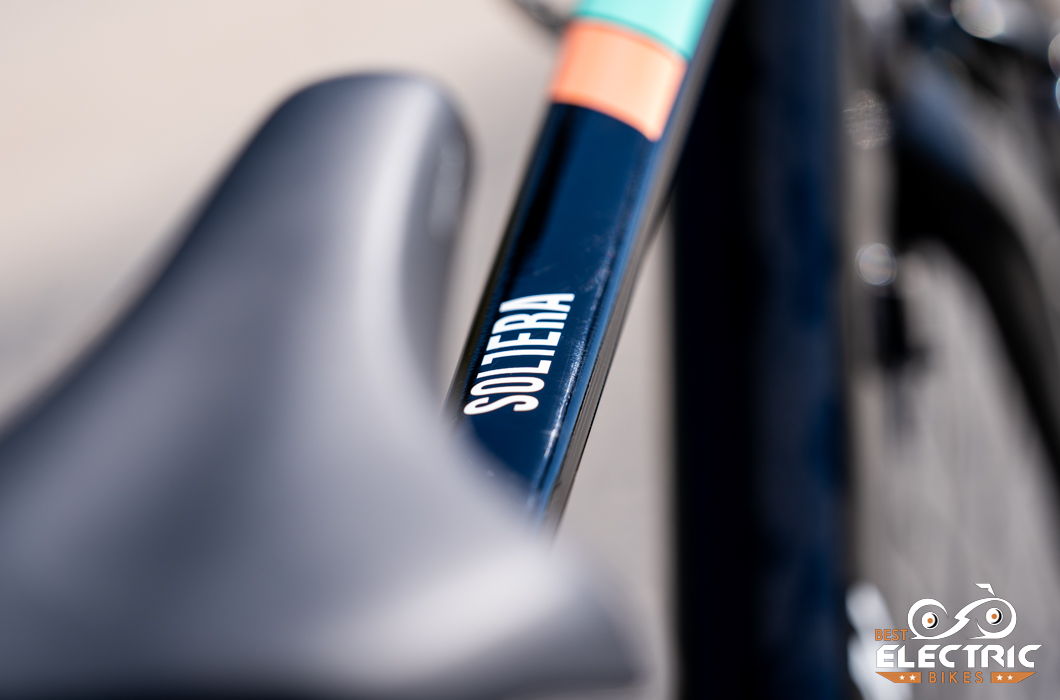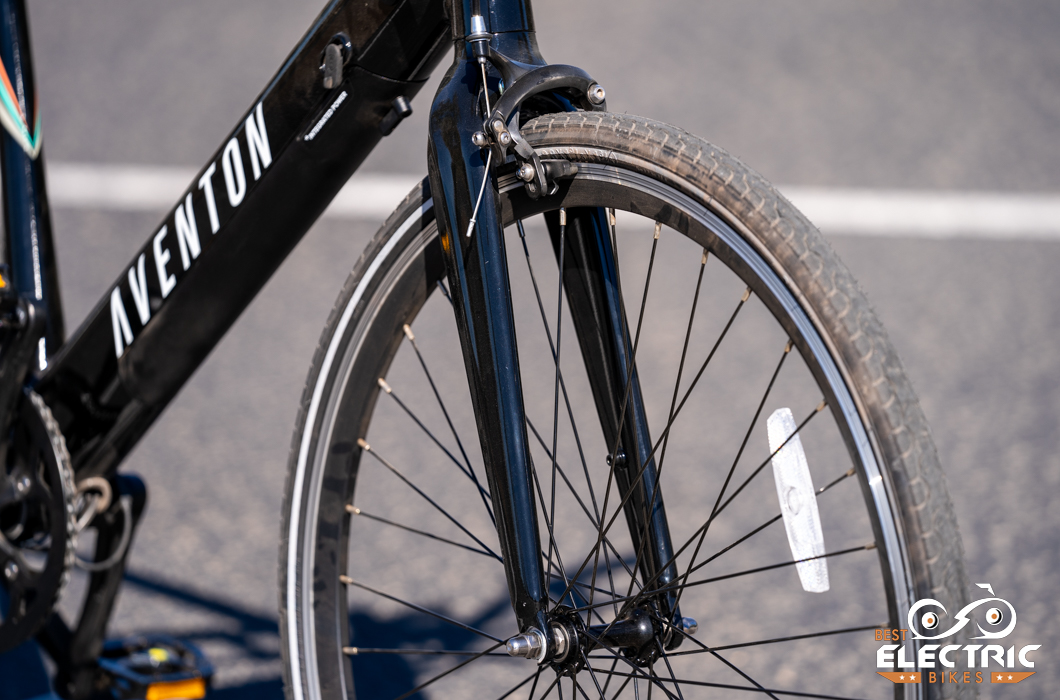 Aventon Soltera Review: Recommendation/Final Verdict
This Aventon Soltera review reveals a different take on a commuter e-bike. But what makes it different is what makes it worthwhile. This is an e-bike that will ride differently than most of the commuters we see; compared to most, it will have a sportier feel and riders who want to corner with a bit more verve will enjoy its handling.
While the Soltera comes with lights, Aventon left both fenders and a rear rack off the e-bike. That's part of how the company managed to create a feature-rich e-bike that comes in at less than $1500.
As with Aventon's other e-bikes, they offer a wide array of accessories, including fenders, racks, baskets and phone holders. This gives riders the opportunity to make an investment of just the bike and then add other items as needed.
One of our favorite features of buying an Aventon is the app for either iOS or Android smart phones. It enriches the user experience by including a social media component, a way to track rides and control over the motor performance.
As much as we like hydraulic disc brakes, the Aventon Soltera does come with one benefit by spec'ing either mechanical disc brakes or rim calipers: service will be less expensive. Should a rider need their brakes serviced, the work will be quick to perform and most shops will be able to turn the bike around in a short time.
Anyone put off by the 60-plus-pound weight of many e-bikes and wanting to find an option that doesn't weigh as much and capitalizes on the lower weight with better handling would do well to take a look at the Aventon Soltera. It's a fun e-bike at a super-competitive price – heck it's one of the best e-bikes you'll find for nearly a thousand dollars.
Thank you for reading through our review of the Aventon Soltera. Still have further questions? Wondering how it compares to a similar bike? Leave us a question in the comments below and the team at BestElectricBikes.com will answer!