Welcome to our spec review of the Benno Boost E 10 D electric bike. Unfortunately, our review team hasn't had the chance to ride this eBike yet, but we have been taking careful notes of its latest features and components.
We've compared the Boost E 10D to other Benno eBikes we have ridden and other electric bikes that the Boost E 10D shares components with. By doing so, we were able to develop our spec review of the Benno Boost E 10D.
With our spec review, we hope to provide our thoughts and general impressions of the performance, feel, and features of the latest version of the Benno Boost E 10D.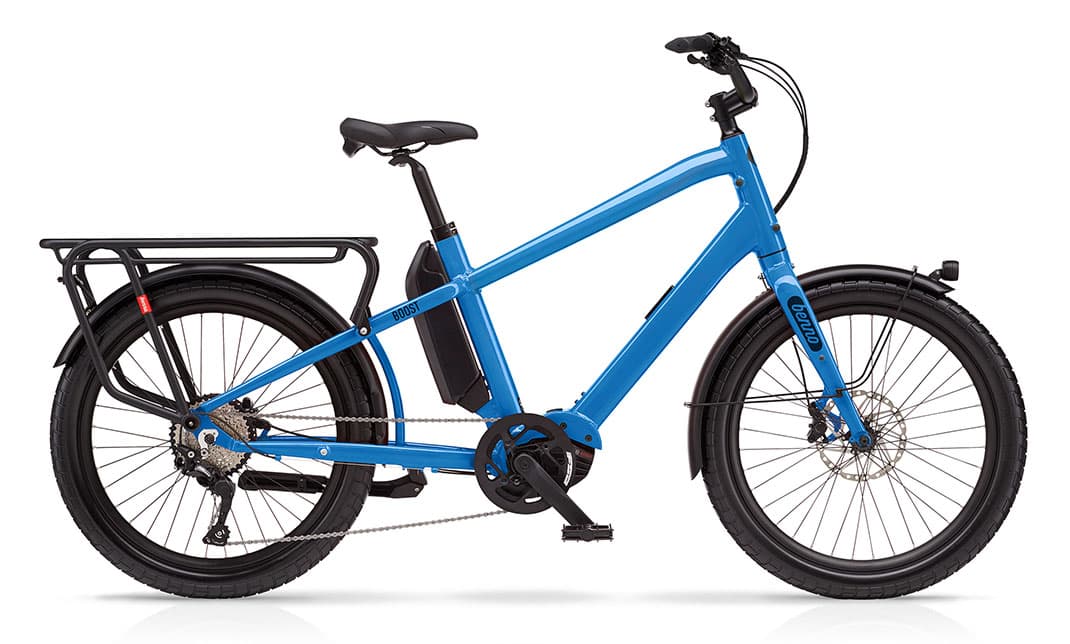 The Benno Boost E 10D is one of the best all-around style premium eBikes we've had the chance to review. There are more than twenty different model options to choose from, with five distinct colors and four different 6061 aluminum frame styles.
You can also choose between an affordable 65 Nm motor or powerful 85 Nm Bosch mid-drive motor, with a 90+ mile range thanks to the Bosch Powerpack 500. Gear shifting is a breeze with the Shimano 10-Speed drivetrain, and braking is just as reliable with the Shimano hydraulic disc brake setup.
Those aren't the only excellent components included. Also included are a headlight, tail light, ergonomic grips, oversized saddle and pedals, and several other premium accessories. If you are looking for one of our favorite general use eBikes, read our spec review of why we would recommend the Benno Boost E 10D electric bike!
Bike-Category: Class I electric bike. Pedal activated motor assistance up to 20 MPH.
Who It's For: Cyclists who want a highly customizable, performance-focused general electric bike—especially well suited for those who need a powerful motor with a stellar range.
Bike Specs
FRAME: 6061 Aluminum Alloy
UI/REMOTE: Bosch Purion Display
BATTERY: Bosch Powerpack 500 Wh
CHARGER: 4 Amp Charger
MOTOR: Bosch Performance Speed Mid-Drive Motor, 65 Nm or 85 Nm
CHAIN: KMCe Chain
SHIFT LEVERS: Shimano Deore XT Triggers
CASSETTE: Shimano Deore 11-34 T Cassette
CHAINRINGS: Aluminum Alloy 20 T Chainring
DERAILLEUR: Shimano Deore 10-Speed Derailleur
RIMS: Double Wall Aluminum Alloy 36 Hole
TIRES: Custom 24″ x 2.6″ Benno Dual Sport Tires
SADDLE: Benno Wide Faux Leather Saddle with Handle
STEM: Custom Alloy 50 mm Stem
HANDLEBARS: High-Rise Aluminum Alloy Handlebars
GRIPS: Benno Rubber Ergonomic Locking Grips
BRAKES: Shimano Deore Hydraulic Disc Brakes, 180 mm / 160 mm Rotors
PEDALS: Oversized Aluminum Alloy Platform Pedals
KICKSTAND: Center Mount Kickstand
BELL: N/A
HEADLIGHT: Integrated Headlight
TAIL LIGHT: Integrated Tail Light
FENDERS: Aluminum Alloy Fenders
Pros
Highly customizable premium-level urban eBike, with additional support for light trail riding. Available in four frame styles and five different colors.
Standard 6061 aluminum alloy construction. Full assembly weight is about 57 lbs, but that includes extensive accessory coverage built into the eBike.
Bosch Powerpack 500 Wh battery. Able to travel over 90 miles on a single charge with optimal riding settings. Speed frame has a slot for a second battery as well.
Premium 4 amp charger. An easy-to-use charger that you can use while the battery is mounted on or off the bike. 3 to 4 hour full recharge time for the included battery.
Bosch Performance Speed mid-drive motor. 65 Nm or 85 Nm max torque options. 65 Nm is better for more casual cyclists, while the 85 Nm torque is better for serious riders.
Shimano Deore 11-34 T cassette with an aluminum alloy 20 T chainring. A 10-Speed drivetrain provides precise cadence and pedal control as you ride through the city.
Bosch Purion display. Compact, with a substantial number of readouts and metrics for the average cyclists. Easy enough to use, but it might not be advanced enough for some.
Custom 24″ x 2.6″ Benno dual-sport tires. Designed for all-terrain riding, so you can rely on them as you cruise around the city or hit a light trail ride with your friends.
Shimano Deore hydraulic disc brakes, with 180 mm / 160 mm sized rotors. Extra stopping power up front where it's needed, with lighter brakes in the tail.
Excellent accessory range and optional add-ons. Benno bikes are some of the most customizable electric bikes in the industry.
Cons
Premium eBike, but the Bosch Purion display might be a little underwhelming for those looking for a readout heavy LCD display unit.
Lack of suspension support and stiff construction means that it handles the occasional bump or pothole well but can be a bit tiring to ride for extended periods.
Features
6061 Aluminum Alloy Frame
It is a highly customizable aluminum alloy frame with five different color options and four frame styles for twenty eBike combinations. The average full assembly weight is 57 pounds (not including additional accessories).
Bosch Powerpack 500 Wh
Mounted beneath the saddle, the included Powerpack 500 Wh battery can travel over 70 to 90 miles on a single charge depending on your model. If you get the Boost E 10D Speed, you have a slot for a second battery.
4 Amp Charger
The premium charger can easily store in a backpack or pannier bag, which attaches to the rear cargo rack. Full battery recharge time from 0% to 100% is about 3 to 4 hours.
Bosch Performance Speed Mid-Drive Motor, 65 Nm or 85 Nm
Two mid-drive motor options. Depending on your preference, a speed-focused model or one better suited for cargo transportation. Both motors are reliable, providing a natural riding feel and enough torque power to climb almost any hill.
Bosch Purion Display
Simple, easy to use display unit that provides the vital riding metrics needed for riding without overwhelming you. Four pedal-assist levels, helping you prioritize either motor power or battery range.
Shimano Deore 11-34 T Cassette with an Aluminum Alloy 20 T Chainring
Fantastic 10-Speed drivetrain for precise gear control while you ride around town or on your favorite mountain trail. High-quality aluminum fenders with a plastic slap guard to protect your drivetrain and significantly reduce the risk of a chain drop.
Custom 24″ x 2.6″ Benno Dual Sport Tires
Mid-sized, wide tires designed for all-terrain riding, especially with the small 35 PSI to 45 PSI inflation range. Very grippy and stable on all types of surfaces, but still easy to accelerate when you need extra motor power.
Aluminum Alloy Handlebars with Rigid CRMO Steel Fork
High-rise handlebars will help maintain better posture while you ride, reducing the strain you'll feel in your back and other joints. Rigid steel fork provides natural suspension support, sufficient for light trail or unpaved riding.
Shimano Deore Hydraulic Disc Brakes, 180 mm / 160 mm Rotor
Great hydraulic disc brakes with sufficient power help you come to a quick and steady stop even when traveling at high speeds. Hydraulic disc brakes last longer than mechanical disc brakes and have several other benefits.
Oversized Aluminum Alloy Platform Pedals
Extra-large aluminum alloy platform pedals designed with larger cyclists in mind. More durable than most plastic pedal platforms and better foot traction for your typical shoe as well.
In-Depth Review
Frame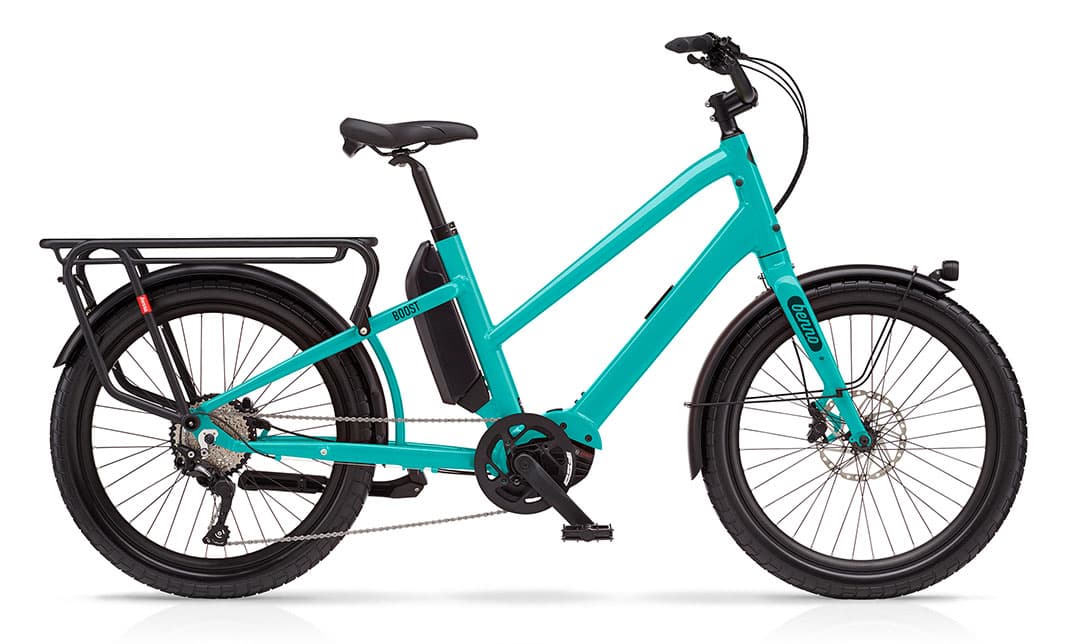 The Benno Boost E 10D is like many other electric bikes in that the frame is built with a 6061 aluminum alloy. While the Boost E 10D might not be unique in construction, it stands out due to how many options you have when you want to purchase one.
There are four different frame styles and five different color combinations for twenty model choices when purchasing the E 10D. While total weight varies from frame to frame, the Boost E 10D typically weighs around 57 lbs fully assembled.
This is a bit heavier than what you might be used to, but a large chunk of that weight is due to the added features and accessories you may remove for a lighter frame. Overall, we're just glad for the large amount of customization available for the Boost E 10D, a signature trademark of Benno electric bikes!
Motor & Battery
The Benno Boost E 10D is a class I electric bike with pedal activated motor assistance up to 20 MPH.
Just as you can customize the frame, you can choose two motor options when you're picking out an eBike. The Boost E 10D Performance has a 65 Nm Bosch mid-drive motor, while the Boost E 10D Speed has an 85 Nm Bosch mid-drive motor.
The Performance bike is going to save you some money off of the high premium price tag, while the Speed bike is going to help you tackle steeper trails or accelerate even faster with its more powerful motor. Consider the bike best suited for you: the Performance is excellent for more casual cyclists, while the Speed is designed for those who want the ultimate electric bike experience.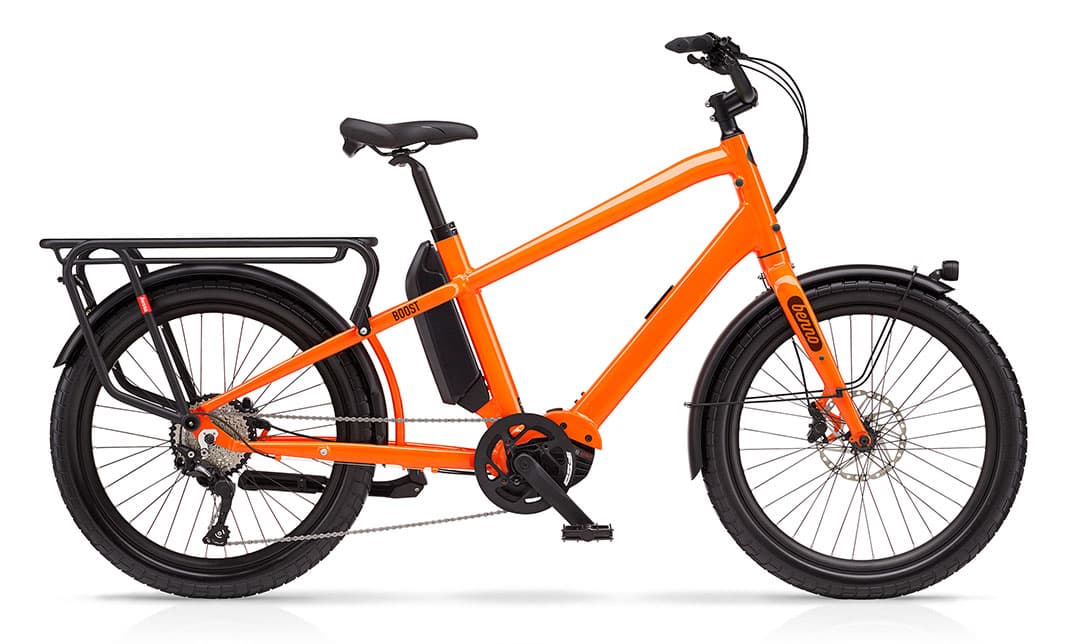 The other difference when picking between the Performance and Speed Boost E10D is the battery configuration. Both bikes come with a Bosch Powerpack 500Wh battery, with a 90+ mile range depending on your riding settings.
However, the Speed has a slot for a second battery, allowing you to double your range without swapping parts. The Performance can only mount one battery at a time. Both bikes come with a high quality 4 Amp charger, which will charge the included battery from 0% to 100% in about 3 to 4 hours. Either option is great to go with, though be aware you will need to buy a secondary battery yourself if you decide to purchase the Benno Boost E 10D Speed.
Display/Assist Modes
The Boost E 10D also comes with a Bosch Purion display, a suitable motor controller for the average cyclists. It provides a good range of readouts to help you understand your bike performance but is small enough not to affect your riding style.
However, the Purion is rather basic, especially compared to other electric bikes with more advanced displays, including the Bosch Intuvia unit. Those who don't need a premium display unit won't mind the Purion, but those who do care for something better may have to visit a shop to upgrade their display. If you want to use the Bosch Purion display, you can expect the following readouts and riding metrics:
Benno Boost E 10D Bosch Purion LCD Display Readouts, Metrics, and Settings:
Current Speed
Battery Level (Five Levels)
Estimated Range
Pedal Assist Level (Four Levels + Walk Mode)
Trip Distance
Total Distance
Light Settings
You're probably aware of how pedal-assist systems work. But here is a breakdown in case you don't. Your motor can be configured with different performance settings, allowing you to prioritize either performance or travel range. HIgher pedal-assist levels help you accelerate faster with greater motor power suited for tackling hills, but at the expense of considerable battery drain.
Lower pedal-assist levels drain your battery more slowly for greater range, but the smaller battery output results in less motor power overall. You can change the pedal-assist level while resting or during the middle of a ride, so experiment with different levels, so you know what to switch to as the environment changes.
Handling
On Streets- The Benno Boost E 10D is designed to ride almost anywhere, but it will handle better in the city than on a mountain path. The Boost E 10D has mid-sized but wide tires, so along with the high-quality steel fork, you have some extra stability and shock absorption for cobblestone, gravel, and other uneven surfaces. Acceleration is quick with the powerful motor, making it easier to keep up with traffic, with great brakes to slow you down when you need to. The frame is a bit heavier than many eBikes we've reviewed, but it has added weight support to handle you and up to 50 pounds of cargo properly. For riding in an urban environment, you will have a blast on the Benno Boost E 10D electric bike.
Turn Radius- The Boost E 10D has larger tires than a city commuter, but it still has a reasonably tight turn radius. You can round corners easily, especially since the bike is less tipsy due to the added weight. Getting the E 10D through a tight doorway or narrow alleyway might be a bit more difficult, but patience will help you navigate your way through tight corners eventually. Trail riding will be more difficult, so we wouldn't recommend trying to take a tight turn on a cutback or not while riding the bike. Otherwise, it has a small enough turn radius that you can comfortably ride the Boost E 10D around the city without getting stuck.
Low-Speed Handling- Because the bike weighs about 57 lbs, the Boost E 10D can be somewhat tricky to handle at low speeds. Fortunately, just turn on the motor, and you'll have a couple of options that'll make low-speed handling a whole lot easier. First, you can set the eBike to a low pedal-assist mode, providing just a small boost that will push you along so you can focus on your handling rather than your pedaling. Second, you can also dismount from the Boost E 10D and turn on walk mode, which propels the eBike along the ground without you having to pedal at all. Both options make low-speed handling significantly more manageable and have a minimal battery drain that will barely impact your electric bike's overall range.
Gears/DriveTrain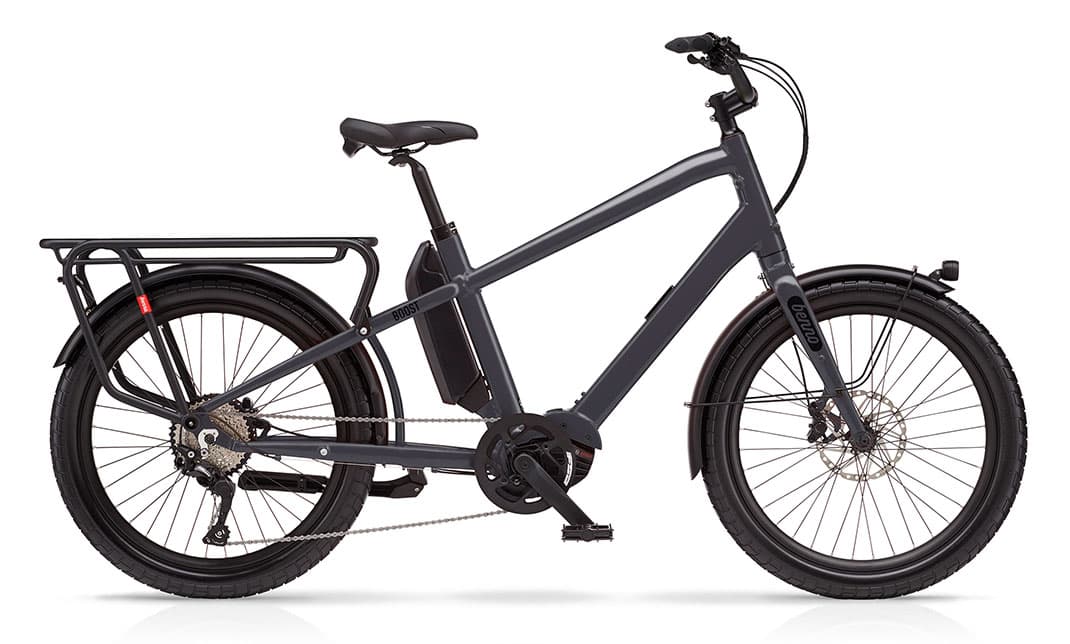 You can expect a Shimano Deore 11-34 T cassette with an aluminum
alloy 20 T chainring with the drivetrain, forming a 10-Speed eBike great for controlling your cadence. The more gear options on an eBike, the more precise you can set your pedaling to always ride at maximum efficiency–especially as you hit challenging hills or long, paved roads.
Outside of the KMC eBike optimized chain, we also appreciate the plastic slap guard and aluminum alloy fenders. These two components help keep the drivetrain clear of mud and other debris. These accessories have the added benefit of helping guide the chain, ensuring it doesn't slip off the drivetrain when you shift gears. If you ride on a light mountain bike trail or choose to stick to riding in the city, the drivetrain featured on the Boost E 10D will perform great!
Brakes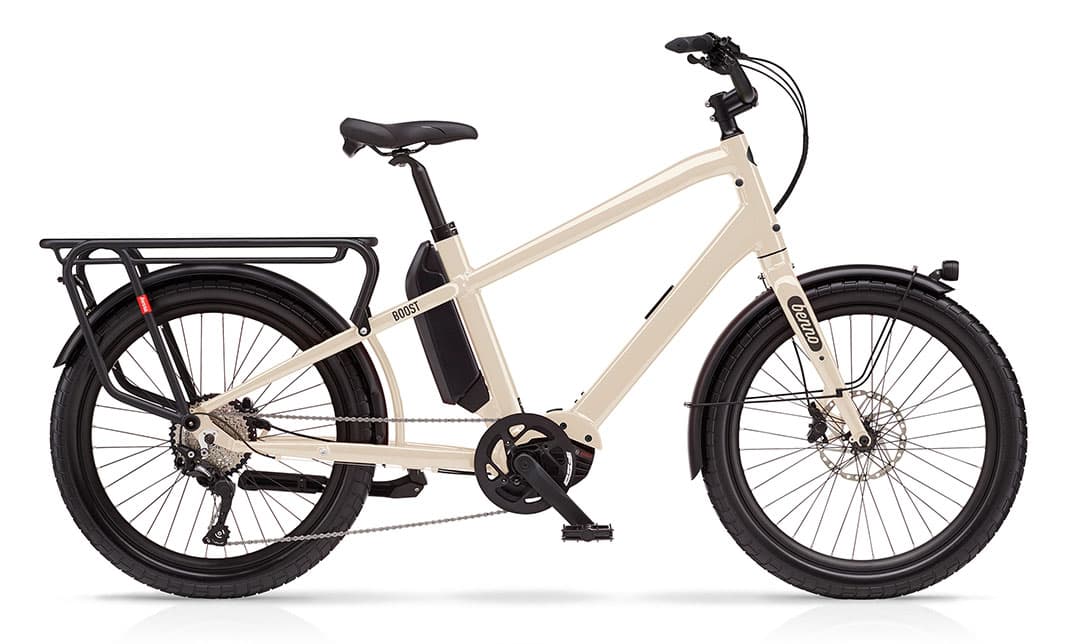 Shimano makes some of the most popular eBike drivetrain setups globally, but they also make a great braking system. The Boost E 10D has hydraulic disc brakes, with 180 mm sized rotors on the front wheel and 160 mm sized rotors on the back wheel.
The front wheel is put under greater strain when you brake, which is why it needs a larger rotor. Since the back wheel doesn't suffer as much stress, it can be smaller to help keep the eBike lighter, which is especially important due to the added components in the back wheel that weigh it down.
We prefer the included hydraulic disc brakes over mechanical disc brakes since they last longer, provide greater braking power, are more durable, and have many other great benefits. You want a braking system that you can trust while you ride, and that's what you'll get with the Benno Boost E 10D electric bike!
Suspension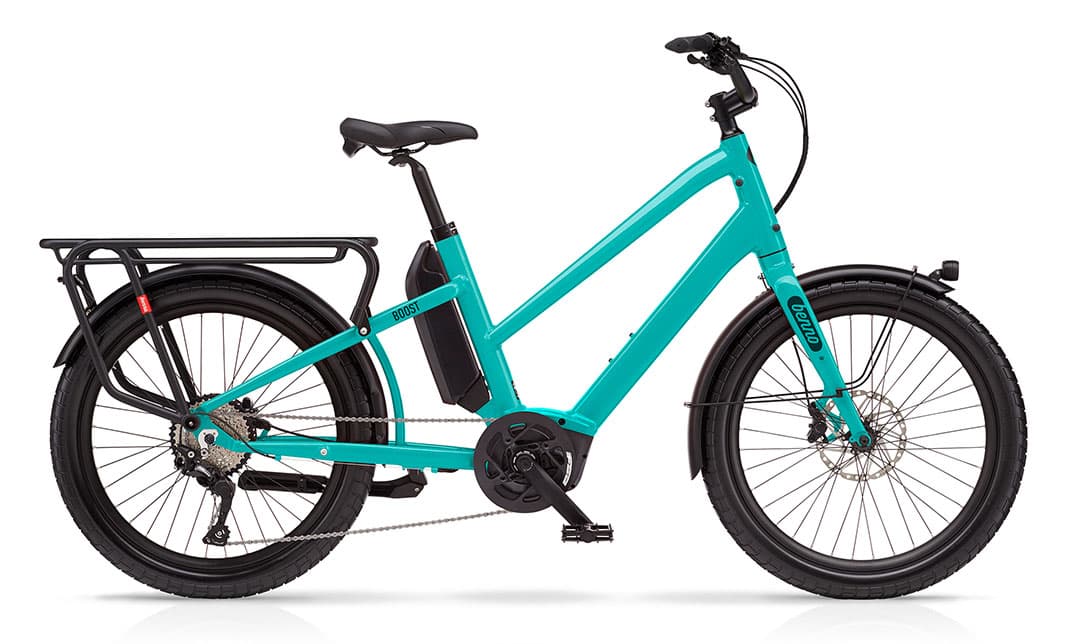 The Boost E 10D doesn't offer much in terms of suspension support, which might be the only performance issue we have with the Benno Boost E 10D. There is a rigid CRMO steel fork, and due to the heavier bike weight and tire setup, it does have some natural suspension support. If you ride over gravel, cobblestone, or the occasional pothole, you'll hardly feel it due to the bike design.
Additionally, you can also ride on an average mountain bike trail and have a good time without feeling too unsteady. But riding for long periods or riding over challenging terrain may feel tiring on the Boost E 10D electric bike. Otherwise, stick to riding on paved roads, and you'll make the most of the premium Benno Boost E 10D's performance.
Pedals
While they typically get overlooked in bike reviews, we like to discuss the pedals since they impact how enjoyable your riding experience will be. That's why we appreciate the sturdy aluminum alloy pedals the Boost E 10D comes with, which stand out from the competition in several ways. The pedals are more durable while providing extra traction support compared to standard plastic platform pedals.
Furthermore, the aluminum pedals are oversized and are explicitly designed so that larger, heavier riders with bigger feet can still have a stable platform to put their feet down on. You'll definitely enjoy using the stock pedals on the Boost E 10D electric bike!
Grips and Saddle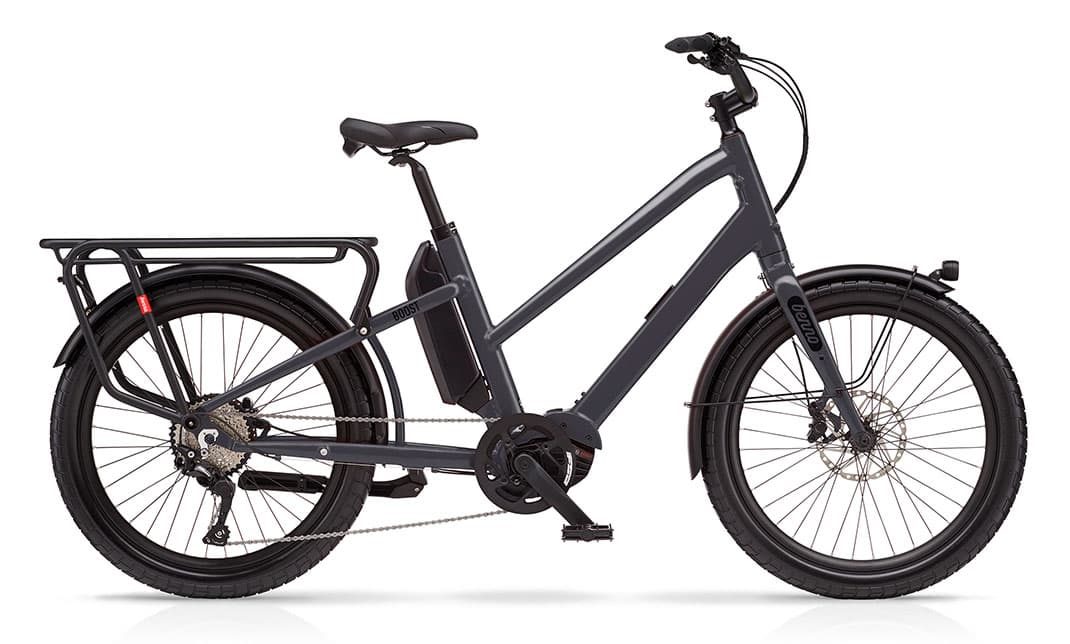 Next, the Benno Boost E 10D has several excellent components that'll make your riding experience a more comfortable one. The Benno branded grips have a cushy, rubber ergonomic design so you can hold onto the grips for hours without tiring out or irritating your hands. We also like that the grips lock onto the handlebars instead of just being glued on. This provides a tighter hold while also making them easier to replace when they eventually get worn out.
Onto the handlebars, the high-rise positioning helps you maintain better posture, reducing the strain on your lower back and other weak joints while riding. There's an extra-wide faux leather saddle, which is oversized like the pedals to support larger cyclists. Pick the right frame style, and your comfort will match your performance on the Benno Boost E 10D electric bike!
Wheels and Tires

The wheels comprise the last major performance component on an eBike, and just like the rest of the eBike, the included wheel configuration delivers on the Boost E 10D. The wheels feature Benno Dual Sport 24'' x 2.6'' tires, mounted on aluminum alloy double-wall 36 hole rims.
The wheels have matching 14 gauge stainless steel spokes, with a recommended inflation range of 35 to 45 PSI for both tires. The wheels are designed to ride almost anywhere without changing them, whether it be riding through town or getting in some off-road riding.
With reliable puncture protection, you won't have to worry about getting a flat when you're riding at high speeds or over rocky, bumpy terrain too often. We still recommend avoiding any challenging mountain bike trail, but you can virtually ride almost anywhere else and have a blast with the Boost E 10D electric bike.
Accessories/Upgrades
The Benno Boost E 10D is packed with a great range of accessories and is compatible with dozens of others if you want to further customize your bike. The Boost E 10D has an integrated headlight, tail light, rear cargo rack, kickstand, and several other great inclusions like the aluminum platform pedals.
If you add a flick bell, you effectively have everything you need for a safe cycling experience. If you want to make your premium eBike even better, though, consider adding a few of these accessories to the Boost E 10D:
Benno Utility Rear Rack
Benno Mini Side Loader Set
Benno Front Tray Basket
Benno Mini Front Tray
Benno High Rail
Benno Half Rail
Benno Platform Rail
Benno Trunk Bag
Benno Pannier Bag
Benno Front Tray Bag
Recommendation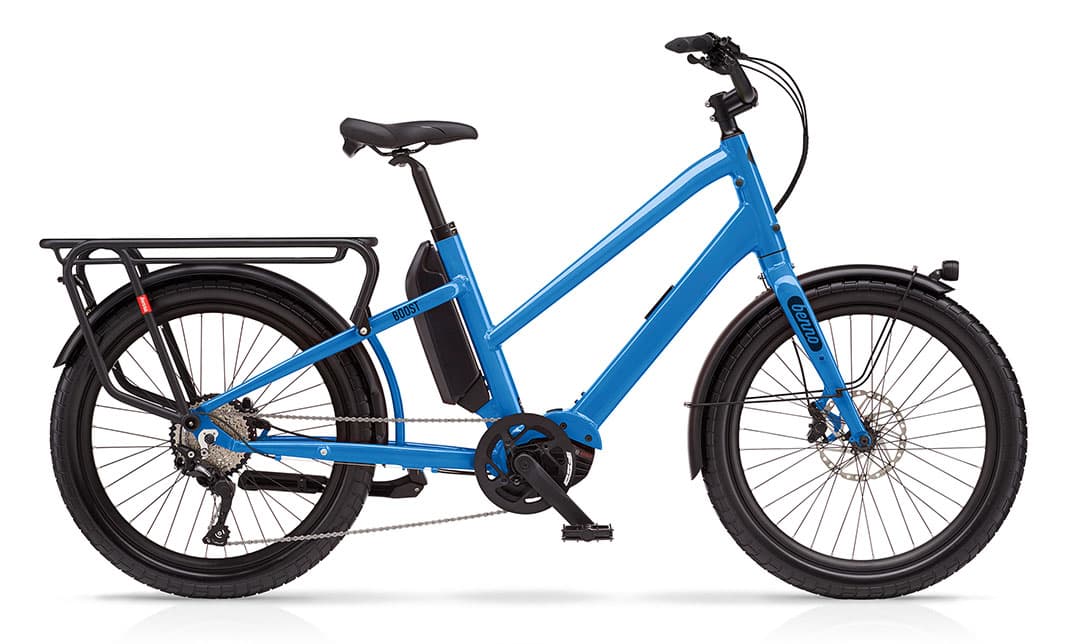 The Benno Boost E10D is one of the best electric bikes available on the market right now if you want a powerful, long-range bike for casually riding in or out of the city.
With twenty different model options to choose from–packed full of premium accessories like a high-powered headlight, taillight, and more–you'll have a unique bike to stand out from the crowd.
The Bosch mid-drive motor is customizable, with a one or two battery slot frame that will allow you to travel over 90 miles on a single charge with the included Powerpack 500.
Premium performance requires premium riding control, which is found in the 10-Speed drivetrain, the hydraulic disc brakes, and Benno custom tires. Not only will you have great design, look, and performance, you'll also ride in comfort with the ergonomic grips, an oversized pedal and saddle combination, and a high-rise handlebar.
The eBike isn't perfect. It could use more suspension and has an underwhelming Bosch Purion LCD display. In almost every other regard, though, the Benno Boost E 10D checks most boxes consumers likely will have, and more than worth the premium price tag if you genuinely want a performance-focused, premium eBike experience.
Thank you for reading our spec review of the Benno Boost E 10D electric bike! If you would like to learn more about this eBike, feel free to reach out by leaving a comment below with any questions you may have.