Welcome to our spec review of the Benno eScout 9D electric bike! Benno produces some of our favorite eBike models on the market, but due to their high demand we haven't had the chance to try the Benno eScout 9D for ourselves. We have ridden other comparable ebikes though, and also made careful note of the components that the eScout 9D shares with other eBikes we've tested. As a result, we were able to develop our spec review of the Benno eScout 9D! With our spec review, we hope to give you some general impressions of the features, performance, and overall feel you'll have while riding the Benno eScout 9D electric bike!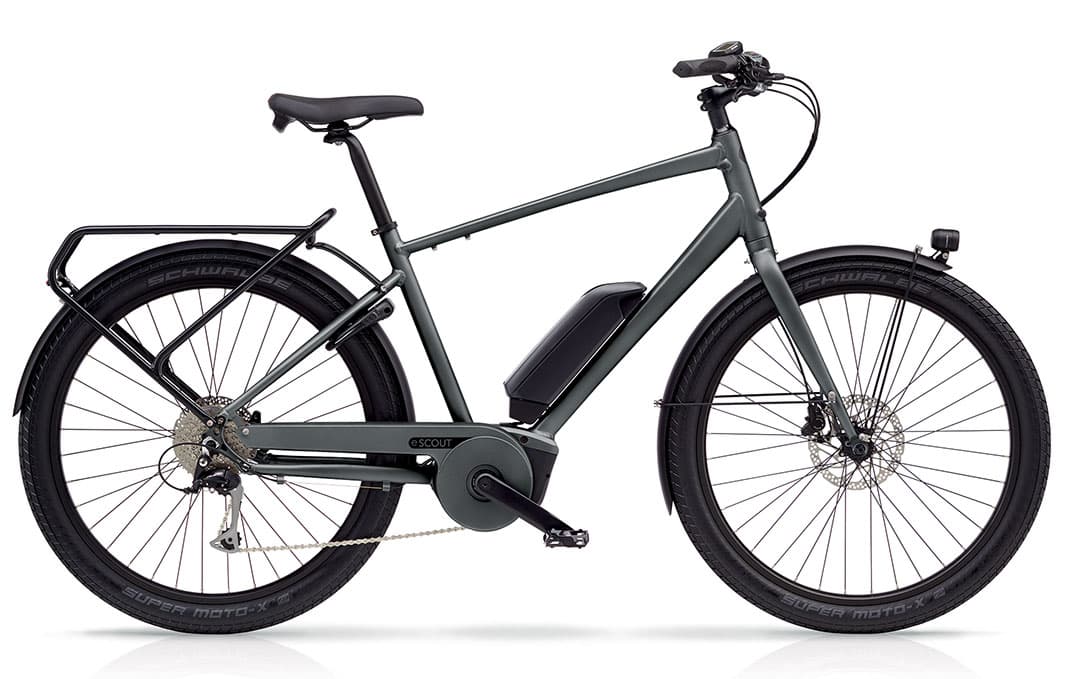 The Benno eScout 9D is a city commuter eBike built for those who want to maximize their traveling range without sacrificing too much motor power or cargo carrying capacity. The 6061 aluminum eBike has an average weight of just 55 lbs, making it a lighter eBike for those turned by how much electric bikes usually weigh due to their electrical components. Riding it is very simple too, with a Bosch Purion display providing five pedal assist options and helping you travel between 80 to 95 miles on a single charge depending on your bike configuration. The 9-speed drivetrain provides sufficient gear shifting for your typical city commuter, with long lasting Shimano hydraulic disc brakes well suited for stop and go traffic as you head for work or explore the city. There are also a number of other premium accessories included with the eScout 9D, including fenders, a headlight, a tail light and more. If you want a lightweight but effective eBike able to support you and up to 80 lbs of cargo, read our spec review of the Benno eScout 9D electric bike!
Bike Category: Class 1: Pedal assist to 20 mph
Who It's For: Riders who want a lightweight yet durable city commuter eBike with a 80+ mile max range for a mid-tier price.
Bike Specs
FRAME: 6061 Aluminum Alloy
UI/REMOTE: Bosch Purion Display
BATTERY: Bosch 400Wh/500Wh Lithium-Ion
CHARGER: Bosch 2A/4A Charger
MOTOR: Bosch Performance 250W, 50Nm Mid-Drive
CHAIN: Taya 9-Speed
SHIFT LEVERS: Shimano, Alivio SL Shifter
CASSETTE: Shimano 9S, 11~34T
CHAINRINGS: 38 T Chainring
DERAILLEUR: Shimano Alivio
RIMS: Double Wall, Aluminum, 36H
TIRES: Schwalbe Super Moto X Tires, 27.5″x 2.4″
SADDLE: Benno Urban Sport w/ Rear Handle
STEM: Aluminum, Threadless
HANDLEBARS: Aluminum, 640mm Wide, 35mm Rise
GRIPS: Benno Ergo Profile, Lock-On
BRAKES: Shimano Hydraulic Disc
PEDALS: One Piece Aluminum
KICKSTAND: Adjustable Center Mount Kickstand
BELL: N/A
HEADLIGHT: German Supernova Mini 2 Headlight
TAIL LIGHT: German Supernova E3 Rear Light
FENDERS: Aluminum
Pros
City commuter eBike that has an impressive range and great cargo support despite its more lightweight construction. Weighs just 55 lbs, which is on the lighter side for eBikes.
Two different frame sizes to choose from, along with several different color options. Adjustable stem and swept back handlebars further help you find a great riding position.
6061 aluminum frame maximizes its ratio of total weight to weight capacity. Not only can you fit almost any adult rider, but you can also load the cargo rack with up to 85 lbs.
2 Amp or 4 Amp charger, depending on whether you purchase the 400Wh or 500 Wh battery. Both make charging simple, and will top off your battery in just 2 to 4 hours.
Shimano 9S, 11~34T Cassette with 38 T Chainring Drivetrain. Shimano is one of the most common and dependable eBike drivetrain manufacturers out there.
Bosch Performance 250W, 50Nm Mid-Drive motor. While a bit lacking in power, it makes up for it in its low energy consumption. Travel up to 80 or 95 miles with the eScout 9D!
Bosch Purion display. The 1.75 LCD display is easy to use at any time of day or even while riding at night. Long list of riding metrics available in the small remote display too!
Schwalbe Super Moto X 27.5″x 2.4″ tires. Provide a great mixture of handling, stability, and speed while sticking to urban roads. 55 PSI is a good pick for all-around riding.
Shimano Hydraulic Disc Brakes. We find that hydraulic disc brakes are much better suited for city bikes than mechanical disc brakes, due to their longer overall lifespan.
Fenders, integrated headlight, tail light, and rear cargo rack all included. Great accessory lineup included with the stock model, making for a great value eBike!
Cons
Designed for larger riders, with the minimum height on the smallest model still recommended for 5'5'' tall riders. 5'2'' and above should feel fine, but not any shorter.
Rigid fork natural suspension system and tires make riding over the occasional rough road patch a easier experience. More extensive suspension options would be preferred.
50 Nm motor is on the edge of being too weak for optimal riding in the city. You'll need to use a high pedal assist level if you want motor power able to successfully climb a hill.
Features
6061 Aluminum Alloy
6061 aluminum alloy is the same material base used to manufacture many key automobile and aircraft components, since it balances being lightweight but durable. The Benno eScout has a total assembly weight of about 55 lbs, with two frame sizes for riders within the 5'5'' to 6'5'' range.
Bosch 400Wh/500Wh Lithium-Ion Battery
Two batteries to choose from, both of which give a great range in conjunction with the low energy draining motor. In ideal conditions with the larger 500 Wh battery, you can travel up to 95 miles on a single charge, or about 75 to 80 with the 400 Wh battery.
Bosch 2A/4A Charger
The 2A charger comes with the 400Wh battery, while Benno throws in a superb 4A charger if you opt for the 500Wh battery instead. Total recharging time with either charger is typically between 3 to 4 hours, and as short as 2 hours with a 4A charger in ideal charging conditions.
Bosch Performance 250W, 50Nm Mid-Drive
Solid mid-drive motor that doesn't provide a ton of motor power, but it does have such a small power drain that you get fantastic range while riding in the city. Making use of the 5 riding modes will help you climb the occasional hill when you need added support.
Bosch Purion Display
Compact 1.75'' LCD display that can be used during the day or while riding at night. Offers a surprising number of metrics and readouts despite the small size, and also benefits from not overwhelming your handlebars or riding grip.
Shimano 9S, 11~34T Cassette with 38 T Chainring Drivetrain
A 9-speed drivetrain gives you plenty of gearing options to choose from while riding through the city, with Shimano making one of the most reliable and trusted drivetrains out there for eBikes. Shifting is very consistent as well, thanks to the Shimano Alivio lever and derailleur.
Schwalbe Super Moto X Tires, 27.5″x 2.4″
Tall tires that are built for city riding, but with a little bit extra width so you have additional support for cargo you might be taking with you to work. 55 PSI rating is well balanced for general use riding, so you can tackle the occasional light mountain trail as well.
Aluminum, 640mm Wide, 35mm Rise Handlebars with Oversized CRMO Rigid Fork
Wide yet adjustable handlebars that further help short and taller riders alike enjoy riding on the eScout 9D electric bike. Oversized CRMO rigid fork lets you customize your tire setup, while providing some natural suspension for when you hit the occasional rough patch or cobblestone road.
Shimano Hydraulic Disc Brakes
Integrated Shimano hydraulic disc brakes that will automatically cut off the motor while you're pedaling, helping you come to a quick but steady stop. Hydraulic disc brakes are preferred for city bikes over mechanical disc brakes, since they last longer and are more durable when you do suffer the rare crash.
One Piece Aluminum Pedals
Strong, easy to attach pedals that provide better traction support and much better durability than your typical plastic pedals included with your average eBike. Side reflectors help the eBike stand out, reducing the risk of suffering a collision while riding.
In-Depth Review
Frame
While not quite as durable as the other Benno electric bikes, the Benno eScout 9D is still quite capable and resilient thanks to its 6061 aluminum alloy construction. 6061 aluminum is a common material base for many eBikes, along with being a popular material to make boat, automobile, and aircraft components. The Benno eScout 9D is going to withstand the occasional crash as you're riding around the city, but what is especially impressive about its construction is how lightweight it is. Available in two sizes, the full assembly weight with motor and battery averages out to be just 55 lbs. While 55 lbs is still a bit higher than what you commonly find in a traditional bicycle, this is a very low weight when compared to many of the other eBikes we have reviewed.
Something we aren't quite as thrilled by are the two size options available from Benno. The eScout is recommended for riders between 5'5'' and 6'5'', with some adjustment options so that riders who are a couple inches shorter can still have fun while feeling comfortable as well. However, while it's great that the eScout 9D is one of the few bikes with sizing options to support 6'3'' and taller riders, something very uncommon in the industry, it's odd that a smaller frame size isn't available for riders closer to 5' in height. Going forward, we hope that Benno adds at least one more frame size to their lineup so that younger or shorter riders can join in on the fun to be had with the eScout 9D electric bike.
Motor & Battery
The Benno eScout 9D is a class 1 eBike, with pedal activated motor assistance up to 20 MPH.
The Benno eScout 9D features a 250W/50Nm motor, with both a Bosch Powerpack 400Wh and 500Wh lithium-ion battery available for the eBike. This setup has aspects we like and dislike, with the motor performance going to be determined in part by where you live. At 50 Nm, the eScout 9D is one of the weaker motors we've had the chance to review, but it is enough power if you intend to ride mostly on smooth, paved roads. Having a lower W/Nm motor does have the advantage of greatly reducing your battery drain, giving you a fantastic range even with the 400Wh motor. If you stick to lower pedal assist settings, you can travel 75 to 80 miles with the 400Wh battery, or up to 95 miles on a single charge with the 500Wh battery. We've reviewed many premium eBikes with batteries nearly twice as large that can't travel more than 40 miles, so for those who prefer range to power you will be thrilled by the performance offered by the Benno eScout 9D!
Just as you have two different batteries to choose from, you also have two different chargers, with the 400Wh battery coming with a 2 amp charger, while the 500Wh battery has a more impressive 4 amp charger. Either charger is good to use, and if you go with the smaller battery you won't need more than 3 to 4 hours to charge from 0% to 100% on the Benno eScout 9D. If you want truly fast charging, buy the 500Wh battery in part for the 4 Amp charger, since it will recharge the battery from 0% to 100% in just 2 to 3 hours! Either way, the battery is mounted on the center tube and is very easy to remove, allowing you to take the battery off to charge it in doors or while still mounted on the eScout 9D.
Display/Assist Modes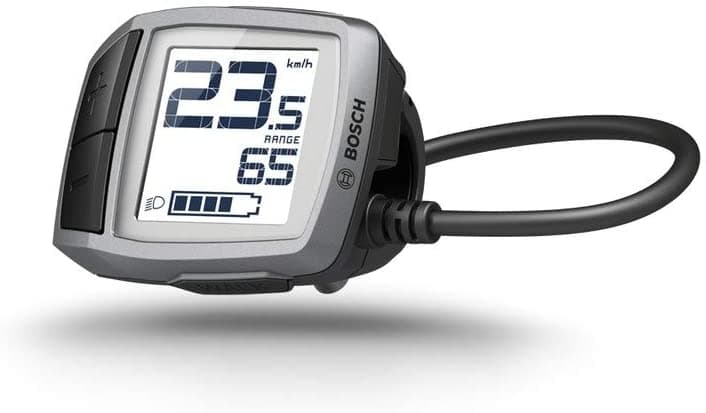 The Bosch Purion is one of our favorite controllers, because it gives to plenty of readouts and metrics despite how small it is. At just 1.75'', the LCD remote is large enough that you can quickly glance down and check your riding settings, while small enough that it doesn't weigh down your handlebars while you ride. The screen is also backlit, so you'll find it almost as easy to read at night as it is to use during the day. Most riders will find the Bosch Purion remote display to be a stellar inclusion, but if you do want something larger and even more advanced we recommend checking out the Bosch Intuvia display to replace the Purion remote.
The Bosch Purion display provides the following readout/metrics while you're riding the Benno eScout 9D:
Bosch Purion Display Readouts/Metrics:
Current Speed
Assist Level (Four Modes + Walk Mode)
Battery Level (Five levels)
Odometer
Total Distance
Trip Distance
Estimated Range
Light Settings
This is a class 1 eBike, so by pedaling you will receive motor assistance up to 20 MPH before the motor shuts off, the speed limit in place so you can ride the eScout 9D without any additional licensing. There are four pedal power assistance levels (and a fifth in the form of a walk mode), which provide the following ratios of power support compared to your pedaling cadence:
Benno eScout 9D Pedal Power Assistance:
Eco (40%)
Tour (100%)
Sport (180%)
Turbo (270%)
Selecting the right pedal assistance level is an important part of learning how to make full use of your eScout 9D electric bike. Lower power settings maximize range, but take longer to accelerate to 20 MPH and can struggle on rough terrain or steep hills. Higher power settings provide extra power that makes climbing hills and other rough terrain much easier, but drains the battery much faster in order to fully power the motor. You just need to tap a single button to increase or decrease your pedal assist level, so take the time to familiarize yourself with each setting so you know what to set your motor to while riding the Benno eScout 9D electric bike!
Handling
On Streets- The Benno eScout 9D is a true city eBike, so it's going to handle best when you stick to asphalt and concrete surfaces. The 27.5'' tall tires will help you maintain your momentum and ride fast enough to keep up with traffic, while the 2.4'' width balances tight handling with solid weight and suspension support for the occasional gravel or cobblestone path. While the motor and bike can struggle a bit on hills, it's still a great option if you are primarily using this eBike for commuting around the city.
Turn Radius- The Benno eScout is going to have a mostly tight turn radius, or at least good enough that you'll be able to maneuver around a city without too much trouble. The tires and bike itself are narrow and short enough that you won't have any trouble getting it through a doorway, and if you take your time you can navigate it around your occasional alleyway as well. The more you ride, the better you'll be at turning with the eScout 9D.
Low Speed Handling- Since the eBike does only weigh 55 lbs, it's easier to manage at lower speeds than your typical, heavier electric bike. There are two ways you can take advantage of the motor for even better low speed handling, with the walk mode included specifically to help you push the eBike along while you're on the ground. Alternatively, you can also take advantage of the eco mode, which provides just enough power to help you ride the eBike without having to go more than 5 to 10 MPH.
Gears/DriveTrain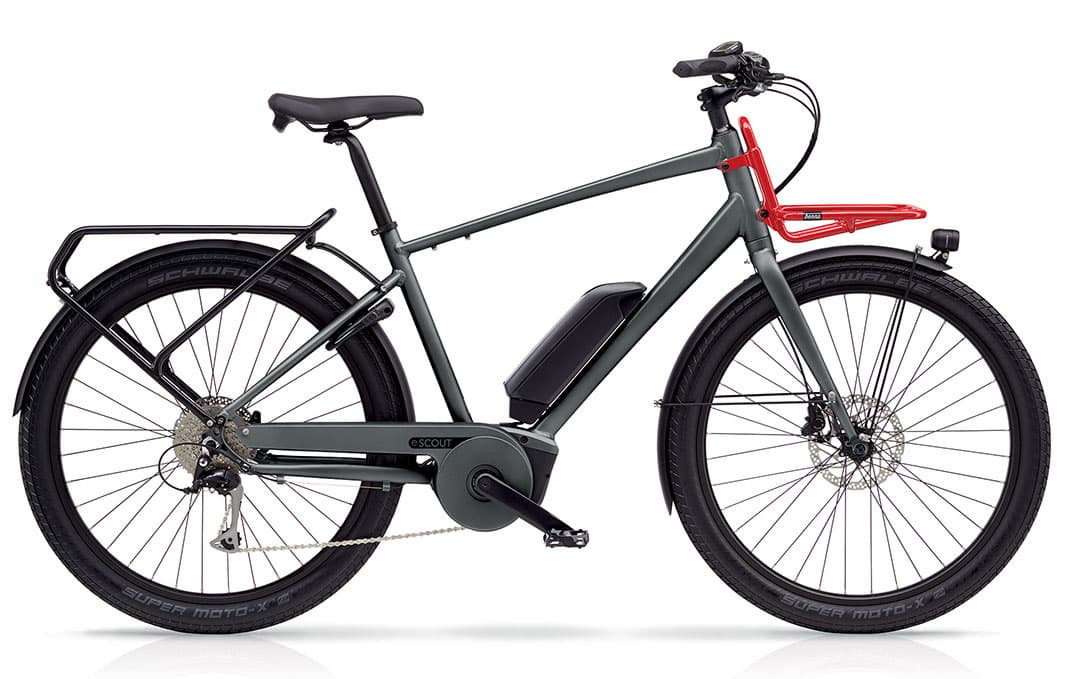 Regarding the drivetrain, you can expect a Shimano 9S, 11~34T cassette with a 38 T chainring, held together thanks to a Taya chain designed for the 9speed eBike. A 9-speed drivetrain should provide more than enough gearing options for a city bike, especially due to how reliable the Shimano Alivio derailleur and shifter are. For added protection and reliability, high quality aluminum fenders are also included with the eScout 9D, which keeps the tires and gears clean from mud, rocks, sticks, and other debris you might kick up as you ride. Combined with the mid-drive motor, you'll have to perform very little maintenance on the eScout 9D throughout the year, further adding to the overall savings and value you get by riding the Benno eScout 9D electric bike.
Brakes
When it comes to city commuter eBikes, we prefer hydraulic disc brakes to mechanical disc brakes for two specific reasons. First, hydraulic disc brakes tend to last longer than mechanical disc brakes, so you won't be worrying as much about swapping them out as you commute to work or some other part of the city as part of your day to day rides. Second, hydraulic disc brakes are sturdier and better placed than mechanical disc brakes, so when you suffer the occasional crash mechanical disc brakes are likely going to fare better than if you had been riding with mechanical disc brakes. As a result, it's great to see high quality Shimano hydraulic disc brakes included with the eScout 9D, given the reasons above and because of their quick but steady stopping power. The brakes and motor are also integrated so that the latter is automatically cut off when you apply the former, extending the life of the brakes and motor since they won't ever compete against each other.
Suspension
The Benno eScout 9D has an oversized CRMO rigid fork, providing natural feeling suspension for your day to day rides. Between the fork and total eBike design, you'll feel comfortable even if you do hit the occasional cobblestone, gravel, or loose dirt path. It's not as much suspension as some riders would prefer though, especially those who have sensitive cargo they want to take with them on their eBike. Since Benno has been great at allowing you to customize other aspects of your eBike at purchase, throwing in a more extensive suspension option would make the eScout 9D stand out more fully as one of the best dedicated city commuter eBikes on the market.
Pedals
Another highlight of the eScout 9D are the aluminum pedals included with the electric bike. Aluminum might be the more expensive option, but they provide better durability and traction support than the typical plastic pedal platform normally included for many eBikes. The pedals are worth further attention for their side reflectors, which increases the rider's profile and makes it safer to ride by reducing the risk of suffering a collision with someone who failed to spot you. The one piece pedals are easy to install or remove too, and are compatible with the typical cycling or athletic shoe you commonly used for riding bicycles with.
Grips and Saddle
Like the frame itself, the handlebars are made with aluminum, and are 640mm wide with a 35mm rise. The grips are custom Benno Ergo Profile, designed so you can ride the whole range of the battery without irritating your palms or developing blisters while maintaining a tight grip. Additionally, the lock on grips make them much easier to replace when they get worn out, installing new grips taking seconds instead of the exhausting cutting and glueing process typical of less than stellar grips. Lastly, the Benno Urban Sport saddle is also worth highlighting, built with larger riders in mind so you can travel 100 miles without tiring out. A grip is also included on the rear of the saddle, giving you a good place to hold onto if you need to lift your eBike.
Wheels and Tires
Our final major component to review, you'll find the Benno eScout 9D comes with Schwalbe Super Moto X tires that measure 27.5″ by 2.4″, the tires mounting on aluminum double wall 36 hole rims. Stainless steel 14 G spokes help hold the tires together, with the tires having a general 55 PSI recommended inflation that is well suited for paved road and light trail riding alike. The Schwalbe tires feature a great dark design that improves the overall look of the eScout 9D electric bike, but the one downside to them is that lack of reflective lighting. For our part, we highly recommend adding some reflective taping to the rims, since side collisions are one of the most common sources of injury for cyclists, with reflective tape being one of the most effective ways to prevent side accidents from happening.
Accessories/Upgrades
As a base model, the Benno eScout 9D comes with a surprising number of accessories, which really cuts down on what we would recommend on buying to make it even better. A headlight, tail light, fenders, and premium aluminum pedals are all included with the eScout 9D no matter which frame you get. Reflective sidewall taping would improve your rider safety, and a good kickstand and bell are always nice accessories to throw on as well. Benno also has a few mounts and accessories specifically designed for the Benno eScout 9D, accessories such as:
Front Tray Basket
Mini Front Tray
Utility Front Tray
Utility Front Tray Bag
City Pannier Bag
Yepp Easyfit Baby Seat Adapter
Recommendation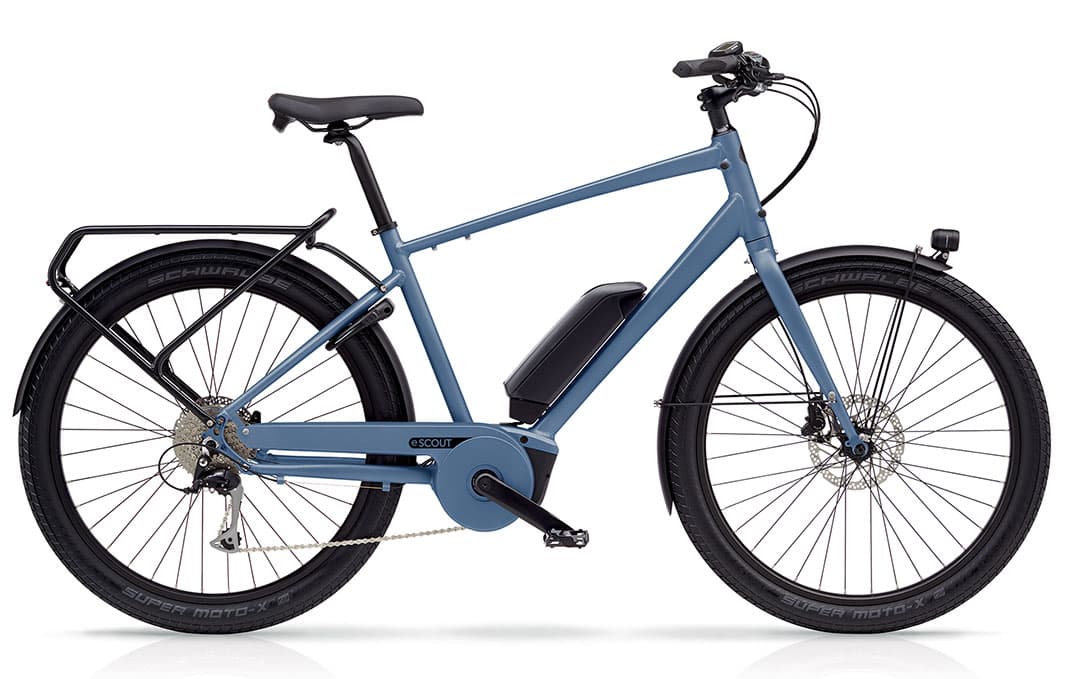 Electric bicycles are able to travel further and further with each new innovation, and with the Benno eScout 9D you'll be able to go 80 to 95 miles on a single battery charge! The range alone is a fantastic draw for the eScout 9D, but there are a number of other features why we recommend this bike for city commuters as well. The 6061 aluminum frame is sturdy and able to support an adult rider and 85 miles of cargo capacity, and comes in two sizes with an adjustable handlebar and seat post to help short and taller riders feel great on the eScout 9D. Whether you choose the 400Wh or 500Wh battery, the eScout 9D has a low power draining Bosch Active Plus 250W, 50Nm mid-drive motor system. The Shimano 11~34T cassette and 38 T chainring forms a 9 speed drivetrain, and no matter which gear you're in you'll come to a rapid but steady stop thanks to the Shimano hydraulic disc braking system. The saddle and ergonomic grips aren't the only stellar bike accessories, since you'll also benefit from the aluminum platform pedals, aluminum fenders, headlight, tail light, rear cargo rack, and more! Value, performance, and range all packed into the same eBike, we highly recommend the Benno eScout 9D for city commuters looking for a fun new way to get to work and explore their home city!
Thank you for reading our spec review of the Benno eScout 9D electric bike! If you are interested in a full performance and video review of this eBike, make sure to leave a comment below!