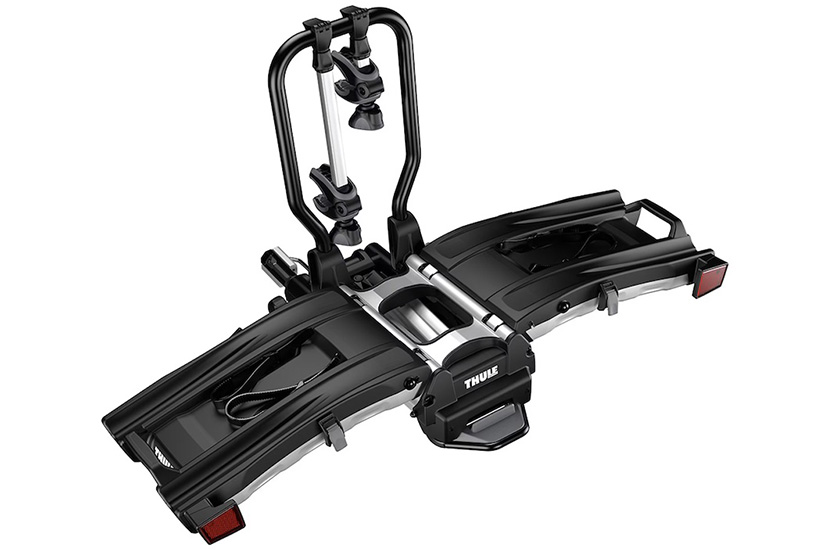 Buying an e-bike isn't like buying a razor scooter that can be tossed in a car's trunk. A sturdy rack that can transport an e-bike is as necessary as a helmet, trust us. And because not all hitch racks are suitable to e-bikes, we've put together a list of the best bike racks for electric bikes.
Every rack collected here is a hitch rack, which are far and away the easiest racks to use with e-bikes. The successful ones tend to share a number of features in common, which can result in them seeming nearly the same. The big features that it's hard for a rack to do without are:
Most fold flat.
They all fold out.
They all have some sort of device for stabilizing the rack in the hitch so that it doesn't wobble constantly.
The advent of e-bikes caused rack makers to completely re-think car racks. Hitch racks were devised when people realized lifting full-suspension mountain bikes weighing more than 30 lbs. up to the roof of a vehicle was not as easy as lifting a 15-lb. road bike up there. But with e-bikes often weighing twice what a full-suspension mountain bike does, they sent their engineers back to their workstations to rethink the hitch rack.
It wasn't enough to just make a hitch rack that could hold heavier bikes. Hitch racks had to be re-thought to help riders who could throw their backs out lifting a 70-lb. e-bike two feet onto a rack. Many of the car racks meant for e-bikes have ramps or other devices that aid loading the bike onto the rack, a handy thing for those of us who haven't kept up with our bench presses and curls.
All of these carriers are hitch racks, yes, for good reason. Anything that's not a hitch rack is going to require a rider to lift the bike to at least chest height, if not higher and while that's just fine with a 15-lb. road bike, with an e-bike it's about as much fun as bench presses. Also, these hitch racks are more alike overall than different. All but two of them fold up flat against the rear of the car when not in use. The two that don't fold flat do fold together, which does shrink their overall size when they are not in use. All of them fold out to give access to vehicle's rear hatch or door. They all feature a hitch lock to keep the rack secure. What separates them are an array of smaller features such as how much weight they can carry, how they secure the bike and other details like lighting and ease of removal.
We've scoured the top rack makers for their models best-suited to a rider's needs. These are the best car racks for electric bikes that we've encountered.
Quick Answer: The 9 Best E-Bike Car Racks of 2022
Thule EasyFold XT
The Thule EasyFold XT was one of the first, if not the first hitch racks designed specifically for e-bikes. With Thule's expertise in bike racks, figuring out how strong a hitch rack needed to be in order to securely carry a 70-lb. e-bike wasn't a big challenge. But how many people really want to lift the equivalent of a pre-teen 2 ft. onto a narrow rack? Not many, is the short answer. What makes this one of the best electric bike car racks is what they innovated next: a ramp that allows riders to roll the e-bike into position—no lifting required. For anyone with a taller SUV or a Sprinter, Thule makes an XL version of the ramp to offer a more gentle grade to get the e–bike into position.
The rack can hold two e-bikes, though the rack has a maximum weight capacity of 130 lb., which could be an issue if a couple has a pair of ebikes that both weigh 68 lbs. The ramp is an option—not standard—that can be added for $79.95, and while it's positioned as an accessory, around these parts we refer to it as a necessity. Riders with bikes with a walk mode will find the combination of the ramp and the motor's assistance will make loading easy as pie.
Speaking broadly, e-bikes tend to have a longer wheelbase than most bikes. There are a few reasons for this, but they are all kinda pointlessly technical; what matters is this: The longer wheelbase does tend to make the handling friendlier and requires hitch racks that support them to be a bit wider to support them properly. An upshot is that some of the cargo e-bikes fit on some of these these hitch racks and the Thule EasyFold XT is big enough to accept some.
With a weight capacity of 65 lbs. per e-bike, the EasyFold XT can accept a great many e-bikes, however many of the more powerful e-bikes with hub motors can weigh 70 lbs. or more, so it's important to know a bike's weight before purchasing a rack. Given that this is Thule, arguably the single most widely available manufacturer of racks out there, we do ding this one for not offering a higher weight capacity.
Riders who don't often drive somewhere to ride their bikes may want to remove the Thule EasyFold XT from their vehicle when not in use. Thule makes its removal easy thanks to two wheels on the underside of the rack to roll the rack into storage. This is easily one of the best bike racks for electric bikes on the market.
Pros
Folds up much smaller than most hitch racks
Includes a ramp to roll e-bikes up to the rack
With a max wheelbase length of 51 in. can handle some smaller cargo e-bikes
Knobs have a torque limiter to prevent overtightening
Optional longer ramp for tall SUVs and vans
Cons
No option to carry more than two bikes
Yakima OnRamp
The Yakima OnRamp is tied with the Hollywood Racks Destination E for the distinction of being the least-expensive rack that includes a ramp to aid riders in loading their bikes onto the rack. For someone look who wants to make a cost-conscious purchase for moving their e-bike, the OnRamp is one of our favorites, which is why it's on our list of the best bike racks for electric bikes.
This is one of the racks that is well-suited to bikes with fenders because of the way it holds the bike by its frame. It does have its limitations, though. Bikes are limited to a maximum of 66 lbs. per bike and 50 in. in length (wheelbase, not overall length); that's enough to cover most, but not all e-bikes.
The tray positions can be adjusted in order to eliminate saddle/bar interference, which is a handy thing and speeds subsequent loading once it's set the first time. The Yakima OnRamp does have a notable limitation in that anyone with a bike with especially fat tires will need an add-on adapter to fit tires larger than than 29 x 3.25-in. or 27.5 x 4.5-in., which still leaves out any 5-in.-wide tires.
Yakima offers some terrific accessories, like the BackSwing, which allows the hitch rack to swing out 90 degrees from the hitch to lend easy access to the back of the vehicle. Thanks to its price and flexibility this is one of the best bike racks for electric bikes.
Pros
Can hold bikes with fenders
Includes ramp to roll e-bikes up to the rack
Tray position can be adjusted to prevent handlebar/saddle/pedal interference
Option to expand carrier to hold four bikes total
Weighs only 43 lbs.
Cons
Needs an adapter to accept bikes with tires larger than 29 x 3.25-in. or 27.5 x 4.5-in.
Saris Door County
For anyone with either strength or balance issues (or both), the Saris Door County is the solution. It is unique among the racks presented here because it features a motor that runs a lift to raise and lower the rack. We're not going to say this is the best hitch rack on the market, but it's the best for anyone who might struggle to lift or control an e-bike off the ground. It was a must-have for our selection of the best bike racks for electric bikes.
The lift on the Saris Door County is keyed for security and operated by three buttons—up, down and pause. It accepts two bikes with a maximum wheelbase of 48 in. The wiring harness that brings power to the motor also operates rear lights, which is helpful for anyone driving a car where the taillights may be blocked by the bike's wheels and tires.
This is one of the pricier in our collection, but the presence of the lift motor justifies that. Due to the weight of the rack itself, it must be used with a 2-in. hitch mount. It's nice to see such a creative design for a hitch rack, though we'd like it even better if it could handle heavier e-bikes than its 60-lb. max weight. Even so, this is one of the best bike racks for electric bikes out there.
Pros
Motorized rack lifts bikes into transport position—no liftying or ramps
Special e-bike-friendly design doesn't contact fenders or battery mount
Plugs into taillights for improved visibility and safety
Despite weighing 63 lbs. it is easy to manage thanks to built-in wheels
Cons
Does not fold up, but folds out for hatch access
1Up USA 2" Super Duty Double
The 1UP USA 2" Super Duty Double is a mouthful of a name, but a popular rack from this independent, American manufacturer. Two arms swing up and clamp onto the wheels, sandwiching the bike front to rear. It is very well made and revered for how easy it is to adjust, which is why it made our roundup of the best bike racks for electric bikes.
One of the Super Duty Double's best features is that it can carry e-bikes up to 75 lbs. in weight, giving it a distinct advantage over many other hitch racks. While the Super Duty Double can work with a front fender with a bit of finessing, a rear fender of traditional length is unlikely to work with this rack without being damaged when it is clamped in place.
This rack, as the name denotes, requires a 2-in. receiver for strength and stability, in part because the rack can be expanded to carry a third bike or a fourth. With three bikes the rack can still hold e-bikes up to 75 lbs., but at four the collective weight can't exceed 200 lbs. One unusual feature of this hitch rack is how its depth can be adjusted in the hitch in order to keep the bikes as close to the vehicle as possible (and leaving as much backup room as possible).
Among hitch racks, 1UP USA racks are renown for folding up with little space between the rack and the rear hatch, giving them a very neat appearance and keeping intact the vehicle's maneuverability. Finally, this is one of the most affordable options in our collection, making this one of the best bike racks for electric bikes.
Pros
Can support e-bikes up to 75 lbs.
Can carry up to three 75-lb. e-bikes with add-on tray or four 50-lb. e-bikes
Can carry some cargo e-bikes thanks to 54-in. wheelbase width
Rack sits closer to bumper than most other brands
Holds bike by tires—no contact with the frame
Bike position can be adjusted to accommodate for saddles, bars and pedals
Cons
Does not work well with bikes with fenders
No option for a loading ramp
Bar/saddle fit is an issue each time bikes are loaded
Hollywood Racks Sport Rider for Electric Bikes
Sometimes budget dominates someone's priorities in a purchase. For those buyers, we present the Hollywood Racks Sport Rider for Electric Bikes hitch rack. With a suggested retail price around $500 this is the least-expensive two-bike rack in our best-of. If that weren't reason enough to include this in our best bike racks for electric bikes, it seals the deal with its 80-lb. weight capacity per bike, which gives it the weight champion distinction of all these racks.
This rack bears another best-of feature: It can carry e-bikes with a wheelbase as long as 60 in., which makes it long enough for many cargo e-bikes, an achievement in short supply. It can also carry bikes with tires up to 5-in. wide, something most other racks need an adapter to do.
The only dings we can give this rack are the need for an adapter for anyone planning to load a bike with a step-thru frame design and the absence of a ramp to roll bikes into position. That's not enough to prevent us from recommending this rack with enthusiasm. It really is one of the best bike racks for electric bikes on the market.
Is this the best hitch rack in our roundup? It's hard to say it's better than all of the others, but because it's the most affordable of the bunch and also has the heaviest bike weight rating, as well as fitting the longest wheelbase, no other rack ticks as many boxes as this one. It's the easiest answer on our collection of the best bike racks for electric bikes.
Pros
Can carry two bikes each weighing 80 lbs.
Has maximum wheelbase of 60 in., big enough for many cargo bikes
Accepts tires as wide as 5 in. with no extra adapters
Includes security cable and lock
It's the least expensive two-bike carrier in our roundup
Cons
Bikes with step-thru designs require an adapter, sold separately
No ramp to roll bikes into position
Yakima StageTwo
Going for a bike ride away from home takes time. And what with this being the 21st century and all, most of us are time-crunched. Making the load-up time to go ride as short as possible can either increase riding time at the destination or cut the amount of time away from home. The Yakima StageTwo bike rack is a two-bike hitch carrier that gets our nod as one of the best bike racks for electric bikes because it's one of the speediest to use.
Like Yakima's other rack on this list, the StageTwo allows tray adjustability to eliminate bar-saddle fit issues. Bikes clamp into place with an arm that holds the front wheel at the fork and a strap holds the rear down. The StageTwo doesn't offer a loading ramp, but it's still one of quickest-loading racks out there and after bikes are removed the handle to fold the rack back up is close at hand. Loading and unloading happens in mere seconds.
A design like this can accommodate a number of different wheel sizes, all the way from 20-in. to 29-in. Tires 3.25-in. wide fit and with an accessory, tires 5-in. wide will fit. The StageTwo's biggest drawback is that it can only carry bikes up to 60 lbs., but it is unusual in that when mounted on an RV its weight limit isn't decreased; it can still carry 60 lbs.
Stopping at a restaurant for post-ride refueling can be tough because most hitch racks don't offer adequate bike security. The Yakima StageTwo features a welded-on lock loop that maximizes security, to make walking away from the car and bikes a less anxiety-inducing experience.
Ease of use and security are the big reasons why this is part of our collection of the best bike racks for electric bikes.
Pros
Offset and adjustable trays minimize bike fit issues
One of the speediest to load and unload, and even remove
Yakima's lock loop offers security usually lacking in hitch racks
Fits bikes with wheelbases up to 52 in.
Comes in versions for 1.25 and 2-in. receivers
Cons
Loading ramp is an add-on accessory
RockyMounts BackStage
For anyone who has traveled with bikes on a hitch rack, it's not uncommon to reach a destination and need to have easy access to everything in the back of the vehicle. Sure, pulling a latch on a rack to tilt the bikes away from the vehicle and open the hatch is very helpful. Once a hatch is open it's possible to add gear or pull gear out. But what if someone needs to grab bottles, food, put on shoes, reach a helmet or even change clothes? The RockMounts BackStage is the answer to just such an issue. The hitch rack swings open 180 degrees, giving riders easy access to the vehicle's rear compartment and eliminating any chance of rubbing up against the drivetrain while reaching for a helmet. Based on this feature alone this was a bike that needed to make our list of best bike racks for electric bikes.
The RockyMounts BackStage is a modest rack by some standards. It has a maximum per bike weight capacity of 60 lbs. and a maximum e-bike wheelbase length of 50 in. When not in use it folds flat against the vehicle, but conveniently, with bikes loaded, the rack can be tilted away for quick access to the rear compartment, like for tossing a gear bag in. We like that it can accommodate a wide range of wheel sizes—20 in. to 29 in.—and tire widths up to 5 in. That makes traveling with a kid and their bike easy.
The BackStage includes both a lock securing the rack to the hitch receiver, it also includes a locking cable to keep bikes secure when the car is unattended; both locks use the same key to keep things simple. Due to the way the arm comes down on the front wheel just ahead of the fork, it is incompatible with front fenders, though rear fenders are in the clear. For its ease of use, this is one of the best bike racks for electric bikes.
Pros
The only hitch rack that swings open 180 degrees
Includes hitch lock and cable keyed together
Carries bikes with tires up to 5-in. wide
Can carry bikes with a wheelbase from 36-50 in.
Cons
Cannot be expanded beyond two bikes
Incompatible with fenders
Hollywood Racks Destination E Bike Rack
The Destination E hitch rack from Hollywood Racks presents the sort of value that helps to make a list of the best racks for electric bikes necessary. The Destination isn't a class-leader in any one regard, but in aggregate it is a cut above most or the hitch racks on the market.
The Destination E accepts bikes up to 50-in.-long in wheelbase and up to 70 lbs. in weight. One challenge of tilting bikes away from the hatch or trunk is the way that the weight of the bikes needs to be supported once releasing the rack. The Destination E uses "Balanced Tilting" to place the pivot point between the bikes so that tilting them away from the vehicle doesn't result in a big surprise.
The Hollywood Racks Destination E features possibly the longest ramp included with a rack, at 46 in. Longer ramps are available, but as accessories. The rack can accommodate all but the widest tires, thanks to its capacity to handle tires up to 4.5 in. wide.
One of our favorite features of this rack is that the clamp arm is adjustable enough that it works with standard frames, step-thru frames and in the case of lightweight carbon fiber frames, can clamp the seatpost. Also, because the clamp arm holds the frame, this rack is compatible with all fender designs. That alone will make it popular with many e-bike owners.
While it can't accommodate every bike on the market, due to its sheer versatility, this is one of the best bike racks for electric bikes we've found. We like when a solution to a problem can be so simple.
Pros
Includes 46-in.-long ramp
Accepts bikes up to 70 lbs. in weight
Frame clamps lock
Balanced frame tilt for easy of hatch access
Compatible with fenders
Cons
Requires 2-in. hitch receiver
Cannot be used with Class A or Class C RVs
Küat Piston Pro X
The Küat Piston Pro X works on the same basic principle as the 1UP USA Super Duty. Bikes are secured by two arms that swing up and toward each other, effectively clamping the bike between the two arms. The difference is that the Piston Pro X is made to Küat's high-end standards. The arms receive a Kashima coating, the same treatment given to pro-quality suspension parts in order to make sure that the arms never stick, even after a spring thunderstorm laden with sticky pollen.
Anyone familiar with kids' bikes will know that in addition to 12-in.- and 20-in.-wheel bikes, manufacturers make bikes with 14, 16 and 18-in. wheels. The Piston Pro X can accommodate both the 18-in.- and 20-in.-wheel sizes as well as wheels all the way up to 29 in. in diameter and 5-in. in width, making it remarkably adaptable.
Thanks in part to its high-quality powdercoat finish, few racks look as good on a vehicle as a Küat does, but there are a few details that prevent us from calling it the best of the bunch. First, because of the way the arms fold, this rack, like 1UP USA's Super Duty, cannot be used with most fenders. Also, the rack is rated to a maximum of 67 lbs. per bike for the 2-in. hitch version (just 60 lbs. for the 1.25-in. model), which is solid, but won't be able to handle some of the heavier e-bikes out there. We'd also like the rack a bit more if it included a ramp to aid loading bikes; unfortunately, it's a $98 add-on to what is already among the most expensive racks in our collection.
If we're honest, some hitch racks are an eyesore when flipped up while they aren't in use. Some are nice enough that they don't detract from the look of a vehicle, but Küat racks hold the distinction of being the brand that can actually enhance the look of a vehicle. Good looks aren't enough to cause us to include a rack in this list, but with so many reasons to recommend the Küat Piston Pro X, it really is one of the best hitch racks for electric bikes.
Pros
No frame contact; holds bikes by wheels
Can carry bikes as heavy as 67 lbs.
Accepts wheels as small as 18 in., making it easier to carry kids bikes
Super attractive design maintains its good looks thanks to quality powdercoat finish
2-in. hitch version can be expanded to four bikes
Cons
E-bike ramp is not included
Not compatible with fenders
Criteria We Used To Rank The Best Bike Racks For E-Bikes of 2022
The racks that make up our collection of the best racks for e-bikes tend to share a number of features in common. Not only do they all carry at least two bikes, they all fold flat when not in use as well as tilting away from the vehicle for access to the gate or hatch. As a result, what separates these racks tends to be more idiosyncratic features.
The questions that we asked to weed out the racks that didn't make this list are also the questions that will help buyers choose between these racks.
How heavy a bike can it carry? There are surprisingly few racks to be found that can handle an e-bike weighing more than 70 lbs. Every rack we included is capable of carrying a bike weighing at least 50 lbs.
How does it secure the bike? Just how the rack secures the bike can be a big deal. Some clamp the frame, which is great for steel and aluminum, but can pose an issue with some carbon fiber frames. Some of these racks have an arm that clamps onto the front wheel just in front of the fork. Some also clamp onto the rear wheel, generally behind where a rack would be positioned. The presence of fenders on an e-bike disqualifies a number of bike racks in this list because clamping the rack's arm down on the fender is likely to damage it.
How long a wheelbase can it carry? There are a number of e-bikes out there that split the difference between a cargo bike and a commuter in terms of length. The bike racks included could each carry an e-bike with a wheelbase of at least 48 in.
Is it easy to load the bikes? Lifting a 65-lb. bike is not especially easy, and it's even harder at the end of a long ride. We place a premium on racks that include ramps to aid positioning the e-bike. An electric lift? Yes please.
There are a few concerns for users we did not address here, including: mounting on an RV, mounting on a trailer, mounting on the front of a vehicle or off-road use. Many of these racks were disqualified for these other uses, but even when they weren't, they often suffered a reduction in allowable weight.
Our advice is that before making a purchase, riders should look up their bike on the manufacturer's web site and check both the weight and the wheelbase. Those two details, along with the presence (or not) of fenders will cull this list down to just a few choices. A handful of details beyond that that go to personal preference should help someone make their final choice.
Thanks for reading! What did you think of our selections for the best bike rack for electric bikes? Any that we missed? Let us know in the comments down below!