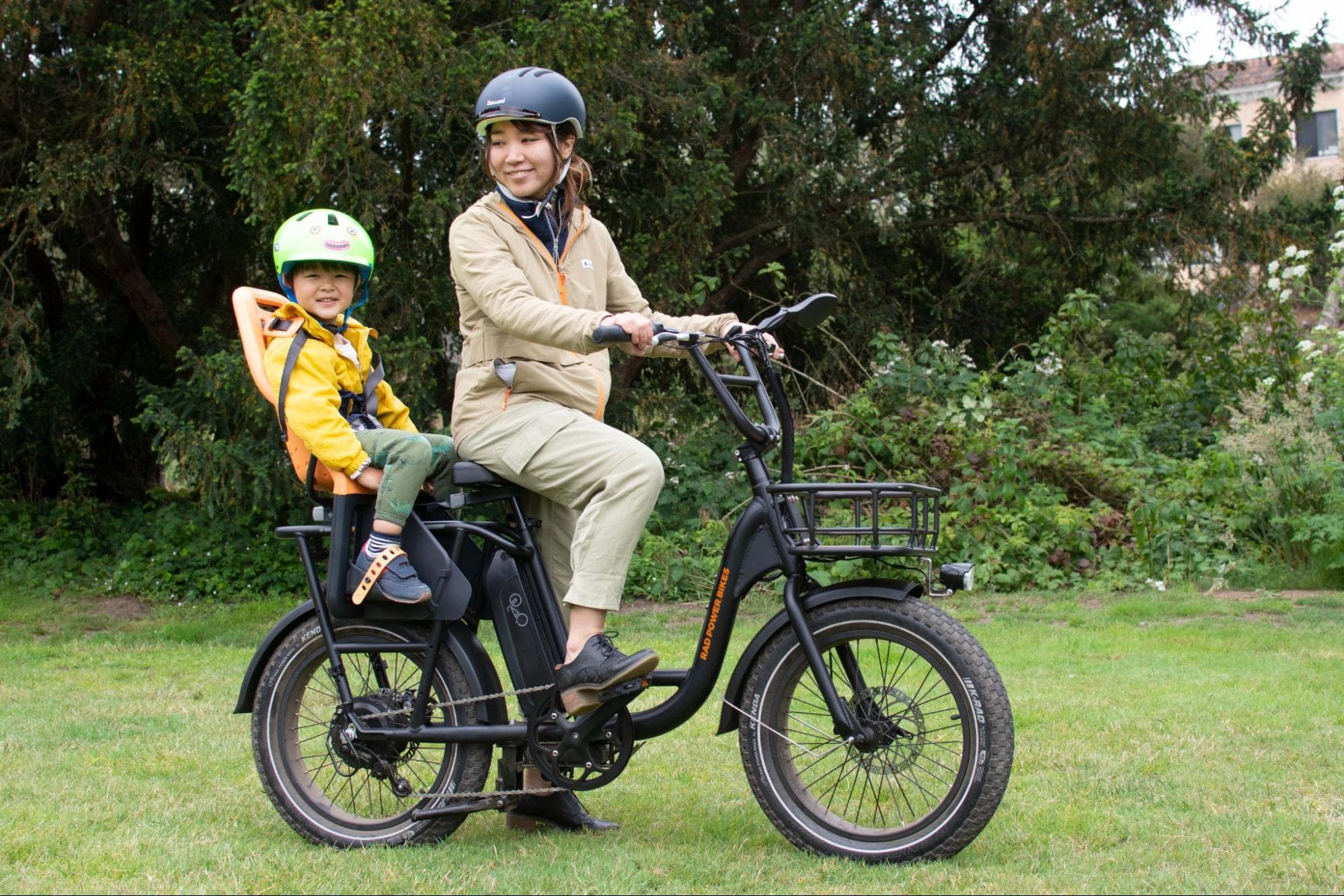 Whether it's for Christmas, Mother's day, or a birthday, an electric bike makes an excellent gift for the mom in your life. Or perhaps your mother (or another woman in your life) has to come to you to help her pick out an e-bike. Before you whip out your credit card, there are some considerations to mull over.
Just like traditional bicycles, there are vast choices in the market. You don't want to buy the same bike for a 4'11", 100-pound tiny granny as you would for a larger, more athletic younger mom. There are powerful road bikes for racing and gentle beach cruisers.
Let's dig into what you need to know for picking the best e-bike for mom.
Picking the Best E-bike for Mom: Consider Her Height, Weight, and Strength
When looking for that perfect e-bike for mom, there is much to consider. There is the frame size, saddle, and handlebar height, along with the pedal position. The frame size is one of the most essential aspects to get right when choosing the right electric bike. Mom's height, weight, and strength level are crucial because they can dictate what e-bikes are best for her specific body type.
Height and Weight
We all know it's not polite to ask a lady's weight, but when looking to purchase an e-bike, this is an important piece of information. The average e-bike can carry passengers with limits ranging from 220 to 300 lbs. If higher weight capacity is needed, some cargo e-bikes can handle up to 350 lbs. thanks to the third wheel on most models.
Folding e-bikes are designed to carry less weight, so that's also something to look at.
It's crucial to adhere to the bike's weight limit because it will affect safety and other factors like performance. How far and how fast you can go is directly affected by weight.
How Fit is Mom?
You certainly need to consider mom's current fitness level when getting into a sport. This can heavily impact the type of bike chosen.
With the variety of reviewed e-bikes available today, mom will undoubtedly have no problem finding one that's right for her current fitness level. Styles include:
Traditional Frame– suited for more athletic moms because of mounting difficulty
Step-through Frame– great for short moms to help with mounting the bike
Moped Style– the larger seat is nice, and the style is unique, but heavier overall
eMTB, or Electric Mountain Bike– Off-road adventurous fit moms only
BMX– small bike great for smaller moms but can be uncomfortable with no suspension
Cargo– a hearty bike that can serve those who have balance issues and transport space
Hybrid– combines road and off-road styles
Folding Frame– for more petite moms, easy to mount
What if mom feels the e-bike is cheating her out of a "real" workout? Tell her nicely that she's wrong. Studies have found that those who ride e-bikes ride for a more extended time, resulting in more exercise! And she can choose her own level of assistance.
Picking the Best E-bike for Mom: What will she use it for?
What activities mom likes will have a lot to do with the type of e-bike that will best suit her. If hitting the trails is her thing, a mountain bike style or hybrid would be best. If mom is more into slow, peaceful rides around town, a cruiser would be more her style. Depending on her activities, other factors will affect which eBike is best.
If mom likes long rides, looking for a bike with a battery of 400 W minimum would be best so that she won't have to cut her rides short. If mom is all about comfort, a step-through frame might be the best choice for easy mounting and cruising.
Check Warranty
Nobody wants the headache of wondering what's wrong when there's a problem and how much it's going to cost to fix. So it's vital to have a good warranty for that peace of mind. Mom can just take her eBike in to be evaluated and not be concerned with all the details.
Picking the Best E-bike for Mom: What extras and accessories will she need?
Every eBike comes outfitted differently, so focusing on the things mom needs will help narrow down the choices and save a few bucks by not adding items later on.
Will mom need things like lights, saddlebags, bike rack, bottle holder, or trailer? Some eBike's are outfitted with these accessories already. Others you'll have to order or pick up down the line. Here are some items you will want to look for on a bike or consider adding for safety and comfort:
Reflectors
Lock
Helmet
Cycling gloves
Rearview mirror for bike and/or helmet
Phone Holder
Water Bottle
First aid kit
Bike/tire repair kit
Extra bike battery
Basket
Suspension seat post
Comfortable wide saddle
Picking the Best E-bike for Mom: A few e-bikes to consider
Aventon Pace 500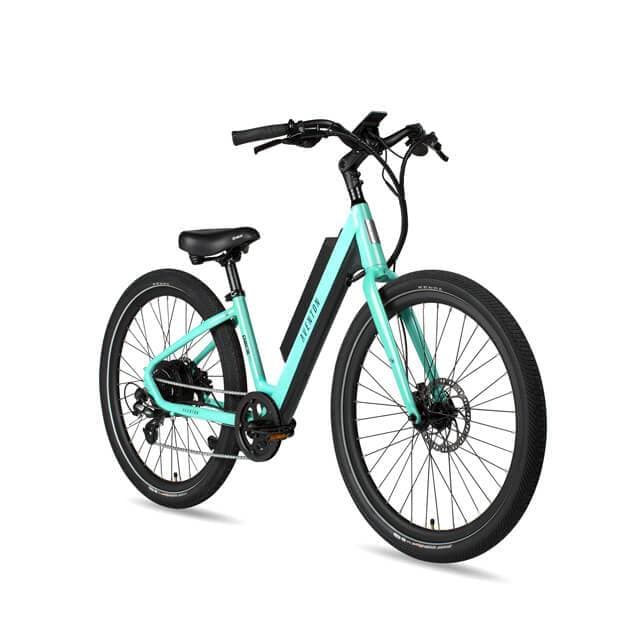 *For current pricing on the Aventon Pace 500 click here*
The Aventon Pace 500 is a good quality entry-level commuter eBike with a very low price. At only a 49-pound assembly weight, it's one of the lighter city commuter eBikes we've reviewed. The 6061 aluminum frame is available in three generous sizes. This is perfect for a mom who needs to bring the bike up some stairs or haul it.
The Aventon Pace 500 is a bit light on accessories, so make sure to help mom find some gear to keep her safe and comfortable.
Rad Power Bikes RadCity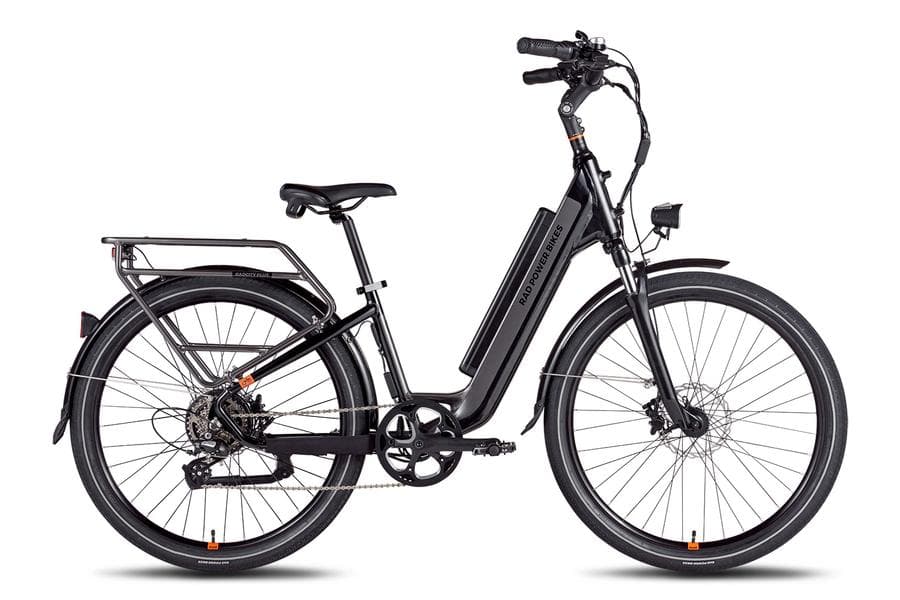 *For current pricing on the Rad Power Bikes RadCity Plus click here*
The RadCity Plus comes in a height-friendly 18.5" frame size which will accommodate most moms – and the step thru design will help a lot too. This bike has safety on its mind with multiple safety features like puncture-resistant tires, reflective sidewall striping, and integrated brake light. Knowing mom is having fun is one thing. Knowing she has fun safely is another.
The swept-back handlebars make riding this commuter bike comfortable. The stock rear rack, front suspension, and fenders add to a solid e-bike with a massive 750 w hub motor to take mom on those long rides.
Electric Bike Company Model Y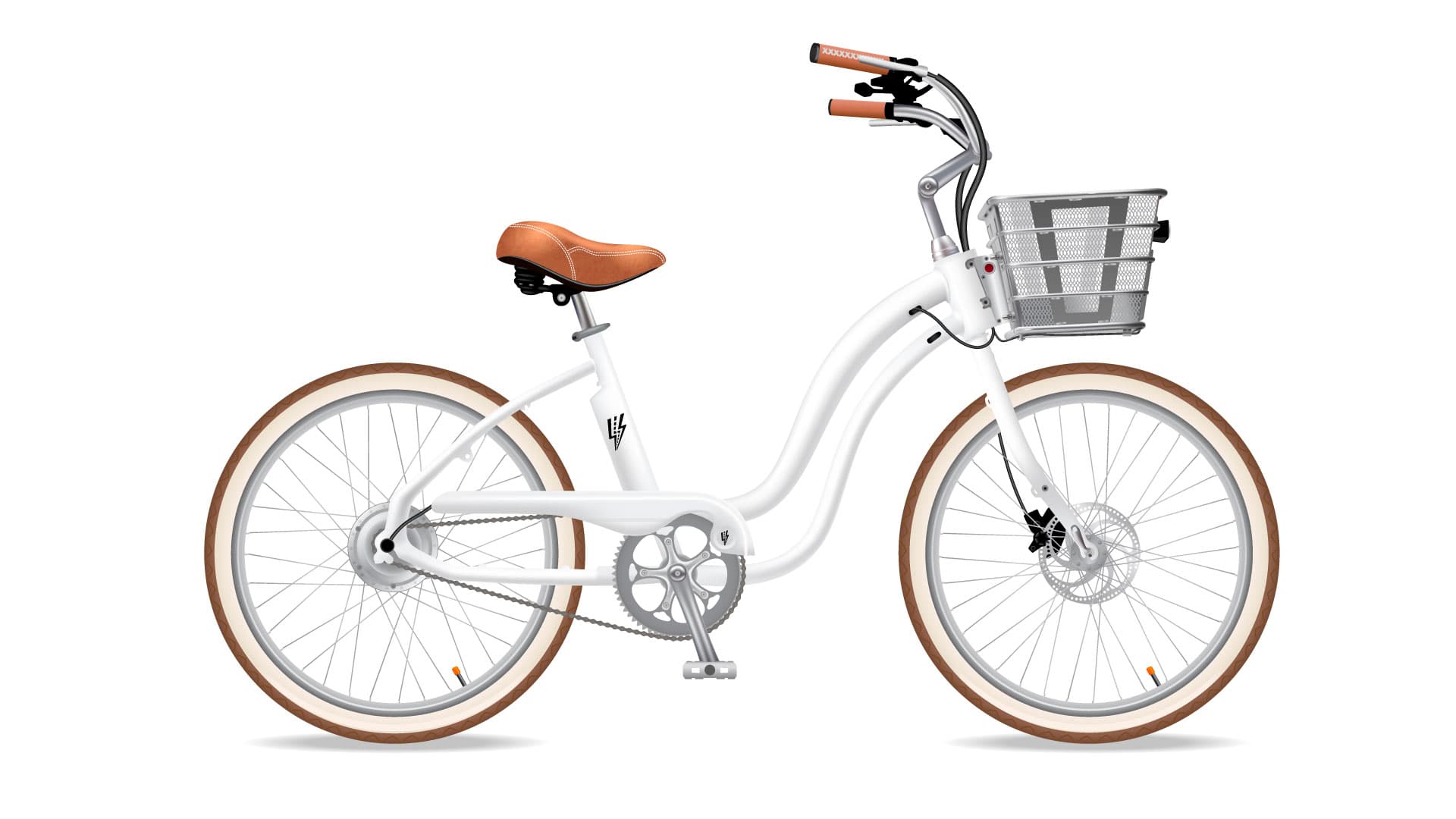 If mom likes to cruise, the Model Y in its classic style is sure to please. If mom is picky, she can even get in on how the bike looks since it's fully customizable. Choose the colors of components like the frame, forks, chain guards, and fenders—so many customizable options! You can even pick the color of the tires.
This cruiser comes fully built, so mom is ready to roll. You can choose from a single-speed 5 level motor or a seven-speed 5-level motor. The 16.1" seat to crank length makes mounting and dismounting easy.
Liv Tempt E +2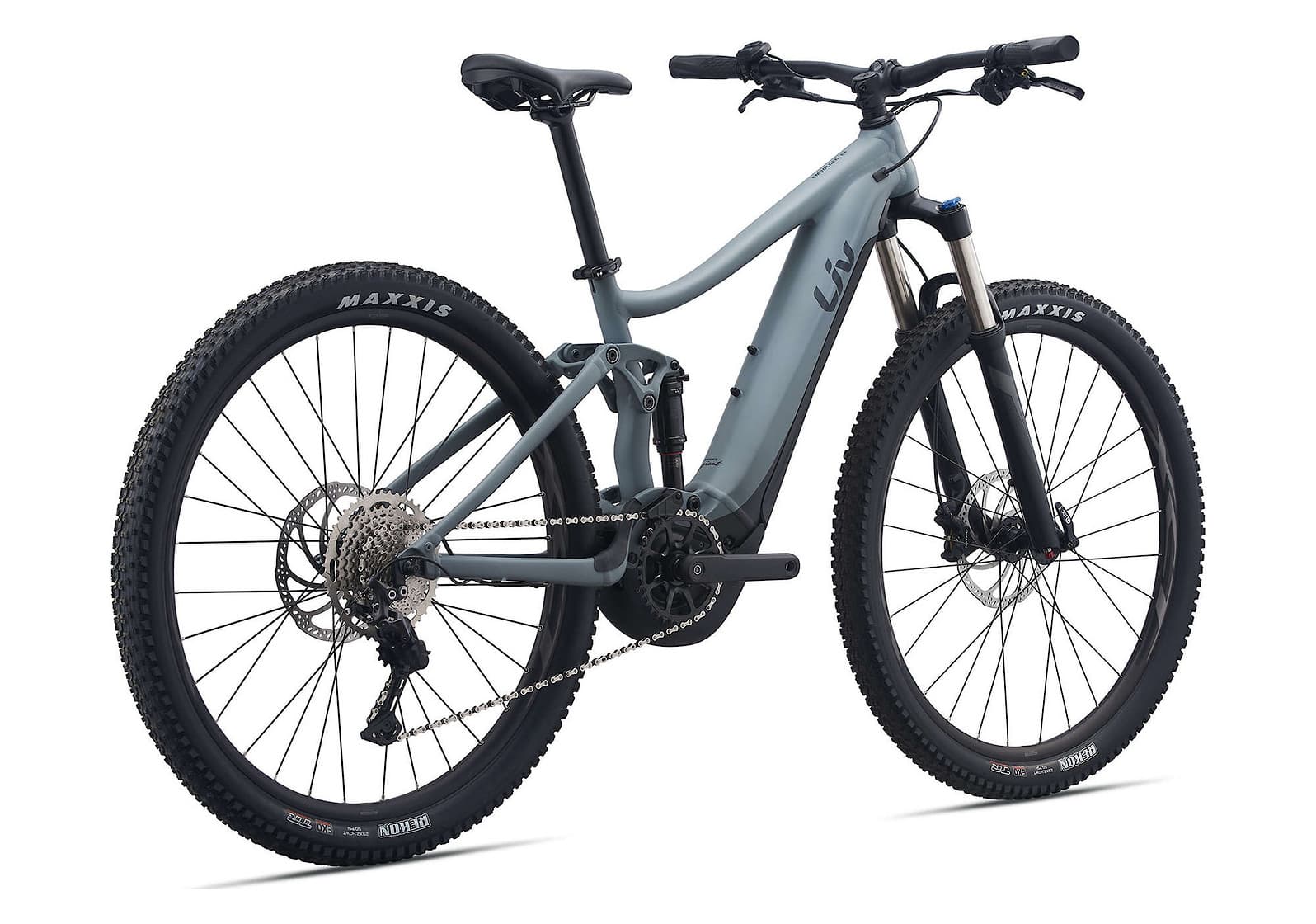 The Tempt E+2 is an excellently outfitted e-bike with plenty of power and suspension to get mom going. The X-small and Small frames come with 27.5-inch wheels and the Medium and Large frames come with 29-inch wheels.
The Tempt E+ allows you to choose from five levels of assistance so that mom can control her speed, how hard to pedal, and extend the battery. This bike is specifically for women in both contact points and frame construction. The Tempt E+ provides a robust power-assisted ride that will have mom flying.