Welcome to our review of the BikTrix Juggernaut Ultra FS electric bike! BikTrix makes a wide range of electric bicycles, and have worked hard to earn the 'ultimate electric bikes' tagline proudly displayed on their website. However, their high quality eBikes are in equally high demand, which is why the Best Electric Bikes team hasn't had the chance to ride the Juggernaut Ultra FS ourselves just yet. We have ridden other BikTrix eBikes, and have also taken the time to compare the specs of the Juggernaut Ultra FS that it shares with other eBikes that we've reviewed. As a result, we managed to develop our comprehensive spec review, where we hope to provide you with a general expectation of the performance, feel, and design of the Juggernaut Ultra FS!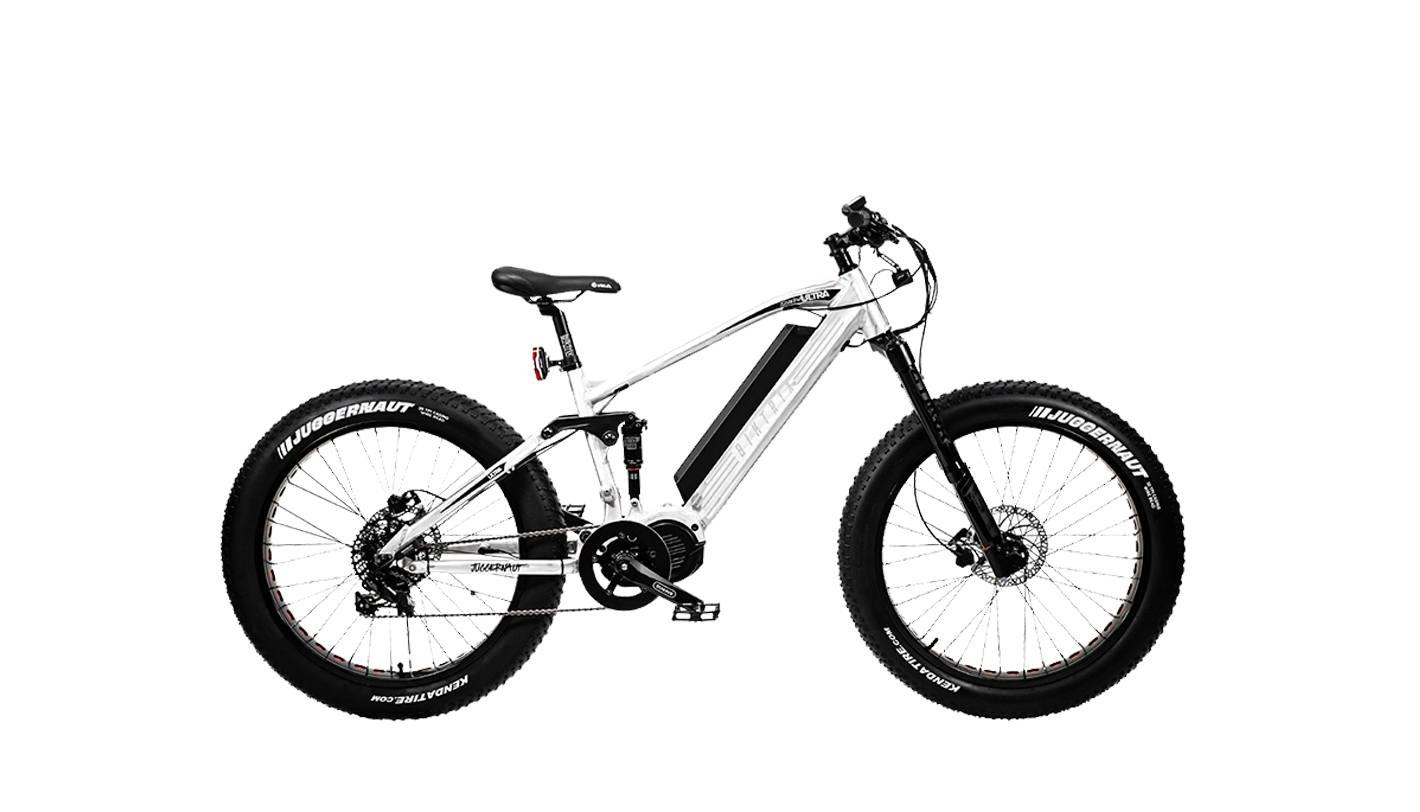 The BIkTrix Juggernaut Ultra is a highly customizable electric mountain bike, allowing you to craft something according to your budget just for trail riding or as a more hybrid style option. Offering full suspension, with three different suspension forks to choose from, the mountain bike still only weighs an average of 72.8 lbs, which is over a dozen lbs lighter than the typical weight of a full suspension eMountain bike. This dedicated eBike can tackle almost any trail in the world with its incredibly powerful mid-drive 160 Nm Bafang motor, with four different battery options that will let you pick between price, range, and weight. The 11 speed drivetrain provides plenty of gearing options to make your trail climbs easier, and you can also choose between hybrid style or ultra powerful brakes depending on your riding preferences. Built with stability, comfort, and power in mind while aiming for a more mid-tier price, learn more about how you can design a truly personalized eMountain bike with our spec review of the BikTrix Juggernaut Ultra FS electric bike!
Bike Category: Class 2: Pedal and throttle assist to 20 MPH.
Who It's For: Riders who want a personalized electric mountain bike built with one of the most powerful eBike motors on the market.
Bike Specs
FRAME: 6061 Aluminum Alloy
UI/REMOTE: DPC-18 Color Display
BATTERY: Four Battery Options, From 700 Wh to 1,000 Wh
CHARGER: Pairs with Battery, from 2 Amp to 4 Amp
MOTOR: Bafang Ultra Mid-Drive Motor, 1,000 W to 1,500 W
CHAIN: KCM X11
SHIFT LEVERS: SRAM NX1 Trigger Shifter on Right
CASSETTE: SRAM PG-1130 11-42T
CHAINRINGS: 44 T Steel Chainring
DERAILLEUR: SRAM NX 11 Speed
RIMS: 26''/27.5'' 36 Hole Rims
TIRES: Kenda Juggernaut 26'' by 4'', or Kenda Havoc 27.5'' by 3''
SADDLE: Velo Plush Narrow
STEM: 90 mm Aluminum
HANDLEBARS: Aluminum, 800mm Wide, 20mm Rise
GRIPS: Slide On
BRAKES: Tektro Dual Piston Hydraulic or Magura Quad Piston Hydraulic
PEDALS: Wellgo K79 Platform Aluminum Alloy with Fixed Pins
KICKSTAND: Optional Add-On
BELL: N/A
HEADLIGHT: Optional Add-On
TAIL LIGHT: LED Brake Light
FENDERS: Optional Add-On
Pros
Highly customizable electric bike. Design your eBike for hybrid city and trail riding, or go all the way with a dedicated bike able to tackle any bike trail no matter how hard.
Two different frame sizes, including a larger frame size that is suited for riders who are 6'2'' and above. Not often do you have an eBike built with very tall adults in mind.
6061 aluminum frame is able to take a heavy crash or two without excessively weighing the eBike down. Despite all of the extra components, the eBike weighs just 72.8 lbs.
4 different battery options, allowing you to prioritize range, weight, and price for your eBike. Battery range is from 700 Wh to 1,000 Wh, with 40+ miles to 60+ miles range.
2 Amp to 4 Amp charger, with the charger size varying depending on the eBike battery that you purchase. Even the smallest, slowest charger will do a full charge in 5 hours.
SRAM PG-1130, 11-42T Cassette with 44 T Steel Chainring Drivetrain. 11 speed eBike provides plenty of gearing options, with additional chain guides and guards included.
Bafang Ultra Mid-Drive Motor, 1,000 W/1,500 W Peak. One of the most powerful motors we've reviewed with 160 Nm torque. More than able to tackle even extreme hills.
DPC-18 Color Display. 2.25'' large, with haptic feedback so you can confirm your button presses without having to look down. Over 10 different metrics to read while you ride.
Kenda Juggernaut 26'' by 4'', or Kenda Havoc 27.5'' by 3'' tires. Design your eBike for riding through the city and on trails alike, or go with a dedicated trail riding design.
Tektro Dual Piston Hydraulic or Magura Quad Piston Hydraulic brakes. Go with brakes that are great for all-around use, or have the stopping power you need for downhilling.
Cons
Extremely powerful motor is almost too strong in some ways. Drains the massive batteries quickly, and chews up the chain quickly. Can also cause phantom gear shifting.
Many states and countries have a 750 Watt cap on their eBike motor. You may require a license or additional registration to legally use this eBike.
Battery recharging port is right next to the pedal crank arms. If you aren't careful, your charging cord can get tangled and damaged. Be wary while charging on the eBike.
No small/S frame currently available, so riders shorter than 5'5'' may not feel comfortable riding on the BikTrix Juggernaut Ultra FS. No short rider mountain option from BikTrix.
Key/critical components and upgrades are optional add-ons. Would at least like to see the headlight included with the stock model for increased rider safety.
Features
6061 Aluminum Alloy
6061 aluminum alloy is commonly used as a base for eBike frames, since it provides solid durability and weight support while cutting down on the overall bike weight. Total weight for the BikTrix Juggernaut Ultra FS is about 72.8 lbs.
Customizable Battery Options
Prioritize weight, price, and range as you choose from four distinct battery options when ordering the Juggernaut Ultra FS. The smallest battery has a max range of 40 miles, while the largest battery can travel over 60 miles on a single charge.
2 Amp to 4 Amp Charger
The included charger ranges with the battery your purchase, but all of them will help you top off your battery quickly. To fully recharge from 0% to 100%, you will need about 4 to 5 hours with the 2 Amp charger, and less if you bought a battery that comes with a 3 or 4 amp charger.
Bafang Ultra Mid-Drive Motor, 1,000 W/1,500 W Peak
One of the strongest eBike motors we've had the chance to review, you can tackle even the most extreme mountain biking trails with the Juggernaut Ultra FS. Amazing power, but it does drain the battery quickly, limiting the overall range you can ride with motor assistance.
DPC-18 Color Display
Larger 2.25'' LCD display with haptic feedback, giving you extensive motor control along with a large number of readout metrics while you ride. The haptic feedback itself allows you to confirm your button presses despite being a digital screen, making it helpful for riders trying to change settings without looking down.
SRAM PG-1130, 11-42T Cassette with 44 T Steel Chainring Drivetrain
11 Speed drivetrain built with rough trail riding in mind, with a thick aluminum alloy bash guard and chain guide helping keep everything in place. Trigger shifter had good feedback as well, and with 11 speed you will have all sorts of gear options to choose from to make your trail riding easie
Kenda Juggernaut 26'' by 4'', or Kenda Havoc 27.5'' by 3''
Two tire options to choose from, allowing you to optimize your riding performance depending on how you want to use your eBike. The Juggernaut tires are a great hybrid on-road/off-road option, while the Havoc tires are made with lighter steering and lower rolling resistance for the ultimate trail riding setup.
Aluminum, 800mm Wide Handlebars with Three Suspension Fork Options
Ultra wide handlebars that give you plenty of places to grip, helping you ride longer without tiring out your arms as quickly. Three different suspension fork options as well, allowing you to design a hybrid cross-country mountain bike or go with one dedicated for riding mountain biking trails.
Tektro Dual Piston Hydraulic or Magura Quad Piston Hydraulic
Two different brake options to choose from, depending on your budget and riding preferences. The Tektro dual piston hydraulic brakes are better suited for hybrid riders sticking to more moderate trails, while the Magura quad piston brakes provide the stopping power to come to a full stop even on an extreme downhill challenge.
Wellgo K79 Platform Aluminum Alloy with Fixed Pins
Extra wide and sturdy aluminum pedals that are designed with tougher riding in mind. They can take a crash or two and emerge with just superficial scratches, besides providing sufficient weight support for taller, heavier riders. 300 lbs rider recommended weight capacity.
In-Depth Review
Frame
6061 aluminum is a well regarded alloy within the manufacturing industry, being used not just for eBikes but in boats, automobiles, and even aircraft construction as well. The reason why it's popular is because it provides a good balance of being lightweight yet durable, without having to excessively drive up the cost of the eBike either. While the BikTrix Juggernaut Ultra FS does weigh 72.8 lbs, that's actually lower than what we expected since this is a full suspension eBike designed for mountain biking. Other eMountain bikes we've had the chance to review often weigh more than 80 to even 90 lbs. While it is heavy and a bit awkward to carry, it's going to be easier to transport than many other dedicated mountain eBikes that you'll find on the market.
The one negative aspect we have when it comes to the frame is that there are only medium/M and large/L size options. The L sized frame is a great inclusion, since it's designed to fit riders up to 6'5'', a size that isn't often covered with electric bikes. However, the lack of a small/S sized frame means that shorter riders, or those shorter than 5'5'', don't really have a good option to choose from. We can't even recommend a different electric mountain bike from BikTrix, since none of the other Juggernaut options have a S sized frame either. While most adults interested in a heavy duty mountain bike should fit within the 5'5'' range and up, we are disappointed that there isn't a smaller option for the occasional mountain biker who is shorter than 5'5''.
Motor & Battery
The BikTrix Juggernaut Ultra FS is a class 2 eBike, with pedal and throttle activated motor assistance up to 20 MPH.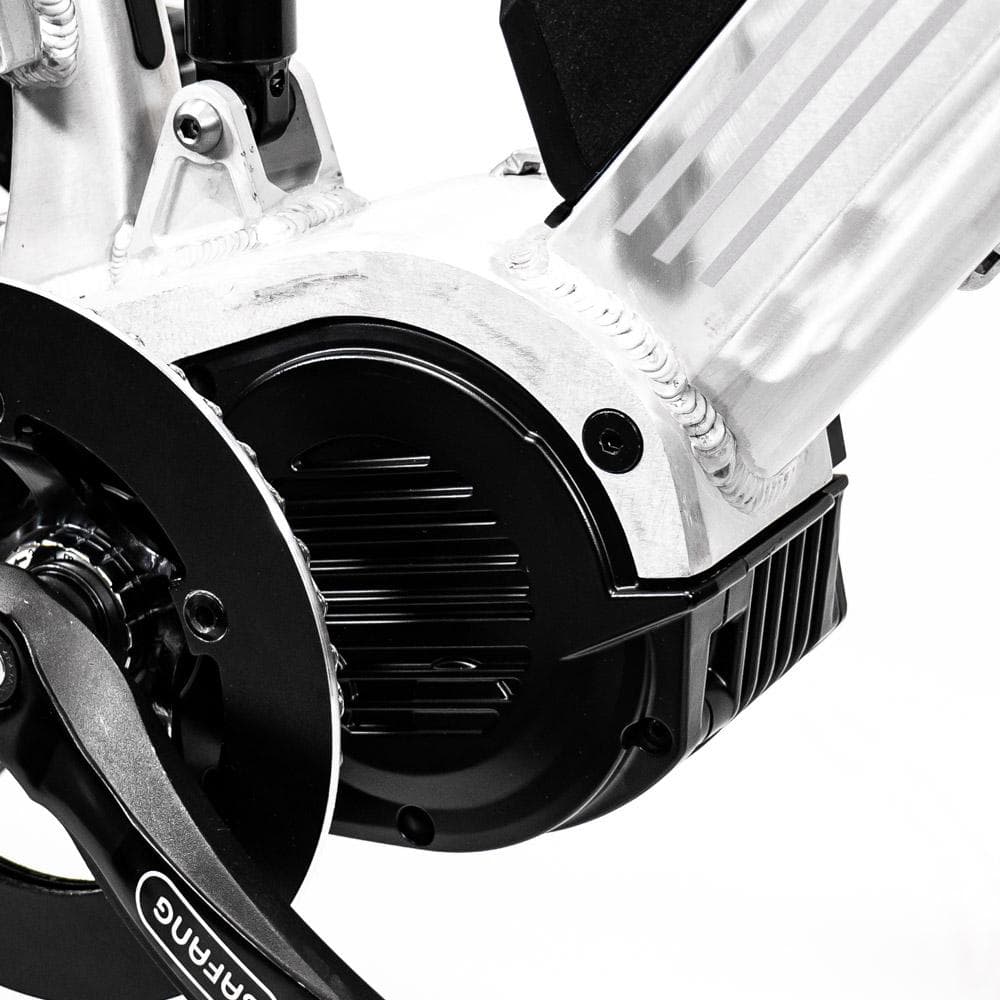 The BikTrix Juggernaut Ultra FS features a Bafang Ultra mid-drive motor, with a consistent 1,000 W output and 1,500 W Peak. With up to 160 Nm of torque, this is easily one of the strongest motors on an eBike we've ever had the chance to review, which has its positive and negative aspects. On a positive note, this is a mountain bike that will provide powerful motor assistance even when you're challenging extremely steep hills, providing you with the push to climb them with relative ease. However, because of that overwhelming power, many states and countries throughout the world have put a 750 W motor cap on eBikes before they require additional licensing and registration. If you are interested in the BikTrix Juggernaut Ultra FS, please consult your area's eBike regulations to determine if you will need to register it upon purchase.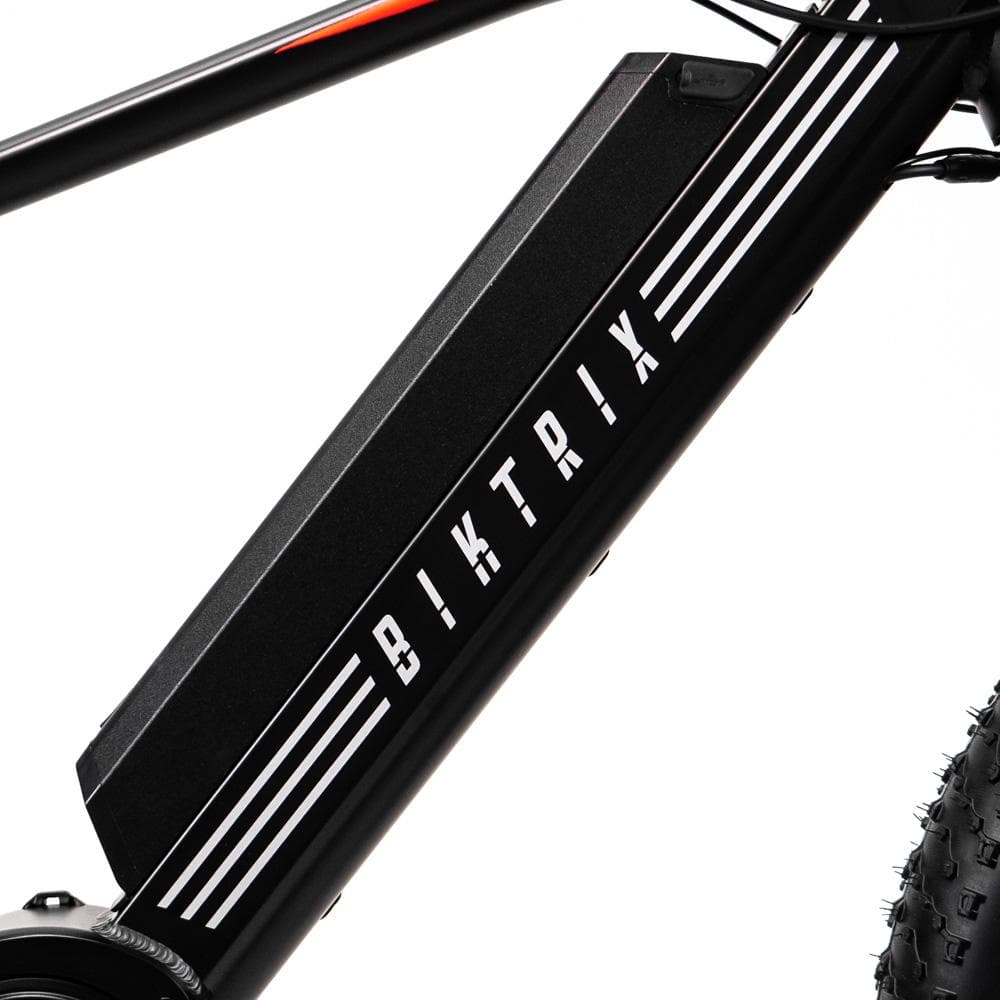 The other major drawback is that the motor quickly drains even through massive eBike batteries. BikTrix does deserve recognition for the four eBike battery options you can choose from, ranging from as small as 700 Wh to as much as 1,000 Wh. The smallest battery still provides up to 40 miles of motor assistance with optimal settings, while the larger battery has a max range around 60 miles of motor assistance with optimal settings. Your charger also changes depending on the batter you go with, with the 2 Amp charger taking between 4 to 5 hours while the 4 Amp charger will go from 0% to 100% in 3 to 4 hours. The range and charging time is sufficient, and while it doesn't stand out from the competition charging is plenty fast enough as is. Just be careful when you charge your battery while mounted on the eBike, as the charging port is very close to the crank arms. If you move your eBike while plugged in, the crank arms can get tangled up and damage the charging cord.
Display/Assist Modes
BikTrix has opted to include one of the better LCD displays we've seen, the Juggernaut Ultra FS sporting a DPC-18 color display. The backlit LCD screen can be used during the day or at night, and is 2.25'' large, making it very easy to look down and read while staying light enough that it doesn't excessively weigh down the eBike. One of the cool features included with the LCD display is haptic feedback, which provides greater touch sensitivity to help you confirm your button presses while you ride. Besides making the display nicer to use, the haptic feedback helps a lot in confirming your setting changes without forcing you to take your eyes off the trail while you ride.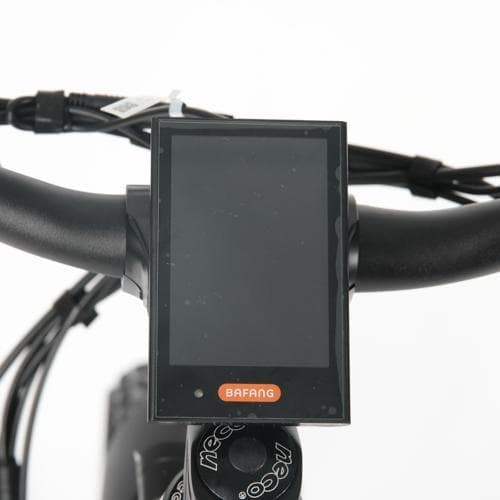 There are a large number or display readouts and metrics available to you with the DPC-18 display. They are as follows:
Juggernaut Ultra FS DPC-18 Display Readouts/Metrics:
Motor Output (10 Bars and in Watts)
Current Speed (Miles or Kilometers)
Average Speed
Max Speed
Assist Level (0-9)
Battery Charge Level (5 Bars and as a percentage)
Trip Distance
Odometer
Lights Indicator (If you have a light add-on)
Motor Inhibitor Settings (If you need to limit motor power to meet local regulations)
The Juggernaut Ultra FS electric bike is classified as a class 2 eBike, so you can either pedal or make use of the throttle to travel up to 20 MPH with motor assistance before it shuts off. If you go with a certain build and fill out the right forms, the Juggernaut Ultra FS can go up to 35 MPH, although it will be classified as a moped by law rather than an ebike. For the purposes of our website, we will be explaining the eBike configurations only.
The Juggernaut Ultra FS has several assist levels, allowing you to balance range with motor power via the pedal assist system. Lower pedal assist levels will provide a smaller boost while you pedal, relying on less energy draw in order to maximize your total riding range. Alternatively, higher pedal assist levels will provide a greater boost while you pedal, but at the expense of a higher energy draw the limits your overall range. Changing your assist level takes just a simple button press, so try to find the proper power assistance you need in any given situation in order to maximize your range while helping you enjoy your riding experience more overall.
Handling
On Streets- On street handling will depend in part on your riding configuration, but even if you go with the full mountain bike build the Juggernaut Ultra FS is still an enjoyable eBike to use in the city. However, the Juggernaut Ultra FS is large and heavy, so while it is good for dodging traffic and pedestrians it struggles trying to go through doorways and narrow passages. It does ride well in looser terrain though, especially if you go with the juggernaut tires, and with a full suspension build it's very well suited if you live in an area with many gravel, cobblestone, or dirt roads.
Turn Radius- The BikTrix Juggernaut Ultra FS is designed to provide better than average turning for trail riders, but because of how large and bulky it is the turn radius still won't be as tight as you may hope. If you have a very sharp turn you need to make, we would recommend slowing down a bit if you want to make the turn more easily. Othweise, there should be sufficient handling and turning for the typical mountain trail, especially if you're familiar and experienced with dedicated mountain bikes.
Low Speed Handling- Without the motor, it can be a bit of a pain to handle the Juggernaut Ultra FS at lower speeds. Fortunately, the lowest assist mode is great for providing a small quick to help you pedal easier at lower speeds, and there is also the walk mode to consider as well. With walk mode, your motor will provide a fraction of its typical boost power even while you're just walking along the ground, making it an even better option for low speed handling. Even walk mode uses power though, so make sure you have some juice left in the motor if you want to take advantage of these features.
Gears/DriveTrain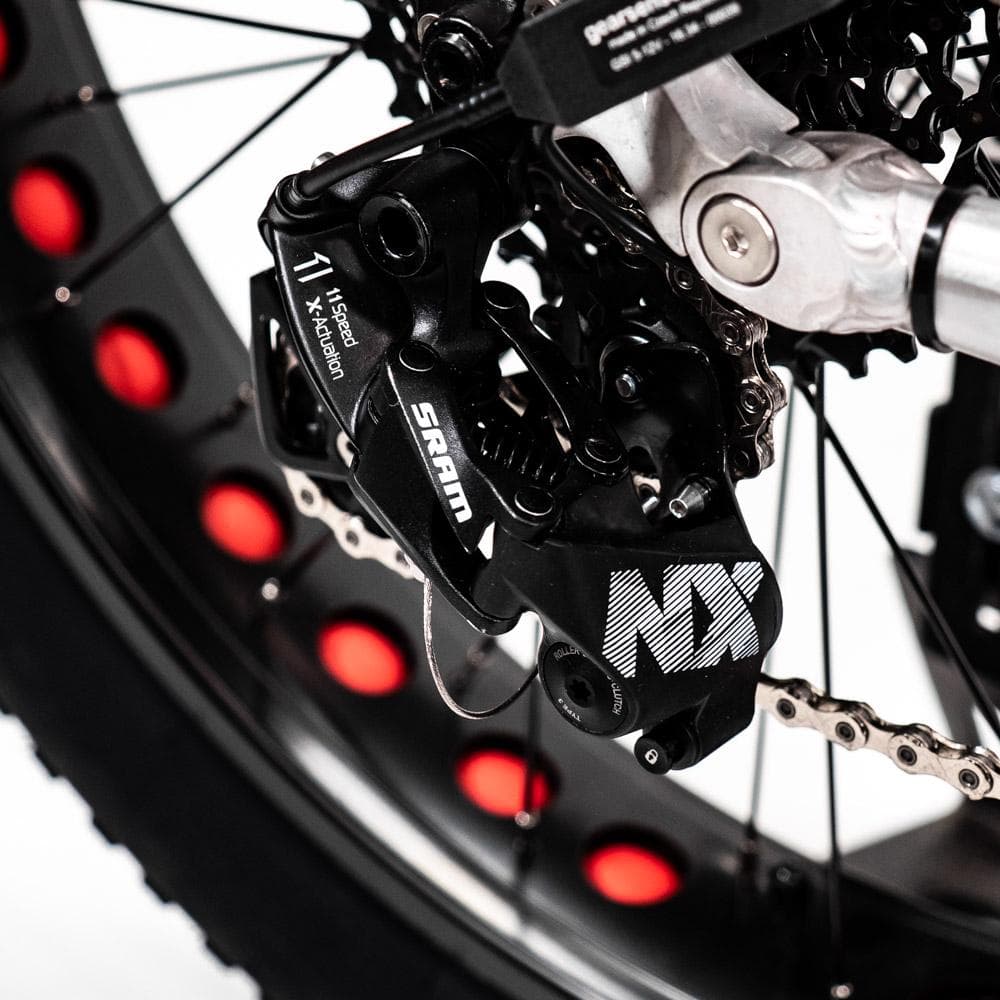 There's plenty to like about the drivetrain, which is made up of a SRAM PG-1130, 11-42T cassette with 44 T steel chainring for a 11 speed eBike. 11 speed drivetrains provide extensive gearing options, so even the steepest hills won't prove as much of a challenge with the Juggernaut Ultra FS electric bike. The one aspect where the drivetrain struggles is with the chain setup, and for the most part it is above what we expected since it does have a aluminum alloy bash guard and chain guide. The bash guard keeps the drivetrain well protected from rocks, mud, and other debris (consider adding the optional fenders for greater protection), while the chain guide minimizes the chance of the chain slipping when you perform a gear shift. However, while a premium KMC X11 chain optimized for eBikes is included, it just gets chewed up quickly by the ultra powerful Bafang mid-drive motor. The drivetrain is fantastic overall, but be aware that you are likely going to replace the chain sooner than expected compared to other traditional mountain bikes given how demanding the eBike motor is.
Brakes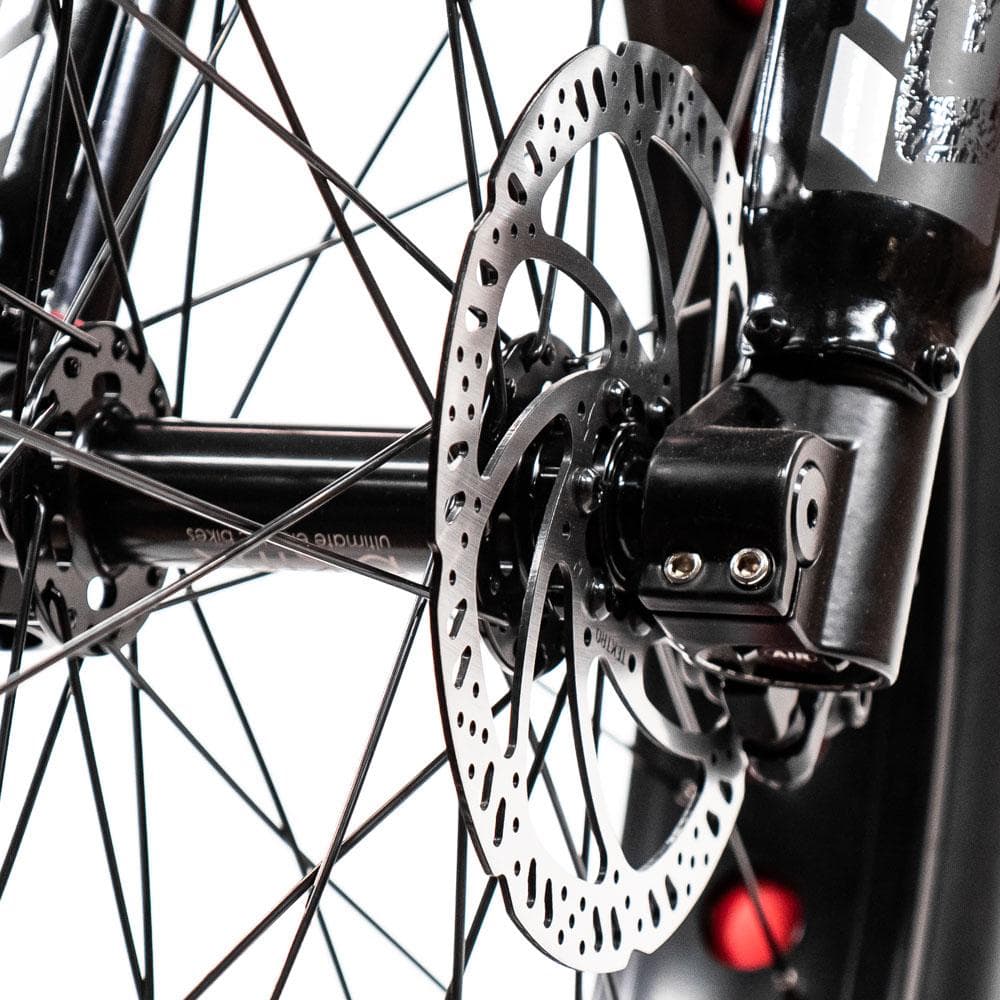 Another major component that you can customize is the braking system. Both braking systems feature high quality hydraulic disc brakes, with the Tektro E-350 setup featuring dual pistons and 160 mm rotors, while the Magura MT5e has quad pistons and 180 mm rotors. The Tektro brakes are recommended for riders on a budget who plan to use their eBike for hybrid and moderate trial riding, while the Magura MT5e setup is specifically optimized for heavy duty trail riding. Whichever system you go with, hydraulic brakes are stellar in that they tend to last longer and are more durable than your traditional mechanical disc brake system. Both brakes also have motor cut off integration, so the motor shuts down the moment you apply the brakes. Not only does having motor/brake integration help you come to a stop sooner since the brakes aren't competing with each other, but it also means that the motor and braking system will both have a longer performance lifespan as well.
Suspension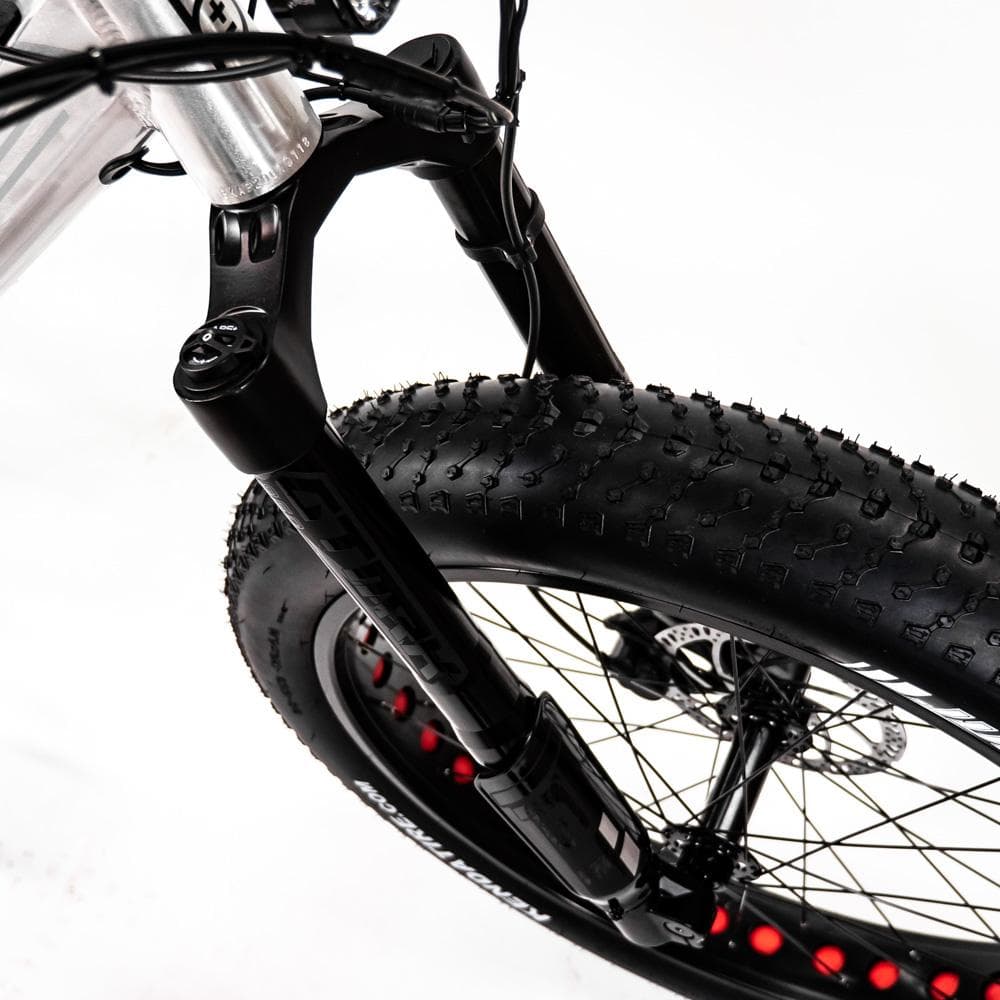 The BikTrix Juggernaut Ultra FS is a full suspension eMountain bike, but you get to pick your front suspension depending on your personal riding style. The three options are a BikTrix inverted fork with 100 mm of travel for hybrid riders, the DNM USD-6 Fat Fork with 100 mm of travel for those who like to ride with fatter tires, and the WREN inverted suspension for with 150 mm of travel for dedicated mountain biking enthusiasts. Each of the suspension forks work great for trail riding though, so even if you do go with a hybrid 100 mm travel option you'll have plenty of support for most of the trails you ride.
Pedals
Even the best mountain bikers in the world crash sometimes, and when that happens it's best to have a pedal system that is able to withstand the occasional tumble. While plastic platform pedals are the typical base for many eBikes, BikTrix decided to include aluminum platform pedals instead, which have the main advantage of being more durable. The aluminum pedals are also extra wide and large, ensuring that even the 6'5'' tall riders can find good foot placement if they also have bigger than average feet as well. Lastly, aluminum pedals provide greater traction support than your typical plastic pedal, so your feet will maintain a better grip while you ride.
Grips and Saddle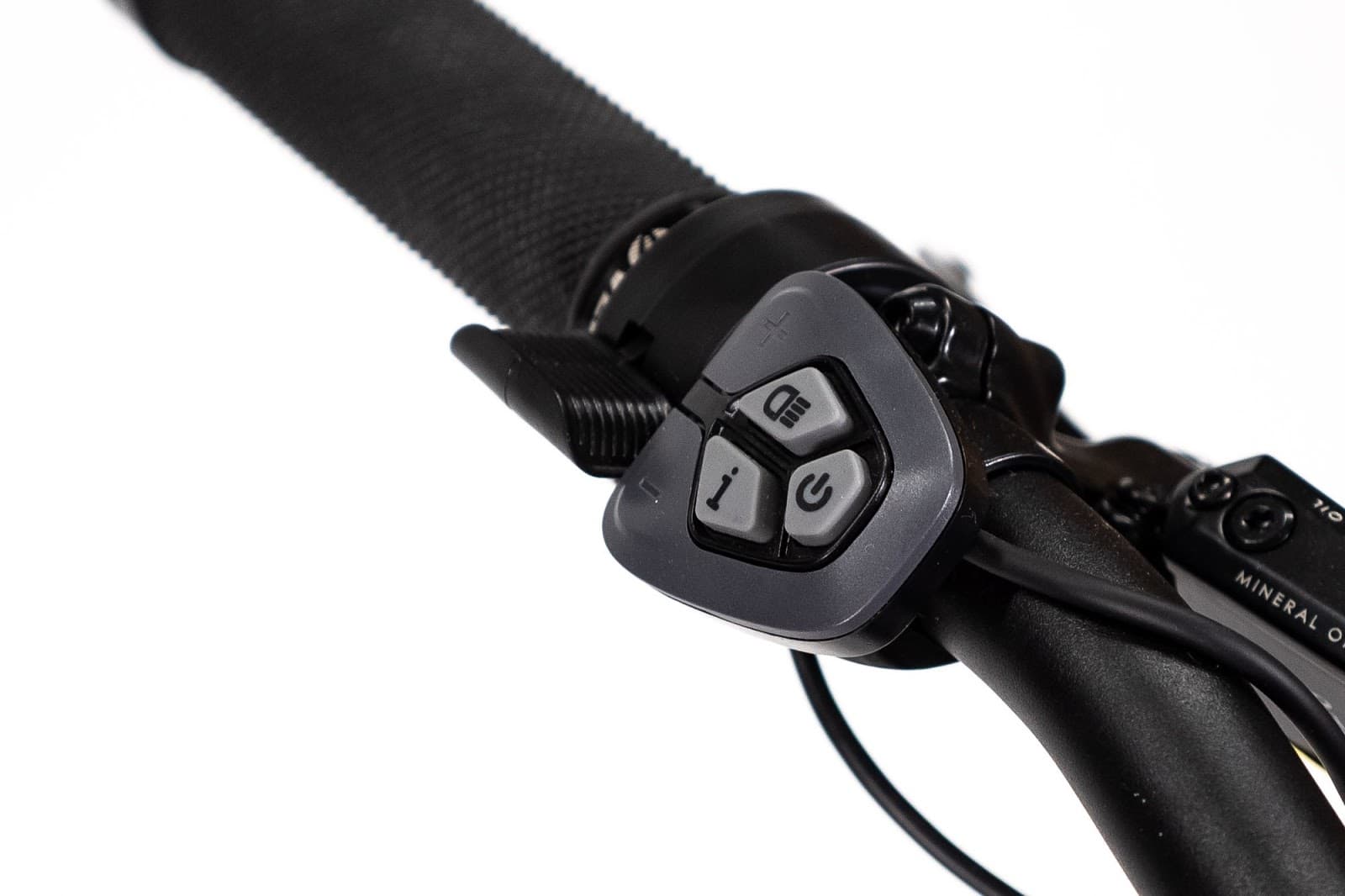 As a base, the grips are rubber slide on grips, which are comfortable enough to hold onto while trail riding and very easy to replace when they get worn out. Optional, premium ergonomic grips that lock onto the handlebars are also available, which will allow you to ride for even longer with a tighter grip that's also friendlier on your hands. As for the saddle, the Velo Plush seat is quite cushy to sit in, with a reflective patch in the back to help others spot you while you ride. Despite being their Narrow saddle, the included Velo Plush Narrow saddle is still large enough to support taller, heavier riders without needing an additional upgrade. With a high quality aluminum stem and handlebar, every aspect of the frame is built tough as well, so you shouldn't have to worry about any major part swap outs if you do occasionally crash on the trail.
Wheels and Tires
The final major component you can customize, the BikTrix Juggernaut Ultra FS tires comes in two different sizes. If you prefer a more hybrid riding experience, go with the Kenda Juggernaut Pro 26'' by 4'' tires, providing smoother and faster cycling performance when you're riding in the city. For the dedicated mountain biking enthusiast you'll want to instead choose the Kenda Havoc 27.5'' by 3'' tires, which provide a better grip on loose dirt trails even if it is a bit slower. Both tires are great, built with aluminum double wall 36 hole rims and stainless steel 13 gauge spokes. The tires are also tubeless ready, with dual thread compound protection to further reduce the risk of suffering a flat or other cycling accidents while you ride.
Accessories/Upgrades
The BikTrix Juggernaut Ultra FS is a highly customizable electric mountain bike when it comes to its base design, and you have a number of accessories and add-ons that are worth adding on top of the stock model. The most important upgrade we can recommend is the BikTrix Armageddon headlight, a power 2,000 lumen lamp that makes it significantly easier to cyclists riding the Juggernaut Ultra FS electric bike. This upgrade is so important to rider safety that we hope BikTrix includes it in their base model going forward, as the risk of collision is much higher without any sort of headlight on the stock model. A few more accessories, add-ons, and upgrades you may want to consider for the Juggernaut Ultra FS include the following:
BikTrix Armageddon Headlight
BikTrixBike Bell
BikTrix Fenders
BikTrix Comfort Seat
BikTrix Cargo Racks
BikTrix Canvas Pannier Bags
BikTrix Cell Phone Mount
BikTrix Rear View Mirrors
BikTrix Locks
Recommendation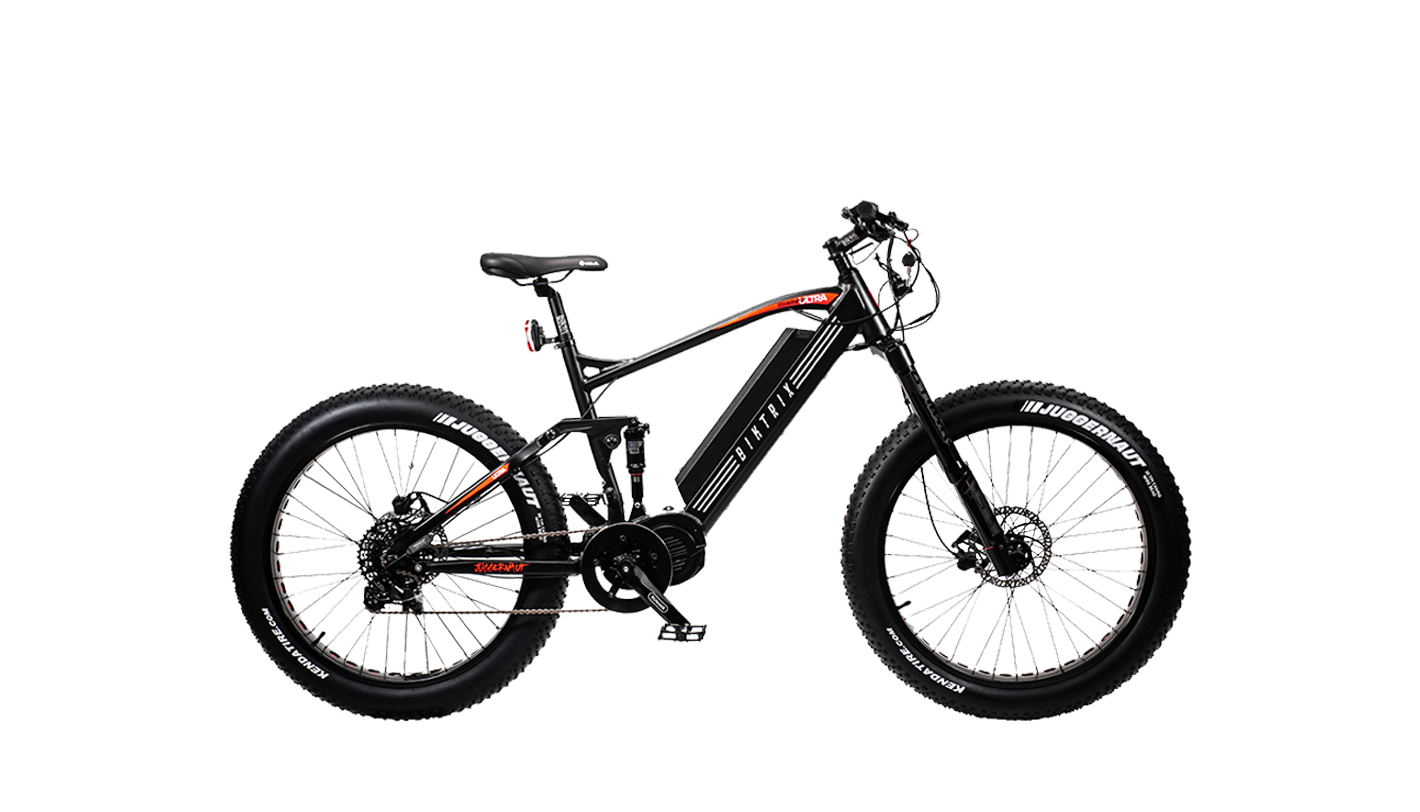 The BikTrix Juggernaut Ultra FS is one of the most customizable electric mountain bikes out there, ranging from custom wheels, brakes, batteries, suspension forks, and more. The 6061 aluminum frame helps the Juggernaut Ultra FS stay relatively lightweight for a eMountain bike despite the extensive motor setup and full suspension, with up to 300 lbs of rider support across two frame sizes. The 160 Nm is worth noting once again as one of the strongest eBike motors we've had the chance to review, paired with a 700Wh to 1,000Wh battery to help it travel up to 40 to 60 miles on a single charge. Outside of replacing the chain now and again, you'll have very little maintenance that you will need to perform on the 11 speed SRAM drivetrain thanks to the chain guide and bash guard built in. The 2 piston and 4 piston brake systems are both stellar and provide even more customization, helping you come to a quick, steady, and comfortable stop with the cushy saddle and grip setup. If you want to create a truly personalized electric bike, whether it be for city and trail riding or just to tackle even extreme mountain trails, you'll want to start designing a BikTrix Juggernaut Ultra FS eMountain bike today!
Thank you for reading our full spec review of the BikTrix Juggernaut Ultra FS electric bike! If you are interested in a performance review or would like to see a video review, be sure to let us know by leaving a comment below!