Welcome to our Blix Packa reciew. Here we'll break down the specs on this electric cargo bike! We have not been able to ride this
electric bike
just yet, but our review team keeps getting questions about how this bike performs. We've tested other Blix eBikes in the past and have also been making a list of components that the latest Packa model shares with other eBikes we're riding right now.
After studying our notes and having discussions with every member of our review team, we're ready to publish our spec review of the Blix Packa electric bike! We hope our spec review provides you with a good overview of the features, performance, and general riding feel of the Blix Packa electric bike.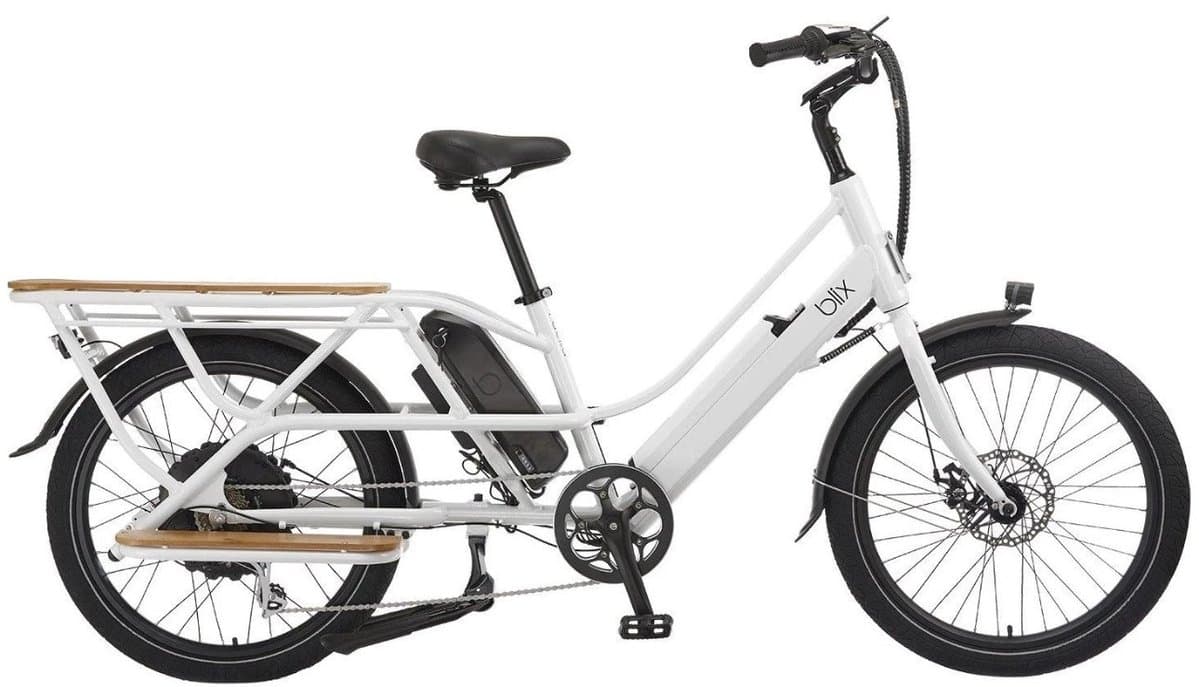 The Blix Packa electric cargo bike is one of the better budget options for those who need a cargo frame to commute to work or confidently ride with their kids. In fact, with a 400-pound cargo payload, up to two lighter adults can ride the Packa simultaneously.
You'll have the motor power you mostly need with the Shengyi rear-gear hub motor. The 750 W and 40 Nm output is sufficient for most roads and the occasional hill you encounter. Choose between a single 504 Wh battery to travel over 75 miles on a single charge, or upgrade to the 1176 Wh dual battery option to go over 160 miles without recharging.
The 7-Speed Shimano drivetrain is fine, but the bike sticks out from the competition even more, when you look at the 180 mm rotor Tektro mechanical disc brakes. This eBike also has every major safety accessory and component you need despite the low purchase price, including a headlight, tail light, fenders, integrated bell, and more.
If you want a brand new cargo bike that's easy to handle while being one of the most affordable eBikes on the market right now, you should read our spec review and learn why the Blix Packa is the cargo eBike for you!
Bike-Category: Class II electric bike. Pedal and throttle activated motor assistance up to 20 MPH.
Who It's For: Cyclists who want a lighter, very affordable cargo electric bike—especially recommended for those who want an extended, 75+ mile travel range without needing to recharge.
Bike Specs
FRAME: 6061 Aluminum Alloy
UI/REMOTE: King-Meter 3.75'' LCD Display
BATTERY: Samsung Lithium-Ion 504 Wh Battery, 1176 Upgrade Available
CHARGER: 2.5 Amp Charger
MOTOR: Shengyi Rear Gear Hub Motor, 750 W / 40 Nm
CHAIN: KMCe Chain
SHIFT LEVERS: Shimano RevoShift
CASSETTE: 14-34 T Cassette
CHAINRINGS: 48T Chainring
DERAILLEUR: Shimano 7 Speed Acera Derailleur
RIMS: Double Wall Aluminum Alloy 36 Hole
TIRES: CST C1809 24'' x 2.4'' Tires
SADDLE: Velo Comfort Padded Saddle
STEM: Adjustable Angle 100mm Length Stem
HANDLEBARS: Swept-Back, 640 mm Length Handlebars
GRIPS: Faux Leather, Stitched, Ergonomic Grips
BRAKES: Tektro MD-M300 Mechanical Disc Brakes, 180 mm Rotors
PEDALS: Wellgo Plastic Platform Pedals
KICKSTAND: Center Mount Single Dual Leg Kickstand
BELL: Integrated Bell
HEADLIGHT: Spanninga Axendo Integrated Headlight
TAIL LIGHT: Spanninga Flexio Integrated Tail Light
FENDERS: Full Plastic Fenders
Pros
A very affordable, full-length electric cargo bike. With a class II throttle, it is an excellent option for all types of cyclists. You can travel with over 400 lbs of cargo!
6061 aluminum frame. Highly adjustable saddle and handlebars, so typical adult cyclists should feel great on it. The full assembly weight is 72 lbs, which is great for a cargo bike.
Samsung Lithium-Ion 504 Wh battery, with an 1176 Wh upgrade available. Even the base battery has a 75+ mile range on a single charge. Affordable upgrade option too.
2.5 amp charger. Just a small upgrade, but it does help keep the overall recharge time from 0% to 100% to about 4 to 5 hours.
Shengyi rear gear hub motor, 750 W / 40 Nm torque output. Provides good pushing power at high assist levels. The throttle system pairs with the pedal assist level.
Shimano 14-34 T cassette with a 48T chainring drivetrain. 7-Speed eBike, which provides a solid mixture of gear options when you're traveling around the city.
King-Meter 3.75'' LCD display. More extensive than your typical display and with a good range of readouts as well. USB charging to help you keep your smart device charged while riding.
CST C1809 24'' x 2.4'' tires. Very balanced tires that have similar stability to a mountain bike but still retains good acceleration like a traditional city commuter.
Tektro MD-M300 mechanical disc brakes with 180 mm sized rotors. Excellent stopping power and mechanical disc brakes offer some unique advantages over hydraulic discs.
Full accessory range despite the very low price. Integrated bell system, kickstand, headlight, tail light, and more. A fantastic value that is hard to beat!
Cons
Generous cargo weight support, but be aware that the frame does flex and wobble the more and more weight you add to the eBike.
Fenders are your only drivetrain protection and guide. Don't be surprised if your chain drops more often compared to other entry-level eBikes.
The motor can provide a ton of power at high pedal-assist levels but struggles to maintain it. Be careful when trying to climb a tough hill with the Blix Packa.
Bike Features
6061 Aluminum Alloy Frame
Durable 6061 aluminum alloy electric cargo bike frame. Able to support a single adult rider, with up to 400 lbs of cargo support. With the right accessories, a parent can ride up to two kids or another adult behind them.
Samsung Lithium-Ion 504 Wh Battery, 1176 Upgrade Available
Large capacity battery mounted beneath the saddle on the Packa. You can choose to have a single battery or upgrade to more than double your range. The stock battery has a 75+ mile range when used with optimal riding conditions.
2.5 Amp Charger
An above-average charger recharges the included battery reasonably quickly. Estimated full recharge time from 0% to 100% typically takes about 4 to 5 hours. Lightweight, so it is easy to pack into your bag with you when you travel.
Shengyi Rear Gear Hub Motor, 750 W / 40 Nm
Shengyi rear-gear hub motor, with a 750 W / 40 Nm torque output. It is very fast when you're riding through the city, but it will struggle going up a hill. Not a cargo bike you should ride on a less than stellar road.
King-Meter 3.75'' LCD Display
A larger than average display makes it very easy to track a ride range of riding metrics. Five pedal-assist levels provide more dynamic pedaling assistance than your average entry-level eBike.
Shimano 14-34 T Cassette with a 48T Chainring Drivetrain
7-Speed eBike, which is the typical number of gearing options you find on an entry-level eBike. Plastic fenders with mud flaps are a nice inclusion, helping keep the drivetrain clean and free of debris when you go out and ride.
CST C1809 24'' x 2.4'' Tires
Balanced, even tires that are a hybrid between proper commuter tires and what you might expect to find on an eBike. Excellent stability and ground traction, but also not so big that you feel slow when riding through town.
Swept-Back Handlebars with Rigid Steel fork
Swept-back, mid-rise handlebars are designed to provide a very comfortable riding experience as you explore the city. A rigid steel fork provides additional natural suspension, so you don't feel as rough riding over the occasional bumpy surface.
Tektro MD-M300 Mechanical Disc Brakes, 180 mm Rotors
Massive 180 mm sized rotors will help you come to a quick and rapid stop even when your frame is loaded with cargo. It is not as good as hydraulic disc brakes, but mechanical disc brakes are lighter and easier to service.
Wellgo Plastic Platform Pedals
Large, oversized pedals that provide support for light and heavy cyclists alike. Plastic pedals like these don't offer the same traction or durability as aluminum pedals, though. Upgrading your pedal setup is highly recommended.
In-Depth Review
Frame
Like many traditional eBikes, the Blix Packa is designed with a 6061 aluminum alloy frame. 6061 aluminum alloy is lightweight, inexpensive, durable, and easy to work with, making it a popular choice for not just bike construction but cars, boats, and aircraft as well.
The Blix Packa does indeed weigh about 72 pounds, but that is surprisingly lightweight given that the average full cargo eBike often weighs over 90 or 100 pounds. We also want to note that the Packa may only be available in one size, but due to the step-thru design and highly adjustable components, all types of adult cyclists should feel comfortable on it.
Available in two colors, you can visit the Blix website or check out our review photos to help you choose which Blix Pack eBike style you prefer!
Motor & Battery
The Blix Packa is a class II eBike, with pedal and throttle activated motor assistance up to 20 MPH.
The only major performance component that we're a bit mixed on is the motor configuration. A rear gear hub motor 750 W / 40 Nm output provides good motor power if you are trying to ride around the city.
However, while it has a high peak motor output, it struggles to maintain the necessary power to climb up a steep hill. If you find your motor sputtering or are worried about overworking your motor up a very tough hill, dismount and put it in walk mode to ease the strain your engine might otherwise experience.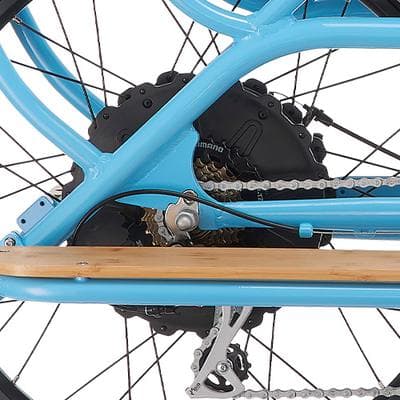 While the motor configuration is acking, the battery setup certainly isn't. The Blix Packa has two battery mount options, allowing you to pick between the stock single 504 Wh battery or upgrade for the dual 1176 Wh battery combination.
The single battery has a range of 75 miles, while you can expect to travel over 160 miles if you pick the affordable upgrade option. Whichever battery you choose, you will also receive a 2.5 amp charger, a small but noticeable upgrade over your basic 2 amp charger that comes with many other eBikes.
Recharging from 0% to 100% takes about 4 to 5 hours, which is great given the large capacity of these eBike batteries. We also want to highlight that the batteries are removable, so you can charge them while mounted on the bike or indoors while off the Packa.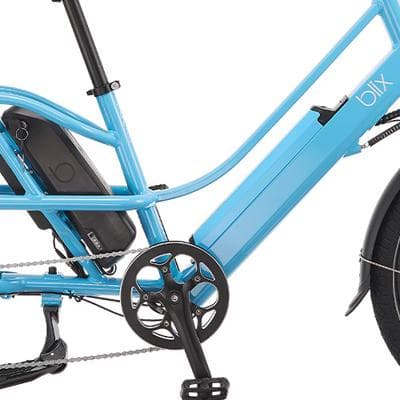 Display/Assist Modes
Located in the center of the handlebars, there is a Blix Packa King-Meter 3.75'' LCD display. The extra-large size makes it effortless to read the screen, though be aware that it isn't easy to use while riding in the dark due to the monochrome design.
That's the only complaint we have about the display because it has a good list of readouts to track your overall riding experience. The King-Meter display even has a USB port, helping you keep your smart devices like your phone or watch charged while you ride the Blix Packa. Here are the following readouts you can expect with the Blix Packa LCD display:
Blix Packa King-Meter LCD Display Readouts, Metrics, and Settings:
Current Speed
Average Speed
Max Speed
Battery Level (Five levels. Separate bars for separate batteries.)
Pedal Assist Level (Five Levels + Walk Mode)
Trip A Distance
Trip B Distance
Odometer
Light Settings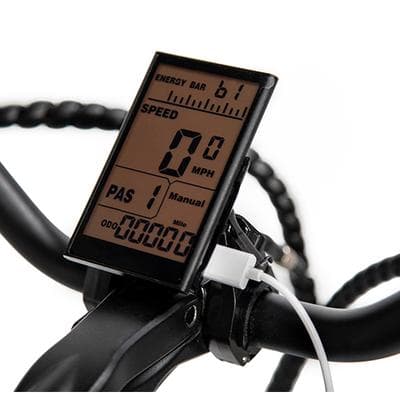 One more thing of note is that unlike many other traditional class II eBikes, the pedal-assist level does change the throttle's motor power. Instead of always providing full force when you twist the throttle, it will now match the pedal-assist level the bike is at. This is a small but important feature included with the Blix Packa and something we hope more class II eBikes have in the future.
Handling
On Streets- The Blix Packa has good handling if you stick to riding on city streets. The balanced tires provide a mixture of good acceleration with stability and traction support, helping you ride fast without ever losing control of the eBike. The 180 mm-sized rotors offer great stopping power as well, so braking should feel just as smooth and effortless as pedaling. With a 7-Speed drivetrain, you'll have several different options to choose from as you ride and optimize your pedaling cadence.
Turn Radius- Like many other cargo electric bikes, the Packa doesn't have a tight turn radius. Part of this is due to the heavy bike weight, though the 2.4'' wide tires and the extended rear cargo rack are major contributing factors. From our discussions with other reviewers, it isn't so bad that you have to cross into two lanes of traffic just to complete a circle. However, you should definitely take your time when trying to make a tight turn and avoid cutting corners as much as you can with the Blix Packa.
Low-Speed Handling- The Blix Packa is relatively lightweight for an electric cargo bike, but at 72 lbs, it is still heavy. So it can be challenging to handle at low speeds. Fortunately, the motor significantly improves low-speed handling, with two different options you can choose from. First, you can turn on a low pedal-assist level, which will allow you to pedal or use the throttle for a small boost while you focus on your handling. Alternatively, it is worth dismounting the eBike to take advantage of the eBike walk mode. With walk mode on, your bike motor will provide a minimal boost without you having to pedal or use the throttle at all. While you do need battery power to make use of these suggestions, the overall battery drain is minimal and will have little to no impact on your total riding range.
Gears/DriveTrain
Outside of the motor, one area that could also use some improvement is the drivetrain configuration. There is a Shimano 14-34 T cassette with a 48T chainring drivetrain, a specialized eBike optimized chain holding the two together. This setup forms a 7-Speed drivetrain, which is the ideal minimum gearing configuration you want on a city commuter eBike. While more gear options are always appreciated, you still have plenty of control over your pedal cadence with seven different gear options to choose from.
We find the drivetrain to be a little lackluster once you consider the lack of chain guides or guards. You do have full fender coverage, the plastic guards and mud flaps helping the drivetrain and wheels stay free of mud, rocks, and other gunk that would clog the wheels and drivetrain up.
However, there isn't a chain guard, a slap guard, a derailleur guard, or any other guard used to guide and protect the drivetrain. While you can still have a great riding experience without them, we would like to see at least one of these components included with the Packa drivetrain.
Brakes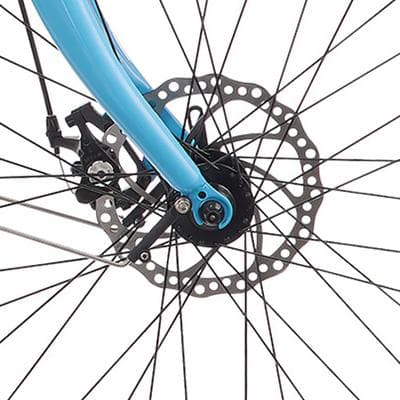 Stopping power is one of the most critical aspects of an eBike, and we're glad to report that you will be delighted by the braking setup included on the Blix Packa. There are Tektro MD-M300 mechanical disc brakes, with 180 mm sized rotors on both the front and back wheel.
These oversized rotors are the preferred size for eMountain bikes, so to have them on a cargo bike is a welcome fit since cargo and mountain bikes tend to have similar weights. While we prefer hydraulic disc brakes, mechanical disc brakes have a couple of advantages, such as being quieter, easier to service, and providing a more robust feel when you pull on the brake lever. While we would like to see hydraulic disc brakes included in the future, having mechanical disc brakes does help keep the overall weight down on the Blix Packa electric bike.
Suspension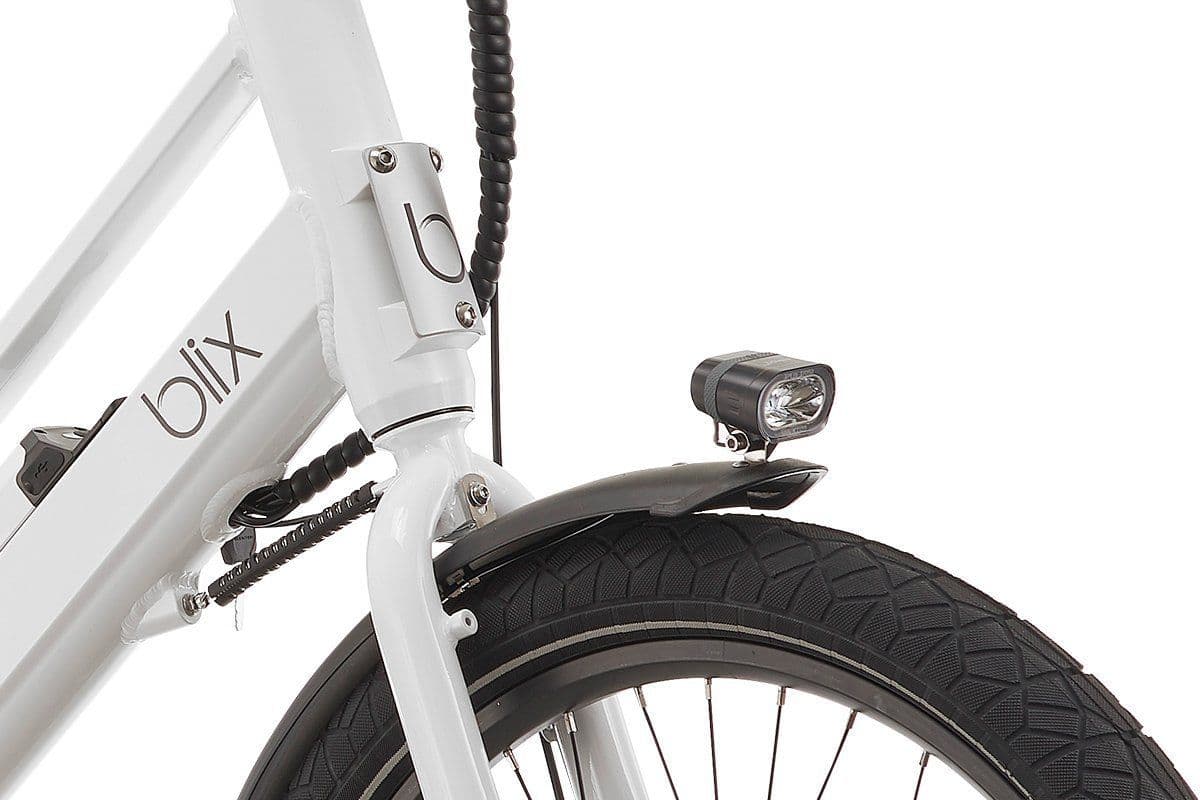 Regarding bike suspension, the Blix Pack relies primarily on the natural suspension provided by its own heavy bike weight. In conjunction with the 72 lbs full assembly weight, the Packa features a rigid steel fork, providing greater shock absorption than the rest of the aluminum frame.
Taken together, the Blix Packa will travel over cobblestone, gravel, and the occasional pothole with minimal impact on the cyclist or their passengers. However, we would advise against riding on trails with the Blix Packa since the shock absorption isn't sufficient for riding even moderate dirt pathways without feeling sick or unsteady.
Pedals
Pedals aren't a significant concern, but we would recommend swapping out the stock pedals on the Blix Packa when you have the chance. The stock pedals that come with the Packa are plastic. Plastic pedals lack the same traction support and durability that you get with aluminum pedals. We're also underwhelmed by the reflector panels embedded in the pedals because while they are well protected, they are nearly impossible to see except at precise angles. Several aluminum platform pedal options are quite affordable, so you should consider making an upgrade if you want the best riding experience possible with the Blix Packa.
Grips and Saddle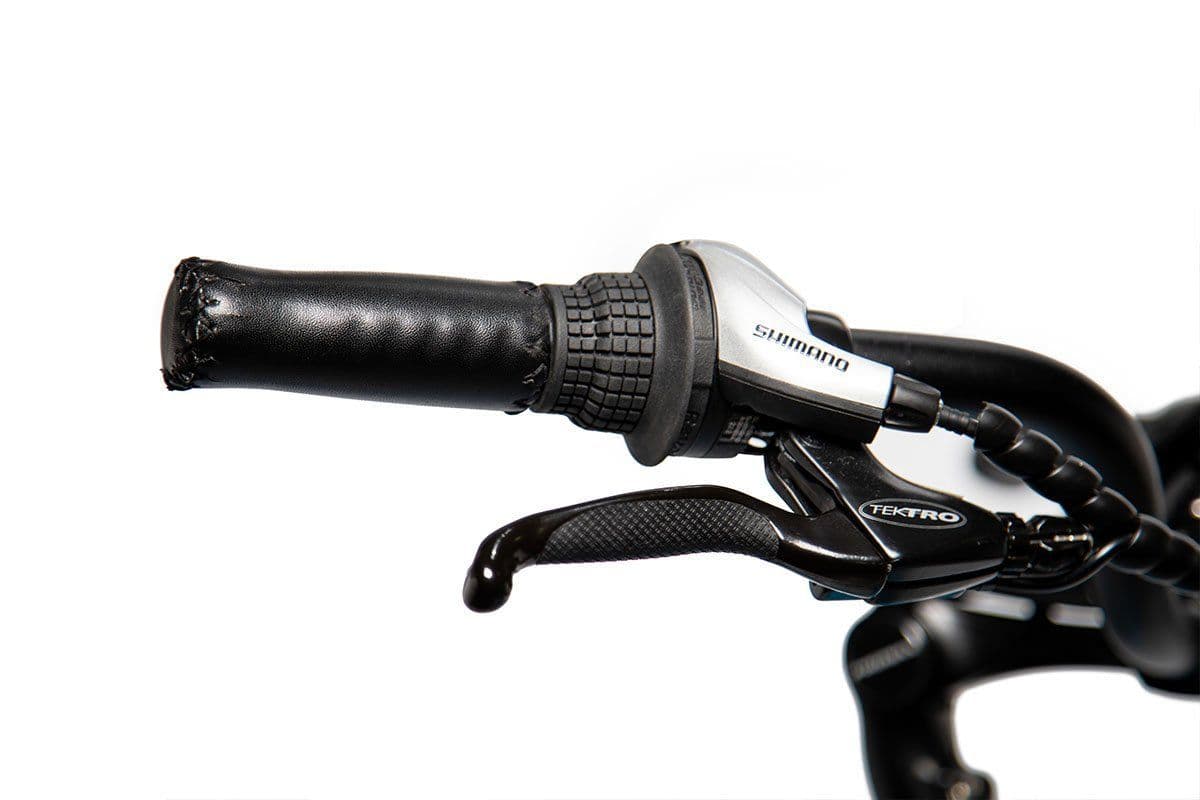 Rider comfort is paramount on an eBike. Comfort is typically determined by the grips, saddle, and handlebars. The grips are stitched faux leather Velo ergonomic grips and the ergonomic design specifically enables cyclists to ride long distances without irritating their hands.
The stitched faux leather design matches the Velo padded comfort saddle, which is large enough to support heavier, bigger cyclists without overwhelming bikers who are thinner or smaller.
The handlebars mid-rise swept-back design is great for cruising and riding in comfort. While you might not accelerate as quickly compared to other bikes with a more aggressive handlebar setup, your lower back and other joints won't feel as sore, especially if you go out riding for a couple of hours.
Wheels and Tires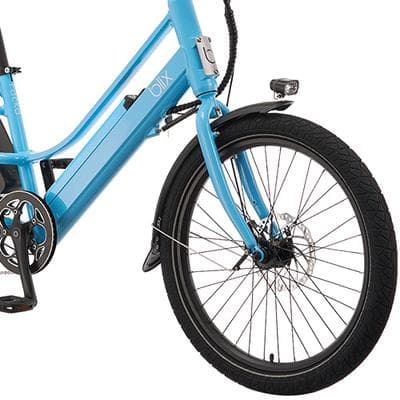 They might be the last major performance component we review but don't mistake in thinking that we don't care about the wheels. We think the superb CST C1809 24'' by 2.4'' tires are a significant reason why you should consider this eBike!
The tires offer extensive, premium-level puncture protection that typically gets left out of eBikes at this price point, providing a guard against not only sharp rocks and objects in the road but protection for riding at high speeds. The tires themselves are mounted on high-quality aluminum alloy double-wall 36 hole rims, with 12 gauge stainless steel spokes that help keep the wheel weight down while still staying durable.
You can also inflate the tires from 35 PSI to 65 PSI, giving you even more options for how you want to tailor and finetune your day-to-day riding experience.
Accessories/Upgrades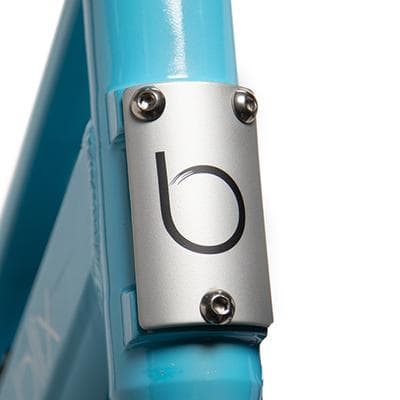 The Blix Packa's stellar value really shines when you consider how many accessories come with the bike despite the lower, entry-level price point. Included with the Packa are a headlight, tail light, dual-leg kickstand, rear cargo rack, and several other fabulous accessories!
Not only do you have extensive safety coverage, but you have all of the other essential components we like to see included and recommend first when upgrading an eBike. As mentioned earlier in our review, the pedals are the only thing we would recommend swapping out on the Blix Packa electric bike right away.
Otherwise, here are a few other great accessories you can add to make the Blix Packa an even better electric bike:
Blix Front Rack
Blix Baskets
Blix Rear Rack Cushion Seat
Blix Pannier/Tote/Rack Bags
Recommendation

The Blix Packa electric bike is easily one of the best cargo eBikes to consider if you're shopping on a tight budget. The single-size frame is highly customizable, with an incredible 400 pound payload enough for adults with a partner or kids to have fun cruising together.
The motor can struggle with steep hills, but for most occasions, the Shengyi rear gear hub motor with a 750 W and 40 Nm torque output is good enough to keep up with the flow of traffic. You can choose to stick with the stock battery or pay a small upgrade fee to have a dual-battery configuration that'll let you travel over 160 miles on a single charge.
The Shimano 7-Speed drivetrain is nice, but we appreciate the inclusion of 180 mm sized rotors with Tektro mechanical disc brakes. Speaking of great inclusions, you also have a headlight, tail light, dual leg kickstand, integrated bell, rear cargo rack, and several other great accessories all included with the Blix Packa eBike too.
Whether you need a bike to ride with your kids, friends or you need something to hold a ton of gear as you explore the city, you'll get great performance while saving money with the Blix Packa electric bike!
Thank you for reading our spec review of the Blix Packa electric bike! If you would like to learn more about the Blix Packa, be sure to leave a comment below with any questions you may have.