At Best Electric Bikes we get tons of questions from beginner and expert cyclists trying to understand their eBike better, and the braking system is at the top of the list. If you've been following our blog, you'll see that we already wrote a lengthy article about the difference between mechanical and hydraulic disc brakes, the two central braking systems on eBikes. However, following our post, we got many readers who wanted a more basic, introductory guide to eBike brakes.
This guide will detail as simply as we can how eBike brakes work. Below, you'll find a description of each component that forms the braking system, learn how they work together to slow your bike down and find out how you can make some small adjustments to repair and improve your brakes.
If you have any other questions about eBike brakes after reading our post, you are welcome to leave a comment below. Your comment may even get featured in our blog post if it is a great question.
With that in mind, we'll get started on our eBike brake discussion by going over all the components that form the braking system.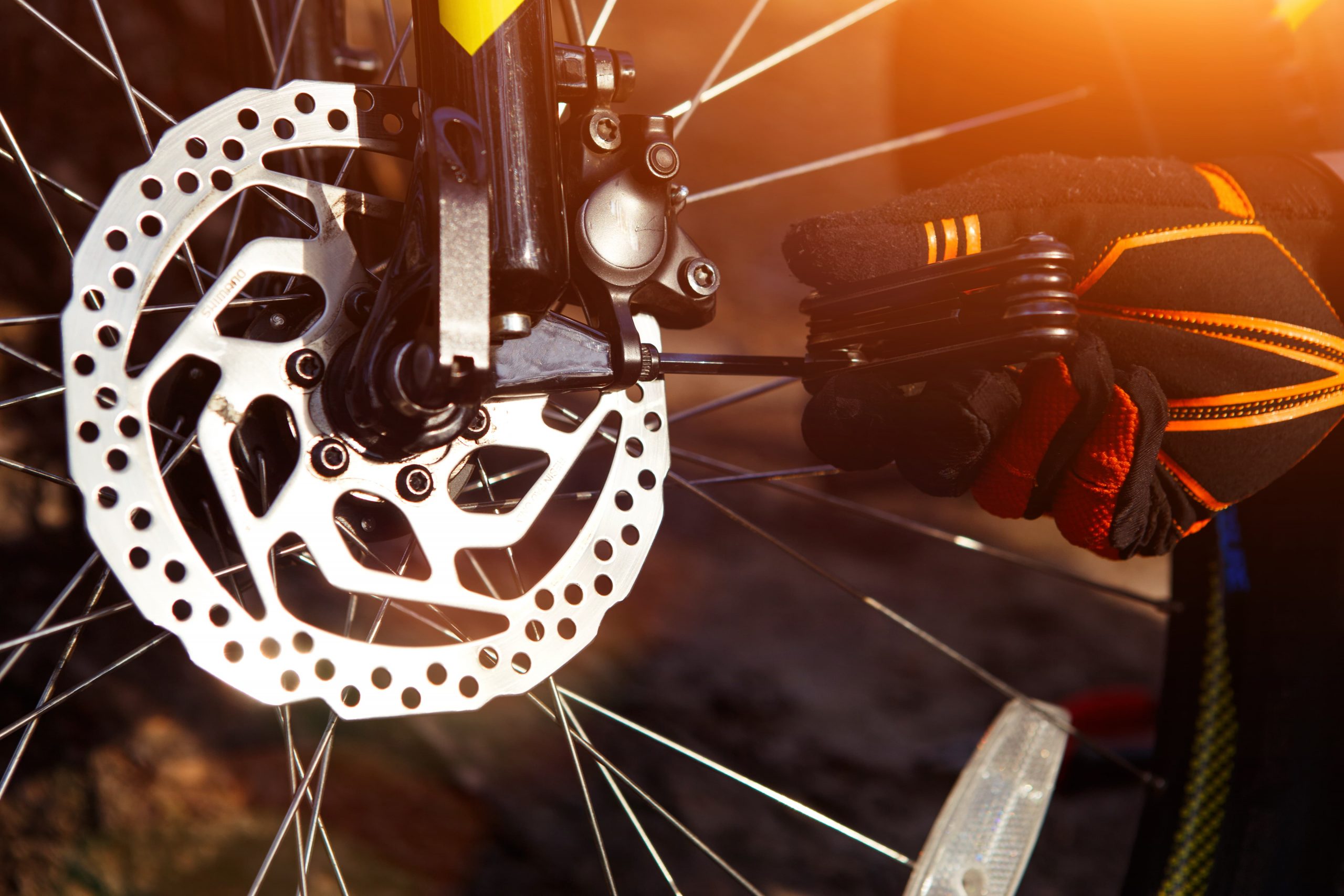 What are the Components that Form an eBike Braking System?
Levers
Levers are the appendages attached to your handles and used as the primary activation system for your brakes. Basic levers don't offer much in terms of extra features. But did you know that premium brakes have adjustable lengths, angles, and even pull strength?
The only other thing worth mentioning is that while the laws vary depending on where you live, the United States and much of the world require that the front wheel be connected to the left brake lever, and the back wheel be connected to the right brake lever.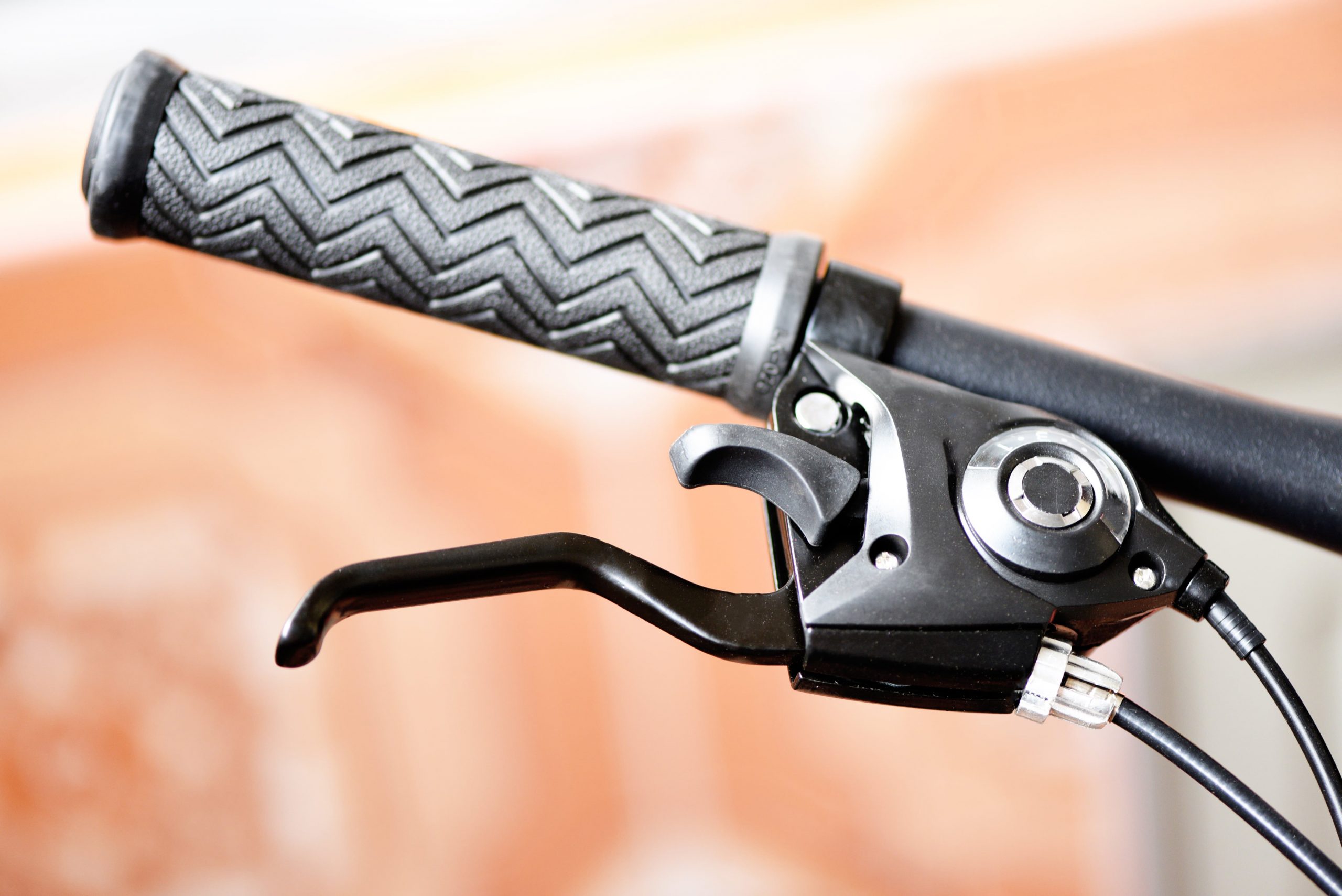 Cable
The cable connects the lever to the caliper, running from your handlebar to your wheels. The vast majority of eBikes rely on a mechanical disc brake system. Mechanical disc brakes have cables filled with air, while hydraulic disc brakes have cables filled with fluid. Mechanical disc brakes are easier to repair and replace, while hydraulic disc brakes provide greater stopping power due to the cable setup.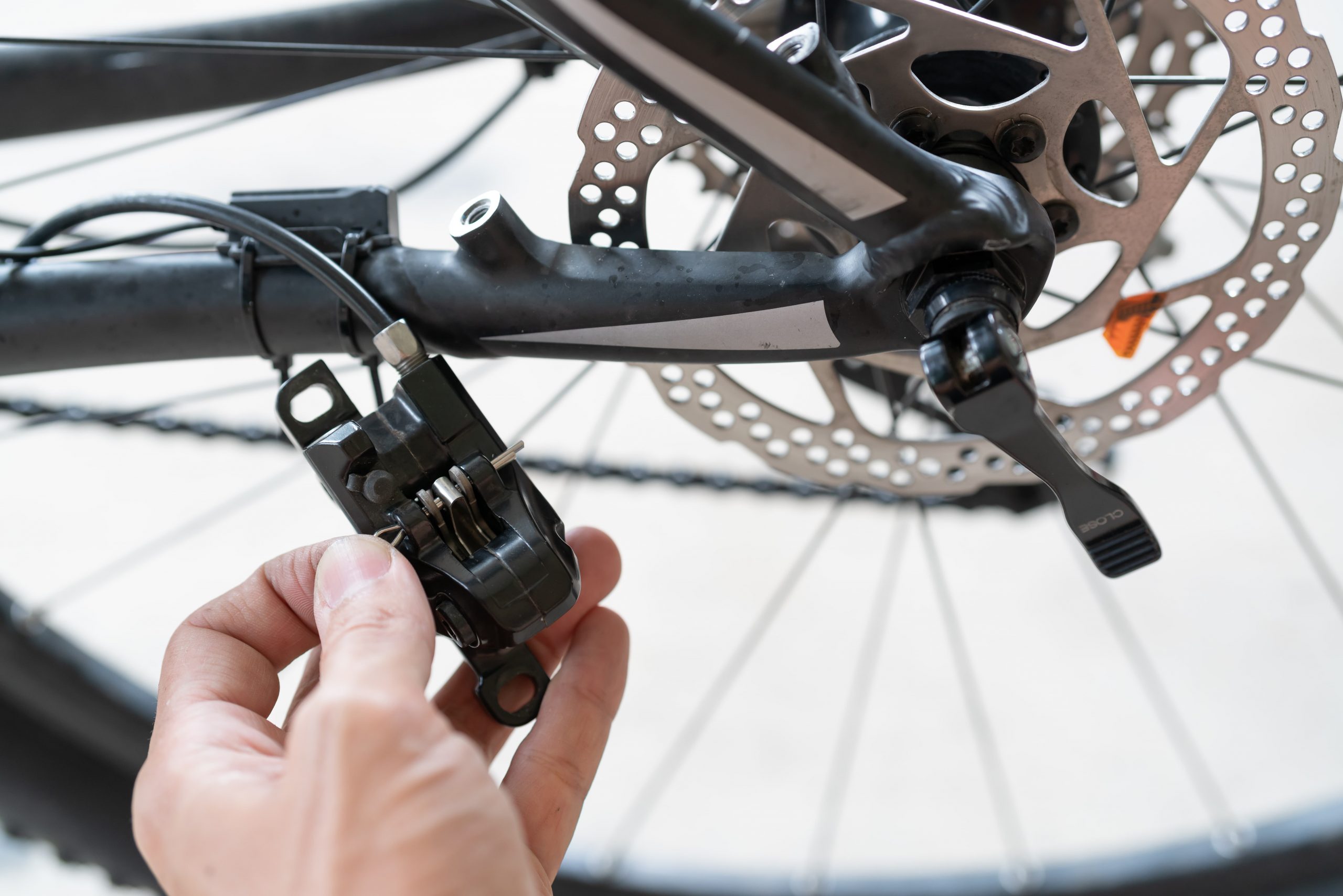 Caliper
The caliper is the central housing unit for two other critical braking components: the Brake Pad and the Pistons. When the lever is pulled, the pistons will move and press the brake pad into the brake rotor. Brake pads are specifically designed to slow down the eBike by applying friction to the brake rotor while also absorbing the brake rotor's heat when pressed against it. Brake pads are typically the first component you need to replace on a braking system that isn't functioning correctly.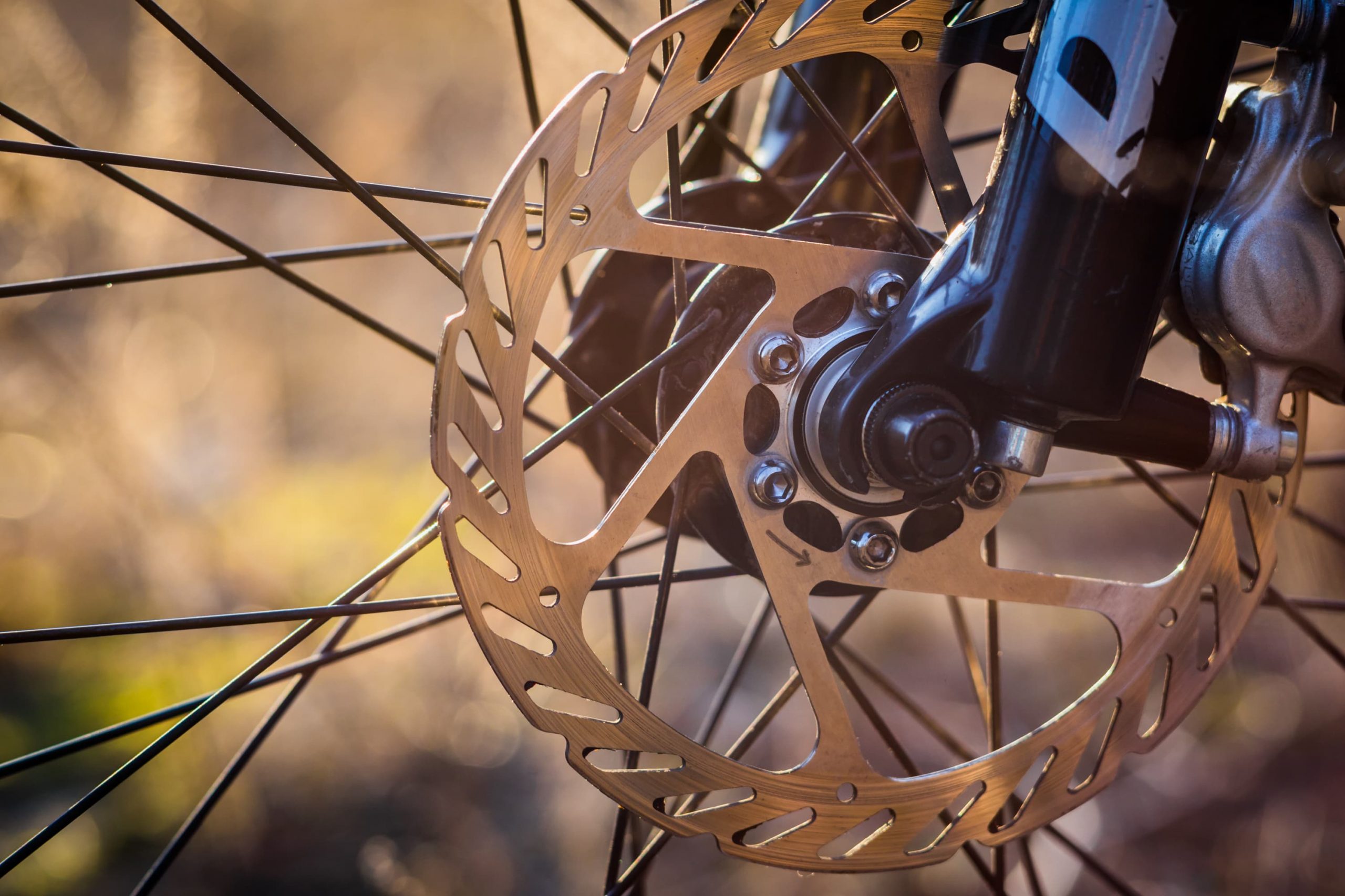 Brake Rotor
The brake rotor is a large metal disc that sits in the Wheel Hub, which refers to the center component of the wheel that holds it all together. As the brake pad is pressed into the spinning brake rotor, it slows it down by creating friction, making it harder for the rest of the wheel to turn.
The larger the brake rotor, the faster you slow down due to the greater friction generated. However, be aware that brake pads will wear out quicker on a larger brake rotor because of the larger friction compared to a smaller rotor. Typical eBike brake rotors are often between 160 mm to 180 mms in size.
So How do eBike Brakes Work?
Now that you have a general idea of every component on an eBike, we can discuss how the brakes work.
When the brake lever is pulled, the attached cable applies pressure to the brake caliper's pistons. The pistons push the brake pad attached to the caliper down into the brake rotor, using frictional force to the spinning wheel hub that the brake rotor is attached to. The tighter you pull on your brake levers, the harder the brake pad is pushed into the brake rotor, resulting in greater frictional force.
The greater frictional force applied to the wheel hub, the faster your wheel will slow down as the energy and momentum retained by the wheel is expelled as heat. Larger brake rotors have more surface area to evenly expel heat, allowing you to apply more force without running the risk of damaging the rotor, brake pad, or other components on the braking system.
The heat generated by braking is the primary reason why components get worn down. Eventually, you will need to replace the brake pad, the calipers, and even the brake rotor. However, just because your brakes are getting worn down or are causing issues doesn't mean you have to throw them away immediately. By following our suggestions below, you can resolve many of the issues you may be having with your brakes– besides helping them last longer before needing to be replaced.
How to Fix and Maintain Your eBike Brakes
Tip #1: Clean the Braking Rotor
One of the most common causes of braking failure is a dirty, damaged or otherwise gunked-up braking rotor. Depending on how your bike is constructed, it might be very easy for rocks, mud, sticks, and other debris to get caught up and lock up your electric bike.
Fortunately, cleaning bike rotors is easy since you primarily just need a wet washcloth or towel to run over the whole rotor disc. Remove any large debris caught in the rotor, and wipe it all down a couple of times to ensure that nothing is impeding the brake pad from pressing against the brake rotor.
As an important note, if you find any significant cracks, gouges, or otherwise missing components on your rotor, we highly recommend replacing them immediately.
Tip #2: Make Sure Your Braking Pad Isn't Oily
If the rotor itself is clean, the other most likely cause for fault braking is because your braking pad might be oily. The brake pad gets applied directly to the brake rotor, and depending on what you've been riding through may cause the braking pad to become very dirty, oily, or wet.
The wetter and oilier your braking pad is, the more slippery it will become and the less friction it will apply to the brake rotor when you pull the lever. Typically, you will want to clean brake pads with either brake pad-specific cleaners or isopropyl alcohol. Using other cleaners may make the problem worse, causing the brake pad to be even more oily or even causing it to degrade and fall apart.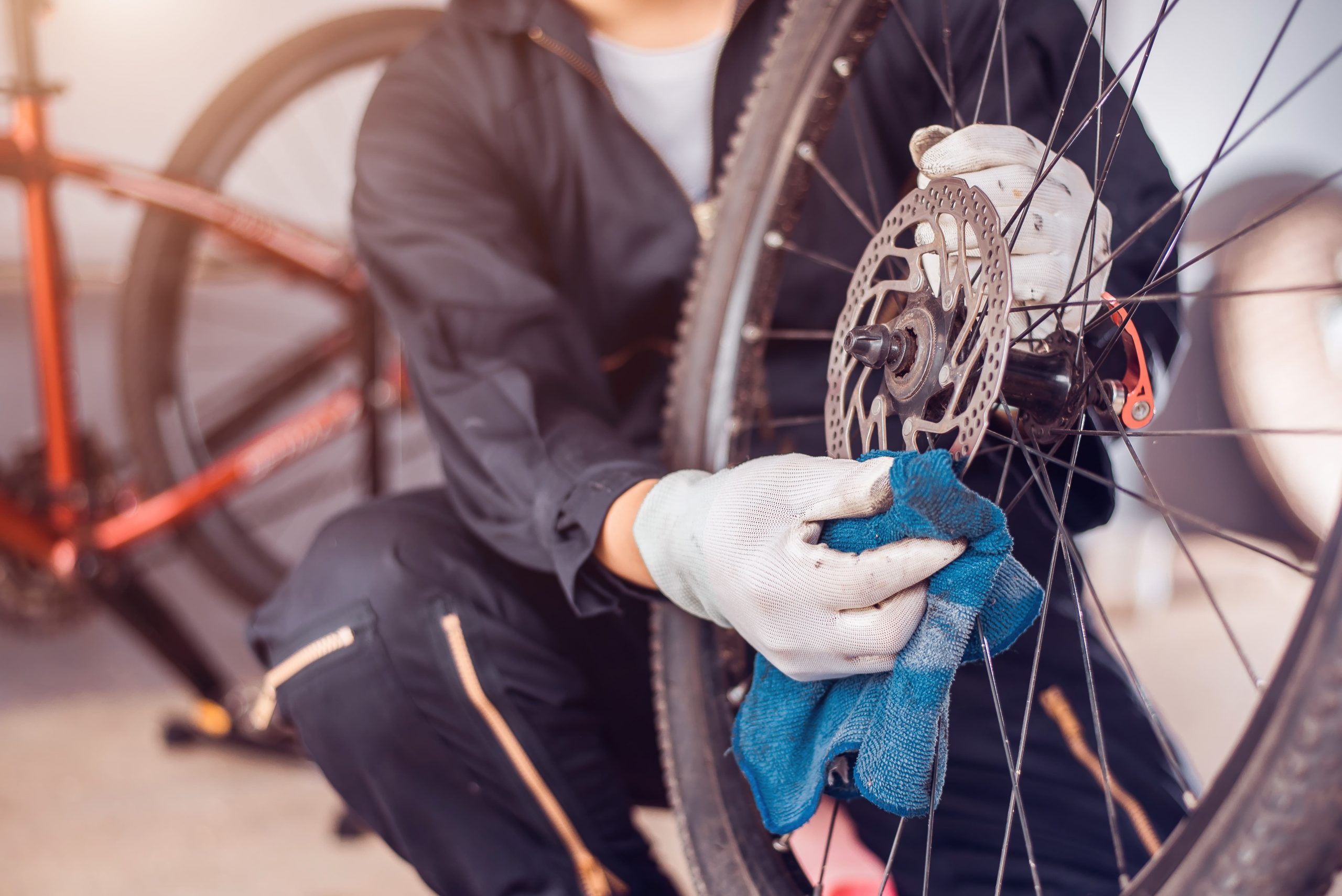 Tip #3: Make Sure Your Brake Caliper is in Alignment
Over time and especially after crashes, your brake caliper may become misaligned. When this happens, you'll have greater drag as your calipers fail to properly apply the brake pads to the wheels, causing you to take longer to slow down and potentially damaging the brake caliper. One obvious way to tell if your brake calipers are misaligned is if you hear a sharp or screeching noise when applying the brakes.
Fixing brake calipers by aligning them properly can be easy or difficult, depending on how the brake caliper is sealed. Many brake calipers just have a couple of bolts that can be loosened with home tools, though a few are tightly shut and tend to be challenging to put back together once you open them if you aren't familiar with bikes.
Many bike shops offer easy and inexpensive caliper alignment, but if you have a brake caliper that is easy to open and want to do it yourself, follow these steps.
Open up your brake caliper body and insert a business or playing card between the brake rotor and the brake pad. Push the brake pad into the card and rotor, and adjust the caliper body until it is aligned with the brake rotor.
Slowly release the brakes, and remove the card. Apply the brakes again to see if you have centered the caliper properly. If you haven't, repeat the process.
If your brake caliper is now aligned, again release the brake lever and tighten the caliper until it is fully shut. Spin the wheel and test one more time if the brake caliper is centered, monitoring how your brakes slow down the turning wheel.
Tip #4: Tighten Up All Other Brake Bolts
If your brake caliper is centered, but your brakes screech or are loud, make sure your rotor and brake pad are clean. If it is still noisy after cleaning everything, then the likely cause is that a bolt on your brake system is loose. Check over your whole braking system to ensure that all of the bolts, screws, and other parts are properly attached and tightened.
You can also check to see if anything is cracked, and giving your whole braking system a look over every couple of months will help you spot issues before they become a serious performance problem.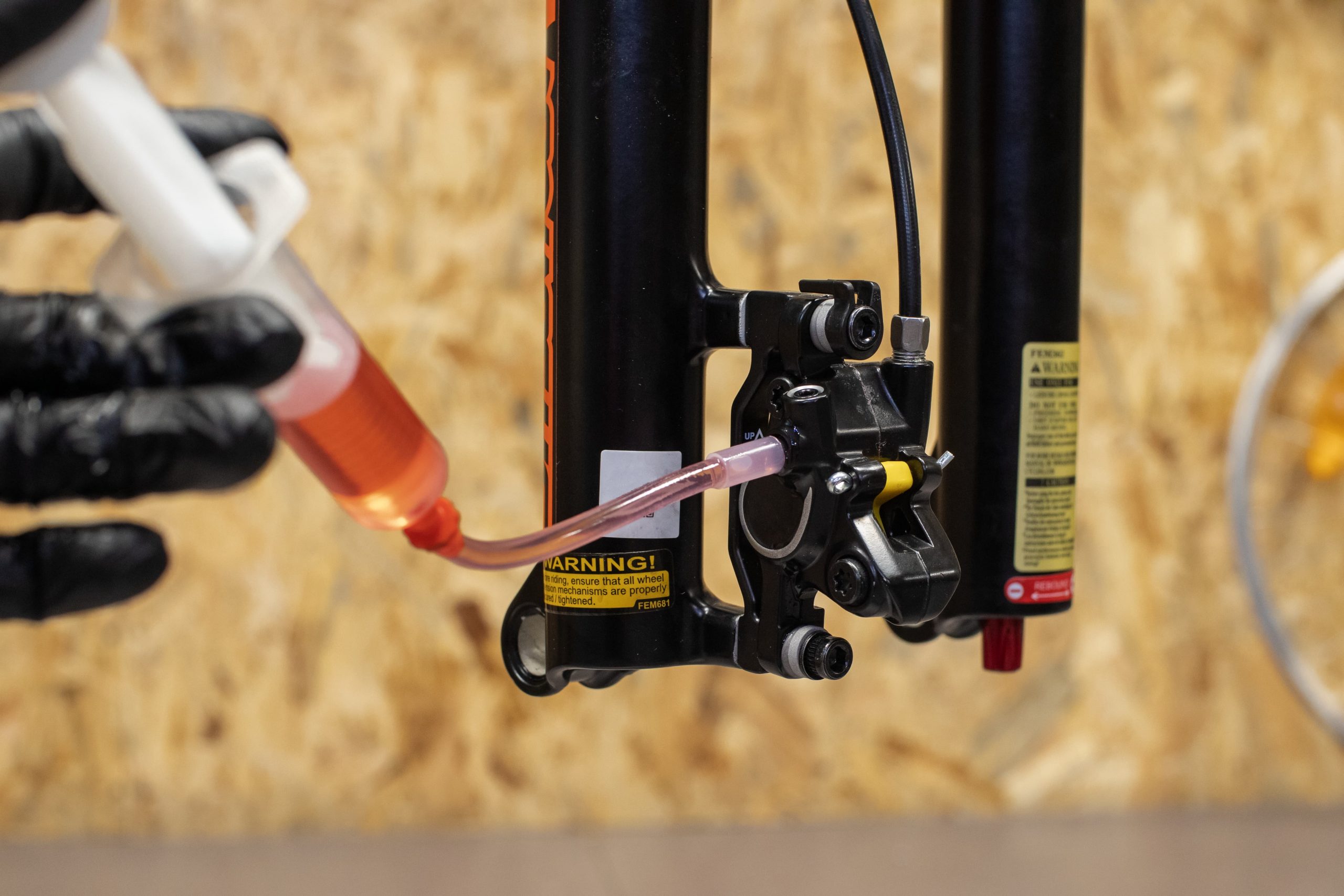 Tip #5: Remember to Check Your Cables
Depending on how often you ride, you will want to check your brake cables and service them every one to two years. For mechanical disc brakes, you will need to verify that the cables are attached, that everything is sealed correctly, and that proper pressure is applied to the pistons when you pull the levers.
You will need to drain and replace the fluid every one to two years for maximum riding performance for hydraulic disc brakes. There are do-it-yourself kits so you can drain and replace your hydraulic brake fluid on your own, but given how affordable it is, we recommend just dropping your bike off at a shop and letting experienced repair technicians replace the brake fluids for you.
Conclusion: Check Your Brakes to Have a Safe Ride!
Brakes are easily one of the most crucial safety components on your eBike and can be the difference between having a small crash when something goes wrong or a nasty one.
A small issue with your brakes can be easily fixed–but let it linger–and it will likely lead to massive performance issues and irreparable damage to your braking system or even your eBike frame. So, take a few minutes to periodically check, adjust, and clean your brakes, especially when you begin to suffer from performance issues. It might not seem like much, but a few minutes can save you hundreds of dollars and will make sure your brakes work like they should when you need them most.
Thank you so much for reading our blog post discussing eBike brakes. Be sure to leave any questions you have in a comment below if you wish to learn more about eBike braking systems!