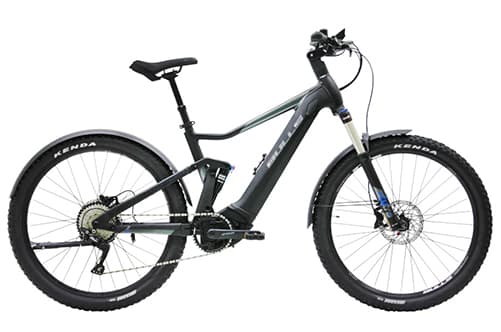 The 2020 BULLS Iconic EVO TR 1 Speed is a powerful new hybrid eBike designed for city commutes and off road pedaling alike. The Iconic EVO TR 1 features an impressive Bosch Performance Speed (Gen 4) motor, and is paired with a long-lasting, powerful Bosch Powertube 625 Wh battery to help you go on long motor assist rides. The TR1 Speed has a full suspension system, making your rides over bumpy roads and cobblestone relaxing, while also making it easier to pedal over tough hills and uneven dirt roads. The Bosch Purion display is pre-programmed with four different riding modes, along with a clear display to help you keep track of your speed and overall biking performance. Capable of providing motor assist up to 28 MPH, the BULLS Iconic EVO TR 1 Speed is a blast for those who need a great eBike that is great for the city and riding trails alike.
Bike Category: Class 3: Pedal assist to 28mph
Who It's For: Riders looking for a very solid, well built eBike that is fast and great for commuting and recreational activities alike.
Bike Specs
FRAME 7005 Aluminum
UI/REMOTE Bosch Purion Controller
BATTERY Bosch PowerTube 625Wh
CHARGER Integrated charging port
MOTOR Bosch Performance Line Speed Gen 4, 28mph
CHAIN FSA 38T
SHIFT LEVERS Shimano Deore SL -M6000
CASSETTE Shimano CS-HG500, 10-speed, 11-42T
CHAINRINGS 48T, custom alloy
DERAILLEUR Shimano Deore RD -M6000GS -D, Shadow Plus, 10-speed
RIMS BULLS Eccentric 30, tubeless ready
TIRES Schwalbe Super Moto-X Snakeskin, 62-584, 27.5 x 2.40
SADDLE BULLS, Limotec DP-01, dropper seatpost
STEM AS-MTBi
HANDLEBARS BULLS
GRIPS Body Geometry Contour
BRAKES Shimano MT420 Hydraulic, 203x203mm
PEDALS Wellgo
KICKSTAND Rear Kickstand
BELL Flick Bell
HEADLIGHT Integrated handlebar headlight
TAIL LIGHT Seat tail light, rear 3-LED light and back reflector
FENDERS 70mm Aluminum Alloy Front and rear fenders
Pros
Premium eBike that has a long list of great features packed into it. Integrated slights, tough slap guard, aluminum alloy fenders, rear rack with pannier mounts, and a bungee notch. Built with a ton of gear support out of the box.
Class 3 eBike that provides a fast 28 MPH motor assist. The large 625 Wh battery ensures you can go fast and travel long distances with the pedal assist eBike.
Fully integrated wiring. Not only does it make your Ebike look nicer, but it minimizes the risk of damage to the eBike wiring.
Highly visible design. Integrated headlight, 3-LED rear light and back reflector will make it easier for you to be seen while biking.
Lockable air suspension with rebound adjust to help your rides feel more comfortable. Full suspension trekking bike means it's good for paved roads, cobblestone streets, and rough terrain alike.
Simple to use 4 riding mode Bosch Purion controller. Replaceable, allowing you to upgrade to something fancier if you want after purchase.
Cons
Premium eBike, but a premium price as well. Usually costs around $5,500 dollars.
Heavier eBike that can be tricky to load/unload off a bike rack. Weighs 60.8 lbs.
Rubber pedals will work well for bikers in the city. Riders interested in something more challenging off-road will want to upgrade the basic pedals.
Features
7005 aluminum frame
7005 aluminum is one of the most popular aluminum alloys used in bicycle frames and is even more resilient than the 6061 aluminum alloy used in many non-premium bikes. Built tough, the 7005 aluminum does make the eBike come in a bit heavy at 60.8 lbs.
Bosch PowerTube 625Wh
Large, powerful battery that will provide a motor power assist up to 28 MPH. Integrated into the eBike as well, providing extra protection for the battery, with a removable cover that is easy to clip on and off.
Integrated, easy to charge power outlet.
The port is located on the same side as the drive system, making it easy to lay your bike down and charge it if you aren't relying on the kickstand. Charging time is approximately 4.9h to 100% from empty.
Bosch Performance Line Speed Gen 4, 28mph
The mid-drive motor provides 75 Nm of torque, while weighing just 6.6 lbs. Integrated into the mid-drive, you will hardly be able to feel the difference riding the TR 1 Speed compared to a motorless eBike while benefiting from its advanced power assist pedaling.
Bosch Purion Controller
The simple, easy to use Bosch Purion controller allows you to quickly change your power assist to one of four riding modes. Removable as well, so you can replace the controller with a more advanced display if you so desire
Shimano CS-HG500 10-speed
The 10 speed drivetrain has 11-42T sprockets connected by the Shimano Deore M6000 derailleur and shifter to a FSA 38T crankset. This is a tight chain suspssion, with narrow chainring patterns for reduced chain drops and slap guard protection.
Schwalbe Super Moto-X Snakeskin, 62-584, 27.5 x 2.40
The 27.5'' wide wheels are great for navigating city streets, but are large enough that you can take them off roading as well. While not as fast as dedicated city tires, the 2.4'' wide Snakeskin tires work well on paved roads and dirt beaten paths alike.
BULLS Handlebars
Angled handlebars that maximize visibility while making it comfortable for bikers to hold onto while riding over rough and solid terrain alike.
Shimano BR -MT420/420 hydraulic disc brakes 203/203mm
Highly responsive braking system that makes it real easy to come to a stop or slow down, pairing well with the powerful mid-drive system. Handlebar brake levers have adjustable reach and support up to three fingers.
Wellgo Pedals
Basic rubber pedals that don't offer much grip support, but get the job done. We would recommend upgrading the pedals if you plan to go on off-road adventures with the EVO TR 1 Speed.
In-Depth Review
Frame
The Iconic TR 1 Speed features a 7005 aluminum frame, and while it is a bit on the heavy side at 60.8 lbs it is definitely a durable, sturdy bike you will feel comfortable using even on rough hill climbs. The eBike features full suspension, and is meant to be enjoyed by all sorts of bikes. Whether you're using it to get to work even quicker for your daily city commute or intend to do some backcountry trekking as you ride off-road, you can have a lot of fun with the BULLS Iconic EVO TR 1 Speed.
There are four frame sizes, and while they all weigh about the same each frame will be better suited for a different height of rider. Make sure you check out the frame size recommendation chart below or on BULLS website before purchasing the 2020 BULLS Iconic EVO TR 1 Speed.
Recommended Frame/Height Chart for the BULLS Iconic EVO TR 1 Speed:
41 cm frame: 5'6'' and shorter
44 cm frame: 5'6'' to 5'8''
48 cm frame: 5'8'' to 6'2''
54 cm frame: 6'2'' and taller
Motor & Battery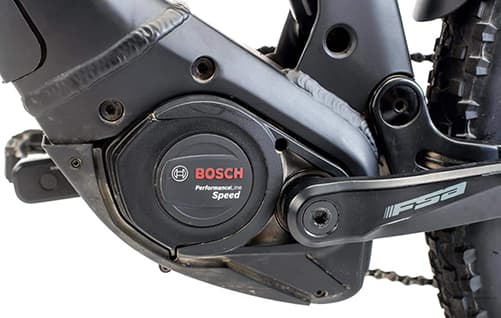 The BULLS Iconic EVO TR 1 Speed is a Class 3 bike with up to 28mph pedal assist.
This is an eBike built to help you go fast, while also ensuring that you can ride the bike comfortably on almost any terrain. The mid-drive Bosch Gen 4 motor is lightweight at just 6.6 lbs, while featuring an impressive 75Nm of torque. The battery incorporated into the bike is a Bosch Powertube 36 V / 16.7 Ah for a total of 625 Wh. While a powerful motor, mid-drive eBikes are great in that they more closely resemble the traditional feel of using a motor-less eBike. Unlike a hub-drive motor, mid-drive motors don't have the same jerkiness, and by placing the motor drive with the pedals the weight distribution on your bike shouldn't feel off either.
Overall, you can expect to use the motor to ride up to a hundred miles on a full charge. As a class three eBike, you will turn on the motor and get powered assistance as you turn your pedals. The higher the rider level setting you set your controller to, the more assist you'll be provided as you pedal. The pedal assist is capped at 28 MPH, at which point the motor will cut off, though you will be able to maintain your excess speeds by pedalling normally. Furthermore, the mid-drive motor will not affect your pedaling even when your motor is dead or turned off. That way, if you are going on a long distance adventure in excess of one hundred miles, you can confidently use your eBike without worrying about it locking up once you drain the battery.
The charging and locking port are located on the top of the down tube, providing quick and easy access when you need to recharge while also protecting the battery against damage and debris. The charging port is located on the same side as your drive-system, so if you aren't using your kickstand and need to lay it down you will have easy access to it as well. Lastly, while the battery is integrated into the downtube, it is additionally protected by a composite cover that provides further protection against dents. If you need to replace the cover after a major crash, you'll find it easy to clip on and off as well.
Display/Assist Modes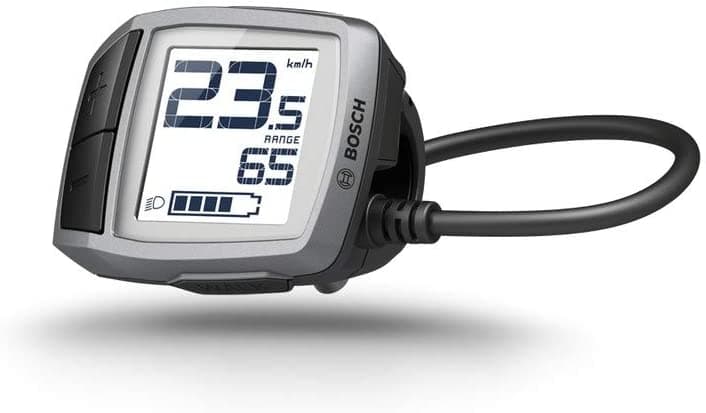 The EVO TR 1 Speed eBike comes with a removable Bosch Purion display controller. This is a magnetically attached controller and is fully removable, making it easy to replace and upgrade, but we think it will satisfy most riders who use it. The controller is backlit, so you can see what you're looking at both during the day and night, with a micro-USB port for easy connection directly to your eBike. There are a ton of things that the Bosch Purion display controller can monitor, including the following:
Bosch Purion Display Metrics
Clock
Assist Level: Eco (blue); Tour (green); Sport (yellow); Turbo (red)
Light indicator
Battery percentage and infographic
Speed Units (MPH or KM/H)
Current Speed
Power Meter (rider power and motor power)
Range Estimator (will adjust based on your speed and assist level)
Trip Distance
Trip Time
Power (watts)
Cadence (RPM)
Average Speed and Max Speed
Heart Rate (when wearing compatible chest strap)
Settings option
There are four power assist modes on the Bosch Pursion controller, including two partial/non-assist modes. The greater the assist mode will not provide power past 28 MPH, but will help you get to that speed quicker. The included assist modes consist of the following:
Bosch Purion Assist Modes:
Walk Mode (light assist <4mph)
Green (No assist)
Eco (60% – 40Nm)
Tour (140% – 50Nm)
Sport (240% – 69Nm)
Turbo (340% – 75Nm)
Handling
On Streets- The Iconic EVO TR 1 Speed is more comfortable to ride than many traditional, dedicated commuter bikes. The full suspension design helps every bike ride feel smooth, and is especially useful as you hit cobblestone or worn out roads. The adjustable stem and headlight also make it easier to find the perfect grip on the handlebars, which makes it even more comfortable to handle the bike while you're pedaling.
Turn Radius- The 27.5'' tires make it comfortable to perform a turn on city streets and on light off-road terrain alike, though you might find it a bit tricky on real tough trails. The 2.4'' width adds further traction support, but it does mean your turns will be a bit wider as well. This is a true hybrid bike in terms of performance, ensuring that you can make tight turns with some ease, even if it doesn't excel in either factor.
Low Speed Handling- This is a heavy eBike at 60.8 lbs, so it's not the easiest bicycle to handle when you're at low speeds or walking with it. However, both the walk mode and the Evo mode provide a small level of power that will help you propel your bike forward without having to maintain a high level of speed. With some practice using these power assist modes, we anticipate most riders will adjust and feel comfortable handling the EVO TR 1 Speed off the bike or at low speeds. Just make sure that you keep the battery charged, as it is a bit taxing to handle this bike walking with no power assist at all!
Gears/DriveTrain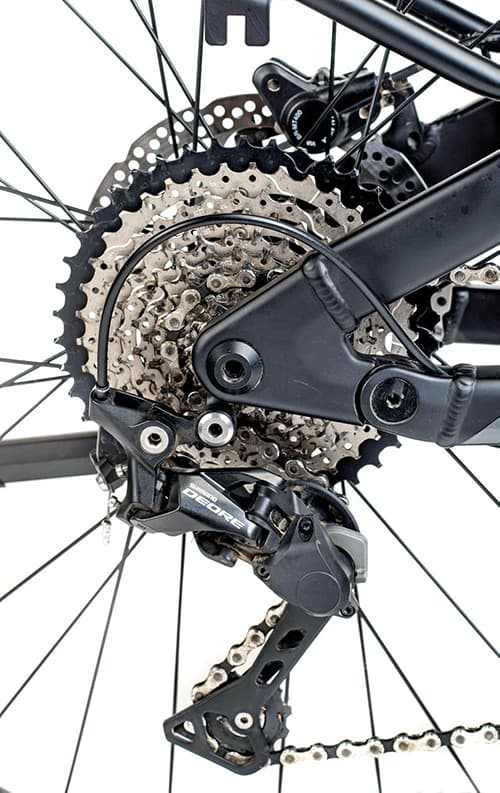 The BULLS Iconic Evo TR 1 Speed features a 1×10 Shimano Deore Derailleur and clutch for a tight and narrow chain suspension, connected to a 11-42 tooth cassette. With the addition of a slap guard, the Drive Train will be well protected from rocks, sand, and other debris that would clog up the chain ring. Further, the tight suspension also further reduces the possibility of chain drops, ensuring that you can spend more time riding and less time trying to maintain your eBike.
The handlebar shifters are two-way Shimano SL triggers. On the right handle bar, you will have both a two-way high and three-way low shifting, allowing you to change gears quickly in both directions with one hand. Featuring rounded, cushy BULLS handle grips, you'll be able to comfortably grip and shift your gears whenever you need to while you're riding the EVO TR 1 Speed.
Brakes
This eBike has a Shimano 420 hydraulic disc brake system, with 203 mm discs on both the front and fear of the EVO TR 1 Speed. While this is a powerful class 3 eBike, the Shimano brakes are very responsive and will help you slow down or safely come to a halt when you need to while biking. The handlebar brake levers are built with three finger support in mind, and have adjustable reach to further help you maintain a good grip while biking.
Suspension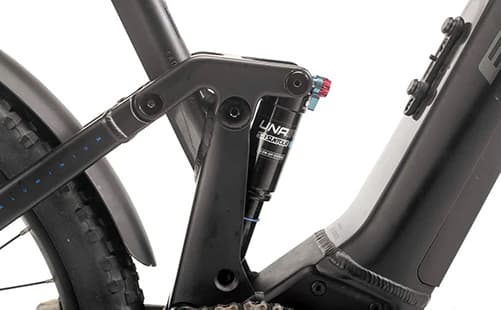 One of the best parts of the BULLS Iconic EVO TR 1 Speed is the full suspension build, with 120mm air suspension with adjustable compression and rebound. While there are different sized frames that will best suit specific rider heights, the adjustable suspension does help you finetune your riding feel, helping you feel comfortable no matter what your personal weight is. With an adjustable full suspension system, you will be able to have a smooth and enjoyable ride on paved roads and some light off-road terrain alike, while being better equipped to tackle tough hills as well.
The suspension system also features a Limotex dropper post, which will further improve your personal rider comfort and overall handling. With the right frame size and dropper post, you will be able to extend your legs fully while pedaling for maximum power and comfort, but drop your seat and stand comfortably on the ground when you need to stop. If you are trying to safely navigate around town, especially one that has multiple lights, the Limotex dropper post will make the stop-and-go commute a more enjoyable and relaxing experience.
Pedals
One of our few major negatives for the EVO TR 1 Speed is that the pedals are rather basic despite the $5500+ dollar price tag. They will function well for city riding, especially those who are pedalling with solid sneakers or business shoes. However, they feel rather rough to pedal on once you go away from the city streets, and some larger riders have reported feeling uncomfortable pedaling on them. The pedals are one of the very few features we would recommend upgrading, perhaps with an alloy or magnesium pedal, if you want to do more than just ride through the city on the Iconic EVO TR 1 Speed.
Grips and Saddle
The BULLS saddle is a contoured seat with a raised tail that will help you feel firm and snug in the saddle, especially as you quickly speed up on your eBike with the 28 MPH power assist. You won't ever feel like you're sliding off or shifting around your seat if you're biking with proper attire, which is another reason the BULLS Iconic EVO TR 1 Speed stands out as a hybrid eBike.
The BULLS grips are basic, but the rounded handles are comfortable enough and provide enough grip support that your hands should feel fine even after riding for extended periods. The gear shifters and brakes are also firm to grip and built large enough to support up to three fingers, so you should also find it easy to make adjustments when you need to as you're riding.
Wheels and Tires
The BULLS Iconic EVO TR 1 features Eccentric 30, tubeless ready rims that are built to reduce the number of flats you'll get while biking while also providing a better overall fee and traction support. The 27.5'' wheels provide solid handling as you navigate city streets or tackle some light trails once you want to escape the concrete jungle. You will enjoy the support provided by the 2.4'' wide Schwalbe Super Moto-X Snakeskin tires, which feature a heavy street tread for additional grip support. While this tire configuration means the Iconic EVO TR 1 Speed is not as fast as dedicated city commuter bikes, we enjoy the support they provide in order to allow riders to have fun off-road biking as well.
Accessories/Upgrades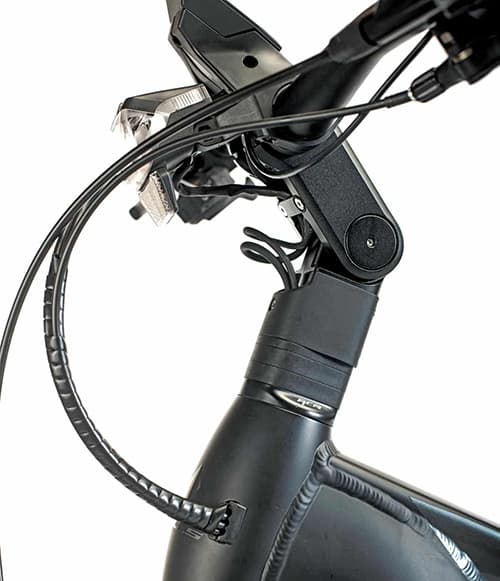 There are a number of features already integrated into the BULLS Iconic Evo TR 1 Speed that make it a great eBike. There are also a few accessories or options you can change or alter in order to suit your personal preference. Some of the key options include the following:
70mm Aluminum Alloy Front and rear fenders
Integrated front and rear lights (rear light is protected by rear rack)
Removable Purion display
120mm Suspension front and rear
Suspension seat post
Monkey bottle bosses on downtube
Flick bell
Rear kickstand
Rear rack with pannier guards and bungee slot
Recommendation
The 2020 BULLS EVO TR 1 Speed is the latest variant of BULLS mountain eBike lineup, with new improvements and features that make it great for those who need a city eBike as well. This is a premium eBike that offers a solid, great balance of both comfort, power, handling, and speed. Integrated lighting, fenders, the contoured seat, class 3 motor and powerful brake system enable it to be a great option for those who need a quick stop-and-go eBike for the city. Meanwhile, the full suspension system, adjustable stem, four level pedal assist system, and very durable 7005 aluminum alloy frame make it a great option for tackling trails and dirt roads as well. The eBike is a bit tricky to lift at 60.8 lbs, and the $5500 dollar price tag does mean that only the most serious, dedicated bikers will want to consider investing in this eBike. If you are looking for a true hybrid eBike that is awesome to ride in the city or back country trails alike, then you will want to check out the 2020 BULLS Iconic EVO TR 1 Speed electric bike!