Welcome to our BULLS URBAN EVO review. To better help you get an idea of the value of this electric bike, we break down the spec sheet to see if this e-bike is worth the price. The URBAN EVO is in such high demand that our review team hasn't had the chance to try it out for themselves just yet. We've had many readers ask about the URBAN EVO, so we decided to do the next best thing and develop a spec review instead.
Our spec review was done by carefully analyzing the components the eBike shares with other ebikes we've ridden and noting the differences between the latest model and past BULLS electric bikes. By doing so, we hope our spec review of the BULLS URBAN EVO will give you a general idea of what to expect in terms of overall feel, features, and performance.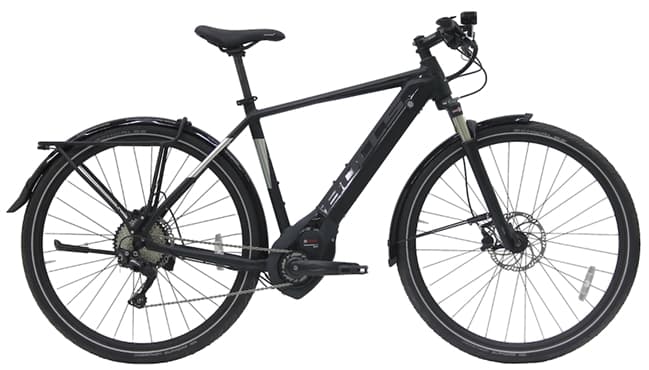 The BULLS URBAN EVO is a premium city commuter eBike, designed for those who want to cut down the time spent traveling to work or their favorite hot spots around town. Built with a sturdy 7005 aluminum frame, you have three frame sizes to choose from, ensuring that short and tall cyclists alike can both enjoy going out on the URBAN EVO.
Additionally, the URBAN EVO has a powerful Bosch Performance Speed mid-drive motor with an 85 Nm output. The bike can travel over 90 miles on a single charge thanks to the Bosch PowerTube 500 Wh battery. This is a 10-Speed eBike, providing precise gear control as you ride through the city and a bike that can come to a quick stop thanks to the large 180 mm rotor Magura hydraulic disc brakes.
While a few of the accessories are a little underwhelming, you do have a full accessory lineup included with the bike, including a flick bell, headlight, tail light, kickstand, and more. If you want an eBike that offers incredible speed and power while being sturdy enough to take a crash or two, keep on reading for our full spec review of the BULLS URBAN EVO electric bike!
Bike-Category: Class 3 electric bike. Pedal activated motor assistance up to 28 MPH.
Who It's For: Cyclists who want a speedy and durable city commuter electric bike—especially well suited for those who have tough or bumpy road sections as part of their daily commute.
Bike Specs
FRAME: 7005 Aluminum Alloy
UI/REMOTE: Bosch Purion
BATTERY: Bosch Powertube 500 Wh
CHARGER: 4 Amp Charger
MOTOR: Bosch Performance Speed Mid-Drive Motor, 350 W / 85 Nm
CHAIN: KMCe Chain
SHIFT LEVERS: Shimano Deore SL-M6000
CASSETTE: Shimano CS-HG500, 10-speed, 11-42T Cassette
CHAINRINGS: SR Suntour 22T Chainring
DERAILLEUR: Shimano Deore RD-M6000GS-D
RIMS: Ryde HC-26S, Double Wall Aluminum Alloy 32 Hole
TIRES: Schwalbe Marathon Supreme HD Tires, 28'' x 2''
SADDLE: Selle Royal Shadow Plus
STEM: BULLS, 90 mm / 100 mm, Aluminum Alloy Stem
HANDLEBARS: BULLS, 640 mm, Aluminum Alloy Handlebars
GRIPS: Velo Sportive ERgonomic Rubber Locking Grips
BRAKES: Magura MT4E Hydraulic Disc Brakes, 180 mm Rotors
PEDALS: Wellgo Plastic Platform with Anti-Slip Rubber Tread
KICKSTAND: Hebie FIX 664 Adjustable Rear Kickstand
BELL: Flick Bell
HEADLIGHT: Supernova V521S
TAIL LIGHT: Supernova M99E12
FENDERS: SKS Plastic Fenders
Pros
A dedicated urban electric bike that will make it quick and easy to commute to work or explore the city. Available in three sizes, suiting all types of cyclists.
Premium 7005 aluminum alloy construction. More expensive and heavier than 6061 aluminum but provides more outstanding durability and weight support. 51.3 lbs average weight.
Bosch PowerTube 500 Wh battery. Hidden in the central downtube, disguising that you're riding an eBike. Able to travel an impressive 90 miles on a single charge.
Premium 4 amp charger. Heavier than your standard charger but a much better charge time due to added amperage. Full recharge time is about 4 to 5 hours.
Stellar Bosch Performance Speed mid-drive motor, 350 W / 85 Nm output. A class 3 eBike setup is great for keeping up with traffic with a 28 MPH motor speed limit.
Shimano CS-HG500, 11-42T cassette with an SR Suntour 22 T chainring. 10-Speed eBike offers dynamic pedal cadence control. Solid drivetrain protection.
Bosch Purion display. Small and easy to use, if overly simplistic for this premium-priced eBike. Four pedal-assist levels to choose from, with a good range of riding metrics.
Schwalbe Marathon Supreme HD Tires, 28'' x 2'' with Evolution Line HD Speed Guard protection. Designed for riding at high speeds with little risk of suffering a blowout.
Magura MT4E Hydraulic Disc Brakes with 180 mm rotors. Excellent stopping power, with a long-lasting, durable, and easy to maintain hydraulic brake setup.
Full range of safety accessories included with the BULLS URBAN EVO eBike. Headlight, tail light, flick bell, reflective pedals, and more.
Cons
Bosch Purion display unit might be too simple for those looking for an actual premium cycling experience. Very difficult to replace and upgrade as well.
Basic plastic pedal setup. We prefer an aluminum alloy platform pedal instead for greater durability and traction support.
The rear cargo rack is limited without a flat top section. Only useful if you have a pannier or other side-hanging bag.
Features
7005 Aluminum Alloy Frame
Extra-durable eBike frame that provides more weight support and sturdiness over a typical 6061 aluminum alloy frame. Available in three frame sizes, with an average full assembly weight of about 51.3 pounds.
Bosch Powertube 500 Wh
Well hidden, protected eBike battery if you crash and disguises that you're riding an electric bike. Able to travel over 90 miles on a single charge with optimal riding settings.
4 Amp Charger
While the charger may be larger than what you usually get with an eBike, the extra charging power cuts down on time needed to refill the battery. Full recharge time will typically take 4 to 5 hours to go from 0% to 100%.
Bosch Performance Speed Mid-Drive Motor, 350 W / 85 Nm
Mid-drive motor that closely emulates the feel you have of riding a traditional bicycle. Low battery drain, but with powerful torque behind it to help you climb any hill you come or accelerate quickly to keep up with traffic.
Bosch Purion Display
Small, compact LCD display that provides your standard set of readouts on an eBike controller. Four pedal-assist options to choose from, with a five battery level meter to track your overall battery life.
Shimano CS-HG500, 11-42T Cassette with an SR Suntour 22 T Chainring
Dynamic 10-Speed eBike, helping you pick your precise pedal cadence while you ride this electric bike. Plastic slap guards and fenders help keep the drivetrain clear of debris while also making sure the KMCe chain stays on while shifting.
Schwalbe Marathon Supreme HD Tires, 28'' x 2''
Tall, thin tires designed with excellent maneuverability and rapid acceleration in mind. Evolution Line HD Speed Guard is specifically optimized to prevent cyclists from suffering a blow out when traveling at high speeds.
Aluminum Alloy Handlebars and SR Suntour NRX-E Suspension with 63 mm travel
Wide, low-rise handlebars to help you have a more relaxed riding experience even when traveling at high speeds. Moderate suspension support is also included enabling a smoother riding experience over bumpy and rough terrain.
Magura MT4E Hydraulic Disc Brakes, 180 mm Rotors
Long-lasting, ultra-durable braking system with quick, easy responsive feedback when you pull on the brake levers. 180 mm sized rotors are well suited for coming to a swift and steady stop, even when riding at high speeds.
Wellgo Plastic Platform with Anti-Slip Rubber Tread
Plastic platform pedals with an anti-slip rubber tread for additional traction support, along with reducing the wear and tear on your shoes. Good pedal setup, but not as good as real aluminum alloy platform pedals.
In-Depth Review
Frame
The BULLS URBAN EVO eBike is constructed with a 7005 aluminum alloy frame. 7005 aluminum costs more and is heavier than 6061 aluminum, the most common alloy for eBike frame construction. However, the trade-off is that the URBAN EVO is sturdier and supports more weight, making it a better option for larger and heavier cyclists or those who take a lot of gear with them to work.
Furthermore, the URBAN EVO offers a premium experience. It has three different frame sizes to choose from, helping short and tall cyclists find a good, comfortable fit for their riding needs. The URBAN EVO is only available in one color. But it's such a great looking bike that we don't mind the lack of color options.
Motor & Battery
The BULLS URBAN EVO is a class III eBike, with pedal activated motor assistance up to 28 MPH.
City commuter bikes need a robust and powerful motor that will help them keep up with traffic or race up tough, steep hills even when loaded with cargo. We're happy to announce that the URBAN EVO is well suited for riding in the city, meeting these standards with a powerful Bosch Performance Speed motor. The mid-drive engine provides a very natural riding feel, with a low 350 W battery drain while offering great 85 Nm of torque. If you want to cut down your bicycle commute time to get to work, you'll do it with the URBAN EVO electric bike.
The URBAN EVO electric bike also stands out thanks to the great battery and charger setup it has. The Bosch PowerTube 500 Wh battery can travel over 90 miles on a single charge, with the battery well hidden within the central downtube of the eBike.
The hidden battery disguises the fact that you're riding an eBike, while also providing added protection for the battery if you suffer a significant crash. When it comes time to charge the battery, you can do it in about 4 to 5 hours with the premium 4 Amp charger included with the URBAN EVO. The charger is slightly larger and heavier than your average 2 Amp charger. Still, due to the large battery capacity, charging would be several hours longer if you were using a standard eBike charger.
Display/Assist Modes
Found on the left handlebar, the URBAN EVO has a Bosch Purion display, a compact controller used to change your motor settings while providing critical riding metrics and information. The Purion display is small, ensuring your handlebar control isn't disrupted and requires just a tap of a button to change your pedal- assist level.
It is a good display unit, but it isn't as advanced as many other displays you find on premium eBikes, including the Bosch Intuvia display. If you don't mind a simple display unit, you'll like the Bosch Purion display. Otherwise, it's a lot of work replacing the display, so it's best to let a professional at the bike shop do the job. A full list of riding readouts, metrics, and settings for the Bosch Purion display are as follows:
BULLS URBAN EVO Bosch Purion LCD Display Readouts, Metrics, and Settings:
Current Speed
Battery Level (Five Levels)
Estimated Range
Pedal Assist Level (Four Levels + Walk Mode)
Trip Distance
Total Distance
Light Settings
You may be new or unfamiliar with eBikes, so let us explain how the pedal-assist system works. You can select a high pedal-assist level to prioritize motor power and acceleration if you don't mind your battery draining quicker.
If you care about having the best range on your eBike, set the pedal-assist to a lower level, improving how far you can travel but decreasing your motor power. Just tap the + or – buttons on the controller and you can switch your overall pedal-assist level, so make sure you experiment with each setting as you familiarize yourself with the BULLS URBAN EVO!
Handling
On Streets- The BULLS URBAN EVO is designed for riding in the city, where it offers stellar performance and handling as a city commuter eBike. You'll accelerate very quickly thanks to the tall, thin tires along with the powerful mid-drive motor. Braking is safe and easy due to the hydraulic disc brakes, and with a mostly integrated wire design, you'll hardly ever have to service them either. With moderate suspension support, you'll find that traveling over cobblestone streets and gravel roads will be a mostly smooth experience as well. Stick to urban riding, and you'll have excellent overall handling with the BULLS URBAN EVO electric bike.
Turn Radius- The BULLS URBAN EVO has a very tight turn radius thanks to the 2'' wide wheels. You can round corners with ease, zip down narrow alleyways, and get the URBAN EVO out of the weather and indoors with little to no struggle. If you want a highly responsive city commuter, the BULLS URBAN EVO is worth considering.
Low-Speed Handling- At 51.3 lbs, the BULLS URBAN EVO isn't too difficult to handle at low speeds, though there are a couple of options to make it even easier. You can set the motor to Eco mode, which provides a small boost while pedaling so you can concentrate on handling without forcing you to travel at high speeds. You can also get off the eBike and turn on walk mode, which pushes the eBike without you having to pedal at all. While both of these settings require battery power, the drain is minimal and has little to no impact on your overall travel range.
Gears/DriveTrain
There is plenty to like about the drivetrain on the BULLS URBAN EVO eBike, which consists of a Shimano CS-HG500, 11-42T cassette with an SR Suntour 22 T chainring and KMCe chain. The URBAN EVO is a 10-Speed eBike, which gives you dynamic gear control to help you find the perfect cadence as you try to keep pace with traffic while riding.
While we would like a bit more coverage, we appreciate the plastic slap guard and SKS plastic fenders, both of which keep the drivetrain very clean when you ride on wet and muddy days. The slap guard and fenders also have the added benefit of helping the chain stay on the drivetrain while you shift, so if you stick to riding in the city, you'll hardly ever need to service your eBike drivetrain.
Brakes
Next, we have Magura MT4E hydraulic disc brakes, with 180 mm sized rotors used for the front and back wheel alike. The MT4E hydraulic brakes are typically found on heavy-duty mountain bikes, so they will be more than enough to help you come to a quick and steady stop while riding in the city.
This is especially true once you factor in the 180 mm sized rotors, providing extra stopping power compared to smaller 160 mm sized rotors even if they are a bit heavier. Hydraulic disc brakes are our preferred braking setup for several reasons, including outstanding durability and better lever feedback response than mechanical disc brakes. When you need to slow down, you'll be able to do so comfortably on the BULLS URBAN EVO electric bike.
Suspension
You typically don't need a ton of suspension on a city commuter eBike, but it makes the overall riding experience a more enjoyable one when it's included. The URBAN EVO has an SR Suntour NRX-E air suspension fork with 63 mm of travel and remote lockout.
If you hit a cobblestone path, gravel road, or other bumpy surfaces, you're going to feel far more steady on the URBAN EVO because of the suspension provided by the front fork. Just don't hit too many mountain bike trails because while the suspension system is optimized for handling dirt trails, the wheel setup isn't configured for it.
Pedals
The pedals are the one area where we feel a bit let down by the BULLS URBAN EVO electric bike. Instead of aluminum platform pedals that you hope to see on premium eBikes, the URBAN EVO features plastic platform pedals instead. While the plastic pedals do have a rubber tread for more generous traction support and decrease wear and tear as you ride on your shoes, it doesn't match the quality provided by authentic aluminum platform pedals. As such, if you do get the BULLS URBAN EVO electric bike, swapping out and upgrading your pedals would be our first upgrade recommendation.
Grips and Saddle
There are three frame sizes to choose from, so the BULLS URBAN EVO is already going to feel more comfortable than your traditional eBike setup. Even so, there are a few other components that will make every trip on the URBAN EVO an even more enjoyable experience.
The VELO Sportive grips feature a rubber ergonomic design, made so you can ride for several hours without irritating your hands, even if you don't wear riding gloves. The grips lock onto the handlebars, providing a tighter hold while making them easier to replace than grips glued on.
The handlebars are low-rise aluminum alloy handlebars with a 640 mm length. They are positioned to help you maintain a more passive and comfortable riding style even when traveling at high speeds.
Lastly, the Selle Royal Shadow Plus saddle is just as comfortable to sit on as it is enjoyable to look at, with a sleek jet black look that matches the rest of the eBike. In style and comfort, it's hard to argue against the design of the BULLS URBAN EVO electric bike.
Wheels and Tires
Going over the BULLS URBAN EVO's performance, the final major component we want to discuss is the wheel setup. The wheels are made up of Schwalbe Marathon Supreme HD 28'' x 2'' tires mounted on RYDE HC-26 double-wall aluminum alloy 36 hole rims. The front wheel features 14 gauge stainless steel spokes, while the back wheel is a bit lighter with a 13 gauge stainless steel design instead.
The tires can be inflated from 30 PSI, for loose terrain riding, to 70 PSI, for greater traction and acceleration on smooth, paved surfaces. Finally, the tires also incorporate Evolution Line HD Speed Guard protection, a technology designed to reduce the risk of a blow significantly out when traveling at high speeds. All in all, these are fantastic wheels that'll help you travel thousands of miles as you enjoy using the BULLS URBAN EVO electric bike.
Accessories/Upgrades
The BULLS URBAN EVO is an expensive eBike. But while it has a high price, it offers excellent value with all of its accessories. A powerful headlight and taillight combination, a kickstand, a flick bell, and a few other add-ons are all included with this eBike.
The pedals do need an upgrade to aluminum. And we also think that the rear cargo rack is a bit lackluster. Because the rear cargo rack doesn't have a flat top, you can only hang a pannier (or other bags that hang off the side) on the cargo rack.
However, these are minor complaints when it comes to an otherwise stellar eBike. There isn't much else we think you need to upgrade or add to this electric bike.
Recommendation
The BULLS URBAN EVO is a true premium electric bike, with only a few component let downs holding back an otherwise exceptional city commuter.
The 7005 aluminum frame provides a more stable riding experience and has the added benefit of being extra durable and less likely to break if you crash.
The mid-drive Bosch Performance Speed motor has a stellar 85 Nm output, more than able to help you reach 28 MPH in seconds, with a Bosch PowerTube 500 Wh battery that provides a 90+ mile range on a single charge.
The Shimano 10-Speed drivetrain is very reliable while also providing great gear control. Simultaneously, the Magura hydraulic disc brakes and 180 mm rotors will be just as dependable when you need to come to a stop.
The pedals and cargo rack could use improvements, but the headlight, taillight, saddle, grips, handlebars, and other components all stand out as premium accessory inclusions. The quality of premium eBikes can range from model to model, but with the BULLS URBAN EVO, you genuinely have one of the best electric bikes on the market!
Thank you for reading our spec review of the BULLS URBAN EVO city commuter electric bike. If you would like to see our team do a performance or video review, please let us know by leaving a comment below!